October, 4, 2013
10/04/13
2:00
PM ET
NC State receiver
Bryan Underwood
might be best recognized for the touchdown he didn't score. With his team trailing 13-7 midway through the third quarter against No. 3-ranked Clemson, Underwood sprinted 83 yards into the end zone, where one official signaled a touchdown. Another official whistled the play dead, though, because he thought Underwood stepped out of bounds.
Even without that touchdown, Underwood has still had an important role in NC State's offense. He was the Pack's leading rusher against Clemson, and he currently ranks fourth on the team in rushing and third in receptions. He's averaging 75 all-purpose yards per game.
I spoke with Underwood this week to get his take on where the program stands under first-year coach Dave Doeren heading into Saturday's game at Wake Forest:
[+] Enlarge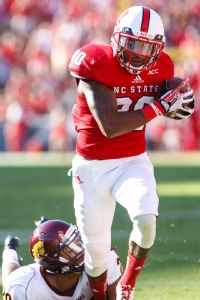 Jeremy McKnight/Icon SMIBryan Underwood said the Wolfpack need to be more consistent if they want to contend in the Atlantic Division.
Have you guys exceeded your expectations so far?
Bryan Underwood:
So far we have. We started off a little slow in a couple of games but we've made a lot of adjustments on certain game plans. Whatever we had in the summer or a previous game, we may throw that out and come out with something new. Our intention is to execute whatever game plan we have for that week, for that following opponent, and so far I feel like we've been able to do it.
Since I have had the chance to talk to you, I have to ask you how much that touchdown run against Clemson is still bugging you?
BU:
(He laughed) Like I tell everybody, it's not really bothering me. The refs made their own calls. I wasn't really paying attention to the sideline, I was just trying to get into the end zone. You can only move forward.
Knowing you came so close against Clemson, what do you think you guys are capable of in the Atlantic Division race?
BU:
We're taking every game one by one, but we have high expectations for ourselves. We take every day seriously, even days we're not supposed to be in the stadium. We just meet up as an offense to have a little bit of a walk-through, brush up on certain routes and defensive coverages. We hold everyone accountable and hold high expectations for ourselves and we put so much work in, we don't expect anything less than our best, and so do our coaches.
Tell me your perspective on the quarterback situation. From what I understand Brandon Mitchell should be coming back here in the near future, but Pete Thomas has also started playing better. What's your scouting report on those guys and that situation as a whole?
BU
: I check on Brandon every day, every time I walk into the stadium, [to] see if he's doing OK. He has the same face on every day, smilin', saying don't worry about it, he's coming back as fast as he can. He's working hard. Pete is progressing his game and it shows on the field. He's getting a lot more comfortable in the pocket, he's reading defenses and learning what type of plays to call and where his reads should be. As far as Brandon and Pete when Brandon comes back, I feel like they're probably going to end up using both. I don't think the coaches are going to completely choose one guy because we have a lot of weapons. We're still going to use the freshman quarterback
Bryant Shirreffs
and he's going to add some more to our arsenal. Like I keep telling everybody, you can't focus on one guy. If you do, you're going to be in trouble because we have so many weapons.
What's your take on Wake Forest based on what you've seen from them? Clearly the Demon Deacons have been struggling.
BU:
We're going to approach the game just like it's any game, whether it's Clemson or Alabama. They may have struggled in the beginning, but from what I've seen of them, they have a really athletic defense. Their noseguard,
Nikita Whitlock
, they have a really good secondary, they're athletic, pretty decent speed. They're veterans. They've seen a lot of things, been on a big stage before, they bounce back from bad games to having a good game. We're going to get a good game plan ready for this week and see what we can do.
What do you think of the job Dave Doeren has done there so far?
BU:
He's exceeded all of my expectations. He's just like my old high school coach. He came in, he had a game plan, he got everybody on board. He's energetic. He's in your life. There's not a day that goes by where he doesn't have enough energy for the whole entire team. He's done good with coaching for the games, getting us prepared, getting our bodies right, the personnel they have for offense and defense. They've just done such a phenomenal job. I'm glad to be a part of it.
What are some things you feel you guys need to work on in order to really be a contender in the Atlantic Division?
BU:
Being more consistent. Even in practice it shows, where we may have a decent practice Monday or Tuesday and come back Wednesday and have a bad practice. I would say we have to be more consistent. We have to keep focused on what we've been coached all week and execute in the game like we do in practice.
September, 8, 2013
9/08/13
10:00
AM ET
For the second straight week, an ACC team knocked off an SEC heavyweight, but that wasn't the only storyline from Week 2. Here's what we learned:
[+] Enlarge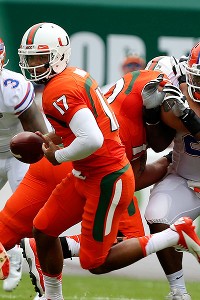 AP Photo/J Pat CarterStephen Morris and Miami picked up another big win for the ACC over the SEC with their victory over Florida.
Miami might be back:
After an offensive performance that included just 212 total yards, fewer than 50 percent of passes completed, just 1.8 yards per carry and just one conversion on 11 third-down attempts, there's still some room for doubt about Miami's resurgence. But a win is a win, and it's the second straight week the ACC has unseated an SEC heavyweight. The Hurricanes may not be back to the level of their national-championship past, but they have more offensive talent than they showed against Florida. The real surprise on Saturday was a dominant performance by the defensive front -- a big question mark entering the season that was answered resoundingly in Miami's biggest win in nearly a decade. It's also another feather in the ACC's cap after Clemson knocked off Georgia in Week 1, giving the league at least three teams -- along with Florida State, which was on a bye -- with legitimate hopes of a BCS bowl bid.
Syracuse and Virginia couldn't follow Miami's lead:
The top of the conference did its job in the opening weeks of the season, proving that the best of the ACC can stand toe-to-toe with anyone. In the middle of the pack, however, things are a bit more jumbled after Syracuse and Virginia were clobbered in nonconference tilts against ranked opponents. On the heels of strong defensive performances by both schools in Week 1, the two teams combined to allow 107 points to No. 19 Northwestern and No. 2 Oregon. Neither game was close from the outset, with Syracuse trailing the Wildcats 34-7 at the half and Oregon throttling Virginia 28-10 at the half. So while the two big wins for Clemson and Miami offered ample cachet for the ACC in the season's first two weeks, the conference lost its other four games against ranked foes and was just 2-5 against teams from BCS automatic qualifier conferences overall.
Boston College won't be a pushover:
After a dismal 2012, it was easy enough to write off the Eagles as a team destined for a rebuilding phase. Add a lackluster effort early against Villanova to start the season, and it seemed appropriate to shrug off the win over FCS competition. But BC dominated Wake Forest this week, looking like a team that knows what it wants to do on both sides of the football, which is to be a physical, punishing group that will not be an easy win for anyone.
Andre Williams
' 204-yard rushing performance was impressive, and he's now tallied 318 yards rushing already this season. That would account for nearly 30 percent of BC's total rushing offense from all of 2012.
Duke and NC State will live and die with backups:
One week after
Brandon Mitchell
went down with a broken foot at NC State, Duke's
Anthony Boone
became the second ACC quarterback to suffer a significant injury. Boone left in the second quarter against Memphis with a broken collarbone, leaving backup
Brandon Connette
to pick up the slack. Connette rallied the Blue Devils to 21 second-half points, including two fourth-quarter TDs to secure the win. Meanwhile, with Mitchell sidelined, NC State nearly fell to FCS foe Richmond before backup
Pete Thomas
engineered a 48-yard drive in the final two minutes to set up a game-winning field goal. Thomas wasn't exactly stellar -- he completed 24 of 31 passes for 237 yards and two interceptions -- and shared the workload with freshman
Bryant Shirreffs
, who completed all three of his passes, including one for a TD. But the Wolfpack still escaped with a win. Both NC State and Duke are now 2-0 in spite of their quarterback concerns.
Concerns remain at Virginia Tech, North Carolina:
Against clearly overmatched opponents, the Hokies and Tar Heels both rebounded nicely from opening-week losses, but in some key areas, concerns linger.
Logan Thomas
and the Virginia Tech passing game improved markedly after a dismal performance against Alabama, but against FCS foe Western Carolina, Thomas still threw two interceptions and didn't complete a pass longer than 20 yards. Meanwhile, North Carolina's run defense was torched by South Carolina in its opener, and while the Tar Heels' front found more success against Middle Tennessee -- four sacks, four QB hurries -- it still allowed 183 yards on the ground (not counting sacks), including 109 for tailback
Jordan Parker
. Through two weeks, UNC ranks 84th nationally in rushing defense.
August, 26, 2013
8/26/13
12:00
PM ET
August, 7, 2013
8/07/13
12:00
PM ET
Hey everyone, know what day it is?
July, 23, 2013
7/23/13
3:30
PM ET
With a little over one week to go before most teams begin reporting for fall practice, let us take a look at where some of the open quarterback competitions stand now that we have some updated comments from the coaches at ACC media days.
FLORIDA STATE:
Not much of an update from coach Jimbo Fisher, who insists his quarterback competition remains open between presumed starter
Jameis Winston
and
Jacob Coker
. Fisher did say preparations for the opener will begin a little earlier than usual because the Noles open the season with a conference opponent in Pitt. Otherwise, Fisher reiterated what he has said since
Clint Trickett
transferred.
"Whoever wins that job, I think you have two guys who are very talented, very capable that the team respects, have arm talent, have leg talent and have mental talent,
Fisher said
. "They learned to study the game and understand it."
NC STATE:
Coach Dave Doeren said five quarterbacks are in the mix to win the starting job.
Manny Stocker
and
Pete Thomas
were the only two in the mix after spring practice. Since then, Arkansas transfer Brandon Mitchell joined the roster, and freshmen Bryant Shirreffs and Josh Taylor have enrolled. Remember, Florida transfer Jacoby Brissett has to sit out a year because of NCAA rules.
"I do like the fact that I got here, and there were two quarterbacks to deal with, and now there's five," Doeren said. "So I have better odds of maybe one of them being good enough to get it done. We'll see how it ends up.
On the possibility of playing a freshman, Doeren said, "It worked for A&M last year. If that's where it ends up, that's where it ends up. I've had two first-year starters the last two years. Playing freshmen is not ideal, but there are examples out there that freshmen can play at this level. I'm not going to rule it out until we see them practice."
PITT:
Coach Paul Chryst maintained the stance he has held since the end of spring practice -- nothing with his quarterbacks is a done deal.
Tom Savage
ended the spring No. 1 on the depth chart, ahead of
Chad Voytik
, but the competition will remain open in fall camp.
SYRACUSE:
Coach Scott Shafer was asked repeatedly about his quarterback competition, which features one more player this fall with Oklahoma transfer
Drew Allen
. Shafer's answer sounded a lot like what reporters heard from Fisher, Chryst and Doeren --
nothing has been decided
.
"I'm concerned about the quarterback position, but I love the character behind each kid that's fighting to become the starter," Shafer said. "I love the passion of the kids that play the game. They love football. They love their football, and they're working hard at it."
VIRGINIA:
Of these five schools, UVa is the one that had the most significant news. Coach Mike London said
David Watford
enters fall camp
No. 1 on the depth chart
. Furthermore, London does not plan on shuffling quarterbacks this season the way he has done over the last several years.
"Early on in August camp, you'll know definitively who the starting quarterback is and I would say as we ended spring practice, the guy who has the most experience would be David," London said. "The rein is not handed to David because
Greyson Lambert
is gonna be special as well, but we want to be able to, with the new coaches we've had on staff ... pick a guy early."