January, 28, 2013
1/28/13
4:00
PM ET
September, 26, 2011
9/26/11
8:21
PM ET
Clemson wide receiver
Bryce McNeal
has decided to leave the football program, but will remain in school as a student, the school announced on Monday. McNeal had played in the first three games, one as a starter, and had one reception for eight yards.
"Bryce has decided to leave the team, but will remain in school with plans to graduate this summer," coach Dabo Swinney said in a prepared statement. "He plans to attend another school and play football in 2012. Graduating in three years will be quite an accomplishment.
"Bryce has been a fine representative of the Clemson program and we hoped he would remain with the team. But, he wants to fully concentrate on his studies so he can graduate this summer. We wish him the best and will help him any way we can."
McNeal did not play against Florida State last weekend because of "personal reasons." He played in 12 of the 13 games last season as a redshirt freshman and started three games. He had 19 receptions for 187 yards in 2010.
August, 22, 2011
8/22/11
9:00
AM ET
A look back at the ACC's weekend scrimmages, according to each team's practice reports:

BOSTON COLLEGE
The Eagles had their third scrimmage of summer camp on Sunday evening at Alumni Stadium.
Offensive highlights:
Defensive highlights:
Linebacker Nick Clancy highlighted the team's defensive effort, recording five tackles -- including four tackles for loss -- and one pass break-up.
Linebacker Andre Lawrence also had five tackles while sophomore defensive back C.J. Jones recorded four. Junior end Max Holloway had two sacks and linebackers Luke Kuechly, Jake Sinkovec and Will Thompson all finished the scrimmage with three tackles apiece.
Special teams highlights:
Sophomore kickers Nate Freese connected on a 52-yard field goal attempt. Freese also connected from 27 yards while his opening attempt of the scrimmage (from 39 yards) missed.
CLEMSON

The Tigers had a 75-play scrimmage on Saturday morning.
Offensive highlights:
Defensive highlights:
The first-team defense allowed just one touchdown, and that came in an overtime simulation.
Andre Branch had four tackles, including three tackles for loss, and a sack. Defensive end Mallicah Goodman added two sacks.
Tig Willard and Kantrell Brown had interceptions, and Cortez Davis caused a fumble.
Special teams highlights:
Sophomore kicker Chandler Catanzaro was 6-for-6 kicking field goals and extra points.
Notable:
Sammy Watkins missed the scrimmage with a hip injury. He is expected to return to practice on Monday. Brandon Thompson and Mike Bellamy also missed the scrimmage with minor injuries and are expected to return on Monday. Running back Demont Buice missed the scrimmage with a foot injury. Starting offensive guard Antoine McClain missed the scrimmage because of a death in his family and Bryce McNeal was out with the flu.
DUKE

The Blue Devils held a 100-snap scrimmage on Friday night at Wallace Wade Stadium.
Offensive highlights:
Running back Josh Snead carried the ball seven times for 45 yards with a 13-yard touchdown run and a 13-yard touchdown reception. Juwan Thompson led the team with 71 yards on five carries, including a 47-yard touchdown run. Junior Desmond Scott added 35 yards on five attempts.
Sean Renfree completed 16-of-25 throws for 155 yards with two touchdowns and one interception. After making just one of his first five attempts, Renfree reeled off 11 consecutive completions, including the 13-yard touchdown toss to Snead and a 15-yard touchdown pass to sophomore wideout Brandon Braxton.
Receiver Conner Vernon had three receptions for a scrimmage-best 51 yards with all three catches producing first downs.
Defensive highlights:
Redshirt freshman defensive end Dezmond Johnson returned an interception 64 yards for a touchdown.
Linebacker Kyler Brown recovered a fumble.
Special teams highlights:
Redshirt senior kicker Will Snyderwine made three field goals covering 26, 37 and 47 yards.

GEORGIA TECH
Offensive highlights:
The Yellow Jackets scored three touchdowns on rushing attempts by three different quarterbacks. Tevin Washington directed the first-team offense and his scoring play -- a 36-yard scamper after faking the pitch -- was one of the offensive highlights of the day. Redshirt freshman quarterback Synjyn Days also scored a touchdown on an eight-yard run and true freshman Vad Lee plunged in the end zone from the 1-yard line.
Defensive highlights:
Sophomore Isaiah Johnson intercepted a Vad Lee pass. Senior outside linebacker Steven Sylvester forced and recovered fumbles. Linebacker Malcolm Munroe also had a fumble recovery and linebacker B.J. Machen recorded a sack.
Notable:
Paul Johnson indicated that David Sims, a converted quarterback, has played himself into contention to start at B-Back.
Sophomore B.J. Bostic is out for four weeks with an undisclosed injury.
Saturday was Paul Johnson's birthday. Just before the team broke its final huddle of camp, the Yellow Jacket players sang "Happy Birthday" to the head coach.
WAKE FOREST

The Deacs held a 90-minute scrimmage on Friday morning at BB&T Field.
Offensive highlights:
Joshua Harris scored on a 96-yard run and had 112 yards rushing on just nine carries.
Quarterback Tanner Price completed 18 of 26 passes and threw one touchdown, hitting Danny Dembry on a 21-yard score.
Wake Forest's first offensive line did not allow a sack on Friday.
Defensive highlights:
Three of the first four offensive possessions ended with punts after three plays. The offense managed just one first down on its first eight possessions.
The defense did accumulate four sacks but none against the first team. Derricus Ellis had a pair of sacks and Zachary Allen and Kris Redding each contributed one sack.
Linebacker Justin Jackson led all defenders with 10 tackles. Defensive backs Jason Green, A.J. Marshall and Duran Lowe all had six tackles apiece.
Special teams highlights:
Jimmy Newman made all four of his field goal attempts during the scrimmage and three extra points. Freshman Chad Hedlund was successful on four PATs.
August, 15, 2011
8/15/11
9:00
AM ET
It was a busy weekend in the ACC. Here's a look back at the highlights from the scrimmages, according to the sports information departments of the teams that provided reports:

BOSTON COLLEGE
Coach Frank Spaziani told reporters after the 70-minute scrimmage that there were some good things, but "it's like a jigsaw puzzle with all the pieces in the box; they're not connected yet."
Offensive highlights:
Defensive highlights:
Linebacker Nick Clancy and defensive back Sean Sylvia led the team with four tackles each.
Sophomore linebacker Jake Sinkovec had one interception and one fumble recovery.

CLEMSON
Quarterback
Tajh Boyd
had an impressive performance, as he completed 10 of 12 passes for 168 yards and a touchdown to highlight the new offense in Clemson's 75-play scrimmage in Memorial Stadium on Saturday morning.
Offensive highlights:
Defensive highlights
:
The first-team defense did not allow a scoring drive.
Martin Jenkins led the team with seven tackles, including a tackle for loss.
Corico Hawkins had five tackles and a fumble recovery, while freshman defensive end Corey Crawford had five stops, including a sack.
Special teams highlights:
Clemson's three kickers, Chandler Catanzaro, Ammon Lakip and Brian Symmes were a combined 16-of-16 on the day in field goal attempts and extra points against a live rush.
Notable:
Three Tigers missed the scrimmage because they were going through graduation exercises across the street from Memorial Stadium in Littlejohn Coliseum. Starting offensive tackle Landon Walker, starting safety Rashard Hall and reserve defensive end Kourtnei Brown all graduated from Clemson on Saturday. It was especially noteworthy for Hall, who has been at Clemson just three years. He joins Nick Eason (now in the NFL with the Arizona Cardinals) as the only scholarship football players to graduate with two years of athletic eligibility remaining.
Four players missed the scrimmage due to injury. Those players were defensive back Xavier Brewer (sprained foot), defensive back Garry Peters (bruised calf), Andre Branch (head injury), DeShawn Williams (sprained ankle).

GEORGIA TECH
Georgia Tech coach Paul Johnson had mixed reviews after the Yellow Jackets' first scrimmage, which ran 90 minutes inside Bobby Dodd Stadium on Saturday morning.
"It was like a lot of first scrimmages, there were way too many balls on the ground and way too many penalties," Johnson said. "But we hit some big plays. When you play against each other there's positives and negatives on both sides. It's a starting place and we'll look at it and try to make some improvements."
Offensive highlights:
While no official statistics were kept, quarterback Tevin Washington passed for well over 100 yards, including a 63-yarder to senior A-back Roddy Jones. Redshirt freshman quarterback Synjyn Days threw the only touchdown of the day, to true freshman Jeff Greene.
Greene ran with the first unit Saturday as most of the veterans -- junior Stephen Hill, senior Tyler Melton, sophomore Jeremy Moore and junior Daniel McKayhan -- all sat out with injuries.
Washington scored the only other touchdown Saturday on a 1-yard QB keeper.
Defensive highlights:
Defensive end Emmanuel Dieke had a sack, true freshman Jamal Golden intercepted a Vad Lee pass, and Steven Sylvester and Isaiah Johnson both recovered fumbles.
Special teams highlights:
Sophomore Justin Moore booted a 45-yard field goal on his only attempt.
David Scully's 52-yard attempt was long enough, but just wide left.

MIAMI
The most important news out of Miami's first scrimmage was that quarterbacks
Jacory Harris
and
Stephen Morris
combined for five touchdown passes and only one interception. That sounds like improvement. Miami's quarterbacks combined for 407 passing yards on 38-of-52 passing for six touchdowns and only one interception.
Offensive highlights:
Receiver Tommy Streeter had the best offensive day for the Canes, catching five passes for 71 yards and three touchdowns, two of which came from Harris.
Lamar Miller had runs of 16 and 31 yards on the opening drive.
Defensive highlights:
Senior defensive back JoJo Nicolas led all defenders with eight tackles (six solo), with two tackles for loss.
Ramon Buchanan and freshman Gionni Paul and each had six total tackles, with Paul also recording a tackle for loss.
The defense totaled eight tackles behind the line of scrimmage for a total loss of 29 yards

VIRGINIA TECH
The Hokies' offense was the highlight, but what does that mean for the defense? Coach Frank Beamer pointed out that there were some long plays allowed, as the offense racked up 398 yards of total offense in the 78-play scrimmage at Lane Stadium on Saturday afternoon. The touchdowns came against Tech's second- or third-team defense, though, so the jury is still out.
"I thought it was a good first scrimmage -- better than most," Beamer said, according to the team's scrimmage report. "You take into consideration that you're trying to get everyone some work, people who don't know quite what they're doing, and that makes things a little ragged. I thought overall, though, it was a sharp scrimmage. The quarterbacks made some nice plays and Wilson got a couple of long plays against the defense, and we need to see what's going on there. Overall, the effort was good and the play was good."
Offensive highlights:
Backup quarterback Mark Leal led the quarterbacks with 116 yards passing, completing 6 of 13. He also threw an interception. Beamer said Leal is No. 2 on the depth chart behind Logan Thomas. Ju-Ju Clayton, who has dropped to No. 3 on the depth chart, completed 6 of 10 for 51 yards, while starter Thomas completed 4 of 8 for 79 yards, with an interception, in limited action.
Tailback David Wilson scored against the Hokies' second-team defense on a 22-yard run. Wilson led all rushers with 57 yards on five carries. Freshman Michael Holmes added 54 yards rushing on a game-high 11 carries.
Defensive highlights:
Freshman tackle Luther Maddy led the team with eight tackles, including two for a loss, and a sack. Freshman Michael Cole added six tackles, while Telvion Clark and Jack Tyler each finished with four.
Barquell Rivers had three tackles and an interception.
Jayron Hosley and freshman Ronny Vandyke also had interceptions. Hosley intercepted a Logan Thomas pass, while Vandyke intercepted a Trey Gresh attempt.
Special teams highlights:
The kickers connected on 5-of-6 attempts. Cody Journell hit from 35, 22 and 35 yards, while Justin Myer drilled a 52-yarder and a 28-yarder. "Cody's kicking extremely well," Beamer said. "Myer has a load of potential, and he needs to win some of the kicking contests during the week. That shows consistency, and that's where he is right now. Cody is usually winning it or right in the running at the end."
March, 29, 2011
3/29/11
12:00
PM ET
On my way to see some Terps today ...
October, 6, 2010
10/06/10
3:30
PM ET
Clemson was in a similar situation last year – a 2-2 record with an ACC loss and a loss to a ranked opponent. The Tigers had actually fared even worse in 2009, dropping to 2-3 after an embarrassing loss at Maryland. Clemson responded with a six-game winning streak punctuated by an Atlantic Division title.
If there's a lesson to be learned, it's that the season doesn't end in October.
Time is running out, though, for both Clemson and North Carolina to make a move forward in the ACC standings. Both programs are looking for their first league win on Saturday when UNC hosts Clemson. The difference is that Clemson is looking to rebound from back-to-back losses while North Carolina has started to make a turnaround with two straight nonconference wins.
"We haven't laid an egg this year," coach Dabo Swinney said. "This team hasn't done that. We just have some self-inflicted wounds. All we have to do is control the things we can control. We don't have to play perfect, don't have to be supermen; we just have to do our jobs.
"The playmakers need to perform their roles. We've lost two tough games to good teams. We've had chances to win. We need to control what we can control. They can draw from the experience of last year where we didn't get off to a good start and then won the division. The only thing that's off the table now is winning a national championship."
The same can be said for North Carolina, which had high hopes entering this season only to be derailed by the ongoing NCAA investigation which sidelined 12 players for the season opener against LSU. The Tar Heels have since climbed out of an 0-2 start and won back-to-back games against Rutgers and East Carolina.
"Through the first four games I am very proud of the way our kids have handled the off the field distractions and missing some of their teammates," coach Butch Davis said. "Our kids have shown a lot of resiliency. I think as a football team we have worked each week to improve and there are some areas where we are getting better."
It's the first time these two programs have met since 2006, and it will be the first time Davis has coached against the Tigers in his 36-year career. Davis said Clemson is the "most talented and complete team" they've played the entire season.
The Tigers do have the ACC's leading rusher in
Andre Ellington
, but are still searching for dependable wide receivers. Swinney made a change this week and replaced his veterans with younger players.
"The four guys you'll see are Nuke Hopkins,
Bryce McNeal
,
Jaron Brown
, and
Marquan Jones
," Swinney said. "Those are the core guys right now. The other guys will play some, but the majority will go to those four guys. We've hoped that the receiving core would play out by now. Guys earn opportunities. Even where we are right now, nothing's final. Guys have to go play. We have to create opportunities for certain guys based on what we've seen, but guys have to play well."
Especially considering UNC will have both of its starting safeties -- Deunta Williams and Da'Norris Searcy -- back in the lineup after serving suspensions. The Tar Heels are still missing 10 players due to the NCAA investigations, including four defensive starters.
August, 4, 2010
8/04/10
8:00
AM ET
Not all ACC schools provide practice reports, but if they do, I usually post them with some editing. These are provided by the sports information directors at each school. Here is Clemson's after its first day of practice:
The Tigers worked out in helmets and shorts in comfortable weather for two hours and 30 minutes on the practice fields behind the Jervey Athletic Center.

It was the first of 29 allowed preseason practices for the Tigers, who open the season at home against North Texas on Sept. 4. Clemson will work once a day Tuesday through Saturday this week.

The only player who missed practice due to injury was junior guard Wilson Norris, who suffered a torn ACL in spring practice last March. He will be out until at least November.

Two players missed the practice to take a summer school exam, starting tackle Landon Walker and wide receiver Brandon Clear.

"I saw a lot of progress since we last practiced in April," said coach Dabo Swinney, according to the team's practice report. "You could see they worked hard on their own over the summer. If you are going to be a good team you have to make progress between the end of spring practice and the start of fall practice.

"I could see that in players like Tajh Boyd. You could see from what he did today that he has made progress. The game has slowed down for him thanks to the work he put in over the summer. I saw that from a lot of veteran players today."

Swinney was also impressed from what he saw from quarterback Kyle Parker. Clemson's returning starter at quarterback has not thrown many footballs since the end of spring practice, as he helped the Tigers baseball team to the Final Four of the College World Series. The first-round draft pick of the Colorado Rockies announced he would return to Clemson to play football for the Tigers on July 21. He still may sign with the Rockies, but will play for the Tiger football team in the fall.

"He amazes me at what he does from a mental standpoint. He made some typical 'KP' throws that make you smile. He did show some rust, but he had an outstanding day.

"It was good to see how excited the other offensive and defensive players were to have him back. While he was not here this summer, they know he was not off sipping cocktails on an island. They say him play for our baseball team on TV, working hard for that team. He went straight from the bowl game to the batting cage without a break. You could see he was refreshed today and ready to play some football."

Swinney was also impressed by what he saw from the 19 freshmen who were at their first Clemson practice.

"It is an impressive group. They are in good physical condition and will make a contribution as a group this year. It is just the first practice so it is too early to single anyone out, but overall I was impressed."

Many players worked in the return game at the beginning of practice. The Tigers are looking for replacements for C.J. Spiller and Jacoby Ford in the return game. That duo became the greatest all-purpose duo in NCAA history over the last four years. Marcus Gilchrist, Jaron Brown, Bryce McNeal and some others worked as kick returners during that part of practice.

Swinney said after practice that Tyler Fowler, a walk-on offensive lineman from Canon, Ga., was given a scholarship for this fall.
February, 2, 2010
2/02/10
3:30
PM ET
You would think that with how well the ACC has fared in recruiting the past four years, it would have eventually made a bigger push on the national landscape during the season. Miami has had three top-10 classes, and Florida State has had two. Overall, the trend in the ACC has been that Florida State, Clemson, Miami, Virginia Tech and North Carolina have led the conference on the recruiting front. Three of those teams have appeared in ESPN.com's final Top 25 ranking in each of the past four years (UNC has been there three of the past four.) Only the Hokies, though, have had it translate into postseason success -- so far. There was a common thread, though, amongst the other programs -- a coaching change or, in Florida State's case, coaching questions.
[+] Enlarge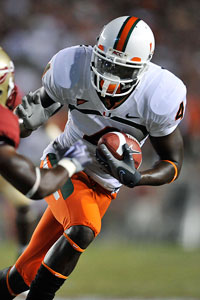 Paul Abell/US PresswireAldarius Johnson was one of 12 ESPNU 150 players in Miami's No. 1-rated 2008 class.
It was impossible to predict, though, that players like former Miami quarterback
Robert Marve
would transfer, or that former FSU linebacker Marcus Ball would have off-field troubles and ask for his release.
Here's a reminder at how highly ranked several teams in the ACC have repeatedly finished since 2006, according to ESPN.com's Scouts Inc. rankings. You can click on the year to go to the full ranking. I mentioned a few of the top players in each class who were facing high expectations at the time, or players who weren't facing many expectations and have since proven otherwise (see: Virginia Tech).
2006
No. 6 FSU (Myron Rolle)
No. 13 Clemson (
C.J. Spiller
, Jamie Cumbie, Ricky Sapp)
No. 17 Miami (Kylan Robinson)
No. 23 Maryland (Pha'Terrell Washington, Drew Gloster)
No. 24 Virginia Tech (Rashad Carmichael, Nekos Brown, Kam Chancellor)
No. 25 UNC (Aleric Mullins, Johnny White)
2007
No. 9 Miami (Robert Marve, Allen Bailey)
No. 11 UNC (Quan Sturdivant, Marvin Austin)
No. 14 Georgia Tech (
Jonathan Dwyer
, Derrick Morgan,
Josh Nesbitt
)
No. 15 Virginia Tech (
Tyrod Taylor
, Blake DeChristopher, Barquell Rivers)
No. 18 Clemson (
Willy Korn
, Scotty Cooper, Marcus Gilchrist)
No. 25 Florida State (Brandon Paul, Markish Jones)
2008
No. 1 Miami (Sean Spence,
Jacory Harris
,
Aldarius Johnson
)
No. 2 Clemson (DaQuan Bowers,
Kyle Parker
,
Jamie Harper
)
No. 12 FSU (Zebrie Sanders,
E.J. Manuel
, Nigel Carr)
No. 15 Virginia Tech (
Ryan Williams
)
No. 20 NC State (
Mike Glennon
,
Brandon Barnes
)
2009
No. 7 Miami (Ray Ray Armstrong,
Mike James
)
No. 8 FSU (Greg Reid, Jacobbi McDaniel)
No. 13 UNC (
Bryn Renner
, Donavan Tate,
Jheranie Boyd
)
No. 18 Virginia Tech (Jayron Hosley,
David Wilson
,
Logan Thomas
)
No. 19 Clemson (
Tajh Boyd
,
Bryce McNeal
)
August, 13, 2009
8/13/09
9:00
AM ET
Posted by ESPN.com's Heather Dinich
Here are the reports that came in from Wednesday's practices around the league, as reported by each school's sports information office:
CLEMSON
Clemson had its second day of two-a-day practices on Wednesday. The Tigers worked for two hours and 15 minutes in the morning and for an hour and a half in the evening.

Much of the day was spent reviewing the film from Tuesday's scrimmage and correcting mistakes. Coach Dabo Swinney felt better about his team after watching the film on Tuesday afternoon and evening.

"We played better than I thought," said Swinney. "I was very disappointed with the penalties [on offense] and a lack of attention to detail immediately after the scrimmage. And I still feel that way about those mistakes. But after watching the film we played better overall than I thought."

Swinney was impressed with the performance of his defense after the scrimmage on Tuesday and he was still happy with that performance on Wednesday.

"We have a chance to be pretty salty on defense. I look out there and really can't tell the difference between the units. I was talking to Jamie Cumbie yesterday and he said it doesn't make any difference who starts, they are just waiting to have their name called.

"There is great depth on the defensive front and the secondary. The linebackers are doing well also. I was really impressed with Kavell Conner's performance on Tuesday. He has had a terrific preseason."
August, 6, 2009
8/06/09
10:00
AM ET
Posted by ESPN.com's Heather Dinich
Here are a few excerpts from Clemson's second practice, as reported by the sports information office:
Clemson is in the five-day NCAA mandated acclimatization period. The Tigers will have practice each evening on Thursday through Saturday, then take Sunday off. Monday morning's practice will be the first in full pads. Clemson will practice twice that day, the first of four two-a-day practices during the pre-school schedule.

"It was a good day of practice," said coach Dabo Swinney. "I told the team that this was how championship teams practice. There was energy like there was the first day, but they played smarter today."

Swinney mentioned a few of his players in his postgame meeting with the media.

"Ricky Sapp looked like Ricky Sapp today and I am anxious to see him with the full pads on this coming Monday," Swinney said. "I was very impressed with Rendrick Taylor. He caught the ball out of the backfield, and from tight end, and ran very well, also.

"Byron Maxwell worked hard all summer. He worked out twice a day and I am proud of what he has done these first two days. Kevin Alexander also looked good at defensive end."

Jacoby Ford [hamstring] and J.K. Jay were both in yellow jerseys and missed the practice. Ford suffered the injury while fielding punts in Tuesday's first practice. Jay has a back injury.

Jaron Brown and Bryce McNeal were two receivers who missed the practice to take a final exam for the summer session.

"Today was the last day of summer school finals so we get them for all football now until Aug. 19."