August, 20, 2014
Aug 20
12:00
PM ET
Bucky Hodges
doesn't want to give away any secrets, but it's hard to have much of a poker face at the moment.
As Virginia Tech looks to turn a listless passing attack into a more dynamic offense, the 6-foot-6 Hodges has all the makings of an ideal secret weapon, but he's doing his best to stay mum on the subject. He remains vague on how often he'll be split out wide or how he might be utilized
in the red zone.
But that sly grin tells the story.
"I'm learning a lot of places [on the field], I'll say that," Hodges finally admitted. "It's really exciting to me."
It's exciting for the Hokies' offense, too, which lacked options last season as the running game stumbled and the passing attack underperformed. Frank Beamer thinks the tight end position perfectly underscores what could be different in 2014.
When Beamer hired offensive coordinator Scot Loeffler last year, part of the plan was to get the tight ends more involved in the game plan. At Loeffler's previous stops, the position had been a fixture in the passing game. At Florida in 2009, Temple in 2011 and Auburn in 2012, a tight end either led the team in receiving or finished second each year.
But before the 2013 season could even kick off, starting tight end
Ryan Malleck
went down with a rotator cuff injury and was lost for the year, and so, too, were Loeffler's big plans for the position.
True freshman
Kalvin Cline
, a former basketball player with little football experience, was Virginia Tech's only real option at the position, and the numbers by year's end were hardly overwhelming. The Hokies were 10th in the ACC in percentage of pass attempts to its tight ends.
"Last year we had one guy with a year of high school football to now three guys you feel you can split them out," Beamer said. "They're tough enough to get in there and block but you can split them out and get matched up on a lesser athlete."
That's another reason for Hodges' grin.
Basketball was his first love, and he thrived in the sport throughout high school. He's found playing tight end involves a similar skill set -- going after the ball at the height of its arc, playing physical but also making guys miss -- but there is one distinct difference.
"In basketball, you've got somebody big on you," Hodges said. "Now you get moved out and got a little guy on you, you've got some mismatches."
And mismatches are what the Hokies are looking for as they try to jump start a passing offense that finished 85th in completion percentage and ranked 101st in QB rating in the red zone a season ago.
Beamer is thrilled with the early performance of his freshmen receivers, and he thinks sophomore
Joshua Stanford
has made nice strides, too. The running backs remain a work in progress, however, and the QB battle has yet to produce a clear winner.
All of that leads back to the tight ends and that plan Loeffler had from the outset with Virginia Tech. In a year in which the Hokies are trying to establish their offensive identity, the tight ends offer an option they simply didn't have during last year's struggles.
And that, too, is enough to get Hodges excited about what might be in store.
"I feel like we're a lot more dynamic," he said. "We've got some receivers coming back and now we have tight ends. We've got a lot of playmakers."
August, 20, 2014
Aug 20
10:30
AM ET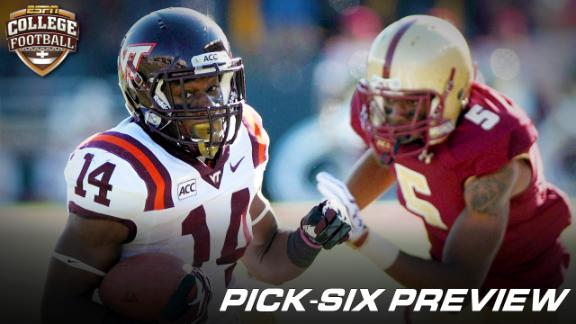 »
More team previews:
ACC
|
Big 12
|
Big Ten
|
Pac-12
|
SEC
Previewing the 2014 season for the
Virginia Tech Hokies
:
Key returners:
RB
Trey Edmunds
(675 yards, 10 TDs), WR
Willie Byrn
(51 catches, 660 yards), WR
Demitri Knowles
(641 yards), WR
Josh Stanford
(640 yards), C
David Wang
, LB
Kyshoen Jarrett
(71 tackles, 2 INTs), CB
Kendall Fuller
(6 INTs, 11 pass break-ups), CB
Brandon Facyson
(5 INTs), DT
Luther Maddy
(13.5 TFL, 6.5 sacks)
Key losses:
QB Logan Thomas, OG Andrew Miller, WR D.J. Coles, K Cody Journell, LB Jack Tyler, LB Tyriq Edwards, DL Derrick Hopkins, CB Kyle Fuller, DL James Gayle, DL J.R. Collins,
Most important games:
Sept. 6 at Ohio State, Oct. 4 at North Carolina, Oct. 16 at Pitt, Oct. 23 at Miami.
Projected win percentage:
.637
Vegas over/under:
8 wins
[+] Enlarge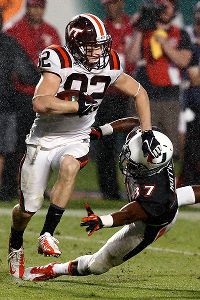 Robert Mayer/USA TODAY SportsWide receiver Willie Byrn says the Hokies plan to embark on a championship run in 2014.
Instant impact newcomers:
Texas Tech transfer
Michael Brewer
has his eyes on the starting quarterback job, and plenty of Tech fans view him as a potential savior for an offense that languished the past two years. Freshman tailback
Marshawn Williams
had an encouraging spring and could push Edmunds for carries. Redshirt freshman
Seth Dooley
figures to help fill the void on the defensive line. Tight end
Bucky Hodges
, a redshirt freshman, is 6-foot-6 and could be an inviting red zone target.
Biggest question mark:
The quarterback position was undoubtedly the biggest question mark entering fall camp, but turning around the offensive struggles for Virginia Tech will be a group effort, regardless of who takes the bulk of the snaps this season. Edmunds and the other running backs need to take pressure off the QB by moving the ball on the ground. The O-line needs to be more physical and help Tech convert more third downs, a huge problem last season. The receivers need to get open and, just as importantly, hang on to the football when it comes their way. If all those other things happen, the wins may come regardless of the quarterback.
Best-case scenario for 2014:
Coach Frank Beamer finds his quarterback, the rest of the offense grows up around him, and Virginia Tech finally has an offensive identity. The special teams unit returns to its "Beamer Ball" roots, and the defense looks as good as it did a year ago, even without its departed stars. An early upset of Ohio State earns the Hokies national credibility and a reasonable schedule in conference puts Tech in the hunt for a division title and a shot at the College Football Playoff.
Worst-case scenario for 2014:
No QB emerges as an obvious choice to start, and a revolving door opens at the position. Edmunds and the receivers show little improvement from a year ago. The defense misses Tyler and the elder Fuller and can't mask the offensive struggles any longer. The atmosphere gets tense internally and the Hokies struggle against flawed teams in their own division. The 21-year bowl streak comes to an end.
Number to know:
12.6. That's Virginia Tech's yards per completion last season, which, surprisingly enough, was right about the same as what the prolific offense at Clemson managed (12.7). The difference in the two passing games? The Hokies completed just 56 percent of their attempts. Clemson completed 69 percent. Chalk it up to the accuracy issues of Thomas, but the receivers also need to do a better job of avoiding drops in key spots.
They said it:
"I'm thinking about, it's ACC championship or bust, and I think our whole team has that sense of urgency." -- Byrn
June, 11, 2014
Jun 11
4:00
PM ET
ESPN.com columnist Mark Schlabach is stopping by the ACC blog this week to answer some of your most pressing questions about the league as it enters the 2014 season. You can tweet your questions to Mark here.
@Mark_Schlabach @ESPN_ACC How do you see Virginia Tech's season shaping up? Specially the offense!

— Pradyut Bafna (@pradster) June 11, 2014
Mark:
Virginia Tech
definitely needs to get things turned around, after losing 11 games combined in the past two seasons. I believe it would take a complete catastrophe for coach Frank Beamer to get run out of town, and I think the Hokies will head into the upcoming season as favorites in the Coastal Division. I think Beamer and his staff will once again put together a squad that is capable of winning 10 games, which has been the standard during his tenure.

The good news: Tech's offense can't be any worse than it was last season. In offensive coordinator Scot Loeffler's first season in Blacksburg, the Hokies ranked 101st among FBS teams in total offense, averaging only 356 yards per game. Departed quarterback
Logan Thomas
again struggled with turnovers (eight combined in ugly losses to Duke and Boston College), and the Hokies didn't run the ball effectively to take pressure off him.
The quarterback competition will be wide-open heading into preseason camp. Senior
Mark Leal
and sophomore
Brenden Motley
battled for the job during spring practice, but Texas Tech transfer
Michael Brewer
might be the best option. Brewer, who graduated from Texas Tech this spring, will be eligible to play for the Hokies immediately and has two seasons of eligibility remaining. He passed for 375 yards with four touchdowns for the Red Raiders in 2012, but missed most of last season with a back injury. Incoming freshman
Chris Durkin
might also be a factor this fall.
Whoever starts at quarterback will have plenty of weapons around him. Virginia Tech's top three wideouts are coming back, along with five players who started on the offensive line. Tech's coaches were raving this spring about freshman running back
Marshawn Williams
(224 pounds) and tight end
Bucky Hodges
, a converted quarterback.
Here's why I really like Tech's chances of rebounding in 2014: its schedule. The Hokies don't play the top three teams from the Atlantic Division (FSU, Clemson and Louisville) and get Miami at home on a Thursday night, which is never an easy assignment.
April, 29, 2014
Apr 29
5:00
AM ET
Three things we learned in the spring about the Virginia Tech Hokies:
1. RB Marshawn Williams and TE Bucky Hodges are players to watch.
Williams is the kind of bruising running back the Hokies have been looking for, and assistant coach Shane Beamer said this spring it's going to be tough to keep him off the field. Hodges, who came in as a quarterback, catches the ball well, is versatile and can be used all over the field.

2. The lunch pail is still packed.
In spite of losing five of seven starters up front, there was a confident vibe this spring that the Hokies will again reload. The linebackers and defensive linemen know the expectations. The secondary wasn't even full strength, and it was still impressive. This could be Bud Foster's fastest defense in years.
3. Offensive depth is improving.
There's still work to do on the offensive line, but the depth has improved at the skill positions in the second season under coordinator Scot Loeffler. The running back and tight end positions should be better, and there's no shortage of wide receivers to choose from.
Three questions for the fall:
1. Who's the QB?
This is one of the biggest questions in the ACC this offseason, and the Hokies won't know who their starter will be until Texas Tech transfer
Michael Brewer
and freshman
Chris Durkin
start practicing.
Mark Leal
injured his knee this spring, and
Brenden Motley
got his turn at the top of the depth chart.
2. Is Beamerball back?
Virginia Tech's kicking game hasn't lived up to its reputation lately, and finding a kicker was coach Frank Beamer's No. 2 priority this spring.
Michael Branthover
booted a 52-yarder this spring, but he's not a lock as freshman
Michael Santamaria
will join the competition this summer.
3. Who are the Fab Five?
The offensive line has five players returning with starting experience -- including three full-time starters -- but the depth chart and positions have changed seemingly every day. There could be some redshirt freshmen in the rotation, but the Hokies finished spring still searching for the right combination under their third offensive line coach in as many seasons.
One way-too-early prediction:
The Hokies win eight games. Virginia Tech goes 3-1 against the nonconference schedule and beats ACC opponents Georgia Tech, Miami, Boston College, Wake Forest and Virginia. They'll benefit from the crossover schedule, take advantage of the Thursday night game against Miami, but will lose the battle on Tobacco Road.
April, 21, 2014
Apr 21
9:00
AM ET
This spring, Virginia Tech's beleaguered offense finally earned some praise, as those within the program have said the Hokies are better and deeper at every position.
Except one.
Can the Hokies improve as a team if they don't improve at quarterback?
"Nope," said offensive coordinator Scot Loeffler. "Absolutely not. It all starts with that guy. It's like coach [Frank] Beamer always says, 'If you've got a really good team and an average quarterback, you'll be average.' What we will do is we will find our guy and develop our guy and make sure that we're ready to have someone out there so we're not average in the fall."
The search begins May 28.
[+] Enlarge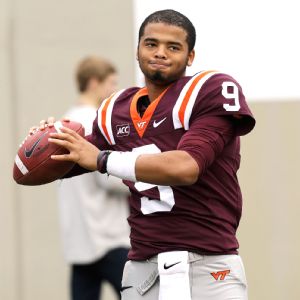 AP Photo/Steve HelberBrenden Motley is the current leader in Virginia Tech's quarterback competition, but it's far from over.
Former Texas Tech quarterback
Michael Brewer
and true freshman
Chris Durkin
will both arrive on campus then, and only when they begin to practice this summer will the staff truly have any idea who will replace
Logan Thomas
this fall. This spring, there were rave reviews about redshirt freshman tight end
Bucky Hodges
and excitement about the return of tight end
Ryan Malleck
from injury. There was buzz about freshman running back
Marshawn Williams
, an early enrollee who has already shown the capability of contributing immediately. None of it, though, will translate to much this fall if Virginia Tech can't find a dependable starting quarterback who can orchestrate the offense without turning the ball over.
On the most recent depth chart,
Brenden Motley
jumped
Mark Leal
for the top spot (based on performance, not Leal's knee injury, Loeffler said), but Loeffler cautioned not to put much stock into the depth charts until August.
"The depth chart is going to change constantly, and it's going to change when those two other guys get here also," Loeffler said. "It's going to be a daily grind to see who wants the job. At the end of the day, those guys are going to be battling for the position all the way up until we announce the guy in August."
While the quarterback will be new, the offense will not.
Loeffler, who is entering his second season with the Hokies, said this spring has been "100 percent different" because the players are more familiar with him, his philosophy and expectations. He said Year 3 should "see the biggest jump."
"The tight end position in that third year can be really outstanding," he said. "The wideouts are all back, including the four we just recruited. You're going to have older quarterbacks in the system. All of the running backs are back. The future is bright; there's no question at all. That third spring is going to be a totally different feel, completely. We should have it by then, for sure. Not to say we're throwing in the towel this year -- heck no. The standard is to win every game, but I think it's even going to be easier."
After back-to-back pedestrian seasons, Virginia Tech fans are ready to see offensive progress now.
"I think we'll make headway," Loeffler said. "It all depends on, in my opinion, the quarterback position. If that position can play well, you've always got a chance."
April, 3, 2014
Apr 3
12:00
PM ET
Lots of injuries, not a lot of quarterbacks ...
April, 27, 2012
4/27/12
11:00
AM ET
Rainstorms sent fans packing and had Frank Beamer disappointed that his team couldn't finish spring practice the proper way. But the Virginia Tech coach received more than enough good news Saturday to turn his weekend around.
Six prospects — including one from the Class of 2014 — pledged to the Hokies on the day of their rained-out spring game. Another committed to the program two days later, giving the Hokies 10 commits for the 2013 class.

Four-star quarterback
Bucky Hodges
and three-star offensive tackle
Parker Osterloh
gave Virginia Tech their word, along with outside linebacker
Andrew Motu'apuaka
, cornerback
Charles Clark
and guard
Braxton Pfaff
.
Class of 2014 defensive end
Vincent Mihota
was the 2014 prospect. Four-star athlete
Carlis Parker
committed two days later.
I caught up with our East and Southeast recruiting reporter Dave Hooker for his thoughts on the Hokies' big week.
"I think the stability of Virginia Tech's program can overcome a lot, including bad weather," Hooker said. "What Frank Beamer has, along with Bud Foster, is a long-term proven record of success that very few programs in the nation can compete with. If you sign with Virginia Tech, the chances are you're going to be coached by Beamer for your entire career."
Hooker praised Beamer's attention to detail in recruiting, saying the 26-year Virginia Tech coach locks in on the right fits for the program who make good on their words.
The Hokies' classes may not rank up there with Florida State's and Clemson's every year, but it is hardly an obstacle to overcome for a school that has won four of the last eight ACC titles.
"The thing to remember with Virginia Tech is I don't think they have to have the top-rated class to win titles," Hooker said. "A combination of recruiting and player development is the key to their success."