March, 7, 2014
Mar 7
9:00
AM ET
Breaking down the spring in the ACC Coastal division:

Duke
Spring practice over
What we learned:
Momentum rolls on. It's hard to believe the Blue Devils are already done with spring ball, but coach David Cutcliffe opted to open practice in February to capitalize on the momentum that was created last season. After the spring game ended Saturday, he praised the way his players handled the practices. There was a great deal of retention and not a lot of re-teaching, so coaches were able to get much more out of their players this spring.
Max McCaffrey emerges. Jamison Crowder had a spectacular 2013 season, but it was essentially him and then everybody else in the receiver group. That may not be the case this season. McCaffrey earned praise from coaches and teammates for the way he improved during the spring. Offensive coordinator Scottie Montgomery said McCaffrey made as many plays as anybody else on the offense this spring.
Stepping up on the line. The Blue Devils lost three starters on their defensive line -- both ends in Kenny Anunike and Justin Foxx, and defensive tackle Sydney Sarmiento. But it appears as if the players behind them are ready to step up and make a seamless transition. Defensive ends Jordan DeWalt-Ondijo and Dezmond Johnson each had two sacks in the spring game. Kyler Brown also made the switch from linebacker to defensive end and had a sack in the spring game as well.

Georgia Tech
Spring start:
March 24
Spring game:
April 18
What to watch:
Justin Thomas takes over. After Vad Lee announced his transfer from Georgia Tech, the quarterback reigns fell to Thomas, who played in 10 games this season. The Jackets had their share of highs and lows under Lee, but what the staff is going to be looking for first and foremost is Thomas' ability to hold on to the football. Georgia Tech had 24 giveaways and ranked No. 12 in the ACC in turnover margin.
Defensive line questions. The Jackets lose three starters on the defensive line, including All-ACC defensive end Jeremiah Attaochu -- who had 22.5 sacks over the last two seasons. Who will step up and fill that type of production? The most experienced backups returning are sophomores Tyler Stargel and Patrick Gamble. Also, Travin Henry will get a look at defensive end after playing wide receiver last season.
Offensive line questions. Georgia Tech also loses three starters on the offensive line -- tackles Ray Beno and Will Jackson and center Jay Finch. The trio combined to start 117 games in their careers, so there is no doubt this is going to be a much less experienced unit in 2014. The good news is All-ACC guard Shaq Mason returns to help anchor the new-look line.

Miami
Spring start:
Started March 1
Spring game:
April 12
What to watch:
Quarterback derby. Stephen Morris is gone, but the Canes do have at least one experienced quarterback on the roster in Ryan Williams, a Memphis transfer who has served as Morris' backup the last two seasons. As a true freshman with the Tigers, Williams started 10 games -- all the way back in 2010. Challenging Williams is redshirt freshman Kevin Olsen, who had a bit of a rocky first year in Miami, along with Gray Crow.
Defensive improvements. Perhaps more than what happens at quarterback, Miami must see improvements out of its defense this season. Embattled defensive coordinator Mark D'Onofrio kept his job but the status quo cannot persist. Every single area of the defense must be upgraded. Ranking No. 13 in the ACC in total defense just can't happen again.
Defensive improvements, Part II. To try and help the secondary, Miami already moved Dallas Crawford over to safety, where the Canes could use the help. But Miami must be stronger on the defensive front. The Canes only had 12 sacks in eight conference games. By comparison, BC led the way with 25 sacks in conference games. This is a big opportunity for guys like Al-Quadin Muhammad, Tyriq McCord and Ufomba Kamalu to really step up.

North Carolina
Spring start:
Started March 5
Spring game:
April 12
What to watch:
The quarterbacks. Marquise Williams took over as the starter when Bryn Renner was gone for the season and ended up helping the Tar Heels make a bowl game after a 1-5 start. But coach Larry Fedora said the competition is open this spring. Look for Mitch Trubisky and Kanler Coker to give Williams a major push.
Defensive line questions. Kareem Martin and Tim Jackson are both gone, leaving big holes in the North Carolina front. Martin ended up notching 21.5 tackles for loss to rank No. 3 in the ACC. So who are the next guys up? At end, Junior Gnonkonde and Jessie Rogers are the top two contenders, while Shawn Underwood, Devonte Brown and Justin Thomason will compete for one of the tackle spots.
Replacing Ebron. Eric Ebron was dynamic at tight end for the Tar Heels last season, leading the team with 62 receptions for 973 yards, while adding three touchdowns. Will the Tar Heels be able to replace that type of production with just one player? Jack Tabb would be next in line among the tight ends, but this is a huge opportunity for the North Carolina receiving group as well. We saw plenty of promise out of young guys like Bug Howard, T.J. Thorpe and Ryan Switzer.

Pitt
Spring start:
March 16
Spring game:
No spring game. Last day of practice April 13
What to watch:
The quarterbacks. Chad Voytik played really well in relief of an injured Tom Savage in the bowl game, but coach Paul Chryst said the competition to win the starting job is open headed into the spring. At this point, Voytik and Trey Anderson are the only scholarship quarterbacks on the roster. So you can bet the biggest goal of all is to keep them both healthy.
Replacing Aaron Donald. One of the biggest surprises in all of college football this past season was the emergence and utter dominance of Donald at defensive tackle. Donald swept every major defensive award after notching 28.5 tackles for loss, 11 sacks, 16 quarterback hurries and four forced fumbles. Darryl Render is the next man up.
Complementary receiver. Devin Street is gone, leaving Tyler Boyd as the only standout receiver on the roster. Not only do the Panthers have to develop a consistent No. 2 receiver, they also have to develop some depth. Watch for Manasseh Garner, a former H-back who moved to receiver late last season when Street got hurt. He is more physical than Boyd, and has some extended playing experience.

Virginia
Spring start:
Started March 1
Spring game:
April 12
What to watch:
The quarterbacks. David Watford is not guaranteed to win his starting job back after last season, when he threw eight touchdown passes to 15 interceptions. Greyson Lambert and Matt Johns are also in the mix and reps with the first team will be split. In fact, Lambert got the first-team reps when the Hoos opened spring ball last weekend.
Andrew Brown. The highly-touted freshman will have every opportunity to win a starting job at defensive tackle, and it all starts in spring ball. The No. 3-ranked player in the ESPN 300 comes in with tons of hype; now can he translate that into on-field success? He, Donte Wilkins and Chris Brathwaite will be competing to start next to David Dean.
Mr. McGee. Jake McGee was the best player the Hoos had among the group of tight ends and receivers a year ago, leading the team with 43 catches for 395 yards. This spring, McGee has now moved over to receiver so the Hoos can take advantage of his athletic ability. Plus, Virginia is lacking playmakers at the position, so we'll see how much this move benefits both McGee and the offense.

Virginia Tech
Spring start:
March 27
Spring game:
April 26
What to watch:
Quarterback. Mark Leal heads into the spring with a leg up in the quarterback competition but make no mistake, there is no set starter. He will get competition from freshmen Andrew Ford and Brenden Motley in the spring, with freshman Chris Durkin and Texas Tech transfer Michael Brewer arriving in summer. This competition will likely drag on into the fall.
Front seven. The Hokies are losing five terrific players up front, including ends James Gayle and J.R. Collins, and linebacker Jack Tyler, who racked up 100 tackles in back-to-back seasons. There is no doubt a major priority this spring is finding their replacements and building depth along the line and at linebacker. Who will step up as the leader of this group with Tyler gone?
Skill players. This has been an ongoing theme over the last two seasons and will continue to be a theme until the Hokies have consistently good players at running back and receiver. Offensive coordinator Scot Loeffler is excited about the return of tight end Ryan Malleck, and his entire tight end group for that matter. A healthy Malleck and improvement from Kalvin Cline means the Hokies could simultaneously improve their run and pass game.
December, 2, 2013
12/02/13
9:00
AM ET
Not much movement in the latest installment of the Power Rankings. As has been the case this season, there is a clear top and a clear bottom. The others can duke it out in the middle.

1. Florida State (12-0, 8-0; last week: No. 1).
The Noles are the new No. 1 team in the nation after they completed their regular season unbeaten and Alabama lost. All that is left to secure a spot in the BCS title game is a win over Duke in the ACC championship game Saturday. This FSU team has been utterly dominant all season long, beating its opponents by an average of 42 points per game.
2. Clemson (10-2, 7-1; LW: No. 2).
The same old problems plagued the Tigers in their fifth straight
loss to rival South Carolina
: turnovers. Six of them, to be exact, in a 31-17 loss. Though this team ends the regular season with 10 wins for just the fifth time in school history, losing to both Florida State and South Carolina has to be utterly disappointing for a group that went into the season with national championship aspirations.
3. Duke (10-2, 6-2; LW: No. 3).
The history-making season continues.
Duke beat in-state rival North Carolina
27-25 to post the first 10-win season in school history and win the Coastal Division outright. The challenge grows steeper now against Florida State in the ACC title game. Winning the Coastal is one thing. But now Duke will see how it measures up against the best team in the nation.
4. Virginia Tech (8-4, 5-3; LW: No. 4).
It was not pretty, but
Virginia Tech beat Virginia
yet again to close the season on a high note. There will be plenty of "what could have beens" spoken among Hokies fans, considering some of the ugly losses that ended up costing them dearly. Still, this season was an improvement over last even if it didn't feel that way at times.
5. Miami (9-3, 5-3; LW: No. 5).
Give the Hurricanes credit for finishing the season out the right way after a three-game losing streak threatened to derail them.
Miami soundly beat Pittsburgh
on the road and has won nine games for the first time since 2009. A win in the bowl game would give Miami at least 10 wins for the first time since going 11-2 in 2003. There is no doubt progress is being made.
6. Georgia Tech (7-5, 5-3; LW: No. 6).
What a heartbreaking way to end the season for the Jackets, who blew a 20-0 lead on in-state rival Georgia and
lost in double overtime
. This team can take pride in its effort, though it is little consolation today. Still, Georgia Tech did beat Duke soundly in September. It could not get out of its own way in losses to Virginia Tech and Miami, and that ended up costing it a spot in Charlotte.
7. North Carolina (6-6, 4-4; LW: No. 7).
The Tar Heels saw their five-game winning streak come to an end in a loss to Duke, but that should not take away from what this team accomplished in the second half of the season. There is not much doubt this team is playing some of the best football in the ACC right now and has rising stars on its roster in
Marquise Williams
,
Ryan Switzer
,
Bug Howard
,
Quinshad Davis
and
T.J. Logan
.
8. Syracuse (6-6, 4-4; LW: No. 11).
The Orange could not have waited any longer to become bowl eligible, running out all but six seconds on the season before
beating Boston College
with a last-second scoring pass. Though this was not as successful a season as last season, give the Orange props for standing on the verge of making consecutive bowl games for the first time since 1998-99.
9. Boston College (7-5, 4-4; LW: No. 8).
One week after winning a heart-stopper over Maryland, the Eagles lost a heart-stopper to Syracuse. Still, there is no way to look at this season as anything other than a rousing success. Boston College is going back to a bowl game and has instilled a toughness on this team that will be a signature as long as Steve Addazio is the coach.
10. Maryland (7-5, 3-5; LW: No. 10).
The Terps closed out their final ACC season with a 41-21
win over NC State
in another outstanding performance for quarterback
C.J. Brown
. Definite progress was made after two miserable losing seasons, but the Terps are headed into the unknown as they switch over to the Big Ten.
11. Pitt (6-6, 3-5; LW: No. 9).
The Panthers closed the season 2-4 and are lucky to be bowl eligible given the way they have played for a majority of the season. Special teams did them in again in a 41-31 loss to Miami to end the year. Among the myriad issues this team dealt with, it was an inability to run the ball that probably vexed it most.
Tom Savage
was simply asked to do too much.
12. Wake Forest (4-8, 2-6; LW: No. 12).
The Deacs closed another tough season with a
heartbreaking loss to Vanderbilt
. On the season, they lost four games by a touchdown or less. Wins in two of those would have gotten them to bowl eligibility again. Instead, coach Jim Grobe is facing another long offseason full of questions.
13. NC State (3-9, 0-8; LW: No. 13).
Nobody anticipated the Wolfpack would go from a bowl team to one of the worst teams in the ACC under new coach Dave Doeren. But injuries, scheme changes on offense and defense and instability at quarterback sent this team spiraling. The Wolfpack lost eight of their nine games by double digits.
14. Virginia (2-10, 0-8; LW: No. 14).
The Hoos completed their worst season since 1982 with a 10th straight loss to in-state rival Virginia Tech. Athletic director Craig Littlepage has given coach Mike London a vote of confidence headed into next season, but there cannot be any margin for error in 2014. London must win to save his job.
November, 20, 2013
11/20/13
4:00
PM ET
The bottom was not really rock bottom, not when you saw the way North Carolina kept fighting against unbeaten Miami on a Thursday night in Chapel Hill.
Despite that close loss, you never got the sense that the Tar Heels had given up on their season, despite a 1-5 record, bowl hopes on life support and chatter that the Tar Heels had been the most disappointing team in the league.
Coach Larry Fedora told reporters afterward, "We're going to find a way to win football games. That's going to happen."
Even still, making a bowl game seemed improbable, if not impossible.
Yet here the Tar Heels stand, riding a four-game winning streak, one victory away from bowl eligibility. They can get there against Old Dominion on Saturday, to complete the biggest in-season turnaround of 2013. Since the regular-season expanded to 12 games in 2006, only five teams that began the season 1-5 went on to make a bowl game. Only one – Rutgers in 2008 – came from a power conference.
"We just had to stay with a positive attitude, and positive behavior," quarterback
Marquise Williams
said in a recent phone interview. "That's one thing Coach Fedora always preaches to us. Any other team probably would have thrown in the towel and been OK with going whatever the record is, but we knew we had to do something to change things around and get us back rolling. That wasn't the football team we wanted to be. We wanted to be better than that."
Fedora credits leadership from his coaching staff and seniors to keeping the team together after such a poor start. The low point came Sept. 28, a 55-31 thrashing at home by East Carolina, a game in which players admitted they overlooked their opponent.
Two more loses followed, but there were signs of life. The defense started playing better, giving up fewer big plays. Young players like
Ryan Switzer
,
Bug Howard
,
T.J. Thorpe
and
Khris Francis
started contributing.
Eric Ebron
has developed into one of the best tight ends in the country, and already owns the single-season school record for receptions by a tight end.
And Williams showed his worth after starting for an injured Renner in a loss to Virginia Tech.
He and Renner both played until Renner was lost for the season following the NC State game. North Carolina has rolled on to two straight wins without its senior leader. Keep in mind, Williams was not even around the team in the spring because he was on academic suspension.
Now, Williams is a big reason why the Tar Heels have an opportunity to make their first postseason appearance since 2011 after being
banned from postseason play
in 2012.
[+] Enlarge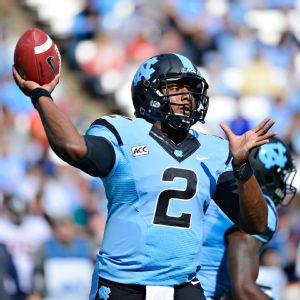 Bob Donnan/USA TODAY SportsQuarterback Marquise Williams has been a big part of the Tar Heels' four-game winning streak.
"Going through that, it was a huge wake-up call," Williams said. "I didn't take the game seriously, and didn't focus on what I needed to do. Adversity is going to hit in your life, and that made me grow up, and become a better person and more mature person, to respect things, to appreciate things. To show people it's not about me, it's about everyone else. I've been focusing on a lot of people other than myself. I just had to grow up and be more mature about the things I was doing."
He's not the only one who has grown up. Of North Carolina's 36 touchdowns this season, 28 have been scored by either freshmen or sophomores. Switzer already has the single-season school record with three punt return touchdowns, and he needs one more to tie the ACC record.
Defensively, North Carolina is only allowing 331 yards per game and 17.5 points per game during this four-game winning streak. Compare that to 455.9 yards per game and 30.7 points per game during the 1-5 start.
Now granted, the schedule has gotten a lot easier in the back end. According to USA Today's Sagarin rankings, North Carolina had the fourth-most difficult schedule in the country through its first six games. In the last four, the Tar Heels have faced just one team with a winning record.
Nonetheless, it takes a team playing together to win games, no matter the strength of the opponent. North Carolina stayed true to itself, and now it's on the verge of getting back to the postseason.
"The entire team has to buy into it," Fedora said. "For us, it's earlier in the year so you could go a lot of different ways. That's why I give credit to the staff and those seniors and the leaders on this football team, how they kept everybody together."
November, 14, 2013
11/14/13
9:00
AM ET
Last week saw a few upsets in the ACC, costing Heather a little more than Andrea. Heather went 4-3 on the week after picking Maryland, Notre Dame and Miami to win. Andrea went 5-2, correctly picking the Hokies to upset the Canes. Andrea now has a one-game lead in the overall standings with a 67-18 mark. Plenty of time for Heather to walk away with the highly coveted, extremely prestigious ACC predictions trophy.
Now on to the picks!
Thursday night


Georgia Tech (6-3, 5-2) at No. 8 Clemson (8-1, 6-1), 7:30 p.m., ESPN. #GTvsCLEM.
Recent history suggests this game is going to be close, so expect the same this season. Both teams have plenty on the line in this one, which is the final ACC contest for each. The Yellow Jackets need a win to stay in contention for the Coastal Division crown. Clemson needs a win to stay in contention for an at-large BCS berth. Georgia Tech's defense is much better than the group that allowed Clemson to rack up 601 yards of total offense a year ago, but the Tigers' defense is better than it was a year ago, too.
Tajh Boyd
will find a way to make enough plays on this D. He needs three touchdown passes to break the ACC career mark of 95 set by former NC State All-American Philip Rivers (2000-03).
AA picks: Clemson 38, Georgia Tech 33
HD's pick: Clemson 35, Georgia Tech 28
Saturday


NC State (3-6, 0-6) at Boston College (5-4, 2-3), 12:30 p.m., ESPN3. #NCSTvsBC.
The Wolfpack have not been able to find a way to win games in the fourth quarter this season. They continue to struggle with quarterback issues, the biggest reasons why they remain winless in ACC play. Meanwhile, BC has found ways to win the last two weeks in the fourth quarter and now stands one victory away from bowl eligibility. The Wolfpack are getting several key players back on their defensive front, but
Andre Williams
seems like an unstoppable force right now. Williams needs 256 yards to break Mike Cloud's single-season school record for rushing yards.
AA picks: Boston College 24, NC State 21
HD's pick: Boston College 28, NC State 21


North Carolina (4-5, 3-3) at Pitt (5-4, 2-3), 12:30 p.m., ESPN3. #UNCvsPITT.
Both teams have experienced a youth movement of sorts this season. Twelve true freshmen have played for Pitt, and the Panthers are led in seven statistical categories by freshmen. Meanwhile, 24 of North Carolina's 32 touchdowns this season have been scored by freshmen or sophomores. Young players like
Ryan Switzer
,
Bug Howard
,
T.J. Logan
and
Khris Francis
have been critical to North Carolina's recent turnaround. With an improving defense, North Carolina has not given up nearly as many big plays over its three-game winning streak: only 12 of 46 "big plays" given up have come during this streak. The Tar Heels are on a hot streak, and that continues against a Pitt team that might have a letdown following an upset of rival Notre Dame.
AA picks: North Carolina 28, Pitt 24
HD's pick: Pitt 24, North Carolina 21:
The Panthers are confident from their win against the Irish, and this is the win they need to become bowl eligible in front of a home crowd. More importantly, quarterback
Tom Savage
was sacked only one time by Notre Dame -- a huge improvement in the pass protection. Pitt's offense is taking care of the ball well and will continue to open up the play-action against UNC with a strong running game. Another big reason the Panthers get it done? Defensive tackle
Aaron Donald
. He'll make himself comfortable in the Tar Heels' backfield.


Maryland (5-4, 1-4) at Virginia Tech (7-3, 4-2), 12:30 p.m., ESPN3. #MDvsVT.
Well look who has played its way back into the Coastal Division race? None other than the familiar Hokies, who are riding high off an impressive win at Miami.
Logan Thomas
had one of the best performances of his career, and the run game was outstanding. Virginia Tech hopes to carry that momentum against the Terps, who are on a three-game losing streak. A sputtering Maryland offense is not going to be able to do much against the No. 3-ranked defense in the country.
AA picks: Virginia Tech 30, Maryland 10
HD's pick: Virginia Tech 31, Maryland 13


Syracuse (5-4, 3-2) at No. 2 Florida State (9-0, 7-0), 3:30 p.m., ABC. #CUSEvsFSU.
Everybody already has penciled in wins for Florida State the rest of the way out, but the Seminoles are going to have to guard against complacency if they want a spot in the national championship game. Syracuse has shown improvement with its run game and on defense over the last two weeks. In five wins this year, the Orange are averaging 244.4 yards rushing. To have any shot at the upset, Syracuse is going to have to maintain that average. That is a tall task.
AA picks: Florida State 49, Syracuse 13
HD's pick: Florida State 42, Syracuse 10


No. 23 Miami (7-2, 3-2) at Duke (7-2, 3-2), 3:30 p.m., ESPNU. #MIAvsDUKE.
Miami is not going to lose three straight games. It doesn't matter how bad its defense has looked over the last two weeks or how badly it missed
Duke Johnson
against Virginia Tech. That game got out of control because of special teams miscues that put Miami in a hole from the outset. Duke has its own issues to deal with on offense, with nine turnovers over its last three games, all wins. A big reason has been the play of the defense, which has forced nine turnovers over the same stretch. Miami simply has way more talent on offense than anybody the Blue Devils have faced this season, and
Stephen Morris
will find a way to get Miami back in the win column.
AA picks: Miami 30, Duke 21
HD's pick: Duke 28, Miami 24:
Going out on a limb here, but it's not a typical week in the ACC if there isn't at least one shocker. The main reason for this pick, though? Duke has an honest-to-goodness belief it can win. The Blue Devils went on the road and beat Virginia Tech. There's no reason they can't beat an average Miami team at home if they play smart, disciplined, mistake-free football. Sure, Miami has more "athletes," but right now, Duke has the better defense and all of the momentum it needs for its second upset of the season.