December, 27, 2012
12/27/12
10:49
PM ET
Cincinnati dug out of an early 16-0 hole Thursday night and defeated Duke in a thrilling Belk Bowl,
48-34
. Here's how it went down:
It was over when
:
Brendon Kay
hit
Travis Kelce
for the longest touchdown in Belk Bowl history, 83 yards, as the tight end went untouched for the deciding score with 44 seconds remaining. On Duke's ensuing possession,
Maalik Bomar
drilled
Sean Renfree
and
Nick Temple
came up with the pick, returning it 55 yards for the touchdown with 14 seconds left to make it 48-34.


Game ball goes to
: Cincinnati had a number of offensive players who put up huge numbers and are more than worthy of this honor, but in the end you have to go with the man who orchestrated the attack. Kay completed 17 of 25 passes for 332 yards with four touchdowns, and he added 76 rushing yards on 10 carries.
Stat of the game
: Pretty simple: Duke turned the ball over four times, including twice in the red zone. Cincinnati never turned it over, giving the Bearcats just enough in a game it ended up being outgained by a slim 560-554 margin.
Unsung hero of the game
: With Duke facing a second-and-goal from the Cincinnati 5 with less than 2 minutes to play in a tied game,
Brandon Mills
forced a
Josh Snead
fumble, with
John Williams
recovering it. Kay hit Kelce for the game-winner four plays later.
Greg Blair
also deserves credit for forcing -- and recovering -- a
Jela Duncan
fumble in the second quarter right before Duncan broke the goal line. A touchdown there would have added to Duke's early 16-3 lead.
What Cincinnati learned
: These Bearcats deserve plenty of credit. Playing under interim coach Steve Stripling, following the departure of Butch Jones to Tennessee, Cincinnati fell behind 16-0 early to a team playing close to home. The Bearcats could have easily folded. Instead, they recovered to take the lead before halftime, forced timely turnovers and walked away with their 10th win of the season, their fifth 10-win campaign in the past six years, marking an unprecedented stretch in program history.
What team Duke learned
: The Blue Devils made it to a bowl game for the first time in 18 years, but they could not snap their 52-year streak without a bowl win, despite starting off hot and having a number of opportunities to put Cincinnati away. The loss means the ACC cannot finish with a winning record this season against the Big East, which leads the season series 5-4 with one game remaining between the conferences. (Virginia Tech-Rutgers in Friday's Russell Athletic Bowl.)
December, 27, 2012
12/27/12
11:12
AM ET
Cincinnati (9-3, 5-2 Big East) vs. Duke (6-6, 3-5 ACC)
WHO TO WATCH
: Duke receiver
Conner Vernon
is the ACC's all-time leader in receiving yards following his 75-catch, 955-yard, seven-touchdown season. The Blue Devils have benefited from strong quarterback play from
Sean Renfree
, who has completed better than 66 percent of his passes for 2,755 yards with 18 touchdowns and eight picks. For Cincinnati, quarterback
Brendon Kay
's play is worth keeping an eye on, as the fifth-year senior was recently granted a sixth year of eligibility by the NCAA but will be walking into an open race next year under new head coach Tommy Tuberville. Kay replaced
Munchie Legaux
and started the Bearcats' final four games, finishing the season with 966 passing yards, 230 rushing yards and eight total touchdowns.


WHAT TO WATCH
: How does Cincinnati respond after the departure of head coach Butch Jones to Tennessee? Tuberville was hired immediately after from Texas Tech, but assistant Steve Stripling will serve as interim head coach for this game. Stripling was Central Michigan's interim coach for its GMAC Bowl win in 2009 … again replacing Jones as head coach. The Bearcats are going for their fifth 10-win season in the past six years, an unprecedented stretch for this program.
WHY TO WATCH
: Duke is playing in its first bowl game since the 1994 season and has not won a bowl game in 52 years, when it beat Arkansas in the Cotton Bowl after the 1960 season. Since that last win, according to ESPN Stats and Info, the Blue Devils have won 94 games in the NCAA men's basketball tournament. Duke is also looking to avoid its 18th straight losing season. This is also the first of two ACC/Big East bowl matchups, after the conferences split their eight regular-season meetings.
PREDICTION
: Cincinnati 35, Duke 20. Despite the unpredictability factor with the Bearcats, they simply have too many threats that play right into what has doomed the Blue Devils so often during their four-game slide to end the regular season.
December, 12, 2012
12/12/12
9:00
AM ET
The ACC and Big East are tied at 4-4 entering this bowl season, with two more games to be played. Duke and Cincinnati will face each other in the Belk Bowl in Charlotte, and Virginia Tech and Rutgers will play in the Russell Athletic Bowl. The Hokies are already 0-2 against the Big East after losses to Pitt and Cincinnati. For all of the heat the Big East has taken this year, the ACC hasn't fared much better on the field. Which conference will end the season on top (or hit rock bottom, depending on your view)? Bloggers Andrea Adelson and Heather Dinich debate:
[+] Enlarge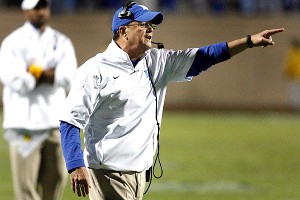 Mark Dolejs/US PresswireWith veteran David Cutcliffe, Duke appears to have the coaching edge in its bowl game with Cincinnati.
Heather Dinich:
I want to come out swinging. I want to deliver a knockout blow before you even get fired up, AA, because I know how you get once you're on a roll. Problem is, the ACC reached a new low this year. My two best arguments for you this bowl season are 1. David Cutcliffe, the ACC's Coach of the Year, and 2. Frank Beamer, the country's active career leader in wins. No question I'd take Cutcliffe over … oh, that's right, Butch Jones has already split for Tennessee, a job that Cutcliffe had to say repeatedly he had no interest in. Who's coaching that team, anyway? Rutgers coach Kyle Flood is a rookie going against a veteran who has won four ACC titles and three Big East titles. Beamer didn't forget how to coach this year. If the ACC doesn't go 2-0 against the Big East this month, it certainly won't be because of the coaches on the sideline.
Andrea Adelson:
I think we all can agree both the ACC and Big East were just meh this season. But your best argument is pointing to two coaches that went 6-6 this year? C'mon, HD you're better than that!
Let's start with Cutcliffe. His team lost four straight to end the season. FOUR! WITH the Coastal Division on the line, no less. I appreciate the job he has done this year in getting Duke back to a bowl game, but I do not think it says much about this league at all that its Coach of the Year went .500 this season, with a losing record in the pretty terrible Coastal Division. Do I need to remind you that the last time a coach won ACC Coach of the Year honors with a .500 regular-season record was back in 1964? That would be Bill Tate of Wake Forest.
Steve Stripling will be coaching the Bearcats, and he has done probably the best job of any assistant on staff in the past two years given the way Cincinnati has performed up front. He coached two Big East first-team selections this year, and the Big East co-Defensive Player of the Year a season ago. Not too shabby. As for Mr. Beamer, I think we can all agree this was one of his worst seasons ever. Flood does not have nearly the coaching experience, but he did win co-Big East Coach of the Year honors for getting Rutgers a share of the league title for the first time ever. He's got a defense miles ahead of Virginia Tech.
I think that's where the Big East teams have the advantage -- far superior defenses. That's how both will win their games. What say you -- what is the on-the-field recipe for the ACC to win these two contests?
[+] Enlarge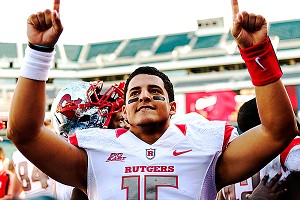 Howard Smith/USA TODAY SportsThe play of QB Gary Nova will surely be key in Rutgers' bowl game against Virginia Tech.
HD:
So you're saying they have a chance? Well, let's start with Virginia Tech. Turnovers stand out more than anything, and the Hokies must avoid them at all costs. VT is 0-2 against the Big East because it lost the turnover battle 7-3 in those two games. Quarterback
Logan Thomas
has to make better decisions than he did earlier this season against Cincy, and he's got to play a better game than
Gary Nova
. That doesn't seem like a tall task, especially if Bud Foster's defense can fluster Nova the way Pitt did. You talk about how "superior" Big East defenses are but fail to mention that Rutgers had just two first downs and 50 yards in the first half against Pitt. Against Louisville the following week, Rutgers had just 54 rushing yards and three turnovers. Virginia Tech's offense would hardly be confused for Oregon, but I'm guessing the Scarlet Knights haven't had to bring down a lumberjack QB like LT, who also happens to be the team's leading rusher (not that that's a good thing). In a pillow fight between these two offenses, Thomas gets my vote -- as long as the O-line can keep him on his feet. As for Duke, no question the Blue Devils need to play better defense. They're one of the worst in the country, allowing 35 points per game. It's no wonder they lost four straight to end the season. Against Cincy, the rushing D will be critical. You get the final word: Is the Big East truly better than the ACC this year?
AA:
I have a double answer for you, HD. The ACC is clearly better at the top. Nobody is going to argue that point. But beyond Florida State and Clemson, I think the ACC and Big East are just about the same. And winning these two bowl games would be great for the Big East to use in future debates about where it stands against the ACC. You think these games are big for the ACC, but I think they are even bigger for the Big East.