August, 19, 2014
Aug 19
2:00
PM ET
The focus has largely been on the new quarterback and returning defenders at Clemson so far, but what has Dabo Swinney most excited for 2014 might be the backfield.
A year ago, the plan was for the Tigers to employ a handful of runners in key roles, but after injuries ravaged the depth chart, Rod McDowell became the default option in nearly every situation, and while he did an admirable job, Clemson still ranked 73rd in yards per carry. Carries by running backs accounted for just 32 percent of Clemson's offensive plays last season -- 10 percentage points less than division counterpart Florida State.
But as the Tigers get set for their opener against Georgia, the plan for a more dynamic running game appears set for 2014, and Swinney couldn't be more pleased with the weapons at his disposal.
[+] Enlarge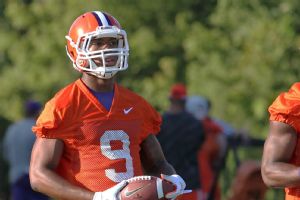 AP Photo/Anderson Independent-Mail, Mark CrammerRedshirt freshman RB Wayne Gallman is turning heads in Clemson's camp.
"I think we've got a really deep group and a bunch of guys that deserve to play," Swinney said. "The competition and diversity we have there is going to help us be very strong at that position."
Redshirt senior
D.J. Howard
(5-foot-11, 205) is the nominal starter at this point, but he has been injury prone in his career and could quickly be upstaged by younger runners with more upside. Still, Howard is perhaps Clemson's best pass blocker, and his knowledge of the system means he'll have a secure role if he stays healthy.
Zac Brooks
, who projected as the best receiver out of the backfield,
injured his foot and is out for the season
, but there are other weapons down the depth chart.
C.J. Davidson
(5-10, 200) suffered a knee injury last season that limited his production, but Swinney said he might be the "most explosive" of Clemson's veteran runners.
"He's just a powerful change-of-direction type of guy," Swinney said.
But the real emerging star might be redshirt freshman
Wayne Gallman
.
As the injuries piled up last season, one of the toughest decisions the coaching staff had to make was whether to keep Gallman (6-1, 205) sidelined. In the end, Swinney erred on the side of caution, keeping the redshirt on Gallman in order to get him ready for 2014. Now, Clemson is ready to enjoy the rewards of that patience.
Coaches and teammates have raved about Gallman's progress throughout this offseason, and Swinney said he can't remember being around a running back who practices with as much energy.
"We're having to slow him down because he just plays so fast and violent," Swinney said. "Things just get hit when he's out there."
Swinney said Gallman is learning to corral that energy and doing a better job of playing within Clemson's system, but the coaching staff is eager to unleash its secret weapon on the rest of the ACC this fall.
"He's going to be an exciting player to watch," Swinney said.
Swinney said coaches are still deciding the future of the Tigers' two true freshmen --
Adam Choice
and
C.J. Fuller
, both 5-9 and 215 pounds -- but he loves the physicality both bring, and there's a chance at least one will see work this season.
Of course, the focus on the tailbacks also comes from the loss of last year's quarterback, Tajh Boyd, who racked up 154 carries -- just 35 fewer than McDowell. With less mobile senior
Cole Stoudt
prepared to take over the offense, the conventional wisdom suggests the tailbacks will need to pick up the slack.
Swinney said that might not be the case, however.
"We're going to run our quarterback," Swinney said. "That's the nature of what we do. We feel like it gives us an advantage when the quarterback is part of the run game, and that part won't change. Cole is definitely undervalued as a runner, and I think he's going to be way better than people think."
True freshman QB
Deshaun Watson
will be a big part of the offensive blueprint, too. Swinney has already said that Watson will play -- though not start -- this season, and it would make sense to let the freshman get his feet wet as a runner and red-zone threat early in the year.
"He's gifted when it comes to running the ball," Swinney said, "so you'll see that."
Still, for all the talk of running with the quarterback, this will be a slightly different look for the Tigers this fall, and that could be a good thing. With so much shuffling of personnel elsewhere on the offense, a dynamic backfield could be just what Clemson needs to push through a grueling early season schedule.
Of course, before that plan comes into focus, Swinney said, his tailbacks need to prove they're ready to carry the load.
"Hopefully we've got a couple of these backs that kind of demand through their performance that we call [plays] a little bit different," he said. "But that's up to them to prove that."
June, 2, 2014
Jun 2
9:00
AM ET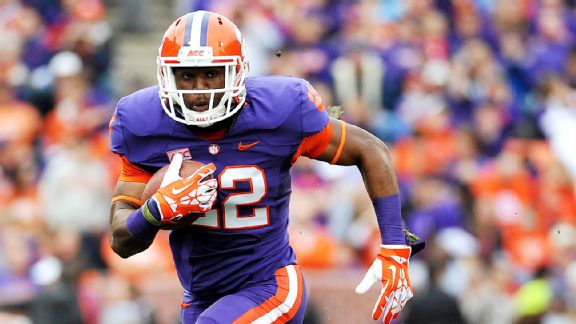 AP Photo/Rainier EhrhardtD.J. Howard, who rushed for 213 yards and two touchdowns last season, is atop Clemson's depth chart at running back.
There has been one near certainty on the
Clemson
offense under coach Dabo Swinney.
A running back will hit 1,000 yards.
It has happened in three straight seasons, and four of the five years Swinney has been in charge. So will it happen again in 2014, with what could be a running-back-by-committee approach?
"We certainly expect to," Swinney said during the ACC spring meetings. "Last year, Hot Rod (McDowell) became the guy, the year before it was (Andre) Ellington. We might be a little more diversified this year, but we'll see how it all plays out. I know our overall production at the position is going to increase. Whether it's one guy or a combination of guys that's yet to be determined."
When Swinney released his
summer depth chart
last week,
D.J. Howard
was listed as the starter. But three more backs also are listed behind him --
Zac Brooks
,
C.J. Davidson
and
Wayne Gallman
. A fifth,
Tyshon Dye
, is recovering from a torn Achilles tendon, but Swinney expects Dye to return at some point in the season, giving the Tigers five quality running backs that could all play. Not to mention
three four-star running backs
coming to Clemson for the fall.
"This is probably the best situation we've been in at running back in a long time," Swinney said. "That's probably the area offensively we're most excited about as coaches. We've got very good depth there. We've got a competitive, talented group that is going to pay good dividends for us this year."
Clemson and Baylor are only schools with 3,000-yard passer, 1,000-yard receiver and 1,000-yard rusher each of the last three season. But both Swinney and offensive coordinator Chad Morris believe they will get more production out of their running backs in 2014. They expected the same headed into last season, when Morris wanted his team to average 200 yards on the ground.
The Tigers did not quite get there for a few reasons. Swinney said a lot of times, run calls turned into pass calls, where they could reliably lean on
Tajh Boyd
. The Tigers also had to deal with a few injuries that limited their depth.
With Boyd gone and
Cole Stoudt
in as the starter at quarterback, more of the run calls will fall to the running backs. Backup quarterback
Deshaun Watson
can run as well and could be used in certain designed packages, but there is little doubt the Clemson coaches want to rely on their talented group of backs, starting in the opener against Georgia. Last season against the Bulldogs, Clemson racked up 197 yards on the ground -- its third-highest total against FBS competition on the season.
The Tigers hope for more of the same this season, on a weekly basis. But it might not translate into a 1,000-yard back. Back in 2010, the only season the Tigers did not produce a 1,000-yard rusher,
Jamie Harper
and
Andre Ellington
had similar rushing totals and combined for 1,446 yards.
May, 27, 2014
May 27
1:00
PM ET

Clemson coach Dabo Swinney put out his summer depth chart Tuesday without many huge surprises, but there are some interesting tidbits to note:
April, 24, 2014
Apr 24
4:00
PM ET
We've talked plenty about the myriad of quarterback battles going on around the ACC, but the conference actually returns five QBs who accounted for 2,000 yards of offense or more last season.
We wrote about the
big-name receivers headed for the NFL draft
, but the ACC also has three wideouts returning who accounted for 1,000 receiving yards in 2013, too.
But how about the tailbacks? How many 1,000-yard rushers from 2013 will be back again this season?
Believe it or not, the lone representative on that list is Virginia's
Kevin Parks
, who racked up 1,031 yards on the ground for a team that didn't win a single conference game.
The depth chart among returning running backs in the conference doesn't get much better beyond Parks, either.
Duke Johnson
is probably the ACC's best returning running back. He racked up 920 yards in eight games before getting hurt. Beyond that, only Louisville's
Dominique Brown
, who played in the AAC last year, returns with at least 800 yards on the ground from 2013.
So, if there aren't a ton of top tailbacks returning for 2014, which teams are poised for the most success on the ground this year?
"

I think the issue is, if we collectively agree that we're going to schedule up, we don't have to come up with a hard rule we have to go to nine games or everybody has to schedule one game against an SEC school. It's just a matter of getting everybody to agree to that.

"

-- FSU athletic director Stan Wilcox
If we break down the numbers by tailbacks only, Pittsburgh is the clear front runner. No ACC team's returning running backs accounted for a higher percentage of its 2013 carries (76 percent) than Pitt's, and thanks to the negative rushing totals courtesy of sacks,
James Conner
(799 yards),
Isaac Bennett
(776 yards) and Co. actually accounted for 106 percent of the Panthers' rushing yards from 2013. (A neat trick that comes courtesy of
Tom Savage
's 76 carries for minus-208 yards.)
With Parks back for 2014 along with highly touted sophomore
Taquan Mizzell
, UVA's returning backs account for 74 percent of last season's rushes, along with 91 percent of its yards. Of course, without star lineman
Morgan Moses
, those yards might be a bit tougher to come by this season.
Virginia Tech, NC State and Louisville all return running backs responsible for at least 50 percent of last season's ground gains, too (with Miami falling just short after swapping
Dallas Crawford
to the secondary).
The bottom of the list might be even more intriguing. Wake Forest's stable of running backs is a mess, but that's been well documented. The rest of the bottom six, however, include BC (which lost a Heisman finalist) and the top four offenses in the league from 2013 (Florida State, Clemson, Duke and Georgia Tech).
In other words, the best offenses lost big-time runners, and the shakiest (aside from Wake) have talent returning. So, does that mean there's reason for some serious shakeups in the ACC's offensive standings?
Not necessarily.
Yes, the ground game is essential for most teams to succeed. Of the 10 teams that played in BCS bowl games last season, seven returned a tailback who rushed for at least 500 yards in 2012.
But the ground game isn't defined entirely by the men toting the rock. FSU returns four starters on a veteran offensive line, along with a Heisman-winning quarterback. That should provide some room for its relatively green stable of running backs to roam.
And, of course, just because there's talent departing doesn't mean there isn't more waiting in the wings. Florida State's returning running backs (
Karlos Williams
and
Ryan Green
) averaged 7 yards per carry in reserve roles last season. Georgia Tech's averaged 5.9, and Duke's averaged 5.8 (QB
Brandon Connette
's departure is the biggest blow to the Blue Devils' ground attack). Even Clemson has cause to be excited about its rushing game in 2014 with the development of
C.J. Davidson
and
Zac Brooks
and the debut of uber-talented redshirt freshman
Wayne Gallman
.
The veteran presence in the backfield for Pitt, Virginia and NC State should offer some hope to teams in need of some offensive optimism, but it's also a likely scenario that FSU, Clemson, and others will supply a few names to the ACC's rushing leaderboard in 2014, too.
March, 12, 2014
Mar 12
9:00
AM ET
Spotlight:
Running backs.
2013 summary:
After losing back-to-back 1,000-yard rusher Andre Ellington, the big question headed into 2013 was whether
Roderick McDowell
and his teammates could fill such big shoes. McDowell carried much of the running game on his shoulders, rushing for more than 1,000 yards in the final season of his career. But beyond McDowell, the Tigers had a tough time keeping their running backs healthy.
Zac Brooks
and
D.J. Howard
dealt with injuries, forcing McDowell into becoming the workhorse running back. He ended up with 189 carries, while Brooks and Howard combined for 105. Quarterback
Tajh Boyd
ended up ranking second on the team with 400 yards on 154 carries.
[+] Enlarge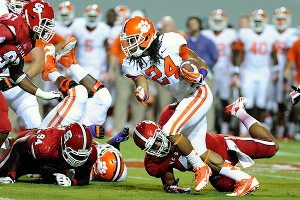 Liz Condo/USA TODAY SportsZac Brooks leads all returning rushers for Clemson but may be part of a running-back-by-committee in 2014.
The skinny:
The Tigers have now had four 1,000-yard rushers in the last five seasons. Will the trend continue? Interestingly enough, coaches believe Clemson could eclipse its rushing total from a year ago without a 1,000-yard back. That is how confident they feel about the depth in this group -- if everybody stays healthy. Howard has looked good early on in spring practice, and he comes into this season in a similar spot to McDowell a year ago -- a senior hoping for his final shot to prove himself.
Brooks, meanwhile, leads all returning rushers with 246 yards and has the best hands of the group. That was evident last season in the opener against Georgia, in which he had a key 31-yard touchdown reception.
C.J. Davidson
brings intrigue, too. The former track and field star from nearby Daniel High -- which produced DeAndre Hopkins -- has a burst that sets him apart. Coach Dabo Swinney says Davidson might have the best breakaway speed of any of the backs.
Then there is redshirt freshman
Wayne Gallman
, who has the potential to win the starting job. Offensive coordinator
Chad Morris said Gallman
is "probably as dynamic and electric a back as I've seen. He can turn speed to power so fast." Redshirt freshman
Tyshon Dye
also could enter the mix when he returns from an Achilles' injury in the fall.
Given the talent and depth, Clemson could end up with more of a running-back-by-committee approach this season. And don't forget about the possibility of a dual-threat quarterback such as
Chad Kelly
or
Deshaun Watson
winning the starting job. Clemson could end up in a better spot with its run game this year despite not having a clear-cut No. 1 back in spring drills.
September, 12, 2013
9/12/13
12:00
PM ET
Wild week of college football ...