September, 6, 2014
Sep 6
8:00
AM ET
This won't be the most inspiring slate of games this season has to offer, but the ACC at least showed in Week 1 that it knows how to make matchups against FCS teams exciting. Here's a look at your Saturday schedule.
12:30 p.m.
South Carolina State at Clemson, Raycom, #SCSTvsCLEM:
The Tigers look to rebound after a punishing loss to Georgia in Week 1. While Clemson looked sharp at times in the first half against the Bulldogs, the second half was a disaster. Getting the ground game going will be Step 1. Clemson averaged just 2 yards per carry in its opener. But the focus from fans will likely be on the quarterbacks, as freshman
Deshaun Watson
could push for more playing time against an FCS opponent. With No. 1 Florida State up next for Clemson, this is the last chance to iron out the issues that plagued the offense during its final 30 minutes in the opener.
3:30 p.m.
Richmond at Virginia, ESPN3, #RICHvsUVA:
Mike London has
waited all week to announce his starting quarterback
, with
Greyson Lambert
and
Matt Johns
both expected to play. Johns performed admirably in relief of Lambert last week against UCLA, and the Virginia defense nearly allowed the Hoos to pull off the upset. Adding some intrigue to the proceedings this week, Richmond features two more former UVA QBs in transfers
Michael Rocco
and
Michael Strauss
.
4 p.m.
[+] Enlarge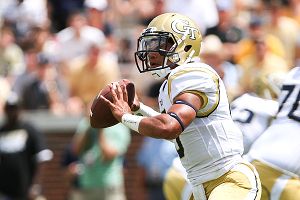 Kevin Liles/USA TODAY SportsGeorgia Tech put an a rare show through the air against Wofford, with QB Justin Thomas throwing for 282 yards and 2 TDs.
Georgia Tech at Tulane, ESPNews, #GTvsTULN:
Has Paul Johnson gone mad? In last week's opener, Georgia Tech threw for 282 yards and ran for just 226 -- the first time the Yellow Jackets had more passing offense than rushing in a win since 2009 and the largest differential in favor of the air attack of Johnson's tenure at Tech. Whether that's a trend that continues this week against Tulane remains to be seen, but it's worth noting that it was the arm of QB
Justin Thomas
that helped Tech pull away after struggling early against FCS foe Wofford last week.
6 p.m.
Old Dominion at NC State, ESPN3, #ODUvsNCSU:
The Wolfpack needed some late-game drama to escape Georgia Southern with a win in their opener, and while the early struggles weren't necessarily encouraging, Dave Doeren hopes
Jacoby Brissett
's impressive second half -- 18-of-23 for 213 yards, three TDs and no interceptions -- was a better indicator of what's to come for the Wolfpack's offense. In its opener, Old Dominion allowed 407 yards of passing offense to Hampton.
6:30 p.m.
Gardner-Webb at Wake Forest, ESPN3, #WEBBvsWAKE:
The Dave Clawson era got off to a rocky start as the Demon Deacons couldn't muster any offense against Louisiana-Monroe in their opener. Wake's total of 94 yards of offense was the second worst in the nation in Week 1, as was its rushing total of minus-3 yards. Clawson hopes to find some answers against FCS Gardner-Webb, but the Deacons clearly have a long way to go.
7 p.m.
Murray State at Louisville, ESPN3, #MURRvsLOU:
Coming off an impressive win over Miami in its first ACC contest, Louisville will need to avoid a letdown this week against Murray State. No. 2 rusher
Michael Dyer
is likely to miss his second straight game, but starter
Dominique Brown
proved in Week 1 he could provide the offensive foundation, carrying the ball 33 times -- three more than any other tailback in the nation.
Florida A&M at Miami, ESPN3, #FAMUvsMIA:
Brad Kaaya
's debut wasn't one Miami fans will want to remember, but he should have an easier time of it this week against FCS foe Florida A&M. It may also be a chance for backup
Jake Heaps
to get in some reps, too. But regardless of the QB, the Hurricanes' offensive line needs to show some improvement if Miami is really going to be a contender in the ACC Coastal.
Duke at Troy, ESPN3, #DUKEvsTROY:
The Blue Devils didn't have much trouble in their opener against Elon, but a road trip to coach David Cutcliffe's home state of Alabama should prove a bit tougher.
Jamison Crowder
picked up right where he left off in 2013, hauling in 93 yards and two scores, but the bigger reason for optimism is that
Issac Blakeney
caught two more scores and could emerge as a reliable No. 2 option in the passing game. With linebacker
C.J. France
out with a leg injury,
Duke's battered defense
could be tested, but Troy's offense showed little flash in mustering just 4 yards per play (112th nationally) against UAB in Week 1.
7:30 p.m.
The Citadel at Florida State, ESPN3, #CITvsFSU:
This certainly wouldn't have been circled on No. 1 FSU's schedule as a big game, but the opportunity for the younger players -- particularly on the defensive line and receiving corps -- to get some game action suddenly looks crucial after the Seminoles' turbulent Week 1 performance against Oklahoma State. Getting
Travis Rudolph
,
Jesus Wilson
(
who is returning from a one-game suspension
) and
others involved in the passing game
will be a major priority.
8 p.m.
San Diego State at North Carolina, ESPNEWS, #SDSUvsUNC:
Larry Fedora says San Diego State's chaotic defensive scheme should be an
exceptional test for his young offensive line,
which may be the Tar Heels' weakest position group.
Marquise Williams
has solidified his spot as UNC's starting quarterback, however, and the strong second half for the Heels in Week 1 offers some optimism that the preseason hype was warranted.
Virginia Tech at Ohio State, ESPN, #VTvsOSU:
With conferences battling for marquee wins in the new era of the College Football Playoff, this game
could be huge for both the Hokies
and the ACC. Virginia Tech is eager to prove it's ready to contend on a national stage again, and few stages are bigger than Columbus, Ohio. "Virginia Tech hasn't been where we'd want to be in the past couple years, and this is a chance on a big stage to regain some confidence in people and put our name back up on the map," QB
Michael Brewer
said. It's also a chance for the ACC to garner a big win over a powerhouse program in the conference it's chasing
in ESPN's FPI rankings
.
August, 27, 2014
Aug 27
4:00
PM ET
Duke Blue Devils
linebacker
David Helton
shifted over to middle linebacker following the
season-ending injury
to starter
Kelby Brown
. How has he adjusted to the new role, and what is he doing to be a more vocal leader? I had a chance to ask Helton before Duke opens the season Saturday against Elon.
Where is the biggest shift in your responsibility?
[+] Enlarge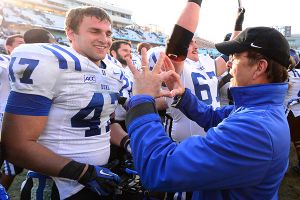 Bob Donnan/USA TODAY SportsLB David Helton says he's "really excited" about Duke's upcoming season, despite the challenges of losing teammates to season-ending injuries.
Helton:
Mike (middle linebacker) is definitely more vocal. You make the calls. You have to make certain formation checks that the Will (weakside linebacker) wouldn't have to do at times. You want the Will to be able to help but with the Will being in coverage a little bit more, you rely on the Mike, because the Mike will be in the box a lot to be able to make the formation checks and make the calls for the secondary at times and most times for the front.
How comfortable are you with doing that?
DH:
I'm feeling really good about it. The first few days, it was a little new but now I'm starting to get much more comfortable. Kelby's coming back and we're going to hang out and talk like we did before and I'll be able to have him as coach as well, which will be great. The fact I've been in this defense since my freshman year has been extremely beneficial and has made this transition a lot easier.
You and Kelby had great on-field chemistry. How do you go about building that with C.J. France and the other linebackers now?
DH:
Fortunately, our linebacker group is extremely tight knit. Kelby and I were taking most of the reps for the most part for the whole year, but we were always meeting with everyone. All of us were meeting and talking through things. This transition isn't as drastic as it might seem. Me and Kelby have a great chemistry, and we'll continue that. Even though he's hurt, he's not gone. He'll still be working with us and that will be great for all of us. The transition will be extremely smooth.
Kelby has been described as the "heart and soul" of the defense. Now as the middle linebacker, you will have to take on more leadership responsibilities. How do you plan on taking on that new role?
DH:
Kelby is an absolute leader on this team. The thing is, as the heart and soul, that doesn't necessarily mean you have to be out there. If he's over there with us on the sideline, it's incredible as far as him being able to lift us up when we need that. He's still that person. It's not as if he's gone. As far as on the field, I definitely will have a growing leadership role throughout the year. I hope to do that. All of us lead in different ways, and I hope to find my way of leading this defense.
What is your leadership style?
DH:
I am a growing vocal leader, but I'm definitely more of a one-on-one type of leader. I'm not incredibly vocal when maybe at times I should be or maybe at times I don't need to be. But I'm definitely growing in my vocal role. I've felt like with Kelby out, I need to step more into a vocal role. A lot of my teammates would characterize me as silent, lead by example, but I'll also meet with a bunch of guys in the film room and work with them.
So you're not the guy getting up on the table yelling at your teammates to get them pumped?
DH:
As of right now, I'm no Ray Lewis.
You guys have dealt with a few setbacks this fall. Not only is Kelby out, but so is tight end Braxton Deaver. How have you guys dealt with the injuries to two starters?
DH:
That's how football is and we realize that there's no choice: you either move on or you don't. When we're faced with adversity, we have to be the people who move on. You can't dwell on what's happened to us. We're adjusting on both sides of the ball to these losses. At this point, I'm really excited for our defense. We have probably the most athletic defense I've been able to be a part of since I've been here.
November, 18, 2011
11/18/11
10:30
AM ET
By
ESPN.com staff
| ESPN.com
Here are this week's injury reports from the schools that released them:
CLEMSON
Out

DE Joe Gore (knee)
LB Tony Steward (knee)
OT Philip Price (knee)
Questionable

WR
Sammy Watkins
(shoulder)
Probable

CB Darius Robinson (hamstring)
DUKE
Probable
WR
Brandon Braxton
(upper body)
OT Takoby Cofield (upper body)
CB Zach Greene (leg)
WR
Conner Vernon
(leg)
Questionable
LB Kelby Brown (leg)
WR
Jamison Crowder
(leg)
WR
Tyree Watkins
(leg)
Doubtful
DE Justin Foxx (leg)
LB C.J. France (upper body)
LB Kevin Rojas (lower body)
CB Johnny Williams (upper body)
Out
S Lee Butler (leg)
QB
Brandon Connette
(upper body)
DE Jordan DeWalt-Ondijo (leg)
C Brian Moore (upper body)
Out for season
DE Kenny Anunike (leg)
TE
Jack Farrell
(leg)
OT Kyle Hill (shoulder)
FLORIDA STATE
Out
Willie Haulstead
(head)
Henry Orelus (head)
Darious Cummings (hand)
Andrew Datko (shoulder)
Moses McCray (knee)
Out for season
Jacobbi McDaniel (ankle)
Chris Thompson
(back)
GEORGIA TECH
Out
LB Morgan Carter
AB
Orwin Smith
Out for season
S Fred Holton
DL Jimmie Kitchen
S Lance Richardson
MARYLAND
Out for season
WR
Tyrek Cheeseboro
DB Makinton Dorleant
OL Andrew Gonnella
DB Avery Graham
LB Garrett Lederman
QB
Danny O'Brien
DB Matt Robinson
DL Isaiah Ross
TE
Dave Stinebaugh
LB Kenny Tate
Out
LB Alex Twine
Doubtful
OL Bennett Fulper
Probable
OL Max Garcia
RB
Justus Pickett
RB
Jeremiah Wilson
MIAMI
Probable
Marcus Robinson (upper extremity)
Out
Luther Robinson (lower extremity)
Rashawn Scott
(upper extremity)
Jordan Futch (upper extremity)
Lee Chambers (upper extremity)
Davon Johnson (lower extremity)
Surgery/Out for season
Blake Ayles
(upper extremity)
Ramon Buchanan (lower extremity)
Marcus Forston (lower extremity)
Erik Lichter (upper extremity)
Corey White (lower extremity)
NC STATE
Out for season
CB Jarvis Byrd, (knee)
FB
Taylor Gentry
(foot)
LB D.J. Green (foot)
HB
Mustafa Greene
(foot)
LB Sterling Lucas (knee)
DE Jeff Rieskamp (shoulder)
Questionable

DT Markus Kuhn (abdomen)
VIRGINIA
Out
Pablo Alvarez (upper extremity)
David Marrs (lower extremity)
Charlie Richards
(upper extremity)
E.J. Scott
(medical)
Bobby Smith
(lower extremity)
Tyler Smith (lower extremity)
Matt Snyder
(lower extremity)
Michael Terrell
(lower extremity)
Joseph Williams (lower extremity)
Questionable

Kyle McCartin
(upper extremity)
Probable

Rodney McLeod (lower extremity)
Kevin Parks
(lower extremity)
Colter Phillips
(lower extremity)
WAKE FOREST
QUESTIONABLE
RB
Josh Harris
(hamstring)
OUT
DT
John Gallagher
(back)
OUT FOR THE YEAR
OT Dylan Heartsil (back)
CB Dominique Tate (knee)
LB Kyle Jarrett (hip)
WR
Airyn Willis
(shoulder)
March, 28, 2011
3/28/11
10:00
AM ET
By
ESPN.com staff
| ESPN.com
While some other programs in the ACC are just beginning spring practices this week, Duke wrapped things up on Saturday with the White team's 21-14 come-from-behind win over the Blue team in the Blue Devils' annual spring game.
Anthony Boone
's 32-yard touchdown pass to
Tyree Watkins
with 11:15 remaining in the fourth period clinched the win for the White team. Here are the highlights:
OFFENSE:
Quarterback
Sean Renfree
completed 8 0f 14 passes for 105 yards and one touchdown while Boone was 7-of-15 for 94 yards with one touchdown and one interception.
Desmond Scott
led the White team with 56 rushing yards on 13 carries while
Juwan Thompson
gained 35 yards on nine rushes. For the Blue team, quarterback
Brandon Connette
completed 10 of 16 throws for 102 yards while rushing for 34 yards on eight attempts.
Josh Snead
had 54 yards on six carries. Watkins finished with six receptions for 67 yards while
Brandon Braxton
(21 yards),
Cooper Helfet
(64 yards) and
Conner Vernon
(19 yards) had three catches apiece.
DEFENSE:
Jamal Wallace made a game-high seven tackles while Austin Gamble had six total stops. Issac Blakeney, Walt Canty, Matt Daniels, C.J. France, Tyree Glover and Jonathan Woodruff had five tackles each, with Blakeney also contributing two tackles for loss, one quarterback sack, one caused fumble, one quarterback pressure and one pass breakup. Charlie Hatcher, Jordan DeWalt-Ondijo and Tony Foster each recorded one quarterback sack while Garrett Rider's interception in the fourth quarter was the game's lone turnover.
QUOTABLE:
"We're going to have some fun on offense," coach David Cutcliffe said, according to the team's
spring game release
. "Anthony Boone, you watched there at the end, as a redshirt freshman he is entering the picture. We'll have a little unique package or two just to see where we are headed with it. Sean Renfree is our starter. These are dangerous words, but he's come close to having a great spring. He's really been good all spring."
AWARD WINNERS:
Juwan Thompson was named the spring's Most Improved Offensive Player, Ross Cockrell the Most Improved Defensive Player and
Preston Scott
earned the Blue Devil Heart Award.
February, 28, 2011
2/28/11
9:00
AM ET
Attention: There was actual ACC football played on Saturday -- 75 snaps in Wallace Wade Stadium.
Duke, the first ACC team to start spring practices, had its first spring scrimmage on Saturday, and the offense was the highlight. While it should be noted that five projected defensive starters were out with injuries, this is the kind of offensive progress Duke needs to see this spring, particularly in the running game. Defensively, it was a chance for some younger players to get some significant snaps.

OFFENSIVE HIGHLIGHTS:
Quarterback
Sean Renfree
, who could be the lone returning full-time starting quarterback in the Coastal Division, accounted for three touchdowns and running back
Patrick Kurunwune
had 154 yards on eight carries. Renfree completed 7 of 13 passes for 129 yards with touchdowns of 18 yards to tight end
Cooper Helfet
and 55 yards to wideout
Brandon Braxton
. Renfree also rushed for a 3-yard touchdown. Kurunwune took off on runs of 27, 37 and 75 yards en route to averaging an impressive 19.3 yards per attempt. Fellow running backs
Desmond Scott
and
Juwan Thompson
added 50 and 41 yards on the ground, respectively.
Thompson (62 yards) and wideout
Conner Vernon
(42 yards) led all receivers with three catches each while tight end
Braxton Deaver
finished with two catches for 63 yards.
DEFENSIVE HIGHLIGHTS:
Safety Jordon Byas led the defense with two pass breakups, one caused fumble and one fumble recovery. Defensive tackle Jamal Bruce chipped in a tackle for loss while linebacker C.J. France and defensive end Nick Sink combined on one quarterback sack. Duke is missing three injured players this spring -- linebacker Kelby Brown, safety Lee Butler and defensive end Kenny Anunike -- and noseguard Charlie Hatcher and safety Matt Daniels didn't dress for the scrimmage because of minor injuries.
QUOTABLE:
"I thought we ran the ball really well today," Renfree said, according to the team's scrimmage report. "I think it has to do with being multiple, and mostly it has to do with the performance of our offensive line. They did a great job. We've got a lot of good running backs and if you get holes for them, they're dangerous. That was lot of fun to see."
February, 15, 2011
2/15/11
10:00
AM ET
We've already looked at who and what to watch in the Atlantic Division this spring. Here's a breakdown of three issues facing each program in the Coastal Division:

DUKE
Spring practice starts:
Feb. 16
Spring game:
March 26
What to watch:
Jim Knowles taking over as defensive coordinator. After coaching the safeties last season, Knowles was promoted in late January following the departure of Marion Hobby to coach Clemson's defensive line. It's not a complete overhaul on defense, but for the third time in as many seasons, a different person will be calling the plays. Knowles has also assumed the lead role with Duke's practice scheduling and weekly preparation.
New faces at linebacker. Duke graduated its leading tackler from 2010, Abraham Kromah, and freshman All-American Kelby Brown is out while recovering from knee surgery. Those two slots will be wide open this spring and the competition will be among Austin Gamble, C.J. France, Tyree Glover and Kevin Rojas.
Offensive line shuffling. The Blue Devils return four starters up front, but they'll be missing the glue of the line in Bryan Morgan, who graduated. Brian Moore, who has started the past two seasons at right guard, will make the transition to center. John Coleman and Laken Tomlinson are expected to compete for the right guard spot.

GEORGIA TECH
Spring practice starts:
March 28 (tentative)
Spring game:
April 23
What to watch:
Starting quarterback competition. Tevin Washington enters the spring at No. 1 on the depth chart, and it's his job to lose, as he has the most experience after taking over for injured starter Joshua Nesbitt in 2010. Synjyn Days will give him legitimate competition this spring, though, and it will increase this summer with the addition of standout recruit Vad Lee to the roster. For now, though, it's between Washington and Days, as David Sims is expected to move to B-back.
Offensive line reshuffling. Georgia Tech will have to replace three starters in all-conference center Sean Bedford, right tackle Austin Barrick and left tackle Nick Claytor, who decided to leave early for the NFL draft. Phil Smith, Barrick's backup last year, is the only one with any experience at tackle. The staff will likely have to move a player or two from guard to tackle, and only it knows who those candidates might be right now.
Revamped secondary. Jerrard Tarrant's decision to leave school early and enter the NFL draft left the Jackets without any returning starters in the secondary. Junior cornerback Rod Sweeting, sophomore cornerback Louis Young, redshirt freshman cornerback Ryan Ayers and sophomore safety Fred Holton are front-runners, but they all have a lot to prove this spring. Holton and Young played sparingly as true freshmen and combined for 21 tackles. Sweeting played in all 13 games and had one fumble recovery and eight passes defended, including one interception. Senior cornerback Michael Peterson may help, and safety Jemea Thomas played as a true freshman in 2009 but redshirted last year. There's some talent, but the inexperience makes it a question mark.

MIAMI
Spring practice starts:
March 5
Spring game:
April 9 or 16
What to watch:
New staff, new schemes. Defensively, first-year coordinator Mark D'Onofrio will work with two other assistants who were with him and first-year coach Al Golden at Temple, so there is familiarity there. Linebackers coach Michael Barrow has to learn D'Onofrio's system, but the players tend to pick it up faster if the majority of the staff is already acclimated to it. Offensively, everyone will be working together for the first time. Jedd Fisch wants to run a pure pro-style offense based on matchups, and the good news is that several of the assistants, because of their respective backgrounds, are already schooled in at least a version of it.
Quarterback battle. Golden has said he would like to name a starter by the end of the spring, making these practices critical auditions for both Jacory Harris and Stephen Morris. Harris has both flourished and flopped as a starter for the Canes, and his injury last year gave Morris the opportunity he needed to win the people's choice award. Has a new era of quarterback begun, or will Harris finally have the breakout season Miami fans have waited for in his final year as a Cane?
Corner competition. Following the departures of Ryan Hill, DeMarcus Van Dyke and Brandon Harris, Brandon McGee is the only corner remaining on the roster with any significant experience. He played in 11 games, started one, and had 15 tackles. Redshirt freshman Devont'a Davis, sophomore Kacey Rodgers, and redshirt sophomore Jamal Reid will also compete for playing time. There are also several incoming freshmen who could be immediate contributors.

NORTH CAROLINA
Spring practice starts:
March 16
Spring game:
April 9
What to watch:
The rookie quarterbacks. There's no guarantee that Bryn Renner will be the Tar Heels' starter in 2011, but he enters the spring slightly ahead of the race, as he was No. 2 on the depth chart last season and was pushing T.J. Yates for the starting job at this time a year ago. The staff would also like to see what true freshman Marquise Williams, who enrolled in January, has to offer. Braden Hanson and A.J. Blue will also compete for playing time. Blue was injured two years ago and redshirted last season.
Running backs race. The Tar Heels graduated three key players from 2010: Johnny White, Anthony Elzy and Shaun Draughn. Ryan Houston is back for his fifth year after redshirting last year and is the most experienced of the returnees. Giovani Bernard was a true freshman last year and had been expected to get some playing time, but he tore his ACL on the third day of training camp. It's not clear yet how much he'll be able to participate this spring. Hunter Furr played sparingly last year and true freshman Travis Riley, who enrolled in January, are also in the mix.
Another strong defensive line. If Quinton Coples was an all-conference selection as a defensive tackle, he could be scary good at his natural position, defensive end. Coples played there as a freshman and sophomore, but switched to tackle out of necessity last season. The defensive line should once again be the strength of the team, but it will be reconfigured again, as Coples' move will leave a defensive tackle spot up for grabs. Junior college transfer Sylvester Williams, who enrolled in January, could fill that role.

VIRGINIA
Spring practice starts:
March 16
Spring game:
April 2
What to watch:
The search for a new starting quarterback. With Marc Verica graduated, the lead contenders to replace him are the ones who saw the field last year -- Michael Rocco and Ross Metheny. Neither of them started, but Rocco played in six games and Metheny five. Nobody has thrown the ball more than Rocco's 25 times. The staff will also look at Michael Strauss, who redshirted last year, Miles Gooch, and David Watford, who enrolled in January.
Competition at running back. With leading rusher Keith Payne graduated, the question becomes what can Kevin Parks do after redshirting last year? There's a lot of depth at the running back position, but Parks, the No. 56 running back in his class by ESPN.com and national prep record-setter out of the state of North Carolina, came to Charlottesville facing high expectations. With Payne gone, this could open the door for him to meet them, but returning starter Perry Jones will also be competing for carries.
Development of the receivers. In January, Jared Green Tweeted that he had decided to transfer after finishing his degree in Charlottesville this spring, according to a school spokesman. His departure, coupled with the graduation of Dontrelle Inman, leaves the Cavaliers without two of their top wideouts from 2010. With Tim Smith coming off an injury, the development of other receivers will be critical -- especially with a new starting quarterback.

VIRGINIA TECH
Spring practice starts:
March 30
Spring game:
April 23
What to watch:
Quarterback Logan Thomas. The Tyrod Taylor era is over, and Thomas is the front-runner to succeed the winningest quarterback in school history. Ju-Ju Clayton is the only other quarterback on the roster who's ever taken a snap, and he'll push Thomas this spring. It's Thomas' job to lose, but the staff is looking for him to improve his accuracy. He played quarterback in only his final two high school seasons and was projected as a tight end. He's still raw and learning the position, but physically, he's a clone of Cam Newton. If he develops some poise in the pocket, look out.
Competition on the defensive line. The Hokies have to replace starters John Graves (defensive tackle) and Steven Friday (defensive end), who both graduated. They've got Antoine Hopkins and Chris Drager back, but it's possible Drager could move back to tight end after starting 10 games at defensive end last year. Tackle Kwamaine Battle, who started the first two games before he tore his ACL and Hopkins took over, is another front-runner. Hopkins' younger brother, Derrick, will also be in the mix, along with James Gayle and J.R. Collins. Redshirt freshman defensive end Zack McCray, the cousin of Logan Thomas, has also impressed the staff so far.
Tight end auditions. The graduation of Andre Smith leaves the Hokies with only one returning tight end who's caught a pass in a game, Randall Dunn (one). Redshirt freshman Eric Martin was the second tight end when the Hokies used two-tight end sets, but he missed three games mid-season with an injury.
ACC SCOREBOARD
Saturday, 12/27
Saturday, 12/20
Monday, 12/22
Tuesday, 12/23
Wednesday, 12/24
Friday, 12/26
Monday, 12/29
Tuesday, 12/30
Wednesday, 12/31
Thursday, 1/1
Friday, 1/2
Saturday, 1/3
Sunday, 1/4
Monday, 1/12
Tweets from https://twitter.com/ESPNCFB/lists/acc