April, 3, 2012
4/03/12
5:00
PM ET

Miami running back
C.J. Holton
, and defensive end
Shayon Green
will miss the remainder of the spring with undisclosed injuries, the school announced Tuesday.
Both were injured during the Hurricanes' scrimmage Friday in Fort Myers, Fla.
Coach Al Golden did not provide details to reporters Tuesday, but did say both players are expected back for the fall.
Holton, a redshirt senior, has played mostly on special teams. Golden
said Tuesday that Green, a redshirt junior, was arguably the defense's most improved playe
r.
"Shayon really went from being a tough, rugged guy to a guy who was making plays, had some luck, was healthy," Golden said. "I know it's a setback for him, but he's so tough. I think he'll overcome this. This is not a major deal."
January, 19, 2012
1/19/12
3:30
PM ET
By
ESPN.com staff
| ESPN.com
They were superstars, a heralded recruiting class carrying high expectations before they even set foot on campus. Miami's Class of 2008 was ranked No. 1 in the country by ESPN.com, but after a final review, it shaped up more like the No. 20 class. There were a few standout individuals like
Sean Spence
, but overall, the Canes
fell out of the top 10
of RecruitingNation's re-rank. Clemson didn't receive quite as harsh of a demotion, falling from No. 2 to No. 4.
Here's a look back at how the ESPNU 150 Class of 2008 fared:
Nos. 1-25
(
Da'Quan Bowers
,
Arthur Brown
,
Jamie Harper
, Sean Spence)
Nos. 26-50:
(
Ryan Williams
,
Marcus Forston
,
Brandon Harris
,
Mike Glennon
, Kyle Parker,
Terrance Parks
,
Brandon Thompson
, Spencer Adams,
Andre Ellington
,
Jermaine Thomas
)
Nos. 51-75:
(
EJ Manuel
,
Ramon Buchanan
,
Nigel Bradham
, Aldarius Johnson,
Xavier Brewer
,
Davon Johnson
, Nigel Carr)
Nos. 76-100:
(
Jordan Futch
,
Antoine McClain
,
Dwayne Allen
,
Brandon Barnes
,
Marcus Robinson
)
Nos. 101-125:
(
C.J. Holton
,
Taylor Cook
,
Christian Wilson
, Kyle Long)
Nos. 126-150:
(
Kenny Tate
,
Kerry Boykins
,
Travis Benjamin
)
June, 29, 2011
6/29/11
5:00
PM ET
You are going to argue about this. How do I know? Because I'm still arguing with myself over it ...
[+] Enlarge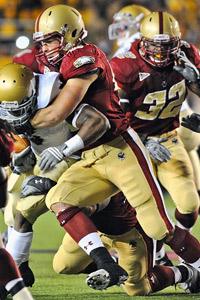 Michael Tureski/Icon SMILuke Kuechly leads a deep group of Boston College linebackers.
1. Boston College:
Luke Kuechly is one of the best in the country, but he's not alone. The Eagles also have Kevin Pierre-Louis, who ranked second nationally among all freshmen in tackles per game last season with 7.15 -- ninth in the ACC. It won't be easy to replace Mark Herzlich, on or off the field, but Steele Divitto played in 11 games last season, and Nick Clancy and Will Thompson both saw time on the second team.
2. Florida State:
The Noles had to replace two starters, including Kendall Smith, the team's second-leading tackler, last season, and Mister Alexander, but the upcoming talent could be even better. Nigel Bradham led the team with 98 tackles and five pass breakups last season, and Christian Jones, Jeff Luc, Telvin Smith and Vince Williams will also be competing for playing time.
3. Miami:
Sean Spence, who has 30 career starts, should be one of the best in the country, and Ramon Buchanon, another senior, also returns. The Canes have five other linebackers with experience in Kelvin Cain, who started seven games, Jordan Futch, who had a great spring and will see the field, Tyrone Cornelius, Shayon Green and C.J. Holton.
4. North Carolina:
Kevin Reddick, who led the Tar Heels with 74 tackles last season, returns for his third season as starter. Zach Brown is also a returning starter with game-changing capabilities, and there is plenty of depth with Dion Guy, Darius Lipford, Ebele Okakpu and Herman Davidson. Junior college transfer Fabby Desir could also have an impact.
5. NC State:
Audie Cole and Terrell Manning have combined for 39 career starts, and Cole fared well this spring moving to the middle to replace Nate Irving. With the return of Sterling Lucas, Dwayne Maddox and Colby Jackson, there is plenty of experience, but not quite as much depth as some other programs.
6. Georgia Tech:
The Jackets return both starters in Steven Sylvester and Julian Burnett. There is no shortage of depth with Jeremy Attaochu, Quayshawn Nealey, Brandon Watts, Albert Rocker, Malcolm Munroe and Daniel Drummond.
7. Clemson:
This group has a lot of potential, especially if true freshmen Tony Steward and Stephone Anthony make an immediate impact. There's no question they'll be given a chance, but the Tigers already have a good group with Corico Hawkins, Quandon Christian and Jonathan Willard.
8. Virginia Tech:
It seems like this rotation has been in flux for a while now. The Hokies' leading tackler returns in Bruce Taylor, Barquell Rivers had 96 tackles as a starter in 2009 but was injured last season, and there are several young players adding to the competition. Chase Williams, Tariq Edwards, Telvion Clark and Jack Tyler are only a few. Whip linebacker Jeron Gouveia-Winslow will have to earn his spot back over Alonzo Tweedy, Dominique Patterson and Nick Dew.
9. Maryland:
The Terps were hit hard here with the losses of Alex Wujciak (381 career tackles) and Adrian Moten (14.5 career sacks). Demetrius Hartsfield returns with 20 career starts, and there are four lettermen returning including Darin Drakeford, Isaiah Ross, David Mackall and Bradley Johnson.
10. Wake Forest:
Kyle Wilber's move to outside linebacker will give this position a boost, as he led the Deacs with 14.5 tackles for loss and six sacks last season. His backup is Gelo Orange (22 tackles). The Deacs also have Tristan Dorty, Joey Ehrmann, Mike Olsen, Scott Betros, Riley Haynes and Justin Jackson.
11. Virginia:
Starters LaRoy Reynolds and Ausar Walcott both return, but neither has started more than 11 career games. Junior Steve Greer has prior starting experience but played mainly as a reserve last season. Adam Taliaferro, Conner McCartin, Tucker Windle and LoVante Battle are also in the mix for playing time.
12. Duke
: Kelby Brown is the lone returning starter, but he's a promising young player who led the nation last season as a freshman in fumbles recovered. He missed spring ball while recovering from a knee injury, but is expected to start with Tyree Glover or Kevin Rojas.
August, 24, 2009
8/24/09
10:00
AM ET
By
ESPN.com staff
| ESPN.com
Posted by ESPN.com's Heather Dinich Here's a recap of the scrimmages that happened this weekend, with the help of the sports information directors, and the local newspapers that covered them: BOSTON COLLEGE As if things couldn't get worse for coach Frank Spaziani's quarterback situation in his first year, leading candidate Dave Shinskie was injured in Sunday's scrimmage. It might be a bruised rib. Here's how the rest of the team fared without him: All four quarterbacks played and redshirt freshman Justin Tuggle went 8-for-16 for 84 yards. Junior Codi Boek threw for 74 yards on a 6-for-12 day while freshmen Michael Marscovetra and Shinskie both had three completions. Junior Jordon McMichael and sophomore Colin Larmond Jr. both had three receptions for 18 and 33 yards, respectively. Sophomore Montel Harris was the leading rusher with 46 yards on 13 carries with a touchdown. Senior Steve Aponavicius went 2-for-4 in his field goal attempts, hitting from 42 yards both times. A 44-yard attempt went awry following a bad snap and his 37-yard try was blocked by sophomore Isaac Johnson. Redshirt freshman Alexander DiSanzo shined on defense with seven tackles, a forced a fumble and an interception. Senior Roderick Rollins and freshman Luke Kuechly both had a team-high nine tackles. DUKE Quarterbacks Thaddeus Lewis, Sean Renfree and Sean Schroeder combined to complete 25 of 39 passes for 240 yards. Renfree threw for a team-high 93 yards by hitting on 11 of 18 throws while Lewis was 7-of-12 for 86 yards. Freshman running back Desmond Scott led all receivers with six catches for 39 yards while rookie wideout Conner Vernon had three grabs for 42 yards. Redshirt sophomore running back Cameron Jones picked up a scrimmage-best 49 yards on just three rushing attempts. Defensively, sophomore safety Matt Daniels caused and recovered one fumble while redshirt sophomore cornerback Colin Jones registered one interception. Junior kicker Will Snyderwine booted a 27-yard field goal and successfully converted his lone PAT attempt. FLORIDA STATE Quarterback Christian Ponder had another good day, but with no interceptions, did the defense? Ponder wasn't thrilled with the results and said it might have been because guys were too eager to end their two-a-days. Jimbo Fisher said overall it was far too inconsistent. To read the Noles' entire practice report, click here. MARYLAND The Terps' scrimmage was a mixture of good and bad, and it was the latter that kept coach Ralph Friedgen going. There was one player, though, who made a name for himself in Friedgen's book -- redshirt freshman running back Gary Douglas. Douglas rushed 17 times for a scrimmage-high 122 yards, including four runs of 15 or more yards. He didn't score a touchdown but almost single-handedly led the offense down the field for a score on one drive, accounting for 72 of the 80 yards. Quarterback Chris Turner completed 13 of 20 passes for 113 yards. Backup Jamarr Robinson didn't fare quite as well as he had in previous scrimmages, hitting on just 5 of 14 passes for 59 yards, though he did direct two scoring drives. Mike Barbour looked sharp early, capping off two drives with field goals. The redshirt freshman, who had a leg up on the No. 1 place-kicker job, hit from 30 and 36 yards out. "Barbour started off pretty good, and then he missed his last three," Friedge
n said. "He kind of looked like he had solidified the job and then he opens it up again." Defensive back Eric Franklin, a true freshman, made a scrimmage-best eight tackles and picked off Turner on the sixth possession. MIAMI The Canes wrapped up their final two-a-day of fall camp on Sunday, and coach Randy Shannon said everything -- that's right, everything -- is still up for grabs. Jorge Milian of the Palm Beach Post had a couple of notes for you off Sunday's practice. Morning Practice Highlights -- (pads) Joe Joseph and Marcus Robinson each had a sack in 11-on-11 drills. Randy Phillips (INT, pass break-up) and DeMarcus Van Dyke (two pass break-ups) stood out in the secondary. Lee Chambers and Damien Berry each broke off a couple runs of 15+ yards. Javarris James caught several passes in both 11-on-11 and 7-on-7 sessions Afternoon Practice Highlights -- (shells) Sam Shields (red zone), Chavez Grant (7-on-7) and C.J. Holton (11-on-11) all recorded interceptions. Grant returned his for a touchdown while Holton caught his off a tipped pass. A.J. Highsmith connected with Tommy Streeter (11-on-11) and LaRon Byrd (7-on-7) for significant yardage. Damien Berry took a short pass in the flat from Taylor Cook for a long gain. Other highlights include a near interception by Randy Phillips, a pass break-up by Ramon Buchanan and a sack by Micanor Regis. Red zone touchdowns included Jacory Harris to Richard Gordon and Taylor Cook to Jimmy Graham. VIRGINIA TECH So ... add Ryan Williams to the list of VT running backs who are banged up. Williams sprained his ankle, and Josh Oglesby has "the worst infection" coach Billy Hite has ever seen on a foot. Also, the coaches want to redshirt Logan Thomas, and Kenny Lewis Jr.'s recovery has been delayed. Not a lot of happy news coming out of Blacksburg these days. To read Virginia Tech's entire scrimmage report, click here. Tyrod Taylor completed 8 of 11 passes for 78 yards. Xavier Boyce led all receivers with two catches for 47 yards. Freshman running back Tony Gregory rushed 18 times for 48 yards and two touchdowns. Williams rushed just five times for 22 yards before spraining his ankle and sitting out the rest of the scrimmage. He did score on a 4-yard run and he returned several punts. Matt Waldron was 4-for-4 on his field goal attempts. (31, 32, 43, 30) Defensive tackle Cordarrow Thompson led the defense with seven tackles, four for a loss, and one sack.
May, 7, 2009
5/07/09
9:25
AM ET
By
ESPN.com staff
| ESPN.com
Posted by ESPN.com's Heather Dinich
Miami Hurricanes

2008 overall record: 7-6

2008 conference record: 4-4
Returning starters: Offense: 8, defense: 8, kicker/punter: 2
Top returners: QB Jacory Harris, OT Jason Fox, WR Aldarius Johnson, WR Travis Benjamin, RB Graig Cooper, RB Javarris James, LB Sean Spence, LB Darryl Sharpton, CB Chavez Grant, K/P Matt Bosher, DE Allen Bailey
Key losses: QB Robert Marve, OT Chris Rutledge, C Xavier Shannon, LB Glenn Cook, S Anthony Reddick
2007 statistical leaders (*returners)
Rushing: Graig Cooper* (888 yards)
Passing: Robert Marve (1,293 yards)
Receiving: Aldarius Johnson* (332 yards)
Tackles: Glenn Cook (76)
Sacks: Allen Bailey* (5)
Interceptions: Sean Spence*, Brandon Harris*, Bruce Johnson, Eric Moncur (1 each)
2009 Schedule
Sept. 7 at Florida State
Sept. 17 Georgia Tech
Sept. 26 at Virginia Tech
Oct. 3 Oklahoma
Oct. 10 Florida A&M
Oct. 17 at Central Florida
Oct. 24 Clemson
Oct. 31 at Wake Forest
Nov. 7 Virginia
Nov. 14 at North Carolina
Nov. 21 Duke
Nov. 28 at South Florida
Spring answers
1. Temporary answer. Miami coach Randy Shannon said Taylor Cook earned the backup quarterback job -- for now. Cook beat Cannon Smith for the job this spring, and Shannon said that if the season started today, it would be Cook's job. A.J. Highsmith will join the competition, though, this summer.
2. You've got to coordinate. New offensive coordinator Mark Whipple wasted no time in implementing his new system, the players and staff were very receptive to it. Defensive coordinator John Lovett was also well received, even though it was the players' third coordinator in as many seasons.
3. Position change. Sam Shields' move from wide receiver to cornerback proved to be a good one. Shields showed he can not only provide some depth, but also possibly challenge for a starting job. He'll definitely work hyis way into the rotation, and the staff needs more consistent play from the secondary.
Fall questions

1. From hoops to helmets. Former forward Jimmy Graham has reportedly said he will join the football team this fall as a tight end, and it's a position that can use some help, especially with the knee injury to Dedrick Epps. But how much will Graham be able to help considering he hasn't played the sport since high school?
2. Tweaks to the o-line. Matt Pipho will be the new starter at right tackle, and the staff is eager to see how he handles that role. A.J. Trump moved from right guard to center, and Joel Figueroa took over at right guard.
3. Depth at linebacker. It's a patchwork effort, as several young players who were defensive backs last season were moved to linebacker (C.J. Holton, Ramon Buchanan), and Colin McCarthy didn't practice all spring but will be back. Arthur Brown is in the mix in the middle with Darryl Sharpton, and Sean Spence proved himself as a freshman, but depth is a concern.
March, 30, 2009
3/30/09
2:00
PM ET
By
ESPN.com staff
| ESPN.com
Posted by ESPN.com's Heather Dinich

Virginia Tech hasn't even started spring practices yet (Wednesday is the Hokies' first) and Miami has already wrapped things up. What's next in Coral Gables? The Canes will get back in the weight room for six more weeks, but coach Randy Shannon said the staff won't push them too hard physically. They'll meet for 45 minutes twice a week to help the players retain everything they learned from their new coordinators. The staff will now use the mornings to watch practice tape and the afternoons to watch recruiting tape.
Shannon said both coordinators, Mark Whipple and John Lovett, brought a lot of excitement, enthusiasm and confidence with them, and the staff is on the same page. They kept some of the same terminology. The two areas they'd like to see more improvement in summer camp are building the depth on the offensive line and at linebacker. Colin McCarthy will be back in the fall, but Shannon is looking for four or five linebackers that are interchangeable.
As expected, there were a few bumps in the road, but overall the players picked things up quickly.
"Are we better than we were last spring? Definitely," Shannon said. "Are we better than we were at the end of the season last year? Definitely."
Here were a few highlights from spring ball at Miami:
• Taylor Cook finished the spring with a bit of an edge over Cannon Smith at backup quarterback.
• C.J. Holton's move from safety to linebacker should give him a better chance to get on the field and was a step in helping the depth. Sean Spence and Arthur Brown played well this spring and Shannon said Jordan Futch came around the last two weeks.
• Brandon Washington became an offensive lineman the staff can depend on. They've got seven guys they're comfortable with up front, but Shannon said he is still looking for the eighth guy. That could be Ben Jones, Jermaine Johnson or Tyler Horn.
• Tight end Richard Gordon did a great job while all of the other scholarship tight ends were out with injuries. Shannon said the staff put a lot of pressure on him, and he got a lot of reps. "He should be in great shape," Shannon said. "He responded. When those guys come back, there will be a great competition to see which guy is going to step to the forefront and be that guy."
• Shannon said the media is making too much of Miami's lack of interceptions last year (they had four, the fewest of all 119 FBS schools). Shannon said their priority is to stop the run first, which they got better at this spring as a result of depth and maturity. He also said the Canes had about eight to 10 interceptions minimum this spring. He was particularly impressed with the "unbelievable" transition Sam Shields made from wide receiver to the secondary and considers him a starter who can "step in and play right away."
• The players who made a big impression on Shannon this spring were: Shields, Brown, Washington, Mike James, and Olivier Vernon. He said Vaughn Telemaque and Kendal Thompkins "put their stamp on where they want to be." Also, running back Damien Berry did a "tremendous job."
"Those guys have really taken that next step," Shannon said. "That's the biggest improvement, when you see guys who didn't play last year, see if they can really take that next step and be a guy we can say wow, he's going to be a guy we can depend on. That group of guys has really taken that next step of doing what we want them to do."
ACC SCOREBOARD
Saturday, 12/20
Monday, 12/22
Tuesday, 12/23
Wednesday, 12/24
Friday, 12/26
Saturday, 12/27
Monday, 12/29
Tuesday, 12/30
Wednesday, 12/31
Thursday, 1/1
Friday, 1/2
Saturday, 1/3
Sunday, 1/4
Monday, 1/12
Tweets from https://twitter.com/ESPNCFB/lists/acc