December, 26, 2013
12/26/13
4:00
PM ET
Thanks to ESPN Stats & Info, the ACC office and sports information departments for these tidbits.
This marks the first time in the ACC's 61-year history that three ACC teams have ended the regular season with at least 10 wins (Florida State, Duke and Clemson).
Throughout the year, the ACC has had three different top-10 teams (Three teams in the top 10 for three weeks, two teams in the top 10 for all but two weeks.)
ACC student-athletes have combined to win as many national individual awards as the other Power 5 conferences combined.
The ACC is the first conference in history to sweep the Heisman, Doak Walker, Davey O'Brien, Outland, Lombardi, Bednarik, and Nagurski awards in the same year.
As of Dec. 18, the ACC ranked second nationally with a total of 97 selections to postseason All-America teams (Associated Press, American Football Coaches Association, Football Writers Association of America, Walter Camp, Sporting News, USA Today, ESPN, CBS and Sports Illustrated.) The ACC's 57 total first-team selections were also the second-most of any conference.
For the first time, the ACC boasted two of the top five vote recipients for the Heisman Trophy in Florida State quarterback Jameis Winston and Boston College running back Andre Williams. They were also among the five finalists for the Walter Camp Foundation National Player of the Year, with Winston receiving that honor.
Duke will try to do something it hasn't done in 53 years: Win a bowl game. The Blue Devils haven't won a bowl since the Cotton Bowl following the 1960 season. They'll battle Texas A&M in the Chick-fil-A bowl on Dec. 31 (8 ET, ESPN). It could be the final collegiate game for Johnny Manziel. The Aggies haven't beaten a ranked team this season (0-4).
The AdvoCare V100 Bowl (Dec. 31, 12:30 ET on ESPN), features two of the best running backs in the nation in Boston College's Williams and Arizona's Ka'Deem Carey. Williams finished fourth in the Heisman voting, while Carey finished 10th. One big difference is the load each player has been forced to carry. Williams has accounted for 80 percent of the Eagles rushing yards this season, while Carey has some help in the running game and has only accounted for 54 percent of Arizona's rushing total.
Pitt is appearing in a bowl for the sixth straight season, but this will be its first bowl game not named the BBVA Compass Bowl since 2009. The Panthers have won just two of their last seven bowl appearances. Bowling Green has lost its last three bowl appearances with its last win coming in the 2004 GMAC Bowl.
One of the keys to Maryland's improvement this season has been health at the quarterback position. Last season four players took snaps at quarterback, including four starts by Shawn Petty, who started the season as a linebacker. C.J. Brown, who missed all of last season with an ACL injury, has thrown for over 2,000 yards and accounted for 23 touchdowns this season.
Syracuse's Terrel Hunt finished the regular season with 426 rushing yards, fourth among ACC quarterbacks in 2013. According to the school's game notes, it's already the most by an Orange QB since Donovan McNabb in 1998 (510).
North Carolina's redshirt-sophomore quarterback Marquise Williams, who grew up in Charlotte, leads a very young Tar Heel offense. 42 of their 50 touchdowns this season have come from freshmen or sophomores, including the last 26.
Miami receiver Allen Hurns needs just 19 more receiving yards to set the school single-season record. Hurns already is one of just four players in school history with a 1,000-yard receiving season. Hurns hasn't found the end zone as frequently as one might expect, though. Only two ACC players have more receiving yards than Hurns this season, but nine players have more touchdown catches than Hurns' six.
The last time Georgia Tech and Ole Miss met in football was exactly 42 years ago: the Dec. 30, 1971 Peach Bowl. Ole Miss won that game, 41-18, its only win in three all-time meetings vs Georgia Tech. A bit of a surprise that this is just the fourth meeting all-time, considering that both were conference opponents when Georgia Tech was in the SEC from 1933-63.
Virginia Tech is making its 21st straight bowl appearance, the longest active streak recognized by the NCAA (Florida State is making its 32nd straight bowl appearance this season but vacated the 2006 Emerald Bowl). Rivals Georgia and Georgia Tech are tied for the second-longest active streak with 17 straight appearances. The Hokies need a win to avoid posting consecutive five-loss seasons for the first time since 1990-92 (three straight). To put that streak into perspective, all other current members of the ACC have notched consecutive five-loss seasons since the Hokies joined the league in 2004.
Florida State can become only the third team since 1950 to win all of its games by at least 14 points. The last to do it was Utah in 2004. The other was national champion Nebraska in 1995. FSU's Winston can become just the third QB since 1950 to go undefeated with a national championship and a Heisman Trophy all in the same season. The two to do it were Auburn's Cam Newton in 2010 and USC's Matt Leinart in 2004.
April, 5, 2011
4/05/11
9:00
AM ET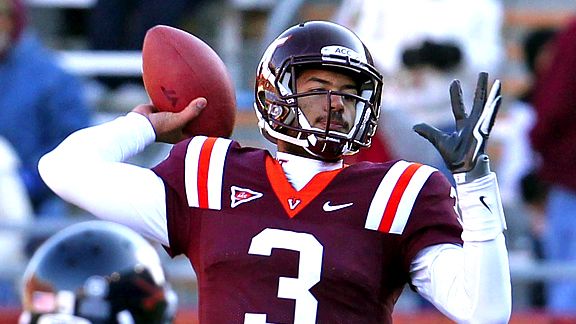 Andrew Shurtleff/US PresswireLogan Thomas will take over as Virginia Tech's full-time starter this season.
BLACKSBURG, Va. -- Virginia Tech had third-and-16 against Miami last season when backup quarterback
Logan Thomas
had his one and only snap in a moment of consequence.
He didn't flinch.
With starter
Tyrod Taylor
feeling woozy on the sideline, Thomas completed a 24-yard pass to
Danny Coale
for the first down and sustained what would be an eventual scoring drive.
Virginia Tech coach Frank Beamer exhaled.
"I remember thinking, 'whew,'" Beamer said. "A lot of good thoughts went through your head quickly. That said a lot. You're under the gun, just come in, make a throw like that when we needed it. That said a lot."
The Hokies are going to need Thomas to make an even bigger statement this fall if they're going to defend their ACC title. The Tyrod Taylor era is officially over in Blacksburg, and Thomas is preparing this spring for his first season as a full-time starter in the shadow of his predecessor while also carrying the lofty expectations and physique of former Auburn quarterback and Heisman Trophy winner
Cam Newton
.
Truth is Thomas might just be the best mix of both.
Thomas has the leadership skills and composure of Taylor, and at 6-foot-6, 245 pounds he has the height, weight and arm strength of Newton. What he doesn't have yet is experience or consistency. Over the past two years, Thomas has watched and learned as a redshirt and backup to Taylor. His accuracy has improved, along with the mental aspect of his game, but there's still a learning curve involved, as Thomas only played two years of quarterback in high school and was recruited as a tight end/receiver.
[+] Enlarge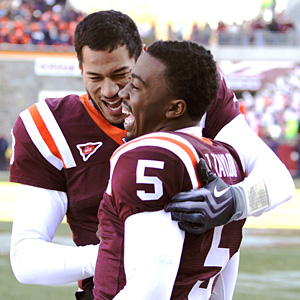 AP Photo/Steve HelberLogan Thomas (left) spent the past two seasons learning from Tyrod Taylor.
"Some days, he'd just take your breath with the throws he's making: 'Gee whiz, look at that one, and look at that one,'" Beamer said. "And then he'd get out there another day and wouldn't be quite as accurate, just a little bit off. I really think it gets down to concentration and him being the guy. I'm looking forward to it."
So is Thomas.
Virginia Tech isn't going to change the offense drastically to suit him, but the staff might put the ball in his hands more because of his size and strength. He's more of a pocket passer than Taylor was, but when he does leave the pocket Thomas can run. He's not shifty, but he's fast, and his strength will make him difficult to tackle. Where Taylor had to move his feet to see, Thomas is about six inches taller to see over the action.
Defenders will be forced to tackle Thomas around his waist, giving him time to get the ball out. Taylor was usually tackled on his upper body, making it harder for him to throw under pressure. Thomas will be less likely to pull the ball down and scramble, but he'll make throws Taylor might not have been able to because of his height.
"I'm not the type of scrambler Ty was," Thomas said. "He's the most elusive person I've ever seen."
Thomas has an experienced offensive line and group of receivers to work with, so there's potential for the Hokies' passing game to flourish more than it did under Taylor. That depends, of course, on Thomas' accuracy. His range is about 60-75 yards, compared to about 75 or 80 in high school, when he said his "mechanics were really bad" and he would just heave it.
"I was really bad when I first got here," Thomas said. "I was throwing high, low, skipping it across the ground. Now they're a little bit more in the strike zone."
Quarterbacks coach Mike O'Cain said Thomas has made "tremendous improvement in all areas" since his first week at the position and the end of this past season.
"He was just wild," O'Cain said, "like a fastball pitcher that sails into the upper backstop every now and then. He's really improved that. He'll still miss one occasionally, but they're close misses. Three yards, or four yards … you just say to yourself, 'Where in the heck did that come from?'
"We can't ask him to do all of the things we asked Tyrod to do. He's not at that level mentally yet. We've got to be careful we don't overload him, allow him to go out and play. But at the same time, this spring I'm not going to spoon feed him. We're going to throw things at him and let's see what sticks and what he can handle. I'd rather throw things at him, see what he can handle and then take away, as opposed to being too cautious because he's had two years."
Virginia Tech offered Thomas a scholarship when he was a sophomore in high school, and he had prepared for his freshman year expecting to play immediately as a tight end or receiver. On the first day of spring ball, though, O'Cain approached Thomas and asked if he would be interested in trying to play quarterback.
Thomas agreed to try it, but it took about three weeks for it to agree with him.
"I was hating life for the first two weeks, hating it," he said. "I had prepared that whole summer to play tight end, h-back, and so I had thrown zero balls until camp started. It was really that third or fourth week that I said, 'Just throw it all out the window, get a new mindset,' and I really started enjoying it. A lot of it was because of Coach O'Cain and Tyrod as well. They helped me along with the process and trusted me at a young age."
O'Cain said he saw enough promise after just a few days watching Thomas at the position to tell Thomas he could be a three-year starter.
"I wasn't trying to pull the wool over his eyes," O'Cain said. "I felt like he could be a good quarterback, a very good quarterback."
It's time to find out if O'Cain was right.
December, 20, 2010
12/20/10
2:00
PM ET
Last week I started looking at who needs to "
step up
" for each bowl-bound team, and will continue today with the Seminoles. Florida State has a tough challenge in the Chick-fil-A Bowl against SEC East champ South Carolina. The Noles have a chance at the program's first 10-win season since 2003.

In order for that to happen, who needs to step up?
Florida State's defense:
The Seminoles are coming off an unimpressive performance in the ACC championship game in which they allowed Virginia Tech 44 points, 442 total yards and no turnovers. Their biggest collapses, though, came on third down, when the Noles allowed the Hokies to convert on 13-of-18. That won't fly against a South Carolina offense that features two elite players in running back
Marcus Lattimore
and receiver
Alshon Jeffery
. Lattimore ranks second in the SEC to Heisman winner
Cam Newton
with 1,198 yards and 17 rushing touchdowns. Jeffery set single-season school records for receptions (79) and yards (1,387). Even if FSU can get its running game going against the Gamecocks' stingy run defense, it won't be enough if the Noles can't come up with more stops than they did against Virginia Tech.
September, 19, 2010
9/19/10
12:51
AM ET
AUBURN, Ala. -- Auburn quarterback
Cam Newton
stood before his team in the locker room at halftime, and delivered an important message: No more slacking, and no more lack of focus. Time was running out.
At 6-foot-6, 250 pounds, when Newton speaks, he tends to hold a captive audience.
"Cam being a leader really showed character by saying, 'Hey, this is what we need to do,' and he actually went out there and did it," said freshman running back
Michael Dyer
. "There was a time when he stood in the pocket and took a shot and threw a touchdown pass. Most quarterbacks probably couldn't do that or handle the pressure. He really went out there and showed what he meant by that."
[+] Enlarge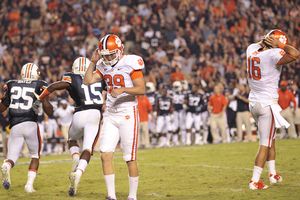 AP Photo/Dave MartinClemson kicker Clarence Catanzaro (39) reacts after missing a field goal in overtime against Auburn.
Auburn's inspired second half led to a
27-24 overtime win against Clemson
-- a dramatic win that was sealed when Clemson was penalized for an illegal snap on what would have been the game-tying field goal. Instead of a second overtime, Clemson's points were taken off the board, and kicker Chandler Catanzaro's next try went wide left. It was a physical game and gutsy performance by both teams -- one that they'll both take some confidence from moving forward.
"I think we've got a chance to be a good football team, I really do," Clemson coach Dabo Swinney said. "I think we've got the ingredients. I thought that coming into this game. I wasn't really sure how they would respond. We didn't play a perfect game, we made some mistakes, but they fought hard, played with some toughness and showed poise at some critical times."
Despite the loss, it was one of the more respectable performances by an ACC team this month -- save for the third quarter. Auburn outgained Clemson 258-46 in the third quarter after totaling 116 in the first half and eight in the first quarter. Auburn defensive coordinator Ted Roof said Clemson came out in the first half using some different formations and plays than he had seen in any of the game film they studied from last year.
Offensive coordinator Gus Malzahn also made some adjustments, and Auburn coach Gene Chizik said there was "nothing but chalk flying at halftime on a bunch of adjustments."
"Anytime you win a game like this, the way you do it, it really carries over," Malzahn said. "I think we were down 17-0 and playing very bad football on offense. It was good to see our guys come back and put some points on the board to win the game."
Newton completed seven passes for 203 yards and two touchdowns, including a 78-yard pass to
Terrell Zachery
in the third quarter to give Auburn its first lead at 24-17.
"We just started executing our plays and everything started slowing down," Newton said. "Everybody started to realize that we can't wait until the next time. We had some guys that stood up and started making some big plays."
Including the defense. Auburn's opponents are 0-for-7 on third-down conversions in the fourth quarter this year.
"We came into the locker room at halftime and told each other that we were not going to quit," safety Zac Ethridge said. "We just kept on fighting. It really showed the character of our team."
Auburn earned the win, but Clemson definitely earned some respect. The Tigers entered Jordan-Hare Stadium untested and unranked after wins over unheralded opponents North Texas and Presbyterian, but made a statement early by controlling the clock for 19:23 in the first half to Auburn's 10:37. Clemson also proved it could survive offensively with a new cast of characters and without the production of former running back C.J. Spiller.
"There's a lot of pain, a lot of hurt in that room right now," Swinney said. "Guys worked really hard. They fought really hard to win this game. This is a team we're going to be playing for a couple more years. We learned a lot about them, they learned a lot about us. I wish them well but we have to go back to work. All of our goals on our board are still there. Anytime you lose a game in overtime -- especially on the road when you've got a chance to win -- it's a painful thing, but there's nothing final or fatal unless you let it be that way."
September, 18, 2010
9/18/10
9:27
PM ET
AUBURN, Ala. -- Auburn has made this a game in the second half, thanks to quarterback
Cam Newton
. He accounted for 47 yards in a 61-yard scoring drive, including a 34-yard pass to
Darvin Adams
. Auburn now trails, 17-10, with about eight minutes left in the third quarter.
That's the Newton we saw in the first two games of the season -- the one who can run. The crowd here is deafening again. Jordan Hare Stadium -- and Auburn's offense -- woke up.
September, 18, 2010
9/18/10
8:48
PM ET
AUBURN, Ala. -- Here's a quick halftime breakdown:
Turning point:
Clemson quarterback
Kyle Parker
threw a 24-yard touchdown pass to
Jamie Harper
, who made a spectacular diving catch for the 17-0 lead. Clemson had been controlling the game to that point, but that play seemed to really put some distance between the teams on the scoreboard.
Stat of the half:
37. That's how many rushing yards Auburn quarterback
Cam Newton
had. He entered the game ranked second in the conference and 16th in the nation with 120.5 rushing yards per game.
Best player in the half:
Clemson's Parker. He's completed 16 of 24 passes for 194 yards and two touchdowns with no interceptions. He's been particularly good on third downs and has done a great job of helping the Tigers sustain drives and control the clock.
September, 18, 2010
9/18/10
8:27
PM ET
AUBURN, Ala. -- The crowd is great. The student section one of the most passionate I've seen. Stadium is packed.
But the actual team? Auburn? It's getting beat by an unranked Clemson team. At home.
Clemson is looking good in the process, on both sides of the ball. Just when Auburn seemed to be playing as billed, it was hit with a costly holding penalty on its last drive.
Cam Newton
is big, but he hasn't made enough big plays. Clemson has 206 yards to Auburn's 66. Part of the problem for Auburn is that Clemson is just killing the clock. The defense needs to make some stops to give its offense a chance, but Newton and Co. need to sustain some drives, too.
September, 16, 2010
9/16/10
10:15
AM ET
Here's a look at what to keep an eye on in Week 3:
1. Upset alert.
No, not the ACC being upset (there aren't enough teams ranked anymore for the ACC to be upset this weekend), the other way around. But there are plenty of opportunities for the ACC to knock off a ranked opponent. Maryland at West Virginia, No. 1 Alabama at Duke, Clemson at Auburn and Wake Forest at Stanford. Can the ACC save face with any of these opportunities?
2. Clemson safety DeAndre McDaniel vs. Auburn quarterback Cam Newton.
McDaniel is going to have to help in the run support, and he's also got to be wary of Newton's arm. Newton is the team's leading rusher, and at 250 pounds, he's not easy to wrap up. Expect McDaniel to line up all over the field to help contain.
3. The "New Storm."
Clemson's running back duo of
Andre Ellington
and
Jamie Harper
have been on cruise control, but they'll run into a defense that has allowed just 80 rushing yards per game so far.
4. North Carolina's running game.
After just one game, North Carolina is averaging 24 yards of rushing offense -- the worst in the country. The addition of running back
Shaun Draughn
should help, but
Johnny White
and
Anthony Elzy
are both ahead of him on the depth chart, and both White and Elzy injured their ankles against LSU.
5. Georgia Tech's receivers.
Coach Paul Johnson said there were five dropped balls against Kansas, contributing to Joshua Nesbitt's 5-of-15 completions, but that Nesbitt also could have thrown it better at times.
[+] Enlarge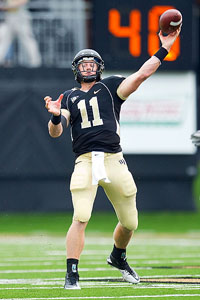 Brian A. Westerholt/Getty ImagesWake Forest's Tanner Price will become just the third true freshman quarterback starter this Saturday against Stanford.
6. Freshman quarterback Tanner Price.
It will be the first time a true freshman quarterback has started for Wake Forest coach Jim Grobe. When Price makes his debut against Stanford, he will become just the third true starting freshman quarterback in the country this year, joining, Penn State's Rob Bolden, and Colorado State's
Pete Thomas
.
7. Virginia Tech's offensive line.
East Carolina's defense has been very generous, allowing almost 500 yards per game. If there was ever a time for the Hokies to gain some confidence up front and pave the way for
Ryan Williams
, this would be it. Maybe the starters are simply gassed. No backup has played a snap yet on the offensive line. Nick Becton (turf toe) is expected to return.
8. Turnovers in Raleigh.
NC State's defense forced a total of five turnovers in last Saturday's win over UCF, including three interceptions. It was the most the Pack had forced since six against North Carolina in 2008. NC State enters tonight's game with a plus-six turnover margin, the best in the ACC.
9. Maryland backup quarterback Danny O'Brien.
He'll definitely play, though coach Ralph Friedgen said this week he's "not disappointed" in starter
Jamarr Robinson
. O'Brien threw three touchdown passes in the win over Morgan State, but West Virginia is holding opponents to just 10.5 points per game.
10. Florida State's defense.
The Seminoles should look much better this weekend against BYU, especially considering BYU is 101st in the country in scoring offense with just 18.5 points per game. The Seminoles had trouble lining up in the new zone scheme against Oklahoma's no-huddle offense and Jimbo Fisher is looking for better tackling in open space.