March, 13, 2013
3/13/13
5:00
PM ET
This month is filled with pro days across the ACC, and we're here to keep you updated with how the auditions have been going for those schools that provide releases. So far, Pittsburgh, Miami, Clemson and Syracuse have all held their pro days. Here's a look at some of their highlights:
CLEMSON
Twelve former players participated: Spencer Benton (PK), Xavier Brewer (DB), Jaron Brown (WR), Brandon Ford (TE), Dalton Freeman (C), Malliciah Goodman (DE), Rashard Hall (SAF), DeAndre Hopkins (WR), Carlton Lewis (SAF), Jonathan Meeks (DB), Jonathan Willard (LB) and Corico Wright (LB).
Ford had the best vertical jump at 37 inches.
Freeman was the lone player to have more than 30 reps, with 34 reps of 225 pounds on the bench-press.
Brown had the best 40-yard time at 4.4 seconds. He also had the top broad jump at 10 feet, 4 inches.
Running back Andre Ellington will have a separate workout at Clemson on March 29. He suffered an injury at the NFL combine in February.
MIAMI
Twelve Miami seniors auditioned for 30 NFL scouts.
S Vaughn Telemaque recorded the highest vertical jump at 36 inches.
DL Darius Smith was the lone participant to break the 30-rep plateau, recording 33 reps of 225 pounds.
Both RB Mike James and DB Brandon McGee took their official NFL combine 40 times. WR Kendal Thompkins had the best 40 time at pro day with 4.37.
LB Ramon Buchanan had the best broad jump at 10 feet, 8 inches.
PITT
Twelve seniors worked out in front of scouts from 17 NFL teams, according to the Pittsburgh Tribune-Review.
The highlight, according to the paper, was Ray Graham's improvement in the 40. Graham ran a disappointing time of 4.8 seconds at the NFL combine, but improved to a range of 4.58 to 4.62.
SYRACUSE
Fifteen former players participated in pro day in front of 29 NFL scouts.
"Deon Goggins today really lit it up," said SU assistant athletics director for athletic performance Will Hicks in the release. "I mean, he verticaled 37.5 [inches]. He ran in the high 4.7s, so he put himself on the map today. But he also did that in the all-star game [2013 NFLPA Collegiate Game], he played in. He had a caused fumble, a sack, a tackle for loss, but what he did today was show his speed."
Here is the remaining pro day schedule for the rest of the ACC:
TODAY
THURSDAY
March 18
March 19
March 20
NC State
Virginia Tech
Boston College
March 25
March 26
July, 1, 2011
7/01/11
3:30
PM ET
Moving on to the safeties …
[+] Enlarge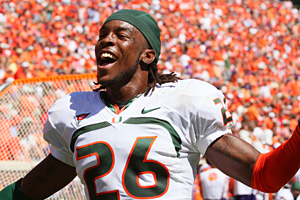 Marvin Gentry/US PresswireRay-Ray Armstrong is among the leaders of a strong Miami secondary.
1. Miami:
Vaughn Telemaque and Ray-Ray Armstrong return, but JoJo Nicolas moved to corner. Even though Armstrong wasn't a starter last year, he still ranked third on the team with 79 tackles and tied for the team lead with three interceptions.
2. Florida State:
The Seminoles return both starters in Nick Moody and Terrance Parks. Moody had 79 tackles last season and Parks had 44 and six deflections. The group was strengthened with the addition of Lamarcus Joyner, who moved from cornerback and proved this spring he's capable of being a safety.
3. NC State:
The Wolfpack has two of the best in Earl Wolff, the team's leading tackler last season with 95, and Brandan Bishop, who had 56 tackles and a team-high four interceptions. Dontae Johnson (22 tackles), also returns.
4. Virginia Tech:
Eddie Whitley is the lone returning starter, but he should be one of the best in the ACC. Antone Exum, who was the No. 2 free safety last season, moved to rover this spring. He played in every game last season and had five starts when Tech went to its nickel defense.
5. Virginia:
The Cavaliers return veteran starters in Rodney McLeod and Corey Mosley, who have combined for 41 career starts. Mosley had 52 tackles and two interceptions last season, and McLeod had 54 tackles and four pass breakups. Safety Dom Joseph (34 tackles) also returns.
6. Duke:
The Blue Devils return both starters in Matt Daniels and Lee Butler. Daniels, a senior, has started 25 career games and is one of the top returning tacklers in the ACC. Butler had 58 tackles and nine passes defended last season.
7. Boston College:
The Eagles return juniors Jim Noel, who had four interceptions in eight starts, and Okechukwu Okoroha, who started the final six games last fall. Noel, Okoroha, and Dominick LeGrande combined for 90 tackles last season.
8. Wake Forest:
Both starters return in Daniel Mack and Cyhl Quarles. Mack had 45 tackles and two interceptions last season. Duran Lowe (30 tackles) could unseat Quarles, who is Wake's leading returning tackler with 71 hits. Redshirt freshman Desmond Cooper is also competing for playing time.
9. Clemson:
Rashard Hall has 19 career starts and made 62 tackles and two interceptions last season. Safety Jonathan Meeks (28 tackles, one start) also returns, along with Carlton Lewis.
10. Maryland:
Just as Kenny Tate's move to linebacker bumped the Terps up in the ranking in that category, his departure from safety drops them a few notches as they now don't have any returning starters there. They do, however, have experience. Eric Franklin played in 11 games, with 23 tackles and three interceptions (tied for second on the team). Matt Robinson played in all 13 games and posted 29 tackles and forced a pair of fumbles. The Terps have plenty of depth with Austin Walker, Titus Till, Anthony Green and Desmond Haynes.
11. North Carolina:
Matt Merletti had five starts and Jonathan Smith, who lettered in 2008 and 2009 but missed all of last season, are the projected starters. They will be pushed by junior Gene Robinson (four starts, 30 tackles, one interception) for playing time.
12. Georgia Tech:
The Jackets had to replace both of their safeties in Mario Edwards and Jerrard Tarrant. Safety Fred Holton (11 tackles) and Isaiah Johnson (46 tackles, one interception) are the two most likely front-runners to start this fall.
October, 27, 2010
10/27/10
7:04
PM ET
By
ESPN.com staff
| ESPN.com
Clemson backup safety Carlton Lewis suffered a broken jaw in practice on Tuesday and had surgery on Wednesday, according to a school spokesman. He will miss at least the Boston College and NC State games. Lewis played 13 snaps as a reserve in Clemson's win over Georgia Tech. Defensive tackle Miguel Chavis has a sprained foot and is probable for the Boston College game. Byron Maxwell is continuing to improve from his turf toe injury and will make the trip to Boston.
August, 12, 2009
8/12/09
11:00
AM ET
By
ESPN.com staff
| ESPN.com
Posted by ESPN.com's Heather Dinich
Here's your daily dose of practice reports from Tuesday, as reported by each school's sports information office:
CLEMSON
Kavell Conner and Brandon May each had eight tackles to key the defense in Clemson's first of three scrimmages of the preseason on Tuesday morning.

Four quarterbacks worked in the scrimmage that was 87 plays in length before the team went into a short-yardage situation drill. Kyle Parker completed 8 of 18 passes for 97 yards and a touchdown, a 39-yard scoring pass to tight end Durell Barry. Willy Korn was 4-for-9 for 41 yards, while Mike Wade was 4-of-7 for 49 yards. Freshman Taj Boyd, who worked with the third offense against the third defense, was sharp and completed 7-of-10 passes for 70 yards.

Two redshirt freshmen were the top receivers on the day. Brandon Ford had five catches for 60 yards and Jaron Brown added three for 48 yards. The tight ends were prominent during the scrimmage catching a combined eight passes. Michael Palmer had four catches for 33 yards.

C.J. Spiller was the top rusher with 10 carries for 60 yards and he also added a 7-yard pass reception. Jamie Harper had three rushes for 18 yards, while Rendrick Taylor added four for 17.

The defense played well, allowing just one touchdown all day, the 39-yard scoring pass from Parker to Barry. Conner had a tackle for loss to go with his eight tackles. Jarvis Jenkins was the top tackler up front with five stops, including a tackle for loss. Ricky Sapp had two sacks to pace the defensive ends. There were two interceptions by the defense, one by Xavier Brewer and one by Carlton Lewis.

"We did some things well, but we still have a long way to go," said coach Dabo Swinney. "The defense is definitely ahead of the offense at this point and you see that at this point in preseason. But we had way too many penalties and mistakes on offense.

Clemson will be back on the practice fields for two practices on Wednesday.
MARYLAND
The Terps continued practice without pads, spending much of the session working on timing, technique and learning the playbook.

For the second straight day, the team practiced in high heat and humidity as temperatures soared into the mid 90s. The weather may have played a role in Tuesday's workout.

"Today wasn't as good as Day 1," said coach Ralph Friedgen. "We didn't catch it as well as I like us to. But we still got a lot done. We had a lot of reps. We got a lot of young kids plenty of work. We're running two teams so I'm like a traffic cop out there."

In order to get more work for a roster which has 58 of its 85 scholarship with three or four years of eligibility left, Friedgen has split the practice into two groups, with the first and third teams squaring off against each other, and second and fourth teams working on an adjacent field.

"The good thing about this team, there's competition," said Friedgen. "Everybody has to compete. There's very few jobs that are set other than say [Chris] Turner's. But I'm looking for Jamarr Robinson to come on as well. But I'm not disappointed in the play of two young quarterbacks. I'm kind of amazed from what we have in that they're able to get out of the huddle. They're not finished products by any stretch, but they've picked things up well."
MIAMI
Day 4 was highlighted by several big runs from freshman running back Lamar Miller, as well as a strong showing by the tight ends in 7-on-7 action.

The Hurricanes donned shells for the second straight day. After a slow start to practice, the team picked up its pace as practice wore on.

"As a group, we started off slow today; but we finished up fast," coach Randy Shannon said. "We can't come out and start off slow and then try to pick it up at the end. That is part of practice. We have to get focused tomorrow and stay focused on the big picture."

Temperatures remained consistent with the first three days of practice, with hot, humid conditions on the Greentree Practice Fields.

The team will return to practice Wednesday morning wearing full pads for the first time in camp.

• Freshman defensive linemen Olivier Vernon and Luther Robinson each recorded a sack in 11-on-11 action.
• Sophomore quarterback Jacory Harris hooked up with sophomore Travis Benjamin and freshman Kendal Thompkins for deep balls in 11-on-11 play.
• Freshman Lamar Miller had two big runs on the morning, one that went for a 60-plus-yard touchdown.
• Jordan Futch forced and recovered a fumble in full-team action.
• Tight ends stood out in 7-on-7 play, with seniors Jimmy Graham and Richard Gordon and freshman Billy Sanders all recording a catch.
• Taylor Cook found Thearon Collier for a long touchdown in 11-on-11.

WAKE FOREST
Wake Forest practiced for two hours Tuesday night at the Doc Martin Football Practice Complex. The fourth practice of the preseason marked the Demon Deacons' final practice in shells. The squad will wear full pads for the first time when it hits the practice field on Wednesday afternoon at 3 p.m.

"It was a little scary tonight, a lot of contact, lot of guys running into each other," said coach Jim Grobe. "We're trying to keep the guys high and on their feet but we had too many guys on the ground tonight. The good news is that they were getting after each other in a good way. We'll work harder at doing a better job of being physical but at the same time taking care of each other. We had a lot of energy tonight."

Grobe noted that the younger, less-experienced defense rose to the occasion on Tuesday night.

"I thought the defense did some better things today," said Grobe. "The past couple of practices we popped some big plays on offense and the defense kind of kept those in check today. They're moving around better. Some of our young kids, they don't know where to line up or what to do but they're flying around and playing hard so it was fun. It was a fun practice to watch. Usually at the end of finals and summer school the guys start dragging but we didn't today. It will be fun tomorrow to get out and have class behind us and not have to study anything but football for the next couple of weeks."
May, 7, 2009
5/07/09
9:50
AM ET
By
ESPN.com staff
| ESPN.com
Posted by ESPN.com's Heather Dinich
Clemson Tigers
2008 overall record: 7-6

2008 conference record: 4-4
Returning starters
Offense: Offense: 7, defense: 8, punter/kicker: 0
Top returners
WR Jacoby Ford, RB C.J. Spiller, OG Thomas Austin, CB Crezdon Butler, CB Chris Chancellor, DE Ricky Sapp, LB Kavell Conner
Key losses
WR Aaron Kelly, QB Cullen Harper, RB James Davis, WR Tyler Grisham, S Michael Hamlin, S Chris Clemons, PK Mark Buchholz, P Jimmy Maners, NG Darell Scott
2008 statistical leaders (* returners)
Rushing: James Davis (791 yards)
Passing: Cullen Harper (2,601 yards)
Receiving: Aaron Kelly (722 yards)
Tackles: LB Kavell Conner* (125)
Sacks: LB Brandon Maye*, DT Jarvis Jenkins*, DE Ricky Sapp* and DT Rashaad Jackson (2 each)
Interceptions: Michael Hamlin (6)
Spring answers
2009 Schedule
Sept. 5 Middle Tennessee
Sept. 10 at Georgia Tech
Sept. 19 Boston College
Sept. 26 Central Michigan
Oct. 3 at Maryland
Oct. 10 OPEN
Oct. 17 Wake Forest
Oct. 24 at Miami
Oct. 31 Coastal Carolina
Nov. 7 Florida State
Nov. 14 at NC State
Nov. 21 Virginia
Nov. 28 at South Carolina
1. Starting QB: Kyle Parker has proved to be a remarkable athlete in his first spring competing for the starting quarterback job. He's proved capable of leading both the Tigers' offense on the football field and the baseball field. He was the better of the two quarterbacks. That doesn't mean he'll be the starter, but it does give Dabo Swinney confidence in the option.
2. A new 'D': First-year defensive coordinator Kevin Steele was a great hire, and Clemson's defense will be more aggressive. It hasn't been broken the last four years under Vic Koenning, but Steele will look to sack the quarterback more, and play more man coverage in the secondary, which Butler and Chancellor like.
3. A better O-line: The offensive line will be much better. Clemson ran the ball well this spring without Spiller, who, along with Jacoby Ford was also running track and not allowed to be tackled this spring for fear of getting them hurt. Thomas Austin is a leader and former center who will play guard and Mason Cloy seems comfortable now at center.
Fall questions
1. No. 2 receiver: There's no clear-cut receiver for the No. 2 spot behind Ford, who wasn't around much this spring because of track. There were numerous dropped balls early in the spring, but there was also some improvement. Xavier Dye has the potential to step in and was Korn's teammate for half a year. Redshirt freshmen Brandon Ford and Jaron Brown are also candidates.
2. Parker vs. Korn: Swinney is not being coy when he says Kyle Parker and Willy Korn are "co-No. 1s" going into August camp. The one thing that can't be accurately evaluated in the spring is how well the quarterbacks can run, which is something they'll have to do more in this system. But the quarterbacks can't be tackled in the scrimmages. Korn is the better runner, but Parker was the better quarterback this spring.
3. Safety: The Tigers are still looking to name two starting safeties. DeAndre McDaniel was moved from linebacker to safety, and hasn't played it before. Sadat Chambers, who had 21 tackles on second-string last year, will continue to compete with Carlton Lewis and Rashard Hall this summer.
ACC SCOREBOARD
Saturday, 12/20
Monday, 12/22
Tuesday, 12/23
Wednesday, 12/24
Friday, 12/26
Saturday, 12/27
Monday, 12/29
Tuesday, 12/30
Wednesday, 12/31
Thursday, 1/1
Friday, 1/2
Saturday, 1/3
Sunday, 1/4
Monday, 1/12
Tweets from https://twitter.com/ESPNCFB/lists/acc