October, 10, 2014
10/10/14
4:00
PM ET
Digging into the old mailbag, with a mix of email and Twitter questions.
Brian in Raleigh, N.C., writes:
Why isn't anyone talking about [Virginia Tech's] freshmen WRs? Also...Fuller for AA list for sure? Might be a little early, but he is making a case for All American with All-ACC in the bag.
Hale:
I love what Frank Beamer has done on offense this season. With fans restless, he decided to focus on developing his young talent anyway, and it's paying big dividends.
Isaiah Ford
,
Cam Phillips
and
Bucky Hodges
-- all freshmen -- account for 60 percent of the team's receiving yards. Freshmen had been the entirety of the ground game, and
Shai McKenzie
's injury is a real shame. With freshmen, there will be some ups and downs, but as a whole, the young Hokies look terrific, and there's ample reason to be excited about the direction of the program -- which certainly didn't seem like the case six months ago.
As for
Kendall Fuller
, ESPN keeps a stat called "disrupted dropbacks" that includes sacks, interceptions, battled balls and passes defended. No player in the country has more than Fuller (15).
@DavidHaleESPN why does Dave Doeren get mauled when he speaks his mind?

— Tim (@Civilian_Wolf) October 9, 2014
Hale:
Dave Doeren is one of my favorite ACC coaches to talk to because he's blunt and up front about virtually everything ... and that's incredibly refreshing, even if -- as in the case of FSU's injuries --I don't exactly agree with him.
But the blowback certainly isn't unique to Doeren. Poor Bobby Petrino stuck his foot in his mouth comparing the Carrier Dome to Death Valley, and Clemson fans were furious. Bob Stoops has angered virtually every SEC fanbase in the last year. #FSUTwitter is angry any time someone fails to recognize the greatness of any FSU player (or, alternately, if you say something nice about
Cason Beatty
). And for yet another example…
Wayne in Atlanta writes:
Does [negative recruiting] really happen all that much? Who does it? Is it ok? Now, in my opinion, we have an instance of Coach Cut engaging in negative recruiting towards GT ... in the open ... in a press conference! He says, "If I was a WR, why would I go to Tech?"
Hale:
Let's start specifically with David Cutcliffe's comments. My experience with Cutcliffe tells me this was less an act of public negative recruiting and more him saying something that many coaches and players have said before but without giving his words the proper context. I think he meant simply that, given the system Georgia Tech runs, it can be difficult to convince many high school receivers that it's a good fit for them. And, in truth, he's right.
Now, do coaches say stuff like that on the recruiting trail? Absolutely. I'd wager every coach in America has a dozen or so of those conversations each week. Part of selling your program is also illustrating why it's better than another, and things like scheme and facilities and campus life all get discussed.
Of course, negative recruiting goes way beyond that, too. Larry Fedora spoke about how often it's been happing to North Carolina with the looming NCAA investigation. Rumors about coaches getting fired or leaving for other jobs are exploited regularly. And at a lot of programs, the talk gets even uglier than that.
The bottom line is that many coaches will do almost anything to sell a top recruit, and negative recruiting is a lot like negative campaign ads ... everybody says they don't like them, but studies consistently show they're the most effective sales pitch.
@DavidHaleESPN Hey! If you were a hot dog, and you were starving, would you eat yourself?

— Animals of Section B (@SectionBAnimals) October 9, 2014
Hale:
I'd smother myself with brown mustard and relish.
I'd be delicious
!
Matthew Perry in Clemson, S.C., writes:
Why is Clemson's
Deshaun Watson
not getting any love in the Heisman conversation? With only 2 starts his QBR has surpassed Mariotta, Marshall, Prescott and Winston, who are all still on the "Heisman Watch."
Hale:
It's largely because he's had just two starts -- and both were against incredibly shaky defenses. Watson gets Louisville's top-ranked D this week, and if he turns in another spectacular performance -- particularly if his running game continues to struggle -- I think he'll become a much bigger part of the conversation. Remember, it wasn't until after last year's Clemson game that
Jameis Winston
was really taken seriously as a contender.
@DavidHaleESPN What would happen if you put Wake's offense and N.C. State's defense together on one team?

— Tom Lang (@_TomLang) October 9, 2014
Hale:
Allow me to quote the wise Dr. Peter Venkman:
Dogs and cats ... living together ... mass hysteria
!
Poncy in Miami writes:
Over the past four years the Hurricanes have been under the cloud of this immensly stressful NCAA investigation. However, now that the dust has settled i still don't see any improvement on the field. Is the issue D'Onofrio, Golden, scheme, time or what? Because i am one of those who still wants to believe in this coaching staff but i am tired of defending them when they won't defend on the field of play.
Hale:
You're certainly not alone in your frustration, Poncy. I'm not sure the failings fall entirely on the coaching staff, but I do get the sense that a shakeup may be necessary. Sometimes a group is consistently capable of hitting home runs on the recruiting trail, but it doesn't develop recruits as well. Sometimes players have talent, but aren't a good fit for the scheme. Finding the right mix from a coaching staff perspective is not a problem unique to Miami.
Really, I think the Hurricanes' biggest issue is that the black cloud of NCAA sanctions lingers long after the sanctions are lifted. Years of negative recruiting keep away some players who might have helped. Scholarship restrictions limit depth. Mediocre performances and bowl bans hurt the program's prestige, and as a result, attendance drops, interest wanes, recruiting becomes tougher. It's a domino effect that can take the better part of a decade to recover from. Look at where USC is now. Very similar program to Miami: Big city school with lots of prestige coming off NCAA sanctions that followed an unprecedented run of success. Both programs still have some elite talent and respected coaches, but the depth isn't there to win consistently yet. There are a lot of layers here, and the program would be wise not to assume another coaching changes fixes those problems. It may be, unfortunately for frustrated fans, that more patience is the optimal solution.
@DavidHaleESPN can you be Miami's head coach?

— StantonSMASH (@StantonSMASH) October 9, 2014
Hale:
Well, we've officially found a job that has less long-term security and more stress headaches
than journalism
. I think I'll stick where I'm at for now.
September, 22, 2014
9/22/14
11:00
AM ET
TALLAHASSEE, Fla. -- It was the first question
Florida State
coach Jimbo Fisher was asked after the game. He greeted it with a face worn and weathered, insight into a stressful week. His joy during a five-minute opening statement was tempered, drained from a volatile week of fluctuating punishments and constant character-questioning columns.
[+] Enlarge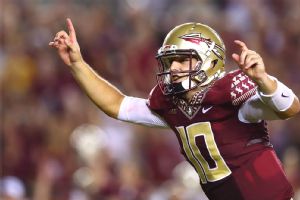 Ronald Martinez/Getty ImagesWith a strong team effort, Sean Maguire and Florida State showed they're still No. 1 until somebody beats them.
Minutes earlier the fifth-year championship coach, in a rare moment of vulnerability,
wept in front of his team
, besieged with emotion while expressing the pride he felt watching FSU pull off what seemed unimaginable minutes earlier -- a win against ACC rival and No. 22 Clemson in overtime.
"Do you think Florida State should remain No. 1 after
this
performance?" the reporter asked.
It was a superfluous detail in a game with layers of juicy plotlines that easily filled the four-hour telecast. And frankly, Fisher's answer can be tossed into the circular file with the rest of the minutiae from Saturday's game, which includes every page of team statistics and numbers with the exception of the final score.
Florida State won. It did it without its best player,
Jameis Winston
, for the entire game, and arguably its second-best player,
Mario Edwards Jr
., for the final half.
The Seminoles were tested this weekend, but the grades from the coaches and AP pollsters don't matter. We learned more about them Saturday than what any poll with waning belief in the reigning national champions could ever indicate.
"We challenged our guys to find out who we are," an emotional Fisher said. "We're not where we want to be, but we do know who we are."
The Seminoles know they're a group with the fundamental resolve required to earn one of the four College Football Playoff bids. On Saturday, they looked like a pumpkin instead of the horse-drawn carriage driven by a Heisman winner, but this is the fall season, the time when carved, misshapen pumpkins are celebrated.
The team was distracted. After the game, Fisher and his players copped to falling victim to the unavoidable lapses in focus that accompany a suspension (and a second one) to the star player for standing on a table in the busiest intersection of campus and unloading an obscene and profane outburst.
The backup quarterback completed six passes in the first half. Yet in the fourth quarter, he unleashed a 74-yard pass to the tie the score. Hero might be a strong word to frame
Sean Maguire
's performance, but only in the sense that the word is incessantly used to overstate the contributions of a player in a glorified game. Considering the pressures dropped onto Maguire's shoulders days before potentially the biggest game of FSU's season, he exceeded expectations.
The defense that has been under fire for mediocre early returns and already deemed unfit to succeed 2013's No. 1 national unit allowed 249 first-half yards. Yet in the second half, they lined up inches from national irrelevance only to hold Clemson out of the end zone and scoreless on that drive. When the Tigers tested the defensive line on fourth-and-inches in overtime, the maligned unit disrupted the play in the backfield. The only reason they were in overtime was because defensive tackle
Eddie Goldman
stripped
C.J. Davidson
of the ball as the Tigers bled the clock before setting up for a game-winning score.
The running backs had 38 yards in regulation. Yet in overtime,
Karlos Williams
ran the final 25 yards to ignite the celebration.
The punter, who has received the harshest criticism from fans, had his first kick go 37 yards; that was a half yard longer than his season average entering Saturday. Yet over his final seven punts,
Cason Beatty
pinned four of them inside Clemson's 20-yard line.
This wasn't a rag-tag group of players -- the Seminoles have possibly the country's most talented roster -- but it was a rag-tag performance driven by star efforts rather than star ratings. Certainly Clemson punctuated its #Clemsoning trademark with a comedy of errors, but they were often forced by Florida State. Two goal-line tackles before the bad snap. Davidson didn't just drop the ball.
Adam Choice
didn't trip on the 16-yard line and fall inches short of the first-down marker.
Before the game, we wondered if the top-ranked Seminoles, which looked beatable in their first two games, were a suitable No. 1 or a product of the country's best player calling the shots under center and rising to the situation weekly.
But it was the definition of a team win, and a gutty one at that. It was something we did not see at all during the regular season from the Seminoles last year, if only because they rewrote the handbook on dominance. It might be the prettiest Florida State win over the last two seasons considering the pregame Winston malady.
Maybe Florida State didn't look like the No. 1 team Saturday. But they looked like a championship-caliber team, and an undefeated one at that, which means they can still lay claim to the No. 1 ranking.
"We ain't lost in 19 straight games," Fisher said, answering the reporter's question. "We're No. 1 until somebody beats us."
July, 10, 2014
7/10/14
9:00
AM ET
From Florida State's veteran line to Clemson's fearsome defensive front, the ACC projects to have some of the country's best position groups this fall, while a few other contenders will enter 2014 with some major question marks in key areas. With that in mind, we're looking at the ACC's best units, a few more that might surprise in 2014 and the top teams with holes that could keep them from an ACC title.
Previous installments of this series can be found
here
.
Next up:
Special teams
Best of the best:
Florida State
There is no shortage of ACC teams with playmakers on special teams, but in the end, the Seminoles' talent overwhelms. They bring back sophomore
Kermit Whitfield
after a historic rookie campaign that was the best in school history. He had a nation-best 36.4 yard kick return average (an ACC record) and a 100-yard touchdown return late in the fourth quarter of the national title game. On top of that, there's reigning Lou Groza Award winner and All-American
Roberto Aguayo
, whose redshirt freshman season saw him nail 21 of his 22 field goal attempts and all 94 of his extra point tries. His 157 points set a new national record for a kicker as well. FSU also brings back punter
Cason Beatty
, in addition to the more-than-capable
Rashad Greene
at punt returner, where the Seminoles have a number of precocious speedsters behind him.

Next up:
Duke
North Carolina certainly has a strong argument in returning
Ryan Switzer
, but the nod here ultimately goes to rival Duke, which brings back all of the key pieces from a special teams unit that played no small role in helping the Blue Devils win the Coastal Division title. There's
Jamison Crowder
, one of the most versatile players in the country, who amassed 401 yards and two touchdowns last season on 25 punt returns. There's
DeVon Edwards
, who thrived all over the field as a redshirt freshman, returning 19 kickoffs for 574 yards and two sores. And there's kicker
Ross Martin
and punter
Will Monday
, both of whom put forth stellar efforts last season, with Martin connecting on 2 of 3 tries from 50 yards or longer and Monday pinning 21 punts inside the 20.

Possible sleeper:
Georgia Tech
Jamal Golden
is back after a one-year absence because of a shoulder injury. But don't count out the junior, as he was the only player in 2012 to rank in the top 10 nationally in both punt returns (14.6) and kick returns (28.4). His time away has given way to more film study, and if fully healthy, Golden's numbers figure to be right up there with the rest of the talented specialists returning in the ACC this season.
Harrison Butker
impressed as a true freshman last season, hitting 10 of 14 field goal attempts and missing just one extra point. Punter
Ryan Rodwell
, meanwhile, figures to be the main guy after redshirting in 2013.

Problem for a contender:
Virginia Tech
Beamer Ball has undoubtedly taken a hit, most notably with the team's kicking woes (VT missed 11 field goals last season) and the dismissal of Cody Journell. Freshman Michael Santamaria may be the answer at starter, for better or worse.
Kyshoen Jarrett
is back after averaging 5.3 yards per punt return last season. So, too, is
Demitri Knowles
, who averaged 21.8 yards per kick return in 2013. Something needs to be done about coverage, as the Hokies surrendered three touchdown returns last season.
January, 7, 2014
1/07/14
1:30
PM ET
In a game as good as Monday's Vizio BCS National Championship, there are countless storylines to dissect in the aftermath. And as Florida State soaks in its third national championship, we're only beginning to fully appreciate the effort it took for the Seminoles to get here. So while the celebration in Tallahassee continues, here's a brief look at some of the most underrated storylines from FSU's absurd 34-31 win over Auburn.
[+] Enlarge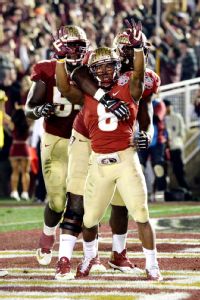 Jayne Kamin-Oncea/USA TODAY SportsFlorida State RB Devonta Freeman became the first 1,000-yard rusher for the Seminoles since 1996.
Quest for 1,000, Part I:
It was an otherwise uninteresting 4-yard rumble on first down late in the third quarter, but it was one of the most statistically significant rushes in Florida State history. The run put
Devonta Freeman
at exactly 1,000 yards for the season, making him the first FSU back to reach that mark since Warrick Dunn in 1996 and ending the longest active 1,000-yard rusher drought in college football. Freeman finished the season with 1,016 yards and 14 touchdowns. More importantly, he was a crucial part of the offense when
Jameis Winston
struggled early Monday, finishing with 94 all-purpose yards and a touchdown.
Quest for 1,000, Part II:
Freeman's 1,000th yard came late.
Rashad Greene
's came early. The junior wide receiver cracked the mark with the second of his nine catches in the title game, finishing the season with 1,128 receiving yards. He's the first FSU receiver to crack 1,000 since Anquan Boldin did it in 2002. Greene's impact Monday was huge. He was the only FSU receiver to catch a pass for positive yardage in the first half, and he was responsible for 40 percent of Winston's targets in the game. Most significant: He had 57 yards on two catches on the winning drive.
Quest for 1,000, Part III:
And if Freeman and Greene weren't enough, sophomore receiver
Kelvin Benjamin
became the third FSU player to join the 1,000-yard club with his penultimate grab, a crucial 21-yard catch early in the fourth quarter that set up Florida State's second touchdown. Benjamin ends the season with 1,011 yards. It was a frustrating game at times for Benjamin, who was shut out in the first half and had two crucial second-half drops that ended drives. His final two catches, however, were essential, including the winning touchdown grab.
Special teams was big:
Kermit Whitfield
's kick return for a score was obviously a turning point in the game, but it was hardly the only crucial play on special teams. The first half, in many ways, was defined by two momentum-shifting punts. The first, by Auburn's
Steven Clark
, pinned FSU at its own 2-yard line.
Cason Beatty
's punt on the ensuing drive netted just 22 yards, and Auburn scored easily to take a 7-3 lead. Tack on three lucky saves in a row for Auburn after muffed punts, the 15-yard penalty that kept FSU from going for two early in the fourth quarter and, perhaps most significant, a missed 33-yard field goal by Auburn's
Cody Parkey
early in the second quarter and special teams swung the momentum of the game in either direction again and again. As for Whitfield, the true freshman touched the ball just 25 times in 2013 but racked up 818 yards and four touchdowns.
[+] Enlarge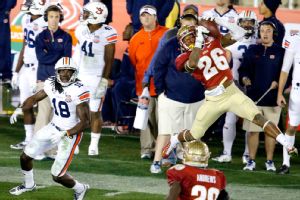 AP Photo/Gregory BullP.J. Williams' interception led to a touchdown that pulled the Seminoles within one point.
FSU's young stars:
The three biggest plays in the game for Florida State came from Winston (game-winning TD drive),
P.J. Williams
(game-saving interception) and Whitfield (game-changing kick return). That trio's total accomplishments prior to this season: 14 tackles by Williams, largely on special teams. In other words, this veteran team that Jimbo Fisher has been slowly building for years won the national title in large part because of the contributions of three players who'd barely seen the field before the start of 2013. That's a good sign for 2014 at Florida State, too.
Pruitt's big adjustment:
To open the game, FSU defensive coordinator Jeremy Pruitt brought pressure on
Nick Marshall
often, and it wasn't entirely successful. The Tigers' QB burned the Seminoles deep on several big plays. But Pruitt adjusted, was more conservative down the stretch, and it worked. Marshall was just 7-of-17 passing with an interception when Florida State brought four or fewer pass-rushers, according to ESPN Stats & Info.
Jernigan's impact:
The stat sheet shows just nine tackles, but anyone who watched Monday's game knows
Timmy Jernigan
meant so much more for Florida State's defense. He was a beast up the middle, shutting down Auburn's vaunted run game for long stretches and offering next to nothing between the tackles. He clogged gaps and allowed linebacker
Telvin Smith
to step up and record a game-high 15 tackles. He flushed Marshall out of the pocket repeatedly. Of course, Jernigan was also completely gassed by the end, relegated to the sideline for much of Auburn's final two scoring drives, and the Tigers' success without Jernigan in the game was the ultimate proof of what an impact FSU's under-the-radar defensive tackle actually made.
Winston's rebound:
There were two resounding narratives regarding Florida State entering the game. The first was that Winston, the Heisman Trophy winner, would have a field day against an overmatched Auburn secondary. The second was that the untested Seminoles wouldn't know how to handle a close game in the fourth quarter. It just goes to show that the pregame predictions often don't amount to much. Winston's unwavering confidence this season -- particularly on the prime-time stage -- has been Florida State's hallmark. The "do it big" speech has been played again and again, but Winston was hardly that guy during the first three quarters Monday. His footwork was a mess. He was off target on throws. He was hesitant to release the ball, choosing again and again to tuck and run. He rarely looked downfield in spite of those supposed mismatches for his receiving corps. And yet, when the game was on the line, the QB who'd thrown just 25 fourth-quarter passes all season rebounded by completing 9 of 11 for 117 yards and two touchdowns in the game's final quarter.
It really was about his teammates:
If there was a mantra Winston stuck to this season throughout all the highs and lows, it was that the season -- and his success -- was built on the backs of his teammates. Monday's national championship proved him right. While Winston struggled early, so many others stepped up. Freeman moved the ball on the ground. Greene provided a reliable target. Fisher called a brilliant fake punt that
Karlos Williams
managed to execute perfectly. Whitfield returned a kick for a score. The defense held Auburn scoreless on five straight drives -- forcing a turnover along the way -- while Winston slowly chipped away at a 21-3 deficit. Yes, it was the Heisman winner who delivered the winning drive with 1:19 to play, but it was Greene's spectacular run after a catch and Benjamin's unparalleled ability to go up for a ball in the end zone that made the difference. For Florida State, 2013 really was about team, no matter how good (or, in Monday's case, shaky) Winston was along the way.
November, 21, 2012
11/21/12
1:34
PM ET
By
NoleNation staff
| ESPN.com
David Hale writes:
Questions about BCS computers and conference championships are going unanswered by Florida State this week, as its singular focus is in-state archrival Florida.
Corey Dowlar writes

: Four-star FSU defensive end commit Davin Bellamy, who hails from Georgia, has only ever been to two college football games -- in Athens, Ga., where he watched the Georgia Bulldogs play. This weekend, he'll be treated to what will likely be a mighty overwhelming first experience at Doak Campbell Stadium in Tallahassee.
Dowlar

: FSU comes in at No. 12 in the latest recruiting class rankings, and the Noles owe a lot of their commitments more to what the team is about when it's off the field.
Hale's Big Board

: FSU's punting game is well below the national average, while Florida's is kicking on all cylinders.
June, 27, 2012
6/27/12
11:23
AM ET
By
ESPN.com staff
| ESPN.com
David Hale writes:
Since Jimbo Fisher took over, the FSU passing attack is turning more often to its big targets at tight end. It's the first installment in NoleNation's stats series, The Big Board.
Hale:

Freshman punter Cason Beatty, vying to replace departed All-ACC P Shawn Powell, is today's subject of NoleNation's player-profile series Carrying the Spear.
Corey Long writes:

The recent Jimbo Fisher recruiting camp had several implications for FSU recruiting and built some player-coach bonds.
Damon Sayles writes:
TE Christian Morgan of Plano, Texas, has committed to the Seminoles.
Hale:
Former FSU OF James Ramsey says the St. Louis Cardinals have told him he will start at High-A Palm Beach.
May, 8, 2012
5/08/12
10:00
AM ET
2011 overall record:
9-4
2011 conference record:
5-3 (t-3rd)
Returning starters:
Offense: 6; defense: 8; kicker/punter: 1

Top returners:
QB
EJ Manuel
, CB
Greg Reid
, LB
Telvin Smith
, DE
Brandon Jenkins
, DE
Bjoern Werner
, WR
Rashad Greene
Key losses:
T
Zebrie Sanders
, WR
Bert Reed
, LB
Nigel Bradham
2011 statistical leaders (*returners)
Rushing:
Devonta Freeman
* (579 yards)
Passing:
EJ Manuel* (2,666 yards)
Receiving:
Rashad Greene* (596 yards)
Tackles:
Nigel Bradham (86)
Sacks:
Brandon Jenkins* (8)
Interceptions:
Lamarcus Joyner
* (4)
Spring answers
1. Erving steps in:
The Seminoles have to replace both starting offensive tackles, but coach Jimbo Fisher believes he has found a future NFL starter in converted defensive tackle
Cameron Erving
. The 6-foot-5, 304-pound sophomore from Colquitt, Ga., has good feet and long arms. He stepped in at left tackle, and sophomore
Bobby Hart
and junior
Bryan Stork
are battling to start at right tackle entering preseason camp.
2. Deep receiving corps:
With big-play wideouts such as Rashad Greene,
Kenny Shaw
and
Christian Green
coming back, the Seminoles were already loaded on the perimeter. Throw
Willie Haulstead
and redshirt freshman
Kelvin Benjamin
into the mix, and it might be the deepest receiving corps in the country. Haulstead missed all of last season with a concussion, and Benjamin was redshirted. Fisher said the pair might be his team's best wideouts, which is saying a lot.
3. Defensive line is stocked:
Defensive end Bjoern Woerner and tackles
Timmy Jernigan
and
Jacobbi McDaniel
missed the spring because of injuries, but their replacements showed FSU will be pretty deep in its defensive front. End
Cornellius "Tank" Carradine
and nose tackle
Anthony McCloud
had nice springs.
Fall questions
1. The running game:
Florida State struggled to run the ball last season, finishing next-to-last in the ACC at 112.2 yards per game. Injuries were a big part of the problem. The Seminoles didn't find many answers in the spring. Top returning rushers Devonta Freeman and
Chris Thompson
missed spring practice because of injuries, and promising sophomore
James Wilder Jr.
miss a big chunk after he was arrested for resisting arrest in February.
2. Punter:
The Seminoles are really going to miss departed punter
Shawn Powell
, who averaged 47.1 yards per punt and helped FSU's defense by putting opponents in bad field position. Freshman
Cason Beatty
, a former high school quarterback, enrolled in classes at FSU in January and participated in spring practice. He struggled with consistency, but FSU coaches like his strong leg and hang time.
3. Backup quarterback:
Senior EJ Manuel needs to stay healthy for the Seminoles to reach their potential, but there are a couple good backups behind him.
Clint Trickett
has added weight and threw the ball well in the spring. He's still battling redshirt freshman
Jacob Coker
for the No. 2 job. FSU will also hold its breath to see if highly regarded quarterback recruit
Jameis Winston
of Hueytown, Ala., enrolls in school or signs a professional baseball contract this summer.
February, 21, 2012
2/21/12
2:00
PM ET
By
ESPN.com staff
| ESPN.com
Catching up on some FSU notes after the three-day weekend ...

MOVING PARTS
Coach Jimbo Fisher has made some personnel changes effective for spring practice, which begins March 19. Defensive end Dan Hicks moved to tight end, and defensive lineman Cameron Erving moved to offensive tackle. Safety Nick Moody is now at outside linebacker. Defensive end Toshmon Stevens will continue on the line, but could also play linebacker. No other position changes are expected.
MOVING ON
Backup quarterback Will Secord, who was a redshirt sophomore last season, will graduate this summer and has decided not to return for the 2012 season. Secord is on track to receive his degree in interdisciplinary social science. He played in two career games -- against Samford in 2010 and Charleston Southern in 2011. Linebacker Holmes Onwukaife was added to the medically disqualified list late in 2011 and will not play in 2012.
NUMBERS GAME
Defensive end Brandon Jenkins will wear No. 4, along with running back Chris Thompson, who has worn No. 23 the past three seasons. Along with their position changes, tight end Hicks will now wear No. 6, and Erving will wear No. 75 as an offensive tackle.
Other notable new jersey numbers for the spring are defensive back Tyler Hunter (1), running back Mario Pender (7), punter Cason Beatty (38) and offensive lineman Daniel Glauser (67).