January, 19, 2012
1/19/12
5:00
PM ET
By
ESPN.com staff
| ESPN.com
With the underclassmen now officially in or out, ESPN's NFL draft experts have updated their latest projections. Mel Kiper Jr.
released his first mock draft
, and here is how the ACC fared:
Kiper's latest
Big Board is similar
, but Kuechly is No. 10, and he, Coples and Miller are the only players listed. Todd McShay's latest ranking
is a bit different
:
Overall, Kiper also listed
the top five players by position
. The ACC struck out on quarterbacks, kickers, safeties, cornerbacks, centers, defensive tackles, and receivers, but at running back, Miami's Miller was No. 2 and Virginia Tech's Wilson came in at No. 3. The ACC also had two of the best fullbacks in No. 4
Chad Diehl
of Clemson and No. 5
Taylor Gentry
of NC State. Clemson's Allen was the top tight end, and Sanders was the No. 4 offensive tackle. Miami's
Brandon Washington
was the No. 3 guard. Coples was the No. 1 defensive end and Branch No. 3. At inside linebacker, Kuechly was No. 1 and NC State's
Audie Cole
was No. 4. FSU punter
Shawn Powell
was No. 3 at his position.
January, 17, 2012
1/17/12
9:00
AM ET
By
ESPN.com staff
| ESPN.com
The ACC will have 14 players represent the conference in the 2012 Senior Bowl, which will be held at 4 p.m. ET on Jan. 28 in Mobile's Ladd-Peebles Stadium. The game and all practices will be televised by NFL Network.

North Carolina leads the ACC with four players on the roster, as defensive end Quinton Coples, defensive tackle Tydreke Powell, linebacker Zach Brown and wide receiver Dwight Jones have all accepted invites to the 2012 game.

Clemson will have three players (DL Brandon Thompson, DL Andre Branch, FB Chad Diehl), and the league will also send two apiece from Florida State (OL Zebrie Sanders, LB Nigel Bradham) and NC State (LB Audie Cole, WR T.J. Graham) and one each from Boston College (DB Donnie Fletcher), Miami (LB Sean Spence) and Virginia (DL Cam Johnson).
August, 3, 2010
8/03/10
10:00
AM ET
By
ESPN.com staff
| ESPN.com
As summer camp begins, I'll do a quick hit on each team the day they start practicing. The ACC opens today with Clemson and NC State. We'll start with the Tigers.
Schedule:
Practice will run from 6 p.m. to 8:15 p.m. Fan day is Aug. 22.
[+] Enlarge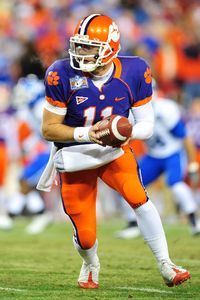 Patrick Green/Icon SMIKyle Parker's decision to play football dramatically improved Clemson's chances of repeating as Atlantic Division champs.
What's new:
The face of the running game.
Andre Ellington
and
Jamie Harper
will take over as the primary ball carriers as Clemson becomes more of a running team, even with
Kyle Parker
back. With four returning starters on the offensive line, expect the Tigers to run.
Sidelined:
Backup offensive guard Wilson Norris tore his ACL in spring practice and could return by November.
Key battle:
Defensively, it's
Brandon Thompson
vs. Miguel Chavis at nose guard. Thompson is the returning starter, but Chavis has experience and will play a lot. Offensively, watch the guard spot where David Smith will push Mason Cloy. Cloy broke his leg in the ACC championship game, leaving the reps to Smith this past spring. Smith has the upper hand entering summer camp.
New on the scene:
Linebacker Quandon Christian. The 6-foot-4 redshirt freshman is listed as the starter at strongside linebacker, which is impressive considering he started spring ball with the third team.
Breaking out:
Receiver
Xavier Dye
. He has to. Somebody has to. Without Jacoby Ford, the Tigers need a dependable receiver to step up. Dye, a senior, was fourth on the team in receptions last year with 14 for 236 yards.
Don't forget about:
Fullback
Chad Diehl
. Even though he doesn't carry the ball much, Diehl has as important a role as anyone because of his blocking ability and he is key to the running game.
All eyes on:
Quarterback Kyle Parker. His decision to return to the team instantly increased the Tigers' chances of repeating as Atlantic Division champs. How much will he improve upon his record-setting freshman season?
Quotable:
"I pretty much thought I was gone," -- Clemson quarterback Kyle Parker on deciding whether or not to join the Colorado Rockies in a baseball-only contract.
August, 26, 2009
8/26/09
1:30
PM ET
By
ESPN.com staff
| ESPN.com
Posted by ESPN.com's Heather Dinich


Wake Forest's defense is the one thing in question heading into the Deacs' season opener against Baylor, and on Tuesday in the third scrimmage of the summer, it was the highlight. Then again, the offense was the lowlight. It frustrated coach Jim Grobe enough to bring up last year's 26-0 loss to Maryland. To read the complete release, click here.

Tailback Josh Adams led all rushers with 57 yards on eight carries.
Riley Skinner completed 11 of 16 passes for 139 yards and a touchdown.
Danny Dembry led the receivers with 64 yards on four catches.
Defensive tackle Tripp Russell led the defense with eight tackles.


DUKE


The Blue Devils also scrimmaged on Tuesday, but several key playmakers -- including quarterback Thaddeus Lewis -- missed it to nurse some nagging injuries. To read the entire release, click here.

Here are a few quick stats leaders:

Passing: Sean Renfree 5-of-8 for 80 yards

Rushing: Patrick Kurunwune 4-80; Re'quan Boyette 5-39, two touchdowns

Receiving: Desmond Scott 4-13

SCORING SUMMARY

Boyette 4 run (Will Snyderwine kick)

Boyette 18 run (Snyderwine kick)

Tyree
Glover 5 blocked punt return (Snyderwine kick)

Kurunwune (Renfree pass failed)


CLEMSON


Dabo Swinney was not happy after Clemson's practice last night, saying the Tigers wouldn't have won if they had to play a game. Swinney is also using this time to develop his second-stringers, which he plans on playing every game.

"I wasn't happy with any phase of the game," he said, according to the team's practice report. "We made too many mistakes on both sides of the ball. We had busted assignments, penalties at inopportune times (red zone) and just didn't have the attention to detail I have seen in this camp.

"Perhaps the team is tired of playing against each other. It was a physical practice. I didn't want to go the last two and a half weeks going into the Middle Tennessee game without a scrimmage, so we had a scrimmage the second half of practice.

"We have been working on Middle Tennessee in the preseason, but Wednesday we will start 100 percent preparation for them."

The good news for Clemson was that Jacoby Ford was in a green jersey, but continues to see more action as he recovers from a hamstring injury. He went through the first half of practice, but did not play in the scrimmage. The same was true for wide receiver Brandon Clear. Chad Diehl was also limited by a shoulder injury.


MARYLAND


Maryland coach Ralph Friedgen gave the offensive line a boost by moving freshman Bennett Fulper from center to guard.

"I was shocked yesterday (Fulper) didn't make any mental mistakes, with just moving him from center to guard," said Friedgen. "His footwork wasn't bad. I understand the center should know what the guard is doing, but usually with a true freshman that doesn't happen. I thought he did OK again today, so that was a positive. If he could play both positions as a true freshman, that would really help us."

Fulper, along with the rest of the offensive line, had a good practice on Tuesday morning. They were opening running lanes that sprang Da'Rel Scott and Davin Meggett for several long gains, much to the delight of offensive coordinator James Franklin. However, Friedgen noted where one of the most prized players on the team has an area to improve.

"I think Bruce [Campbell] is pass-protecting very well," Friedgen said. "Where he has to get better is run-blocking. I see him making strides in that area. He's a very coachable kid. He needs to get lower. I was just talking to him about it today. He had a couple good moves. He makes an effort to do what you want him to do. He's not making many mental mistakes."
August, 14, 2009
8/14/09
11:00
AM ET
By
ESPN.com staff
| ESPN.com
Posted by ESPN.com's Heather Dinich
Here's your daily dose of practice reports from around the ACC, as reported by each school's information office:
FLORIDA STATE
Cloud cover kept the temperature from climbing Thursday morning as the Florida State football team donned full pads for the first time this preseason. It didn't take long, however, for the action to heat up as the Seminoles' offense made the lion's share of big plays.

Of course, a big day for the offense also comes with drawbacks.

"The hitting was pretty good, but too many big plays popped out of there," said FSU coach Bobby Bowden. "As a head coach you don't know who to root for, your defense or your offense. It scares me when big plays come out of there."

Quarterback Christian Ponder connected on long passes with wideouts Jarmon Fortson, Rodney Smith and Taiwan Easterling, as well as tight end Caz Piurowski, during the first five-minute period of 11-on-11 work.

"A lot of that came against the blitz and we've been working on that all week," Ponder said, offering a hint at the developing mindset on offense. "The blitz for us means big plays and that's what we've been working on and things opened up.

"We definitely didn't have enough big plays last year and stretch the field as much as we wanted to. Things are starting to open up and that's a good thing."

It should come as no surprise that Ponder had ample time to step up in the pocket created by the seasoned offensive line and deliver the football. Improving pass protection has been a point of emphasis since the conclusion of last season.

Junior center Ryan McMahon, who helps anchor the unit along with guard Rodney Hudson, was encouraged by the performance of the unit in its first real test of the preseason.

"Overall we felt we had a better practice today than we did the other day, but I'm sure there's plenty of room for us to improve," McMahon said. "Everybody's attitude was good and it was fun."
March, 28, 2009
3/28/09
4:13
PM ET
By
ESPN.com staff
| ESPN.com
Posted by ESPN.com's Heather Dinich
Here's a quick wrap-up from scrimmages around the ACC today. The information is from each school's sports information director:
CLEMSON
Running backs Jamie Harper, Andre Ellington, Rendrick Taylor and Ronald Watson Jr. combined for 200 yards rushing on 36 carries and quarterbacks Willy Korn and Kyle Parker combined to throw five touchdown passes during a two-and-a-half hour scrimmage at Clemson Memorial Stadium on Saturday morning.
It was the first stadium scrimmage for Clemson. The spring game will be held on April 11 at 1 p.m.
"The offense scored two touchdowns on the first two possessions on 70-yard drives, but the defense came back later in the scrimmage," coach Dabo Swinney said. "The defense had the upper hand in most of our practices up until today, so it was good to see the offense have strong performance today. Overall I was pleased with the effort, but we still have a lot to work on."
Swinney singled out some performances after the scrimmage.
"I thought both quarterbacks played well today. Willy Korn and Kyle Parker both managed the offense in difficult weather conditions and made some plays. I don't know who our starting quarterback will be in the opener, but I am confident we will have a talented player under center.

"The running backs played well. Rendrick Taylor had a good day running the ball. He is going to help us. He really ran hard and broke some tackles. I have been looking for a wide receiver to step up and make a play and Marquan Jones did that with a touchdown catch on the first possession. Marcus Gilchrist made an outstanding play on an interception late in the scrimmage."
Korn completed 4 of 9 passes for 42 yards, but two went for touchdowns, a 28-yard score to Jones and a 3-yard pass to Michael Palmer in a goal-line situation.
Parker completed 5 of 12 passes for 87 yards and three touchdowns. Two of his scores went to fullback Chad Diehl, one of 43 yards on a swing pass on the sidelines, and one on a 4-yard score. He also threw a 14-yard scoring pass to freshman tight end Dwayne Allen. Michael Wade was 4 of 11 for 35 yards through the air in the difficult weather conditions.
Jamie Harper led the running backs with 11 rushes for 57 yards. He scored on a 25-yard run during the regular part of the scrimmage and scored three times from the 1 on fourth-and-goal situations at the conclusion of the scrimmage.
The top receiver was Diehl with two catches for 47 yards. Jones had 2 for 27 and freshman Jaron Brown had 2 for 13 yards and added an 11-yard run on a reverse.
Redshirt freshman linebacker Tig Willard was the top tackler with seven, while Jamie Cumbie and DeAndre McDaniel had six apiece. Andre Branch had four tackles including two for loss, one a sack. Coty Sensabaugh had two pass deflections, Tarik Rollins had a fumble recovery and Marcus Gilchrist had an interception.

DUKE
Quarterbacks Thaddeus Lewis and Sean Renfree combined to complete 17 of 29 passes for 148 yards and one touchdown to highlight Duke's 50-play football scrimmage on Saturday morning at Brooks Field.
"We had a lot of intensity today," coach David Cutcliffe said. "Thad Lewis and Sean Renfree were both very, very efficient. I was disappointed that we dropped the football in the passing game. Thad made some unbelievable throws. It's disappointing because we would have thought, as a staff, that we're further along. I thought the defense tackled well. I was really proud of our defensive front. The play along the line of scrimmage was crisp. It looked like real football.

"What a difference a year makes. A year ago I would go back into my office, take about an hour shower to recover emotionally, and today I think I can be a little normal. It did look like football out here."

Lewis was 10-of-20 through the air for 109 yards including a 42-yard touchdown to Donovan Varner. Renfree completed 7 of 9 throws for 39 yards. Running back Cameron Jones led all receivers with five catches for 31 yards.

Patrick Kurunwune led with 23 yards on seven attempts including a 1-yard touchdown plunge.
"We'll look at the tape," said Cutcliffe. "It's never as good as you think and never as bad as you think. We'll learn from it."
MIAMI
There were four, 10-minute running quarters. The offense scored 51 points, the defense scored three.
TEAM STATISTICS
First downs: 17 (6 rushing, 11 passing, 2 penalties)
Rushing: (33 attempts, 158 gained, 27 lost, 131 total)
Passing: (38 attempts, 26 completions, 275 yards, 1 INT)
Offensive plays: (71)
Net yards: (406, 5.7 avg)
Return yards: (25)
Fumbles-lost: (1-0)
Interceptions: (1-25)
INDIVIDUAL STATISTICS
RUSHING: Damien Berry 14-114, 1 TD, 54 long; Mike James 6-14, 1 TD,
PASSING: Jacory Harris 9-16, 141 yards, 1 INT, Long 33; Taylor Cook 11-14, 103, 34 long; Cannon Smith 6-8-, 31, 1 TD, 8 long.
RECEIVING: Thearon Collier 5-65, long 26; Aldarius Johnson 4-23, long 8; John Calhoun 3-13, 1 TD, long 5;
DEFENSIVE STATISTICS (Solo Tackles-Assisted-Total): Chavez Grant 3-2-5, 1 PBU; JoJo Nicholas 0-4-4; Kylan Robinson 1-3-4; Jordan Futch 1-2-3, 1 TFL, 1 PBU; Sean Spence 2-1-3, 1 TFL; Olivier Vernon 2-2-4, 1 sack (-5); Brandon Harris 3-1-4, 1 TFL, 1 PBU
FIELD GOALS: Jake Wieclaw 1-2 (made 41, miss 22)
INTERCEPTIONS: Randy Phillips 1-25
FUMBLES/LOST: Graig Cooper 1-0
NORTH CAROLINA
Rushing
Jamal Womble -- 7 carries, 50 yards
Shaun Draughn -- 6 carries, 8 yards, 1 TD
Ryan Houston -- 5 carries, 16 yards
Passing
Mike Paulus -- 12 for 15, 51 yards
T.J. Yates -- 5 for 8, 96 yards
Braden Hanson -- 6 for 7, 55 yards, 1 TD
Receiving
Dwight Jones -- 3 for 61 yards
Joshua Adams -- 3 for 20 yards
Womble - 3 for 12 yards
Defense
Herman Davidson (LB) -- 6 tackles
Dion Guy (LB) -- 4 tackles
Kennedy Tinsley (LB) -- 4 tackles