May, 2, 2014
May 2
9:00
AM ET
TALLAHASSEE, Fla. -- Florida State returns the best quarterback in the nation. But what cannot go unnoticed is that Florida State returns the best offensive line in the nation, too.
Four starters are back -- all of them projected NFL draft picks. The new face on the line, center
Austin Barron
, has starting and game experience himself. As if that was not advantage enough, the Seminoles will field an all-senior offensive line, a rarity in college football. No other ACC team projects a starting offensive line with all seniors.
[+] Enlarge
AP Photo/Stephan SavoiaLeft tackle Cameron Erving is one of five Florida State senior starting offensive linemen with NFL aspirations.
Indeed, this could be one of the best offensive lines Jimbo Fisher has ever coached -- potentially even better than the group last season that had center
Bryan Stork
, who won the Rimington Trophy as the best center in America. Another year should make all these players wiser and better, with 113 combined starts between them -- and a chance to make at least 70 more in 2014.
When asked for some perspective, Fisher pointed to the offensive line LSU had for its 2003 national championship season, when he served as offensive coordinator. Two of those players were drafted, and all five ended up on an NFL roster.
"But this group here's a pretty good group now," Fisher said recently. "It lets you sleep better, I know that much."
Left tackle
Cameron Erving
and right guard
Tre' Jackson
each turned down opportunities to leave school early for the NFL. Erving already was recognized last season as the best offensive lineman in the ACC -- winning the Jacobs Blocking Trophy -- and should go into the season as a preseason All-American.
He and Jackson made the All-ACC coaches first team. Guard
Josue Matias
made the second team. Matias and Jackson are among the top four rated guards for the 2015 draft, and Fisher believes each player on this line will play in the NFL.
Returning so many experienced players gives the Seminoles a luxury that not many other programs have, especially when you return the Heisman Trophy winner in quarterback
Jameis Winston
.
"What you're able to do at the line of scrimmage, protection wise, run wise, and then you've got a quarterback to process it and get you into the right plays all the time -- it gives you a huge advantage," Fisher said. "The confidence, on the road, the noise that can hurt your communication issues, you don't have to worry about."
What's more, the players on the line are versatile. This spring, Fisher experimented a little bit. Where there is experience among the starters, there is hardly any among the backups. So to make up for some of the depth concerns, Fisher had Erving play some center and Matias play at left tackle.
He raved about both players in the different spots. Matias came into Florida State as a tackle, so he was a natural fit there. Fisher said Erving had "big-time capabilities" at center.
"The versatility of how you can mismatch those guys in there? It's the best we've had for a long time," Fisher said.
For their part, players on the line believe they have an opportunity to improve on what was already a fantastic line a year ago.
"I feel like we had a pretty stout line last year, but there's always room for improvement," Jackson said. "There's no telling where this line can go."
Some of the depth questions should be answered in the fall. Florida State signed the
best offensive line class
in the ACC in February. Fisher praised junior college transfer
Kareem Are
for his performance this spring. He also said another junior college transfer,
Chad Mavety
, "may be more talented than anybody we've got."
It is clear Fisher knows how to develop talent. Florida State has had offensive linemen taken in three straight drafts, and Stork is a projected mid-to-late round draft pick next week. Several, if not all, of these seniors will be drafted in 2015.
For now, the focus is on just how good this group can be by the time the season ends.
"We've all played, been in the system for three years now," Matias said. "This is going to be a big year for us to reach our full potential."
February, 6, 2014
Feb 6
3:15
PM ET
TALLAHASSEE, Fla. -- Three years ago, Jimbo Fisher was out of options. Injuries and ineffectiveness had rendered his offensive line a sieve, and as the 2011 season drew to a close, Fisher threw his hands in the air and sent four true freshmen onto the field to start Florida State's bowl game against Notre Dame.
The last resort proved to be a stroke of genius. The group gelled and by the time the Seminoles secured the 2013 national championship, the offensive line was a strength. With five seniors projected as starters for 2014, the line promises to be the backbone of Florida State's offense again.
[+] Enlarge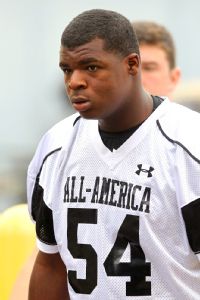 Cliff Welch/Icon SMIESPN 300 offensive tackle Roderick Johnson is the Seminoles' top-ranked offensive line signee for the 2014 class.
The problem, however, is the incredibly uncertain future after
Tre' Jackson
,
Cameron Erving
,
Josue Matias
and the rest of this veteran line wave goodbye.
Fisher clearly remembers the struggles of 2011, and he's not eager to relive them again in 2015 and beyond. So while rebuilding the line is still a year away, the groundwork for that massive overhaul began in earnest Wednesday.
Florida State inked an
impressive class
on national signing day, reeling in 28 new Seminoles -- including five early enrollees -- and one quarter of that group is offensive linemen. It is one of the largest recruiting scores at the position in school history, Fisher said, and it's a group with significant upside.
"We got size on the edges, in the middle and that can snap the football," Fisher said. "From that standpoint, it's a great group, and guys are just getting bigger and faster."
There might not be room for the seven linemen FSU inked to get much bigger. The group already averages 6-foot-6 and 313 pounds, including juco transfers
Kareem Are
(6-6, 350) and
Chad Mavety
(6-5, 315), who Fisher believes can step in and play immediately.
Of course, finding reps for the fresh faces won't be easy given the veterans already in place atop the depth chart, but Fisher understands it's necessary if Florida State wants to avoid another season of linemen learning on the job in 2015.
"If those guys play well, there will be a lot of playing time," Fisher said. "They'll get a lot of playing time, and that's why it was critical we got two junior college guys."
If game-ready talent was necessary, developmental projects were significant for Florida State, too.
Fisher has racked up big recruiting wins in virtually every segment of the roster since his arrival in 2010, but the offensive line has remained a concern throughout. Part of the struggles to recruit top talent on the line lies with position coach Rick Trickett, who is far less interested in recruiting rankings than finding players malleable enough for him to build up from scratch.
Since Trickett took over the line in 2007, Florida State has signed just three offensive linemen ranked among the top 150 recruits.
Jordan Prestwood
left shortly after arriving.
Ira Denson
, last year's prize recruit, could be on his way out, too. (Fisher said Wednesday that Denson was "still in school," but didn't elaborate on his status with the team.) Of FSU's best line recruits in the Trickett era, only
Bobby Hart
remains embedded on the depth chart.
In fact, if Denson leaves, FSU will have just two scholarship linemen to show for its recruiting efforts in 2012 and 2013 combined and, before Wednesday's haul, had just three linemen on the current roster set to still be with the team in 2015. Fisher praised the potential of redshirt freshman
Wilson Bell
and redshirt junior
Ruben Carter
, but there's no doubt Wednesday's new additions were a necessary influx of bodies.
"The guys who put their hands in the dirt on the offensive line, that controls the game," Fisher said. "You can have all the skills in the world you want but you've got to win those battles up front and protect. Getting great offensive linemen is critical."
Just how great this group ends up remains to be seen. Strong bodies with weak constitutions have a tendency to crumble under Trickett's demanding approach. But the potential for this group is obvious.
Roderick Johnson
is 6-7, 330 pounds and ranked as one of ESPN's top prospects at tackle. FSU snagged him out of Missouri as one of Wednesday's late additions to the class.
"Big Rod is a very athletic guy -- bends tremendously well for a guy 6-7 and 330 pounds," Fisher said. "Great length and can bend his lower body, great flexibility and very intelligent. Very smart guy. Works very hard. I think the sky is the limit for the guy."
Corey Martinez
ranked just a tick behind Johnson as an ESPN 300 member, too. It's the first time FSU landed multiple ESPN 300 linemen in the same class since Prestwood and Hart came aboard in 2011.
At 6-9,
Brock Ruble
is one of the tallest recruits in the nation, while Are and Movety were both among the top junior college linemen in the country. The Seminoles also added three-star center
Alec Eberle
.
Replacing the five seniors projected to start in 2014 will be no small task, but the first step in the process was providing Fisher and Trickett with some building blocks. Wednesday's recruiting haul did that, and Fisher hopes that means there won't be another season like 2011 on the horizon.
"Those guys will get a lot of playing time this year, and we'll develop them," he said. "They'll have been able to play, and they'll all be sophomores and juniors [in 2015] and they'll fit in."
January, 7, 2014
Jan 7
12:59
AM ET
Florida State played in the first BCS championship game. It could play in the first championship decided by a playoff, too.
Monday, they beat Auburn for the final BCS title. The Noles will go for a second straight title in 2014 and they bring back several key pieces next season, most notably quarterback
Jameis Winston
. They will suffer some departures from central players, but a loaded recruiting class ranked in the top five should add depth throughout the roster.
December, 3, 2013
12/03/13
4:30
PM ET
Recruiting junior college players is no longer a college football taboo, as even No. 1 Florida State has a handful of juco targets. Prospects from the juco ranks such as
Cam Newton
and
Terrence Cody
have helped programs to national championships over the last few seasons, so coaches are willing to go to juco programs to provide immediate help.
Here are the top five juco players in the
ESPN JC 50
being recruited by ACC teams.
1. OT Chad Mavety (Garden City, N.Y./Nassau)
The second-ranked tackle and No. 8 overall among juco recruits, Mavety is down to Florida State and Ohio State. Clearly Mavety is a player who could have an impact on the national title race next season as both the Seminoles and Buckeyes are poised to make another title run . Mavety visited both schools in November, and a decision should come soon. The offensive line is priority No. 1 for the Noles between now and signing day.
To continue reading this article you must be an Insider
November, 12, 2013
11/12/13
8:00
AM ET
It is a chicken or the egg argument. Has the SEC ruled college football for much of the last decade because the conference annually places five or more teams among the top 10 of the recruiting rankings? Or is the SEC's recruiting dominance a result of seven straight national championships?
The ACC, though, could be the David to the SEC on the field and in recruiting. In the 2014 cycle, two ACC schools have top-five classes. Will that remain the same come signing day?
We look at that question and nine others as we examine the most pressing ACC recruiting questions leading up to signing day.
1. Will FSU and Miami remain in the top five of the class rankings?
Both classes are close to completion, so it could be tough for the Noles and Canes to finish in the top five of the rankings. Alabama is at No. 1 and could end up running away with another recruiting title. The rest of the SEC will charge hard come signing day, too. Tennessee should be a safe bet to finish in the top five, and programs such as Florida, Georgia, LSU, Ole Miss and more could break into the exclusive group come February. Tennessee recently jumped both schools, pushing Florida State to No. 3 and Miami to No. 4.
2. Can Miami surpass Florida State for the ACC's top class?
If both were to fall out of the top five, there is still some pride in finishing with the top class in the conference. The Noles are ahead of the Canes at the moment, and it will be tough for the Canes to jump FSU. It looks as if Miami has two spots left and should finish with
Johnnie Dixon
and
Anthony Moten
. But the Noles could sign more than 30, and some of the country's truly elite prospects have Florida State among their finalists. It looks doubtful that Miami -- or any ACC team -- will catch and pass Jimbo Fisher's class.
[+] Enlarge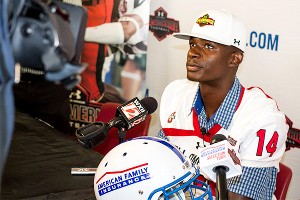 Courtesy of IntersportESPN 300 DE Lorenzo Featherston is a Clemson lean whose pledge would help the Tigers close strong.
3. Will Clemson finish in the top 10?
Sitting at No. 12 in the rankings, the Tigers have a good chance to finish in the top 10 and even an outside chance to crack the top seven. Defensive end
Lorenzo Featherston
(Greensboro, N.C./Page) is No. 27 in the ESPN 300 and a Clemson lean. It would be a surprise to see him land anywhere but with the Tigers. Cornerback
D.J. Smith
(Marietta, Ga./Walton), No. 88 in the ESPN 300, also looks to be leaning Clemson's way, and the same could be said for defensive end
Andrew Williams
(McDonough, Ga./Eagles Christian Landing), No. 168 in the rankings. The prize of the defensive class would be five-star inside linebacker
Raekwon McMillan
, however. He is slated to visit officially later this month, and the No. 12 player and top linebacker in 2014 has the Tigers among his top three.
4. Can Pitt close out with three of its four Western Pennsylvania targets?
For Pitt's class to be considered a success, Paul Chryst needs to do just that. The Panthers are struggling some with Pittsburgh-area prospects in 2014, but the same happened in 2013 before Pitt landed
Dorian Johnson
and
Tyler Boyd
. In February, the Panthers hope to land
Dravon Henry
(Aliquippa, Pa./Aliquippa),
Alex Bookser
(Pittsburgh/Mt. Lebanon),
Montae Nicholson
(Monroeville, Pa./Gateway) and
Shai McKenzie
(Washington, Pa./Washington); Henry, Bookser and Nicholson are all in the ESPN 300 and have Pitt among their finalists. Henry is a Pitt legacy. Bookser looks to be focused on Ohio State and Pitt; Nicholson will decide in December and is projected to Pitt.
5. Will Duke sign an ESPN 300 prospect?
The Blue Devils have never signed an ESPN 150 or ESPN 300 prospect since the rankings began almost a decade ago. That was going to change in 2014 with quarterback
Nicodem Pierre
(Miami/Coral Reef), but the dual-threat dropped from the ESPN 300 in October. However,
Trevon Lee
(Ft. Lauderdale, Fla./Cardinal Gibbons) could be leaning Duke's way with the Blue Devils on a roll this season. With a guaranteed winning regular season -- their first in nearly two decades -- Lee is thinking hard about Duke. Academics are big for the 241st-ranked player, so a decision could come down to Duke and Vanderbilt.
To continue reading this article you must be an Insider
October, 8, 2013
10/08/13
8:00
AM ET
Hope for the best but prepare for the worst. That is what college coaches must do when it comes to recruiting. Every coach would love to land their top target at every position, but coaches are forced to play the what-ifs and continue to recruit prospects lower on the recruiting board. With signing day a few months away and several classes close to completion, college staffs are pushing for those few final targets but also keeping a watchful eye on players down the board.
Here are the best- and worst-case scenarios for each of the ACC schools.
To continue reading this article you must be an Insider
September, 26, 2013
9/26/13
2:00
PM ET
Virginia Tech is trying to capture the attention of a Louisville commitment from Florida, the Seminoles' offensive line appears to be in good shape for recruiting, and Miami is looking to impress in Tampa this weekend.
All this and more in this week's ACC recruiting storylines.
To continue reading this article you must be an Insider