January, 15, 2014
Jan 15
8:00
AM ET
Miami scored a number of notable wins off the field this season, from surviving the NCAA cloud that finally went away to hanging on to coach Al Golden despite overtures from Penn State. As for on the field? The Hurricanes came awfully close to being "back," riding a 7-0 start to a No. 7 ranking before suffering a three-game losing streak. Getting routed in the Russell Athletic Bowl after a two-year bowl ban left a sour taste in their mouths, but the program still brings back plenty of talent, another strong recruiting class (No. 6 nationally, according to ESPN) and a breath of fresh air away from the NCAA spotlight. Now, 2014 will be about taking the next step for a program that was on the cusp in 2013.

Offensive MVP:
RB
Duke Johnson
. Sure, the sophomore missed Miami's final five games with a broken right ankle, but that also explains in large part why the offense struggled so much during that 2-3 stretch to close the season. Johnson had rushed for 920 yards on just 145 carries (6.3 average) before leaving Miami's Nov. 2 loss at Florida State. He had 77 yards on four catches as well. Miami averaged 36.4 points per contest with Johnson in the lineup, but dipped to 29.8 without him.
Defensive MVP:
LB
Denzel Perryman
. The junior earned first-team all-conference honors (coaches and media) after tallying a team-best 108 total tackles, which tied for sixth in the ACC. He had five tackles for loss, including 1.5 sacks, to go with two quarterback hurries, a forced fumble, three breakups and three passes defended. Next to Golden, getting Perryman to return for 2014 is the best news the Hurricanes have received since the end of the season.
Best moment:
The moment dimmed with time, but there is no mistaking how big a win over rival Florida was for this program in Year 3 under Golden. The Gators were ranked No. 12 at the time, fresh off an 11-2 season, and the Hurricanes' defense made a statement with a 21-16 victory that helped trigger their 7-0 start. Florida going 4-8 did not end up helping matters, but you can bet that many prep prospects in the state noticed what happened on Sept. 7 at Sun Life Stadium.
Worst moment:
For a program that had missed out on the postseason thanks to self-imposed bans in the previous two years, Miami disappointed tremendously in the Russell Athletic Bowl. Miami native and Louisville quarterback
Teddy Bridgewater
had a career day in his collegiate finale -- and in coach Charlie Strong's Louisville finale -- doing whatever he wanted to the Hurricanes' defense in the Cardinals' 36-9 win. These squads will meet again in 2014, as Louisville joins the ACC. Bridgewater will be gone, but Miami needs to be ready regardless of who quarterbacks the Cardinals next season.
December, 27, 2013
12/27/13
9:00
AM ET
ORLANDO, Fla. -- The season started the way everybody anticipated it would:
Teddy Bridgewater
, nearly flawless, standing and delivering one perfectly thrown spiral after another, zipping completions on his first nine passes, tossing five touchdowns in all before taking a seat on the bench in the fourth quarter.
His performance in a 49-7 win over Ohio -- 23-of-28 for 355 yards -- should have served as confirmation that Bridgewater belonged in the elite quarterback conversation. Instead, his performance set the standard into the stratosphere and ended up being used against him.


Bridgewater had the best statistical season of his career. But the stats also show 30 points scored against Temple, 20 against Houston, 24 against Memphis, and a stunning loss to UCF.
Fair or not, Bridgewater was penalized for not putting up even bigger numbers against one of the weakest schedules in the country. As soon as the Cardinals lost, he was dropped from awards consideration.
A player who was tabbed as the Heisman favorite following the Ohio game ended the regular season in virtual anonymity on the college stage, despite his team's 11-1 record this year and 22-3 mark over the past two seasons.
Jameis Winston
won the Heisman;
AJ McCarron
,
Jordan Lynch
and
Johnny Manziel
secured invites to New York.
Bridgewater sat at home. Though he eschewed any sort of Heisman campaign in the preseason and has shied away from the spotlight his entire career, Bridgewater was a little miffed his performance was mostly ignored.
But not entirely ignored. ESPN draft experts Todd McShay and Mel Kiper list him as their No. 1 quarterback prospect for 2014, making Bridgewater the most underrated and highly rated signal caller in the country all at once.
Bridgewater has not decided whether to stay in school or enter the NFL draft and says he will start weighing his options after the
Russell Athletic Bowl
against Miami on Saturday. The game provides another opportunity to show what he can do, against the team he nearly ended up signing with out of high school in 2011, making this game must-see TV.
Whether he goes or not, NFL scouts will continue to chart his every move as they evaluate where Bridgewater stands.
[+] Enlarge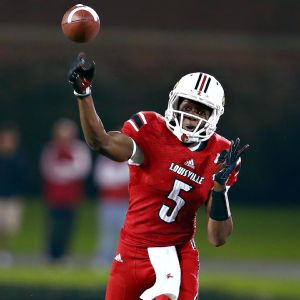 Andy Lyons/Getty ImagesTeddy Bridgewater does a lot more for the Louisville offense than simply piling up gaudy stats.
"The guys who know, the NFL guys who see him making decisions and see him functioning in the pocket, keeping the ball down and how he manages us, manages the game, have a lot of respect for his work," Louisville offensive coordinator Shawn Watson said. "It's at a real high level."
Watson has found himself defending his offense from critics who believe the Cardinals underachieved in points scored and total offense given the talent at quarterback and receiver. But Bridgewater posted a career-high 70.2 percent completion percentage, a career-high 28 touchdown passes, and a career-low four interceptions (only two were on him). He needs 196 yards against Miami to set a new career high for passing yards, too.
Yet when you are the quarterback, the total picture enhances a performance -- or takes away from a performance. There were not as many explosive plays as anticipated. In four games this season, Bridgewater threw either zero or one touchdown pass.
There are explanations. Coach Charlie Strong preaches balance. The goal always is to try to run the ball, not toss the ball all over the yard. Strong held firm to that philosophy all season, even though Louisville struggled to run the ball consistently. Secondly, the offensive line was banged up, impeding the types of calls Louisville could make in the passing game. Third, the Louisville receiving corps had its share of drops that ended drives, as well.
What Watson points to is where Bridgewater stands as a total package. Not only can Bridgewater manage a game, read defenses and make the proper checks at the line, Watson added a new wrinkle this year. Bridgewater uses dummy calls and dummy signals to confuse opposing defenses.
"It's part of the way I grade him," Watson says. "I give him a dummy signal chart. We put in red the ones that are live. The ones in black are dummy calls; 50-50 split. We want them to stay masked. They're very confusing. So it's football beyond your normal everyday football. He's on another level."
Bridgewater was on a different level in high school, too, making him one of the most sought after prospects in the country. He initially committed to Miami but backed out after Randy Shannon was fired in December 2010. Bridgewater then had an interest in LSU but changed his mind after the Tigers canceled his on-campus visit to go and see another quarterback.
Miami coach Al Golden tried to sway Bridgewater to stay and play for his hometown team, but Bridgewater felt he needed to leave the South Florida area. He ended up at Louisville thanks to a connection with assistant Clint Hurtt, who worked on the Miami staff with Shannon.
Bridgewater is not the only Louisville player with South Florida ties. Some 30 players on the Cardinals' roster are from the area, giving this game a little extra meaning.
"It's exciting, if anything," Bridgewater said. "We have bragging rights on the line."
Bridgewater has more on the line than that. Especially with all eyes on him, the way they were to start the season.
June, 26, 2013
6/26/13
9:00
AM ET
The college sports calendar is on the verge of flipping to the next season, so it seems appropriate to reflect on the season that was.
Undoubtedly, there has been no bigger story in collegiate athletics than Louisville over the past year.
[+] Enlarge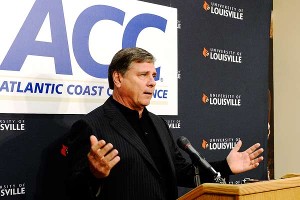 Timothy D. Easley/AP PhotoTom Jurich has guided the Cardinals from an athletic department in disarray to one that is winning national titles and moving to the ACC.
But you will never hear the man running the athletic department say that. Tom Jurich uses words like "magical" to describe the incredible run of success the Cardinals had in 2012-13, punctuated by an impending move to the ACC, as if outside forces pulled invisible strings to get Louisville where it is.
No magic was required. Jurich, widely recognized as one of the savviest athletic directors in the entire business, saw a small window in November to make up for a lost opportunity. Last year, the Big 12 decided on West Virginia over Louisville. Mountaineers fans rejoiced. Louisville fans cringed.
But when Maryland left for the Big Ten, Jurich had his second chance. If you know Tom Jurich, then you know he was not going to let this opportunity slip away. He started being proactive. And he ignored all the outside speculation that UConn was next in line to join the ACC. So much so, that a recent conversation about how Louisville got into the ACC went this way:
How did you outmaneuver UConn to get into the ACC?
"I didn't outmaneuver anybody," Jurich said. "I just put our story out there."
Well, UConn was thought to be the favorite to get the spot.
"Nobody told me that," Jurich said. "So I just worried about selling Louisville. That's all I worried about."
Turns out, the on-field-product backed up his salesmanship. In the time Louisville joined the ACC:
The football team beat Florida in the Allstate Sugar Bowl.

Jurich signed coach Charlie Strong to an eight-year contract extension worth $3.7 million annually, which makes him the seventh-highest paid coach in college football and highest paid in the ACC.

The men's basketball team won a national title.

The women's basketball team played for a national title.

The baseball team made the College World Series.

Louisville became one of just four schools since 1998 to win football, men's basketball and baseball conference titles in the same season. Kansas Sate also did it this year. Stanford did it in 1999-00 and Texas in 2005-06.
Strong calls Jurich "amazing" and the "mastermind" behind the entire athletic department. Indeed, Jurich inherited a department in shambles when he arrived in 1997 and turned it into one that has made two big conference leaps (first C-USA to the Big East) and will now have the second-highest athletics budget in the ACC. Only Florida State spends more.
If the first conference move can be used as an example, then Louisville clearly benefited from the step up in competition. Critics, however, will point out that this step -- from a watered-down Big East to the ACC -- is even bigger. Jurich knows that.
"That's the important thing. It's not so much winning a national title here or playing for another one or winning the Sugar Bowl. It's: How do we sustain it?" he said. "Certainly my expectations are not -- we're not going to be at that level every year but I want to be in that conversation every year."
Louisville already has plans to build an $8 million academics center for its student-athletes, and is in the very preliminary stages for revamping its football complex. Jurich says he will spend more on athletics only if it is good for the school and community. But he clearly knows what's at stake.
And where Louisville still has to go, despite its success this sports season.
"We've got a strategic plan in our department that we live by and that's just to get better every single day and we're going to do everything we possibly can to get better every single day," Jurich said. "We will never rest on our laurels. We're always going to be very humble and hungry and we're always going to be a blue-collar school."
June, 21, 2013
6/21/13
9:00
AM ET
Earlier this week, ESPN.com revealed the
College Football Future Power Rankings
, a ranking of 25 teams projected to have the most success over the next three seasons.
Now it's our turn.
We're looking today specifically at the ACC and which teams in the conference are best built to last over the next three years. (Maryland isn't included because it's leaving for the Big Ten next year and, well, this is the future.) Taking into consideration factors like coaching, recruiting and overall program stability, here's a look at how the ACC might shape up three years from now:

1. Florida State
. The recruiting is on par with the SEC, but the coaching staff remains unproven, as there will be seven new assistants this fall. The Noles have yet to truly separate themselves from the rest of the league, and it will only get more difficult with the addition of Louisville to the Atlantic Division.

2. Clemson
. The Tigers might not be able to hang on to offensive coordinator Chad Morris, but coach Dabo Swinney has already proved he can make great hires. The staff continues to lure in elite talent, including No. 1-ranked dual-threat QB Deshaun Watson.

3. Miami
. Al Golden has already made the Canes a contender again, and he's done it in the face of self-imposed scholarship reductions. It doesn't appear he's going anywhere any time soon, and despite the possibility of more sanctions looming, there is a sense of strong leadership and stability within the program.

4. North Carolina
. Larry Fedora has been a difference-maker already, and the staff has recruited well despite the NCAA sanctions. The Tar Heels are working on their second straight top-25 class under Fedora.

5. Louisville
. As long as Charlie Strong sticks around, the program can continue to build upon last year's success, but it will face a more challenging road in the ACC's Atlantic Division. The Cards currently have the No. 20 recruiting class in the nation, and that could improve with more exposure in the ACC.

6. Virginia Tech
. Frank Beamer is one of the best coaches in the ACC, but how much longer will he stick around? There are quarterback questions after
Logan Thomas
graduates, but the staff currently has the No. 23 class in the country.

7. Georgia Tech
. The Jackets are good enough to contend for the Coastal Division every year under Paul Johnson, but with Miami and UNC on the rise, they can't miss a step in recruiting to stay in the race.

8. NC State
. Dave Doeren has some of the best facilities in the ACC, an energetic, young coaching staff to recruit with, and a clean slate. He also has the tall task of closing the gap with Florida State, Clemson and Louisville.

9. Pittsburgh
. Paul Chryst has brought some much-needed stability to the program, but the recruiting has yet to crack the class rankings. His first class was a strong effort in the trenches, though, and that should eventually pay off. There should be plenty of talent to choose from between Ohio and Pennsylvania alone.

10. Wake Forest
. The Deacs have been extremely pleased with their recruiting efforts over the past two classes, and the future looks bright in Winston-Salem. The only problem is they're stuck in the same division as FSU, Clemson and Louisville.

11. Virginia
. Mike London has proved he can win, as he was named the ACC's Coach of the Year in 2011 after an appearance in the Chick-fil-A Bowl, but the Cavaliers took a step back in 2012. If Virginia can find an answer at quarterback -- one that will last a few years -- there's no reason the Hoos can't move up the list.

12. Syracuse
. Scott Shafer has taken over, and recruiting should be his priority, as the Orange haven't even been on the rankings radar recently. It's going to take some work to close the gap with the rest of the division.

13. Boston College
. Steve Addazio has already injected much-needed enthusiasm into the program, and the staff has recruited well. The challenge now is to continue to recruit at that frenzied pace for three more years.

14. Duke
. The Blue Devils got over the hump with their first bowl appearance since 1994, but is it possible to recruit well enough in Durham to make that a regular occurrence? The staff has upgraded the talent under David Cutcliffe, but Duke has to win more than three conference games to gain more credibility in the league race.
May, 15, 2013
5/15/13
9:00
AM ET
AMELIA ISLAND, Fla. -- Louisville coach Charlie Strong is attending ACC spring meetings this year as the Cardinals face the uncomfortable position of playing one more year in their old conference while planning a future in a new conference.
Pitt and Syracuse did the dance last season. Louisville gets a turn now.
But not everything is new around here. Strong obviously knows Pitt coach Paul Chryst and played against Syracuse coach Scott Shafer, whose defense last year completely befuddled the Cardinals. He faced Florida State coach Jimbo Fisher during his time as a Florida assistant. And Strong also has good friend Steve Addazio with him in meetings. A year ago, Addazio and Strong sat in a room in Ponte Vedra Beach, Fla., during Big East spring meetings.
[+] Enlarge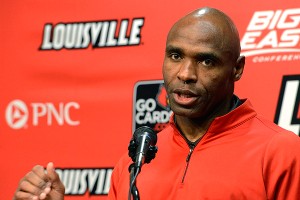 AP Photo/Timothy D. Easley"We haven't been a program that's been consistent each year," Louisville's Charlie Strong said. "Is complacency going to set in? Are we good enough or mature enough to take that next step?"
Now here they are at different league meetings, as the Cardinals have changed conference allegiances and Addazio left Temple for Boston College. Not surprisingly, the two former Florida assistants walked out together during the first day of meetings. Strong said the biggest reason he was here was to get acquainted with the other league coaches and commissioner John Swofford.
Louisville reps will not attend Big East spring meetings next week.
Given everything the Louisville program has accomplished over the past year, the Cardinals are joining their league at the right time.
When asked what it has been like watching virtually every program on campus have success this year, including his own, Strong said, "Our athletic director, Tom Jurich, is amazing. Just to watch how he's been able to be the mastermind behind all the success in the program, with football, basketball, soccer, our baseball team, our softball team. It's good we're having the success. Now for us to take a step into another conference at least we bring some credibility with us."
Expectations are high once again for Louisville headed into this season. What does Strong make of the hype?
"The main thing for us is consistency," he said. "We haven't been a program that's been consistent each year. Is complacency going to set in? Are we good enough or mature enough to take that next step? We'll find out this season."
Though Louisville will be playing under the American Athletic Association banner in 2013, there is no doubt how the Cardinals do will impact the ACC's perception. It certainly won't hurt matters if the Cardinals make an undefeated run and have a Heisman contender on their hands headed into Year 1 in their new league home.
May, 14, 2013
5/14/13
3:30
PM ET
AMELIA ISLAND, Fla. -- A year ago today, Florida State coach Jimbo Fisher was asked exactly zero questions about his football team when facing the media contingent at ACC media days.
All anybody cared about was whether the Seminoles were joining the Big 12.
His athletic director, Randy Spetman, did not even stop to talk with reporters, walking -- nay, sprinting -- to the tune of a no comment.
[+] Enlarge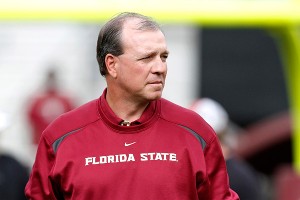 AP Photo/Don Juan MooreFSU coach Jimbo Fisher says he's "looking forward to the future" of the expanded and new ACC.
On Tuesday, Fisher smiled and leaned on a desk when he was asked to recall the maelstrom surrounding last year's meetings, with Florida State squarely in the center.
No such drama this year. A much different vibe permeated the Ritz Carlton Resort, one that had coaches and athletic directors speaking positively about the conference's future, with
a grant of rights signed
and the possibility of an ACC Network being discussed.
"When you have a definite plan of where things are going and where you're going, I think you definitely do [have a different vibe]," Fisher said. "When there's indecision, you're always wondering what's going on from that standpoint. But yes, I think it's a clear-cut picture of where Florida State's going, where the ACC's going and to me it's a very exciting path. It sounds very good. I don't know all the details but our president and Board of Trustees did an excellent job of researching and making decisions. What's been explained to me, I'm very excited about it and looking forward to the future."
A future in the ACC, of course. Last year, Fisher fanned Big 12 speculation when he said his school
should explore all conference options
, following comments made by a member of the Florida State board of trustees. That ended up triggering a storm that painted a doom-and-gloom scenario in the ACC, one that grew with Maryland's departure, as the league had to bat down speculation it was on the verge of being raided.
Of course, reports of the league's demise were greatly exaggerated. League officials remained confident in the future, even after Maryland left. Louisville and Notre Dame have been added, and the all-important grant of rights is in the books. Now league members can move forward together. Indeed, the future 15-member contingent is completely represented here, with reps from the Cardinals and Irish attending meetings.
And the league schools have wanted to promote that message: They are united, as one, moving forward. Phase I begins in the fall with Pitt and Syracuse beginning ACC play, and Notre Dame joining in all sports but football.
"Knowing our footprint is so vast, you can really see this thing taking off and giving us an opportunity to take the ACC and compete across the board with every conference and take it into all those households," Syracuse coach Scott Shafer said. "It's an exciting time to be a part of that."
Phase II begins in 2014 when Louisville enters and the Terps depart. Louisville is at an incredible high with success across virtually all its sports, football included.
From his seat watching it all, Louisville coach Charlie Strong said, "You're going to get in a conference already rich in tradition with academics and athletics. With the University of Louisville coming, you feel there's stability there. Now with your programs, you feel you have a chance to go compete. We know we'll be able to compete at the highest level."
If you count Louisville, the ACC has a chance to have three top-15 programs start the 2013 season, something the league needs to help its national credibility. Clemson and Florida State are the other two.
And that brings us back to Fisher. Fresh off a BCS win and top-10 national finish, Fisher spoke for roughly an hour at this year's ACC media gathering, touching on topics related to the league and greater issues surrounding college football, dropping one-liners and one anecdote after another -- spending far more time than the three uncomfortable minutes he had with reporters last year.
Even better for him? There were many, many more questions about his team than he fielded a year ago.
April, 9, 2013
4/09/13
2:00
PM ET
Louisville basketball coach Rick Pitino has had a pretty incredible week.
But his athletic director, Tom Jurich, has him one-upped. Jurich has had a pretty incredible year.

How about this for a series of events that began in August:
The football team posted the best start in school history at 9-0, en route to a share of the Big East title and a huge BCS win over then-No. 3 Florida in the Allstate Sugar Bowl.
Louisville accepted an invitation to join the ACC, a program-saving opportunity many thought had passed when the Big 12 passed the Cardinals over for West Virginia.
Coach Charlie Strong spurned a lucrative offer to coach Tennessee and signed a long-term extension to stay with the Cardinals, making him one of the highest paid coaches in the nation at $3.7 million per year.
Quarterback Teddy Bridgewater is among the early preseason candidates for the Heisman Trophy, while the football team is expected to be ranked in the preseason top 10.
Jurich is one of five finalists for athletic director of the year.
The men's basketball team won a third national title; the women's basketball team is playing for its own national title tonight.
Other programs have been successful, too: The women's volleyball team finished its season ranked No. 17; field hockey was ranked No. 25; and men's soccer finished ninth. The men's (11th) and women's (22nd) swimming and diving teams both finished among the nation's top 25 in the NCAA championships. And the softball (11) and baseball (10) teams are currently ranked as well.
For those wondering, Louisville is the first university to ever win a BCS bowl game and place both its men's and women's basketball teams in the NCAA Final Four in the same season. Louisville also is just the third school to win the men's hoops title and a BCS bowl game in the same school year (Florida 2006-07, Kansas 2007-08). So, yes, I would say this season qualifies as the best one in school history, and Jurich should be the no-brainer choice to win the AD award.
Because, quite frankly, he has resurrected a program that was in dire straights when he arrived. Today, Louisville is the toast of the entire athletic collegiate world. None of this is by accident, nor is it some lucky fluke. Jurich has positioned his department as one of the best in all of the nation with his visionary thinking, terrific leadership and willingness to pay top dollar for his coaches.
Given what we have seen in this athletic season alone, Louisville has sent a clear message to its future conference rivals.
Watch out.
January, 3, 2013
1/03/13
4:00
PM ET
For anybody who still had doubts about Louisville joining the ACC, I suggest you go watch a replay of the Allstate Sugar Bowl.

The Cardinals shut up every single one of their critics with
a decisive 33-23 win against Florida
on Wednesday night. What's more, they showed they are a program on the rise, and not a one-hit wonder that is going to go crawling back into the basement of the Big East. Or the ACC when they join in 2014.
There is no question from a football and basketball perspective, the ACC wins in this trade with Maryland. Yes, tradition takes a hit. But tradition flew out the window in college football years ago. For the ACC to be looked at in a more positive light, it needs to have more ranked teams, more signature wins, more teams taking down the SEC.
Clemson did its part this bowl season, beating No. 8 LSU.
Georgia Tech did its part this bowl season, beating preseason No. 1 USC.
And Louisville -- a member on the way in -- did its part this bowl season, beating No. 3 Florida.
The Cards are now 2-0 in in their BCS appearances, and will be the favorites to make a third next year. Maryland? 0-1 in BCS appearances, and the last one was in 2002. While the Terps' football fortunes have nosedived, Louisville's have risen with Charlie Strong in charge. The hope is that Strong will still be in charge when Louisville makes the move into the ACC in 2014. The Atlantic Division already is shaping up to be a bear with Florida State and Clemson already in command.
There are no guarantees, of course. But Louisville will be a preseason Top-10 team expected back in the BCS. Maryland? The Terps will be lucky if folks choose them to go bowling in 2013. Strong has stocked his roster full of talent from Florida, and those players showed SEC speed can be Big East speed or ACC speed if you go recruit in the right places.
Strong will keep building as long as he is in charge. The ACC will benefit. And though the Sugar Bowl win will count in the Big East record books, there is no doubt the ACC won big Wednesday, too.
September, 13, 2012
9/13/12
3:00
PM ET
When Louisville and North Carolina played last season, the Cardinals were in a bit of disarray.
Coach Charlie Strong had relieved offensive coordinator Mike Sanford of his duties and put Shawn Watson in charge. Strong had a true freshman quarterback making his second career start. He had no real running game to speak of, and his offensive line featured several freshmen starters as well.
Things did not go well for the Cardinals, as North Carolina won 14-7.
But much has changed in just a year. It is the No. 19 Cardinals who look formidable this season behind sophomore quarterback
Teddy Bridgewater
, who has played pretty close to perfect. Louisville has scored 30-plus points in consecutive games and is favored to beat a Tar Heels team that lost a heartbreaker to Wake Forest last week.
Strong, though, does not want his team to forget about what happened last year. All around the football complex, he has signs that read North Carolina 14 in big type; Louisville 7 is down below in a much smaller size.
"Last year, we were very young," said Louisville receiver
Eli Rogers
, who played as a true freshman against UNC last season. "We had a very young offense. We had a couple young guys on defense, but now we're just a year older and everyone understands how to go hard and understands what discipline is about now. Our offense has improved tremendously. Our O-line has come along. We still have a long way to go. North Carolina's defense is really good, so this is a challenge for us, but we're up for it this year."
Bridgewater has been the biggest key to what Louisville has been able to do in two games. He has thrown for 576 yards, two touchdowns and no interceptions with just 11 incompletions. He ranks No. 12 in the nation in passing efficiency.
Compare that to his performance last year against North Carolina: Bridgewater had 11 incompletions in the game, threw for 173 yards, and had a touchdown and interception.
According to ESPN Stats & Information, Bridgewater is completing 84.6 percent of his third-down passes this season, second best in FBS among players with a minimum of 10 attempts. Nine of his 11 completions went for first downs. Bridgewater completed 59.8 percent on third down during the 2011 season.
"He's an outstanding quarterback," North Carolina linebacker
Kevin Reddick
said. "He's making plays for them, and doing what the coaches ask of him. I feel like he's watching film a lot and knowing what his reads are and making those plays."
Facing a quarterback as good as Bridgewater is a huge test for this North Carolina defense, which allowed
Tanner Price
to throw for a career-high 327 yards last week in a loss, and allowed receiver
Michael Campanaro
to get a career-high 164 yards receiving.
Wake Forest drove 93 yards and Price was 5-of-7 for 67 yards on its game-winning, fourth quarter drive.
"It's a scary thought after what we did last week," North Carolina coach Larry Fedora said about the prospects of stopping Bridgewater. "We're working hard on our pass-rush lanes making sure that we contain. We sit in there with him. At the same time you're trying to get pressure, but not trying to open up lanes for him. On the back end, you have to do a great job of coverage. They obviously have more than one receiver that's making plays for them. So that makes it even more difficult. It's definitely a concern for us."
Both teams are supremely motivated in this one: Louisville to show it deserves better than its No. 19 ranking; North Carolina to show it is better on defense than it showed a week ago, with a chance to take down a ranked opponent.
"We're pumped for this game," Reddick said. "I know the whole defense is playing with a whole chip on our shoulder, to get more sacks, more interceptions. If we do what we're supposed to do and not make the game so close, we can be that defense we know we can be."
December, 27, 2011
12/27/11
11:40
PM ET
There was no shortage of momentum swings in the Belk Bowl for both NC State and Louisville, two teams that finished the season on hot streaks and scraped their way into the postseason. Special-teams snafus were a highlight (or lowlight, depending on your seat), and both teams combined for five turnovers. Here's a look back at NC State's
31-24 win
over Louisville:


How the game was won:
NC State scored 14 points off turnovers, and came up with the big defensive stops when needed, including two on fourth downs. Louisville gave up too many big plays and made too many mistakes in the first half and couldn't overcome them in the second, despite a better defensive job on quarterback
Mike Glennon
. Glennon set the tone in the first half with a strong passing game and three first-half touchdowns.
Turning point:
On fourth-and-1 midway through the fourth quarter, Louisville tight end
Chris White
missed a block, freeing NC State linebacker Terrell Manning to push
Vic Anderson
back for a loss of a yard. The play negated an earlier turnover by NC State in which offensive lineman Rob Crisp grabbed a deflected ball, rumbled and fumbled, giving the Cardinals a great shot at making a comeback.
Player of the game:
NC State cornerback David Amerson. He had two interceptions, including one he returned 65 yards for a touchdown. His second sealed the win and ended Louisville's chances at a comeback.
Player of the game II:
NC State quarterback Glennon. He threw three touchdown passes and one interception in a hot first half and the impressive connection with receiver
T.J. Graham
was the difference early.
Unsung hero of the game:
Terrell Manning. His fourth-down stop of Anderson in the fourth quarter prevented another big momentum swing by Louisville and stifled a potential scoring drive, and he also intercepted Louisville's
Teddy Bridgewater
on the Cardinals' first drive of the game. The turnover led to NC State's first points of the game, a 7-0 lead on a clock-eating 14-play drive. Manning also came up with a big hit on Bridgewater in the waning minute of the game that helped stop Louisville's final attempt at a comeback.
Second-guessing:
Why kick the onside kick? With four minutes left in the game and two timeouts remaining, Louisville coach Charlie Strong elected for an onside kick. With 10 players ready to guard against it, there was no surprise element this time around. NC State recovered the ball on the 41-yard line. Let the defense make a stop and give the offense a chance to do its job.
Record performance:
Amerson ended the game with his 13th interception of the season. He became the ACC's leader for interceptions in a season with two against Louisville. His interception return for a touchdown gave NC State a 31-10 lead.