May, 24, 2013
5/24/13
2:00
PM ET
North Carolina defensive end
Kareem Martin
returns as one of the leaders of the Tar Heels' defense for 2013. Martin had an outstanding spring game, with four sacks and six tackles for loss, and is also getting some pub as one of the top
defensive end prospects

in the country.
[+] Enlarge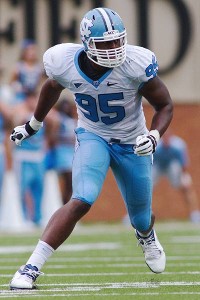 Jeremy Brevard/USA TODAY SportsKareem Martin returns in 2013 as one of the Tar Heels' leaders and one of the top defensive end prospects in the nation.
I had a chance to catch up with him recently. Here is a little of what he had to say.
What do you feel you worked on this spring to improve your game?
KM:
Just tried to work on different aspects that I felt were my weaknesses during the year, pass rush, ball get off, all the things a defensive lineman needs. Going into spring, I felt like if I was going to be an effective, great player I would need to work on those things. I feel like I accomplished those goals. I was able to have a good spring game and I felt like it was an overall successful spring for me.
How did you go about working on those different things?
KM:
Just taking it one day at a time. In the spring time, you have a lot more individual periods, so I took those a lot more seriously than maybe I have in the past, making sure every move that I do I'm doing it with a purpose as opposed to going through the motions. When you treat a practice like a game, that's when you make a lot of strides. I think it really helped me out.
So did you have a different mind-set than the way you treated practices in the past?
KM:
I've always treated practice seriously, but this year I feel like it's my year to step up for this defensive line. A lot is expected of me so I'm focused a little bit more. I treat every rep like it's my last and give it my all because I know the team is going to be looking for me to be a leader on this defense. To do that, I have to show it in practice so I can perform in games.
That also sets an example for your teammates since everybody is looking at you, too.
KM:
Yeah you know I think the defensive line as a whole, I think we made a lot of strides this offseason. We have a lot of young guys who played a little bit last year who got a lot of reps this springs, guys like
Justin Thomason
,
Jessie Rogers
, both those guys played a little bit last year but this spring really helped them out, allowed them to get a lot more live reps. That's what helped us out.
You guys obviously started playing a new scheme last year. How was playing defensive end different?
KM:
With the scheme, there was a lot more movement than your average 4-3. There was a lot more slanting and stunts and everything because they were sending guys all the time. It was played a lot differently than what I had played in the past.
How long did it take to make that transition?
KM:
The hardest part was learning the playbook. We weren't familiar with the staff at the time so there were communication errors in the beginning. Going into fall camp as the transition was over, then I was used to doing all the movements and knew what to expect.
You went from seven tackles for loss in 2011 to 15.5 in 2012. How do you feel about your productivity?
KM:
You're able to pin your ears back with this defense. We do a lot of movements, and it keeps the offensive linemen on edge. They never know what you're going to do, so that plays to our advantage. We've got guys coming through the gaps and they don't know who to block. Also me getting bigger, faster and stronger allowed me to do a lot of things for this defense last year.
With Sylvester Williams gone, who's been filling in that role and who do you expect step up there?
KM:
Right now, we have me,
Tim Jackson
and
Shawn Underwood
. Both of those guys do great playing the nose and the tackle. It's hard to fill the void Sly left. He's a first-rounder. It's hard to replace that production he had, but with those two guys and with our quality backups, we will have to play more as a unit as opposed to depending on that one person. I think if we can all buy in as a unit we should be able to fill that void that he left.
How much better can the defense be in Year 2?
KM:
The defense will be a lot better. Year 1 we were just adjusting. The playbook was very limited, we still had guys trying to learn the playbook and that hurt us early on. The Wake Forest and Louisville games had a lot of missed assignments. But Year 2, everybody has a grasp of the offense, we've been working at it all offseason, getting the younger guys involved. As a defense this spring, we really stepped and were able to fly around a lot more.
May, 9, 2013
5/09/13
2:00
PM ET
North Carolina is a team folks are not sleeping on in the Coastal this year, thanks to immediate results in Year 1 under Larry Fedora.
But there certainly are some questions that have to be addressed on offense, with players like Giovani Bernard, Jonathan Cooper and Brennan Williams gone. I had a chance to check in with North Carolina offensive coordinator Blake Anderson to see how his offense has progressed in filling those spots and addressing other key areas. Here is a little of what he had to say.
Where do you feel you guys stand after the spring?
Blake Anderson:
We're a long ways away from where we've got to be. We lost some really good players, and it's not going to be easy but in terms of this spring, one of the things we focused on was we wanted to increase our transition speed -- play faster. The first year of a tempo offense from a pro-style team to a tempo-style team was good but we felt like we can improve and I thought we did that. We focused on being faster between plays, the ability to get the next play off quicker, to communicate. I thought we took a step forward in that.
We simplified things offensively to try to be better technically and better positionally and allow guys to maybe fine-tune their craft. We did a better job as a staff of being more streamlined and narrowing a few things down and that allowed guys to get better at a few things. We have so many new faces on offense, we wanted some young guys to step in and play early so it's a combination of a couple different things.
And really, the rest of it is a work in progress. How many of our tailbacks take over the load that Gio's leaving and then with three offensive linemen getting drafted we have to find who our starting five is and even more importantly who Nos. 6 and 7 are. We've started on that process, but we're not near finished with it.
In terms of playing faster, how many plays did you end up running per game?
BA:
It was somewhere around 74, 74.5 last year, a good bit lower than what we would like it to be.
Where do you want it to be?
BA:
Well, we'd love to average 80 a game. That's always been a ballpark number. Some of that is outside of our control. Some of that is how the opponent plays offensively in terms of the clock they run, what are they doing -- are they trying to milk the clock? Some of it had to do with games we had the lead in and we consciously slowed the game down in the second half. I look at it in a game-by-game basis but I felt like overall our transition tempo can improve and it should and it is. Now I don't know if our average play per game will be a whole lot different or not. But 80 is a good marker for us. It gives us a good average number. If we're around that number we're moving in the right direction.
How does the transition up front impact Bryn Renner?
[+] Enlarge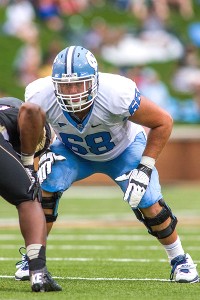 Jeremy Brevard/USA TODAY SportsThe Tar Heels have to replace three starters on the offensive line, but they are set at left tackle with James Hurst.
BA:
I'd be lying if I said he doesn't think about it but I don't want him worried about what's happening up front. I think he has some comfort in knowing he's going to have one of the best left tackles in the country with
James Hurst
on one side, and for a right-handed quarterback that obviously is a good amount of comfort. There's not a guy that's going to outwork Hurst.
Russell Bodine
at center has come a long way. He's become one of the best at that position in the country as well so he has a tremendous amount of confidence in those guys. We're fortunate that
Landon Turner
played as many snaps as he did last year with Brennan Williams being injured. Even though three guys went in the draft, there's three guys coming back that played basically the entire season for us. I don't think Bryn's that concerned or I hope he's not that concerned about those other two spots. We took big steps with
Kiaro Holts
and
Caleb Peterson
this spring at getting them to be functional up there. Are we going to be as talented as we were last year? Probably not. Maybe in the long run we'll be just as good. Initially, there's going to be some growing pains but that's not something Bryn's got a lot of time to be worried about. I think he's aware he has to get the ball out quickly at times, he's aware of where some pressures might come from. His biggest role is communicating well and feeling poised so those guys aren't rattled, so Bodine and Hurst and Landon Turner can bring those other two guys along. It's going to be a team effort. I don't want him to worry. His job is already tough enough as it is.
Coach Larry Fedora mentioned if the season started today, A.J. Blue would get the starting nod at running back over Romar Morris because of his experience. How do you envision the rotation working out?
BA:
It's going to be running back by committee to some degree. Even as good as Gio was and as good a year as he had, it took all those guys to get through the season. So it's going to take them all. They're all a little bit different, and injury at some point is going to keep somebody out for a game or a quarter or a half and we're going to need everybody, all hands on deck. I would say the walk-on
Charles Brunson
that went through the spring or T.J. Logan, the freshman coming in, I would say those guys would end up touching the ball as well. It's just the nature of college football.
How do you think Khris Francis fits into the mix?
BA:
Really surprised at how quickly Khris Francis picked up things. He put the ball on the ground early but got better as the spring went on. For a freshman coming in, it's always an eye-opening experience. Defenses at this level attack the football and try to take the football away. He's got the skill level to be good. I think it's going to be a one-two punch, you may see A.J.-Romar one week and maybe Romar-Khris or maybe Khris and A.J. depending on who's healthy, who's got the hot hand, who's having a great day and how the season is going. I can see a one-two punch with three or four guys.
Quinshad Davis emerged for you at receiver last year but maybe you didn't have the depth you wanted. Where does that group stand now?
BA:
Just the transition from the old style to what we do, that's the position where it takes the longest to get your numbers built the way you want to get them built. You're getting a lot more plays than you've gotten. We're asking more guys to be on the field than they have in the past. So we're still seeing some growing pains. We are thin, we were beat up. We've been unfortunate with a few guys who have ability but haven't been physically able to get out there.
T.J. Thorpe
is one of those guys we have to get on the field. I thought Quinshad had a great freshman year, better than expected. He had a really good spring. I saw him step up, his personality, he became even more competitive on a daily basis whereas in the fall he was playing well, but you didn't see him step up and try to lead in any way. He was just following the group. I thought this spring he stepped up his competitive nature and led some drills, led the group, and that will make him a better player.
And then
Kendrick Singleton
and
Sean Tapley
both played several different positions during the spring. We bounced them around and utilized them different ways, which is going to benefit us in the fall. It's going to make us more versatile. We're trying to find out what role they can play. The way we operate you have to talk about the tight end at the same time. Without
Eric Ebron
this spring, I thought
Jack Tabb
had a very, very good spring. He trimmed down a little bit, got a step faster and became more versatile. Once you throw Ebron back in the mix with Tabb and those guys I mentioned and hopefully we can infuse a couple young guys coming in, I think we're going to be still inexperienced but I think we have a chance to be a step better.
April, 30, 2013
4/30/13
9:00
AM ET
Expectations are already starting to build for the Virginia Tech defense in 2013, as the Hokies return a majority of their starters and look to keep up the momentum they got going in the second half of last season.
What does defensive coordinator Bud Foster think of his group? I had a chance to ask him in a recent phone interview.
How do you feel you guys made it through the spring?
[+] Enlarge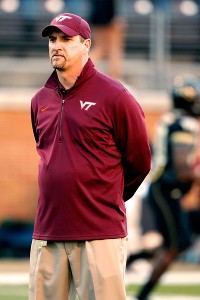 AP Photo/Bob LeveroneDefensive coordinator Bud Foster said last season's disappointing record is all the motivation Virginia Tech needs for 2013.
BF:
All in all, I like our first unit. We started off last year a little shaky but I think it's because we revamped our secondary. We gave up some big plays in the perimeter. They played much better in the second half of the season. I think that carried over into the spring. Playing with guys that have experience, they're playing with a lot more confidence, especially on the back end. Our front kids have been pretty solid, our back kids last year were inconsistent but they played very well down the stretch.
It's a fine line. That's something we drove home with our kids this winter. Obviously 7-6 around here is not good enough but we were close to being the type of team we expect to be. I'm sure we won't be picked to win the league this year, which is fine. It will be the first time in a while but that will give us the motivation and push these kids. I think they've really worked with a chip on their shoulder in our winter condition and through spring ball and they've got to work that way this summer.
So the results of last season have served as motivation?
BF:
It's a big part of it. Obviously around here we're not satisfied as coaches. We have high expectations here but we don't play. We've got to get the right guys on the field and those guys have to perform. We've got to be consistent in our performance. Last year we were inconsistent. I thought we were much better at the end of the year, especially defensively. I'm seeing that consistency on and off the field.
What questions do you have remaining about this group?
BF:
Obviously we have to have a great summer. We've challenged those groups, our backup linebackers, the backup defensive tackle spot and then our backup secondary guys. We're all even across the country right now in a lot of ways. We've had a great program here and we still feel like we have a great program. We're going to challenge our kids, these next 60 days need to be an extension of spring ball as far as what their mindset is, their work ethic, film study. They're going to have to do it on their own, getting out there doing pass drills and 7-on-7 and things of that nature. We've got to continue on the path that we left off with a couple days ago.
We're obviously playing a dynamic program (in Alabama) and we're excited about that opportunity. That challenge but we've got a long way to go to get to where we want to be. those kids are always a play away from being the next guy and they've got to prepare themselves that way.
Do you have a read yet on where this defense could be compared to some of the other great ones you've coached?
BF:
You can ask me that at the end of the year. That's what I always tell everybody. Last year, I don't know who it was said we were going to be the most dynamic defense we ever had here, and that didn't come from me, but I think it got to some of our kids' heads and they thought they could show up and play and it didn't happen. We were 7-6. We've got to go back and earn respect and show people we're one of the premier programs in college football. That's our attitude and demeanor right now. We're going to approach this thing with a chip on our shoulder and I hope they approach the season that way with their work habits and work ethic every day. To be honest, we think athletically we have some really good kids. The big stat for me is the wins and losses, that's the most important one. That will take care of itself if we play good defense. We just have to focus on what we can control and do it one play at a time.
April, 17, 2013
4/17/13
2:00
PM ET
On Tuesday we checked in with BC receiver
Alex Amidon
to get his take on how the Eagles have been progressing this spring under first-year coach Steve Addazio and coordinator Ryan Day. Here is the second part of our conversation:
Are you guys having more fun this year?
[+] Enlarge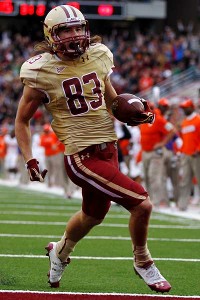 Greg M. Cooper/USA TODAY SportsBoston College wide receiver Alex Amidon says the team has adjusted well to a new head coach and new offensive coordinator.
Alex Amidon:
Definitely. It's a mix between that and everyone is trying to adapt to the new culture. Practices have been a lot tougher, but they're also a lot more rewarding and a lot more fun. It's only going to get better, the more you get used to it and the more people buy in, but it's definitely already noticeable.
What's the biggest change Addazio has made?
AA:
I'd say the competitive spirit on the team is amped up a lot. It's just in practices and stuff, that's noticeable. Everyone is accountable individually for how they compete during practice. That's something that's new. He's changed a lot of things, but I think that's one thing that's pretty important.
You had a terrific season last year, obviously, what are you looking to do specifically to get better and what are your individual goals for this season?
AA:
Honestly I'm just trying to learn this offense as quickly as I can. I guess the one thing I can work on specifically is running with the ball after the catch. I wasn't really that great at it last year, and that's something that can help in this offense, a little more screen game and stuff like that. And then how I fit into the offense, I don't really care, I just want to be on the field. If Andre is running 30 times a game, I'm going to try to help him get the extra yard and block a safety or something. Whatever the team needs, that's what I'm trying to do for the season, get us some wins. At this point, I just want to win games.
Just how different is the playbook and how difficult has it been to learn this spring?
AA:
For me there's a couple of things I've never done before, but coach Day, the offensive coordinator, he was my receivers coach the first two years I was here.
Right, that's why I thought it might be a little easier.
AA:
It's not that tough for me right now because all of the terminology is the same, and all of the concepts he's talking about are the same. I'm just trying to make sure I know everything without having to think about it so I can play faster.
What did you think when you heard that Ryan Day was the guy who was hired as the OC?
AA:
I was excited because the stuff he's interested in in offense is what I'd like to be in, high-tempo. He comes from UNH and Chip Kelly, those are his background, so he has great offensive ideas. I was excited.
How do you feel like you guys are progressing, as far as learning the offense?
AA:
It's going day by day. He's slowly infusing stuff into the offense. We're installing stuff a little at a time. I guess after the first week people started getting it. The past two weeks it's been good. Everyone knows what they're doing.
April, 16, 2013
4/16/13
2:00
PM ET
Boston College receiver
Alex Amidon
was a bright spot in an otherwise dismal season for the Eagles last year. This fall, he is hoping to be part of a turnaround under first-year coach Steve Addazio and offensive coordinator Ryan Day. Last year, Amidon's 1,210 yards receiving ranked second in the ACC, behind Clemson's
DeAndre Hopkins
. Amidon and Hopkins led all ACC receivers in 2012 with six 100-yard reception games each. I caught up with Amidon recently to get his take on the new offense and staff changes. Here are the highlights of our conversation:
Tell me how the new offense changes your role.
[+] Enlarge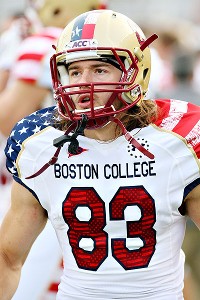 Anthony Nesmith/Cal Sport Media Boston College receiver Alex Amidon says he welcomes an emphasis on the running game.
Alex Amidon:
Well, I wouldn't say it changes my role that much. The one thing I noticed about the offense is we're really focusing on establishing the run game before the pass game, which is going to help the offense out a lot. Last year we couldn't really run the ball that well, and that closed the play-action game, but I'd say I'm just out there trying to help move the chains on third downs. I think that would be my most significant role right now.
Does that concern you at all, that it's going to be more geared towards the run game?
AA:
No, not at all. It's not like we're not going to pass, it's just, I would say if anything, us having the run game is going to help the pass game. I would definitely love to run the ball more than 20 times. Last year we were averaging around 20 carries a game, and if we could get to like 30 or something, that would help the pass game out a lot, in my opinion.
What do you think needs to improve offensively? We talked about the run game, but what have been some of the other priorities for you this spring?
AA:
There were a lot of young guys coming out, and they've all been focusing on improving every day, getting down the completely new offense, trying to learn that. One thing around the whole team is mental and physical toughness. That's something, along with tempo, but we're not really working on that right now. Mental and physical toughness is something you don't really need talent for -- I'm not saying we don't have talent -- but anyone can have them, and if you have those two things, you can outmatch a team. Those two things have really been a focus for us.
How would you say the culture has changed under the new coaching staff?
AA:
It is a lot different. There's a new amount of energy in the program. That's the one noticeable thing, a huge energy. Practices are high-energy practices, lots of competition, lots of competitive drills. The energy and competition are the two most noticeable differences.
How tough have the past two seasons been?
AA:
They've been real bad. They've been tough. It's just tough because we're working year-round to win games, and when you don't, it's so disillusioning, all of the work you put in. It was tough last season, for sure.
Do you feel like things are going in the right direction now?
AA:
I do. You can tell. The optimism people have, the energy we have. Coach Addazio is clearly addressing some of the problems we had in the past years, which has mainly been a lack of leadership, from the older class, which is now my class. That's something you will see different, is people being held more accountable for what is going on.
What are some of the things you guys have done as some of the older players to try and establish that sense of leadership?
AA:
Whether it comes from a quarterback calling out a receiver for dropping a ball in practice, or somebody missing their assignment, just a lot more accountability in that. And also off the field, we've been trying to establish more of a community-sense, which is something we haven't really had in the past here. Both of those things, together, those are a great base for what we're trying to accomplish.
How are you trying to do that off the field?
AA:
Just sitting down with the receiver group, we'll go out to dinner, Applebee's, we'll go there, or eat on campus together, or the offense will gather as a group. Just do something off the field that just gets us together in kind of a fun setting, a family-type setting.
Check back tomorrow for Part II of this conversation.