ACC:

Chick-fil-A bowl 2013
January, 1, 2014
Jan 1
12:26
AM ET
If this was
Johnny Manziel
's final college football game, he couldn't have scripted it any better if he tried. Behind the heroics of the former Heisman Trophy winner, Texas A&M overcame a three-touchdown deficit to stun Duke 52-48 and win the Chick-fil-A Bowl.
Here's how it all went down:


It was over when:
The Texas A&M defense had struggled all night, but the Aggies came up with back-to-back stops on Duke's last two drives to storm past the Blue Devils. First, it was
Toney Hurd Jr
. returning an interception 55 yards to give Texas A&M its first lead of the game. Then, with Duke driving, it was linebacker
Nate Askew
who preserved the victory with another interception. All Manziel had to do was take a knee at the end.
Game ball goes to:
Seriously? Was there ever any doubt? Johnny Football might never play another down for Texas A&M, but if so, he ended his career with a bang. The Aggies' quarterback went 30-of-38 for 382 yards and four touchdowns through the air. He also had 73 yards and a touchdown on the ground. The highlight came early in the third quarter when he went all Johnny Manziel on the Blue Devils. He eluded the rush, hurdled a defender and somehow found a wide open
Travis Labhart
for a 19-yard touchdown.
Unsung hero:
Labhart. While Texas A&M star
Mike Evans
was losing his cool early in the game, it was Labhart who stayed calm and quickly became Manziel's go-to wide receiver. The former practice-squad player for the women's basketball team caught not one, not two, but three touchdowns and finished with seven catches for 76 yards. He might not have made the men's basketball team, but the Aggies are glad he went the football route.
Stat of the game:
Despite two late interceptions, Duke quarterback
Anthony Boone
played a tremendous game in his own right, throwing for 427 yards and three touchdowns. But even more impressive was his composure on third down. The junior went 11 of 12 for 144 yards on third-down passing attempts. The lone incompletion came on Duke's final drive, but he turned around and completed a pass to convert on fourth down.
What we learned:
If that was Manziel's last game, he will be missed in college football. Despite his off-field troubles and fiery personality, he was fun to watch. Texas A&M might struggle next year without him, but the Aggies are clearly moving in the right direction under Kevin Sumlin. It doesn't hurt that Sumlin recently signed an extension and looks to be staying for the long haul. As for Duke, it was an incredible season. The Blue Devils won 10 games for the first time in program history, and though they're still looking for their first bowl win since 1960, the future looks bright in Durham.
To watch the trophy presentation of the Chick-fil-A Bowl,
click here.
December, 31, 2013
12/31/13
12:00
PM ET
It's been a wild ride for both Duke and Texas A&M this season.


The Aggies, with their effervescent quarterback
Johnny Manziel
and their high-flying offense, were so often a thrill to watch, full of touchdowns and big plays, but ultimately not enough wins to compete for an SEC title.
Duke, meanwhile, had what could only be called a dream season when compared to the history of the program. David Cutcliffe was named Bobby Dodd Coach of the Year after leading the Blue Devils to their first 10-win season and a spot in the ACC championship game.
How it will end for both teams depends on who shows up ready to play in the Chick-fil-A Bowl at the Georgia Dome in Atlanta (
ESPN, 8 p.m. ET
).
Here's a quick preview of the game:
Who to watch:
Manziel has been careful not to make any official NFL announcement yet, but all indications point to the redshirt sophomore leaving Texas A&M early to enter the draft. And he might not be alone. Receiver
Mike Evans
, another redshirt sophomore, is a prime candidate to bolt for the pros as well. So get your fill of them while you can because they're arguably the best at their positions in the country. Manziel's talents, by now, speak for themselves. But Evans might be the bigger concern for Duke because at 6-foot-5 and 225 pounds, he's downright unstoppable. Just ask two of the best teams in the SEC, Alabama and Auburn, which combined to allow 566 yards and five touchdowns through the air to him this season.
What to watch:
Don't forget to pay attention to those pesky Blue Devils, though, as wide receiver
Jamison Crowder
and linebacker
Kelby Brown
are ones to watch. But Duke, without suspended leading rusher
Jela Duncan
, is in a pickle. Throwing the ball often will be a temptation, but as quarterback
Anthony Boone
said, it's a fool's errand to try to outduel Manziel because "that doesn't win football games." Instead,
Josh Snead
, Duke's backup tailback who ran for 547 yards this season, will be asked to do more. If the Blue Devils stay balanced on offense, they have a shot against what has been a porous Aggies defense. But if Boone, who has thrown 11 interceptions to 10 touchdowns, is asked to do too much, Duke could be in big trouble.
Why to watch:
Soak it all in because these two programs appear to be headed toward a crossroads. Duke has never had success like this before. How will it respond if its dream season ends with two straight losses? Can the entire coaching staff stay together? Is one player suspension a sign of more to come? And more questions can be asked of Texas A&M, which might shun the idea of rebuilding next season, but with the possibility of Manziel and Evans leaving, it's definitely a matter of hitting the "reset" button. Coach Kevin Sumlin is locked up under a new contract, but with so many NFL head coaches being fired this week, do the pros start beckoning him as well? Whatever the case, Texas A&M and Duke fans should savor the final game of their seasons and hope that next season holds just as much success.
Prediction:
Texas A&M wins it running away from Duke, 48-28. Had the Blue Devils showed better against this season's Heisman Trophy winner,
Jameis Winston
, I might have been swayed to pick otherwise. But Florida State gave Texas A&M the blueprint to moving the ball offensively. Manziel will have his way against the Duke secondary and end his career as an Aggie with a flourish, accounting for a handful of touchdowns that should leave us as in awe of his penchant for making something out of nothing.
December, 30, 2013
12/30/13
4:00
PM ET
Forget defending a Heisman winner. Been there, done that, as far as
Breon Borders
is concerned.
No, the biggest challenge for the Duke freshman this week has been navigating a bustling metropolis, as Tuesday's Chick-fil-A Bowl in Atlanta has offered the Statesville, N.C., native his first time seeing -- and entering -- buildings taller than 10 stories.
"I come from a real small country town," the cornerback said. "A big city is something new. And plus, there are buildings here and there. I never saw buildings this tall in my life. It's mind-blowing."
What Borders has seen is a Heisman Trophy winner, with the Blue Devils falling to
Jameis Winston
and Florida State their last time out, in the ACC title game. They will get another opportunity against Texas A&M's
Johnny Manziel
, the 2012 Heisman winner, in the finale of a historic season.
[+] Enlarge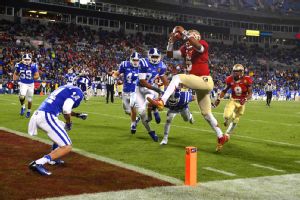 Bob Donnan/USA TODAY SportsThe Duke defense had its hands full with 2013 Heisman winner Jameis Winston; 2012 Heisman winner Johnny Manziel is a stern test, too.
But for Borders, the aura of closing out his rookie campaign on the postseason stage against arguably the two best players in college football is hardly daunting. Despite a rough outing for Duke's defense in its 45-7 loss on Dec. 7, Borders managed to pick Winston off twice, so he welcomes the challenge of facing Johnny Football in what will likely be the quarterback's collegiate finale.
"Our coaching staff all week did a great job with film study and all that so they had us prepared," Borders said of the game against the Seminoles. "And I just happened to be in the right spots at the right times to make some plays."
With his ability to improvise and make plays with his legs, however, Manziel brings something different to the table. And it will be up to Borders and the rest of the Duke secondary not to take the bait the moment an Aggie play appears to break down.
"The most important part is in the back end, so get those guys not to be watchers; you know, don't watch the paint dry in the back, because he does put on a great show," defensive coordinator
Jim Knowles
said. "But our guys need to cover in the back. They need to cover in the back and let the people up front chase him all over. So we'll be playing plenty of guys, because that's the other key to it, too, is you've got to stay fresh because people have to chase and run and those plays can become ten seconds long."
Knowles said Manziel is the best ad-libber he has ever seen. While Duke likes to talk about "five-second plays" in the film room, Knowles said, the Blue Devils often found themselves watching plays that lasted upward of 10 seconds, testing the last line's discipline.
Duke cannot afford to "watch the show," end
Kenny Anunike
said, and Knowles had instituted a scramble drill in the practices leading up to this contest to test the stamina of his defenders, with speedy freshman quarterback
Quay Chambers
running the scout-team offense.
Having a mobile quarterback in
Brandon Connette
(30 career rushing touchdowns) does not hurt matters, either.
"When you are playing a quarterback like Johnny Manziel who will take advantage of something like that and has a good game then you have to limit your rush," Anunike said. "Certain things you just can't do. You can't zoom high, and when we say zoom high, it's taking off behind the offensive tackle and trying to get the quarterback from behind, because Johnny Manziel steps up in the pocket and his line will continue to block and he will take off right up the middle, and that will hurt us and that's how they hurt teams in the past."
The Blue Devils (10-3) are again heavy underdogs, but Anunike, a sixth-year senior, senses a 180 in their approach to these games from the time he came along with head coach David Cutcliffe in 2008.
"This is an opportunity on a national scale to show the direction this program is moving in," Anunike said. "We have accomplished tremendous milestones along this journey and it's been a magical journey. We are looking to cap it off with a win here against Texas A&M."
December, 30, 2013
12/30/13
2:00
PM ET
The ACC enters bowl season with a 3-5 record against the SEC during the regular season, including Clemson's season-opening win against Georgia, and wins by both Florida State and Miami over Florida. Here's better news: The ACC has had the edge over the SEC in the prestigious Chick-fil-A Bowl with an 11-10 record over the past 21 years. Last year's last-second win by Clemson over LSU was one of the ACC's marquee wins of the season -- many said it was bigger than Florida State's win over Northern Illinois in the Discover Orange Bowl.
This is the last season of the ACC's partnership with the Chick-fil-A Bowl, as the College Football Playoffs will begin next year. The only way the ACC will return to the game is if it is selected through the playoff.
Can the ACC finish its historic partnership with a winning record over the SEC? Here's a look back at the top five ACC wins over SEC opponents in the Chick-fil-A Bowl to help give Duke fans some hope heading into Tuesday's game against Texas A&M:
[+] Enlarge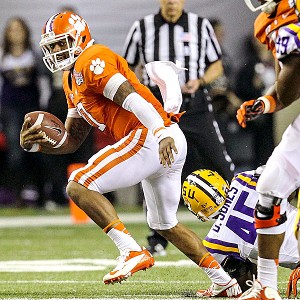 Daniel Shirey/USA TODAY SportsTajh Boyd completed 36 of 50 passes for 346 yards and two touchdowns as Clemson rallied to beat LSU in a classic Chick-fil-A Bowl.
1. Clemson 25, LSU 24 (2012):
In the first matchup of 10-win teams in Chick-fil-A Bowl history, No. 14 Clemson came back from an 11-point fourth quarter deficit to defeat No. 8 LSU, 25-24. Clemson quarterback
Tajh Boyd
played one of the best games of his career and drove the Tigers 60 yards in just 1:39 during the final drive. On fourth-and-16 -- one of the most memorable plays of the season -- Boyd found receiver DeAndre Hopkins for a 26-yard gain to keep the drive alive and set up the game-winning kick. Boyd passed for 159 of his 346 yards in the fourth quarter, earning honors as the most outstanding offensive player of the game. Kicker
Chandler Catanzaro
made a 37-yard field goal as time expired to seal the win. Hopkins turned in one of the finest performances in Chick-fil-A Bowl history as he set bowl records with 13 receptions for 191 yards, including an 11-yard touchdown before halftime.
2. Miami 27, Florida 10 (2004):
The No. 14 Miami Hurricanes used defense and special teams to take an early lead and never looked back on No. 20 Florida. In the first quarter, Thomas Carroll blocked a Florida punt and Devin Hester returned it 78 yards for a touchdown. On the next series, Hester intercepted Florida quarterback Chris Leak and returned it 28 yards, leading to a Jon Peattie 47-yard field goal. Miami forced another Florida punt, and Roscoe Parrish returned it 72 yards for a 17-3 halftime lead. The Hurricanes' big returns proved critical, as the Gators' defense held Miami to only 50 yards total offense in the first half. Florida actually outgained Miami for the game (406 yards to 277) but Miami quarterback Brock Berlin threw for 171 yards against his former team. Berlin's 20-yard touchdown pass to receiver Ryan Moore in the third quarter gave Miami a 24-3 lead to seal the school's first Chick-fil-A Peach Bowl victory since 1980.
3. Virginia 34, Georgia 27 (1995):
Virginia led 27-17 after three quarters, but early in the fourth quarter, Georgia kicked a field goal to narrow the margin to seven points. With 1:09 remaining, Georgia's Jason Ferguson returned a Virginia fumble 10 yards for a touchdown. With a record crowd of 70,284 roaring, the ensuing kickoff was run back by Virginia's
Demetrius Allen
for record-setting and game-winning 83-yard return for a touchdown.
4. Florida State 26, South Carolina 17 (2010):
No. 19 South Carolina and No. 23 Florida State were so evenly matched that the game was the most-watched Chick-fil-A Bowl in history. Key offensive injuries on both sides, a lopsided turnover margin, and a bowl-record-tying four field goals by a single team would make the difference in Florida State's 26-17 win. Kicker Dustin Hopkins accounted for 14 of the Seminoles' points with four field goals and a pair of PATs. South Carolina gave FSU five turnovers on three picks and two fumbles. South Carolina's defense kept it close, though, and the game wasn't decided until 5:27 to play when EJ Manuel connected with Taiwan Easterling for a game-clinching, 7-yard touchdown pass. Chris Thompson was named the Most Outstanding Offensive Player after recording 164 total offensive yards -- 147 of which came on 25 rushes. Greg Reid was selected as the Most Outstanding Defensive Player with 71 return yards, five tackles, two forced fumbles and four breakups.
5. Clemson 14, Kentucky 13 (1993):
The Peach Bowl's decade of close games continued as Clemson came from behind to beat Kentucky, 14-13. Emory Smith, brother of NFL star RB Emmitt Smith, scored the winning touchdown on a 21-yard pass from Clemson's fourth-quarter replacement quarterback, Patrick Sapp, with 20 seconds remaining.
Also considered:
North Carolina 21, Mississippi State 17 (1992)

Maryland 30, Tennessee 3 (2002)
December, 26, 2013
12/26/13
3:30
PM ET
Duke offensive coordinator Kurt Roper is
headed for the same job at Florida
, but he has one game left to call for the Blue Devils.
Roper will coach in the Chick-fil-A Bowl against Texas A&M next week, a little preview of what he will face once he moves on to SEC. Both he and Duke head coach David Cutcliffe said during a conference call Thursday that their complete attention is on the Aggies -- so much so that Cutcliffe headed off any questions about what he will do to replace Roper before anybody could ask.
[+] Enlarge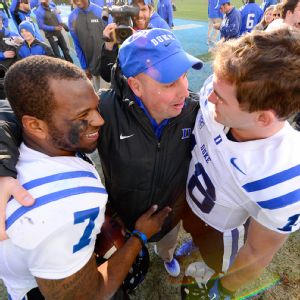 Bob Donnan/USA TODAY SportsKurt Roper will have one final game as Duke's offensive coordinator before heading to the same position at Florida.
Cutcliffe said he has not given any thought about his staff this week, nor is he taking any phone calls or text messages inquiring about the open position. "I will not address any of that until I get back to Durham," he said.
What Cutcliffe does next will be interesting to watch. Roper has been with him just about every step of the way, at coaching stops in Tennessee, Ole Miss and Duke. Roper has served as his offensive coordinator/quarterbacks coach at Duke since 2008 and did an excellent job developing players like Thad Lewis (now starting for the Buffalo Bills) and Sean Renfree (among the ACC all-time leaders in passing yards, completions and completion percentage).
This past season, Roper made a two-quarterback system with
Anthony Boone
and
Brandon Connette
really work to the Blue Devils' advantage, a huge reason why Duke won 10 games and made the ACC title game. His credentials as a coordinator, and the way he has developed quarterbacks specifically, made him an appealing choice for Florida, a team that has had mediocrity at the position since Tim Tebow left. Roper said it was the right time to leave and the right situation to join, giving him an opportunity to essentially be on his own without Cutcliffe to guide him.
The question now is whether Cutcliffe will turn to somebody he has helped bring up through the coaching ranks, a coach he already has a solid working relationship with and knows well. Scottie Montgomery already serves as offensive coordinator/passing game and receivers coach and spent time as a Duke assistant under Cutcliffe in 2008-09 before rejoining the staff this past season. He seems like a natural fit to move into the position.
But more than finding a coordinator, Cutcliffe also needs to find a quarterbacks coach skilled enough to continue to allow Boone and Connette to function seamlessly in the offense while bringing along the young, talented guys behind them.
A big decision awaits.
Two more notes from the call Cutcliffe held with reporters:
Connette has decided to play in the bowl game after spending the last week in California at his mother's bedside following emergency brain surgery. Boone ended up packing up Connette's belongings and bringing them with him to Atlanta just in case Connette decided to rejoin his teammates.

With running back Jela Duncan serving an academic suspension, Cutcliffe said Shaquille Powell will start the bowl game.
December, 8, 2013
12/08/13
10:25
PM ET
Dec. 31, 8 p.m. ET, Atlanta (ESPN)
DUKE BLUE DEVILS BREAKDOWN
As expected, Duke was overmatched in the ACC championship game and lost convincingly to Florida State, but the loss didn't define the season, which includes a school-record 10 wins.
[+] Enlarge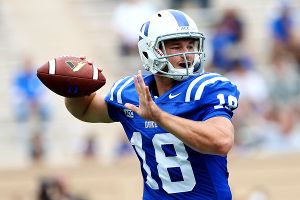 Streeter Lecka/Getty ImagesThe versatile Brandon Connette accounted for 26 total scores for Duke this season.
The Blue Devils still earned the title of Coastal Division champs and now have a chance to end the season on a winning note. Duke had won eight straight games heading into the ACC title game -- the program's longest winning streak since 1941. The program was ranked in the BCS standings for the first time, and it defeated two ranked teams in then-No. 16 Virginia Tech and then-No. 24 Miami.
Although Duke lost to Florida State for the 19th time and remains winless against the Noles, what happened in that game wasn't reminiscent of the "old Duke." Instead, Duke just got a taste of what FSU had been doing to its opponents all season. Duke still has a much-improved defense, which was evident in the first quarter, when it held the Noles scoreless for the first time since they played Florida in 2012. Duke also forced Florida State into three turnovers, including one fumble in the red zone and two interceptions. Duke has now had four takeaways in the red zone this season. Duke's biggest problem was that it couldn't capitalize on Florida State's mistakes or sustain a drive.
That wasn't the case for most of the season, as Duke was able to score more than 20 touchdowns on the ground and in the passing game for the first time in school history. Despite the loss to FSU, it was an unprecedented season for Duke and coach David Cutcliffe, who was named the ACC's Coach of the Year.
-- Heather Dinich

vs.

TEXAS A&M AGGIES BREAKDOWN
This is not quite where Aggies fans thought their team might end up when they were previewing the season.
[+] Enlarge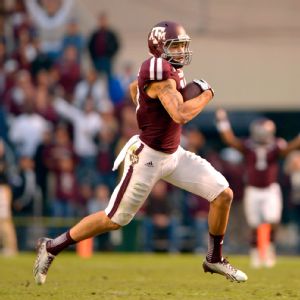 Thomas Campbell/USA TODAY SportsMike Evans and the Aggies hope to finish their season on a high note with a bowl victory.
With 2012 Heisman Trophy winner
Johnny Manziel
, receiver
Mike Evans
and offensive tackle
Jake Matthews
all returning, many in College Station thought the Aggies could achieve a BCS bowl and perhaps even flirt with an SEC title and a BCS title game berth.
But an extremely young defense that was hit hard by graduation (at least in terms of key players) struggled throughout the season, and a beaten-up Manziel lost steam in the final two regular-season games, which led the offense to do the same.
All that being said, 8-4 isn't bad, and the fact that it's a "disappointment" in Aggieland speaks to how much progress the program has made in a short time. This team still has a high-powered offense, ranking sixth in the nation in points per game (43.6) and fourth in yards per game (538.2).
The defense has had its ups and downs but ended the regular season on a solid note on the road against a talented Missouri team, keeping the game within reach for its offense.
And this could be the last hurrah for Manziel, who seems destined to declare for early entry into the 2014 NFL draft. It could also be the final salvo for Evans, a Biletnikoff Award finalist, who is also draft-eligible.
-- Sam Khan Jr.
ACC SCOREBOARD
Saturday, 12/20
Monday, 12/22
Tuesday, 12/23
Wednesday, 12/24
Friday, 12/26
Saturday, 12/27
Monday, 12/29
Tuesday, 12/30
Wednesday, 12/31
Thursday, 1/1
Friday, 1/2
Saturday, 1/3
Sunday, 1/4
Monday, 1/12
Tweets from https://twitter.com/ESPNCFB/lists/acc