November, 6, 2013
11/06/13
1:00
PM ET
SOUTH BEND, Ind. -- The package was called "Desperado," a phrase both Pittsburgh and Notre Dame fans would probably rather never hear or speak of again.
It was not discovered until the day after the Fighting Irish's triple-overtime win over the Panthers last year that cornerback
Bennett Jackson
and receiver
Chris Brown
, both No. 2 for the Irish, were on the field together when Kevin Harper's potential 33-yard game-winning field sailed wide right after a bad snap.
[+] Enlarge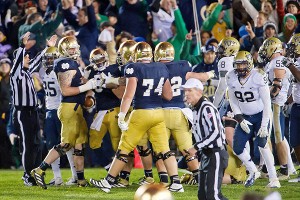 Matt Cashore/US PresswireEverett Golson's game-winning touchdown in the third overtime last season gave the Irish a heart-stopping victory over Pitt.
For the Panthers, it was an oversight that all but cost them a program-defining win for new coach Paul Chryst. For the Irish, it was a crisis averted, one of several minor miracles in a magical season.
It was another hold-your-breath moment in a series that, for one reason or another, has never lacked for drama. A primetime atmosphere awaits Saturday night at Heinz Field when the Panthers and the Irish square off. One team is fighting to clinch bowl eligibility, the other is clinging to BCS-bowl hopes and, well, here we go again.
"It happens," Pitt linebacker
Todd Thomas
said of the officials' error last season. "Two No. 2s on the field, it happens. Refs make mistakes, so everybody's not perfect. So it happens. So we just put the loss behind us and just carried on to the next week. But it happens. Everybody's not perfect."
Notre Dame has beaten Pitt by three points in each of the last two years, including a 15-12 tractor-pull of a contest in 2011 that both teams are best served to forget. The Irish are 6-3 against the Panthers since 2002, but eight of those games have been decided by eight points or fewer.
There have been seven total overtimes across two of those games -- a four-overtime Pitt win in 2008 and last year's three-overtime Notre Dame victory, its last close call on the way to the BCS title game.
"You know what, we're letting it go, it's old news," Pitt end
Bryan Murphy
said. "Whatever happened last year happened. We're not paying attention to it. We're just moving on from there. That's all last year. We were a different team, they were a different team. So we're not even concentrating on anything that happened last year."
Chryst echoed that sentiment during his Monday press conference in Pittsburgh, though tight end
J.P. Holtz
had a decidedly different tone when he
told reporters that he did not like Notre Dame, calling their coaches "really cocky."
The comments seemingly made their way back here to Irish coach Brian Kelly, who said Tuesday: "They don't seem to like Notre Dame very much, and they want to beat Notre Dame."
Though in just his fourth year at Notre Dame, Kelly is more familiar with Pitt than any other opponent in the last seven years, having faced the Panthers in each of his three seasons at Cincinnati before playing them annually so far while with the Irish.
He has also faced the Panthers' new starting quarterback, redshirt senior
Tom Savage
, who appeared in Rutgers' 2009 season-opener against the Kelly-coached Bearcats.
"A big kid, strong-armed, and obviously they like to throw the football with him," Kelly said of Savage. "He's got some talented receivers. We're going to have to prepare ourselves for a kid that likes to throw the football and has some weapons."
The best of those weapons, redshirt senior
Devin Street
, is two weeks removed from becoming Pitt's career leader in receptions. Though winless and held to 42 or fewer yards in each of his three contests against the Irish, Street has no particular distaste for the team he will face this weekend.
"We don't go in disliking anyone, but we definitely have a respect for Notre Dame and the tradition and that type of team," Street said. "But we don't hate them or anything like that. I think they're a great team."
Both teams are coming off consecutive games against option teams -- Pitt losing to Navy and Georgia Tech, Notre Dame beating Air Force and Navy.
And both will reconvene in two years, and roughly every three years after that, as part of the Irish's five-game-per-year scheduling agreement that takes effect next year with the ACC, which Pitt is finishing out its first season in.
"Everyone knows Notre Dame; Notre Dame is one of the most historic football programs in the country, and they always will be," Murphy said. "I think it's amazing to have a team like that on your schedule. That's always a primetime game for us. I think it's huge for our team going forward to always have that game because we always play great against them. It's always just an amazing game between us two, so I think it's important that we continue that matchup."
October, 3, 2009
10/03/09
11:30
PM ET

Posted by ESPN.com's Heather Dinich
MIAMI -- A quick
overview of the game
:


Turning point:
With about four minutes left, Oklahoma got as close as Miami's 22-yard line and threatened with the go-ahead score, but Miami's defense stopped
Chris Brown
twice for a loss of a yard.
DeMarco Murray
, who had put Oklahoma in position to score on that drive, was held to a 1-yard catch on third-and-12 and Miami held the Sooners to a field goal and clung to the 21-20 lead.
Stat of the game:
Miami had 12 penalties for 115 yards.
Player of the game:
Miami quarterback
Jacory Harris
. He regrouped after his two early interceptions on the Canes' first two possessions and put Miami in position to win. He controlled the clock on the final possession in the fourth quarter and redeemed himself for his performance against Virginia Tech.
Unsung hero of the game:
Oklahoma defensive end Jeremy Beal. He came into the game with just three sacks, and had two sacks, a pass breakup behind the line of scrimmage and got pressure on Harris all night. He sacked Harris in the first quarter and later in the third for a loss of 4 yards, which eventually forced the Canes to punt.
What it means:
Miami is a top-10 team. The Canes have knocked off three ranked opponents in four tries, including the No. 8 team in the nation in Oklahoma. Aside from getting a win over Virginia Tech last weekend, there's not much more the Canes could do to get some national respect. It also means that Oklahoma is more than likely out of the running for the BCS national title, as two losses is usually an eliminator. (The 2007 season was the only exception to that in the BCS era.)
October, 3, 2009
10/03/09
8:50
PM ET

Posted by ESPN.com's Heather Dinich
MIAMI -- This is a chance for Miami to separate itself from the rest of the ACC against one of the nation's powerhouse teams. Instead, it's blending right in with the muddled mass of mediocrity.
I know, I know, it's only been one quarter, but there have been some big plays -- all in the Sooners' favor. Just when it looked like Miami could get some help with field position, Oklahoma running back
Chris Brown
took off 48 yards from the 1-yard line, and all of a sudden the Sooners are creeping up in the red zone again.
Landry Jones
is treating his first collegiate road trip like a business meeting, and Miami apparently didn't get the memo.