January, 4, 2014
Jan 4
3:16
PM ET
NEWPORT BEACH, Calif. -- Florida State receiver
Kenny Shaw
was posing for photos while wearing "Google Glass." Auburn players were dancing and jumping into interview shots, even joining the ESPNU crew on stage. Players from both teams took turns getting their pictures taken with the Vizio BCS National Championship trophy.
But don't be fooled -- they're ready for Monday night.
Saturday's media event at the Newport Beach Marriott was chaotic, with every player and coach from both teams available to reporters. Florida State was the first team in the spotlight, followed by Auburn, and while the stars and head coaches for each team were seated at individual podiums, the rest of their teammates and staff members were seated around tables in a huge ballroom, swarmed by reporters with microphones and television cameras, working to preview the sport's biggest game.
[+] Enlarge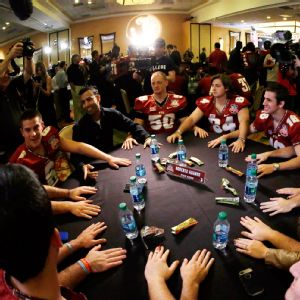 AP Photo/David J. PhillipAll of FSU and Auburn's players faced the media throng Saturday before the BCS title game.
In spite of all of the distractions and attention this week, those within both programs agreed they are focused and ready for Monday night's stage.
"Preparation has been great," FSU receiver
Rashad Greene
said. "So I feel like it's been one of the best all year. So we're doing a great job at handling our business, handling the situation, and when it's time to prepare, we have done a great job and when it's time to have fun, we're doing a great job at having fun as well. So we're definitely mature enough to handle our business and know there's a time and a place to do everything."
Auburn cornerback
Chris Davis
said the Tigers have had the same approach.
"In the SEC, that's the best conference in college football," Davis said. "And I just got to say, we're going to be well prepared for Monday. We're just ready to play our best and represent the great state of Alabama."
For Auburn, Monday's game is a chance to extend the SEC's streak of national titles to eight, and give the conference 10 of the 16 BCS championships. For Florida State, which is making its first appearance in the national title game in 13 years, it's a chance to elevate the ACC and most likely finish in the top five for the first time since the program's historic run from 1987-2000. Saturday's media event was a also rare opportunity for reporters to speak with Florida State assistant coaches, several of whom are former players now basking in the program's return to the top.
Both teams have been here since Dec. 31, when they were welcomed at Disneyland. Sunday morning's news conferences with FSU coach Jimbo Fisher and Auburn coach Gus Malzahn will be the final media availability before Monday's 8:30 p.m. ET national title game.
For the players, it's all business now.
"Our team has done a very good job this year of not getting distracted by anything," Malzahn said. "This week has been no different, even though the schedule has been a little bit chaotic at times. Once we got in our meetings, once we got to the practice field, the guys have been locked in, trying to get better and focus."
Fisher and Greene both said that the Noles haven't played their best game yet.
"I feel very confident we're ready," Fisher said. "I think we've practiced extremely well and I like our mindset and our attitude right now. I think we're very confident in what we do but we're not arrogant. I think our kids believe in the system, and the team we have, there's not a lot of arrogance where they're ignoring things and not preparing at the same time, and I think that's very critical."
January, 3, 2014
Jan 3
4:22
PM ET
NEWPORT BEACH, Calif. -- The hits just keep coming for Texas, which can't seem to find a coach to replace Mack Brown.


Well, here's some good news: If the Longhorns hire Jimbo Fisher, they'll get a two-for-one deal, scoring the Heisman Trophy winner, too.
The odds of that happening don't look good, of course, especially because Fisher recently signed a new contract with Florida State. And Texas already had its chance at quarterback
Jameis Winston
.
"Through the whole recruiting process, I said to my coach, 'We got to get Texas on the phone,' " Winston said.
Winston even tried to get Brown on the phone himself.
"I tried to call him a couple times because I really like Texas," he said.
It's probably better it didn't work out. After all, Winston said he was an Oklahoma fan.
SWINGING FOR THE STARS
Who says Winston can't play both baseball and football at the next level?
"You can do anything you put your mind to," the two-sport star said. "A lot of people are going to say, 'No way, he's a quarterback.' Bo Jackson was a running back. The one thing I always seem to do is gain the trust of my teammates. Even being in the NFL, if I can convince those guys I can be your quarterback, I can go play baseball for the Atlanta Braves, New York Yankees. I can't talk about that, because I'm living in the moment right now."
On Tuesday, he'll be ready to talk baseball again.
"Right now I got one thing on my mind, win the national championship on Monday. Tuesday comes, I'll be ready for it then. I'm pretty sure [Florida State baseball] coach Mike Martin, he'll talk to me about it then. I know he's not saying nothing about baseball to me right now."
HAPPY RETURNS
Prior to this season, Auburn's
Chris Davis
had not returned any punts or kicks during his college career, but it wasn't because he didn't try.
"I'd been asking. I never got the opportunity," said Davis, who led the SEC in punt return average this season and also returned the missed field goal against Alabama 109 yards for a touchdown.
Asked what reason the previous coaching staff at Auburn gave him for not giving him a shot to return kicks, Davis said, "They didn't have an answer for me."
Auburn's current special teams coach, Scott Fountain, was the director of player personnel on the previous staff and made it known when the new regime arrived that Davis was plenty capable as a return man. Davis had excelled as a return specialist in high school.
The rest, as they say, is history.
"I'd mention it every year. I'd go back and catch punts and kicks at the beginning of the season, but I never got the opportunity," Davis said. "I thank Coach Fountain and Coach [Gus] Malzahn for the opportunity."
NOT BACKING DOWN
Florida State's receivers, led by 6-foot-5, 234-pound sophomore
Kelvin Benjamin
, are big, physical and explosive.
Benjamin has 14 touchdown catches entering Monday's Vizio BCS National Championship, which presents quite a challenge for an Auburn pass defense that ranked last in the SEC this season.
But the Tigers are adamant they're not going to all of a sudden change it up.
"We've mixed it up, but man[-to-man coverage] is our base," Auburn defensive coordinator Ellis Johnson said. "We're going to play man. LSU had great receivers. Georgia had good receivers. Missouri's got bigger receivers than Florida State's got. We've seen all types. We've seen some of the best. At all times, we haven't stopped them, but you can't just give up on something.
"I think a lot of people have been intimidated out of man coverage against them early in the game because they can't score on them. If we score on them and hold the ball on them a little bit, we'll have a chance to be more aggressive. If we don't, we're going to have a hard time."
GETTING DRAFTY
Florida State junior running back
Devonta Freeman
said he turned his papers into the NFL draft evaluation board but hasn't heard back from it yet. Freeman said when he does, he will talk to Fisher about possibly entering the draft.
January, 2, 2014
Jan 2
9:30
AM ET
Editor's note: Each day this week Florida State reporter David M. Hale and Auburn reporter Greg Ostendorf will preview a position battle in Monday's VIZIO BCS National Championship Game. Today's matchup is between Florida State's wide receivers and Auburn's secondary.
Florida State's wide receivers:
It's not a deep group, but there may not be a more dynamic set of receivers in the country than what
Jameis Winston
has at his disposal at Florida State.
[+] Enlarge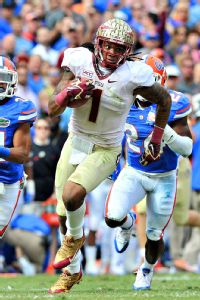 Steve Mitchell/USA TODAY SportsFSU WR Kelvin Benjamin is a physical presence who can also break free and make big plays.
Rashad Greene
,
Kelvin Benjamin
and
Kenny Shaw
are all within striking distance of 1,000 yards. Greene is one of the nation's most consistent threats, and while he's not imposing physically, he runs precise routes and rarely drops a pass. Shaw is the lone senior in the group, and he's averaging 18 yards a catch and has topped 89 yards receiving seven times. But it's Benjamin who should keep Auburn defenders awake at night.
At 6-foot-5, 230 pounds, Benjamin is as physical a receiving threat as there is in college football. He excels at jump balls, is physical at the line of scrimmage, and loves blocking downfield. His career has been marked by inconsistency, but he was red hot to end the regular season, with 17 catches for 458 yards and eight TDs in his last four games.
Even if Auburn manages to corral all of Florida State's deep threats, tight end Nick O'Leary is a wild card. O'Leary has 33 catches for 557 yards and seven touchdowns this season and is one of Winston's favorite targets. As the big three receivers draw attention downfield, O'Leary provides a dangerous weapon underneath and is capable of picking up big chunks of yards after the catch.
And, of course, the key to all of it is Winston, the Heisman winner and one of the country's most aggressive quarterbacks. Winston completes 55.8 percent of his passes of 15 yards or more (second only to Baylor's
Bryce Petty
among AQ QBs) and has 19 TDs without an INT in the red zone this season.
Auburn's secondary:
In the last three games, Auburn has had a difficult time defending the pass.
Aaron Murray
threw for 415 yards and two touchdowns.
AJ McCarron
threw for 277 yards and three touchdowns. And in the SEC championship game,
James Franklin
threw for 303 yards and three touchdowns. Now, the Tigers are about to face the Heisman Trophy winner and the nation's leader in opponent-adjusted QBR (90.8).
It's a group that remains confident in their ability, but they know they have a steep challenge ahead of them.
The most notable name is cornerback
Chris Davis
, but that's more because of his field-goal return to beat Alabama than his pass coverage. Still, he's the No. 1 cornerback and the team's best chance of shutting down an opposing wide receiver. It's the cornerback opposite Davis,
Jonathon Mincy
, who teams have been able to pick on this season.
Mincy was defending
Amari Cooper
when the Alabama wide receiver hauled in a 99-yard touchdown pass in the Iron Bowl. He also had no answer for Missouri wide receiver
Dorial Green-Beckham
, who finished with six catches for 144 yards and two touchdowns against Auburn. If he draws the assignment of defending Benjamin, which is what he wants, it could be a long day for the Tigers.
The X-factor could be
Robenson Therezie
who plays the Star position in Ellis Johnson's 4-2-5 defense. He leads the team in interceptions (four) and is fourth in tackles (55). He'll primarily focus on covering the slot receiver, but he might also be asked to cover O'Leary at times or even blitz from time to time. Auburn isn't going to stop Winston, but Therezie could make life a little more difficult for the Florida State quarterback.
Hale:
Big edge Florida State
Ostendorf:
Edge Florida State
December, 27, 2013
12/27/13
11:00
AM ET
TALLAHASSEE, Fla. -- In the days after the Iron Bowl, everyone got their chance to weigh in on the absurd ending that helped send Alabama to its first loss of the season and Auburn on the VIZIO BCS National Championship Game.
The game came down to a long field goal, which Alabama missed. Auburn's
Chris Davis
fielded the kick and returned it for a game-winning touchdown with no time left on the clock.
[+] Enlarge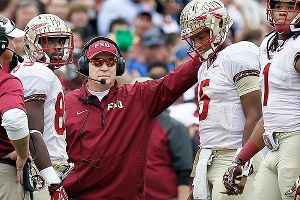 Don Juan Moore/Getty ImagesJimbo Fisher and FSU are well aware of Auburn's ability to make the seemingly impossible possible.
Even Jimbo Fisher, who knows both programs well and has seen his share of college football insanity, was left speechless.
"I never dreamed of it ending that way," Fisher said.
Of course, had he been in the same position as Alabama coach Nick Saban, Fisher also might've handled things a bit differently.
"You've got to go cover [the return man]," Fisher said, adding that he would've adjusted his normal field-goal personnel to cover a potential return.
As unexpected as the play was, Fisher said Florida State has practiced it throughout the year, and the Iron Bowl was just another lesson on why the details matter so much.
For Auburn, those finer points have been crucial to reaching Pasadena with a shot at a championship. For Florida State, however, the Seminoles have rarely been tested on those finer points.
FSU has won all 13 games by at least 14 points. It's average margin of victory -- 43 points -- is the most by any team in the past decade. Since its dominant win over Clemson on Oct. 19, Florida State has been favored by at least three touchdowns in every game.
The fact that Auburn has had to sweat out some close wins and Florida State hasn't been tested has quickly become one of the most prominent narratives in the run-up to the BCS championship game. If it's a close contest, certainly the team with the résumé of last-second wins gets an edge, right?
"That can happen to anybody, that can happen to us if we're not locked in and playing to the last play," safety
Terrence Brooks
said of Auburn's unlikely wins over Georgia and Alabama. "I feel like those things will happen if you're not doing the things you're supposed to do and looking at the right thing."
Even before Florida State began breaking down the film on Auburn, players were all too aware of the fantastic finish to the Iron Bowl, along with another final-minute win over Georgia in which Tigers receiver
Ricardo Louis
hauled in a 73-yard TD catch after it deflected off two Bulldogs defenders.
So as the Seminoles prepare for their Jan. 6 date with Auburn, they're focusing on those same details they've worked all season in practice -- but they're also expecting those details to be far more significant than they had been in any previous game this year.
"They're going to play hard, so every snap we've got to be ready to play, whether it's a trick play or a straight run at us," linebacker
Telvin Smith
said. "We've got to go out and play until the clock says zero, zero, zero."
It's easy enough to say, of course, but the reality is that Florida State has had precious few chances to back up that mantra on the field.
The Seminoles haven't won a game decided by three points or less since a 16-13 victory over Clemson in 2010. Since Fisher took over as head coach, FSU is just 6-6 in games decided by a touchdown or less. Auburn, meanwhile, has six wins by eight points or less this season alone.
"It's a team with a bunch of talent, bunch of intelligence, and they wait for guys to make mistakes," cornerback
Lamarcus Joyner
said. "They do what they do well, and they do it for 60 minutes. Something has to bend and break, and they don't. Opponents do."
If the national championship game is tight, Auburn won't be rattled. During Florida State's three weeks of bowl practice, Fisher is doing his best to ensure the Seminoles won't be either.
There's no way to properly simulate what the final minutes of a national championship game might be like on the field, and Auburn's shocking wins over Georgia and Alabama were as unexpected as any in recent college football history. So the job for Fisher won't be easy, but the Seminoles can return to the fact that working the fundamentals and prepping for a close game isn't a new addition to the practice routine. They've been doing it since the spring -- which is why the past 13 games have all looked so easy.
"Right now we're at a point where we just want to get better and be able to know our assignments like this because they go fast," defensive end
Christian Jones
said. "So we want to be able to know when they come out in something, we know exactly [where to be]. We're doing a good job staying level-headed."
December, 2, 2013
12/02/13
10:00
AM ET
TALLAHASSEE, Fla. -- The team had just arrived home, fresh off another dominant win, its 14th straight. Florida State had secured a perfect regular season, set a date with Duke in the ACC championship game, and coach Jimbo Fisher flipped on the radio in his pickup to listen to the final moments of the Auburn-Alabama game on his ride home.
Perhaps he shouted or cheered or pumped his fist when Auburn's
Chris Davis
dashed into the end zone on the game's final play, unseating Alabama atop the BCS standings and effectively installing Fisher's Seminoles as the nation's new top dog. But if he did, Fisher certainly wouldn't admit to it now.
When pressed Sunday about whether things have changed for Florida State now that it's No. 1, Fisher offered the same stoic assurance he's preached all season.
"Not one bit," he said.
[+] Enlarge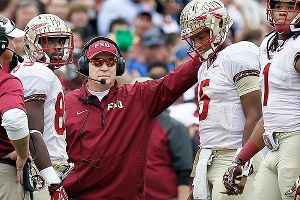 Don Juan Moore/Getty ImagesJimbo Fisher has guided Florida State to the top of the BCS standings.
A year ago, the Seminoles collapsed in the fourth quarter against Florida, and even an ACC title and an Orange Bowl win weren't enough to erase the disappointment of two games Florida State had let slip away.
Since then, everything has changed, but the transformation has come through unwavering consistency.
Florida State's 37-7 win Saturday over Florida was as emphatic as each of the 11 others this season. The Seminoles have won every game by at least two touchdowns, and a reserved approach in the waning minutes of the fourth quarter Saturday proved the only impediment to reaching 40 points, a mark they achieved every previous game this fall.
Before the season, critics wondered what middling opponent would stifle Fisher's plans this time, but it turned out, this really was a different Florida State team.
"We've been able to focus, not pay attention to the outside things and worry about anything," Fisher said. "We can't worry about where we're ranked and what goes on. We've just got to worry about preparing and playing, and that's all we tell our guys, and hopefully we can do that at least one more week right here."
This week is the conference championship game against Duke, a team that has never beaten Florida State -- never even come within 19 points of a win -- in 18 tries. But where past teams would have chalked up the game as an easy win, this season's Seminoles haven't fallen into that trap.
It has been six weeks since Florida State was favored by fewer than three touchdowns in a game, and it has won each one by at least 27.
"It never left their head," Fisher said of his one-week-at-a-time mantra. "It doesn't worry about the results. It doesn't worry about the outcome. It doesn't worry about what we have in front of us. It's a very mature group."
It's a group that knows Fisher's process well, not just as coachspeak that's been regurgitated, but as a sincere belief in what it takes to win.
When Fisher took over as coach four years ago, he came with a five-year plan to revitalize the program. He stocked a roster with so much talent, it could lose 11 players to the NFL draft and get better the following season. He installed a system so thoroughly self-sufficient that FSU could lose six assistant coaches in one offseason and not miss a beat.
He has preached his process so intensely for four seasons that he can now watch silently as
Lamarcus Joyner
and
Telvin Smith
and
Rashad Greene
command the locker room with the same rhetoric.
It was a plan that took time to implement, but Fisher never wavered in his belief that it would succeed.
"It's exactly where we want to be and hoping we'd be at," Fisher said Sunday, just before Florida State officially rose to No. 1 in the BCS standings.
At 12-0, Fisher can say that his team hasn't been sheltered from the ongoing legal drama surrounding star quarterback
Jameis Winston
, but also why it hasn't been shaken by it.
As a four-touchdown favorite this week, Fisher still preaches the same thing he has all year, and his players will believe.
At No. 1 in the BCS, Fisher could shrug off Florida State's status as front-runners, ignoring a finish line that seems so easily within reach.
His program has come a long way, but Fisher is not interested in looking back any more than he wants to look ahead.
"We play next week, then we get a break to see what bowl game we want to play in," Fisher said. "I'm really proud of the way they approach everything, the way we practice, the way we handle things."