April, 30, 2014
4/30/14
9:00
AM ET
Recently this spring, Louisville coach Bobby Petrino and offensive coordinator Garrick McGee were talking about a play they ran together more than 20 years ago, when Petrino was McGee's quarterbacks coach at Arizona State.
"He said, 'I bet you don't even remember what we called that at Arizona State when you were playing,'" McGee said. "I said, 'Yeah, we called it Omaha.' He was like, 'Yeah, that's right.' I said, 'I paid attention in your meetings. I was paying attention.'"
He still is.
[+] Enlarge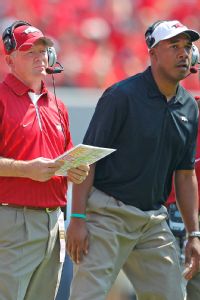 Todd Kirkland/Icon SMIBobby Petrino has brought coaches to Louisville such as Garrick McGee, right, with whom he has a longtime connection.
The longtime coaching connections and friendships run deep on Petrino's offensive staff, making for a smooth transition this spring in spite of the numerous changes that have occurred within the program. Not only have Petrino, McGee and running game coordinator/offensive line coach Chris Klenakis produced the top offense in the SEC during their time at Arkansas, the trio went 21-5 together with the Razorbacks. They share a philosophy and history that can be traced as far back as when Petrino and Klenakis played together at Carroll College for Petrino's father. Now they plan on using their past success to help them duplicate it in Louisville's first season in the ACC.
"To get Garrick here was really special for me because we go way back," Petrino said. "I can remember when he was 18 years old and I was coaching him and he'd come over to my house and hang out at the house and eat dinner. I couldn't get him to leave. It's really fun. … He's such a good football coach and such a good person. I just really enjoy the fact that we work together and I know that any time I step out of the room, he's going to take over and keep going because we both understand and believe in the same things."
McGee was with Petrino all four years at Arkansas, where they completely rewrote the playbook, but their terminology dates back as far as their days coaching together with the Jacksonville Jaguars. Petrino and Klenakis also still use snippets from the playbook they wrote together at Nevada, particularly when it comes to the offensive line terminology and certain blocks they use.
"It's an easy transition," Klenakis said. "We don't have to be trained into a system or how things are being done, or philosophies or terminology. All of that stuff has already been accomplished."
McGee said one of the most enjoyable parts of his job is now teaching the quarterbacks what Petrino is thinking.
"Just teaching them how he thinks -- that's where us being together so long really helps, because I understand what he's thinking," McGee said. "We're at the point where myself and Klenakis, we can finish each other's sentences, which is a good thing, because [Petrino] doesn't have to worry about if it's being taught the way he wants it taught."
Their beliefs begin with a pro-style, multiple offense that utilizes a tight end and fullback and runs the same concepts out of different formations while looking for favorable matchups at each position.
In 2010, during McGee's first season as offensive coordinator at Arkansas, the offense set 11 school single-season records. In 2011, the Razorbacks led the SEC in total offense and were first in the league and 15th in the country in scoring offense (36.7 points per game).
Yes, Louisville's players watched a bit of Arkansas film this spring.
"There's a lot of Ryan Mallett and Ty Wilson clips of those plays working in there," McGee said. "They've seen a lot of those clips."
Before Petrino even interviewed at Louisville, he called McGee and asked if he would be interested in coaching together again.
McGee asked Petrino one question:
"He said, 'Is it a place where we have a chance to win a national championship?'" Petrino said. "I said, 'Yeah, definitely.' I'm really fired up he's here. It makes my job much easier. It's really fun to watch him coach and talk and do the same things I was trying to teach him when he was young."
They've all grown up together.
Klenakis was an outside linebacker at Carroll College when Petrino was a senior. He said Petrino called him as soon as he was offered the job at Louisville.
"We've had success everywhere we've been together, most recently at Arkansas," Klenakis said. "We look forward to continuing that success here at Louisville."
April, 22, 2014
4/22/14
2:00
PM ET
It seems like an eternity ago that running back
Michael Dyer
was
named the offensive MVP
of Auburn's 2010 BCS national championship.
While time has not diminished Dyer's accomplishments -- 2,335 yards and 15 touchdowns during his two seasons at Auburn is still remarkable -- it has certainly diminished his place in the spotlight.
[+] Enlarge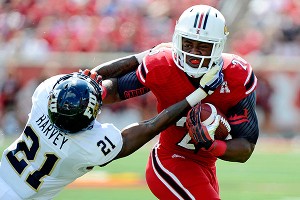 Jamie Rhodes/USA TODAY SportsLouisville's running back depth chart is Michael Dyer's biggest obstacle with the Cardinals.
That might not change anytime soon at Louisville.
Dyer, whose long road to Louisville and the baggage he carried there with him
has been well-documented
, is finally healthy and he finished the spring strong, but his best days could be behind him. Dyer transferred to Louisville from Arkansas Baptist College last season facing expectations that were probably unfairly high, and he never had a chance to meet them because of a sports hernia injury that required surgery in December. Now the battle is no longer his health or off-field scrutiny, it's the depth chart.
Louisville has a deep stable of running backs, led by returning starter
Dominique Brown
, a senior who ran for a career-best 825 yards and eight touchdowns last season. He was also one of the top receivers out of the backfield with 24 catches for 228 yards. The Cardinals also have raved about true freshman
L.J. Scott
, who enrolled in January and has
shown the potential to see immediate playing time
. Sophomore
Brandon Radcliff
is another experienced option, who also played on special teams in 2013.
First-year coach Bobby Petrino has said this spring that he wants Brown to get between 20 and 25 snaps per game. Scott is versatile enough that he could be used as a fullback, opening up some carries for Dyer, but it's unlikely that Dyer overtakes the top spot on the depth chart.
Still, he's making most of the opportunities he has.
Dyer punctuated the spring
with a two-touchdown performance
in the spring game and a 21-yard run that set up his own touchdown run. He finished with 150 total yards after playing for both the Red and White teams.
"He looked really quick," Petrino
told reporters after the game
. "He was seeing things, he was making good cuts. It was probably the first time we've really seen him in the spring 100 percent. I was happy with the way he was seeing it and the quickness, and his ability to break tackles."
But can he break back into the starting lineup?
"Senior year, you expect a lot of contribution," running game coordinator Chris Klenakis said. "He's played a lot of football and has played on a big stage before. You expect those qualities to come out and to play big because he's already played in big games."
His biggest competition now, though, is his own roster.