December, 13, 2013
12/13/13
4:00
PM ET
Games aren't over yet ...

Scott Falkenberry in Nashville, TN writes:
The debate about what the four-team playoff would look like this year is very, very interesting.The argument used against Auburn being a top-four team this year is amusing, at best.People need to remember that Auburn was leading Georgia by 20 points in the fourth quarter. And the reason that Auburn had an opportunity to run a missed field goal for a touchdown against Alabama, is because Auburn drove for a game-tying touchdown late in the fourth quarter.I argue that the Alabama coacing staff chose to try the unlikely field goal because they suspected their chances of winning in overtime weren't very good.
HD:
You make good points, Scott, but my point is that there WILL be debate over a résumé like Auburn's in years to come. There WILL be debate over teams like Michigan State and Stanford. You're talking about 13 people casting votes, not a formula or computer that will spit out the answer for you. The human element can be just as controversial as the computers.
Drew in Augusta, Georgia writes:
Is there any chance that Paul Johnson's seat will heat up if the Jackets lose to Ole Miss?
HD
: No. Considering the lucrative contract he has, it will take more than that, especially since he has taken them to the Orange Bowl, won the ACC's Coach of the Year award, and just two seasons ago was in the ACC title game again. They've got to get better, though. They have to beat Georgia, they do have to start winning bowls more regularly, and the recruiting could use a boost, but I don't think a loss in the bowl game is going to put him on the hot seat heading into next year.
Hunter Shields in Blacksburg , Va. writes:
How badly will losing
Trey Edmunds
affect the Hokies in their bowl game? UCLA already has a decent defense, 56th in total defense, but Virginia Tech's less than stellar run game really needs to get going. Who steps up?
Chris Mangus
,
Joel Caleb
? Or does the run game get shut down with under sized
J.C. Coleman
alone?
[+] Enlarge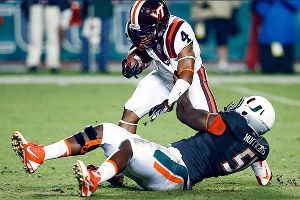 Robert Mayer/USA TODAY SportsVirginia Tech's J.C. Coleman will fill the void at tailback for injured starter Trey Edmunds.
HD:
Good question. The staff has plenty of confidence in J.C. He was really their starter coming out of spring, but he wasn't healthy until about halfway trough the season. J.C. will be their main guy, and then Mangus and Caleb obviously need to step it up. The wild card is
Jerome Wright
. He's the backup fullback, but a lot of people think he maybe a tailback before it's all said and done. He has some natural running ability, and has impressed coach Frank Beamer.
Natalya in Rowlett, TX writes:
Heather, I have always enjoyed your work but am a new PhD student this year and have actually been grateful that our beloved Hokies (my hubby is VT '99) haven't been worth watching this season. I'm almost done with finals, so tell me: will it be worth watching the Sun Bowl, or will the Bruins beat our boys to a broken-beaked pulp?Thanks for sharing your expertise
HD:
Ha, yes, it will be worth watching, Natalya. We ranked the bowls earlier this week, and Andrea Adelson and I thought the Sun Bowl would be one of the more entertaining games of the ACC bowl season. That's due in large part to Virginia Tech's defense, of course. Despite the team's struggles this season, Virginia Tech's defense has remained one of the best in the country. It will get a chance to showcase that against
Brett Hundley
, one of the top dual-threat quarterbacks in the country. And, of course, it will be interesting to see how quarterback
Logan Thomas
closes his career. I think the Hokies are going to have a tough time matching UCLA's offense, especially with linebacker
Anthony Barr
in their faces. Frank Beamer will have those guys prepared, but will the offense be able to execute?
Tristan in Jacksonville, Florida writes:
Is there any talk on division realignment when Louisville joins the conference?? I believe either Clemson, FSU, or Louisville should go to the coastal because until Miami gets better (which they will be, if they keep recruiting well) the coastal makes the ACC look very bad.
HD:
No, Tristan, you can expect a fully-loaded Atlantic Division. ACC fans have been asking about division realignment for years now, and I've never been given any indication from the ACC that they're seriously considering it. That's not to say it won't ever happen, but as of right now, the ACC points to the "competitive balance" the current system has produced.
September, 13, 2013
9/13/13
10:00
AM ET
After two weeks of conference-defining wins, the ACC flies a bit under the radar this week, without a nonconference game against a ranked foe. But that doesn't mean there's no intrigue.
As always, thanks to ESPN Stats and Information and the ACC sports information departments for the research.
BOSTON COLLEGE:
The Eagles travel to Los Angeles to take on Southern Cal, marking just their fourth trip to California for a regular-season game. Boston College has played in the state three other times in bowl games, including as recently as 2011, but its last trip to USC came in 1987. This marks a homecoming for quarterback
Chase Rettig
, who grew up in nearby Sierra Madre -- about 20 miles from the L.A. Coliseum.
DUKE:
The Blue Devils open ACC play this weekend against Georgia Tech, with backup QB
Brandon Connette
getting his first career start in place of injured
Anthony Boone
. But despite the lack of starts, Connette is hardly green. He's accounted for multiple touchdowns in four straight games and has scored 25 times in 28 career appearances (17 rushing, seven passing, one receiving). His four passing touchdowns in 2013 are tied for the second-most among ACC QBs so far this season.
GEORGIA TECH:
Yellow Jackets coach
Paul Johnson
was born in Newland, N.C. and attended Western Carolina University, in Cullowhee, but he hasn't been entirely kind to the schools in his home state. During his 17-year career, Johnson is 33-8 (.805) against teams from North Carolina, including a 15-2 mark since taking over at Georgia Tech. The Yellow Jackets open ACC play this week against Duke.
FLORIDA STATE:
Jameis Winston
's debut against Pittsburgh turned plenty of heads. He accounted for five touchdowns and threw just two incomplete passes. Winston was particularly good on deep balls, completing 7-of-8 throws of 15 yards or longer, accounting for 170 yards and two TDs. His 88 percent completion rate on such throws is the highest for any QB this season (minimum five attempts) and his seven completions tied for the most so far in 2013.
MARYLAND:
The Terps picked off Old Dominion QB
Taylor Heinicke
three times in the first half of last week's win. It marked the first time a Maryland defense secured three interceptions in a single half since 2005, when Virginia Tech's Marcus Vick was picked off three times in the third quarter. The Terps lost that game, however, 28-9.
PITTSBURGH:
Senior receiver
Devin Street
had a monster game in Pitt's opener, catching six passes for 141 yards. It was his seventh career 100-yard game, and the six receptions gave him 157 for his career. If Street can haul in five passes this week against New Mexico, he would pass Larry Fitzgerald for third in school history. Latef Grim holds the school record for catches with 178.
SYRACUSE:
It's been a lackluster start to 2013 for the Orange offense, but tailback
Jerome Smith
continues to impress. A year ago, Smith was among the most dynamic backs in the Big East, racking up 1,176 yards rushing on 227 carries -- but managed just three touchdowns. It took Smith just 27 carries this year to match that total. He scored twice in the opener against Penn State and once more in last week's loss to Northwestern.
VIRGINIA TECH:
Chris Mangus
' 76-yard touchdown run against Western Carolina marked the second straight week in which Virginia Tech had a player score on a carry of 75 yards or more.
Trey Edmunds
ripped off a 77-yard touchdown against Alabama in the opener. That accounts for half of all the touchdown runs of 75 yards or more by Hokies players in the past decade. Oddly, the past three (Mangus, Edmunds and
J.C. Coleman
in 2012) to accomplish the feat were all freshmen.
WAKE FOREST:
The Demon Deacons host Louisiana-Monroe this week, providing a homecoming for ULM tight ends coach Jerry McManus. He played quarterback for Wake Forest in 1975 and 1976, starting nine games. His son, Ryan, played at Wake from 2006 through 2009 and now serves as a graduate assistant for the Deacons.
August, 30, 2013
8/30/13
11:10
PM ET
Virginia Tech running back
J.C. Coleman
will sit out
the Hokies' season opener against No. 1 Alabama on Saturday.
Coleman, listed as questionable on the team's injury report with two sprained ankles, didn't travel with the team to Atlanta. The Hokies will now have to rely on two redshirt freshmen --
Trey Edmunds
and
Chris Mangus
-- in the backfield against one of the best defenses in America.
August, 29, 2013
8/29/13
10:20
AM ET
The moment is finally here. The season kicks off tonight, as two ACC teams take the gridiron and mark the return of college football. Here is what to keep an eye on this entire weekend as all 14 teams get back in action.
1. Battle in the trenches in Columbia, S.C.
North Carolina will have three new starters on its offensive line Thursday night against No. 6 South Carolina, including two redshirt freshmen. And the Tar Heels will be going up against preseason Heisman contender
Jadeveon Clowney
and the Gamecocks' lethal defensive line. Don't overlook fellow end
Chaz Sutton
, either.
2. Conference debuts.
Pitt and Syracuse play their first games as ACC schools after exiting the former Big East, which the Orange won a four-way share of in 2012. Both schools have the chance to make big opening statements, as the Panthers host defending conference champion Florida State on Labor Day and Syracuse faces a Penn State squad looking to build off Bill O'Brien's successful first year with the program.
[+] Enlarge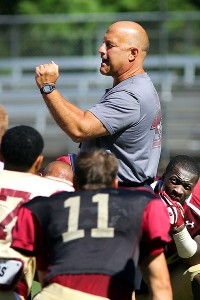 John Tlumacki/The Boston Globe/Getty ImagesBoston College's Steve Addazio is one of the conference's new coaches this season.
3. Trio of first-year coaches.
New BC coach Steve Addazio hosts Villanova, a familiar opponent from his Temple days. Dave Doeren and NC State host Louisiana Tech, which breaks in a new coach of its own in Skip Holtz after Sonny Dykes left for Cal following a 9-3 season. And Syracuse coach Scott Shafer debuts against Penn State in East Rutherford, N.J.
4. QB choices in Jersey and Raleigh.
Two of those new coaches also will be unveiling their starting quarterback choices for the first time, as Shafer sends out either
Terrel Hunt
or
Drew Allen
and Doeren picks
Pete Thomas
or
Brandon Mitchell
. The Orange will be facing a Penn State team that carries the same surprise in its quarterback race between
Christian Hackenberg
and
Tyler Ferguson
.
5. ... Speaking of new starting QBs.
Virginia's
David Watford
will make his first career start against BYU, Duke's
Anthony Boone
takes over the job from Sean Renfree against NC Central, and Florida State and Pitt will both start new signal-callers when they square off on Labor Day, with
Jameis Winston
running the Seminoles' offense and
Tom Savage
handling duties for the Panthers.
6. Pitt's running backs.
Ray Graham is gone. Rushel Shell transferred to West Virginia. And
Isaac Bennett
and
James Conner
have dealt with injuries in camp. Coach Paul Chryst isn't sure how things will shake out Monday, but we likely will see
Rachid Ibrahim
and
Malcolm Crockett
get at least some action given the backfield situation.
7. FSU's defensive backs.
Are too many bodies a good thing?
Nick Waisome
and
Terrence Brooks
started all 14 games last season for the nation's No. 1 pass defense. The crowd also includes preseason All-American
Lamarcus Joyner
, reigning ACC defensive rookie of the year
Ronald Darby
, former five-star prospect
Karlos Williams
and several other strong athletes. New defensive coordinator Jeremy Pruitt has his work cut out for him, although probably not as much as new Pitt quarterback Tom Savage does.
8. Virginia Tech's backfield.
Coach Frank Beamer wasn't kidding when he said the Hokies went from having too many running backs to not enough. Michael Holmes was kicked off the team in July,
Joel Caleb
was suspended this month for the opener against Alabama,
Tony Gregory
suffered a career-ending ACL tear and
J.C. Coleman
's status for Saturday is up in the air because of two ankle sprains. Redshirt freshmen
Trey Edmunds
and
Chris Mangus
are the Hokies' next options after Coleman.
9. "Smoke."
Taquan Mizzell
has earned that nickname despite having never taken the college field. ESPN's No. 9 running back prospect from the class of 2013 has drawn plenty of buzz in Virginia's camp, and he will get a stiff first test against BYU's defense.
10. ACC vs. SEC.
What, you really thought we'd forget this one? Three ACC teams face off against squads from the big, bad SEC, perhaps none with as steep a challenge as Virginia Tech's against Alabama. UNC kicks things off Thursday at South Carolina, and No. 8 Clemson hosts No. 5 Georgia on Saturday night in the headliner of Week 1. The ACC went 1-1 against the SEC in last year's weekend openers, with NC State falling to Tennessee in the Chick-fil-A Kickoff the night before Clemson topped Auburn in the Georgia Dome.
August, 28, 2013
8/28/13
3:00
PM ET
We are just one day away from the start of the season, with a huge opening weekend on tap for the ACC. Three games against SEC opponents have set the stage.
[+] Enlarge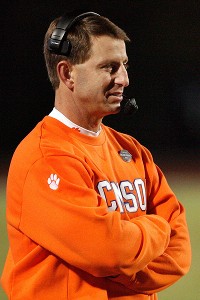 Mark Dolejs/USA TODAY Sports Dabo Swinney's Tigers can make a national statement when they host Georgia on Saturday.
So, naturally the three coaches involved in those games were asked for their take on how important the contests are for the ACC's perception during the coaches' conference call on Wednesday.
Start with North Carolina coach Larry Fedora, whose team opens up Week 1 on Thursday night against No. 6 South Carolina.
"If you want national respect, you've gotta beat ranked opponents," Fedora said. "This is a performance-based sport. If you do it, you start gaining that respect."
Clemson coach Dabo Swinney is in the biggest game of the weekend, as his No. 8 Tigers host No. 5 Georgia with College GameDay on site. Swinney tried to downplay the mega battle between conferences.
"Regardless of what conference they're from, you've got the No. 5 team in the country coming to your stadium, that's all that really matters," Swinney said. "As far as the SEC goes, we've been playing SEC teams every year and been in a lot of battles with that league. Our guys have a good understanding of what it takes to beat a very good team, regardless of what conference they come from. It's more about Clemson-Georgia than anything else."
Virginia Tech coach Frank Beamer, whose team plays No. 1 Alabama on Saturday, brought a big-picture perspective. "You judge that over the long haul, not just one Saturday," Beamer said. "I think it's important that all of us do well.
Here are a few other notes from around the league:
Pitt coach Paul Chryst was asked was his running back rotation would look like against Florida State on Monday, given recent injuries to Isaac Bennett and James Conner. "Don't know exactly," Chryst said. He hopes Bennett and Conner can play, but Rachid Ibrahim and Malcolm Crockett have gotten the bulk of the reps in practice.

Beamer also was asked about his running back situation. He said the team would disclose J.C. Coleman's status when it releases its injury report Thursday. If he can't play, Trey Edmunds and Chris Mangus would be the top two backs. Both are redshirt freshmen. "We went from too many tailbacks to not enough tailbacks, really," Beamer said.

Syracuse coach Scott Shafer and NC State coach Dave Doeren were asked about their quarterback situations headed into their respective openers. Neither plans on disclosing who will start before Saturday. Shafer is choosing between Terrel Hunt and Drew Allen; Doeren will go with either Pete Thomas or Brandon Mitchell. Shafer did say he wants to try and go with one quarterback and stick with him against Penn State on Saturday. "I don't want to be in a yo-yo situation," Shafer said. "Once we get it going we'll see how it plays out." Doeren said he already knows who will start against Louisiana Tech on Saturday, and has told both his quarterbacks to be ready to play.

Virginia coach Mike London also has a plan for freshman Taquan "Smoke" Mizzell. The ESPNU150 player from a year ago is poised to play against BYU. "There's a lot of things he's learned but there's a lot of things he's yet to learn," London said. "We know he's a dynamic player, but we have to make sure we don't try to do give too much to him in order to see those abilities. It's going to be important for us to package some things he can do and then go from there."

Georgia Tech coach Paul Johnson expects quarterback Justin Thomas to practice Wednesday and play Saturday against Elon. Thomas has been slightly banged up and missed a few practices. The plan is to play both Thomas and Vad Lee. "We'll play it by feel," Johnson said. "I have no plans to rotate series or take guys in and out. We'll do whatever we feel gives us a chance to win the game."

Fedora also said he plans on using Jack Tabb at both tight end and linebacker against the Gamecocks. Tabb began training at linebacker after the Tar Heels lost a few players to injury, thinning out depth. "He's got a lot of football savvy, he really understands the game," Fedora said. "Jack is one of those guys, he doesn't need a lot of reps. He can run it once and then he understands what needs to be done. We're fortunate in that aspect."
April, 25, 2013
4/25/13
4:00
PM ET
Virginia Tech coach Frank Beamer said there are "definitely two sides to the story" regarding
the recent arrest
of running back
Michael Holmes
.
Holmes has had no contact with the coaches or the football team following his suspension after he was charged with a felony for his alleged involvement in a fight. Holmes tweeted on Wednesday that he
would "never do some things said
."
"You certainly don't get yourself put in those situations, but I think we need to let it play out," Beamer said. "There's definitely two sides to the story on this one."
Should he return to the team, Holmes finished the spring as the No. 2 running back on the roster, Beamer said.
"
Trey Edmunds
has a chance to be right in the mix," Beamer said. "I think he is. There's no question he's in the mix. We'll see where Michael Holmes' situation goes. I think there are two sides to that. That's to be decided where that is.
"[Chris] Mangus and [J.C.] Coleman in certain packages and
Tony Gregory
, when he gets back, in certain roles. But right now, certainly the top three as far as tailbacks are Edmunds, Holmes and Coleman."
March, 28, 2013
3/28/13
2:00
PM ET
Virginia Tech began spring practices on Wednesday, and one of the team's biggest priorities will be improving the run game. Virginia Tech, usually one of the most consistent rushing teams in the ACC, ranked No. 79 in the country in rushing offense at 145.85 yards per game. That's the worst finish in their ground game since the Hokies ranked No. 82 in the country in 2007.
I spoke with running backs coach Shane Beamer recently to get his take on the group heading into spring ball, and the changes that were made this offseason. Here are the highlights of our conversation:
How much better do you think you guys can be offensively, specifically in the running game?
[+] Enlarge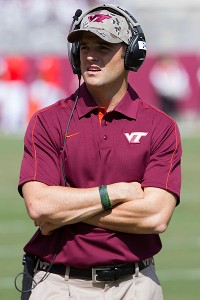 Lee Coleman/Icon SMIVirginia Tech assistant Shane Beamer likes the depth the Hokies have at running back this season.
Shane Beamer:
I hope we can be a lot better. We invested a lot of time in it. With three new coaches coming in, there's new ways of doing things, and new ideas, and it's been good. It's been good for my dad as well, not so much offensive ideas, but philosophical ideas -- things that Stanford did that Aaron has been able to talk to us about. Things that Auburn and Florida and all of the different places Scot and Jeff have been, so that part has been really good. We always invest a lot of time in the run game, and we certainly will this spring. We'll be a year older on our offensive line. We had a lot of new parts in there last year and couldn't stay healthy. It's a group that's got some experience coming back, and all of those running backs are a year older, and we're adding some new guys to the mix as well. It's certainly a point of emphasis for us and something we take pride in.
I don't feel like I did a good job of coaching the running backs last year. I take that personally, the way we performed. I know the tradition of running back play here at Virginia Tech. To not be able to run the ball as well as we wanted to last year was extremely disappointing. We're going to do everything we can to make sure that doesn't happen again.
How hard was it last year as a staff? You guys are so used to 10-win seasons.
SB:
It was hard. I think it was a good wake-up call for a lot of people that, No. 1, to win 10 games or more eight years in a row is just insane. You see how hard it is to win A game, period, but to be consistent and do it eight years in a row, 10 or more is just amazing. It puts that in perspective. I know it does for me, because you find out last year how hard winning is with the parity there is in college football now. We as coaches, our players -- some programs you go there to compete for bowl games and things like that. When you come to Virginia Tech, you come to compete for championships, period. To not be in that mix last year was really disappointing and hard for all of us, but at the same time, to be sitting there at 4-6 and losing at halftime up at Boston College, to come back and win that game and beat your rival for the ninth year in a row and win your bowl game, we took a lot of pride in that, and the kids we have in our program and the way we finished.
Tell me more about the running back position. What are you looking at going into spring?
SB:
No. 1, we never could settle on one last year, and I blame myself for not saying these are our guys and going for it. It's hard. I knew during the season and going into the season it's hard to play four. I'm realizing more now, but we really never felt like anyone separated themselves, and really did feel like different guys could bring something different to the table with different packages. A lot of the stuff we did last year was good, getting guys on the field at different times or at the same time, but in football you've got to be able to get your two main guys and have some packages for a couple other guys. That's what I hope we're able to do going forward. I'm hopeful two or three guys will separate themselves and it will be obvious that these are the guys. We need to stay healthy. We were banged up a bit last year.
Tony Gregory
was a guy I thought was getting ready to turn the corner and maybe be that guy, and then he got hurt going into the Cincinnati game and missed a few weeks. Just to be more consistent, be able to stay healthy, and get back to running the football and being what Virginia Tech's about. The thing I like is we have great competition. Last year I felt like we had four guys we could win football games with. I think we have even more than that this year, I really do. Just watching the way they've worked in the offseason and their attitudes right now. They're motivated, they're hungry. It's a group of four or five guys this year when you add
Trey Edmunds
and
Chris Mangus
to the mix, you're going to have great competition.
What's your depth chart look like heading into spring ball?
SB:
Good question. Right now we kind of based it on the way the season finished last year, so
J.C. Coleman
is listed as the starter right now, and he's up there with
Michael Holmes
and Tony Gregory just because they're the ones who finished the season last year. And then Trey Edmunds and Chris Mangus are after them because they redshirted last year and haven't played, but we're going to compete every day and the depth chart at this point is certainly just for organizational purposes, and who's out there with which group, but all of those guys are going to get opportunities to show what they can do. The thing we've stressed to them is it's not going to be a lot of opportunities because we've got quite a few guys we're repping during spring practices. You've got 15 practices to really show what you can do, show what you're about, and we're going to really nail this thing down after spring practice. But based on the way they've worked in the weight room with coach Gentry the last couple of months, and watching them the last couple of mornings in our 6 a.m. workouts, they're motivated. There's going to be great competition.
What specifically do they need to get better at?
SB:
To be honest, they all have ability. They just need experience. I know it sounds simple, but that's really the case. Tony hasn't played a lot because he hasn't been able to stay healthy. Michael, last year was his first year of playing. J.C. was a true freshman last year. At the running back position, I don't think I was fair to Michael Holmes. Last year the most he carried the ball in one game was 12 times or something like that. Michael needs to carry the ball 15 or 25 times to really get into the flow. I didn't [give] Michael and all those guys a great opportunity to do that last year because of the way we rotated them. I think if they get more reps and have more carries, the game will slow down for them and they'll be better. I saw that a little bit with J.C. as the year went on. That's what I want to see, just be more consistent and have an attitude.
March, 7, 2013
3/07/13
2:00
PM ET
Maybe
this
will be the year Virginia Tech finds somebody to replace 2012 first-round NFL draft pick
David Wilson
at running back.
Last year, the Hokies tried to compensate for the loss of their 2011 leading rusher, but the by-committee approach wasn't productive enough, and none of the young backs truly separated themselves. Virginia Tech, usually one of the most consistent rushing teams in the ACC, ranked No. 79 in the country in rushing offense at 145.85 yards per game. That's the worst finish in their ground game since the Hokies ranked No. 82 in the country in 2007.
[+] Enlarge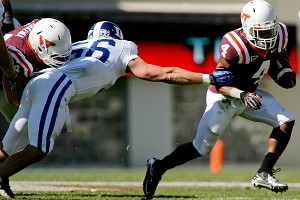 Peter Casey/US PRESSWIREJ.C. Coleman (4) was the second-leading rusher on the team last season, behind quarterback Logan Thomas.
It didn't help that the offensive line was a weak link, but there will be a focus on the running backs this spring as the Hokies try to get their running game back to where it used to be during the days of Wilson, Darren Evans and Ryan Williams.
"If we run the ball better, I think it makes your throws easier," coach Frank Beamer said, "and that's the main focus here."
The good news is that there are plenty of options to choose from, but Beamer will be looking for one or two to emerge as the go-to players, starting this spring.
"A couple of guys are going to get the majority of carries and then you have another guy you feel comfortable with," Beamer said. "I think getting that list down and looking if there's a need somewhere else, and a guy is not going to figure in at tailback, maybe we make some moves in that regards. Those are things that, as we get into spring practice, we'll see. But all of the running backs we've got there, we sure want to give them an opportunity and see who comes out on top."
Here's a look at the position heading into the spring:
FRONT-RUNNERS
J.C. Coleman:
He played in every game last season and had six starts. He was second on the team in carries (109) and rushing yards (492) and scored two touchdowns. He also caught 21 passes for 132 yards and a touchdown.
Michael Holmes:
He started five games and played in 11 last season. He carried the ball 70 times for 309 yards and four touchdowns.
Tony Gregory:
The redshirt senior is the veteran of the group, but he only started two games last season. He had 64 carries for 311 yards and a touchdown in 2012.
CAN MAKE THEIR MARK
Trey Edmunds:
He's a redshirt freshman who has yet to take a collegiate snap. As a recruit, Edmunds was ranked the No. 68 "athlete" in the country, the No. 83 player in his region and the No. 17 player in the state by ESPN's RecruitingNation.
Chris Mangus:
He also redshirted last season and has no collegiate game experience. As a high school senior in Raleigh, N.C., Mangus rushed for 1,658 yards and 28 touchdowns, and he averaged 150.7 rushing yards a game.
August, 7, 2012
8/07/12
10:00
AM ET
As ACC teams begin to start practicing again, Heather and I will have a quick preview of each team to get you caught up on the basics. Next up to open camp ...
School:
Virginia Tech.
Start date:
Today.

Predicted finish at media days:
First, Coastal.
Biggest storyline:
Do the Hokies have what it takes to keep up their Coastal dominance? Last season ended with such a heartbreaker for the Hokies, the last-second overtime loss to Michigan in the Sugar Bowl was still talked about at ACC media days. But the players and coaches have put that game aside and the focus is once again on winning yet another ACC title. The media selected Virginia Tech to win the Coastal Divison once again, despite some heavy losses on offense. But the good news is the return of quarterback
Logan Thomas
mitigates much of that concern, along with nine starters back on defense. You thought this group was good last year? Cornerback
Kyle Fuller
says it can be even better in 2012. For all the success the Hokies have had, BCS victories have eluded them. So the quest is to once again get back to the BCS, and win it this time.
Biggest position battle:
Running back. ACC Offensive Player of the Year David Wilson is gone, and along with him go 1,709 yards and nine touchdowns, along with the team's most consistent playmaker. Does Virginia Tech have anybody like him on the roster? That has been the question posed since Wilson declared for the NFL draft. At ACC media days, coach Frank Beamer said he may go with a running back by committee approach, at least initially. Beamer said redshirt freshman
Michael Holmes
could eventually emerge as the workhorse back, but there should be plenty of competition from
Trey Edmunds
, true freshman
J.C. Coleman
,
Tony Gregory
and true freshman
Chris Mangus
.
Who needs to step up:
Marcus Davis
,
D.J. Coles
,
Dyrell Roberts
. Virginia Tech is losing its top two playmakers at receiver in Danny Coale and Jarrett Boykin, who combined for 121 catches, 1,665 yards and eight touchdowns last season. Davis, Coles and Roberts are the top three returning receivers from a year ago, so they have a huge opportunity to step in and fill some pretty big shoes, while also gaining the confidence of Thomas. There is no question Thomas is a terrific quarterback. But he is going to need players to step up around him, most especially at receiver.
July, 25, 2012
7/25/12
10:35
AM ET
GREENSBORO, N.C. -- There was a point in mid-September last year when Georgia Tech -- yes,
that
offense -- was leading the country in passing efficiency.
It turned out to be a fleeting moment.
[+] Enlarge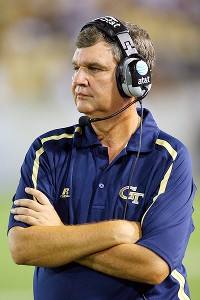 Kevin Liles/US PresswirePaul Johnson still hasn't settled on who will replace receiver Stephen Hill, who bolted early for the NFL.
Quarterback
Tevin Washington
was much more efficient in the first half of the 2011 season than he was in the second, and that's something coach Paul Johnson is looking to improve upon this fall. He'll have to do it, though, without leading receiver Stephen Hill, who left early for the NFL draft.
The Jackets are in good company.
As Georgia Tech and Virginia Tech prepare to face each other on Labor Day in their respective season openers, both do so having to fill big shoes on offense from a player who left early for the NFL. In Atlanta, Johnson is still unsure who will start at receiver. In Blacksburg, coach Frank Beamer is looking for two or three running backs to help compensate for the loss of 2011 ACC Player of the Year David Wilson. Both coaches said this week that a handful of young and talented players are waiting in the wings, but their lack of game experience is a concern.
"To me, we've got to get in there and kind of narrow it down how many we're going to work with," Beamer said. "But the way I feel about the position, we've got a lot of talent, it just hasn't played very much. That's not necessarily a good thing, but the other side of it is, the further you get away from the football, the more you can use your talent and get in there and play quickly. At tailback, wide receiver, it's easier than, say, an offensive lineman. But there are just question marks there."
Beamer singled out redshirt freshman
Michael Holmes
as the most likely answer at this point, and he also mentioned
Trey Edmunds
, true freshman
J.C. Coleman
,
Tony Gregory
(who sat out this spring with a knee injury), and true freshman
Chris Mangus
.
"Michael Holmes is kind of like
Logan Thomas
last year," Beamer said. "He hasn't done it, but you think he's going to be OK. That's the way I feel with Michael Holmes. I think he has a chance to be very good. Guys have done it in high school and are used to carrying it and used to scoring. Usually that carries over."
Johnson is hoping the same applies to his wide receivers. Hill was Georgia Tech's big-play threat with 28 catches for 820 yards and five touchdowns. He led the nation with 29.3 yards per catch. Johnson mentioned sophomores Jeff Green and
Darren Waller
, who both played last year as true freshmen. Neither had a catch, but both contributed on special teams.
Chris Jackson
, a former Alabama transfer, will enter fall camp as the likely starter, but junior
Jeremy Moore
is also an option after missing all of 2010 with an injury and playing sparingly last year.
If the Jackets are going to be a better team in 2012, they must be more effective the few times they do decide to throw it.
"I think we just have to be more consistent and keep people healthy," Johnson said. "At one point Tevin lost a little confidence. Hopefully being a senior that won't happen, and quite honestly, the competition got better. We've got to be able to finish and maintain that, no matter who you play."
This year, it starts with Virginia Tech in what will be one of the most important games of the season for both teams.