November, 9, 2012
11/09/12
12:00
PM ET
October, 19, 2012
10/19/12
11:00
AM ET
Here are the ACC injury reports for Week 8 from the schools that emailed them:
CLEMSON
Out for the season
DUKE
Probable
Questionable
Out
Out for season
FLORIDA STATE
Out
Out for season
MARYLAND
Probable
Questionable
Doubtful
Out
Out for season

MIAMI
Doubtful
Surgery/Out for season
NORTH CAROLINA
Out
NORTH CAROLINA STATE
Probable
VIRGINIA
Probable
Questionable
Out
Out for season
VIRGINIA TECH
Probable
Out
Out for season
October, 12, 2012
10/12/12
11:00
AM ET
Here are the ACC injury reports for Week 7 from the schools that emailed them:

DUKE

Probable
Questionable
Doubtful
Out
FLORIDA STATE

Out
Out for season
MARYLAND

Out for season
Out
Probable
MIAMI

Probable
Out
Surgery/Out for season
NORTH CAROLINA

Out
VIRGINIA

Out
Questionable
Probable
Out for season
VIRGINIA TECH

Out for season
Out
Doubtful

October, 10, 2012
10/10/12
2:00
PM ET
Duke defensive coordinator Jim Knowles gave up a head-coaching job at his alma mater, Cornell, to come to Duke and take over one of the nation's worst defenses.
That's the kind of draw coach David Cutcliffe has to his assistants.
"That's why I did it, because of him," said Knowles, who also worked with Cutcliffe at Ole Miss. "He's that kind of guy. He's the right guy at the right time here."
Turns out Knowles was the right guy at the right time for Duke's defense, too. Less than three full years after he was hired, Knowles has turned his injury-laden group into one of the ACC's more respectable defenses. As Duke prepares to face Virginia Tech in Blacksburg on Saturday, it does so ranked higher than the Hokies this week in total defense, rushing defense, passes intercepted and sacks. Duke's improvement on defense has been one of the key factors in the Blue Devils' 5-1 start, as they are the only team in the ACC that can become bowl eligible this weekend with a win.
[+] Enlarge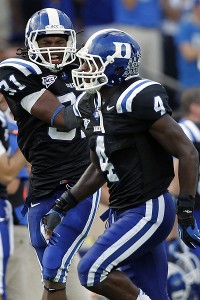 Zumapress/Icon SMIWalt Canty (4) and the Duke defense are turning heads.
"They are starting to make plays even if they're not in the perfect position," Knowles said. "We all try to have the perfect defense for every play, but it doesn't work out that way. What you need is guys who understand the system and react to what they see and things that are happening right in front of them. It's not a video game. As coaches we want to make it into a video game and draw up the perfect blitz. We call it 'pull your trigger.' They're really just starting to react to the play before it happens. That's a product of being in the system. That's the way you get better."
Duke, which gave up 180 rushing yards per game last year, is allowing fewer than 130 yards (and 3.7 yard per carry) this year. Duke already has more sacks from its defensive front (13.5) than it did all last season (12).
Duke -- a program usually filled with a bunch of polite players -- is finally looking a little mean, not to mention more comfortable in Knowles' 4-2-5 scheme.
"From last year to this year, I feel like we're playing more aggressive," said safety
Walt Canty
, who had 14 tackles, including three for loss in last week's 42-17 win over Virginia. "Last year it was still kind of a new system. This year we're more familiar with it, and there are a lot of older guys, and a lot of leaders on the field.
"That's one of our focuses on defense. We want to come out and try and be as aggressive as possible and try and force the offense into doing things they don't want to do."
So far, so good. Duke is tied for second in the ACC in turnovers gained with 12.
What makes Duke's defensive progress all the more impressive is how many injuries to key players they've had to overcome. In years' past, the program wouldn't have been able to do it because of a lack of depth and talent. The recruiting has improved, though, and there is no longer as much of a drop-off from the first- to the second-string defense.
Safety
Jordon Byas
missed the first three games after preseason knee surgery. Starters
Brandon Braxton
and
Lee Butler
were injured early in the Wake game. Starter
August Campbell
was hurt and then left the team. Backups
Corbin McCarthy
,
Taylor Sowell
,
Jared Boyd
and
Chris Tavarez
have all been hurt.
"It could have been devastating," Knowles said. "It really could have been devastating."
The secondary, which was hit the hardest by injuries, has also been one of the most improved groups on the defense. Last year, Duke ranked either last or next to last in the ACC in every significant defensive category. This year, the Blue Devils rank fourth in total defense and fifth in pass efficiency defense.
"Coach Cutcliffe has really built a great program," Knowles said. "We're at a point where the players are starting to believe. All coaches talk about that next-man-up philosophy, and that's hard to get to when you're struggling to build a program, but at some point it clicks. The guys who step in there are just expected to do it instead of people wondering if they're going to make a mistake. That's the growth and maturity of the program in general."
October, 5, 2012
10/05/12
11:00
AM ET
September, 28, 2012
9/28/12
11:00
AM ET
September, 27, 2012
9/27/12
1:30
PM ET
Duke redshirt freshman safety
Chris Tavarez
had arthroscopic surgery on Wednesday for a torn lateral meniscus in his left knee, the school announced on Thursday. There is no timetable for his return.
Tavarez played in all four games this season, primarily on special teams, and had two total tackles.