June, 16, 2014
Jun 16
12:00
PM ET
April, 28, 2014
Apr 28
10:30
AM ET
Syracuse loses two of its best defensive players from a year ago in linebacker
Marquis Spruill
and defensive tackle
Jay Bromley
, bringing up an intriguing question:
[+] Enlarge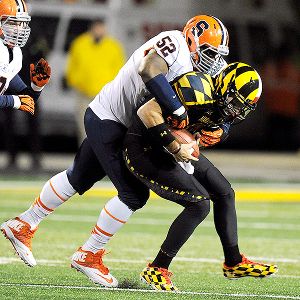 G Fiume/Maryland Terrapins/Getty ImagesSyracuse hopes senior Eric Crume will step up and help replace the productivity of DT Jay Bromley.
Who will be more difficult to replace?
Bromley manned the interior of the front, leading the team with 10 sacks and 14.5 tackles for loss. Spruill manned the middle of the field, matching Bromley with 14.5 tackles for loss, finished second with 5.5 sacks and ranked third on the team with 66 tackles. Not only does Syracuse lose their production, it also loses the veteran leadership both provided at their respective positions. The two combined to play in 101 career games, with 82 career starts.
You understand why coach Scott Shafer and defensive coordinator Chuck Bullough could not choose between them when posed with the question. Both players will be difficult to replace for separate reasons. But it may be a bit more difficult to replace Bromley based on depth questions at his position. Syracuse spent the spring
cross-training ends to play inside
and were pleased with how
Micah Robinson
and
Ron Thompson
responded to the challenge. The Orange may have to play true freshmen to help out on the line once they arrived for fall practice.
Still, Shafer said he does not want to have to rely on the young players. He expects
Marcus Coleman
,
Eric Crume
,
Ryan Sloan
and
Wayne Williams
to step it up during the offseason. Crume and Sloan are seniors and Coleman is a junior; while Williams is the most intriguing possibility. Overweight when he arrived on campus, Williams has done a good job slimming down but still has a ways to go.
"We've got to get to Phase 2, being summer conditioning and summer preparation and working your butt off when the coaches aren't around, and then when we get into that August mode, I look forward to seeing a new and improved Wayne Williams, and I'm very confident that we will," Shafer said.
As for replacing Spruill -- who started 49 of the 51 games he played in for the Orange -- Bullough and Shafer were pleased with the job
Marqez Hodge
did this spring. Hodge played as a true freshman a year ago, so he does not bring nearly the same amount of experience to the position. Bullough has challenged him to know the ins and outs of the defense before training camp begins. But Hodge is a quick study and has put in extra time in the film room, oftentimes watching completely alone.
"Spruill and Bromley, they were veterans and leaders. That's the big part you're missing," Bullough said. "Now new guys have to start leading. That is never something us coaches can do. They have to take it themselves, and that comes with a lot of things. When you look around them, out of defensive line, well Micah's a year older,
Robbie [Welsh]
is a year old, Crume, all those guys are a year older so they should be a lot better than they were this past year. Hopefully with all that group being better makes up for Jay Bromley.
"Same thing on the linebackers.
Dyshawn [Davis]
is older,
Cam [Lynch]
is older, so you hope those guys,
[Josh] Kirkland
, [
Alryk] Perry
, them being a little better makes up for a little bit of Spruill not being there."
April, 2, 2014
Apr 2
4:00
PM ET
Syracuse has major depth concerns at defensive tackle. So the coaching staff has gotten creative this spring.
Defensive coordinator Chuck Bullough and defensive line coach Tim Daoust decided to start cross-training their defensive ends to play defensive tackle, hoping that a few play well enough inside to be even more valuable in 2014.
Call it a tryout of sorts.
"We told the defensive linemen, 'You have to know every position,'" Bullough said in a recent phone interview. "We only have four defensive tackles right now. You'd hate to go through spring ball and one gets nicked up and God forbid, two get nicked up and then you can't practice. So they all have been rotating in, and it also helps them, too, helps toughen them up because there is a lot more pounding in there with a tackle and guard on you. We have been pleased with that. They've been picking it up. The benefits of them going in there and getting toughened up outweigh the negatives."
Losing starting tackle
Jay Bromley
leaves a gaping hole inside, but depth concerns have compounded his departure.
John Raymon
, who severely injured his knee last year against Georgia Tech, remains out. Bullough said Raymon may not be able to play at all in 2014.

Wayne Williams
, whose arrival at Syracuse has been years in the making, is too overweight to contribute meaningfully right now. Bullough said Williams arrived on campus weighing 350 pounds and is now down to 340, but needs to shed even more to get a spot in the rotation.
"He gets tired so fast," Bullough said. "He is doing everything he can. It's probably not going to happen during spring ball, so he will have to use the rest of the spring and summer to cut that weight."
Right now, Syracuse has returning starter
Eric Crume
at one tackle spot and
Marcus Coleman
and
Ryan Sloan
competing to win the spot Bromley left behind. Bullough said he may have to rely on the two freshmen the Orange just signed in February once they arrive on campus.
The cross-training idea makes perfect sense, especially since the Orange do have some depth at end.
"The thought is to get them in there now to see how they progress," Bullough said. "
Micah Robinson
is the first guy who comes to mind. He's a big, tough kid. Right now, we'll work them all, but in the end we will know, 'OK these two defensive ends, or this one, can help us inside but the other ends don't have to.' I have never been in this situation, where you are so low at one position. Freshmen have a hard time to come in and play, especially at the beginning. So we said, 'Let's figure out now what end we'll have to put in there if somebody gets hurt.'"
May, 23, 2013
5/23/13
10:30
AM ET
Syracuse defensive coordinator Chuck Bullough has no problem with the fact that his boss, coach Scott Shafer, was in the very same position for four years before being promoted to head coach in January.
"I know coach Shafer," Bullough said. "He's one of my best friends. It's not like you're coming in not knowing the head coach at all. There's no tension when we sit down to discuss stuff. It's just like two buddies talking about football."
[+] Enlarge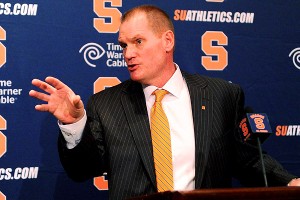 Rich Barnes/USA TODAY SportsNew Syracuse head coach Scott Shafer and his staff have a history with each other.
Bullough and Shafer were last together at Western Michigan in 2005, and their friendship is a microcosm of the familiarity within the entire staff. Western Michigan, Illinois, Northern Illinois -- all programs that have connected some of these coaches in their careers. Their wives and children know each other. The assistants aren't just acquaintances, they've coached together before. While an entirely new staff often is cause for bumps in the road, the familiarity on the Syracuse sideline helped make for a smooth transition this spring.
"How the coaches interact and how the coaches get along and how they coach together, the team sees that and this is a very tight-knit group of coaches," Bullough said. "We all coached with one another throughout our whole careers. There's nobody on the staff, except for the DB coach, Coach [Fred] Reed, that has never coached with another guy on this staff. That's amazing. That makes the transition so much easier. That I think really goes a long way. The players see everything."
With an ongoing quarterback competition heading into fall camp and having to replace its top two receivers and three of four starters on the defensive line, there are plenty of questions facing Syracuse this fall. While the players spent this spring adjusting to their new coaches, the staff didn't have to waste any time with introductions or philosophies.
Running backs coach DeAndre Smith was at Northern Illinois from 2001-2004, overlapping with Shafer's time there. Defensive line coach Tim Daoust was a holdover from the previous staff, but he was also a graduate assistant at Northern Illinois when Shafer was there. Quarterbacks coach Tim Lester and offensive coordinator George McDonald were both on staff with Shafer at Western Michigan in 2005-06.
The six degrees of Scott Shafer go on -- and have paid off.
"It's a lot of familiarity with our coaching styles and our beliefs, so from a coaching standpoint, it's just like coaching with your friends, because we've all worked together before at prior stops," said McDonald. "It helps because it shows solidarity, everyone understanding and speaking the same language, having the same vision. So when you come in as a new staff and everyone is on the same page, just because we're familiar with the expectations of coach Shafer, and on the defense and offensive side, the kids buy in a little faster because they feel the unity from all the coaches."
April, 8, 2013
4/08/13
10:30
AM ET
Syracuse senior
Jay Bromley
is entering his third season as the team's starting nose tackle. He started 10 games in each of the past two seasons and this year will be the anchor of a line that has to replace three starters. I caught up with Bromley recently to get his take on the defense this spring under first-year coordinator Chuck Bullough. Here are the highlights of our conversation:
With a new coach, new coordinator, and new conference, there have been plenty of changes this spring at Syracuse. How has it gone so far?
Jay Bromley:
It's been a transition, but one that's been pretty smooth for the most part in that Coach Shafer is our leader now. We're real familiar with him. He knows us as individuals. Some of the coaches we have to get to know on a personal level and on the field, but for the most part, Coach Shafer has made it a great transition. It's been different because you have to learn a lot of new schemes and different terminology, but I think everybody is coming along pretty well. Everyone has learned a lot. Now we're just focusing on the fundamentals, and making sure we shine everything up.
How much different is the defense going to look, and what are you guys doing differently?
JB:
We're just running a lot of multiple fronts, multiple defenses, multiple packages, just trying to make sure we keep people guessing and we make the most out of the personnel we have.
What's it been like to have the guy who has paid such close attention to the defense now run the entire show?
JB
: It's interesting because at heart Coach Shafer is a defensive guy, and he wants to destroy offenses. It's kind of fun to watch him try to amp up the offense or even take their side because at heart you know he wants to be with us, you know he wants to come watch film with us. You know he wants to tell us to take their heads off. It's been a fun thing to listen to, but he's doing what most head coaches do. He's a lot more interactive than maybe [Doug] Marrone was because he knows us a lot more, he is a players' coach. He's hard-nosed, and he's going to make sure we do things right, but he's going to make sure we understand why we're doing things.
You guys have to replace three starters. Who are some of the guys this spring who have been stepping into those roles?
JB:
This spring has been a big spring for our defensive front because replacing
Deon Goggins
,
Brandon Sharpe
and
Markus Pierce-Brewster
, those are the three guys who really put up a lot of good numbers in 2012, and helped our defense a lot. We have
Micah Robinson
stepping up, he played a lot last year as a backup stepping up as a starter and helping out a lot. We've got Rob Welsh at the other end doing a lot of good things to help us out and on the inside we have a good battle.
From your perspective what do you think is the main priority of what you guys need to get done as a defensive line before you kick off against Penn State?
JB:
Really being aggressive and physical. Making sure we know our fundamentals, with our eyes and our feet and our hands, using them every single snap consistently and being aggressive and physical. As far as playing defensive tackle, it's a very physical position, but the defensive line is kind of a gritty position. Once you realize that and cope with that and learn to love it, it's nothing to you. We have a lot of first-time starters, a lot of first-time people actually playing a lot of snaps beside myself, so just trying to help them ease into it and understand that this is going to be gritty: You might get your butt kicked once or twice in a game, but it's about how you come back and make sure you give it to that person across from you every single snap so you can't relax. That's what it's about.
How is your role going to change this season? How much are these guys looking to you for leadership?
JB:
A lot. I've always been the type to help people out as much as I can, whether they need advice about how to do things, how to work on their hands. Coach is always pointing out to watch me because I do a lot of things well, and there are a lot of things I need to work on, but I tell them that didn't happen overnight. I'm about to be a four-year player here, a senior. I've worked on things for four years now and I still have a ways to go. Them looking up to me is something a little new. You look around the room now, I used to look around and have somebody to look up to. Now there's nobody to look up to. Now I'm the person everybody looks up to. It's very unique. It's a different transition. I'm going to do the best to verbally lead as much as possible, but more than anything lead by example. I figure if my play is at a high level, they'll see that and they'll want to play at a high level.