October, 30, 2013
Oct 30
10:00
AM ET
Back /bak/, adv. Expressing a return to an earlier or normal condition.
Miami and Florida State have returned to the Top 10, a home from a bygone era that continues to influence both programs still today.
Because the natural question before us headed into their showdown Saturday is one that has trailed both programs for close to 10 years now:
[+] Enlarge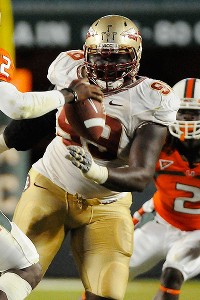 Richard C. Lewis/Icon SMIFlorida State has enjoyed more recent success, and has won three straight games over Miami, but the games have not carried the weight they once did.
Are the Hurricanes and Seminoles back?
Furthermore, what does it even mean to be back?
College football has waited on their return to prominence after a dominating 20-year stretch that put both programs on the national map. Twelve times between 1987 and 2004, Miami and Florida State met as Top 10 teams -- including a whopping seven consecutive meetings. National championship implications became the norm, not the exception. The programs combined to win six national titles in that time span and played for six others.
Both set standards that today seem unsustainable. College football has changed since Miami and Florida State rose in the mid-1980s. Their recruiting territory is no longer truly theirs; neither is their philosophy to win with athletes and speed. Everybody else has caught up to the once-trailblazing programs.
Since 2004, Miami and Florida State have combined to play in two BCS games. Miami has won zero conference titles. Florida State has won two. Yet every year, thanks to the weight of history, the inevitable question has been asked of one program. Sometimes both.
Are you back yet?
So seeing both unbeaten this late in the season, ranked in the Top 10, with national title implications again on the line has revived the irresistible notion that both are, indeed, back. But neither side believes as much. Not when their recent history speaks more to unmet expectations than championship rings.
"Honestly, I wouldn't say we're back because we're not the past," Miami tight end
Clive Walford
said. "I have a lot of respect for what happened in the past, but we're trying to build our own new legacy. We're a whole new team, with a different mindset. And we're just trying to win every game, that's all."
To be sure, the Miami of today is a distant cousin to the Miami of yesteryear. They have the same name, but they bear little resemblance. What Walford says is true. This Miami team is not the past. There are no larger than life personalities. There are no household names. There are no All-Americans. There are no swaggering, trash-talking, in-your-face, we-don't-care-what-you-think players roaming that sideline.
All those qualities that made the U one of the most despised teams outside South Florida? This team embodies none of them. Not one quote has made a bulletin board in Tallahassee. When given the opportunity to talk some smack, Miami players have politely declined and given clichéd quotes about this being just another game. Do the Canes feel disrespected knowing they are 21-point underdogs? This is as close to an inflammatory quote as you will get.
"It doesn't really matter about whether someone respects us or not," Miami running back
Duke Johnson
said. "We don't care. We're just here to play football and do it the way we're being taught to."
All of this is by design, the way Miami coach Al Golden wants it. He has his players believing in "the process," so much so that a week generally filled with friendly back-and-forth has been doused with cold water.
In this way, Miami might never be back. But it does not have to embody an old persona to win championships. That is the key, of course. Miami has not won championships recently. Then, and only then, can Miami begin taking steps on the road back.
Quarterback
Stephen Morris
is not toeing a line when he says, "When you bring up the term back, our biggest thing is let's talk about that at the end of the season."
Florida State is closer than Miami is given what it has done over the last two seasons. The Noles won the ACC last season and went to a BCS game. They are No. 3 and more closely resemble the Florida State teams of the past -- with a dynamic quarterback in the Heisman race and NFL talent up and down its roster. But there remain skeptics who are not quite sold. Not until they see the Noles put a complete season together, and then stack them on top one by one, the way they used to.
"Is Florida State back on a national stage? Right now we are," Florida State cornerback
Lamarcus Joyner
said. "Like they were in the '90s and late '80s, I guess we're doing the same things those guys were able to do. But as far as being back? What's in the past is in the past. We just have the responsibility of carrying the respect, the tradition and the legacy around here."
There is no question both teams are trying to forge their own identities, and their own legacies. Whether or not their rise back up continues, the past can never truly be in the past for Miami or Florida State.
Florida State reporter David Hale contributed to this report.
October, 25, 2013
Oct 25
10:00
AM ET
The ACC sent just six teams to bowl games last year, in part because of NCAA infractions. The conference already could have six bowl-eligible teams for 2013 after this week if Maryland and Duke pick up their sixth victories of the season. Florida State, Clemson, Miami and Virginia Tech have already secured bowl eligibility.
Here are a handful of more Week 9 tidbits around the ACC.
(As always, thanks to the ACC's sports information departments for their contributions.)
Boston College:
Tailback
Andre Williams
needs just 162 more rushing yards to become BC's first 1,000-yard back since Montel Harris rushed for 1,242 in 2010. Williams has already topped 162 yards in a game twice this year, and he's on pace to finish the regular season with 1,696. In the past five years, only Virginia Tech's David Wilson has finished with more yards in the ACC. Williams currently leads the conference in yards, attempts (157) and is fourth in rushing TDs (7).
Clemson:
After allowing the most points to a visiting team in the history of Death Valley, Clemson heads on the road to take on Maryland this week — and that might be a blessing. The Tigers have won six in a row on the road, and a win over the Terps would give them their longest road winning streak since 1978-79, when they won nine straight. Clemson is averaging 45 more yards per game and 1.1 more yards per play on the road this season than it is at home.
[+] Enlarge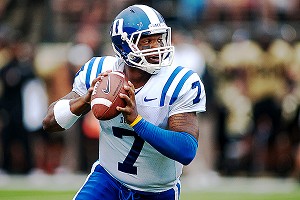 Jeremy Brevard/USA TODAY SportsDuke quarterback Anthony Boone has won in the first five starts of his career.
Duke:
The Blue Devils' two-pronged attack at quarterback continues to impress after last week's 35-22 win over Virginia.
Anthony Boone
became just the second Duke QB since 1950 to win the first five starts of his career, and
Brandon Connette
made the most of his second-half snaps, throwing a 47-yard touchdown pass to
Braxton Deaver
for the go-ahead score in the fourth quarter. Connette is the first quarterback in Duke history with two game-winning, fourth-quarter TD passes in a season. His first came against Memphis in Week 2.
Florida State:
The Seminoles forced four turnovers in last Saturday's win against Clemson, the first time they'd done that in a game since 2011. For the season, Florida State now has a plus-7 turnover margin, tied for the 12th-best mark in the nation. Since 2007, Florida State had never been better than plus-6 at any point in the season. The Seminoles have gone seven consecutive games without losing the turnover battle, which is also their longest stretch in the past seven years.
Georgia Tech:
The Yellow Jackets pounded Syracuse 56-0 last week. It was Georgia Tech's second shutout of the season after beating Elon 70-0 in its opener. That marks the first time since 1985 that a Tech defense has pitched two shutouts in a single season. That year, current defensive coordinator Ted Roof was one of the Yellow Jackets' team captains.
Maryland:
Caleb Rowe
and
C.J. Brown
combined to throw for 344 yards in last Saturday's 34-10 loss to Wake Forest. It's the fewest points a Maryland team has scored when throwing for at least 300 yards since a 31-7 defeat at the hands of Clemson in 2010. After struggling at the quarterback position following a rash of injuries last season, the Terps have topped at least 275 yards passing in five of seven games this year.
Miami:
Tight end
Clive Walford
has just 13 receptions this year, but he's made them at the most crucial moments. Nine of his catches have gone for first downs and two more ended as touchdowns. Dating to last season, 22 of Walford's last 24 receptions have accounted for either first downs or touchdowns.
NC State:
The Wolfpack are the decided underdogs this week against No. 2 Florida State, but that's not necessarily a bad thing. Since 2002, NC State has played a ranked FSU team seven times and it's won five of those games. The Wolfpack are 0-4 against Florida State, however, when the Seminoles are unranked. Still, this is a rare challenge for NC State. It hasn't played a top-five team on the road since falling to then No. 1 Florida State 42-11 in Tallahassee in 1999.
North Carolina:
In their Oct. 17 loss to Miami, tight end
Eric Ebron
had a career day. His eight catches were a career best and his 199 receiving yards marked the most in school history by a tight end and the sixth-most by any Tar Heels player.
Pittsburgh:
Senior receiver
Devin Street
is averaging 21.12 yards per reception this season, the 10th-best mark in the nation and best in the ACC. That's an improvement of nearly 8 yards per catch from last year. His big-play acumen has been crucial for Pitt's offense. Of his 26 catches, 21 have gone for first downs (the highest rate in the ACC) and nearly 62 percent of his receptions have gone for 15 yards or more (the second-best rate in the conference).
Virginia:
The Cavaliers tallied just 709 yards of offense and averaged 11 points per game in its first three contests against FBS opponents, but the offense has picked up of late. In its last three games, Virginia has nearly doubled that output, racking up 1,327 total yards and averaging 25 points per game.
Virginia Tech:
The Hokies' 27 sacks are tied for the most in the nation and they've racked up 13 interceptions this season, good for third nationally. Overall, one out of every 5.6 passing plays by Virginia Tech's opposition ends with either a sack or an interception — by far the best rate in the country. Two other ACC teams, Clemson and Miami, rank second and third, respectively, on that list.
Wake Forest:
In last week's 34-10 victory over Maryland, the Demon Deacons ran 24 times for just 47 yards — a 1.96 yards-per-carry average. It's just the second time in the past four years that Wake Forest won a game when it rushed for fewer than 2 yards per carry (UNC, 2011). Oddly, in those two games, Wake has scored six times on the ground.
September, 18, 2013
Sep 18
12:00
PM ET
Tomorrow is game night in Raleigh!
July, 9, 2013
Jul 9
2:00
PM ET
The
John Mackey Award
is presented annually to the most outstanding tight end in FBS college football, and the ACC has several candidates on
this year's watch list
:
One more tight end worth watching in the ACC this year: Duke's
Braxton Deaver
. Those within the program say he is
a complete tight end
.
J.P. Holtz
at Pitt is another tight end who should have a bigger role this fall.
The Rimington Trophy watch list
was also announced today. This trophy is presented to the nation's premier center by the Boomer Esiason Foundation. Here are your ACC representatives:
There will be
more watch lists announced
this week and next week. As usual, once more come out I'll compile them for you in a one-stop shopping post so you can see all of your ACC candidates.
September, 14, 2012
9/14/12
10:00
AM ET
Time for a final few notes and nuggets to get you ready for Week 3. As always, thanks to the awesome sports information staffs across the league, and ESPN Stats & Information for the assist.
BOSTON COLLEGE:
Kicker
Nate Freese
, who was successful on field-goal attempts from 39 yards and 20 yards against Maine in Week 2, improved to 5-for-5 this season. He leads all ACC kickers in successful field goals and ranks tied for third among all kickers in the country in field goals made.
CLEMSON:
Tajh Boyd
has completed 78.8 percent (41-of-52) of his passes from the pocket this season (61.1 percent last season). Boyd was under duress on just four of his 52 attempts from the pocket and 7-of-57 attempts overall.
DUKE:
Receiver
Jamison Crowder
is just the third Blue Devil to have 100 or more receiving yards in the first two weeks of a season, joining Clarkston Hines (1988) & Richmond Flowers (1998). In the loss to Stanford last week, Crowder (10) and
Desmond Scott
(11) had double digit receptions, the second time that has happened in school history.
FLORIDA STATE:
EJ Manuel
is 5-of-5 with a touchdown on throws of 20 yards or longer this season. Last season, Manuel completed 34.7 percent of his 20-yard throws with seven touchdowns and three interceptions. ... Florida State has allowed just 24.2 percent of its opponents' rushes to gain five yards or more since the start of last season, second-lowest percentage in FBS behind Alabama.
GEORGIA TECH:
Before its 20-17 loss in overtime at Virginia Tech, the last time Georgia Tech lost a season opener came in 2006. The Yellow Jackets lost to Notre Dame, then went on to win the ACC Coastal Division title. The last time Tech opened a season with a five-day turnaround, 2009, was also a year in which the Jackets won the ACC Coastal crown.
MARYLAND:
Joe Vellano
and
Demetrius Hartseld
have helped the Maryland front seven get extremely stingy against the run. The Terps are holding opponents to an average of just 1.95 yards per rush and of the opponents' 80 rushes this season, 56 have been for 3 yards or fewer. That effort has led to Maryland ranking ninth nationally in total defense, a big reason for its 2-0 record.
MIAMI:
The Hurricanes have 12 different players with at least one reception in the first two games of the season:
Allen Hurns
,
Rashawn Scott
,
Phillip Dorsett
,
Clive Walford
,
Malcolm Lewis
,
Duke Johnson
,
Devon Johnson
,
Mike James
,
Asante Cleveland
,
Kendal Thompkins
,
Eduardo Clements
and
Herb Waters
.
NORTH CAROLINA:
Coach Larry Fedora and Louisville head coach Charlie Strong both served on Ron Zook's Florida staff in 2003-04. Fedora was the offensive coordinator and Strong was the defensive coordinator. UNC assistant Dan Disch was the secondary coach coach for the Gators in 2004 and strength and conditioning coach Lou Hernandez had a similar role in Gainesville from 2002-04. Fedora and Louisville defensive coordinator Vance Bedford were on the Oklahoma State staff in 2007. Fedora was the offensive coordinator and Bedford was the defensive coordinator. UNC wide receivers coach Gunter Brewer was also on that staff. Brewer and Strong were on the same staff at Mississippi in 1990.
NC STATE:
In the rst two games of the season, 11 spots on offense and defense have been manned by seniors who have had starting experience prior to 2012. That number is almost double the most senior starting experience coach Tom O'Brien has had during his rst ve years with the Wolfpack. The number is particularly high on offense, where seven of the 11 starting spots are slated to be lled by seniors with previous starting experience.
VIRGINIA:
So far in 2012, UVa has nine pass plays that have gone to wide receivers or tight ends for 20 yards or more -- an average of 4.5 per game. Compare that number to 2011, when the entire season saw 35 passes of 20 yards or more to wide receivers or tight ends for a rate of 2.69 per game. The 2010 season resulted in 38 total receptions by wide receivers or tight ends of 20 yards or more for an average of 3.17 per game.
VIRGINIA TECH:
The Hokies' current 219-game scoring streak from 1995 to the present is tied for the 15th-longest in Division I-A college history. In the 219-game run, Tech scored on its first offensive possession 73 times, plus another three occasions where it scored on returns on its first touch of the game. The Hokies have scored in the first quarter 160 times during the streak.
WAKE FOREST:
The Deacs' last two wins over ranked teams have come against FSU. The Deacs beat the No. 22 Noles 35-30 last year, and also recorded a 12-3 victory in Tallahassee on Sept. 20, 2008. Wake Forest is 3-14 against ranked Seminole teams and 1-8 against ranked FSU teams in Tallahassee.
May, 8, 2012
5/08/12
8:30
AM ET
2011 overall record:
6-6
2011 conference record:
3-5 (T-4th, Coastal)
Returning starters:
Offense: 4; defense: 6; kicker/punter: 2
Top returners

WR
Allen Hurns
, TE
Clive Walford
, RT
Jon Feliciano
, RG
Brandon Linder
, DE
Anthony Chickillo
, DT
Darius Smith
, LB
James Gaines
, LB
Denzel Perryman
, CB
Brandon McGee
, S
Vaughn Telemaque
Key losses
WR Travis Benjamin, WR Tommy Streeter, LT Brandon Washington, LG Harland Gunn, C Tyler Horn, QB
Jacory Harris
, RB Lamar Miller, DE
Marcus Robinson
, DT Adewale Ojomo, LB Sean Spence, CB
Mike Williams
, S JoJo Nicolas
2011 statistical leaders (* returners)
Rushing
: Lamar Miller (1,271 yards)
Passing
: Jacory Harris (2,486 yards)
Receiving
: Tommy Streeter (811 yards)
Tackles
: Sean Spence (106)
Sacks
: Anthony Chickillo*/Marcus Robinson (5)
Interceptions
: JoJo Nicolas (2)
Spring answers
1. Ryan Williams can challenge Stephen Morris:
Williams received most of the spring reps with Morris sidelined, and the Memphis transfer should enter preseason camp with a chance to overtake Morris for the No. 1 spot. That's all the Hurricanes can hope for with Morris recovering from back surgery.
2. The defense should be OK:
Yes, some of that ugly 7-6 final from the spring game has to be blamed on putrid offense, but the defense deserves plenty of credit for forcing five turnovers. The unit also forced 10 sacks and picked off three passes in the team's March 30 scrimmage. The Canes return six starters from a defense that ranked 17th nationally in scoring in 2011.
3. Running backs stepping up:
Al Golden has praised
Mike James
and
Eduardo Clements
this spring for both their performances on the field and their leadership off it. A strong showing from the duo will certainly ease the loss of Lamar Miller, but that could depend more on the progress of the offensive line than anything else.
Fall questions
1. What will Morris be like upon return?
No one wants to lose his job to injury, and Morris surely noticed the performance of Williams this spring. Morris was able to take reps toward the end of spring without pads, which is certainly encouraging, but how he fares against defenses remains to be seen.
2. How soon can newcomers contribute?
Golden landed the nation's No. 8 recruiting class for 2012, and many of the rookies can't get to campus soon enough. Miami lost 30 players this past season and has questions at receiver, in the secondary and along the offensive line. Spots could be there for the taking, so seeing which newcomers step up early will be interesting.
3. About that elephant in the room …
Coaches and players will repeat that they only worry about what they can control, but the black cloud from the Nevin Shapiro scandal won't stop looming over the program until the NCAA delivers its ruling. The day that comes will be a welcome relief for the program, dark as that day may be. But if Golden could lure the No. 8 recruiting class despite the scandal, imagine what he could do once it subsides.
March, 2, 2012
3/02/12
9:00
AM ET
Miami's offense will have an entirely new look this spring, as the Canes have to replace eight starters from last year's team. I spoke with offensive coordinator Jedd Fisch about the challenges his group will face when spring practices begin on Saturday.
Here are the highlights of our conversation. (
Note: This interview was done before the spring depth chart was released on Thursday.)
What does Stephen Morris have to do to grasp the reins of that offense, and how much is he going to be pushed by the other guys on the roster?
Jedd Fisch:
Well, what he has to do is grab the reigns of the offense. He has to have total command of it. I thought he did a tremendous job of everything we asked him to do last year on the practice field and the reps he did have. Stephen is going to have a great year for us, I really believe that. He's got an extremely strong arm, he's got great athleticism, all he has to do is own it – own it the way Jacory owned it, and really improve upon -- and I think he has -- his football knowledge. He's done a great job there. I'm excited to watch him go.
[+] Enlarge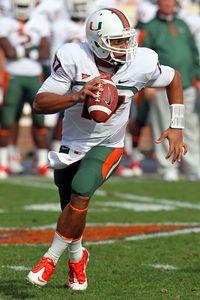 Andrew Shurtleff/US PresswireQB Stephen Morris is expected to be one of eight new offensive starters for Miami next season.
Is it accurate to say it's his job to lose?
JF:
We're always going to have competition. We really can't say it because we haven't been on the field with the other guys. We don't necessarily know what the other guys can do. I think all of us going into it are really confident with Stephen, and excited to see what Stephen can do now that he's not behind Jacory anymore.
In general, how unnerving is it for you that you've got to replace eight starters on offense?
JF:
Yeah, well, it's interesting. It's certainly challenging. We'll end up losing our center, left tackle, our running back with the most reps in, our two wide receivers with the most production and our quarterback who completed 65 percent of his passes and was the captain of the team. And our starting tight end. So we obviously know that that's a challenge, but we're also looking forward to it. I think it's going to be fun to watch the young guys step up. I think spring will be very different than fall for us this year, based on the fact that so many guys a year ago participated in both spring and fall, where with this group, so many guys are coming in with the 32 guys we signed. That's going to be a substantial difference.
It's going to be almost like a whole new team come summer camp, right?
JF:
Exactly. We'll have a whole new group of guys coming into training camp. It's going to be different. All six wide receivers we signed will be here for training camp. None of them will be here for spring ball. The passing game is going to be a little interesting in the spring, but it's going to be a great opportunity for Phillip Dorset, a great opportunity for
Rashawn Scott
, a great opportunity for
Allen Hurns
and
Kendal Thompkins
, the four guys that are coming back to really take rep after rep after rep. Same with the running backs, for
Michael (James)
and
Eduardo (Clements)
, to secure where their places are, and for
Clive Walford
to improve. It's going to be fun. It's certainly going to be different than the veteran-type team we had a year ago.
How about your offensive line? What's the depth chart look like there?
JF:
(He laughed). Yeah, isn't it funny how this conversation is a little different from the one we had a year ago?
No kidding.
JF:
Our offensive line is going to be a major competition. We're really not exactly sure who's going to end up starting. The good thing we do know is that everybody that's on the offensive line will be here in the spring. The guys we signed on the offensive line are here early. … The only guy who's not here is
Danny Isidora
. That will make a huge difference. We can watch all those guys compete. We're going to have to see where
Malcolm Bunche
and
Seantrel Henderson
are. At the end of spring last year, we were really pleased with the way Malcolm Bunche was playing. Seantrel had back surgery. Now that everybody is healthy and back, it will be interesting to see how that all works out.
How does all of this youth change what you can do with the playbook? How much do you have to scale back?
JF:
We're going through that process right now. We're looking at everything. We're looking at everything and making decisions on what our guys can handle, what they'll do well and what we call. A lot of it has to do with, you go into a season thinking you're going to do something, and then as the season progresses, you realize you're doing something else. You ask yourself, No. 1 why, and No. 2 what can we do to make it better? We're in the process of doing all of the evaluations. Our goal this spring is to get better fundamentally. If you're going to get better fundamentally, you're going to cut back on some things schematically.
At running back, who's the guy who's at the top without Lamar?
JF:
You could put Michael and
Eduardo Clements
next to each other. Those two guys are going to be challenging each other as you saw as the season progressed. Eduardo got more and more carries. He really became a valuable short-yardage player for us. Michael, from the Duke game on, he was healthy and started running the ball well. Those two guys are going to duke it out until Duke gets here and
Danny Dillard
gets here, and then when the four of them are here, it will be a nice, four-way competition.
Speaking of Duke, Miami fans seem to be super excited about Duke Johnson. What did you guys like about him in the recruiting process?
JF:
Duke's everything you want when you recruit a player because he doesn't want to be recruited, he wants to tell you how much he wants to be a part of the program. It wasn't about trying to sell Miami to Duke. Duke was sold on Miami and was excited to be a part of Miami football. He's an electric player. He can make every play. He can catch the football, he can run the football, he can make guys miss, he can run between the tackles, he can run outside the tackles. He's got speed, he's got elusiveness. I think what got the Miami fans most excited is anyone who can have 376 yards in a state championship game is a pretty elite player, especially when it's in the state of Florida. He's got that dynamic ability we're all excited to see in person.
April, 8, 2011
4/08/11
12:00
PM ET
Spring games, anyone? ...
August, 5, 2010
8/05/10
8:00
AM ET
Schedule:
Practice starts at 8 a.m. Saturday's 8 a.m. practice will be open to season-ticket holders and UM employees.
What's new:
Rick Petri takes over coaching what should be the deepest defensive line in Randy Shannon's tenure. Petri has a reputation for developing some of the best linemen in college football, including former Canes Warren Sapp, Kevin Patrick, Kenny Holmes and Kenard Lang.
Sidelined:
No players on the two-deep are expected to be missing, but running back
Graig Cooper
will be eased back into practices slowly and held out of the first scrimmage.
Key battle:
Tight end.
Richard Gordon
is the only experienced player returning at the position, and he is more of a blocker. The Canes are looking for another receiving tight end like Jimmy Graham. Junior college transfer Chase Ford could help, and true freshmen Asante Cleveland, Andrew Tallman and Clive Walford will also compete for playing time.
New on the scene:
TE Chase Ford. He came to Miami from Kilgore Junior College, where he led the Southwest Junior College Football Conference with 32 receptions and 545 receiving yards.
Breaking out:
Redshirt freshman
Lamar Miller
. Miller has enough talent to separate himself from a crowded backfield. He was rated the No. 119 player in the ESPNU 150 class and the No. 12 running back in his class by ESPN.com. He led Dade County in rushing as a senior with 1,749 yards and 22 touchdowns.
Don't forget about:
Fullback
Patrick Hill
. He suffered a season-ending injury last year but earned a medical hardship waiver. Without him, the running game was limited, and the pass blocking struggled. Hill is an instrumental blocker whose health will make a difference this fall.
All eyes on:
Quarterback
Jacory Harris
. The potential to throw for over 3,000 yards in a second straight season is there, but so is the potential for another boatload of interceptions. If Harris can cut down on his 17 turnovers and make better decisions (and also get better protection and more help from his receivers), Miami's offense will flourish.
Quotable:
"We're a big offensive line. Not a fat offensive line. We're huge. This is the first time we've been this big since I've been here, either as a player or as a coach." --
Randy Shannon to the Palm Beach Post.
ACC SCOREBOARD
Saturday, 12/21
Monday, 12/23
Tuesday, 12/24
Thursday, 12/26
Friday, 12/27
Saturday, 12/28
Monday, 12/30
Tuesday, 12/31
Wednesday, 1/1
Thursday, 1/2
Friday, 1/3
Saturday, 1/4
Sunday, 1/5
Monday, 1/6
Tweets from @ESPNCFB/acc