April, 14, 2011
4/14/11
9:00
AM ET
It seems as if Boston College receiver
Colin Larmond Jr.
has made his collegiate career out of waiting.
For two years, he waited patiently for his chance to become a full-time starter. Before he ever had a chance to experience it last year, Larmond suffered a season-ending torn ACL two weeks before the season began. Now, after a spring in which he has been limited to running, lifting and watching, Larmond is once again waiting to be cleared for full participation with the hopes of playing an integral role in BC's offense this fall under first-year coordinator Kevin Rogers.
[+] Enlarge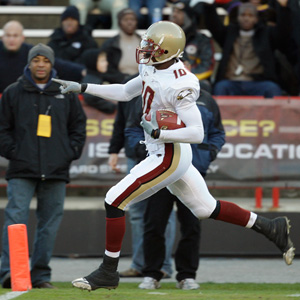 AP Photo/Rob Carr)Colin Larmond Jr.'s best season came in 2009, when he caught 29 passes for 596 yards and five TDs.
Larmond said he expects to be 100 percent by the end of May or early June, and he'll have some catching up to do in summer camp. Every player who caught a pass last season returns at BC, including two true freshmen who gained invaluable experience in
Alex Amidon
and
Bobby Swigert
.
Without Larmond in the lineup, they didn't have much choice.
Amidon led the team with a 21.1 yards per catch average. He totaled 338 yards on 16 catches and had two touchdowns. Swigert led the team in catches (39), yards (504), touchdowns (4) and average per game (38.8).
Ifeanyi Momah
is returning for his fifth year and was second among wide receivers with 31 catches, 338 yards and a 26.0 per game average. The Eagles also return
Clyde Lee
,
Johnathan Coleman
, and
Shakim Phillips
.
Larmond said he feels like he has to win his job back.
"Coach always says no one's jersey is tattooed on them," Larmond said. "That's good and it also gives me more motivation. It's like, 'OK, well guess what? No one remembers you now because you sat out and these guys came in and stepped up.' It's just like the real world. If you can't get the job done, somebody else will replace you, or if you go down, there's someone there to fill in. I'm going to have to work even harder than those guys. Even though I've been here it doesn't really matter because when I wasn't there, those guys stepped up. Their numbers were called and they made plays."
And unlike Larmond, they've had the spring to practice the new offensive scheme. Larmond said he's been studying it and he feels like he knows it, but …
"Those guys have been doing it day in and day out for the past month," he said. "I'm in meetings and I understand it, but it's different when you're sitting there instead of actually being out there and showing you understand it. There's a whole bunch of things I feel like I have to prove when I come back, not just for myself but also Coach Rogers and this new offense."
Last Tuesday, Larmond received a brace for his ACL. He's been working on getting his knee stronger, but has a separate workout from his teammates to help rebuild the strength in his hamstring and quad. Larmond hasn't run full speed in about eight months, so he will need the rest of the offseason to get reconditioned, but he also said he needs the time to get mentally stronger as well.
"I know that when that day comes back around in camp again, it's going to be on my mind -- OK, let's hope this doesn't happen again," he said. "That mental aspect of the game, which was my main concern, making sure I get over that hump, over that hurdle, knowing that I'm going to go out there and run this 110 percent, not being nervous that I might mess my knee up again. The time is going to be very helpful."
And a healthy Larmond could be even more helpful to BC's offense in 2011.
August, 23, 2010
8/23/10
1:00
PM ET
Boston College wide receiver
Colin Larmond Jr
. suffered a season-ending knee injury Saturday that will require surgery, the school announced on Monday.
This is a huge blow to the Eagles' receiving corps and the passing game, as Larmond Jr. was expected to be the team's top receiver this fall. He was the leading returning receiver with 29 receptions for 596 yards and five touchdowns last season. He led the 2009 team in yards per catch (20.6) and finished second in receptions (29), yards (596), touchdowns (five) and average per game (45.8).
It's now crucial that
Ifeanyi Momah
produces, as he more than likely will start. Momah redshirted last season because of injury, but in 2008 he caught 11 passes for 149 yards and was second on the team with three touchdowns. The staff had planned to use Momah as a defensive end in addition to his receiver duties this fall, but this will likely scratch those plans. The other starter at receiver is
Billy Flutie
, who caught five passes last season.
Beyond those two, there really isn't much depth or experience to depend upon. Sophomore
Clyde Lee
caught four passes last season, and senior
Ryan Lindsey
has one career reception. True freshman Bobby Swigert is likely to end up playing, and he has looked good in the scrimmages. True freshman Shakim Phillips would be right in the mix, but he has been sidelined with a hamstring injury. Alex Amidon is another true freshman who might help.
The Eagles are fortunate to have running back
Montel Harris
. He might have to catch the ball out of the backfield a little more than eight times this fall, though.
August, 23, 2010
8/23/10
9:00
AM ET
Here's a quick look back at the weekend scrimmages, thanks to reports from the schools' sports information offices:
BOSTON COLLEGE
Sophomore quarterback
Mike Marscovetra
was perfect, going 12-for-12 for 90 yards and a touchdown.
Dave Shinskie
went 14-for-19 for 116 yards, but threw an interception. True freshman
Chase Rettig
was 2-for-4 for 13 yards.
Sophomore
Clyde Lee
and true freshman
Bobby Swigert
led the receivers with five catches each. Lee had a game-high 43 yards, and Swigert went for 29 yards and a touchdown.
Redshirt freshman kicker Nate Freese made a 51-yard attempt that hit the crossbar and went through, and he made another from 39 yards. He missed a 47-yarder that hit high off the left upright.
Sophomore linebacker Luke Kuechly led the defense with six tackles, and junior safety Dominick LeGrande recorded five tackles and an interception.
FLORIDA STATE
The Seminoles went through what amounted to a full-scale dress rehearsal, as they did their pre-game routine, returned to the locker room, then returned to the field for a three-hour scrimmage. Offensive coordinator James Coley and quarterbacks coach
Dameyune Craig
were in the press box, along with defensive ends coach D.J. Eliot and a graduate assistant. They helped call the plays on headphones, and there weren't any personnel or clock-management issues.
Junior college transfer
Mike Harris
earned some high praise from coach Jimbo Fisher:
"Mike's a good player; he's a real good player," said Fisher. "He breaks on the ball. He's almost like a quiet assassin. You never hear him out there, but he's always in the right place."
Statistics weren't included in the team's
scrimmage report
, but sophomore
Willie Haulstead
played well, and Fisher used a tailback-by-committee approach with
Jermaine Thomas
,
Ty Jones
and
Chris Thompson
. Defensively, former cornerback Ochuko Jenije started at safety.
VIRGINIA TECH
First, the injury report: Backup receiver
Xavier Boyce
sprained his left MCL and will have an MRI, backup linebacker Lorenzo Williams sprained his right foot and will have an MRI, and punter Brian Saunders bruised his right ankle. According to the Richmond Times-Dispatch, linebacker Barquell Rivers
will not play
against Boise State, and Bruce Taylor will start in his place. Starting field corner Jayron Hosley is still out with a hamstring injury.
Offensively,
Tyrod Taylor
completed 7 of 9 passes for 95 yards, a touchdown and an interception.
Ryan Williams
was the leading rusher with 46 yards on nine carries, including a 2-yard touchdown run.
David Wilson
added 38 yards on six carries and scored on a 12-yard run. Defensively, Eddie Whitley led the way with seven tackles and a pass break-up. Kicker Chris Hazley made field goals of 43 and 47 yards, but missed his first field goal in a preseason scrimmage when he was wide left on a 48-yard attempt. Cris Hill blocked two punts.
You can find more on the Hokies'
scrimmage here
.
June, 9, 2010
6/09/10
9:00
AM ET
By
ESPN.com staff
| ESPN.com
Boston College running back
Montel Harris
and wide receiver
Colin Larmond Jr
. were roommates last year and are good friends, which is why Larmond Jr. has no problem doing a little grunt work and blocking for the team's leading rusher.
[+] Enlarge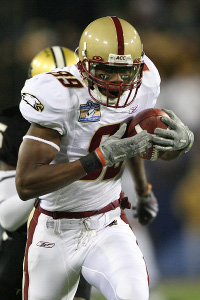 Andy Lyons/Getty ImagesColin Larmond Jr. wants to be a leader on and off the field for Boston College.
There will be a lot of pressure on Harris to carry the running game since there's not a lot of depth behind him, so the Eagles' passing game will be needed to help draw some of the defensive attention elsewhere. Larmond Jr. is the team's top returning receiver, having averaged 20.5 yards on his 29 receptions last year, but his focus this offseason has been getting the edges covered and blocking the safety for Harris.
"We talk about it all the time," Larmond Jr. said. "… He knows we're trying to work out there for him. It's fine by me because I know if I make that block he can go the distance."
Larmond Jr. will also be expected to emerge as the go-to receiver. The Eagles will miss the production of Rich Gunnell, who finished his career as the BC record holder in receiving yards. The group also lost
Justin Jarvis
and
Clarence Megwa
to graduation. Larmond was second on the team with 29 catches, 596 yards, five touchdowns and a 45.8 yards per game average. He has shown big-play capabilities, as he had four of BC's five longest receptions of the year.
Billy Flutie
is the only senior of the group, so younger players like
Clyde Lee
and
Johnathan Coleman
will have to learn quickly. Flutie and
Ryan Lindsey
could also become key contributors.
Larmond said he's looking to add more variety to his game this fall, and be able to line up in different places, and be more diverse in his route running. His responsibilities will extend beyond the field, though.
"I have to be the leader of the group and make sure I tell the guys when adversity hits us to keep going, don't give up," Larmond said. "I have to help them out, answer questions when I can and lead by example. When things aren't going right, stay with it. Don't get all frustrated. Just mainly lead by example and try to bring up the other guys. They feed off my energy. Once I'm energetic and ready to go, then they get energetic and ready to go, then we're going to be a hard receiving corps to stop."
April, 20, 2009
4/20/09
9:00
AM ET
By
ESPN.com staff
| ESPN.com
Posted by ESPN.com's Heather Dinich
Boston College is still looking for a starting quarterback, and Maryland, Virginia and Wake Forest are both looking for backups. Here are a few more reports from scrimmages and spring games from sports information directors around the ACC this past weekend:
BOSTON COLLEGE
The Eagles held their second scrimmage of the spring on Friday, and sophomore quarterback Dominique Davis completed 9 of 20 passes for 123 yards and two touchdowns. Redshirt freshman quarterback Justin Tuggle completed 1 of 4 passes for 17 yards. Sophomore quarterback Codi Boek completed 7 of 9 passes for 128 yards and two touchdowns.

The ball was spread around between the wide receivers, with a total of eight players catching passes. Redshirt freshman Clyde Lee led all receivers with four catches for 72 yards and one touchdown. Junior Billy Flutie had a 40-yard touchdown catch from Davis, finishing the day with three catches for 57 yards. Senior Rich Gunnell caught three passes for 23 yards and one touchdown, while senior Justin Jarvis had a 22-yard touchdown reception.

Sophomore running back Montel Harris had 13 carries for 67 yards. Sophomore running back Josh Haden ran for 60 yards on 17 carries.

A few younger Eagles got an opportunity to showcase themselves on defense. Redshirt freshman linebacker Alexander DiSanzo led the team with seven tackles. Redshirt freshman defensive end Max Halloway had a great day all around with three tackles, one fumble recovery, one sack, and a blocked extra point. Sophomore defensive end Dan Williams totaled five tackles for the day. Junior defensive tackle Damik Scafe and senior Brendan Deska each recorded sacks.
April, 6, 2009
4/06/09
9:00
AM ET
By
ESPN.com staff
| ESPN.com
Posted by ESPN.com's Heather Dinich
There was plenty of football going on this Saturday, but only one spring game -- Florida State -- so we'll take care of the Noles in a separate post. Here's a quick recap of the other scrimmages, according to information provided by each school's respective sports information director.
BOSTON COLLEGE
In the Eagles' first spring scrimmage, redshirt sophomore quarterback Dominique Davis started and completed 9 of 22 passes for 64 yards with three interceptions. Redshirt freshman quarterback Justin Tuggle completed 9 of 11 passes for 87 yards with one touchdown and one interception. Sophomore quarterback Codi Boek also played several series, completing 7 of 14 passes for 61 yards. Redshirt freshman Alexander Atiyeh completed a pass for 26 yards and a touchdown.
Redshirt freshman Clyde Lee led all receivers with four catches for 59 yards. Junior Ryan Lindsey had three catches for 52 yards, along with a 26-yard touchdown. Junior tight end Jordon McMichael caught Tuggle's 5-yard touchdown, which ended the scrimmage.
Senior running back Jeff Smith led all Eagles in rushing, carrying the ball 13 times for 42 yards and two touchdowns. Sophomore Montel Harris had 12 carries for 33 yards, while sophomore Josh Haden had 12 carries for 32 yards.
"I saw some good things," coach Frank Spaziani said. "The offense is getting better, learning some things and executing. We're making progress, but it's still very early."
The defense looked strong early, as senior Mark Herzlich intercepted Davis and returned the ball 43 yards for a touchdown. Sophomore linebacker Will Thompson made six tackles. Redshirt freshman Nick Clancy was in the right place at the right time totaling four tackles and two interceptions. Junior cornerback DeLeon Gause returned a fumble 42 yards for a touchdown, while also intercepting a pass. Sophomore defensive tackle Kaleb Ramsey recorded two sacks on the day.
CLEMSON
The defense had 13 sacks -- three of which came from defensive end Da'Quan Bowers, who also had four tackles -- but don't get too impressed by that stat. It's the one-hand touch rule on quarterbacks, so many of them wouldn't have counted.
"I thought it was a great scrimmage," said coach Dabo Swinney. "I saw great competition and solid performances on both sides of the ball. The wide receivers had their best day of the spring. Brandon Ford had two touchdowns [including goal-line drill] and has really made progress this week. The quarterbacks did well. People better not count out Michael Wade, he had an outstanding day.
"On defense I thought Da'Quan Bowers was outstanding. The defense had a very good day in general.
"We did have some mistakes that were critical, a fumble on the goal line, an offside penalty by the defense that negated a big play that allowed a first down. But, overall I was pleased.
"The kickers also did very well today. Spencer Benton was 7-for-7 on field goals, including a 50-yarder and Richard Jackson had an outstanding day as well."
Jackson made two field goals from 49 yards during the scrimmage.
Wade had the best stats of the quarterbacks as he completed 9-of-12 for 163 yards and two touchdowns. Willy Korn was 8-16 for 96 yards and added a 3-yard scoring pass to Ford in the goal-line drill portion of the scrimmage. Kyle Parker completed 7-of-14 for 87 yards and a touchdown on a 10-yard pass to Terrence Ashe, who made a nice catch in the back of the end zone.
Parker hit a home run for the Clemson baseball team against Duke on Friday night, then was back in Death Valley Saturday morning. He will be back in the starting lineup against Duke on Saturday night.
"We came out today to work on our passing game," said Swinney. "We have had some tough weather this spring so today was the best day we have had to work on pitching and catching. I was pleased with what I saw."
Ford had three catches for 97 yards, including a 60-yard score from Wade, in the regular scrimmage, then added a touchdown catch from Korn in the goal-line portion. Jaron Brown had three catches for 68 yards, including a 26-yard reception from Wade. Ashe had three catches for 20 yards, including the 10-yard score from Parker. Xavier Dye added two catches for 40 yards receiving, and Brandon Clear had a 30-yard catch as well.
Rendrick Taylor was the top rusher with eight carries for 31 yards, while Andre Ellington had eight for 27. There were no rushing touchdowns in the scrimmage until the goal-line drill. Ellington and Jamie Harper both had two touchdowns in the goal-line drill.
C.J. Spiller and Jacoby Ford both missed the scrimmage as they compete this weekend for the Clemson track team in the Florida Relays.
Bowers, who was Clemson's top player in the Gator Bowl against Nebraska, had three sacks, a caused fumble, four total tackles for loss and six overall tackles. Brandon Clear had two sacks.
Kavell Conner, Clemson's top tackler last year, had six tackles, as did Jeremy Campbell and Bowers, to lead the defense. Sophomore Coty Sensabaugh had a 53-yard fumble return for a touchdown. Safety Sadat Chambers had the only interception of the scrimmage.
MARYLAND
Maryland won't hold its first scrimmage until next week, but the Terps geared up for that by spending about an hour of Saturday's workout in a scrimmage-type setting.
After spending roughly an hour on individual and team work, the first and second team offenses and defenses faced off for a mock scrimmage of eight possessions with each beginning at the 35-yard line.
The offense had scoring opportunities on two of its first five possessions, but the defense ended one drive with an interception and forced two three-and-outs.
Da'Rel Scott keyed the lone touchdown drive in his limited time. With the No. 1 offense and defense squaring off on the second drive, the junior carried four times for 56 yards to move the ball into the red zone.
After Chris Turner hit Tommy Galt on third-and-5 to keep the drive alive, Haroon Brown scored on a 4-yard
run.
The offense moved the ball on the ensuing possession, but Jamari McCollough thwarted the scoring chance, picking off Jamarr Robinson's pass at the 4 and returning it 50 yards.
Two possessions later, the offense had a field goal attempt set up by a 26-yard completion from Anthony Green to Matt Furstenburg.
Aided by a stiff wind, Mike Barbour's 50-yard kick had plenty of distance, but sailed just wide right.
Safeties Terrell Skinnner and Antwine Perez were the leading tacklers, posting four stops apiece. Skinner and Perez were also in the backfield quite a bit, combining for 2.5 tackles for loss. Skinner also had a forced fumble.
McCollough also had three solo stops in addition to his interception. The defense had four sacks, including two on the final possession.
"Defensively, we got better as the scrimmage went on," coach Ralph Friedgen said. "We got better at tackling, better pursuit to the ball and we [forced] some turnovers, which is good to see from a defensive standpoint but not from an offensive standpoint."
Turner completed six of his seven passes, but managed only 12 yards. Robinson went 3-for-5 for 37 yards and Green, a defensive back serving as the No. 3 signal-caller this spring, hit all three of his attempts for 33 yards.
Scott, who played on just one possession, was the leading ground gainer with 56 yards on four carries. No receiver had more than two catches, with Furstenburg leading the way, hauling in a pair for 41 yards.
"There were a lot of positives," Friedgen said of Saturday's practice. "We just need to keep on working at trying to get better. I think our attitude is very good, I think they're enjoying themselves and I think they're working hard. As long as we have that and we keep trying to get better every day, one day we're going to be a good football team."