May, 22, 2012
5/22/12
1:00
PM ET
It's OK to be a hater -- at least this week.
The theme at ESPN.com is the
coaches we love to hate
, and your opinion counts. Tell me, which coach in the ACC do you love to hate? From my esteemed colleague Mark Schlabach's column ...
Clemson fans hate Dana Holgorsen for putting up 70.
Clemson fans hate Dabo Swinney for giving up 70.
Wake Forest's opponents hate Jim Grobe for beating them with less.
Florida State fans hate Jimbo Fisher for losing to Wake Forest with more.
Who in the ACC gets your vote for the hate and why? It can be a current coach, or it can be the most hated coach in ACC history. Hmm. Give it some thought and then
drop me a line in the mailbag
. I'll check them out and on Friday we'll crown the most hated coach in the conference. Consider this your invitation to send me some "hate" mail.
hd
May, 22, 2012
5/22/12
10:30
AM ET
In keeping with the theme this week of "coaches we love to hate," ESPN.com is looking for some villains today.
The truth is, the ACC is comprised of a bunch of nice guys. (Maybe that's the problem.)
Jim Grobe? The kind of guy you'd want to invite to your family picnic.
Frank Beamer? Could make a run for grandfather of the year.
David Cutcliffe? The man would probably give you a lift to class if you needed one.
[+] Enlarge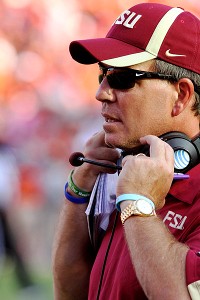 Joshua S. Kelly/US PRESSWIREJimbo Fisher's comments about leaving the ACC put him at the top of the conference's villain list.
There's one current coach, though, who has separated himself as the league's most recent villain, and he did it with one breath last week.
Hint: "If that [jumping to the Big 12] is what's best for Florida State, then that's what we need to do."
Jimbo Fisher apparently didn't get the memo about the company line.
Meet your villain, ACC fans, your one, unabashed detractor in a league that boasts unity and is determined to keep its stability. Fisher has since tried to back off of that comment, telling reporters at the ACC spring meetings he's "not a decision-maker," and that FSU is hap-hap-happy in the ACC.
(Unless, of course, the Big 12 comes calling.)
Fisher is an SEC-bred football coach stuck in a, well, basketball conference. He would fit perfectly in one of college football's big boy conferences. He's tailor-made for it, guilty of at least half of the seven deadly sins: greed, pride, and Big 12 envy. Even Nick Saban should be fearing Fisher, a relentless recruiter who has beaten his former boss for several of the nation's top prospects in the state of Alabama.
It's the rest of the ACC, though, that should be wary of this villain.
While Fisher isn't the one calling the shots in Tallahassee, it's na´ve to think he can't influence them. If he wants out, people will listen. We did. Almost as soon as those words were spoken -- "then that's what we need to do" -- the Twitter world lit up. Expansion rumors got new life. There appeared to be mixed messages coming out of Tallahassee. Everyone was talking, but not to each other. Fisher's comments gave validity to the notion that Florida State would even
consider
leaving the ACC -- $20 million exit fee and all.
Fisher endorsed Florida State flirting with the possibility of leaving the ACC -- arguably one of the most devastating scenarios the league could face. It was a survival-of-the-fittest, every-man-for-himself kind of statement.
It was as if he (sniff, sniff) thought there was something better out there. Or worse, that Florida State was better than the ACC.
Not anymore.
The ACC and Florida State have been together since 1991. They've been together through good times and bad.
The ACC needs Florida State. And in a conference full of nice guys, it needs its villain, too. After all, it only takes one national title to become a hero overnight.