September, 17, 2013
Sep 17
2:00
PM ET
TALLAHASSEE, Fla. -- The experiment was effectively over before the game even started.
It's not that Nevada posed much of a threat to begin with. Florida State entered Saturday's game as a five-touchdown favorite. But there was some intrigue, thanks to the Wolfpacks' up-tempo, pistol offense that promised to give an untested FSU defense a taste of what might be waiting on that crucial Oct. 19 showdown with Clemson.
Only the test never materialized. About an hour before kickoff, Nevada quarterback
Cody Fajardo
tweeted the news that he'd miss the game, and the Wolfpack offense that took the field didn't look anything like the frenetic, fast-paced unit that had averaged 84 plays per game since the start of the 2012 season.
Instead, Florida State's defense was subjected to slogging, methodical snooze. Nevada ran 26 fewer plays than its season average, in spite of a sizable edge in time of possession. The Wolfpack usually ran a play every 21 seconds of possession time, but against FSU, they averaged a snap every 32 seconds. In the end, the Nevada offense looked baffled, and the FSU defense remained something of a mystery.
"They were trying to shorten the game a little bit, try not to get as many at-bats and eat the clock," Jimbo Fisher said. "But I thought the defense did a really nice job and made some nice adjustments. The defense has played very solidly."
[+] Enlarge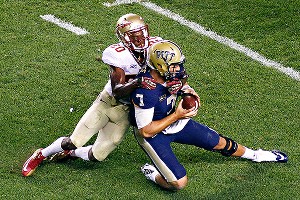 Justin K. Aller/Getty ImagesLamarcus Joyner gets a sack, which has been a rarity so far this season for Florida State.
It's tough to nitpick a defense that allowed just 511 yards and 20 points in its first two games, both against FBS opponents. And yet, questions linger.
Through two games, Florida State's supposedly aggressive new attack under coordinator Jeremy Pruitt has amassed just three sacks, two of which came from cornerback
Lamarcus Joyner
. Despite bringing the blitz on half of Nevada's passing plays Saturday -- against two backup quarterbacks, to boot -- the Seminoles didn't record a sack. (In fairness, one potential sack was overturned because
Timmy Jernigan
continued pursuit after his helmet came off.)
More often, Florida State has been burned on the blitz. When rushing five or more defenders this year, FSU has allowed the opposition to complete 64 percent of its passes. Both of the touchdowns FSU has allowed came vs. the blitz. When just four defenders rush, however, the opposition completes just 47 percent of its passes and has thrown two interceptions, according to ESPN Stats and Information.
Florida State has mustered just 10 tackles for loss thus far, a number bettered by 93 other FBS teams. Of the four TFLs the Seminoles managed against Nevada, two came late in a blowout game from backup defenders.
In both of its games, Florida State's defense has finished strong. But it's still tough to ignore that two supposedly overmatched offenses marched down the field for extended early drives. On the first four drives of the game, Pittsburgh and Nevada averaged 5.7 yards per play. Throughout the remainder of the game, that average dipped to just 3.1 yards per play.
"We've got to come out a little faster," corner
P.J. Williams
said. "We're letting teams [move], especially in the running. … We know the defense, but we've got to execute it better. It's different going against them in practice than when you go into the game."
That the FSU defense remains a work in progress at this point isn't really a surprise. A half-dozen regulars missed spring practice, and the shakeups on the depth chart have continued since then. Fisher announced Monday that defensive end
Mario Edwards Jr
. would likely miss this week's game against Bethune-Cookman after surgery on his hand, leaving a trio of freshmen --
Chris Casher
,
DeMarcus Walker
and
Ukeme Eligwe
-- to pick up the slack.
Edwards' absence may not last beyond this week, Fisher said, and Bethune-Cookman doesn't figure to provide much of a challenge for the defense anyway. But therein lies the problem.
That Oct. 19 date still lingers on the horizon, a game that is likely to define Florida State's season. Between now and then, Florida State plays an FCS opponent, a Boston College team that ranks 121st nationally in plays per game this year, and resurgent Maryland, the final tune-up before high-flying Clemson.
After Nevada downshifted its up-tempo attack, the Terrapins likely represent the only opportunity Florida State's defense will have to test its mettle against an offense with a modicum of the firepower Clemson possesses. That certainly figures to add some intrigue to the game, but it isn't likely to have too many Florida State fans feeling entirely comfortable in the interim.
"These last couple games, coming in with this new defense and just learning, we can do better," Williams said. "It has a lot to do with the new defense."
September, 12, 2013
Sep 12
1:00
PM ET
TALLAHASSEE, Fla. -- It wasn't until he watched the tape that
Timmy Jernigan
felt some satisfaction. On the field against Pittsburgh, he'd been frustrated. The Panthers' offense mustered too many big plays, and Jernigan felt responsible. But the film told a different story.
Jernigan had four tackles -- including two for a loss -- and a sack, but it wasn't until he slowed down the tape, watched each play unfold in intricate detail, that he saw how much he'd contributed.
"I didn't realize how I was affecting other guys," Jernigan said. "I just got a little frustrated with the two or three big runs [Pittsburgh] had in the first half."
In the 10 days since Florida State debuted its new-look defense, the mixed emotions have been a hallmark. On the positive side of the ledger, the Seminoles held Pitt to less than 300 yards of offense, picked off two passes and kept the Panthers out of the end zone on their final nine drives.
On the flip side, however, there were too many early mistakes, too many big plays off the edge, and too few sacks of a quarterback with limited mobility.
"It was mostly just guys getting settled in," Jernigan said. "The first-game jitters. I feel like once everything slowed down a little bit and we got comfortable, we began to play the way we usually do."
Florida State's opener underscored both the strengths and the potential weaknesses of this defense -- a ball-hawking, aggressive crew that's still looking for ways to address enormous turnover among the front four and still learning the nuance of coordinator Jeremy Pruitt's new scheme. It's those latter concerns that have been a focal point during practice the past two weeks.
Start with those big plays that earned Jernigan's ire in Pittsburgh.
For the past two years, Florida State has been among the toughest defenses in the nation to run against. The Seminoles finished 2012 ranked third nationally against the run, but with four new starters on the defensive line and a markedly different scheme on game days, this year's crew looked lost at times.
Jernigan wasn't the problem, in spite of his initial concerns. When Pitt ran up the middle, it found few holes. But when the Panthers bounced runs outside,
Isaac Bennett
and
Tyler Boyd
caught FSU defenders out of position and picked up big gains.
Excluding yards lost to sacks, Pitt mustered only 2.1 yards per carry between the tackles, but when the Panthers found the edge, they moved the ball, on average, 8.3 yards per rush, according to ESPN Stats and Information.
"We've got to be assignment perfect," said linebacker
Telvin Smith
, who had eight tackles, including two for a loss, against Pitt. "In those situations, one guy just busted an assignment, and you can't have that or you'll see those long runs for 20 or 30 yards."
Few teams in the nation run the ball more often or more effectively than this week's opponent, Nevada. The Wolfpack's pistol offense has gouged its share of defenses over the years, and quarterback
Cody Fajardo
offers a dual-threat weapon that Pittsburgh didn't have.
It's possible Fajardo will be limited this week as he recovers from a knee injury, but Florida State is preparing for him to be at full strength, defensive end
Mario Edwards Jr
. said.
"That's basically who we have to stop in the offense is the quarterback," he said.
Against Pitt, FSU's defense did a decent enough job of forcing senior
Tom Savage
into mistakes, but the bulk of the pressure came from the blitz, not from the front four.
Cornerback
Lamarcus Joyner
recorded two of the team's three sacks against Pitt, a remarkable stat given the Seminoles didn't have a single sack by a defensive back all of 2012.
It's a changing of the guard for a defense that figures to be even more aggressive as players master the scheme. Florida State blitzed Savage on 12 of 31 passing plays, sacking him twice. But for all the aggressive posturing, the Seminoles actually managed to disrupt Pitt's offense even when they didn't record the sack.
On plays when FSU rushed just four defenders, Savage had a lower completion percentage (50 percent) and threw for fewer yards per attempt (7.3) than when FSU blitzed. His lone touchdown came on a blitz, too.
"I think we did a really good job of getting some penetration at some points, but at other points, we didn't," said senior
Dan Hicks
, who played a hybrid role bouncing between linebacker and end. "We were really expecting a lot of run, and that was our main focus. We weren't really focused on the pass, and I think that showed."
That mind-set isn't likely to change much against Nevada, but Edwards said disrupting Fajardo's rhythm in the pocket will be a key.
"Getting pressure is definitely a big, big deal," Edwards said. "If you don't get pressure, he can bounce it outside, and if the corner isn't there, it's a touchdown."