March, 12, 2013
3/12/13
3:30
PM ET
WAKE FOREST
If you're just joining us, this series is categorizing the unranked teams in the ACC as either contenders or pretenders heading into the 2013 season. We're leaving out Florida State and Clemson because they are the only two teams from the ACC expected to be ranked this preseason. Those rankings automatically qualify them as contenders. The Deacs? That's debatable.

Let's have at it:
Why they're a contender:
A great linebacker corps. This will be the strength of the team, as it blends experience with young talent. Redshirt juniors
Justin Jackson
and
Mike Olson
are the veterans of the group, but the staff is also very encouraged by redshirt freshman
Teddy Matthews
, who is a potential starter, and
Kevis Jones
. Overall, this group will lead a noticeably improved defense, which will give the Deacs a fighting chance against the ACC's best.
Why they're a pretender:
The offensive line has been ravaged by injuries and it has yet to prove it has the depth to handle it again. Starting tackles
Steven Chase
and
Colin Summers
are expected to miss spring drills, along with starting guard
Antonio Ford
. Even with veteran quarterback
Tanner Price
returning, along with star receiver
Michael Campanaro
, the Deacs won't go very far without a dependable line blocking for them.
Final verdict:
Contender.
Consider the Deacs a dark horse in the Atlantic Division race. Last year wasn't the norm for the program, as it had both injuries AND suspensions to key players. The staff has recruited well the past two seasons and it has one of the best coaching staffs in the ACC. The schedule is favorable, and it has open dates before Duke and Maryland. Overall, the team has more depth. If the Deacs can stay healthy, they have a chance.
More in this series
March, 6, 2013
3/06/13
3:30
PM ET
Wake Forest offensive tackle
Colin Summers
' career is in jeopardy because of a continuing problem with blood clots, coach Jim Grobe told ESPN.com on Wednesday.

Summers, expected to start at right tackle, was rushed to the hospital over Christmas break with blood clots in his lungs. Grobe described what happened as a "life-threatening situation," saying Summers has been through a roller coaster of emotions while doctors tried to pinpoint what was causing the clots.
"I wouldn't say he's been ruled completely out, but I think there's a good chance he may not play football again," Grobe said in a phone interview. "He's been up and down. At first the doctors said, 'You can't play. Then they said, 'We're not sure if the blood clots were caused by an injury.' They've been doing tests on him, and the last thing I heard was they believe there's a blood disorder causing those blood clots."
Summers started 11 games last season, but he did suffer a concussion at the end of the year, and also played through a lower leg injury. It was that leg injury that doctors thought was the culprit behind the clots, but recent tests revealed that not to be the case. Summers is being treated with blood thinners. If he must remain on them, he would no longer be allowed to play contact sports and his career would be over.
"It's just really sad because he's a guy we felt like was an All-ACC caliber player," Grobe said. "But our No. 1 thought is on his health. As much as we need him as a football player, it's much more important that we've got a healthy kid."
Wake Forest, hit by injuries last season, still has a list of walking wounded this spring. Among those who will be limited or out when spring practice opens March 19 are projected starters
Steven Chase
and
Antonio Ford
on the offensive line, cornerback
Merrill Noel
, linebacker
Zach Allen
, running back
Josh Harris
, receiver
Matt James
and receiver
Michael Campanaro
. But Grobe did say he is hopeful Campanaro will get in a few practices before the Deacs wrap up in April.
February, 25, 2013
2/25/13
1:00
PM ET
The spring has not brought much relief to Wake Forest in the injury department.
Several projected starters are expected to miss all or parts of spring practice, which begins March 19. Offensive coordinator Steed Lobotzke said in telephone interview that he didn't expect to see receiver
Michael Campanaro
, starting tackles
Steven Chase
,
Colin Summers
or starting guard
Antonio Ford
participating in drills.
Lobotzke said, "'Camp' is going to have some ankle surgery on a bone chip floating around so we're going to miss him."
Chase (knee), Summers (concussion) and Ford (leg) are still rehabbing injuries sustained last season, when the Deacs saw an unprecedented number of guys go down on their offensive line. In all, Wake Forest lost nine offensive linemen throughout the course of 2012, including all five players it had moved over from the defensive line.
That is why one of the biggest priorities heading into spring was finding stability in the trenches. But Wake is going to have to wait until the fall at the earliest to begin working on its biggest offensive question mark.
"Even though we have high hopes for next season, spring ball's going to be tough," Lobotzke said. "Right now, we have a guaranteed seven offensive linemen for spring ball. We're hoping for eight, but hopefully by next season we'll have a full complement of guys out there healthy with Antonio, Colin and Steven Chase.
"I wish it was better than that, I wish it was cleaner than that. We were thinking if those five guys can go through spring together and Tanner [Price] could build confidence with them -- but it's not going to happen. We're going to have to have a great August I think. Because right now three of the guys we're counting on to be in our top five will not be out there this spring."
Lobotzke added the team is still unsure whether Summers will be able to resume his career because of lingering affects from a concussion.
While Wake could take a woe-is-me attitude, that is certainly not the case. The flip side is the ability to try to build some depth for this season, to avoid the nightmare that was 2012.
"It opens the door for young guys," Lobotzke said. "
Dylan Intemann
played as a freshman last year because of injury. Maybe this is the spring Dylan asserts himself, and says, 'I'm going to take Colin's job from him. I'm going to outplay him and I'm going to be the guy at right tackle.' Maybe we can build O-line depth because of these spring injuries and maybe we can get some young guys to step up. That would be a great side benefit with Steve, Antonio and Colin not being able to take spring reps."
Lobotzke also said a few other players are injured heading into spring and their status is up in the air: reserve offensive lineman
Will Smith
(knee), tight end
Neil Basford
(Achilles') and receiver
Matt James
(foot).
"A lot of the names we're counting on won't be out there for spring," Lobotzke said. "The biggest problem is putting 11 bodies out there, but we've got a lot of young guys that will get a shot."
November, 16, 2012
11/16/12
12:00
PM ET
August, 7, 2012
8/07/12
5:00
PM ET
We have come to the end of our preview of every ACC team headed into fall camp. Last, but never least ...
School:
Wake Forest.
Started:
Monday.
Predicted finish at media days:
Fourth, Atlantic Division.

Biggest storyline:
Can this team have a winning season? Coach Jim Grobe was asked during ACC media day whether any luster was taken off making a bowl game last season because the team finished 6-7. He answered the right way, saying it is always an accomplishment to make it to a bowl. That is particularly true when your last previous bowl appearance came in 2008. Still, there may have been a sense of falling short of their own expectations, particularly after a 4-1 start gave way to a 2-5 finish. Close losses to Syracuse, Notre Dame and Clemson -- with the Atlantic Division in the balance -- still sting. This year, Wake Forest is going to have to rely on an entirely new set of playmakers on offense, with the departures of leading rusher Brandon Pendergrass and receiver Chris Givens. Plus, only one starter returns on the offensive line. Defensively, Wake will have to do better than allowing an average of 170 yards rushing per game, and the pass rush has got to get better (only 11 sacks the entire season). The defense does return some All-ACC players in
Nikita Whitlock
and a rising star in Merrill "Bud" Noel, but there is no question this team has to get better everywhere.
Biggest position battle:
Offensive line. This is the unit that has the biggest question mark by far is this group, with four starters gone from a year ago. Center
Garrick Williams
is the only returner, but there could be some good news with the replacements who are coming in. Remember, the offensive line did give up 35 sacks last year to rank No. 100 in the nation.
Frank Souza
moved over from the defensive line and impressed the coaches right from the outset and is competing for a starting job. Grobe seems happy with
Colin Summers
,
Antonio Ford
and
Steven Chase
. But right guard seems to be up for grabs.
Daniel Blitch
played there with the first team in the spring, but the competition is open this fall. Grobe has not ruled out moving Souza to the position, if necessary.
Who needs to step up:
Michael Campanaro
. Givens was a star for the Deacs last season, leading the ACC with 1,330 yards and catching nine touchdown passes. Campanaro did well himself, with 883 yards receiving but he was not really the big-play threat that Givens was. Now all eyes are going to be on him to see whether he will be the hands-down go-to player for quarterback
Tanner Price
, and whether he has the ability to stretch the field more than he did a year ago.
May, 8, 2012
5/08/12
5:00
PM ET
Our series concludes today with the Demon Deacons, who, like many in the ACC this season, have to shore up their offensive line.
For a complete recap of the series, click
here
.
Wake Forest
: C
Garrick Williams
2011 stats
: Williams played in all 13 games last season, starting in 11.
What he means to the Demon Deacons
: Williams performed well during his first season as a starter, but he also had the benefit of playing alongside four fourth- or fifth-year players. Now, there is no safety net. Williams is the lone returning starter to a unit that is rebuilding, one that will be charged with protecting enough skill position players for the Deacs to think they can repeat their surprising 2011 season. Coach Jim Grobe has said coming out of spring that he's comfortable with three spots on the line: Williams in the middle,
Colin Summers
at right tackle and
Antonio Ford
at left guard. Williams is the leader of the group, and his presence cannot be overstated.
April, 30, 2012
4/30/12
10:30
AM ET
Despite its 6-7 overall record in 2011, Wake Forest came within a field goal from playing for the ACC title. With key pieces such as two-year starting quarterback
Tanner Price
returning, the Demon Deacons are looking to build off that success in 2012. Here, head coach Jim Grobe talks about expectations entering his 12th year leading the program.
The offensive line is replacing four starters. How important was the spring season for them from a developmental standpoint?
Jim Grobe:
Well I thought it was really good. I think we've got three kids going forward that we can count on:
Garrick Williams
, our center, started for us last year so we feel really good about him. I think
Colin Summers
, our right tackle, is a kid who has the potential to be one of the better offensive linemen in the league, as does
Antonio Ford
, our left guard. I think all three of those kids really have the ability to get the job done for us. And then the rest of it's gonna be a toss-up. I think we've got some talented kids. I think
Dylan Heartsill
's a kid that's had some back issues at left tackle but we have great hopes for him and hopefully he'll get healthy. So we moved
Frank Souza
over to left tackle from nose guard -- he was backing up
Nikita Whitlock
on defense and we didn't feel like there was much future in that. So we moved Frank over to left tackle. I think that's gonna be a great move for us, he looked really good the last half of the spring.
We need somebody to step up at right guard; I'm hopeful that [Daniel] Blitch or [Dylan] Intemann or one of the younger guys will be that guy, so it's kind of a mixed bag. We don't have a starting five yet but I think three of those guys are really good players. If we can get a couple more guys to step up I think we can at least put a really good starting five on the field at the start of the year.
You know what you have under center in Tanner Price. Going into his third year now, what kind of strides does he need to make to take the next step?
[+] Enlarge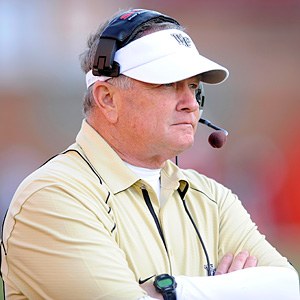 AP Photo/Nick WassJim Grobe says the goal is for Wake Forest to try to get back to a bowl game and to possibly make another run at the ACC title.
JG:
Well it's huge when you've got your quarterback coming back, especially if he's a good one. I think Tanner thew for a little over 3,000 [yards] last year, [20] touchdowns, only had six picks. So he's a guy that takes pretty good care of the football. Really smart guy. a lot of Riley Skinner-type intangible stuff with Tanner. Tanner's got a more live arm than Riley had but he doesn't do as good of a job on the underneath stuff, and I think that's where his biggest improvements needs to come and I think we saw that this spring. We really challenged him to be a little more accurate with the touch stuff and I think we saw that this spring. I think he just looked better to me this spring than he did last fall and I thought he did good things last fall. So his biggest deal is just gonna be completion percentage. If we can bump that completion percentage up, we've got a guy that can win games for us.
It's been said that Michael Campanaro be that go-to guy for him, with Chris Givens now gone. Is finding a No. 2 target more pressing right now? Who has stood out in that role for you?
JG:
Yeah I think so. I don't think there's any question. That's my concern. I think Campanero, you look at Chris last year, but in reality we had two guys -- Camp, he didn't catch as many balls as Chris, but he was close. They were really a 1-2 punch for us last year, so I think Camp, if he stays healthy, is ready for a big big year. So the key for us is we've gotta find some body else. If Camp's the only guy we've got to go to then defense are gonna make it really tough on us. So a guy like
Terence Davis
,
Matt James
,
Brandon Terry
,
Sherman Ragland
-- somebody in that group's gotta step up and kind of balance things out so that they can't just double-cover Camp and leave those other guys alone.
February, 29, 2012
2/29/12
9:00
AM ET
By
ESPN.com staff
| ESPN.com
The maturation of Wake Forest's offensive line will be critical this spring, as the Deacs have to replace four starters up front. As the team prepares to start its spring practices on Thursday, coach Jim Grobe said "it's not a good confidence level right now" in the rookies.
Not only does he expect that to change, though, Grobe said this group has the potential to be even more athletic than last year's veteran line.
"I hope to feel better after spring practice," Grobe said. "A lot of these kids are more athletic than the kids we played this year, but they just don't have much game experience. My honest feeling is that we can actually be improved from an athletic standpoint, but the experience is something you can't give them. They've got to earn that."
Grobe said it's unlikely he'd gamble with a true freshman on the offensive line, though former guard
Joe Looney
started there as a true freshman. The good news for the Deacs is that they shouldn't have to turn to freshmen because of the depth on the line. The staff also moved
Ramon Booi
from the defensive line to the offensive line, where he should have a better chance to see playing time. The Deacs also have a solid center returning in
Garrick Williams
. Grobe said that Williams struggles a bit with his weight, but if he can continue to improve, he'll be the anchor of the line.
Grobe said the staff is also excited about the potential of guard
Antonio Ford
, who is very talented but doesn't have a lot of experience, and tackle
Daniel Blitch
. Tackle
Steven Chase
has seen some meaningful reps in his career as a part-time starter at left tackle, but Grobe said Chase is sometimes a "knothead" who has taken his position for granted a little bit. Guard
Colin Summers
played sparingly at the end of 2011, but he was unsure of where to go at times, and needs some more work with the playbook.
Once this group comes together, though, Grobe said he is expecting good things.
"I really feel like last year's class was special because they were experienced, and tough and great kids, good attitudes, all those kinds of things," Grobe said. "But I think this group up front, I think we might find, at least from a starting five, and maybe six or seven guys, that we may not be as grizzled and tough and experienced but we might be a little bit better from an athletic standpoint."
February, 15, 2011
2/15/11
9:00
AM ET
It's that time of year, ACC fans. Duke kicks off the ACC's spring football schedule with practice tomorrow, so it's time to take a look at three storylines to watch for each program. We'll start with the Atlantic Division:

BOSTON COLLEGE
Spring practice starts:
March 15
Spring game:
April 16
What to watch:

CLEMSON
Spring practice starts:
March 7
Spring game:
April 9
What to watch:

FLORIDA STATE
Spring practice starts:
March 21
Spring game:
April 16
What to watch:

MARYLAND
Spring practice starts:
March 29
Spring game:
April 30
What to watch:

NC STATE
Spring practice starts:
March 17
Spring game:
April 16
What to watch:

WAKE FOREST
Spring practice starts:
March 15
Spring game:
April 16
What to watch: