December, 1, 2013
12/01/13
1:58
AM ET
COLUMBIA, S.C. – Everywhere you looked late Saturday night in Williams-Brice Stadium, they were holding up five fingers.
Well, at least everywhere but the Clemson sideline.
The script in this Palmetto State rivalry has become as predictable as Charlie Brown having the football pulled out from under him every Thanksgiving.
[+] Enlarge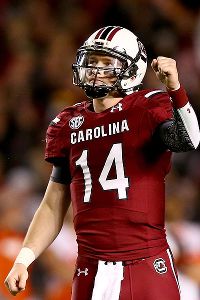 Streeter Lecka/Getty ImagesSouth Carolina QB Connor Shaw threw for 152 yards and rushed for 94 yards in the win over the Tigers. Shaw has 20 passing touchdowns and one interception this season.
Only the roles have reversed.
South Carolina won its fifth in a row over Clemson,
31-17
, in a game that could have been a carbon copy in a lot of ways of the previous four.
The Gamecocks didn't turn it over a single time. The Tigers turned it over six times. The Gamecocks made key plays. The Tigers made critical mistakes.
The Gamecocks turned up the pressure on Clemson quarterback
Tajh Boyd
and sacked him five times. That's 16 times in the last three games in this series that Boyd has been sacked.
The Tigers wilted under the pressure and will have another entire year to explain how they can play so well much of the season, and yet, so crummy when they meet up with their arch-rivals the final weekend of the regular season.
"They've got a good team, but continue to not play very well when they play us for some reason," said South Carolina coach Steve Spurrier, doing his best to play nice after becoming the first coach in South Carolina history to win five in a row over Clemson.
Of course, the Head Ball Coach just continues to rack up firsts at South Carolina.
The Gamecocks (10-2) have now won 10 or more games in three consecutive seasons. Before Spurrier arrived in 2005, they'd won 10 or more games in a season only once in school history.
"I was thinking back to all the teams I've had, and these guys may have achieved the most for such a young bunch of guys that haven't played all that much and don't have that much experience," Spurrier said.
The only bummer for the No. 10 Gamecocks was that they didn't get the help they were looking for Saturday night out of Columbia West. Missouri held off Texas A&M 28-21 at home to win the Eastern Division title and will face Auburn next Saturday in the SEC championship game.
"We're still going to celebrate," South Carolina defensive end
Jadeveon Clowney
said. "A lot of us grew up in this state and know what this rivalry is about. No matter what happens, I can always say that I don't know what it feels like to lose to Clemson because I never have and never will."
For the No. 6 Tigers (10-2), it was a bitter pill to swallow. They've specialized in lighting up scoreboards, but haven't scored more than 17 points in any of the their last five losses to the Gamecocks.
"We are playing a top-10 team, and every year, we have lost the turnover margin," said Boyd, who was intercepted twice and lost a fumble. "Ultimately, I think that sums up the story every year."
[+] Enlarge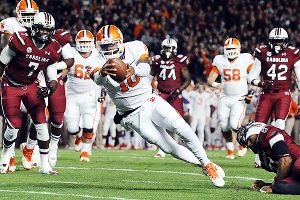 AP Photo/Rainier EhrhardtClemson signal-caller Tajh Boyd threw for 225 yards but had two interceptions vs. South Carolina.
The South Carolina players view it a little differently.
Senior quarterback
Connor Shaw
, who finished his career 17-0 as a starter at home, suggested that it's not just a coincidence that the Tigers seem to stink it up every year in this game.
"It's like blood in the water when we play these guys," said Shaw, who threw a touchdown pass and rushed for a touchdown. "We have respect for them, and they're a good team. But I don't know how they would do if they had to play in our league, just the grind of the SEC.
"We've played better teams than them this year. That's just how we feel."
Clowney, who said in the preseason that he could tell Boyd was scared when the Gamecocks faced him, wasn't backing down from those comments after seeing Boyd struggle once again.
"Every year, we talk about the same thing when we talk about them," Clowney said. "We watch them play other teams, [and] nobody is really putting a lot of pressure on him. We know that we can get to him, contain him and add pressure. Once we hit him a few times, he starts getting the jitters a little bit and starts throwing crazy balls.
"That's what he did tonight. We got the interceptions off those, and it worked out in our favor."
But, then, that's becoming the norm in this rivalry for the Gamecocks. Everything seems to work out in their favor.
"It's just special for this program and for all the players on this team to know that we've never lost to Clemson," Shaw said. "That's something that nobody can ever take away from you."
August, 30, 2013
8/30/13
1:30
AM ET
COLUMBIA, S.C. -- South Carolina defensive end
Jadeveon Clowney
smiled at reporters late Thursday night and quickly got one step ahead of them, just as he has so many offensive linemen in his career: "You can ask all the questions about conditioning," he said. "Let's get to it."
Clowney, the reigning SEC Defensive Player of the Year, was not his Heisman hopeful self in the Gamecocks' 27-10 win over North Carolina. He was sucking wind. He didn't get one sack. He cramped up.
Clowney said he had a stomach virus the night before, and it was still ailing him the morning of the season opener. His pregame meal consisted of bananas and a few grapes, and it didn't help that UNC's up-tempo spread offense ran 79 plays to South Carolina's 59.
So yes, Clowney was "pretty tired" -- but it didn't matter, because South Carolina found other ways to win.
For all of the hype surrounding South Carolina's bullish defensive line, it was the physical performance of the Gamecocks' offensive line coupled with a poor performance from UNC's defense that was the difference in the game. South Carolina was bigger and better up front, further padding the theory that the SEC recruits a different caliber of linemen than any other conference. The Gamecocks knew this advantage going in -- and used it to establish a running game led by rookie
Mike Davis
, who was making his first career start.
"We knew that coming in, watching film," quarterback
Connor Shaw
said. "We were going to try to run the ball a lot. We struggled a little bit here and there on five-man protection … but other than that our offensive line played really well."
Well enough for Davis to finish with 115 yards, the first 100-yard game of his career. South Carolina's offensive linemen averaged 322.4 pounds compared to UNC's 307. The gap up front was noticeable. South Carolina averaged 6.9 yards per play, six yards per carry, and finished with 228 rushing yards. The Gamecocks had all of the momentum early, as they outgained North Carolina 203 yards to 35 in the opening quarter.
"They're bigger than we are," UNC coach Larry Fedora said. "I'd have to go back and look at the film and see if we were getting mashed. I want to give the running back a lot of credit. That guy broke a lot of tackles. Mike Davis, he did a really nice job. We have to do a better job of tackling."
North Carolina gave up too many big plays -- including a 75-yard touchdown run by Davis in the third quarter, and a 65-yard touchdown pass to
Shaq Roland
just 1:19 into the season. Quarterback Dylan Thomas came in for Shaw and on his first play of the game threw a 29-yard touchdown pass to
Kane Whitehurst
. Meanwhile, the offense did a respectable job keeping Clowney at bay. Offensive tackle
James Hurst
was lined up against Clowney the most, but Clowney was also moved all over the field. Fedora said the game plan was to get rid of the ball quickly and use short passes.
"We felt like if we could move the chains and execute, it would tire him out," Fedora said. "If you go back and look, there were times he was pretty tired out there. He can make plays when he wants to make plays. He's definitely a hoss, there's no doubt about it. He's a great player, but … I didn't feel like he was a huge factor in the game, actually. There were other guys I thought made some plays. I thought James Hurst did a pretty nice job against him."
It was a disappointing start for the ACC, which opens the season with three games against SEC opponents. North Carolina seemed overmatched from the start, even though it was doing a good job of keeping Renner on his feet. He was sacked only one time all night, but South Carolina was simply the deeper, more talented team. The fact that Clowney had an off-night and South Carolina's defense still held UNC to its lowest point total under Fedora was further proof that the Gamecocks are more than just Clowney.
UNC averaged 40 points 485 yards a game last year. But it sputtered and stuttered in the red zone, scoring just one touchdown in three trips. Clowney had a little something to do with that. Even though he wasn't full speed, he was still on the heels of UNC quarterback
Bryn Renner
.
"I was pretty tired, but you have to play through that," Clowney said. "I was still coming off the ball and that's what matters. I might be bent over sometimes but when that ball snaps, I was getting off. … It's just one of those games, you have to push yourself."
They did. And North Carolina didn't have enough to push back.
February, 18, 2009
2/18/09
12:00
PM ET
By
ESPN.com staff
| ESPN.com
Posted by ESPN.com's Heather Dinich
Time for another trip through ACC country. Hang on, it gets a little rocky through Coral Gables ...