April, 1, 2014
Apr 1
10:30
AM ET
Virginia Tech
defensive coordinator Bud Foster has spoiled Hokies fans with his consistent ability to reload.
Now he has to do it again.
[+] Enlarge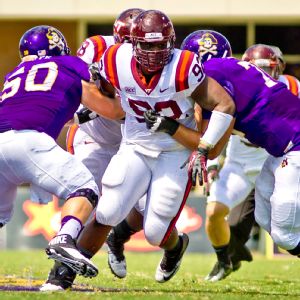 Jeff Lack/Icon SMILuther Maddy will anchor Virginia Tech's defensive line in 2014.
While the bulk of the questions this offseason have centered around the Hokies' new starting quarterback and the persistent offensive woes, the defensive holes throughout the front seven can't be ignored. Virginia Tech has to replace three starters on the defensive line and two linebackers, including
Jack Tyler
, who was the team's leading tackler in each of the past two seasons. One of the biggest areas of concern is on the defensive line, where tackle
Derrick Hopkins
and ends
James Gayle
and
J.R. Collins
have to be replaced. The defensive tackle position is thin, and the pre-spring depth chart, which was released last week, features four positions (defensive tackle, defensive end and two linebacker spots) that are wide open.
While those within the program remain confident that there is enough talent on the roster to plug the gaps, Virginia Tech's young defense enters this spring with much to prove.
"When you look at the caliber of players, we've got that," said head coach Frank Beamer. "Now it's just a matter of getting those guys experience. If you didn't have the first part -- if you didn't have good players -- I think you'd really be concerned, but now it's just a matter of how fast we can get 'em to where they can perform on a consistent basis. We're racing time a little bit right now."
Here's what the Hokies do know: Senior defensive tackle
Luther Maddy
and junior end
Dadi Nicolas
are the expected leaders up front. Maddy is the most experienced returning lineman, as he started every game last season and was fifth on the team in tackles (55) and led the Hokies in sacks (6.5). With the exception of Maddy, who has 29 career starts and is coming off his best season, the rest of the returning linemen have a combined total of six starts -- and tackle
Corey Marshall
has five of them.
Marshall missed the first two games of last season after leaving the team in the preseason for personal reasons and then redshirted while playing defensive end for the scout team. He is versatile enough to play both end and tackle but will start the spring inside, where Beamer said the coaches prefer him because his speed can cause matchup problems.
"He's really very good in everything he's done since he's been back, and he's quite an athletic guy," Beamer said. "You put him inside, and I think he has the ability to play outside at defensive end and probably will do some of that this spring. But he really can make a difference."
At linebacker, the coaching staff is looking for senior
Chase Williams
to emerge as a difference-maker, too, in his first season as a starter. The bulk of Williams' snaps in 2013 came on special teams, but this spring he's next in line to take over for Tyler.
"I think he's ready to step into that position," Beamer said. "All indications, how he's worked, and we feel he's ready to be that guy who can be a good linebacker and be a leader over there on the defense. It's his time, so I think he's ready to take advantage of it."
The next step this spring is finding out who else is ready on defense.
September, 11, 2013
9/11/13
3:00
PM ET
Here are a few quick notes off the ACC coaches call on Wednesday:
Maryland coach Randy Edsall makes his return to Connecticut on Saturday when the Terps visit his former team. Last season, Edsall had to answer questions about playing his old team when UConn traveled to College Park. The story lines continues this week because he will be returning to a place he called home for 12 years.
"I've got fond memories of Connecticut, fond memories of Rentschler Field and hopefully we come away with a victory," Edsall said. "Connecticut was very good to me and my family. Had a great experience there. What you've got to do is take everything and put it to the side and focus and concentrate on getting our team prepared. I know they're going to be fired up, I know it's a tough place to play having coached in that stadium so it's got to be something we have to be ready for."
UConn beat Maryland in 2012, but the Huskies come into this season's game off a loss to FCS Towson. Maryland, meanwhile, is off to a 2-0 start and appears to be in much better shape than UConn. The Huskies have not made a bowl game since Edsall took them to the Fiesta Bowl in the 2010 season. Wonder whether the homestanding fans will
cheer or boo
Edsall in his return.
Virginia Tech coach Frank Beamer had high praise for Alston Smith, who was moved from defensive tackle to offensive guard earlier this week. Smith, the son of Bruce Smith, was "exceptional" in his first day of practice with the offensive line. "He's athletic, he's got good feet, he's a natural guy in there and so I was really encouraged by watching that." Beamer also added that defensive tackle Corey Marshall had a great day of practice Tuesday, his first since returning to the team to deal with personal matters. "He helped our offense get better by being very aggressive as a defensive scout team member," Beamer said.
There is no question Boston College coach Steve Addazio is thrilled with the progress he is seen out of his team, off to a 2-0 start with a big game at USC looming on Saturday. But he also wants to keep the quick start in perspective. "I just think we're scrapping, we're playing physical, we're trying to be true to the core values we want within our program," Addazio said. "It's nice to get that start, but understand we're a work in progress."
Duke coach David Cutcliffe reiterated that he would like to get freshman quarterback Parker Boehme some playing time with starter Anthony Boone out indefinitely because of a broken collarbone. The initial plan going into the season was to try and redshirt Boehme but the injury has changed everything. Boehme will serve as the backup to Brandon Connette until Boone returns. "If something were to happen and Brandon's out for a few plays, I wouldn't be afraid to play Parker," Cutcliffe said. "I think he's played well."
Miami beat Florida thanks to a solid defensive performance, especially from a much more physical defensive front. Coach Al Golden said a big reason his team was so effective along the line was because of its rotation. Defensive end Anthony Chickillo played 71 snaps, but everybody else stayed in the 40s. "We refused to get worn down and we rotated," Golden said. "Hopefully that rotation will get stronger." Golden says the plan during the bye is to get more inexperienced players like Ufomba Kamalu and Jelani Hamilton ready for more playing time.
Speaking of Miami and Florida, Florida State coach Jimbo Fisher caught the end of the game last weekend after his team finished practiced. Asked for his impressions, Fisher said, "Heck of a football game, very competitive, a lot of great players on both sides. Two very good football teams," he said. "We'll have to get a lot better before we play them." The Noles play both teams in November.
Despite its struggles running the option in a loss to Boston College last week, Wake Forest coach Jim Grobe says he has no plans to scrap it from the offensive game plan. "Nobody played real well," Grobe said. "We didn't block well, didn't run well. It was not anything to do with the run game. The offense, in general, just did not play very well."
March, 21, 2013
3/21/13
11:00
AM ET
VIRGINIA TECH
If you're just joining us, this series is categorizing the unranked teams in the ACC as either contenders or pretenders heading into the 2013 season. We're leaving out Florida State and Clemson because they are the only two teams from the ACC expected to be ranked this preseason. Those rankings automatically qualify them as contenders. The Hokies are up next.

Why they're a contender: The defense could be the best in the ACC.
Virginia Tech returns nine starters from a defense that ranked No. 18 in the country last year in total defense. All four defensive linemen return, including all-ACC defensive end
James Gayle
and run-stopper
Derrick Hopkins
. All-ACC and leading tackler
Jack Tyler
is back at linebacker, and all four defensive backs return, including
Antone Exum
, once he recovers from an injury.
Kyle Fuller
,
Kyshoen Jarrett
,
Detrick Bonner
and
Corey Marshall
are also headliners, and there are big expectations for true freshman
Kendall Fuller
. There are also plenty of young, talented players who redshirted last season and will earn their way into the rotation.
Why they're a pretender: Offensive questions remain.
Coach Frank Beamer made sweeping changes to his offensive staff, including the hire of first-year offensive coordinator Scot Loeffler, offensive line coach Jeff Grimes, and receivers coach Aaron Moorehead. While most who paid attention to the Hokies last season would agree change was necessary, it's a new playbook to learn, and the offensive line remains a concern. Virginia Tech still needs to establish a leader in the running game, still has to find physical, dependable receivers willing to block, and still needs to see improvement from quarterback
Logan Thomas
. Those things will take time, especially with new faces on the coaching staff.
Final verdict: Contender.
Beamer is one of the best coaches in the ACC, as evidenced by eight straight seasons of 10 wins or more. The staff and players are determined to regroup and prove that last season's disappointment was an anomaly. Thomas certainly didn't come back to Virginia Tech to finish 6-6. The talent on defense will be enough to shoulder the team as the offense works out its kinks under Loeffler.
More in this series
August, 17, 2012
8/17/12
12:00
PM ET
Ahhh, North Carolina (smh) ...
January, 1, 2012
1/01/12
9:00
AM ET
Early in the regular season, Virginia Tech's defense had already lost starting outside linebacker Jeron Gouveia-Winslow and starting defensive tackle Antoine Hopkins to season-ending knee injuries. Starting defensive end James Gayle had missed a couple of games, along with starting cornerback Jayron Hosley.
Just when it seemed it couldn't get much worse, Virginia Tech lost linebacker Bruce Taylor – arguably the leader of the defense and the unit's best player - to a season-ending mid-foot sprain. In a span of four games, the Hokies had lost three starters.
"That's when you said, 'Man, enough is enough,'" defensive coordinator Bud Foster said. "We haven't had as many injuries on the defensive side in, I don't know, forever, the 25 years I've been here."
[+] Enlarge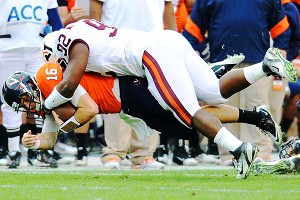 James Lang/US PresswireLuther Maddy, here bringing down Virginia QB Michael Rocco, is among the true freshmen contributing to Virginia Tech's improved defense.
And yet in spite of it all, with two true freshmen in the two-deep at defensive tackle, Virginia Tech enters the Allstate Sugar Bowl against Michigan with one of the nation's top defenses. And the Hokies are going to need it. Those who have paid close attention to Virginia Tech's defense under Foster would probably agree that this has been one of the best coaching jobs of his career. Not only did the Hokies make dramatic improvements from 2010, but they also did it with a young, inexperienced lineup forced into action because of injuries. Now they have to maintain that success against one of the nation's top quarterbacks in
Denard Robinson
.
"The most recent guy we've probably faced like him was Pat White a few years ago at West Virginia," Foster said. "I think he's very similar to that guy. He's a game-breaker. He's a big-time athlete. He can beat you running the ball, he can beat you throwing the football. He's just a dynamic football player, a dynamic athlete. And then he's got some good skill guys around him to take the pressure off of him.
"He makes people miss in the hole. He jukes him and he's off for a 40-yard touchdown. Those are things he does … and they're using him the right way – quarterback sweeps, quarterback powers, quarterback zone play, quarterback draws. They're doing everything. They've adapted to what they have and he's done it very, very well."
Then again, so is Foster's defense.
Last year, Virginia Tech's defense finished No. 52 in the country in total defense, allowing 361.5 yards per game. This year, the Hokies are No. 13 in total defense, allowing almost 50 fewer yards per game. Last year they were No. 26 in scoring defense. This year they're No. 8, holding opponents to 17.2 points per game. After putting the No. 64 rushing defense on the field in 2010, the Hokies improved to No. 17 this year, allowing just 107.8 yards per game.
"There's no question it was a heck of a job," coach Frank Beamer said. "I think the people we lost, and then the people replacing them – you've got two true freshmen defensive tackles – that's not the place you want a true freshman in there. You want some experience in there. And then I think (cornerback) Kyle Fuller had a tremendous year, but him being able to move around and play some different positions and come through, that made a difference. I think the guys we lost, who we lost, and then to play as well as we have defensively, the championship game was a tough game for us, but up until that point, we really played some fantastic football for what we've been through and the injuries we had on our defense."
For almost the entire Wake Forest game Oct. 15, the Hokies were playing without four opening-day starters, including Hosley (hamstring), and Gayle (ankle), in addition to Hopkins and Gouveia-Winslow.
By the third quarter against Boston College a week later, Virginia Tech was missing those four, plus Taylor and Gouveia-Winslow's backup, Alonzo Tweedy, who sprained his ankle. Two true freshmen — Luther Maddy and Corey Marshall — have taken over one of the defensive tackle positions on the two-deep. Two redshirt sophomores — Tariq Edwards and Telvion Clark — are holding down a linebacker spot.
"It all goes back to our players and our coaches," Foster said. "We were a young group, and I'm proud of them. We had an expectation, we talked about how we wanted to get back and play the kind of defense we're used to around here. We started that back in January. I'm proud of our kids that they stepped up and bought into that and knew that's what we needed to get back to. I still think we've got a lot of room to grow, which is exciting, but then to have the injuries on top of that, and some key players, and to have some young guys step up at various times, it's been fun to watch."
October, 13, 2011
10/13/11
9:06
PM ET
With the latest news that starting linebacker Jeron Gouveia-Winslow will miss the rest of the season after suffering a Lisfranc sprain in his left foot during last Saturday's win over Miami, the Hokies' defense just got even younger.

Defensive end James Gayle will miss the Wake Forest game with a sprained ankle, and as you know, injured defensive tackle Antoine Hopkins is also out.

That leaves two players making their first career starts in Alonzo Tweedy, who will fill in for Gouveia-Winslow, and defensive end Tyrel Wilson, who will take over for Gayle on Saturday. And don't forget true freshman Corey Marshall, who will start his second game in place of Hopkins. The toughest matchup on Saturday might be the undersized Wilson against Wake Forest redshirt senior Doug Weaver.

Wake Forest coach Jim Grobe said earlier this week that regardless of the Hokies' injuries, he still expected to get their best shot defensively.

"I know they've had some injuries up front, but they've got some of the more talented kids especially at linebacker and in the secondary," Grobe said. "I like the kids that they had up front last week against Miami, watching them play. I thought their kids were real physical and chased the football and did all the things that Bud's defenses are known for.

"We've got a battle on our hands. I know we're not even considering any of the guys they might have injured. We know they're going to come in here and play great defense."
October, 13, 2011
10/13/11
10:15
AM ET
There are only five games in the ACC this week as Boston College and NC State are off, and it's an all-conference lineup. Here are two things worth watching in each game, in no particular order:
1. Quarterbacks in College Park.
Maryland starter
Danny O'Brien
was benched in favor of backup
C.J. Brown
last week at Georgia Tech. Neither of them passed very well, but Brown gave the offense the spark coach Randy Edsall was looking for with his 77-yard touchdown run. Who will start for the Terps? For Clemson, quarterback
Tajh Boyd
is expected to play after a hip injury knocked him out of last week's Boston College game. Will his hip be a factor against the Terps?
2. Maryland defensive tackle Joe Vellano.
If you haven't seen him yet, now is a good time to tune in. He had 20 tackles last week in the loss to Georgia Tech. That's almost unheard of for a defensive tackle. It was the most by a defensive lineman in the FBS since 2005. The Terps will need him to continue to be disruptive against Clemson's offense.
3. Miami's red zone defense.
The Hurricanes' defense has been a weak link this season, but they've been pretty stingy in the red zone, holding opponents to just 10 touchdowns in 23 drives. North Carolina, though, has flourished inside the 20-yard line and has scored 16 touchdowns in 19 red zone possessions.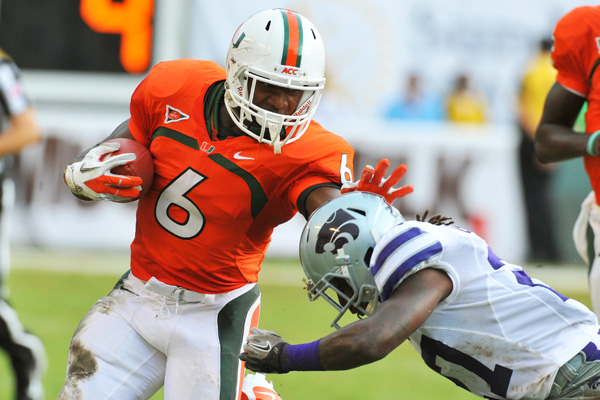 Al Messerschmidt/Getty ImagesLamar Miller has racked up 677 rushing yards and a 7.2 yards-per-carry average this season.
4. Running backs in Chapel Hill.
This game will feature two of the ACC's best in Miami's
Lamar Miller
and UNC's
Giovani Bernard
. Miller has had 100 yards or more in all five games, and Bernard leads all FBS freshmen in rushing yards (109.50 a game) and rushing touchdowns (eight). Miller leads the ACC in rushing (135.4/game) and Bernard is third.
5. Wake Forest running back Josh Harris.
Will he play? If he does, will he have another record-setting performance like he did last year against the Hokies with 241 rushing yards and two touchdowns? Harris has been bothered by a hamstring injury this week, but his chances of playing look good.
6. Virginia Tech's replacements.
This defense is banged up. Last week, true freshman Corey Marshall started for the first time in place of defensive tackle Antoine Hopkins and he had trouble lining up properly. Defensive end James Gayle's status is still uncertain (sprained left ankle). The defensive line has been hit the hardest, but the Hokies also have concerns about linebacker Jeron Gouveia-Winslow (sprained left foot). How will their backups and depleted rotation fare against the nation's No. 18 passing game?
7. Time of possession at Virginia
. You would think that Georgia Tech's offense has had an overwhelming advantage in time of possession, but the Jackets have scored quickly this year, so it's a bit deceiving. There is only a 22-second difference between Georgia Tech and Virginia's time of possession this year -- with the advantage going to the Hoos. Virginia's best defense will be to continue that trend and keep the offense on the field as long as possible.
8. Third downs in Charlottesville:
Georgia Tech leads the nation in third-down conversions (62.2 percent). Virginia is tied for third in the ACC in third-down defense (33.3 percent). Can the Hoos make the stops?
9. Turnovers in Durham.
Florida State turned it over five times in its loss to Wake Forest last week, with four interceptions and one fumble. The Seminoles are 114th in the country in turnover margin (-1.40). Duke did not have a turnover in its road win over FIU. The Blue Devils have lost six turnovers this year. FSU has lost 11.
10. Pass defenses in Durham.
Neither of these teams is running the ball very well this year, but both Duke and Florida State have passing games that rank among the top 16 in the country. How well the defenses fare against quarterbacks
EJ Manuel
and
Sean Renfree
will go a long way in determining the winner.
October, 5, 2011
10/05/11
4:00
PM ET
Virginia Tech is in a bit of a predicament on the defensive line heading into Saturday's game against Miami, as the Hokies are trying to figure out what their rotation will look like without injured starting tackle Antoine Hopkins. Coach Frank Beamer said Corey Marshall will start in place of Hopkins, but he'll get some help. Beamer just doesn't know from whom.

"That's a tough loss because he really could hold the fort in there," Beamer said of Hopkins. "He's a strong guy, athletic guy, and had been taking a lot of snaps. It's a big loss, and right now Corey Marshall is probably going to start there Saturday."

Beamer said true freshman Luther Maddy is having trouble with a nagging ankle injury and is waiting to see how he practices Wednesday, but he's not sure if Maddy will be able to play against the Canes. Isaiah Hamlette could also get some snaps, along with Dwight Tucker and Courtney Prince, who has been moved this week from offensive guard to defensive tackle.

"We've got to settle on it and line up and get some practice time with the four guys we feel like are going to be playing Saturday," said Beamer.
August, 26, 2011
8/26/11
4:30
PM ET
Not paying attention? Tsk tsk. Here's your cheat sheet for what has happened at Virginia Tech this month:
As expected, running back David Wilson stole the show offensively. He averaged about eight yards per carry in the three scrimmages, and was as good as advertised. As long as he stays healthy, he's going to be a dynamic back. His preseason has been everything the staff had hoped for.
Quarterback Logan Thomas has looked good at times, but there have also been times when he missed open receivers and looked as if he never started a game before -- which he hasn't. He is going to have some growing pains, but will be helped by the fact he will be surrounded by four senior offensive linemen, a senior tight end, and three senior wide receivers.
Defensively, James Gayle has had a stellar summer camp. He had six tackles for loss and four sacks against the No. 2 offense in the Hokies' last scrimmage. The entire starting defensive line has looked good and should be a true strength. There's not a lot of depth, though, as evidenced by two true freshmen backups at tackle.
Scott Demler won the starting punter job and averaged close to 40 yards per punt during the preseason. Receiver Danny Coale could still be used as needed, but the staff wanted a fresh leg out there. Coale is just too important on offense, and he's also a backup punt returner.
The Hokies have missed starting right tackle Blake DeChristopher all preseason, but it has given Michael Via and Vinston Painter important reps with the first team. DeChristopher is expected to be fully cleared on Monday.
Virginia Tech's secondary has a chance to be very good with Jayron Hosley, Antone Exum, Eddie Whitley and Kyle Fuller. Opponents should have a hard time throwing on them, and they're good enough that they're interchangeable. Whitley will play rover after starting 13 games at free safety last season, and Exum will start at free safety after spending spring practice at rover.
The staff really likes its freshman class, and the Hokies will probably dress five true freshmen on defense for backup situations: Corey Marshall, Luther Maddy, Boye Aromire, Ronny Vandyke and Kyshoen Jarrett. On offense, it's possible the Hokies won't dress any true freshmen, with the possible exception of center Caleb Farris, a January enrollee.