September, 25, 2013
Sep 25
9:00
AM ET
True freshman receiver
Tyler Boyd
had one clear objective when he arrived at Pitt.
He wanted to make a statement.
Boyd had no intentions of redshirting. Not at all. So he went about practice to make one play after another, to impress his coaches enough to not only earn some reps in games -- but also to win a starting job.
[+] Enlarge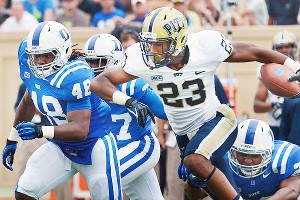 Chuck Liddy/Raleigh News&Observer/Getty ImagesPitt receiver Tyler Boyd is one of many true freshmen who are making an impact in the ACC this season.
So far, Boyd has been one of the most impressive all-around players in the entire country, ranking No. 1 among all freshmen with an average of 195 all-purpose yards per game. But he is not unique to Pitt or to the ACC. There has been a youth movement across the league this season, featuring true freshmen starters at nearly every position on the field.
Five ACC teams have played double-digit true freshmen, tied with the SEC for the most in the nation. Virginia Tech coach Frank Beamer and Wake Forest coach Jim Grobe have played more true freshmen than at any point in their respective tenures. Of the 14 teams in the ACC, only four have not started a true freshman.
Pitt stands above the rest when it comes to true freshmen contributions, as Boyd is not the only one who has put up impressive numbers. Running back
James Conner
ranks No. 2 in the ACC in rushing yards per game (108.7). The Panthers also feature true freshman kicker
Chris Blewitt
, the first time in 11 years they have started a first-year player at the position.
Overall, true freshmen have accounted for 70 percent of Pitt's scoring output so far.
"I just knew I had a real strong opportunity to come in here and make a huge impact, especially since it's my hometown," Boyd said in a recent phone interview. "I wanted to have everybody on board; my family, all my friends -- I wanted to make sure everybody was around to watch me do what I had to do."
Virginia Tech is not far behind Pitt when it comes to immediate contributions from true freshmen. Ten have played, and five have started already this season. Four have started every game -- left tackle
Jonathan McLaughlin
, cornerback
Brandon Facyson
, whip
Kendall Fuller
and kickoff specialist
Mitchell Ludwig
.
It is the first time Beamer has started a true freshman at left tackle and a true freshman at cornerback. Facyson already has three interceptions, tied for the ACC lead. Four games into the season, he also has tied the school record for interceptions by a freshman, set by DeAngelo Hall in 2001.
"It's been a great experience so far," Facyson said in a recent phone interview. "Me and Kendall, we both had aspirations of coming in here and getting to work right away and helping the team out as much as we could. That's what we want to do is become a reliable source for the team. Even being true freshmen coming in, we didn't want the team to not believe in us so we had to come in here and really have our minds focused, and so far we've done that."
Both the Pitt and Virginia Tech freshmen did not get eased into their college careers. The Panthers opened against No. 8 Florida State, while the Hokies opened against No. 1 Alabama. But the true freshmen were not intimidated.
Boyd had 151 all-purpose yards; the Hokies essentially shut down Alabama and top receiver
Amari Cooper
, holding him to four catches for 38 yards.
"I was a little bit nervous and cautious about everything," Boyd said. "I didn't want to mess up but my coaches and my teammates kept telling me to go out there and be calm, just relax, just stay comfortable with everything. Once I got the ball in my hand, I wanted to help my team."
Facyson and Fuller have been able to help each other as true freshmen playing together on defense. The two are roommates, so they sometimes spend their down time in the dorm quizzing each other on formations and responsibilities.
"It's honestly a good feeling just to have someone back there in my situation as well because you're on the same level with them and only they truly understand the pressure," Facyson said. "So we try to calm each other down, we try to hype each other up when it's needed. We just want to have fun. We want to help our team out and just play for each other."
Florida State (13), NC State (11) and Wake Forest (11) also have played double-digit freshmen. Like Pitt, NC State has gotten major contributions from true freshmen on offense. True freshmen lead the Wolfpack in both rushing (
Matt Dayes
, 37 carries for 143 yards) and receiving (
Marquez Valdes-Scantling
, 14 receptions for 201 yards).
As for Wake, the true freshmen numbers are simply astounding. Before this year, the highest number of true freshman to ever play in a season under Grobe was three. Center
Cory Helms
is the lone true freshman starter -- the first true freshman to start his first collegiate game since defensive tackle Marvin Mitchell in 1987.
All around, freshmen are contributing. Now that we have seen so many talented youngsters so early in their careers, the question is: How good will they become in a few years' time?
September, 6, 2013
Sep 6
10:00
AM ET
Every ACC team has had a chance to kick off the rust of a long offseason. On to Week 2, with a few interesting tidbits about this weekend's games.
As always, a big tip of the hat to ESPN Stats and Info and the great sports information departments around the ACC for the insights.
BOSTON COLLEGE:
The Eagles take on Wake Forest this week in the ACC opener for both teams. It marks the 11th consecutive season they've played, splitting the previous 10 games with five wins apiece. The rivalry has been so close, in fact, that in those 10 games, only three points separate the two teams -- with Wake holding a 241-238 edge.
CLEMSON:
Obviously Clemson's opening-week win against Georgia was big, and it vaulted the Tigers up to the No. 4 spot in the latest AP poll. That's Clemson's highest ranking in 25 years, and it makes this week's game against FCS foe South Carolina State look all the more lopsided. The Tigers opened as a 52-point favorite. Clemson hasn't beaten anyone by at least 50 points since the 2008 season, a 54-0 win over -- you guessed it -- South Carolina State.
DUKE:
In his first start after replacing Sean Renfree,
Anthony Boone
completed 16-of-20 passes for 176 yards (adding another 24 yards and a touchdown) in Duke's 45-0 opening-week win over NC Central. The 80 percent completion rate for Boone marked the seventh-best single-game percentage in school history.
MARYLAND:
C.J. Brown
turned in a record-setting performance in his return to the field last week against FIU, with five first-half touchdowns. Maryland's offense racked up a whopping 576 yards -- its first game of 500-plus yards since 2005.
MIAMI:
Duke Johnson
's 53-yard run in Miami's opener was the sixth of his brief career. No returning running back had more than Johnson's five in 2012. If he adds to that total this week, it'll be a well-earned accomplishment. Florida has allowed just two runs of 50 yards or more in the past 10 years -- three fewer than any other team in FBS.
NORTH CAROLINA:
Despite the pressure of South Carolina's vaunted defensive line,
Bryn Renner
threw 43 passes last week without an interception, bringing his current streak without an INT to 134. That's the third-longest active streak in the nation, and it's just 20 attempts shy of the school record.
NC STATE:
The Wolfpack lost starting quarterback
Brandon Mitchell
to a foot injury on the third series of the game, which shook up coach Dave Doeren's plans for the offense. By game's end, four different quarterbacks had taken a snap for NC State -- none of whom had ever taken a snap for the team in a game. Doeren says he may rotate quarterbacks again this week in Mitchell's absence.
SYRACUSE:
This week's game against Northwestern marks the 11th time the two schools have met in football, with the first meeting taking place in 1940. Each team has won five times. Syracuse great Ernie Davis never faced off against Northwestern during his career, but the movie about his life, "The Express," filmed many of its football scenes at Northwestern's Ryan Field.
VIRGINIA:
The Cavaliers play host to No. 2 Oregon this week, which presents a unique set of challenges. But the mere fact that the Ducks are traveling to Charlottesville is unique in its own right. The last time Virginia hosted a team ranked that highly was 1999 against No. 1 Florida State. It hasn't hosted a nonconference game against a top-two teams since 1944.
VIRGINIA TECH:
Yes, the Hokies dropped their opener to top-ranked Alabama. But that's not necessarily a cause for despair. After Virginia Tech's last five season-opening losses, four of those seasons ended with a bid in a BCS bowl game (two Orange Bowls, two Sugar Bowls) and the fifth was ended in the Chick-fil-A Bowl.
WAKE FOREST:
Jim Grobe loves his veterans, but when Wake Forest opened against Presbyterian last week, he turned over playing time to a number of youngsters. In fact, it was something of a historic performance for true freshman
Cory Helms
, who started at center. He was the first Wake player to start his first game on campus since
Marvin Mitchell
in 1987.
August, 6, 2013
Aug 6
12:00
PM ET
"College Football Live" and its Summer Tour stops in Clemson today. Chris Fowler, Kirk Herbstreit, David Pollack and Joey Galloway will be in Clemson today checking in on Dabo Swinney, Tajh Boyd and Co. Catch them throughout the day on "SportsCenter" and on CFB Live at 5 p.m. ET on ESPNU.