April, 30, 2012
4/30/12
9:00
AM ET
Despite a 6-6 season in 2011, Miami led all ACC schools with six players getting selected during this past weekend's NFL draft. The ACC as a whole had 31 players selected, the third most among all conferences, behind the Big Ten (41) and, yes, the SEC (42).
NC State had five players taken, the second most among ACC schools. Neither the Hurricanes nor the Wolfpack had any players taken in the first two rounds. Duke and Maryland both had zero players drafted.
Luke Kuechly
, as expected, got the ball rolling for the conference Thursday night, when the Panthers took the former Boston College inside linebacker ninth overall. I was a little surprised to see Georgia Tech's
Stephen Hill
, projected by many as a late first-rounder, fall all the way to the Jets at No. 43.
Here's a school-by-school breakdown of the draft, followed by a round-by-round breakdown:
Miami
: 6
NC State
: 5
Clemson
: 4
FSU
: 4
Wake Forest
: 4
Virginia Tech
: 3
UNC
: 2
Georgia Tech
: 1
Virginia
: 1
Boston College
: 1
FIRST ROUND
No. 9, Panthers: ILB Luke Kuechly, Boston College
No. 16, Jets: DE
Quinton Coples
, UNC
No. 31, Giants: RB
David Wilson
, Virginia Tech
SECOND ROUND
No. 38, Jaguars: DE
Andre Branch
, Clemson
No. 43, Jets: WR Stephen Hill, Georgia Tech
No. 52, Titans: OLB
Zach Brown
, UNC
THIRD ROUND
No. 64, Colts: TE
Dwayne Allen
, Clemson
No. 69, Bills: WR TJ Graham, NC State
No. 72, Dolphins: DE
Olivier Vernon
, Miami
No. 86, Steelers: LB
Sean Spence
, Miami
No. 93, Bengals: DT
Brandon Thompson
, Clemson
No. 94, Giants: CB
Jayron Hosley
, Virginia Tech
FOURTH ROUND
No. 96, Rams: WR
Chris Givens
, Wake Forest
No. 97, Dolphins: RB
Lamar Miller
, Miami
No. 100, Browns: WR
Travis Benjamin
, Miami
No. 105, Bills: OLB
Nigel Bradham
, FSU
No. 113, Cowboys: OLB
Kyle Wilber
, Wake Forest
No. 115, Titans: CB
Coty Sensabaugh
, Clemson
No. 117, 49ers: G
Joe Looney
, Wake Forest
FIFTH ROUND
No. 144, Bills: T
Zebrie Sanders
, FSU
No. 163, Packers: OLB
Terrell Manning
, NC State
SIXTH ROUND
No. 152, Cowboys: WR
Danny Coale
, Virginia Tech
No. 176, Jaguars: CB
Mike Harris
, FSU
No. 187, Jets: S
Josh Bush
, Wake Forest
No. 198, Ravens: WR
Tommy Streeter
, Miami
No. 200, Eagles: G
Brandon Washington
, Miami
SEVENTH ROUND
No. 210, Vikings: ILB
Audie Cole
, NC State
No. 225, Seahawks: DE JR Sweezy, NC State
No. 237, 49ers: DE
Cam Johnson
, Virginia
No. 239, Giants: DT
Markus Kuhn
, NC State
No. 241, Packers: T
Andrew Datko
, FSU
April, 25, 2012
4/25/12
3:30
PM ET
It's NFL draft eve, and it's the last Wednesday before the event, meaning one last chance for our team of analysts to predict how this weekend will unfold.
Mel Kiper

and
Todd McShay

reveal their final draft boards, and
each has a mock

, with McShay and the rest of the Scouts Inc. team
going seven rounds full

.
Boston College linebacker
Luke Kuechly
, naturally, tops the list, going No. 5 to the Buccaneers. North Carolina end
Quinton Coples
is next off the board at No. 19, to the Bears, with wideout
Stephen Hill
from Georgia Tech going two spots later to the Bengals.
How do the rest of the ACC's draft-eligible players stand? Let's take a look:
ROUND 2
No. 36,
Buccaneers:
RB
David Wilson
(Virginia Tech)
No. 50, Bears:
OLB
Zach Brown
(UNC)
No. 58, Texans:
DE
Andre Branch
(Clemson)
No. 59, Packers:
RB
Lamar Miller
(Miami)
ROUND 3
No. 64, Colts:
DT
Brandon Thompson
(Clemson)
No. 68, Buccaneers:
CB
Jayron Hosley
(Virginia Tech)
No. 72, Dolphins:
OT
Zebrie Sanders
(FSU)
No. 76, Texans:
TE
Dwayne Allen
(Clemson)
No. 80, Cardinals:
DE
Olivier Vernon
(Miami)
No. 82, Titans:
WR
Chris Givens
(Wake Forest)
No. 91, Ravens:
G
Joe Looney
(Wake Forest)

No. 95, Raiders:
DE
Cam Johnson
(Virginia)
ROUND 4
No. 100, Browns:
OLB
Nigel Bradham
(FSU)
No. 124, Bills:
OLB
Sean Spence
(Miami)
No. 125, 49ers:
CB
Chase Minnifield
(Virginia)
No. 128, Vikings:
OLB
Terrell Manning
(NC State)
No. 129, Raiders:
OLB
Kyle Wilber
(Wake Forest)
No. 130, Ravens:
WR
Danny Coale
(Virginia Tech)
ROUND 5
No. 154, Jets:
WR
Tommy Streeter
(Miami)
No. 157, Falcons:
WR
TJ Graham
(NC State)
No. 159, Steelers:
G
Brandon Washington
(Miami)
No. 162, Saints:
CB
Coty Sensabaugh
(Clemson)
ROUND 6
No. 176, Jaguars:
DT
Marcus Forston
(Miami)
No. 178, Bills:
ILB
Audie Cole
(NC State)
No. 188, Broncos:
DE
Rennie Moore
(Clemson)
No. 191, Bengals:
WR
Travis Benjamin
(Miami)
No. 197, Packers:
OT
Andrew Datko
(FSU)
No. 205, Browns:
G
Antoine McClain
(Clemson)
ROUND 7
No. 209, Rams:
WR
Dwight Jones
(UNC)
No. 240, Steelers:
DE
Matt Conrath
(Virginia)
No. 242, Jets:
TE
George Bryan
(NC State)
No. 243, Packers:
RB
Davin Meggett
(Maryland)
No. 245, Browns:
DT
Markus Kuhn
(NC State)
No. 250, Chargers:
CB
Donnie Fletcher
(BC)
Here's a breakdown by school of the 37 ACC players that Scouts Inc. thinks will be drafted:
Miami
: 7
Clemson
: 6
NC State
: 5
Virginia Tech
: 3
UNC
: 3
Virginia
: 3
Wake Forest
: 3
FSU
: 3
BC
: 2
Georgia Tech
: 1
Maryland
: 1
Duke
: 0
February, 7, 2012
2/07/12
5:00
PM ET
By
ESPN.com staff
| ESPN.com
The
official invite list
for the NFL combine is out. Every school but Duke is represented, and there are a total of 43 former players from the conference who will participate, including Miami's entire starting lineup from 2011. Well, ok, not really, but it's a pretty big hit for the Canes. Best of luck to all of these guys at the next level.
Here are your ACC representatives:
BOSTON COLLEGE (1)
CLEMSON (6)
FLORIDA STATE (6)
GEORGIA TECH (1)
MARYLAND (1)
MIAMI (8)
NORTH CAROLINA (6)
NC STATE (5)
VIRGINIA TECH (4)
VIRGINIA (2)
WAKE FOREST (4)
September, 17, 2011
9/17/11
7:21
PM ET
CLEMSON, S.C. -- Auburn's 17-game winning streak is history, and so is Clemson's history of coming up empty in big games.
Think this one didn't mean a little something extra to Clemson coach Dabo Swinney?
Granted, Swinney's the excitable type. But go
check out his postgame interview on ESPN.com
.
It was reminiscent of listening to the "Nature Boy" Ric Flair back in his glory days.
Certainly, it was a glorious day for Swinney's Tigers, who blazed their way out of an early 14-0 hole and sent the defending national champions packing in a
38-24 victory
that was a long time coming in these parts.
The Clemson players are well aware of the underachiever label that has been attached to this program for much of the past decade.
One game hardly makes a season, but there's a genuine belief on this team that this game can help propel the Tigers to a special season.
[+] Enlarge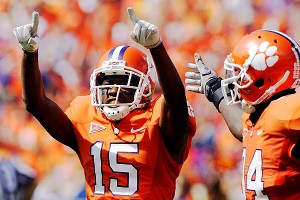 John Reed/US PresswireCoty Sensabaugh's fourth-quarter interception ended any chance of an Auburn comeback.
"I think we're respected around the nation, but in the big games, we've always come up short ever since I can remember. Today was just our time, and we're going to keep it going," said Clemson senior cornerback Coty Sensabaugh, whose fourth-quarter interception all but sealed Auburn's fate.
Auburn had made a living of doing the improbable in the fourth quarter this season, finding one way after another to survive.
Swinney had challenged his team before the game to make its own statement.
"I told our guys that they could either be victim number 18 or the guys who broke the streak," said Swinney, who took delight in pointing out that it was an Alabama graduate who was in charge of breaking the streak. "There's no better place to kill a winning streak than Clemson, S.C. I'm proud of everyone. Our guys believe."
Clemson (3-0) had been anything but impressive its first two weeks, coming back from first-half deficits to beat Troy and Wofford.
The start of this game had a similar feel, as No. 21-ranked Auburn raced out to a 14-0 lead and then a 21-7 advantage.
"We've got the kind of offense that we're never going to be out of the game," said Clemson sophomore quarterback
Tajh Boyd
, who torched Auburn's reeling defense for a career-high 386 yards passing and four touchdowns.
"We're going to keep coming at you, and we have a lot of guys that can make plays."
Boyd, making just his third career start, was brilliant. He finished 30-of-42 and didn't throw an interception.
Even after Clemson managed just 34 total yards in its first three offensive possessions, Boyd never panicked.
"We just had to find our groove, and once we did, we really did," Boyd said.
[+] Enlarge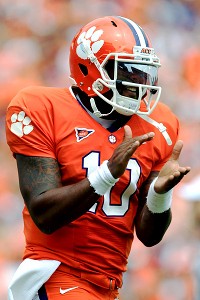 Streeter Lecka/Getty ImagesTajh Boyd torched Auburn with 386 yards on 30-of-42 passing and four touchdowns.
Nobody on Auburn's defense would disagree. Clemson converted 10 straight third downs at one point and finished with 624 yards in total offense, the third most in school history.
"This isn't last year's team," Clemson junior tight end
Dwayne Allen
said. "If we're going to lose, we're going to lose with some points on the board ... not six field goals like years past."
Added Clemson offensive coordinator Chad Morris, "This is no fluke. This is what we're supposed to do."
Of course, it helps when you bring in a talent like
Sammy Watkins
, who had 199 combined receiving/rushing yards and is the early leader in the clubhouse for college football's best true freshman receiver.
His speed is impressive. The way he delivers the blow, much like a running back, is even more impressive.
Watkins set Clemson records with 10 catches for 155 yards and had a pair of touchdowns. The only good look Auburn defensive backs got of him all day was from the backside.
"I wasn't really thinking about records. I was just focusing on beating Auburn," said Watkins, a highly rated prospect from Fort Myers, Fla., who could have gone anywhere in the country, but fell in love with Clemson's small-town charm.
"I kept thinking, 'We have to beat them.' I wasn't thinking about touchdowns. I wasn't thinking about yards. I was just thinking, 'We have to beat Auburn.' "
A year ago, it was Auburn coming back from a 17-0 deficit to beat Clemson in overtime.
The players on that Auburn team will tell you that it's the game that sent them on their way to their national championship run.
Now, it's Clemson's turn to see what it can do with Swinney's first real signature win outside the ACC.
The road sure doesn't get any easier. The Tigers get Florida State at home next week and then Virginia Tech on the road on Oct. 1.
"This is the point where Auburn started to take off last year," Boyd said. "Hopefully, we can do the same thing. We've got a tough road. We just have to keep working hard and keeping improving."
June, 30, 2011
6/30/11
2:00
PM ET
As advertised ...
1. Florida State:
The Noles have one of the best cornerback duos in the country in Greg Reid and Xavier Rhodes. They combined for 33 passes defended last season, the most of any pair of cornerbacks in the nation. Mike Harris had 41 tackles and four picks as a reserve.
[+] Enlarge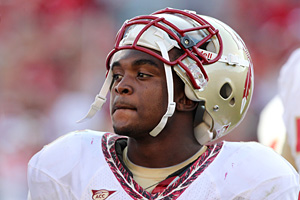 Matthew Emmons/US PresswireFlorida State cornerback Greg Reid is also one of the ACC's top return men.
2. Virginia Tech:
Jayron Hosley is one of the top boundary corners in the country, and the Hokies also have Kyle Fuller, who had six deflections last season, and Cris Hill (two deflections) at field corner.
3. Maryland:
The Terps return both starters in Cameron Chism and Trenton Hughes, who combined for 36 career starts. Chism is a strong cover corner who had 70 tackles and eight deflections last season. Hughes had nine pass deflections.
4. NC State:
Both starters return in C.J. Wilson and David Amerson. Wilson had 46 tackles, two interceptions and six pass breakups, and Amerson had 57 tackles. Justin Byers and Gary Grant also have experience.
5. North Carolina:
The Tar Heels lost some remarkable talent in their secondary, including cornerback Kendric Burney, but there is a lot of depth at the position. Jabari Price started four games last season, Charles Brown has 22 career starts but sat out last season, and Mywan Jackson and Tre Boston both have at least four starts each.
6. Boston College:
The Eagles will miss DeLeon Gause, but Donnie Fletcher has 17 career starts, 56 tackles last season, and led the team with five picks. C.J. Jones played in 12 games as a backup last season with 16 tackles. Dominique Williams also saw some time and had four tackles, and true freshman Al Louis-Jean, who was the No. 9 cornerback in the nation as ranked by ESPN Recruiting, enrolled early.
7. Clemson:
It's a young group, as the Tigers had to replace Marcus Gilchrist and Byron Maxwell. Xavier Brewer had 10 starts with 50 tackles and two interceptions last season, Coty Sensabaugh had 31 tackles in three starts, and senior Mansa Joseph will also be competing for playing time with sophomore Martin Jenkins.
8. Virginia:
The Cavaliers return both starters in Chase Minnifield and Devin Wallace, but Wallace was suspended and missed spring ball and is still suspended. Wallace had 38 tackles and six breakups last season. Chris Broadnax, Rijo Walker, Drequan Hoskey and Pablo Alvarez will all compete for playing time.
9. Miami:
The Hurricanes have to replace both starters in Brandon Harris and Ryan Hill. Jo-Jo Nicholas moved to corner and Brandon McGee, who was the nickel back last season, will compete along with
Lee Chambers
, Keion Payne, Nathan Gholston and true freshman Thomas Finnie, who had a great spring.
10. Georgia Tech:
The Jackets had to replace their entire secondary, including cornerbacks Mario Butler and Dominique Reese. They've still got several cornerbacks with experience in Rashaad Reid, who started 14 games in 2008 and 2009, Rod Sweeting (38 tackles, seven pass breakups, one interception), Louis Young (10 tackles), and Michael Peterson (six tackles, one pass breakup).
11. Wake Forest
: The Deacs have a deep enough secondary that they can live without the experience of cornerback Kevin Johnson, who started five games last season but will sit out this season while academically ineligible. Josh Bush had 33 tackles and four pass breakups last season, Kenny Okoro is a rising star, A.J. Marshall has three starts and Dominique Tate returns after missing last season while on academic suspension.
12. Duke:
Ross Cockrell is a returning starter and finished last season with 60 tackles and 10 passes defended. He was only a freshman but he tied for eighth in the ACC with passes defended with 10 in 12 games. Johnny Williams had four pass breakups last season.
August, 11, 2010
8/11/10
8:00
AM ET
By
ESPN.com staff
| ESPN.com
Here's a quick recap of the latest practices, with information and quotes provided by the sports information directors at each school who releases them:
CLEMSON
The Tigers had their first scrimmage on Tuesday and got in about 100 snaps in a little over two hours.
Offensive highlights:
Kyle Parker
completed 9 of 18 passes for 114 yards. He did not throw and interception and ran for a score on a 14-yard run.
Tajh Boyd
completed 7 of 18 passes for 71 yards. He had a 13-yard run for a score that culminated a 75-yard drive early in the scrimmage.
Rod McDowell was the top rusher with 76 yards on 12 carries. He had a 22-yard run and a 34-yard run on the same drive.
Andre Ellington
gained 45 yards in 11 carries, while
Jamie Harper
had seven carries for 35 yards. Ellington had the only rushing touchdown among the running backs with a 15-yard score.
Five different receivers had two catches apiece.
Dwayne Allen
had 2-49, including a 36-yard completion from Parker.
Drew Traylor
had 2-29,
Terrance Ashe
had 2-28 and
Marquan Jones
had 2-11.
Jaron Brown
had 2-14 and also had an 18-yard run.
Defensive highlights:
Andre Branch intercepted a tipped pass and raced 25 yards for a score. Tig Willard was the top tackler with seven, while Brandon Maye, Coty Sensabaugh and Scotty Cooper all had five apiece. Jonathan Meeks had two tackles for loss. Freshman Tra Thomas had the only fumble recovery.
Special teams:
Richard Jackson
was 4-4 on field goals attempts, including a pair from 42 yards. Spencer Benton was 3-4 and Chandler Catanzaro made 2-3 with his only miss from 56 yards.
Dabo Swinney said:
"It was a better scrimmage than I expected for the first scrimmage. We had a lot of new guys in action in Death Valley for the first time and we did a lot of mix and matching during the scrimmage. We need to perform better in the red-zone on both sides of the ball.
"Defensively, Andre Branch had the big play of the day with an interception return for a touchdown I thought he was a consistent player last year. But, he has become a physical player who is a team leader. Opposing teams will talk about 93 [Da'Quan Bowers], but they better pay attention to number 40 [Branch].
Injured:
All-American safety DeAndre McDaniel, who suffered an injury near his tailbone. He was able to walk off the field on his own. I'll try and get an update for you on this today. Freshman running backs D.J. Howard and Demont Buice both missed the scrimmage as they recover from a concussion suffered this past Saturday. Da'Quan Bowers missed the scrimmage as he is home with his family after the sudden death of his father last Sunday.
DUKE
The Blue Devils held their second practice on Tuesday night.
Defensive highlights:
Johnny Williams, who moved from receiver this past spring, showed that he is grasping the cornerback position well as he intercepted a deep pass down the sideline during 7-on-7 drills and also made two nice plays to force incompletions during the 1-on-1 period against the receivers.
The defense has emphasized forcing turnovers early in the preseason and came up with three on Tuesday. Along with Williams' interception, junior safety Lee Butler returned an interception for a score off a tipped ball and redshirt junior Charlie Hatcher recovered a fumble. The defense had several other pass breakups on the day, including a couple by sophomore safety Walt Canty.
Offensive highlights:
Redshirt freshman wide receiver
Tyree Watkins
made several big plays, and senior wide receiver
Austin Kelly
ran two good routes during team drills to provide redshirt sophomore quarterback
Sean Renfree
with some wide open looks. The offensive line did a good job in both pass and run blocking during the first session of team drills.
MARYLAND
The Terps opened camp on Tuesday in temperatures in the upper-90s, and spent much of the practice working on individual drills to help acclimate 21 newcomers and refresh veterans. Maryland has 24 preseason workouts scheduled.
Ralph Friedgen says:
"The kids showed they worked hard over the summer. We're a little further along in some areas than I thought. I think it got hot out there at the end and they got a little tired, but overall I thought it was a good first day."
Jamarr Robinson
, who proved to be a dangerous dual-threat quarterback while filling in for an injured
Chris Turner
last year, enters camp atop the depth chart. The Terps also have a pair of talented redshirt freshmen in Danny O'Brien and
C.J. Brown
, who spent a year learning offensive coordinator James Franklin's system and look ready to contribute.
"I saw more of a leadership role by Jamarr [today]," said Friedgen. "I thought his fundamentals were better. I thought his reads were better. The guy that kind of showed some improvement was C.J. Brown. I thought he did some things better than he did in the spring. I sat in a meeting with him and to me he was a lot sharper than he has been, so maybe he's starting to mature a little bit."
Notable
: Avery Murray, who was the listed as the backup at Mike linebacker behind Alex Wujciak, has left the team for personal reasons. Sophomore Ryan Donohue moves up a spot on the depth chart. Redshirt freshman De'Onte Arnett, a reserve defensive tackle, will also miss preseason camp. He was diagnosed with a cyst on his ankle and will be out of action about six weeks.
Taylor Watson
is the only other member of the two-deep who will not be a part of the 105-man preseason roster. Watson had knee surgery in the spring and is not expected back until next month.
MIAMI
The Canes had a walk-through practice Tuesday morning on the Greentree Practice Fields. They spent just under an hour on the practice fields sharpening up for the first fall scrimmage Wednesday night. After working through positional drills, the team came together and spent the rest of the session in 11-on-11, two-minute drill work.
Defensive highlights:
In the two-minute drill, the first-team defense forced a quick three-and-out, and only allowed one score the rest of the session. Among the highlights were a DeMarcus Van Dyke pass breakup, a Marcus Forston quarterback hurry and a Luther Robinson sack.
Offensive highlights:
Tight end Chase Ford may have turned in his best showing of camp on Tuesday. Ford caught a first down pass over the middle on a third a long before later scoring the session's only touchdown on a 40-yard catch-and-run down the right sideline.
Up next:
Wednesday's scrimmage is closed to the public. Following the scrimmage, the team will take its first day off from camp on Thursday before returning to the practice fields for its first two-a-day on Friday.
WAKE FOREST
The Deacs practiced in pads for the first time.
Jim Grobe says:
"We didn't have the greatest practice mentally but it was a good night effort wise. The guys are working real hard, flying around and bumping into each other. We have a lot in right now offensively and defensively and the young guys are a little flustered but at least when they're making mistakes, they're making them in a hurry."
On the competition
: "We have nine seniors and quite a bit of juniors but some of our most talented guys at spots are freshmen and sophomores. So there is quite a bit of competition right now and there are number of spots were you can feel comfortable at the top of the depth chart one day and be at the bottom of the chart the next. It's a good position for us because we don't just have guys that are talented at the top and there's no one pushing them. We have talent at every position and guys know they have to come out to practice each day and get after it."
On the quarterbacks:
"We have a great group of guys right now at quarterback. I think you get a little concerned if you don't have any talent back there but we have three or four guys that have enough talent to win. What we're looking for right now is a guy who makes very few mental mistakes and does not turn the football over. That's going to be the key. The flashiest guys, the fastest guy, the guy with the best arm may not end up being our quarterback. It's going to be the guy that doesn't get us beat. The guy that takes care of the ball the best and makes the fewest mental mistakes is probably going to be the guy."
Up next:
The Deacons continue to practice this week as they prepare for their first intra-squad scrimmage on Saturday at 2 p.m. at BB&T Field. The team will practice again Wednesday evening from 8-10 p.m. at the Doc Martin Practice Complex on campus.
March, 8, 2010
3/08/10
5:00
PM ET
By
ESPN.com staff
| ESPN.com
On paper, it looks like one of Clemson's biggest question marks this fall will be in the secondary, where the Tigers will have to replace what might have been their top cornerback duo in about two decades. Chris Chancellor and Crezdon Butler had combined for 20 career interceptions and 85 passes defensed over the past four years. And it was no coincidence that Clemson ranked in the top 20 in the nation in pass defense during that time.
Despite the graduation of Butler and Chancellor, though, those within the program are expecting the secondary to yet again be a strength of the defense. Here's why:
The leader of the defense returns: Safety DeAndre McDaniel led the ACC and ranked third in the nation in interceptions with eight last year, tied for the most in school history. He had 102 tackles to rank fourth on the team and was the only player in college football last year with at least eight interceptions and 100 tackles.
Marcus Gilchrist to cornerback: It's a good experiment for the spring, and Gilchrist can handle it. He was second on the team with 107 tackles as a starting safety last year. Gilchrist has played cornerback before, and the confidence the staff has in freshman Rashard Hall at safety would allow Clemson to make this move.
Depth and options: If Gilchrist locks up one starting cornerback job, the other is wide open. One front-runner would be senior Byron Maxwell, who had 36 tackles last year and two interceptions as a reserve cornerback. He was also the top special-teams tackler with 15. Other candidates include Coty Sensabaugh, who had 14 tackles and an interception, and Xavier Brewer, who had 15 tackles in 2009.
November, 13, 2009
11/13/09
9:00
AM ET
By
ESPN.com staff
| ESPN.com
Jameel Sewell
,
Marc Verica
,
Chris Turner
,
Christian Ponder
and
Thaddeus Lewis
are all on this list. Not a good week for ACC quarterbacks. Duke will need everyone healthy in order to beat Georgia Tech, and while several key offensive players are listed as probable, they're still listed:
BOSTON COLLEGE
OUT FOR SEASON
LB Mark Herzlich (illness)
FOR VIRGINIA GAME
RB
Rolandan Finch
(illness) - OUT
DE Alex Albright (ankle) – DOUBTFUL
LS Jack Geiser (foot) – DOUBTFUL
WR
Billy Flutie
(head) - PROBABLE
OT Rich Lapham (shoulder) - PROBABLE
LB Mike McLaughlin (leg) - PROBABLE
CLEMSON
Out
DaQuan Bowers, DE, knee
Probable
Coty Sensabaugh, CB, toe
Cleared to play
Kantrell Brown, DB, concussion
DUKE
QB Thaddeus Lewis (leg) -- Probable
LB Damian Thornton (neck) -- Probable
WR
Donovan Varner
(knee) -- Probable
WR
Conner Vernon
(head) -- Probable
WR
Johnny Williams
(knee) -- Probable
LB Abraham Kromah (leg) -- Questionable
OG Mitchell Lederman (foot) -- Questionable
LB Vincent Rey (leg) -- Questionable
K Will Snyderwine (leg) -- Questionable
DT Vince Oghobaase (leg) -- Doubtful
RB
Kyle Griswould
(leg) -- OUT FOR SEASON
WR
Tyree Watkins
(leg) -- OUT FOR SEASON
S Anthony Young-Wiseman (knee) -- OUT FOR SEASON
FLORIDA STATE
Out
76 OT Garrett Faircloth (hip)
70 OT Antwane Greenlee (knee)
51 LB Aaron Gresham (knee)
44 LB Maurice Harris (neck)*
97 DT Demonte McAllister (knee)
94 DT Justin Mincey (knee)
81 TE
Caz Piurowski
(knee)*
7 QB Christian Ponder (shoulder)*
74 OT John Prior (knee)
27 CB Xavier Rhodes (thumb)
11 LB Vince Williams (back)
Questionable
28 CB Dionte Allen (thumb)
9 WR
Richard Goodman
(groin)
Probable
89 WR
Louis Givens
(hand)
72 DT Budd Thacker (knee)
* - out for the season
GEORGIA TECH
Out
Austin Barrick, r-Jr., OT (heel)
Kevin Cone
, r-Jr., WR (ankle)
Robert Hall, r-Jr., DE (knee)
Out For Season
Kyle Jackson, r-So., LB (foot)
Cooper Taylor, So., S (undisclosed)
MARYLAND
Out for season:
Tyler Bowen (foot)
Nolan Carroll (leg)
Bennett Fulper (shoulder)
Isaiah Ross (knee)
Out:
Da'Rel Scott (wrist)
Doubtful
Chris Turner (knee)
Questionable
Ronnie Tyler
(upper body)
Austin Walker (lower body)
Probable
Demetrius Hartsfield (hand)
MIAMI
Probable
DL Eric Moncur – Lower Extremity
DB DeMarcus Van Dyke – Lower Extremity
Out
DB Ray-Ray Armstrong – Lower Extremity
FB
Patrick Hill
– Lower Extremity
DB JoJo Nicolas – Upper Extremity
LB Sean Spence – Lower Extremity
Surgery and Out for the Season
DL Dyron Dye – Lower Extremity
DL Marcus Forston – Lower Extremity
LB Jordan Futch – Lower Extremity
TE
Richard Gordon
– Upper Extremity
LB Shayon Green – Lower Extremity
DE Gavin Hardin – Upper Extremity
DB Ryan Hill – Upper Extremity
DE Adewale Ojomo – Jaw
NORTH CAROLINA
Out
Joshua Adams
WR Shoulder
AJ Blue RB/QB Knee
David Collins
OT Foot
Shaun Draughn
TB Shoulder
Carl Gaskins OT Knee
Matt Merletti S Knee
Trevor Stuart DS Knee
Ryan Taylor
TE Knee
Jamal Womble
TB Wrist
Questionable
Brennan Williams OT Wrist
Probable
Cam Holland C Shoulder
NC STATE
OUT FOR SEASON
Mario Carter
, TE - knee
Ryan Cheek, LB - hip
Denzelle Good, OL – shoulder
T.J. Graham
, WR – stress fracture/leg
Nate Irving, LB - leg
Colby Jackson
, FB - knee
R.J. Mattes, OG - knee
Everett Proctor
, QB – shoulder
Jeff Rieskamp, DE – sports hernia
Rashard Smith, CB - knee
Javon Walker, S – knee
James Washington
, HB - knee
PROBABLE
Ray Michel, LB - ankle
VIRGINIA
Out
Raynard Horne
(back)
Quintin Hunter
(ankle)
Questionable
Darren Childs (neck)
Jameel Sewell (shoulder)
Marc Verica (head)
Probable
Javaris Brown
(ankle)
Aaron Clark (knee)
Matt Conrath (ankle)
Colte Phillips (leg)
VIRGINIA TECH
Out for Season
Darren Evans
(ACL)
Doubtful
Beau Warren (knee)
April, 6, 2009
4/06/09
9:00
AM ET
By
ESPN.com staff
| ESPN.com
Posted by ESPN.com's Heather Dinich
There was plenty of football going on this Saturday, but only one spring game -- Florida State -- so we'll take care of the Noles in a separate post. Here's a quick recap of the other scrimmages, according to information provided by each school's respective sports information director.
BOSTON COLLEGE
In the Eagles' first spring scrimmage, redshirt sophomore quarterback Dominique Davis started and completed 9 of 22 passes for 64 yards with three interceptions. Redshirt freshman quarterback Justin Tuggle completed 9 of 11 passes for 87 yards with one touchdown and one interception. Sophomore quarterback Codi Boek also played several series, completing 7 of 14 passes for 61 yards. Redshirt freshman Alexander Atiyeh completed a pass for 26 yards and a touchdown.
Redshirt freshman Clyde Lee led all receivers with four catches for 59 yards. Junior Ryan Lindsey had three catches for 52 yards, along with a 26-yard touchdown. Junior tight end Jordon McMichael caught Tuggle's 5-yard touchdown, which ended the scrimmage.
Senior running back Jeff Smith led all Eagles in rushing, carrying the ball 13 times for 42 yards and two touchdowns. Sophomore Montel Harris had 12 carries for 33 yards, while sophomore Josh Haden had 12 carries for 32 yards.
"I saw some good things," coach Frank Spaziani said. "The offense is getting better, learning some things and executing. We're making progress, but it's still very early."
The defense looked strong early, as senior Mark Herzlich intercepted Davis and returned the ball 43 yards for a touchdown. Sophomore linebacker Will Thompson made six tackles. Redshirt freshman Nick Clancy was in the right place at the right time totaling four tackles and two interceptions. Junior cornerback DeLeon Gause returned a fumble 42 yards for a touchdown, while also intercepting a pass. Sophomore defensive tackle Kaleb Ramsey recorded two sacks on the day.
CLEMSON
The defense had 13 sacks -- three of which came from defensive end Da'Quan Bowers, who also had four tackles -- but don't get too impressed by that stat. It's the one-hand touch rule on quarterbacks, so many of them wouldn't have counted.
"I thought it was a great scrimmage," said coach Dabo Swinney. "I saw great competition and solid performances on both sides of the ball. The wide receivers had their best day of the spring. Brandon Ford had two touchdowns [including goal-line drill] and has really made progress this week. The quarterbacks did well. People better not count out Michael Wade, he had an outstanding day.
"On defense I thought Da'Quan Bowers was outstanding. The defense had a very good day in general.
"We did have some mistakes that were critical, a fumble on the goal line, an offside penalty by the defense that negated a big play that allowed a first down. But, overall I was pleased.
"The kickers also did very well today. Spencer Benton was 7-for-7 on field goals, including a 50-yarder and Richard Jackson had an outstanding day as well."
Jackson made two field goals from 49 yards during the scrimmage.
Wade had the best stats of the quarterbacks as he completed 9-of-12 for 163 yards and two touchdowns. Willy Korn was 8-16 for 96 yards and added a 3-yard scoring pass to Ford in the goal-line drill portion of the scrimmage. Kyle Parker completed 7-of-14 for 87 yards and a touchdown on a 10-yard pass to Terrence Ashe, who made a nice catch in the back of the end zone.
Parker hit a home run for the Clemson baseball team against Duke on Friday night, then was back in Death Valley Saturday morning. He will be back in the starting lineup against Duke on Saturday night.
"We came out today to work on our passing game," said Swinney. "We have had some tough weather this spring so today was the best day we have had to work on pitching and catching. I was pleased with what I saw."
Ford had three catches for 97 yards, including a 60-yard score from Wade, in the regular scrimmage, then added a touchdown catch from Korn in the goal-line portion. Jaron Brown had three catches for 68 yards, including a 26-yard reception from Wade. Ashe had three catches for 20 yards, including the 10-yard score from Parker. Xavier Dye added two catches for 40 yards receiving, and Brandon Clear had a 30-yard catch as well.
Rendrick Taylor was the top rusher with eight carries for 31 yards, while Andre Ellington had eight for 27. There were no rushing touchdowns in the scrimmage until the goal-line drill. Ellington and Jamie Harper both had two touchdowns in the goal-line drill.
C.J. Spiller and Jacoby Ford both missed the scrimmage as they compete this weekend for the Clemson track team in the Florida Relays.
Bowers, who was Clemson's top player in the Gator Bowl against Nebraska, had three sacks, a caused fumble, four total tackles for loss and six overall tackles. Brandon Clear had two sacks.
Kavell Conner, Clemson's top tackler last year, had six tackles, as did Jeremy Campbell and Bowers, to lead the defense. Sophomore Coty Sensabaugh had a 53-yard fumble return for a touchdown. Safety Sadat Chambers had the only interception of the scrimmage.
MARYLAND
Maryland won't hold its first scrimmage until next week, but the Terps geared up for that by spending about an hour of Saturday's workout in a scrimmage-type setting.
After spending roughly an hour on individual and team work, the first and second team offenses and defenses faced off for a mock scrimmage of eight possessions with each beginning at the 35-yard line.
The offense had scoring opportunities on two of its first five possessions, but the defense ended one drive with an interception and forced two three-and-outs.
Da'Rel Scott keyed the lone touchdown drive in his limited time. With the No. 1 offense and defense squaring off on the second drive, the junior carried four times for 56 yards to move the ball into the red zone.
After Chris Turner hit Tommy Galt on third-and-5 to keep the drive alive, Haroon Brown scored on a 4-yard
run.
The offense moved the ball on the ensuing possession, but Jamari McCollough thwarted the scoring chance, picking off Jamarr Robinson's pass at the 4 and returning it 50 yards.
Two possessions later, the offense had a field goal attempt set up by a 26-yard completion from Anthony Green to Matt Furstenburg.
Aided by a stiff wind, Mike Barbour's 50-yard kick had plenty of distance, but sailed just wide right.
Safeties Terrell Skinnner and Antwine Perez were the leading tacklers, posting four stops apiece. Skinner and Perez were also in the backfield quite a bit, combining for 2.5 tackles for loss. Skinner also had a forced fumble.
McCollough also had three solo stops in addition to his interception. The defense had four sacks, including two on the final possession.
"Defensively, we got better as the scrimmage went on," coach Ralph Friedgen said. "We got better at tackling, better pursuit to the ball and we [forced] some turnovers, which is good to see from a defensive standpoint but not from an offensive standpoint."
Turner completed six of his seven passes, but managed only 12 yards. Robinson went 3-for-5 for 37 yards and Green, a defensive back serving as the No. 3 signal-caller this spring, hit all three of his attempts for 33 yards.
Scott, who played on just one possession, was the leading ground gainer with 56 yards on four carries. No receiver had more than two catches, with Furstenburg leading the way, hauling in a pair for 41 yards.
"There were a lot of positives," Friedgen said of Saturday's practice. "We just need to keep on working at trying to get better. I think our attitude is very good, I think they're enjoying themselves and I think they're working hard. As long as we have that and we keep trying to get better every day, one day we're going to be a good football team."
March, 28, 2009
3/28/09
4:13
PM ET
By
ESPN.com staff
| ESPN.com
Posted by ESPN.com's Heather Dinich
Here's a quick wrap-up from scrimmages around the ACC today. The information is from each school's sports information director:
CLEMSON
Running backs Jamie Harper, Andre Ellington, Rendrick Taylor and Ronald Watson Jr. combined for 200 yards rushing on 36 carries and quarterbacks Willy Korn and Kyle Parker combined to throw five touchdown passes during a two-and-a-half hour scrimmage at Clemson Memorial Stadium on Saturday morning.
It was the first stadium scrimmage for Clemson. The spring game will be held on April 11 at 1 p.m.
"The offense scored two touchdowns on the first two possessions on 70-yard drives, but the defense came back later in the scrimmage," coach Dabo Swinney said. "The defense had the upper hand in most of our practices up until today, so it was good to see the offense have strong performance today. Overall I was pleased with the effort, but we still have a lot to work on."
Swinney singled out some performances after the scrimmage.
"I thought both quarterbacks played well today. Willy Korn and Kyle Parker both managed the offense in difficult weather conditions and made some plays. I don't know who our starting quarterback will be in the opener, but I am confident we will have a talented player under center.

"The running backs played well. Rendrick Taylor had a good day running the ball. He is going to help us. He really ran hard and broke some tackles. I have been looking for a wide receiver to step up and make a play and Marquan Jones did that with a touchdown catch on the first possession. Marcus Gilchrist made an outstanding play on an interception late in the scrimmage."
Korn completed 4 of 9 passes for 42 yards, but two went for touchdowns, a 28-yard score to Jones and a 3-yard pass to Michael Palmer in a goal-line situation.
Parker completed 5 of 12 passes for 87 yards and three touchdowns. Two of his scores went to fullback Chad Diehl, one of 43 yards on a swing pass on the sidelines, and one on a 4-yard score. He also threw a 14-yard scoring pass to freshman tight end Dwayne Allen. Michael Wade was 4 of 11 for 35 yards through the air in the difficult weather conditions.
Jamie Harper led the running backs with 11 rushes for 57 yards. He scored on a 25-yard run during the regular part of the scrimmage and scored three times from the 1 on fourth-and-goal situations at the conclusion of the scrimmage.
The top receiver was Diehl with two catches for 47 yards. Jones had 2 for 27 and freshman Jaron Brown had 2 for 13 yards and added an 11-yard run on a reverse.
Redshirt freshman linebacker Tig Willard was the top tackler with seven, while Jamie Cumbie and DeAndre McDaniel had six apiece. Andre Branch had four tackles including two for loss, one a sack. Coty Sensabaugh had two pass deflections, Tarik Rollins had a fumble recovery and Marcus Gilchrist had an interception.

DUKE
Quarterbacks Thaddeus Lewis and Sean Renfree combined to complete 17 of 29 passes for 148 yards and one touchdown to highlight Duke's 50-play football scrimmage on Saturday morning at Brooks Field.
"We had a lot of intensity today," coach David Cutcliffe said. "Thad Lewis and Sean Renfree were both very, very efficient. I was disappointed that we dropped the football in the passing game. Thad made some unbelievable throws. It's disappointing because we would have thought, as a staff, that we're further along. I thought the defense tackled well. I was really proud of our defensive front. The play along the line of scrimmage was crisp. It looked like real football.

"What a difference a year makes. A year ago I would go back into my office, take about an hour shower to recover emotionally, and today I think I can be a little normal. It did look like football out here."

Lewis was 10-of-20 through the air for 109 yards including a 42-yard touchdown to Donovan Varner. Renfree completed 7 of 9 throws for 39 yards. Running back Cameron Jones led all receivers with five catches for 31 yards.

Patrick Kurunwune led with 23 yards on seven attempts including a 1-yard touchdown plunge.
"We'll look at the tape," said Cutcliffe. "It's never as good as you think and never as bad as you think. We'll learn from it."
MIAMI
There were four, 10-minute running quarters. The offense scored 51 points, the defense scored three.
TEAM STATISTICS
First downs: 17 (6 rushing, 11 passing, 2 penalties)
Rushing: (33 attempts, 158 gained, 27 lost, 131 total)
Passing: (38 attempts, 26 completions, 275 yards, 1 INT)
Offensive plays: (71)
Net yards: (406, 5.7 avg)
Return yards: (25)
Fumbles-lost: (1-0)
Interceptions: (1-25)
INDIVIDUAL STATISTICS
RUSHING: Damien Berry 14-114, 1 TD, 54 long; Mike James 6-14, 1 TD,
PASSING: Jacory Harris 9-16, 141 yards, 1 INT, Long 33; Taylor Cook 11-14, 103, 34 long; Cannon Smith 6-8-, 31, 1 TD, 8 long.
RECEIVING: Thearon Collier 5-65, long 26; Aldarius Johnson 4-23, long 8; John Calhoun 3-13, 1 TD, long 5;
DEFENSIVE STATISTICS (Solo Tackles-Assisted-Total): Chavez Grant 3-2-5, 1 PBU; JoJo Nicholas 0-4-4; Kylan Robinson 1-3-4; Jordan Futch 1-2-3, 1 TFL, 1 PBU; Sean Spence 2-1-3, 1 TFL; Olivier Vernon 2-2-4, 1 sack (-5); Brandon Harris 3-1-4, 1 TFL, 1 PBU
FIELD GOALS: Jake Wieclaw 1-2 (made 41, miss 22)
INTERCEPTIONS: Randy Phillips 1-25
FUMBLES/LOST: Graig Cooper 1-0
NORTH CAROLINA
Rushing
Jamal Womble -- 7 carries, 50 yards
Shaun Draughn -- 6 carries, 8 yards, 1 TD
Ryan Houston -- 5 carries, 16 yards
Passing
Mike Paulus -- 12 for 15, 51 yards
T.J. Yates -- 5 for 8, 96 yards
Braden Hanson -- 6 for 7, 55 yards, 1 TD
Receiving
Dwight Jones -- 3 for 61 yards
Joshua Adams -- 3 for 20 yards
Womble - 3 for 12 yards
Defense
Herman Davidson (LB) -- 6 tackles
Dion Guy (LB) -- 4 tackles
Kennedy Tinsley (LB) -- 4 tackles
August, 21, 2008
8/21/08
6:11
PM ET
By
ESPN.com staff
| ESPN.com
Posted by ESPN.com's Heather Dinich
Here's the last injury report to come out of Clemson until Monday after practice:
Jamie Harper, RB, sprained ankle, did not practice Thursday, questionable for Alabama
Mason Cloy, OG, knee, did not practice, questionable
Kevin Alexander, DE, virus, did not practice, probable
Rennie Moore, DE, concussion in Tuesday scrimmage, should be back by Monday
Coty Sensabaugh, CB, shoulder, questionable