July, 30, 2012
7/30/12
9:00
AM ET
Week 11
: Nov. 17 vs. Wake Forest (at Notre Dame Stadium in South Bend, Ind.)
Time/TV
: 3:30 p.m. ET, NBC
Series
: Notre Dame leads all-time, 1-0
2011 record
: 6-7 (5-3 ACC; tied second place, Atlantic Division)

Head coach
: Jim Grobe (68-67, 11 years)
Returning starters
: Offense: 3; defense: 7; kicker/punter: 2
Top returners
QB
Tanner Price
, WR
Michael Campanaro
, C
Garrick Williams
, DE
Zach Thompson
, NG
Nikita Whitlock
, OLB
Joey Ehrmann
, ILB
Scott Betros
, ILB
Riley Haynes
, CB
Merrill Noel
, FS
Kenny Okoro
Key losses
RB Brandon Pendergrass, WR
Chris Givens
, TE
Cameron Ford
, T Dennis Godfrey, T Doug Weaver, G
Joe Looney
, G Michael Hoag, DE Tristan Dorty, DE
Kyle Wilber
, SS Cyhl Quarles, FS
Josh Bush
2011 statistical leaders (*returners)
Rushing
: Brandon Pendergrass (823 yards)
Passing
: Tanner Price* (3,017 yards)
Receiving
: Chris Givens (1,330 yards)
Tackles
: Cyhl Quarles (101)
Sacks
: Kyle Wilber/Nikita Whitlock* (3.5)
Interceptions
: Josh Bush (6)
Three questions for ...
ACC blogger Heather Dinich:
Wake returns plenty of talent at the skill positions, but it is tasked with replacing four starters on the offensive line. What's a realistic timeline for the newcomers to jell and form a cohesive unit?
Heather Dinich:
Well, it's more like three starters at this point, because
Steven Chase
, who missed the spring for undisclosed reasons, has since returned. The group also got a huge boost from the move of
Frank Souza
from the defensive line. Chase's return has allowed the staff a little more flexibility with the depth chart. He or Souza -- whoever develops into the better pass protector — will likely slide into the right guard position. Souza was backup to talented noseguard Nikita Whitlock and saw the writing on the wall: Whitlock wasn't coming off the field anytime soon. So he jumped at the opportunity to see more snaps on offense. Coach Jim Grobe told me they "hit a home run with Souza." Right now he's got five guys he's comfortable with. Depth? That's another question.
Head coach Jim Grobe rarely has much staff turnover, but three new assistants are aboard for 2012. What's new, and how will that translate on the field this season?
HD:
Yes, the Deacs have long been one of the most stable staffs in the ACC, but there are a few new faces in new positions, and I think overall, it will make Wake Forest a better team. Tim Duffie will be in his first season coaching the secondary, and he has lots of talent to work with back there, particularly at the corner position. Jonathan Himebauch is in his first year coaching the offensive line, and
Derrick Jackson
is in his first season coaching the outside linebackers. The move of OC Steed Lobotzke to tight ends and fullbacks should help him manage his time better as a coordinator because he won't have to deal with so many offensive linemen.
The Deacs surprised everyone but themselves last season, falling a field goal short of playing for the ACC title. There are obvious shortcomings (O-line, secondary) on this year's roster, but will they be able to overcome those and make another push at a division crown?
HD:
If they did it last year, I don't see any reason why they shouldn't be able to make another run at it. They've got to be able to win those close games, though. The close losses to Syracuse, Clemson -- and of course Notre Dame -- are still stinging, and just about anyone in that program will tell you they could've played better against UNC. Jim Grobe has a very good football team to work with this year, and he has a defense that could be reminiscent of the old days with Aaron Curry and Alphonso Smith. There are some diamonds in that group, they're just not very experienced. It wouldn't be wise, though, for Wake Forest opponents to take this year's team lightly.
May, 8, 2012
5/08/12
6:00
AM ET
2011 overall record:
6-7
2011 conference record:
5-3 (T-2nd, Atlantic)
Returning starters
Offense: 3; defense: 7; kicker/punter: 2

Top returners
QB
Tanner Price
, WR
Michael Campanaro
, C
Garrick Williams
, DE
Zach Thompson
, NG
Nikita Whitlock
, OLB
Joey Ehrmann
, ILB
Scott Betros
, ILB
Riley Haynes
, CB
Merrill Noel
, FS
Kenny Okoro
Key losses
WR
Chris Givens
, T Dennis Godfrey, T Doug Weaver, G
Joe Looney
, G Michael Hoag, TE
Cameron Ford
, RB Brandon Pendergrass, DE Tristan Dorty, DE
Kyle Wilber
, SS Cyhl Quarles, FS
Josh Bush
2011 statistical leaders (* returners)
Rushing
: Brandon Pendergrass (823 yards)
Passing
: Tanner Price* (3,017 yards)
Receiving
: Chris Givens (1,330 yards)
Tackles
: Cyhl Quarles (101)
Sacks
: Kyle Wilber/Nikita Whitlock* (3.5)
Interceptions
: Josh Bush (6)
Spring answers
1. Tanner Price:
As a sophomore last season, Price threw for more than 3,000 yards to go with 20 touchdowns and six interceptions. Coach Jim Grobe has challenged Price to improve on his accuracy, especially on underneath passes, and if the quarterback can build off last season's 60-percent completion rate, the Demon Deacons should be just fine under center.
2. Skill players:
Michael Campanaro is sliding into the go-to target shoes left behind by Chris Givens, shifting the focus to who will be the Deacs' No. 2 receiver.
Josh Harris
has been healthy all spring and should add a boost to a backfield that returns
Orville Reynolds
and
DeAndre Martin
. Deep? Not exactly. But Wake knows what it has in its skill-position players, and has enough weapons around Price for the quarterback to make a jump in his junior year. This spring has helped ease some concerns.
3. Front seven:
The Deacs return a majority of their front-seven, including second-team All-ACC nose guard Nikita Whitlock. Grobe has praised the overall speed and depth of the defense as a whole, and he expects the team to be better on that side of the ball. Look for more pressure this season in new outside linebacker coach Derrick Jackson's first year on staff.
Fall questions
1. Offensive line:
There's no sugar-coating this one: If Wake wants to repeat its surprising 2011 season -- one that saw it come within a field goal of playing for the ACC title -- it needs to find some answers up front. The line is replacing four starters. Grobe said coming out of spring that he feels comfortable about three spots at the moment, but the Deacs will need more than that if they want to get the most out of their skill players.
2. New staff:
Grobe has had little turnover in his 11 years at Wake Forest, but he hired three new assistants this offseason -- Jackson, Jonathan Himebauch (offensive line) and Tim Duffie (secondary). The fresh blood, Grobe said, led to much more energy this spring, but the biggest tests will obviously come in-season.
3. Secondary.
Speaking of Duffie, he'll have his work cut out for him in Year 1. Both safeties are gone, including Josh Bush, now with the Jets. Experience at cornerback will help ease the transition for the secondary, but building depth at safety could be an issue.
February, 14, 2012
2/14/12
9:00
AM ET
By
ESPN.com staff
| ESPN.com
For some, it might feel like the season just ended, but for others -- like Duke, Maryland and Boston College, which didn't get to play in a bowl game -- spring ball can't get here fast enough. The Eagles kick off spring practices in the ACC on Saturday, so today we'll take a quick look at the main storylines for each team in the conference heading into the spring:

BOSTON COLLEGE
Spring practice start date:
Feb. 18
Spring game:
March 31 (1 p.m. ET)
What to watch:
Yet another offensive transition. Doug Martin will be the Eagles' fifth offensive coordinator in five seasons, including Kevin Rogers, who took a medical leave of absence early last year and never returned, and Dave Brock, who replaced Rogers. Martin said he is looking for a physical downhill running game, wants to increase the tempo and add some no-huddle elements.
The return of running back Montel Harris. The ACC's leading rusher in 2010 missed most of last season with a knee injury, but he is expected to return for spring ball. How healthy and durable he is remains a question, but he's still aiming to break a 33-year-old ACC rushing record.
Who will replace All-American linebacker Luke Kuechly? It's an open competition as Kuechly is the only linebacker departing. Sean Duggan was his backup last year, but Steele Divitto put in a lot of work this offseason on his own time.

CLEMSON
Spring practice start date:
March 7
Spring game:
April 14 (4 p.m. ET)
What to watch:
The rebuilding efforts up front. Clemson has to replace three starters on both the offensive and defensive lines. On defense, Malliciah Goodman is the only starter returning on the line, and he'll be one of the candidates to replace the production of end Andre Branch, but Corey Crawford will be the next in line at the position.
The defensive transition under first-year defensive coordinator Brent Venables. After giving up 70 points to West Virginia in the Orange Bowl, Dabo Swinney fired Kevin Steele and hired Venables. How quickly will he be able to make a difference and will everyone buy in?
The linebackers. This is the year that the outstanding linebackers in the 2011 recruiting class will finally have their chance to shine. Venables is also the linebackers coach, and he'll have a young, talented group to work with. The lineup of the future should include Stephone Anthony, Lateek Townsend and Tony Steward, all top 100 players coming out of high school.

FLORIDA STATE
Spring practice start date:
March 19
Spring game:
April 14
What to watch:
Maturation of the offensive line. FSU started four freshmen in the Champs Sports Bowl against Notre Dame, and those players will be expected to continue their improvement this spring. The most important question is who will replace the top two tackles from a year ago in Zebrie Sanders and Andrew Datko.
The kicking game. Punters aren't usually in the spotlight, but that wasn't the case at FSU, where All-American Shawn Powell had an impact on every game. Finding a replacement for him this offseason will be a priority.
The running backs. Chris Thompson, who broke his back last year, is expected to return this spring, and has been cleared for the most part, but the coaching staff isn't likely to push him. Devonta Freeman will be the main man, but there are plenty of other candidates to emerge -- if, of course, the offensive line figures things out.

MARYLAND
Spring practice start date:
March 10
Spring game:
April 21
What to watch:
The quarterback drama. Maryland's two-quarterback storyline will continue this spring -- if, of course, Danny O'Brien decides to remain at Maryland instead of transferring. There has been much speculation about his future, but for now, the staff expects him to be limited this spring as he continues to recover from a broken arm. C.J. Brown should get the most reps.
An overhaul of schemes. Maryland hired a new offensive coordinator in Mike Locksley and a new defensive coordinator in Brian Stewart. How quickly the Terps buy into their systems and philosophies will be critical in turning around last year's 2-10 record.
The running backs. This is a position where a true freshman could earn some playing time this year, but standout recruit Stefon Diggs won't be on campus in time to compete this spring. Meanwhile, Justus Pickett returns, along with Brandon Ross, who redshirted last year. Wes Brown (who played at Good Counsel with Diggs) could also compete for major playing time when he arrives for summer camp.

NC STATE
Spring practice start date:
March 23
Spring game:
April 21 (1 p.m. ET)
What to watch:
Who will emerge as dependable linebackers. With Audie Cole and Terrell Manning gone, this position is a big question mark for the Wolfpack. Cole was the team's leading tackler each of the past two seasons, and Manning was one of the defense's most disruptive players last year.
The new go-to for Glennon. With T.J. Graham gone, NC State turns to a young group of receivers. Tobias Palmer and Bryan Underwood return, but there are several unheralded players who have a chance to make names for themselves by emerging as a go-to player for quarterback Mike Glennon.
The running game. NC State returns four of five starters on the offensive line, but will Mustafa Greene return in time for the spring? When he does, the Pack will have another new running backs coach, who has yet to be announced. NC State had the No. 109 rushing offense in the country last year. Greene would be a big boost.

WAKE FOREST
Spring practice start date:
March 1
Spring game:
April 14 (1 p.m. ET)
What to watch:
The revamped offensive line. The Deacs have to replace four starters up front. Coach Jim Grobe has played only one true freshman there in 11 years. He has several redshirt freshmen and sophomores who are expected to fill in.
The next playmakers. Wake Forest is thin at running back (Josh Harris returns, but has a history of hamstring injuries), the Deacs lose two starting wideouts -- including record-setter Chris Givens -- their top two tight ends and 2011 leading rusher Brandon Pendergrass.
Solidifying the secondary. The Deacs have to replace starting free safety Josh Bush and starting strong safety Cyhl Quarles. There is still plenty of talent at cornerback, but the safety position is thin.
February, 7, 2012
2/07/12
5:00
PM ET
By
ESPN.com staff
| ESPN.com
The
official invite list
for the NFL combine is out. Every school but Duke is represented, and there are a total of 43 former players from the conference who will participate, including Miami's entire starting lineup from 2011. Well, ok, not really, but it's a pretty big hit for the Canes. Best of luck to all of these guys at the next level.
Here are your ACC representatives:
BOSTON COLLEGE (1)
CLEMSON (6)
FLORIDA STATE (6)
GEORGIA TECH (1)
MARYLAND (1)
MIAMI (8)
NORTH CAROLINA (6)
NC STATE (5)
VIRGINIA TECH (4)
VIRGINIA (2)
WAKE FOREST (4)
January, 23, 2012
1/23/12
9:00
AM ET
With national signing day quickly approaching, we're going to take a look at the recruiting needs of each school in the ACC, starting with the Atlantic Division. These needs are based on current rosters and anticipated departures in the near future. Here's a look at who has what holes to fill in the 2012 class:

BOSTON COLLEGE
Linemen:
The depth here continues to be a priority on both sides. The decision of defensive end
Max Holloway
to declare early for the NFL draft was an unexpected loss, and tackle
Dillon Quinn
will be a senior. Offensively, the Eagles will have to replace two veterans and leaders in center
Mark Spinney
and guard Nate Richman.
Linebackers:
All-American Luke Kuechly's decision to leave early for the NFL draft was expected, but the staff is looking for about two or three more linebackers in this class.
Receivers:
This was a young group to begin with, as
Alex Amidon
and
Bobby Swigert
were both true sophomores, but the staff could use one or two more in this class.

CLEMSON
Linemen:
The Tigers will lose three starters on the defensive line and three more on the offensive line from the 2011 ACC championship team. Center
Dalton Freeman
is a returning starter, but he will be a senior. Six players on the final two-deep depth chart on the offensive line were either seniors or graduate students in 2011, and four on the defensive line two-deep must be replaced.
Running back:
Andre Ellington
is entering his senior year, and while
Mike Bellamy
is back in school and in the good graces of coach Dabo Swinney, the future of the position is uncertain. Rod McDowell played well in the bowl game, and
D.J. Howard
has been a backup.
Defensive backs:
The Tigers could start three seniors in the secondary in 2012:
Xavier Brewer
,
Rashard Hall
and
Jonathan Meeks
.
Kickers:
The Tigers will lose punter
Dawson Zimmerman
, opening up an opportunity for a true freshman to play immediately.

FLORIDA STATE
Pick and choose:
The Noles have built up enough depth that they can now be selective. Instead of building a class heavy on offensive linemen, Florida State can now pick and choose the best at each position. The Noles need at least one running back, one or two quarterbacks, a few offensive tackles, a linebacker to help replace Nigel Bradham and a safety or two.
Kickers:
The Noles have big shoes to fill with the graduation of punter
Shawn Powell
, and kicker
Dustin Hopkins
is entering his final season.

MARYLAND
Running back:
This is a position where a true freshman could see some playing time this year.
Justus Pickett
returns, along with
Brandon Ross
, who redshirted last year.
Quarterback:
The Terps ended the 2011 season with only two scholarship quarterbacks on the roster in
Danny O'Brien
and
C.J. Brown
. Both will be juniors and nobody is behind them.
Cornerback.
Maryland has to replace
Trenton Hughes
and
Cameron Chism
at cornerback, leaving
Dexter McDougle
the only one with any significant playing time.

NC STATE
Defensive line:
The staff already has about six linemen committed and ends were a particular focus. Half of the linemen in the two-deep depth chart for the Belk Bowl were either juniors or seniors.
Secondary:
This should be a strength for NC State in 2012, but the staff needs to prepare for the future here. Cornerback
C.J. Wilson
will be a senior, along with safeties
Earl Wolff
and
Brandan Bishop
.
Quarterback:
Mike Glennon
is already listed as a graduate student, and his backup,
Tyler Brosius
, redshirted this past season. The position is thin and the future uncertain behind Glennon.

WAKE FOREST
Offensive line:
The Deacs will lose four starters up front, but coach Jim Grobe has only played one true freshman there in 11 years. He has several redshirt freshmen and sophomores who are expected to fill in, but the staff wants to continue to build the depth at the position.
Tight end:
Wake Forest will graduate its top two tight ends and will turn to two redshirt sophomores in
Neil Basford
and
Johnny Garcia
who have yet to catch a pass. It's possible this could be a spot where an exceptional freshman could see playing time.
Defensive backs:
The Deacs have to replace starting free safety
Josh Bush
and starting strong safety
Cyhl Quarles
. Cornerback
Kenny Okoro
will be a redshirt senior.
July, 1, 2011
7/01/11
5:00
PM ET
Your top safeties ...

1. Ray-Ray Armstrong, Miami: He was a second-team all-conference selection last year, despite starting only four games. He was third on the team with 79 tackles, including 4.5 for loss, and had three interceptions, three pass breakups and one fumble recovery.

2. Eddie Whitely, Virginia Tech: He had 80 tackles and two interceptions last year at free safety. He also broke up six passes and forced two fumbles. He's a smart player who can line up anywhere in the secondary.

3. Earl Wolff, NC State: He led the team in tackles last year with 95, including 4.5 TFLs and two sacks. He had one interception, two pass breakups, two fumble recoveries and three forced fumbles.

4. Nick Moody, Florida State: In his first year starting at free safety, Moody ranked third on the team with 79 tackles, including four tackles for loss and 0.5 sacks. He finished the season with one interception, two pass breakups, a fumble recovery and a forced fumble.

5. Vaughn Telemaque, Miami: He was one of seven Canes to start all 13 games last year and finished fourth on the team with 59 tackles. He tied for the team lead in interceptions with three.

6. Matt Daniels, Duke: He is Duke's leading returning tackler with 93 hits. He ranked sixth in the ACC in tackles last year and fourth in career tackles in the ACC among returnees with 198. He forced a team-high three fumbles last year and has six over the past two seasons. He had seven pass breakups last year.

7. Rodney McLeod, Virginia: He has been a two-year starter at strong safety and enters his final season with 133 career tackles. Last year he had 54 tackles and two interceptions.

8. Rashard Hall, Clemson: In two years he has had eight interceptions and five bass breakups in 27 games. He has nine career takeaways. He had 62 tackles and two interceptions last year.

9. Jim Noel, Boston College: He was second on the team with four interceptions and had 36 tackles (27 solo). He earned his first start at Florida State and made a career-high 10 tackles with a pass breakup and two interceptions, one of which he returned 43 yards for a touchdown.

10. Cyhl Quarles, Wake Forest: He finished second on the team with 71 tackles, including 1.5 for loss, and he also had one interception and one fumble recovery.
July, 1, 2011
7/01/11
3:30
PM ET
Moving on to the safeties …
[+] Enlarge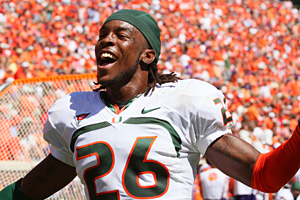 Marvin Gentry/US PresswireRay-Ray Armstrong is among the leaders of a strong Miami secondary.
1. Miami:
Vaughn Telemaque and Ray-Ray Armstrong return, but JoJo Nicolas moved to corner. Even though Armstrong wasn't a starter last year, he still ranked third on the team with 79 tackles and tied for the team lead with three interceptions.
2. Florida State:
The Seminoles return both starters in Nick Moody and Terrance Parks. Moody had 79 tackles last season and Parks had 44 and six deflections. The group was strengthened with the addition of Lamarcus Joyner, who moved from cornerback and proved this spring he's capable of being a safety.
3. NC State:
The Wolfpack has two of the best in Earl Wolff, the team's leading tackler last season with 95, and Brandan Bishop, who had 56 tackles and a team-high four interceptions. Dontae Johnson (22 tackles), also returns.
4. Virginia Tech:
Eddie Whitley is the lone returning starter, but he should be one of the best in the ACC. Antone Exum, who was the No. 2 free safety last season, moved to rover this spring. He played in every game last season and had five starts when Tech went to its nickel defense.
5. Virginia:
The Cavaliers return veteran starters in Rodney McLeod and Corey Mosley, who have combined for 41 career starts. Mosley had 52 tackles and two interceptions last season, and McLeod had 54 tackles and four pass breakups. Safety Dom Joseph (34 tackles) also returns.
6. Duke:
The Blue Devils return both starters in Matt Daniels and Lee Butler. Daniels, a senior, has started 25 career games and is one of the top returning tacklers in the ACC. Butler had 58 tackles and nine passes defended last season.
7. Boston College:
The Eagles return juniors Jim Noel, who had four interceptions in eight starts, and Okechukwu Okoroha, who started the final six games last fall. Noel, Okoroha, and Dominick LeGrande combined for 90 tackles last season.
8. Wake Forest:
Both starters return in Daniel Mack and Cyhl Quarles. Mack had 45 tackles and two interceptions last season. Duran Lowe (30 tackles) could unseat Quarles, who is Wake's leading returning tackler with 71 hits. Redshirt freshman Desmond Cooper is also competing for playing time.
9. Clemson:
Rashard Hall has 19 career starts and made 62 tackles and two interceptions last season. Safety Jonathan Meeks (28 tackles, one start) also returns, along with Carlton Lewis.
10. Maryland:
Just as Kenny Tate's move to linebacker bumped the Terps up in the ranking in that category, his departure from safety drops them a few notches as they now don't have any returning starters there. They do, however, have experience. Eric Franklin played in 11 games, with 23 tackles and three interceptions (tied for second on the team). Matt Robinson played in all 13 games and posted 29 tackles and forced a pair of fumbles. The Terps have plenty of depth with Austin Walker, Titus Till, Anthony Green and Desmond Haynes.
11. North Carolina:
Matt Merletti had five starts and Jonathan Smith, who lettered in 2008 and 2009 but missed all of last season, are the projected starters. They will be pushed by junior Gene Robinson (four starts, 30 tackles, one interception) for playing time.
12. Georgia Tech:
The Jackets had to replace both of their safeties in Mario Edwards and Jerrard Tarrant. Safety Fred Holton (11 tackles) and Isaiah Johnson (46 tackles, one interception) are the two most likely front-runners to start this fall.
June, 10, 2011
6/10/11
9:00
AM ET
By
ESPN.com staff
| ESPN.com
The
hope and concern series
continues today with Wake Forest:
Biggest reason for hope:
Maturity on defense

Wake Forest finished 2010 ranked 110th in the country in scoring defense and 101 in total defense. The only way to go is up, and they appear to be headed in that direction. Some of the most measurable progress on the team should be found in the secondary, where all four starters return in cornerback Josh Bush, strong safety Cyhl Quarles, free safety Daniel Mack and cornerback
Kevin Johnson
. The Deacs are two-deep at every position in the secondary, as opposed to last year when Wake had to start two true freshmen cornerbacks. Wake Forest has also adapted to and embraced the new 3-4 scheme, which it switched to last year, and there is enough talent up front to make it a success.
Biggest reason for concern:
The schedule
Wake Forest coach Jim Grobe finished spring ball convinced his team is better than the one that won three games last season. The problem is, fans might not be able to realize it this fall by looking at the win-loss column because the Deacs have significant nonconference challenges in a road trip to Syracuse and home games against Notre Dame and Vanderbilt. Wake Forest also has back-to-back October weekends against defending division champs Florida State and Virginia Tech.
More in this series:
May, 5, 2011
5/05/11
6:00
AM ET
By
ESPN.com staff
| ESPN.com
WAKE FOREST
2010 overall record:
3-9

2010 conference record:
1-7
Returning starters
Offense: 7, defense: 9, kicker/punter: 1
Top returners
WR
Chris Givens
, G Joe Looney, DE Tristan Dorty, DE Kyle Wilber, SS Cyhl Quarles, PK Jimmy Newman, QB
Tanner Price
, RB
Josh Harris
, NG Nikita Whitlock
Key losses
C Russell Nenon, RB
Josh Adams
, WR
Marshall Williams
, WR
Devon Brown
, LB Hunter Haynes, LB Matt Woodlief, P Shane Popham
2010 statistical leaders (* returners)
Rushing:
Harris* (720 yards)
Passing:
Price* (1,349 yds)
Receiving:
Brown (302 yds)
Tackles:
Hunter Haynes (77)
Sacks:
Wilber* (6)
Interceptions:
Alex Frye (3)
Spring answers
1. Solidified secondary.
All four starters return in CB Josh Bush, SS Cyhl Quarles, FS Daniel Mack and CB Kevin Johnson, and the Deacs are two-deep at every position. It's a much better scenario than it was a year ago, when Wake had to start two true freshmen corners. The Deacs will also have Dominique Tate, who missed all of last year for academic reasons, and two players who redshirted last year in Desmond Cooper and Merrill Noel. The Deacs ranked 11th in the ACC in pass defense last year, but saw signs this spring of that improving.
2. Sold on the 3-4 defense.
The staff is confident in the defensive tackles and committed to the scheme, which it began using last year. Nose guard Ramon Booi, the backup to Nikita Whitlock, might have been the most improved player on the roster this spring, and is a good contrast to Whitlock, who is 5-foot-10 and more of a speed guy. Booi is a 6-foot-6, 300-pound man-wall. At tackle, Grobe singled out defensive end Zach Thompson as a possible all-ACC candidate, and Tristan Dorty moved from linebacker to defensive end.
3. Staff changes were a positive.
Without disrespecting former defensive coordinator Brad Lambert, who left to become head coach of the fledgling Charlotte program, Grobe said he was pleased with the promotions of Tim Billings and Brian Knorr to co-defensive coordinators, and Lonnie Galloway, who was hired to coach the wide receivers. Knorr's knowledge of the 3-4 scheme has been an added bonus.
Fall questions
1. Which running back will take over?
Josh Harris is the most talented back on the roster, but he missed several spring practices with a hamstring injury he suffered while competing in the 100-yard dash with the track team. He'll have to get healthy and earn the starting job this summer despite competition from senior
Brandon Pendergrass
. Harris, though, scored the only touchdown of the spring game.
2. Will dependable receivers emerge?
The Deacs didn't chart every one, but there were about eight or 10 dropped passes by wide receivers in the spring game. Wake Forest is looking for a playmaker to emerge like Kenny Moore did in '07 and D.J. Boldin in '08. Chris Givens,
Michael Campanaro
,
Danny Dembry
and
Terence Davis
are lead candidates, but redshirt freshmen
Matt James
(6-foot-6) and
Brandon Terry
(6-5), could both work their way into the rotation.
3. Will the offensive line improve?
Four starters are back, so it looks better on paper, but the Deacs will sorely miss the experience and leadership of former center Russell Nenon. Garrick Williams started the final three games of 2010 -- two at guard and one at center, but he struggled with the snaps towards the end of spring and isn't where the staff needs him to be yet.
March, 28, 2011
3/28/11
11:00
AM ET
By
ESPN.com staff
| ESPN.com
Wake Forest's defense was the highlight of the Deacs' first controlled intrasquad scrimmage of the spring on Saturday morning at BB&T Field. Veteran safety Cyhl Quarles was one of the defensive leaders, but stats were not provided.
"I thought Cyhl really led the defense," coach Jim Grobe said, according to the team's
scrimmage release
. "He made good checks and led the coverage. I liked the way we played on defense. Tristan Dorty and Kyle Wilber did some good things and I thought (nose tackle) Nikita Whitlock played well."
Grobe said there were too many mistakes on offense, they couldn't sustain drives, and it made it tough to evaluate the quarterbacks. Wake Forest also worked on punt returns and punt coverage, but place-kicker Jimmy Newman has a hip injury and hasn't participated in drills yet. Redshirt sophomore Alex Wulfeck handled the punts on Saturday.
The good news for Wake Forest fans is that the defense, which ranked 110th in the country last year in scoring defense, is showing signs of improvement.
"The defensive guys were having fun, flying around," said Grobe. "I thought the defense looked much improved over last year. We were playing six freshmen last fall and those same guys are out there now playing with more intensity. If they continue to improve and the offense picks it up, I think we have a chance to have a good spring."
May, 7, 2010
5/07/10
6:00
AM ET
By
ESPN.com staff
| ESPN.com
Good (very early) morning to you, ACC fans. Today we're taking a look back at each school in the conference, and what we learned (and didn't) from spring ball. (Most teams still have far more questions than they do answers heading into summer camp, but we'll stick with three each.) We'll start at the end of the alphabet for a change (sorry, BC fans).
Here's your spring scouting report on the Demon Deacons:
2009 overall record:
5-7
2009 conference record:
3-5

Returning starters
Offense: 6, defense: 7, punter/kicker: 2
Top returners
WR
Marshall Williams
, WR
Devon Brown
, RB
Josh Adams
, G Joe Looney, C Russell Nenon, DE Tristan Dorty, DE Kyle Wilber, LB Matt Woodlief, SS Cyhl Quarles, P Shane Popham , CB Kenny Okoro
Key losses
OT Chris DeGeare, QB
Riley Skinner
, OG Jeff Griffin, OG Barrett McMillin, DT John Russell, DT Boo Robinson, CB Brandon Ghee
2009 statistical leaders (* returners)
Rushing:
Adams* (541 yards)
Passing:
Skinner (3,160 yds)
Receiving:
Williams* (867 yds)
Tackles:
Dominique Midgett (79)
Sacks:
Russell (4.5)
Interceptions:
Okoro* (3)
Spring answers
1. Help for the quarterback.
Wake Forest found some playmakers this spring who can help ease the transition for a new starting quarterback. Brown and
Chris Givens
can both take a handoff on a sweep, and the Deacs have two veterans in Adams and
Brandon Pendergrass
. Wake's ground game should get a boost from both the running backs and wide receivers.
2. New quarterback, new offense.
Without Skinner, the Deacs are making the transition to a more run-based option offense, and No. 1 on this list will help them do that. Regardless of who wins the quarterback job, he'll likely bring an added dimension with his ability to run, and
Skylar Jones
demonstrated that this spring.
3. New staff assignments.
Coach Jim Grobe reassigned some of his assistants to better take advantage of their strengths, and those transitions went well this spring. The biggest change was the move of Steve Russ, a former defensive coordinator at Syracuse, from tight ends and fullbacks to linebackers.
Fall questions
1. Quarterback, quarterback, quarterback.
Jones finished the spring atop the depth chart, but part of that decision was based on durability. Jones didn't miss a day of practice this spring. Historically, that's been a quality Grobe likes -- guys who can stay healthy in his system. But the staff thinks very highly of incoming freshman Tanner Price, who will be given every opportunity to win the job as well. Regardless of who starts the season opener, they're all inexperienced.
2. Woe-line.
Possibly a bigger concern than who the starting quarterback will be is how the offensive line will come together. The Deacs return Nenon at center, but he missed all of spring and added to the unit's injury concerns. Wake is missing established tackles, and the group is trying to get back to running the ball the way it did before Skinner. The previous linemen were recruited to be run blockers, but the focused changed when they got a great passing quarterback.
3. Defensive jobs up for grabs.
Wake Forest has a lot of young talent, making for some ongoing competition this summer at five or six positions. The interior defensive line, defensive end and linebacker are areas where there are two legitimate potential starters as opposed to two backups trying to earn promotions.
August, 20, 2009
8/20/09
2:30
PM ET
By
ESPN.com staff
| ESPN.com
Posted by ESPN.com's Heather Dinich

As Wake Forest heads into its afternoon scrimmage Thursday, it does so with several key issues still lingering before the Sept. 5 Baylor game. If the Demon Deacons get consistency at the following positions, there's no reason they shouldn't be a dark-horse candidate in the Atlantic Division. I got a chance to speak with coach Jim Grobe on Thursday morning and he helped break down which players are starting to emerge at some of the key spots.
BACKUP QUARTERBACK

Like almost everyone else in the ACC, the Deacs don't have any experience behind their starter, and keeping Riley Skinner healthy this fall will be critical. Following the season-ending injury to receiver Terence Davis, backup quarterback candidate Skylar Jones moved to receiver to help that group. Ryan McManus, a former walk-on who has earned a scholarship, is the backup right now.
"The only thing with any of our kids, we've never seen them in live fire against another football team," Grobe said. "They get comfortable going against each other. They know who the defensive guys are. With no fans in the stands, nobody really watching them play, you start getting an idea who you think might be the quarterback, but more than any other position, a quarterback position you've just got to have something special about you."
The third-string quarterback right now is Ted Stachitas, who had shoulder surgery his senior year in high school and a second surgery on it once he got to Wake Forest. He went for about an entire year without throwing a football and looked like it when he made his first throws last spring.
"This fall he's been good," Grobe said. "His arm's healthy, his shoulder feels good now. I wouldn't say he's back to where it used to be, but we liked him in high school as a thrower and a runner and he's starting to throw the ball better and he's pain free. So now he's smiling once in a while."
If they needed to, Grobe would bring Jones back to quarterback. That would give them a different offensive look, though, and the Deacs would add more option to their offense.
One thing is clear: Grobe isn't thinking like NC State coach Tom O'Brien, or Duke coach David Cutcliffe in that he is intent on ushering in the next Wake Forest starting quarterback with playing time this fall.
"He's pretty much it and everybody knows it," Grobe said of Sinner. "It's not a deal where anybody is hopeful of taking snaps away from Riley. He's our guy."
SECONDARY

The upcoming players to watch are on the defense, starting with Mike Williams at corner. He and Josh Bush are splitting reps at the one corner. Brandon Ghee has locked down the other. Grobe will likely play more than one corner and more than one safety, so Kenny Okoro will get some snaps. Bush has also been playing some safety, as the staff isn't necessarily as comfortable at safety, where Alex Fry and Cyhl Quarles are listed as the starters on the preseason depth chart. Junior Petit-Jean can be a good safety, but he'll have an occasional "mental bust."
LINEBACKER
Matt Woodlief and Hunter Haynes are the two players the staff feels most confident in, as they both got significant snaps last year despite being behind a trio of outstanding veterans. One player who has been a pleasant surprise this camp was Jonathan Jones, who is slated to take over for Aaron Curry. At the beginning of August, Jones hadn't showed the durability or consistency the staff was looking for. He started as a wide receiver, moved to the secondary and kept getting bigger, so they moved him again to linebacker.
"He's been pretty physical this August," Grobe said. "He's made quite a few plays. The other day in the scrimmage he probably had as many bonus points as any of the other defensive players. He's just come on a little bit. I think he sees it as his turn. That's been fun."
"The thing we don't have is, we don't have any Aaron Curry in that group," Grobe said. "Of course not too many people have an Aaron Curry. We don't have one of those kind of guys right now, but we do have a bunch of guys like Stan Arnoux and Chantz McClinic, guys we had last year. We've got a lot of good solid players who aren't flashy, maybe not quite the big-play guy Aaron Curry was, but they're good football players, and we've got a handful of guys fighting for spots. Even though we don't have the marquee guy, we've probably got as good a depth as we've ever had at linebacker."
RECEIVER
Grobe wasn't happy with this group last year, and the loss of Davis to a torn ACL earlier this week didn't help, as Davis had a good scrimmage and was starting to come on. Marshall Williams has been the leader of the group, and Grobe has been impressed with his work ethic and toughness.
Another player who's fallen off the radar since playing as a true freshman but has made an impact this spring is Jordan Williams. Devon Brown, who had a bad back last year and wore a brace in all of the games, wasn't as effective because he was hurt last year but has started to contribute more this summer. He and Chris Givens have been playing the slot positions.
Another player who's been in the background that might come to the forefront is Danny Dembry.
"A lot of these guys are OK with being on the back burner," Grobe said. "They're OK with sitting back there on simmer for a while. As they get older, they start seeing their career disappear. Danny's one of those guys that wants to play now. It's important to him, and he's stepped up."
Skylar Jones is one of the faster players on the football team, and could also contribute immediately as long as he learns the position quickly.
KICKER/PUNTER
"I hate to say anything," Grobe said with a laugh. "As soon as I say something good, they'll come out today at the scrimmage and kick like goats."
So far, though, so good.
Cline Beam, a former soccer player, came out in the spring and kicked a bit with the team, and looked average but clearly had a strong leg. He worked all summer, though, and has become a contender this August.
"He has a chance to be our kicker if we started tomorrow," Grobe said. "He's that close. He's got a really good leg. He's kicking off good, he's hitting some long field goals for us, so he looks good."
Freshman Jimmy Newman also shows a lot of promise and is competing with Beam for the kicking duties.
Grobe wants to get back to the days of having a kicker and a punter, instead of depending on one player -- like Sam Swank -- to pull double duty. Their situation this year will likely allow them to do that, with Shane Popham handling the punting. Grobe said he'll take anothe
r week or so to make a final decision.
ACC SCOREBOARD
Saturday, 12/20
Monday, 12/22
Tuesday, 12/23
Wednesday, 12/24
Friday, 12/26
Saturday, 12/27
Monday, 12/29
Tuesday, 12/30
Wednesday, 12/31
Thursday, 1/1
Friday, 1/2
Saturday, 1/3
Sunday, 1/4
Monday, 1/12
Tweets from https://twitter.com/ESPNCFB/lists/acc