April, 22, 2013
4/22/13
9:00
AM ET
TALLAHASSEE, Fla. -- Over the past four months, Florida State won an ACC championship, a BCS game, reeled in another top-10 recruiting class and sent a handful of players into the NFL draft with first-round promise.
Given the recent spate of unsightly 7-6 seasons, Florida State seems to be in pretty fantastic shape. That, of course, is not the storyline that has taken shape since December. No, the convenient storyline has focused mainly on the coaching turnover that has left the Seminoles with six new assistants heading into the 2013 season.
What does the unusually large turnover say about coach Jimbo Fisher? What does it say about the program itself?
At this point, the storyline has become rote. Fisher already has his answers before the questions are asked, prepared to bat down the notion that this very strange offseason has been, well, strange.
He begins.
"You know," he says, "we were one of four teams in the entire country that did not lose a single assistant in my first two years here."
Pretty astounding, when you consider just how frequently assistants change jobs year to year. But what is more astounding is hiring seven different assistants in a two-month span. One of those assistants, Billy Napier, lasted a handful of weeks before moving on to Alabama.
As Fisher tried to defend the staff turnover, he proved the point others have made. Coaching change is common in this profession, especially at winning programs. But the type of coaching change Florida State just experienced is as rare as scoring a safety on consecutive plays.
[+] Enlarge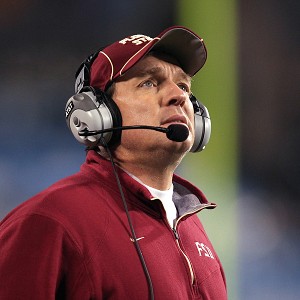 Streeter Lecka/Getty ImagesFSU coach Jimbo Fisher says he wasn't surprised by the amount of staff turnover this offseason.
Among programs that did not have a head coaching change, only Marshall had to replace more assistants than Florida State this past offseason. Point this out to Fisher and he shrugs.
"We took the attrition of three years and put it in one," Fisher says simply.
Was he surprised that he lost so many assistants?
"Not really. Last year was a big year," Fisher begins. "You go back and look at all the major jobs. When's the last time you saw four major SEC schools open?"
Not since 2004. His defensive coordinator, Mark Stoops, got the head coaching job at Kentucky and took assistant D.J. Eliot with him. Another assistant, Dameyune Craig, left for a co-offensive coordinator job at Auburn. Counting Napier, four assistants left for the SEC.
Fisher continues.
"The NFL has nowhere else to draw coaches from," he says. "And we had a lot of success. We're graduating players. Guys aren't getting in trouble. People want to know how you're having success. We had to have a proven commodity.
"We're the eighth-winningest team in the last three years. We were 30th the previous three years. We've jumped more than any team in the country. So people say, 'Wait a minute.' We all do research and look at who's doing good and ask, 'Why are they doing good? Are they doing something we're not doing?' People are saying, 'Let's get some of those guys and see why they're having success and are able to change the culture and change a program."
The other three coaches who left -- Eddie Gran (Cincinnati), Greg Hudson (Purdue) and James Coley (Miami) -- took coordinator jobs as well. Fisher points this out, too, and makes it clear he has never stood in the way of an assistant getting another job. After all, he allowed Stoops to interview at Kentucky in the middle of the season.
While all of the change may not look so great on the surface, the staff Fisher has assembled may in fact be better than the one he had his first two seasons with the Seminoles. When asked what he likes most about this staff, Fisher says, "No. 1, the experience. No. 2, their undaunting ability to work and put in hours. A lot of staffs you get recruiters or coaches. I think everybody on our staff can do both. We have a staff that's very solid recruiting and very solid coaching. It's hard to find nine guys capable that way."
Perhaps that is a slight dig at his past staff. But there is no questioning the credentials of the men tasked with elevating Florida State from ACC champ into yearly national title contender. All of them have won conference titles; three have won national titles.
Fisher keeps a running list of potential candidates with him, so he knew exactly whom to call when all these jobs came open. How they arrived in Tallahassee plays like a game of Six Degrees of Jimbo Fisher.
You have quarterbacks coach Randy Sanders, who crossed paths with Fisher when both were assistants in the SEC some years ago. He also coached new running backs coach Jay Graham at Tennessee in the 1990s. The two have known each other since Graham was 17.
You have defensive ends coach Sal Sunseri and defensive coordinator Jeremy Pruitt, who come from the Nick Saban tree that also produced Fisher. Sunseri and Fisher were on the same staff at LSU in 2000.
You have recruiting coordinator/tight ends coach Tim Brewster, who never worked with Fisher but recruited against him when he was at Texas and Fisher was at LSU.
Then you have special teams coordinator, linebackers coach Charles Kelly, who was a graduate assistant at Auburn in 1993 when Fisher was there. Kelly also played against Fisher the past several seasons while working at Georgia Tech. When Kelly was with the Jackets, and Pruitt with the Tide, the two shared ideas.
"Florida State has always been one of the schools I've always wanted to work at," Sanders said. "When I first got married and was first coaching, my wife asked me. I said this was one of the four schools in the country I'd love to work at some day. When the opportunity came along, I was excited to come to Tallahassee."
He echoed what all the other assistants said during their only media availability this spring: the desire to win a national title. Indeed, the intensity during spring practice seemed to be turned up a notch. Both Sunseri and Pruitt are quite boisterous and have no qualms about getting up close and personal with their players -- face to face mask.
On one particular afternoon last month, Sunseri kept getting after defensive end
Giorgio Newberry
. At one point, Newberry just slung his big arm around Sunseri's shoulder and chuckled.
"I give him a hug every once in a while," Newberry said. "I love Coach Sal. I love how he coaches me. He doesn't let us take plays off. We have to go hard every time, and we've got to do it his way. I like that. He'll chew me out and I'll be like, 'Yes sir' and I try to fix it."
Graham is not as in-your-face, but he demands excellence. That was not so easy to get adjusted to for some of the backs.
"He wants you to be great, so he has very high expectations,"
James Wilder Jr
. said. "It was hard getting used to it at first. He wants everything perfect."
Fisher has described the staff transition as seamless. He has veteran coaches that share his same philosophies and players who have embraced the changes. But the questions will linger on until kickoff in Pittsburgh on Sept. 2.
Perhaps even longer.
January, 1, 2013
1/01/13
10:30
AM ET
Here are three keys for Florida State against Northern Illinois in the Discover Orange Bowl:
1. Don't forget Mark Stoops.
Florida State's defensive coordinator left to become head coach at Kentucky, but the Seminoles can't forget everything he taught them. They've got to continue to do what has made them so successful all season, and that's win up front. Unfortunately for FSU, the Noles also have to do that without defensive line coach D.J. Eliot, who followed Stoops to Kentucky as his defensive coordinator. Florida State's defensive line has got to put pressure on NIU quarterback
Jordan Lynch
and fluster him into mistakes. Lynch leads the nation in total yards (4,733) and ranks third in total yards per game (364.08).
2. Win the quarterback battle.
FSU quarterback
EJ Manuel
has hardly been a flop this season, but he has been inconsistent. He looked like a Heisman contender against Clemson, but struggled through an emotional game in a loss to rival Florida. The Noles tend to go as Manuel goes, and he is going to have to make good decisions in order to overshadow and outplay Lynch. Lynch has the more impressive numbers, but Manuel has the better supporting cast and big-game experience.
3. Play disciplined.
This is not the time for a mistake-laden game filled with turnovers and penalties. One of the reasons NIU won the MAC is because it has been a disciplined team that takes care of the ball. FSU is No. 96 in the country in turnover margin while Northern Illinois is tied for No. 29. FSU has lost the ball 26 times this year -- 16 fumbles and 10 interceptions.
January, 1, 2013
1/01/13
10:00
AM ET
Northern Illinois (12-1, 8-0 MAC) vs. Florida State (11-2, 7-1 ACC)


WHO TO WATCH:
The quarterbacks. Northern Illinois quarterback
Jordan Lynch
leads the nation in total yards (4,733) and ranks third in total yards per game (364.08) behind Baylor's
Nick Florence
and Texas A&M's
Johnny Manziel
. FSU quarterback
EJ Manuel
could become just the second quarterback to win four straight bowl games, joining former West Virginia quarterback Pat White. In just his second season as a full-time starter, Manuel is FSU's career leader for completion percentage at 66.8 percent -- which is significantly ahead of No. 2 Charlie Ward (62.3).
WHAT TO WATCH:
Florida State's defensive line vs. NIU's offensive line. Florida State defensive line coach D.J. Eliot was hired at Kentucky as Mark Stoops' defensive coordinator, but Eliot stayed in Tallahassee to help the Noles prepare for Lynch. FSU's defensive line has been one of the best in the country, despite season-ending injuries to star defensive ends
Brandon Jenkins
and
Tank Carradine
, who tore his ACL in the loss to Florida. FSU is No. 26 in the country with 2.54 sacks per game. NIU is tied for No. 16 in the country in sacks allowed with 1.08 per game, a total of 14 all season. FSU defensive end
Bjoern Werner
leads the ACC and ranks seventh nationally with 13 sacks this season.
WHY TO WATCH
: Because No. 13 FSU might actually lose. The Noles are the more talented team, but the No. 15 Huskies will be playing to prove they belong in a BCS bowl. This will be the first BCS bowl game for a member of the Mid-American Conference. It is also the first bowl game between the ACC and MAC. NIU is the only program in the country to win 21 of its past 22 games, and joins Oregon as the only schools with three straight 11-win seasons. The Huskies' seniors are the winningest class in school history with 41 victories. FSU is 1-5 all-time in BCS bowls since playing in the first-ever BCS national championship game (1999 Fiesta Bowl).
PREDICTION:
Florida State 31, Northern Illinois 17: The Huskies will come out fired up and ready to prove they deserved their title as BCS Busters, and they'll keep it uncomfortably close in the first half. FSU fans will prematurely panic, an upset watch will look possible, but then reality will set in. Florida State has too much talent and speed, and the gap will continue to widen in the third quarter. The Noles will win the battle up front, and the defense will fare well in its first game without former coordinator Mark Stoops. The Noles will finish with 12 wins, including an ACC title and a BCS bowl win -- not a bad consolation prize for a team that had hoped to win a national title.
December, 31, 2012
12/31/12
1:00
PM ET
As the youngest member of Florida State coach Jimbo Fisher's staff, defensive ends coach D.J. Eliot said he never lost sight of the fact that Fisher took a chance on him when he hired Eliot from Rice.
Now Eliot is trying to pay Fisher back for that opportunity with a win against Northern Illinois in the Discover Orange Bowl, the last game Eliot will coach with the Seminoles before joining former FSU defensive coordinator Mark Stoops' staff at Kentucky.
[+] Enlarge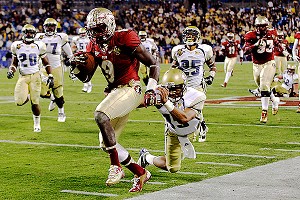 AP Photo/Chuck BurtonKarlos Williams and FSU are ranked No. 2 nationally in total defense heading into the Orange Bowl.
"I always looked at Florida State as a place where they weren't lucky to have me, but I was lucky to have Florida State, and that's the way I approached work every day," said Eliot, who is FSU's acting defensive coordinator for the Orange Bowl. "Coach Fisher took a chance on me. I was a young D-line coach at Rice that did a good job in an interview, so I tried to repay him every single day with my work."
Eliot still has a job to do -- his biggest yet -- but he has already had some on-the-job training for it.
In preparation for the ACC title game against Georgia Tech on Dec. 1, Eliot was in charge of the game plan and called most of the plays because of his knowledge and familiarity with the Jackets' spread option.
Florida State's defense was once again the difference down the stretch, as the Noles held off Georgia Tech for a 21-15 win and the school's first ACC title since 2005. One day later, Stoops left to become the head coach at Kentucky, and he hired Eliot as his defensive coordinator. The Seminoles were left to prepare for Northern Illinois without their top two defensive assistants, but those within the program say it has been a smooth transition during bowl practices. Eliot came back to campus to lead the defense, and Fisher hired two new assistants, defensive coordinator Jeremy Pruitt and defensive ends coach Sal Sunseri.
For Eliot, it was a no-brainer to stick with the Noles through the bowl game.
"My players mean a tremendous amount to me, so I want to make sure that I finish this thing off for them," he said. "They bought in early to what we were doing, and they've been very successful, and they've always respected me and done exactly what I've told them to do. So I want them to know that I was going to be here until the end for them, as well."
Under Stoops, FSU's defense was one of the best in the nation. This season, FSU was No. 5 in the country in rushing defense, No. 6 in scoring defense, No. 2 in total defense, and No. 3 in pass defense. FSU defensive end
Bjoern Werner
said the Noles won't miss a beat with Eliot leading the defense instead of Stoops.
"I always knew he wanted to be a defensive coordinator, and I'm so happy for him that it worked out," Werner said. "I'm so happy he didn't go with coach Stoops, because they were really close. I'm so happy for him and I'm happy that he's staying. He coaches exactly the same way as coach Stoops, so it wasn't a big change for us. They play the same technique and all the same stuff. I'm happy for him, and I can see that he's happy for us that we're doing so good. He's going to leave on a good note."
That's Eliot's game plan, anyway.
December, 29, 2012
12/29/12
12:30
PM ET
FORT LAUDERDALE, Fla. -- When Florida State defensive end
Bjoern Werner
came to the United States, he did so with one expectation: "My expectation was to show America that Germans can play football," he said. "I hope I did."
Mission accomplished.
As Florida State prepares to face Northern Illinois in the Discover Orange Bowl, it does so with one of the best defensive lines in the country, a deep group that has maintained its elite play in spite of injuries to NFL-caliber starting defensive ends
Brandon Jenkins
and
Tank Carradine
. Even those within the NIU program have conceded that the Seminoles will have an advantage in speed and have said this will be the best defense they have faced all season. The speed off the edge has been a tremendous advantage for the Seminoles all season, and Werner's presence alone will again be a key factor as FSU faces one of the nation's top quarterbacks in
Jordan Lynch
.
"Jordan is a great player, and we want to give him as much time as possible to make plays because if you give him enough time, he is going to make plays," said NIU offensive lineman
Jared Volk
. "It is really important to us to make sure that he has plenty of time to do those things. We want to make sure that he stays safe and healthy, but I think that's the same thing as every other game; it's not going to change for us. We're going to keep doing what we're doing, which is protect him and make sure that he gets off the field safe."
At 6-foot-4, 255 pounds, Werner is sculpted like a machine, and he has a blunt, no-nonsense personality that reflects his style of play. Of Werner's 40 tackles this season, 18.0 are tackles for loss, including 13.0 sacks. He has seven pass breakups and five quarterback hurries. He had 3.5 sacks against Florida. Those numbers are even more impressive considering the Berlin native played just two years of high school football in the United States.
Now? His picture looms large on the side of the team buses traveling around South Florida this week.
"When we drive through Hollywood with police escorts and my face on the bus, it's pretty funny," he said with a chuckle. "Good publicity."
There has been no shortage of ink on Werner, and his accomplishments continue to grow. Werner is tied for seventh in the nation in sacks per game and is tied for second in the nation for solo sacks with 11. He's one of just four defensive linemen in the NCAA to have seven or more pass breakups. Peter Boulware is the only other player in FSU history to record more sacks (34) in his first three seasons than Werner.
"You have certain players that you can give them a certain amount of information but they can only apply so much, so you have to be careful on who and what you give to certain players," said defensive ends coach D.J. Eliot, who is also FSU's acting defensive coordinator for the Orange Bowl. "But Bjoern is one of those players that he can take in anything you give him. And he can apply it in the game. So he never ceases to amaze me on how much he can improve, and he's done that his whole career. Brandon Jenkins was the same way, and Tank Carradine has played well for me, as well, as well as other defensive ends. But Bjoern is one of those guys that's a student of the game and continues to improve."
Werner said he could never have imagined being where he is now.
"No," he said. "This is just a different world. This is everything I could dream right now, all this hype and not just about me individually. I'm so happy that we're in the Orange Bowl. This was my goal, to be on the big stage, that's why I came to Florida State. I'm so happy that we are here. Hopefully we can leave this thing with a win."
December, 29, 2012
12/29/12
11:16
AM ET

Florida State assistant coach D.J. Eliot talks about handling the defensive play calls and preparing for Northern Illinois in the Orange Bowl.
December, 28, 2012
12/28/12
2:00
PM ET
There have been times this season during which Florida State's play-calling has been called into question (see: against NC State, fourth quarter).
Don't blame the Noles' offensive coordinator -- he's got nothing to do with it, and James Coley said on Friday he's perfectly fine with that arrangement.

Coach Jimbo Fisher is the one who calls the plays for Florida State, and it's a set-up that has been a source of angst for some Florida State fans. Those within the program, though, know their roles. When asked on Friday at his news conference for the Discover Orange Bowl if he was OK with being the coordinator and not calling the plays, Coley said, "yeah, absolutely."
"Coach is he's the head coach," Coley said. "He's called plays for a long time. He's very successful. He knows a lot. He walks into meetings and he'll bring up stuff that he hasn't done in a while or stuff people are doing now, he's done it before, and it's an ongoing we're all learning around him.
"He's got a lot of head-coaching duties that he does, and we, especially myself, I try to get all the information to him so when he walks into these meetings it's very productive and we're not sitting around there and there's not a lot of wasting time. His questions get answered right away with regards to schemes and how what our opponent is doing. And then during the week I script the practice to the things he wants to see, and I kind of organize the week out for him so that on Saturdays he's ready to go."
It's not a situation unique to Florida State. At Virginia Tech, Bryan Stinespring is the offensive coordinator, but quarterbacks coach Mike O'Cain calls the plays. Coley also coaches the tight ends.
"It's worked out well," Coley said.
And the Noles have their first ACC title since 2005 to prove it.
December, 17, 2012
12/17/12
10:00
AM ET
The head coaches get all the money and all the ink. Not today. Today Andrea Adelson and I are recognizing one assistant coach from each staff in the ACC for a job well done this year. The Atlantic Division is up first:

BOSTON COLLEGE – Wide receivers coach Aaron Smith.
In his first season with the program, Smith helped junior
Alex Amidon
develop into one of the ACC's best. Amidon's 1,210 yards receiving at the end of the regular season ranked second in the ACC, just four yards behind
DeAndre Hopkins
of Clemson. The entire group, including
Johnathan Coleman
,
Bobby Swigert
and
Spiffy Evans
, had one of its more productive seasons.

CLEMSON - Offensive coordinator Chad Morris
. There's a reason he was on the short list for many head coaching jobs this offseason. Clemson enters the Chick-fil-A Bowl ranked sixth in the nation in scoring (42.33), ninth in total offense (518.3) and 13th in passing (319.6) -- all record numbers for the program. Clemson has scored at least 37 points in 10 of the 12 games this year, and quarterback
Tajh Boyd
showed measurable improvement and mobility in his second season as a starter.

FLORIDA STATE – Defensive ends coach D.J. Eliot
. There's no question he will be missed on FSU's staff, as Eliot was hired as Mark Stoops' defensive coordinator at Kentucky. FSU's defensive line didn't miss a beat despite season-ending injuries to two of the group's top players,
Brandon Jenkins
and
Tank Carradine
.
Bjoern Werner
has 13 sacks this season, leading the ACC and ranking second nationally in total sacks. Carradine went from backup to first-team All-ACC. He has 11 sacks this season, second in the ACC and 14th nationally.

MARYLAND – Mike Locksley, offensive coordinator/quarterbacks:
No quarterbacks coach in the country had to deal with what Locksley did this year, as the Terps were down to their fifth-string quarterback -- a freshman linebacker in
Shawn Petty
. After injuries to every scholarship quarterback on the roster, Maryland still never quit and somehow managed to score 38 points on the road against North Carolina. Many wrote off Maryland before the season even began, when
C.J. Brown
tore his ACL. But the Terps hung in until the very end thanks to great coaching by Locksley.

NC STATE – Offensive coordinator Dana Bible.
He was named interim coach for the Franklin American Mortgage Music City Bowl, and has been a rock on the sideline for the often inconsistent Pack. He has been integral in the development of quarterback
Mike Glennon
, who finished first in the ACC in passing yards per game (304) and second in total offense (292 yards per game). Despite numerous injuries and shuffling on the offensive line, NC State's passing game was always a threat.

WAKE FOREST – OLB coach Derrick Jackson.
Not only was he instrumental in the development of the linebackers, he was also a key recruiter for the Deacs this year. Linebacker
Justin Jackson
, who led the team with 80 tackles, including 8.5 for loss and four sacks, also had two pass breakups, one blocked kick and a forced fumble, and was the star of the group.
Zachary Allen
,
Kevis Jones
and
Steve Donatell
also showed significant progress this year under Jackson.
December, 6, 2012
12/06/12
5:30
PM ET
Florida State defensive ends coach D.J. Eliot has been
hired as defensive coordinator
and linebackers coach at Kentucky under former Noles assistant Mark Stoops.
Eliot coached defensive ends the past three seasons at Florida State. His work this year was simply phenomenal when you consider
Bjoern Werner
was selected ACC Defensive Player of the Year; and both Werner and
Tank Carradine
were first-team All-ACC selections. The way he was able to get Carradine to truly shine once
Brandon Jenkins
got hurt truly is a testament to the job he did this season.
Jenkins, by the way, won All-ACC honors in 2010 and 2011.
"D.J. is one of the brightest young minds in college football," Stoops said in a statement. "He has a relentless work ethic and is extremely detailed. I'm very pleased he has joined the Big Blue Nation."
October, 8, 2010
10/08/10
10:30
AM ET
Florida State running back Chris Thompson, a native of Greenville, Fla., grew up a Miami fan. Miami defensive back Ryan Hill, a Tallahassee native, was raised a Florida State fan.
Ever heard the saying familiarity breeds contempt?
"As much as we say we hate that school, to hate a school you have to have much respect for them," Hill said. "That's my take on it."
[+] Enlarge
AP Photo/Wilfredo LeeCanes DB Ryan Hill, a Tallahassee native, says the Miami-FSU rivalry is based on animosity and respect.
Familiarity runs deep in the Florida State-Miami series, which began in 1951 and has been played every season since 1969. That's 41 straight games entering Saturday's game. A total of 31 former high school teammates will face each other on opposite sidelines, and there are also direct coaching ties. FSU defensive coordinator Mark Stoops was the Hurricanes' secondary coach from 2001-03, and special teams coordinator/running backs coach Eddie Gran was a graduate assistant at UM in 1990-91. FSU defensive ends coach D.J. Eliot was a graduate assistant at Miami in 2002, and assistant strength & conditioning coach Chris Harvey is a Miami graduate and was a long-snapper for the Canes.
And of course, Miami coach Randy Shannon was a starting linebacker on the Canes' 1987 national championship team.
"With these types of games, each team might be 010 and you may get a high scoring game, it might be a last-second field goal game," Shannon said. "You can throw everything out the window when you play Florida State. It's two teams who are going to play hard and get after each other. It's also a respect factor. It's a rivalry, but we respect them and they respect us and we play that way. I can't tell you what will happen, but it's a game that you watch and there's a reason the TV networks put it on primetime. They see two teams that are fairly even and it's a state game with old time tradition."
FSU quarterback Christian Ponder, whose father, David, was a defensive tackle for the Noles, doesn't need any history lessons.
"Obviously you can't forget the wide left and the wide right," Ponder said. "It's an intense rivalry. It's got a lot of history. A lot of players come out of this rivalry and go to the NFL. It's different than Florida. It's a mutual respect for each other, almost a friendly rivalry. But it's always been intense. You never know what's going to happen."
Even some of the younger players remember some of the old school games.
"I was a big Miami fan there for a while," Thompson, a sophomore, said. "I just remember those big games, most of the ones that were up in Miami, and even a couple down here, like the one when Roscoe Parrish was here, I remember that one. And then when I came here my freshman here, it was kind of a surprise coach (Dexter) Carter actually let me play in that game. It was a real great feeling to be out there and be a part of what I'd been seeing my whole life."
That sentiment is likely to be shared by many of the players who will be featured Saturday night. Hill said Florida State was always a "dream school" of his.
"You don't go to [a] school because you're a fan of that school, you go to that school because you fit in personality-wise and your playmaking ability," he said. "That's why I chose the University of Miami."
He also chose it to beat Florida State.
"Obviously this is a big game for us," Hill said. "This is why you come to the University of Miami, and it's why you go to Florida State."
August, 23, 2010
8/23/10
9:00
AM ET
Here's a quick look back at the weekend scrimmages, thanks to reports from the schools' sports information offices:
BOSTON COLLEGE
Sophomore quarterback
Mike Marscovetra
was perfect, going 12-for-12 for 90 yards and a touchdown.
Dave Shinskie
went 14-for-19 for 116 yards, but threw an interception. True freshman
Chase Rettig
was 2-for-4 for 13 yards.
Sophomore
Clyde Lee
and true freshman
Bobby Swigert
led the receivers with five catches each. Lee had a game-high 43 yards, and Swigert went for 29 yards and a touchdown.
Redshirt freshman kicker Nate Freese made a 51-yard attempt that hit the crossbar and went through, and he made another from 39 yards. He missed a 47-yarder that hit high off the left upright.
Sophomore linebacker Luke Kuechly led the defense with six tackles, and junior safety Dominick LeGrande recorded five tackles and an interception.
FLORIDA STATE
The Seminoles went through what amounted to a full-scale dress rehearsal, as they did their pre-game routine, returned to the locker room, then returned to the field for a three-hour scrimmage. Offensive coordinator James Coley and quarterbacks coach
Dameyune Craig
were in the press box, along with defensive ends coach D.J. Eliot and a graduate assistant. They helped call the plays on headphones, and there weren't any personnel or clock-management issues.
Junior college transfer
Mike Harris
earned some high praise from coach Jimbo Fisher:
"Mike's a good player; he's a real good player," said Fisher. "He breaks on the ball. He's almost like a quiet assassin. You never hear him out there, but he's always in the right place."
Statistics weren't included in the team's
scrimmage report
, but sophomore
Willie Haulstead
played well, and Fisher used a tailback-by-committee approach with
Jermaine Thomas
,
Ty Jones
and
Chris Thompson
. Defensively, former cornerback Ochuko Jenije started at safety.
VIRGINIA TECH
First, the injury report: Backup receiver
Xavier Boyce
sprained his left MCL and will have an MRI, backup linebacker Lorenzo Williams sprained his right foot and will have an MRI, and punter Brian Saunders bruised his right ankle. According to the Richmond Times-Dispatch, linebacker Barquell Rivers
will not play
against Boise State, and Bruce Taylor will start in his place. Starting field corner Jayron Hosley is still out with a hamstring injury.
Offensively,
Tyrod Taylor
completed 7 of 9 passes for 95 yards, a touchdown and an interception.
Ryan Williams
was the leading rusher with 46 yards on nine carries, including a 2-yard touchdown run.
David Wilson
added 38 yards on six carries and scored on a 12-yard run. Defensively, Eddie Whitley led the way with seven tackles and a pass break-up. Kicker Chris Hazley made field goals of 43 and 47 yards, but missed his first field goal in a preseason scrimmage when he was wide left on a 48-yard attempt. Cris Hill blocked two punts.
You can find more on the Hokies'
scrimmage here
.
March, 10, 2010
3/10/10
12:00
PM ET
By
ESPN.com staff
| ESPN.com
Here's your ACC news from everywhere but Greensboro, N.C. ...
March, 5, 2010
3/05/10
12:30
PM ET
By
ESPN.com staff
| ESPN.com
Holding you over 'til Monday ...