February, 11, 2015
Feb 11
3:00
PM ET
This week, we looked at the second-half performances
for the ACC's quarterbacks
. Now, we'll dig into a few of the other top performances from returning players around the league.
Running backs
James Conner, Pittsburgh:
No surprise that the ACC's player of the year was really good down the stretch, but it's worth noting that by Game 6, Conner's performance was starting to lag because of the a heavy early workload. But after a bye, he came back strong, averaging 6.3 yards per rush (up from 5.6 in the first half) and scoring 17 times on the ground.
Dalvin Cook, Florida State:
It was in FSU's sixth game of the year against Syracuse that Cook finally got a long look, getting 23 carries and rushing for 122 yards, and though he still shared time with
Karlos Williams
after that, he quickly emerged as one of the nation's best young runners. In the second half of the season, Cook averaged 6.2 yards per rush and had 27 carries of 10 yards or more (seventh among Power 5 backs), totaling 925 yards from scrimmage -- just 16 shy of Conner's tally.
Wayne Gallman, Clemson:
The Tigers' ground game was abysmal in first half of the season. Set aside the big day against FCS South Carolina State, and Clemson ranked 102nd nationally in rushing per game (116) and 115th in yards per carry (2.8). But things improved down the stretch, even without star quarterback
Deshaun Watson
, thanks largely to Gallman. His 610 rushing yards in the second half of the season ranked fifth in the ACC, and his 18.3 rushes per game ranked third behind only Conner and
Duke Johnson
. On 128 second-half carries, Gallman didn't fumble once.
Of note:
Just 5.4 percent of
Shaquille Powell
's rushes in the second half went for a loss or no gain, the second-lowest rate in the league. Virginia Tech's
J.C. Coleman
ended the season with four straight games of 95 yards rushing or better. North Carolina's
T.J. Logan
carried 86 times in the second half, and 44.2 percent went for at least 5 yards. Only Pitt's Conner and
Chris James
had a better rate among ACC running backs.
Receivers and tight ends
Tyler Boyd, Pittsburgh:
His 833 receiving yards in the latter half of the season ranked eighth nationally, and his 48 catches ranked 12th. As Pitt quarterback
Chad Voytik
got more seasoning, Boyd was the benefactor, hauling in 112 yards or more in five of his last six games. He was one of just seven receivers to rack up five 100-yard games in the season's second half. More impressive is that Boyd did it without a legitimate No. 2 option. He accounted for a whopping 48 percent of Pitt's receptions and 58 percent of its receiving yards in the second half, both easily the highest rates in the country.
Artavis Scott, Clemson:
Would you believe a true freshman playing with a struggling quarterback had as many receptions in the second half of the season as Boyd? That's true of Scott, who caught 48 balls from Game 7 on, trailing only
Rashad Greene
and
Jamison Crowder
in the ACC, and his five receiving touchdowns trailed only Miami's
Phillip Dorsett
. The biggest reason for Scott's success? He had 642 yards after the catch, according to ESPN Stats & Info, which nearly doubled any other ACC receiver.
Bucky Hodges, Virginia Tech:
No ACC player was targeted more often in the red zone from Week 8 on than Hodges (10), and his five catches and three touchdowns both ranked second in the conference during that span. He caught 28 balls from Week 8 through the end of the season, the second-most by any Power 5 tight end, trailing only Mackey semifinalist
Jimmay Mundine
.
Of note:
Clemson's
Mike Williams
hauled in 29 first downs in the second half of the season, trailing only Boyd among ACC receivers, and 16 of his 17 catches on third or fourth down went for conversions. Wake Forest tight end
Cam Serigne
had six catches and four touchdowns in the red zone, both tops in the ACC. Virginia's
Canaan Severin
had nine catches of 20 yards or more, more than any other ACC receiver aside from Boyd.
Defenders
Sheldon Rankins, Louisville:
The Cardinals dodged a bullet when Rankins announced he would return for his senior season in 2015. In the second half of last season, he racked up six sacks -- tops in the ACC and 12th among all Power 5 defenders. He also forced a fumble and picked off a pass.
Josh Jones, NC State:
The redshirt freshman started the final five games of the season at strong safety, and not coincidentally, the Wolfpack's defense improved dramatically, cutting its opponents' completion percentage from 60 to 49, YPA from 7.0 to 5.9 and creating nine takeaways in five games after racking up just 11 in its first eight. Jones was at the forefront, picking off three passes in those last five games -- the third-most in the nation.
DeVon Edwards, Duke:
After a boom-or-bust freshman campaign in 2013, Edwards was productive from the outset in 2014, but his second half was particularly impressive. He racked up an ACC-best 81 tackles during the second half of the season, including double-digit totals in six of Duke's last seven games, and though his interception total dipped, he did chip in with five tackles for loss down the stretch.
Of note:
Virginia Tech's
Dadi Nicolas
and
Ken Ekanem
combined for 18 TFL and 9.5 sacks during the final six games. Wake Forest linebacker
Marquel Lee
racked up 51 tackles, including 6.5 for a loss and three sacks, during Wake's final six games. Georgia Tech's
D.J. White
had six pass breakups and three interceptions in the latter half of the season, the most total passes defended among ACC defensive backs.
December, 4, 2014
12/04/14
3:00
PM ET
It happened in nearly every game this season for Georgia Tech. At some point -- occasionally early on, usually in the fourth quarter -- safety
Jamal Golden
would charge up to his teammate in the defensive backfield and smack
D.J. White
on the shoulder pads.
Golden had a message. He wasn't the only one delivering it this season, but this had become a ritual between Golden and White.
"Someone's got to make a play now," Golden would tell White. "It's going to be me or you."
Some days, it wasn't one of them. Georgia Tech's D made a habit of getting the big play when it needed to, and there were ample contributors. But in those most crucial moments, more often than not, it was Golden and White saving the day.
[+] Enlarge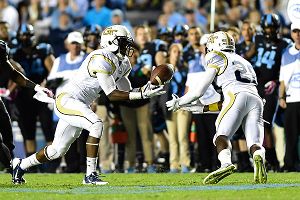 Bob Donnan/USA TODAY SportsYellow Jackets defensive backs Jamal Golden, left, and D.J. White combined to make 11 turnovers this season.
Witness the end of last week's Georgia Tech win over Georgia. A 53-yard field goal tied the game at the end of regulation, but a botched PAT left the Yellow Jackets hanging by a thread in overtime. Someone needed to make a play, and it was White who corralled the game-ending interception.
Golden ripped off his helmet and raced 95 yards to the far end zone to celebrate with Tech's fans. White hardly remembers the aftermath, the impact of the biggest play of his career still hard to consider even days later. The moment was entirely euphoric, but the play -- that was expected.
"We've been doing that all season," White said. "Not just Jamal but different guys. Those are things that, as teammates, you really cherish, challenging each other and it just makes the game a lot more fun."
Golden and White, who man the same side of Tech's defensive backfield, have combined for 107 tackles, eight interceptions and three forced fumbles this season. It's been a dynamic duo on a defense that was built on big plays.
"There's a great chemistry between the two of us," Golden said. "We challenge each other every week."
That chemistry has been crucial to Tech's success on defense, coordinator Ted Roof said.
The difference between a crucial takeaway or a blown coverage is usually all about chemistry between a safety and a corner, and the risk-reward math is something Golden and White have mastered this season.
"There's a lot of communication and a certain comfort level right now," Roof said. "They both understand the defense, they know where they belong, know when they can take a chance to go make a play and when they better make sure to stay on top. The longer that happens in the back end of the defense, the better off you are."
It's taken a while for Golden and White to get to this point though.
In 2012, Golden was getting his feet wet on defense and White played sporadically. In 2013, Golden established himself early, but a season-ending injury forced him to the sideline just as White began to come into his own.
During the offseason, Golden made the decision that he wanted a leadership role on the team, and that meant making sure he had the ears of the younger players around him. It started with White.
The duo quickly clicked, and once the season began, they found that half the fun of the game was challenging each other to step up and make a play.
"Jamal is a very smart player, a coach on the field," White said. "He knows what's coming before it comes, has a real passion for the game. When you're out there with a guy like that, it makes it a lot more fun."
Of course, their biggest challenge comes Saturday when Georgia Tech takes on undefeated Florida State, with the reigning Heisman winner
Jameis Winston
at quarterback. At stake is an ACC championship, and White and Golden are eager to rise to the occasion.
They've been doing it all season. At crunch time, there's Golden, reminding White that this is their time to shine.
"We never go into a game thinking it'll be easy," White said. "This is a talented team, an athletic team. It's a big challenge. But we're looking forward to the challenge."
November, 30, 2014
11/30/14
9:00
AM ET
Well, as rivalry weeks go, this is about as good as it gets for the ACC. And with that in mind, there's plenty of competition for the helmet stickers.

Virginia Tech DL Dadi Nicolas:
The Hokies needed a win to continue a decade-long streak of wins over rival Virginia, but more importantly, to get bowl eligible.
Michael Brewer
,
Bucky Hodges
and the offense did just enough to
get the win
in the end, but it was the defense that set the stage, and Nicolas was the star. He racked up nine tackles, including two for a loss, a sack and five QB hurries in the game, and Nicolas helped stifle the UVA running game to the tune of just 38 yards allowed.
Clemson QB Deshaun Watson and WR Artavis Scott:
Watson's passing numbers certainly looked a lot better Saturday thanks to his roommate. Scott took three short throws and raced downfield for big gains, finishing with seven catches for 185 yards and two touchdowns. Watson played on a torn ACL, as Dabo Swinney admitted after the game, but still accounted for four touchdowns. And most importantly, for the first time since 2008,
Clemson toppled its in-state rival
.
Georgia Tech RB Zach Laskey:
The senior had never beaten Georgia, but he did his part to ensure it happened Saturday. Laskey ran 26 times for 140 yards with three touchdowns, including a 2-yarder that proved to be the
difference in overtime
. Of course, a big hat tip still goes to kicker
Harrison Butker
, whose 53-yard field goal as time expired sent the game to OT, and to
D.J. White
, who picked off
Hutson Mason
to seal the win.
Louisville WR DeVante Parker:
Down both of its top two QBs, Louisville didn't need to worry. Parker makes everyone look good.
Kyle Bolin
came on in relief of
Reggie Bonnafon
and connected with Parker three times for scores. Overall, Parker caught six passes for 180 yards to help the
Cardinals knock off Kentucky
. But a special helmet sticker also goes to
Gerod Holliman
, who sealed the game with an INT -- his 14th of the season, tying the NCAA record.
NC State QB Jacoby Brissett:
Perhaps the biggest surprise of the day was the
Wolfpack thumping North Carolina
, and Brissett was the star. He completed just nine passes for 66 yards, but threw three touchdowns and added another on the ground, while rushing for 167 yards in the win. Teammate
Shadrach Thornton
chipped in with another 161 yards and a TD, too.
Florida State RB Dalvin Cook:
The storyline is getting awfully familiar. FSU falls behind early.
Jameis Winston
coughs up some costly turnovers. And then the freshman tailback
saves the day late
. It was more of the same against Florida as Winston slumped through four INTs, but Cook was spectacular. He rushed 24 times for 144 yards and caught two passes for 28 yards. Overall, Cook had eight plays of 10 yards or more in the win.
Pitt receiver Tyler Boyd:
The Panthers needed a
win in Miami
to get bowl eligible, and Boyd did all he could to ensure it happened. He caught five passes for 72 yards and scored on an all-out dive for the end zone. He also added 190 yards in the return game to set Pitt up with terrific field position throughout the game. The end result? Two 6-6 teams headed in completely opposite directions.
November, 29, 2014
11/29/14
4:07
PM ET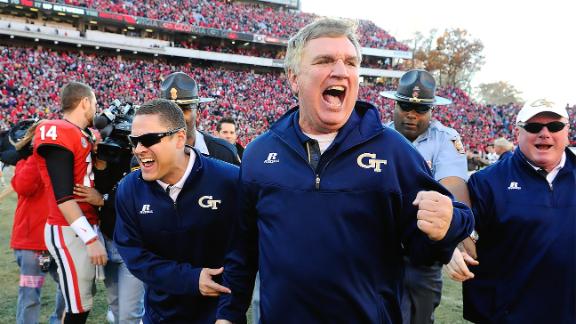 A thrilling renewal of the Georgia-Georgia Tech rivalry ended in overtime for a second straight year -- with Tech winning this time
30-24
on
D.J. White
's overtime interception.
Georgia (9-3) scored what it thought was the game-winning touchdown on a
Malcolm Mitchell
catch with 18 seconds left in regulation, only to have Georgia Tech (10-2) force overtime with a 53-yard
Harrison Butker
field goal at the buzzer.
Georgia was close to scoring the game-tying points on its first overtime possession when White picked off
Hutson Mason
at the 5-yard line to clinch the win.
Let's recap the memorable meeting between the Bulldogs and Yellow Jackets:
How the game was won:
Georgia Tech's grind-it-out rushing attack dominated the second half, but the Yellow Jackets needed Butker's miraculous field goal at the last second to force overtime. Once they got into overtime, the Jackets ran it five straight plays to post what would become the game-winning touchdown on a
Zach Laskey
dive.
Game ball goes to:
Laskey. The Georgia Tech running back was a force, scoring the Jackets' go-ahead touchdown in the fourth quarter and their winning touchdown in overtime. The tough runner finished the day with 140 rushing yards and three touchdowns on 26 carries.
What it means:
Not only did Tech stop a five-game losing streak against Georgia, but it gained a measure of retribution. The Jackets blew a 20-0 lead against Georgia last season before losing in double overtime. Saturday they rallied in the final seconds to force overtime and spoiled senior day at Sanford Stadium with their victory.
Playoff implication:
Probably none. Georgia is ninth in the College Football Playoff rankings, and Georgia Tech is No. 16. With Georgia not playing for the SEC title next week, its playoff chances were shot. And Georgia Tech is far enough back that even a win against Florida State probably wouldn't help the Jackets crack the top four.
What's next:
Missouri's win against Arkansas means that Mizzou, not Georgia, will play in the SEC title game next Saturday. Georgia's next game will be its bowl appearance. Georgia Tech, however, gets one more game before bowl season. It faces FSU in the ACC title game next Saturday.
September, 30, 2014
9/30/14
12:00
PM ET
The stats do not scream perfect team! But through four games, Georgia Tech has an unblemished record, emerging as one of the big surprises in the ACC through the first month.
Still, it is hard to get a gauge on just how good these Jackets are, considering how they have gotten to 4-0. They looked uninspired in a win over Wofford. They trailed early to Tulane. They needed a last-ditch rally to beat Georgia Southern. And they needed a last-second field goal to beat Virginia Tech.
Are they lucky or good?
We may have an answer Saturday, when the Jackets face Miami in a crucial Coastal Division game. Their overall defensive performance to date may not inspire much confidence, but a big reason Georgia Tech has remained undefeated has been its ability to make game-changing plays.
[+] Enlarge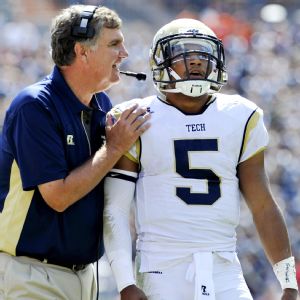 Michael Shroyer/Getty ImagesCoach Paul Johnson, QB Justin Thomas and the Yellow Jackets have opened the season 4-0.
All seven Georgia Tech takeaways have resulted in points. In each of Georgia Tech's last two games, the Jackets have gone on game-winning drives thanks to takeaways. Down 38-35 with Georgia Southern driving to the Jackets' 24 in the closing minutes,
Jamal Golden
forced a fumble that
KeShun Freeman
recovered.
Quarterback
Justin Thomas
marched the Yellow Jackets 72 yards for the winning score, capping the drive with a 13-yard touchdown pass to
Deon Hill
with 20 seconds remaining.
Then against Virginia Tech the following week,
D.J. White
got an interception with 1:58 to play, setting up
Harrison Butker
's 24-yard field goal to win.
"I think we've gotten better each week. I wouldn't sleep too much on Georgia Southern," coach Paul Johnson said during the ACC coaches call last week. "They got a pretty good football team. We got off to a big lead, 35-10 at halftime. As a young team, we relaxed. They got the momentum and it was hard to get it back. To our credit, we found a way to get it back.
"We've got a young team. Hopefully they're going to get better each week. We're going to have to play better than we played."
Doomsday scenarios and dark clouds seemed to hover around the program headed into the season, as Johnson had to deflect questions about fan discontent and his own future as head coach after four straight seasons with mediocre results.
Yet the Jackets have found ways to win. Sometimes, that means getting a little lucky.
Like all teams, they are a work in progress. Johnson wants to see more consistency, especially on defense. For all the big plays the Georgia Tech D has made, the Jackets rank No. 11 in scoring defense in the ACC, No. 14 in rush defense, No. 12 in total defense, last in sacks and No. 12 in opponents' third down conversions.
They have fit the "bend-but-don't-break" motto this season. As for the offense, Thomas has been an upgrade over
Vad Lee
. Thomas ranks No. 3 in the ACC in rushing, and Georgia Tech has gone from No. 9 in the ACC in pass efficiency to No. 2 because Thomas is better throwing the football.
His connection with
DeAndre Smelter
finally gives the Jackets the type of passing combination they need to keep defenses off balance. Still, improvements must be made there. Georgia Tech missed on several big pass plays against Virginia Tech and Thomas is completing just under 50 percent of his passes.
But there are plenty of reasons for encouragement. In addition to scoring off the takeaways, the Jackets have been able to hold onto the football. Georgia Tech only has four turnovers -- second fewest in the ACC. Last year, Georgia Tech turned the ball over 24 times.
And beating Virginia Tech was big, considering it ended a four-game losing streak in the series. So now that they have ended one losing streak, the Jackets have a chance to break a five-game skid against the Canes on Saturday. Johnson has never beaten Virginia Tech and Miami in the same season.
The last time Georgia Tech did that was 2006, the year they lost to Wake Forest in the ACC title game. There is little doubt, then, that a "prove it" moment awaits this weekend.
September, 25, 2014
9/25/14
8:00
AM ET
It is two days until game day, but it is beginning to look like Louisville will go into Saturday's tilt against Wake Forest without starting quarterback
Will Gardner
.
Gardner missed practice again Wednesday following an unspecified knee injury suffered in this past weekend's game at FIU,
the (Louisville) Courier-Journal's Jeff Greer writes
, and the Cardinals are prepared to go with
Reggie Bonnafon
against the Demon Deacons if need be.
Bonnafon returned to the team Sunday after the funeral for his father, Wallace. The true freshman missed the win over the Golden Panthers.
The former ESPN four-star quarterback saw meaningful time in the Cardinals' Sept. 13 loss at Virginia, completing 6 of 9 throws for 39 yards. He is 14-for-20 on the season with 151 yards and one touchdown. The local product was the No. 2 player in the state and No. 8 quarterback in the country from the class of 2014.
The quarterback situation for Virginia this weekend also remains unclear, as
Greyson Lambert
suffered a right ankle injury in the Cavalier's 41-33 loss at BYU.
"Tuesdays are first days of practice, and Wednesday, he was out here today, took some limited reps," coach Mike London said during Wednesday's ACC coaches' teleconference. "The ACC's requirement of turning in the probability of players is (Thursday), and I would say that although he looked OK, if he's not 100 percent, he's not going to play, but we feel really confident about
Matt Johns
being the guy, even in a backup role or a situation where
David Watford
can go in the game, as well.
"Again, it's tentative, and after (Thursday's) practice we'll release his status for the game. But we feel good about whoever the quarterback is going to be to be able to go in and lead the team. "
Here are the rest of your ACC links ...
July, 24, 2014
7/24/14
3:00
PM ET
The ACC's Coastal Division is wide open entering the 2014 season. With six of seven teams receiving at least one first-place vote in the preseason media poll, the possibilities for how this race shakes out are seemingly endless. Here, we take a look at the six teams that garnered first-place votes, examining reasons that are working for and against them in their quests to get to the ACC title game.
Why Georgia Tech will win the Coastal
[+] Enlarge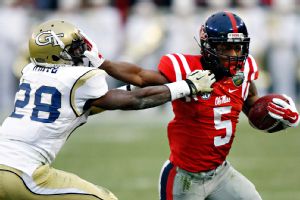 AP PhotoCornerback D.J. White returns after having a breakout game in the Music City Bowl.
1) The secondary should be improved. Lose three starters, welcome back four. Sound confusing? Well, Georgia Tech does say goodbye to cornerbacks Jemea Thomas and Louis Young, but it returns a pair of players who had missed most or all of last season, as safeties Isaiah Johnson (knee) and Jamal Golden (shoulder) return from injury. Demond Smith had replaced Golden at safety last season and is now at corner, along with D.J. White, who was dominant in the Music City Bowl loss to Ole Miss (career-high 13 tackles, two forced fumbles, interception). This group should anchor the defense, perhaps offsetting some of the potential shortcomings that could await the defensive line this fall.
2) Don't sleep on special teams. Getting Golden back is crucial, as he is a versatile talent who showed he can make plays as both a punt and kick returner, having been the only player in the nation to finish in the top of each category in 2012. That might be easy to forget after some of the exploits of the rest of the ACC's returners in 2013, but Golden could be as good as any of them. Harrison Butker, meanwhile, is a reliable kicker with a strong leg, having converted 53 of 54 extra points as a true freshman last season, along with 10 of 14 field goal tries (including five of 40 or more yards).
3) The schedule is (fairly) favorable. Sure, six home games may be tough for most Power-5 conference schools to swallow in this era, but the Yellow Jackets do get Miami and Duke in Atlanta. More importantly, they get the Hurricanes following a bye week. The same goes for their trip to Athens, Ga., for the regular-season finale at rival Georgia. Georgia Tech's other three nonconference games to open the season are certainly winnable (Wofford, at Tulane, Georgia Southern), so it could help give this group some confidence going into the Sept. 20 conference-opening showdown at Virginia Tech.
Why Georgia Tech won't win the Coastal
1) The offseason turnover will take a toll. As noted Wednesday, Georgia Tech has had no shortage of turnover this offseason, and not in a good way. In addition to the seniors it said goodbye to like every other team, the Yellow Jackets have had 13 different non-senior players depart the program this offseason due to a number of different issues. ESPN 300 athlete Myles Autry, meanwhile, has been unable to enroll at Georgia Tech yet because of NCAA clearinghouse issues.
2) The defensive line has some question marks. Three starters are gone up front, the biggest among them being All-ACC end Jeremiah Attaochu. It will now likely be up to nose tackle Adam Gotsis to anchor the group after he tallied 14.5 tackles for loss last season. With second-year coordinator Ted Roof operating out of the nickel instead of the 4-3, Jabari Hunts-Days was moved up after playing linebacker, but he now finds himself sidelined for the season, as he is academically ineligible.
3) What do we know about the quarterbacks? Here's what we do know: Last year's starer, Vad Lee, is gone, having transferred to James Madison. Speedster Justin Thomas will replace him and seems like an ideal fit for Paul Johnson's triple-option attack, although he still has some work to do. Johnson is very high on reserve signal-caller Tim Byerly, but the possibility of him earning meaningful playing time inevitably begs the question of whether the Yellow Jackets have a controversy or competition on their hands.
January, 9, 2014
1/09/14
9:00
AM ET
Bowl season was kind to the ACC in a few games (Florida State and Clemson won BCS games), not-so-kind in a few others (Miami, Virginia Tech, we're looking at you) and at least one was a little of both (can we get Texas A&M and Duke every year?). But now that it's all over, we're honoring the best individual performances in the ACC with our all-bowl team.
OFFENSE
QB: Tajh Boyd, Clemson:
The big stage hadn't been kind to Boyd through most of 2013, but on the first day of 2014, he was exceptional. Boyd accounted for 505 yards and six touchdowns in a Discover Orange Bowl win over Ohio State, giving the ACC two BCS bowl game victors.
RB: James Conner, Pittsburgh:
The freshman tailback carried 26 times against Bowling Green, blowing past Tony Dorsett for the Pitt bowl game record with 229 yards on the ground. For good measure, Conner chipped in on the defensive line for a few snaps, too.
RB: Devonta Freeman, Florida State:
It wasn't the most spectacular performance of bowl season -- Freeman wasn't even the best running back on the field in the BCS title game -- but his hard running early kept FSU from falling too far behind, and his final tally -- 11 carries for 73 yards and a TD -- helped Freeman become the first FSU running back since Warrick Dunn to top 1,000 yards on the season.
[+] Enlarge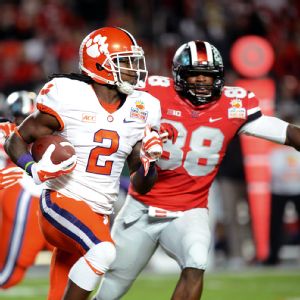 Cal Sport Media/AP ImagesOhio State wasn't able to catch Sammy Watkins, as the Clemson WR set multiple Orange Bowl receiving records.
WR: Sammy Watkins, Clemson:
Watkins made his last game in a Clemson uniform one to remember, catching an Orange Bowl record 16 passes for 227 yards and two touchdowns despite battling an injury for half the game.
WR: Jamison Crowder, Duke:
Ho-hum, another 12 catches for 163 yards and a touchdown for Crowder, who turned in one last stellar performance to cap an exceptional season for the Blue Devils.
WR: Rashad Greene, Florida State:
The Seminoles' dramatic comeback against Auburn in the BCS championship game wouldn't have been possible without Greene's big day. He was the only FSU receiver with positive yardage in the first half of the game, and his 49-yard reception -- he dodged two tacklers and picked up most of that yardage after the catch -- was the key play on FSU's dramatic last-minute, game-winning drive.
TE: Braxton Deaver, Duke:
The junior had six catches for 116 yards, including three grabs that went for 25 yards or more and five that went for first downs.
OL: Dorian Johnson, Pitt:
The Panthers simply overwhelmed Bowling Green's defensive front in the Little Caesars Bowl, racking up 487 yards of offense, including 255 on the ground. (
Ed. note:
We mistakenly included Matt Rotherham here in an initial post. Johnson slid from tackle to guard for the game, replacing Rotherham, and the Pitt line didn't miss a beat. We apologize for the error.)
OL: Jon Heck, North Carolina:
Cincinnati entered the Belk Bowl second in the AAC in sacks with 35, but the Bearcats couldn't get to UNC QB
Marquise Williams
, as the Tar Heels' offense racked up 39 points -- the second-most Cincinnati gave up all season.
OL: Laken Tomlinson, Duke:
The Blue Devils racked up 661 yards of total offense and 29 first downs against Texas A&M, with the offensive line -- led by Tomlinson -- paving the way for a 300-yard passer and a 100-yard rusher.
OL: Tre' Jackson, Florida State:
Yes, the Seminoles' line allowed four sacks in the game, but Jackson and Co. also helped FSU run for more yards per carry (4.8) than the vaunted Auburn ground game and provided
Jameis Winston
with plenty of time to throw on a dramatic game-winning drive in the final minute.
C: Macky MacPherson, Syracuse:
The Orange rushed for 208 yards and three touchdowns, including the game-winner with 1:14 left, to knock off Minnesota in the Texas Bowl. The physically dominant performance on the line was a fitting conclusion to MacPherson's Syracuse career.
DEFENSE
DE: Mario Edwards Jr., FSU:
Edwards had one sack and three tackles for loss among his six total tackles for a Seminoles front that turned it up a notch in the second half, allowing the offense to catch up and ultimately escape with the win.
DT: Andre Monroe, Maryland:
The Terrapins' finale as an ACC member ended on a sour note with a 31-20 loss to Marshall in the Military Bowl presented by Northrop Grumman. Monroe tied for a game-high with 10 total tackles, three of which went for a loss, one of which was a sack. Monroe added a quarterback hurry as well.
DT: Aaron Donald, Pitt:
With one more game to go in a historic season, Donald did not disappoint. The senior closed out his career with two tackles for loss, including one sack, to go with a pass break-up in the Panthers' 30-27 Little Caesars Pizza Bowl win over Bowling Green. Donald's sack came on second down of the Falcons' final drive, all but sealing the win.
DE: Vic Beasley, Clemson:
Beasley was part of a Tigers front that made life extremely difficult for
Braxton Miller
and the rest of the Ohio State backfield. Beasley recorded four tackles for loss and a sack among his five total tackles, and in the end Clemson's defense proved to be the difference in a shootout win.
LB: Norkeithus Otis, UNC:
The Tar Heels capped their strong second half with a bang, routing Cincinnati 39-17 in the Belk Bowl to make them 6-1 over their last seven games. Otis tallied seven total tackles -- two for loss and one sack among them -- to go with two quarterback hurries.
LB: Jack Tyler, Virginia Tech:
UCLA proved to be too much for the Hokies in a 42-12 win in the Hyundai Sun Bowl, but Tyler played well, totaling seven tackles, including half of a sack, to go with one pass break-up and one quarterback hurry.
[+] Enlarge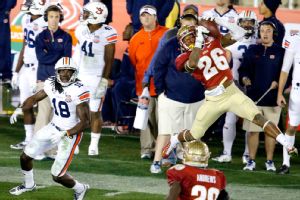 AP Photo/Gregory BullP.J. Williams' interception was the big break Florida State needed to create in its come-from-behind victory over Auburn in the BCS title game.
LB: Cameron Lynch, Syracuse:
The Orange finished a successful first season in the ACC by topping Minnesota 21-17 in the Texas Bowl. Lynch, a junior, tied for a team-high with eight stops, with most of his big plays coming behind the line of scrimmage. He had two tackles for loss, one sack and a forced fumble to help Syracuse go 7-4 after an 0-2 start in coach Scott Shafer's first year.
DB: P.J. Williams, FSU:
The defensive MVP from the Vizio BCS National Championship came up huge when it mattered most, picking off Auburn's
Nick Marshall
early in the fourth quarter to set up a touchdown that cut the Tigers' lead to one. Williams finished with seven total tackles and 0.5 tackles for loss.
DB: Jemea Thomas, Georgia Tech:
Thomas ended his college career with a bang, totaling a game-high 15 tackles. Three of those stops were behind the line of scrimmage, including one sack.
DB: D.J. White, GT:
The Yellow Jackets get two more years of White, a future that looked all the brighter in the 25-17 loss to Ole Miss in the Franklin American Mortgage Music City Bowl. White finished with 13 total tackles, two forced fumbles, one interception and three pass break-ups.
DB: Bryce Jones, Boston College:
The Eagles' turnaround campaign under Steve Addazio ended on a down note, falling to Arizona 42-19 in the AdvoCare V100 Bowl, but Jones was a bright spot, with the sophomore notching a team-high 12 tackles, including one for loss.
SPECIAL TEAMS
K: Chris Blewitt, Pitt:
Blewitt went 3-for-4 for the Panthers in Detroit, connecting from 25, 28 and, most important, 39 yards with the game-winning kick with 1:17 left in Pitt's 30-27 win.
P: Tommy Hibbard, UNC:
Hibbard was phenomenal for the Tar Heels, punting four times for an average of 44.2 yards per boot. He pinned Cincinnati inside its own 20 three different times, and he had a long of 59 yards in the win.
KR: Levonte Whitfield, FSU:
At the time, Whitfield's 100-yard kickoff return for a touchdown seemed as if it would go down as one of the greatest returns in BCS championship game history. The touchdown gave Florida State a 27-24 lead with 4:31 to play -- but the lead would change twice more before it was over. Whitfield finished the game with 172 return yards.
PR: Ryan Switzer, UNC:
The Tar Heels had a huge day on special teams in a Belk Bowl win over Cincinnati, with Switzer -- an All-American -- leading the way, returning his fifth punt of the season for a touchdown.
August, 23, 2012
8/23/12
4:00
PM ET
Now that we are closing in on the start of the season, we have a much better idea of how many true freshmen could make an impact in the ACC this season based on preseason practice time and early depth charts.
Maryland could end up playing the most, and having players who make the biggest impact. You have quarterback
Perry Hills
starting in place of the injured
C.J. Brown
. Highly touted athlete
Stefon Diggs
has had an outstanding preseason camp. Don't forget about running backs
Albert Reid
and
Wes Brown
, who also have looked really good.
Here are a few young players to keep an eye on at each school.
Boston College: Justin Simmons, DB.
Defensive back is an area where Boston College needs help, especially after the loss of
Al Louis-Jean
, who's out six to eight weeks with a foot injury. Simmons already has made his presence felt. In a scrimmage last weekend, he had two interceptions. Also watch for defensive back
Bryce Jones
and linebacker
Steven Daniels
.
[+] Enlarge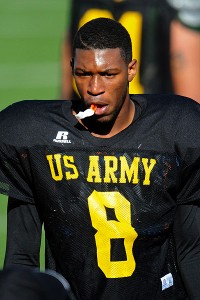 John Albright / Icon SMI The versatile Travis Blanks may line up at a number of positions on defense for the Tigers.
Clemson:
Travis Blanks, DB.
One of the top defensive backs in the country out of high school, Blanks enrolled early and had an impressive spring showing. He has followed that up with a great preseason, and will line up in a variety of positions -- nickelback, cornerback and some linebacker as well. On offense, watch for
Germone Hopper
, who has had some pretty explosive plays this fall.
Duke: Jela Duncan and Shaquille Powell, RBs; Ross Martin, PK.
Duncan and Powell have turned heads during the preseason, and coach David Cutcliffe said he would feel comfortable using both players in the opener against FIU. Martin is sure to get plenty of game experience as the starting kicker this year. Others to watch: receiver
Max McCaffrey
, tight end
Erich Schneider
and safety
Dwayne Norman
, who had an interception return for a touchdown in one scrimmage.
Florida State:
Ronald Darby, CB.
Do not be surprised if Darby ends up starting in the spot vacated by
Greg Reid
. Darby and
Nick Waisome
are competing for the starting job. Coaches like both players, but there is
something special
about Darby. Said coach Jimbo Fisher: Darby is "going to be a very, very good one." Also watch for defensive tackle
Eddie Goldman
and tight end
Christo Kourtzidis
.
Georgia Tech:
Anthony Autry and Micheal Summers, WR.
Georgia Tech only has four other scholarship wide receivers, so that increases the chances for Autry and Summers to play this season. Autry seems to have a slight edge over Summers. Others to watch: defensive back
D.J. White
.
Maryland:
In addition to Hills, Diggs, Brown and Reid, several others could make an impact this year. Punter
Brad Craddock
is competing for the starting position with redshirt freshman
Nathan Renfro
; and cornerback
Sean Davis
could be starting on opening day because he has done well, and there are some injuries on defense.
Miami:
Ereck Flowers, OL.
Flowers is listed as a starter right now at right tackle, helped in part because of
Seantrel Henderson
's absence. Offensive line coach Art Kehoe has been
extremely impressed
. Others to watch: defensive back
Tracy Howard
and running back
Duke Johnson
. Howard is listed on the two-deep behind
Ladarius Gunter
but has drawn raves so far and so has Johnson, who should also return kickoffs this year.
Deon Bush
is in the mix for a starting safety spot.
North Carolina: Quinshad Davis, WR.
Davis missed some early practice time because of a medical issue but has returned in the last week and has a big chance to make some noise. The Tar Heels are lacking depth at this position, and the way Larry Fedora likes to spread the ball around, he will take as many good receivers as he can.
NC State:
Charlie Hegedus, WR.
Receiver is a position of need for the Wolfpack, and Hegedus has seen more reps during fall camp with the injury to
Bryan Underwood
. One player NC State hopes you do not see this year is backup quarterback
Manny Stocker
, a true freshman behind veteran
Mike Glennon
.
Virginia:
Maurice Canady, CB.
Coaches are extremely high on Canady, who is in the mix to earn a starting spot in a secondary that has to be rebuilt this year. He has been working with the first team recently. Others to watch:
Michael Moore
at outside linebacker, and
Eli Harold
at defensive end.
Virginia Tech: J.C. Coleman, RB; Donaldven Manning, DB.
Both players enrolled in January and are virtual locks to play this season. Coleman has separated himself from another true freshman,
Trey Edmunds
, despite a hand injury. He has had an outstanding fall camp. Manning has had to deal with a hamstring injury, but his early enrollment works in his favor.
Wake Forest:
The Deacs rarely play true freshmen. But if there is one player who has a shot this year, it is defensive end
Tylor Harris
, who has stood out this fall for his pass-rushing ability -- something Wake Forest needs help improving this year.