September, 22, 2014
Sep 22
9:00
AM ET
Coaches talk about plowing forward after tough losses. If not, they would drive themselves crazy with all the talk of what could have been.
One slightly better throw here. Another choice on fourth-and-short there. One perfectly snapped ball here. Another secured football there. A different starting quarterback here …
What could have been, Clemson.
Instead, the Tigers lived up to their reputation and failed to secure a winnable game, giving Florida State a 23-17 overtime victory and control of the Atlantic Division. Coach Dabo Swinney called it one of the most difficult losses he has had to stomach, precisely because of all those what-could-have-been moments.
[+] Enlarge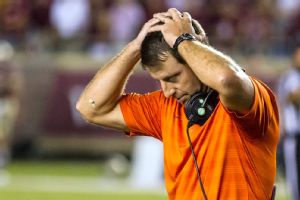 AP Photo/Mark Wallheiser"We wish we were 3-0 right now, but I don't have any doubt ... we're coaching a much better team today than we were when we started the season, and it's going to pay dividends," Dabo Swinney said.
The game was so tantalizingly close, placed on a tee for the Tigers to steal away. With
Jameis Winston
on the sideline, Clemson outplayed Florida State for a vast majority of Saturday night. The Tigers looked in control with two minutes left, needing just a field goal to win.
But for the second time this season, the Tigers failed to finish.
So Clemson sits 1-2 with losses to No. 12 Georgia and No. 1 Florida State, outside the AP Top 25 for the first time since 2011, its streak of 50 consecutive poll appearances broken.
Now, the Tigers have to pick up the pieces in September, knowing full well their championship hopes remain as distant as Mars or Pluto. As embarrassing as their home loss to Florida State was last season, this one delivered more pain.
They were on the 1-yard line, and gave away their destiny.
"It's very heartbreaking," Swinney reflected on his Sunday teleconference. "We work really hard and when you're in position to win and we don't get it done, it's heartbreaking for all of us, but we've played two top-12 teams at their place in our first three games. …
"We wish we were 3-0 right now, but I don't have any doubt that our experience in these first three weeks, and what I'm seeing with our team, we're coaching a much better team today than we were when we started the season, and it's going to pay dividends."
Clemson probably never anticipated when it agreed to a series with Georgia that the ACC would also schedule its ACC opener against Florida State just a few weeks later. That meant Clemson had to open the season with two of its first three games on the road against Top 12 opponents for the first time since 1966.
The last team to face that challenge from the ACC was North Carolina, back in 2001 (losses to No. 3 Oklahoma and No. 4 Texas).
Yet Clemson had its opportunities to beat both Georgia and Florida State. The Tigers were tied with the Bulldogs at halftime, but fell apart in the second half. Its offense could not move the ball consistently with
Cole Stoudt
behind center. Perhaps stubbornly, the Clemson coaches only gave freshman quarterback
Deshaun Watson
one series in the second half while the game remained competitive.
The defense, meanwhile, missed tackles and had a host of mental errors as it failed to contain
Todd Gurley
. Special-teams breakdowns were everywhere.
The miscues were different Saturday against Florida State but just as frustrating. Clemson led 10-3 at halftime and had multiple chances to win. While the defense was vastly improved over the Georgia game, the offense stalled too much in the red zone.
Ammon Lakip
missed crucial kicks against Georgia and Florida State, and has now become a liability.
If Clemson had a sure kicker, it may not have tried to force another run with time ticking down in regulation, a play that resulted in a lost fumble and overtime. And maybe the Tigers line up for a field goal rather than fourth-and-short in overtime, a play that was snuffed out in large part because Clemson decided to run out of a shotgun formation.
There we go with "what could have been" again.
Clemson remains one of the most talented teams in the ACC, and should be back in the Top 25 again this season. There are positives to be taken away from the Florida State game. Watson is now the starting quarterback. There is impressive talent at receiver. The defense played its best game of the season, with five sacks, 10 tackles for loss and just 318 total yards allowed (13 rushing).
The Tigers should be favored in their remaining ACC games, and against Georgia State on Nov. 22. If they win all those, they will have a chance at another 10-win season in their regular-season finale at home against South Carolina. The Gamecocks have looked mighty vulnerable this season, a fact that has not gone unnoticed among the Clemson faithful.
But that is looking way too far ahead. The mission now is squarely on North Carolina, and leaving all those "what could have beens" behind.