April, 22, 2013
Apr 22
9:00
AM ET
TALLAHASSEE, Fla. -- Over the past four months, Florida State won an ACC championship, a BCS game, reeled in another top-10 recruiting class and sent a handful of players into the NFL draft with first-round promise.
Given the recent spate of unsightly 7-6 seasons, Florida State seems to be in pretty fantastic shape. That, of course, is not the storyline that has taken shape since December. No, the convenient storyline has focused mainly on the coaching turnover that has left the Seminoles with six new assistants heading into the 2013 season.
What does the unusually large turnover say about coach Jimbo Fisher? What does it say about the program itself?
At this point, the storyline has become rote. Fisher already has his answers before the questions are asked, prepared to bat down the notion that this very strange offseason has been, well, strange.
He begins.
"You know," he says, "we were one of four teams in the entire country that did not lose a single assistant in my first two years here."
Pretty astounding, when you consider just how frequently assistants change jobs year to year. But what is more astounding is hiring seven different assistants in a two-month span. One of those assistants, Billy Napier, lasted a handful of weeks before moving on to Alabama.
As Fisher tried to defend the staff turnover, he proved the point others have made. Coaching change is common in this profession, especially at winning programs. But the type of coaching change Florida State just experienced is as rare as scoring a safety on consecutive plays.
[+] Enlarge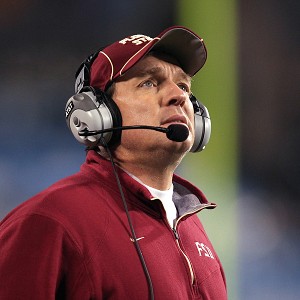 Streeter Lecka/Getty ImagesFSU coach Jimbo Fisher says he wasn't surprised by the amount of staff turnover this offseason.
Among programs that did not have a head coaching change, only Marshall had to replace more assistants than Florida State this past offseason. Point this out to Fisher and he shrugs.
"We took the attrition of three years and put it in one," Fisher says simply.
Was he surprised that he lost so many assistants?
"Not really. Last year was a big year," Fisher begins. "You go back and look at all the major jobs. When's the last time you saw four major SEC schools open?"
Not since 2004. His defensive coordinator, Mark Stoops, got the head coaching job at Kentucky and took assistant D.J. Eliot with him. Another assistant, Dameyune Craig, left for a co-offensive coordinator job at Auburn. Counting Napier, four assistants left for the SEC.
Fisher continues.
"The NFL has nowhere else to draw coaches from," he says. "And we had a lot of success. We're graduating players. Guys aren't getting in trouble. People want to know how you're having success. We had to have a proven commodity.
"We're the eighth-winningest team in the last three years. We were 30th the previous three years. We've jumped more than any team in the country. So people say, 'Wait a minute.' We all do research and look at who's doing good and ask, 'Why are they doing good? Are they doing something we're not doing?' People are saying, 'Let's get some of those guys and see why they're having success and are able to change the culture and change a program."
The other three coaches who left -- Eddie Gran (Cincinnati), Greg Hudson (Purdue) and James Coley (Miami) -- took coordinator jobs as well. Fisher points this out, too, and makes it clear he has never stood in the way of an assistant getting another job. After all, he allowed Stoops to interview at Kentucky in the middle of the season.
While all of the change may not look so great on the surface, the staff Fisher has assembled may in fact be better than the one he had his first two seasons with the Seminoles. When asked what he likes most about this staff, Fisher says, "No. 1, the experience. No. 2, their undaunting ability to work and put in hours. A lot of staffs you get recruiters or coaches. I think everybody on our staff can do both. We have a staff that's very solid recruiting and very solid coaching. It's hard to find nine guys capable that way."
Perhaps that is a slight dig at his past staff. But there is no questioning the credentials of the men tasked with elevating Florida State from ACC champ into yearly national title contender. All of them have won conference titles; three have won national titles.
Fisher keeps a running list of potential candidates with him, so he knew exactly whom to call when all these jobs came open. How they arrived in Tallahassee plays like a game of Six Degrees of Jimbo Fisher.
You have quarterbacks coach Randy Sanders, who crossed paths with Fisher when both were assistants in the SEC some years ago. He also coached new running backs coach Jay Graham at Tennessee in the 1990s. The two have known each other since Graham was 17.

You have defensive ends coach Sal Sunseri and defensive coordinator Jeremy Pruitt, who come from the Nick Saban tree that also produced Fisher. Sunseri and Fisher were on the same staff at LSU in 2000.

You have recruiting coordinator/tight ends coach Tim Brewster, who never worked with Fisher but recruited against him when he was at Texas and Fisher was at LSU.

Then you have special teams coordinator, linebackers coach Charles Kelly, who was a graduate assistant at Auburn in 1993 when Fisher was there. Kelly also played against Fisher the past several seasons while working at Georgia Tech. When Kelly was with the Jackets, and Pruitt with the Tide, the two shared ideas.
"Florida State has always been one of the schools I've always wanted to work at," Sanders said. "When I first got married and was first coaching, my wife asked me. I said this was one of the four schools in the country I'd love to work at some day. When the opportunity came along, I was excited to come to Tallahassee."
He echoed what all the other assistants said during their only media availability this spring: the desire to win a national title. Indeed, the intensity during spring practice seemed to be turned up a notch. Both Sunseri and Pruitt are quite boisterous and have no qualms about getting up close and personal with their players -- face to face mask.
On one particular afternoon last month, Sunseri kept getting after defensive end
Giorgio Newberry
. At one point, Newberry just slung his big arm around Sunseri's shoulder and chuckled.
"I give him a hug every once in a while," Newberry said. "I love Coach Sal. I love how he coaches me. He doesn't let us take plays off. We have to go hard every time, and we've got to do it his way. I like that. He'll chew me out and I'll be like, 'Yes sir' and I try to fix it."
Graham is not as in-your-face, but he demands excellence. That was not so easy to get adjusted to for some of the backs.
"He wants you to be great, so he has very high expectations,"
James Wilder Jr
. said. "It was hard getting used to it at first. He wants everything perfect."
Fisher has described the staff transition as seamless. He has veteran coaches that share his same philosophies and players who have embraced the changes. But the questions will linger on until kickoff in Pittsburgh on Sept. 2.
Perhaps even longer.
March, 20, 2013
Mar 20
10:25
AM ET
TALLAHASSEE, Fla. -- It has been the most dominant and recurring headline of the offseason for Florida State, but Jimbo Fisher insists the task of replacing seven assistant coaches in the span of three months was no big deal.
[+] Enlarge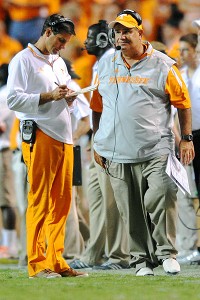 Randy Sartin/US PresswireSal Sunseri (right) is one of the new hires at Florida State that has experience at the coordinator level.
The departures were expected after three years of success. The new faces were battle tested and required little time to adjust. The whole process, Fisher said, was relatively painless.
"It's not been hard because those guys come off the same tree," Fisher said of his new assistants. "They've been in the same system, been in the same environment. They hit the ground running easier than the old group did."
Fisher's optimism, along with a strong push on the recruiting trail before national signing day, has helped to calm a nervous fan base, but as Florida State and its six new assistant coaches begin spring practice, questions still remain about the direction of the program after such massive turnover and the reasons why so many marquee jobs would be vacated in such a short time.
Even before defensive coordinator Mark Stoops bolted for the head-coaching job at Kentucky in December, Fisher expected defections. With three straight winning seasons and two calm offseasons without a coaching departure, the odds were stacked against the Seminoles this time around, and Stoops spent much of 2012 as one of the nation's hottest candidates for a head-coaching job.
To read the rest of this story, click here.
August, 23, 2010
8/23/10
9:00
AM ET
Here's a quick look back at the weekend scrimmages, thanks to reports from the schools' sports information offices:
BOSTON COLLEGE
Sophomore quarterback
Mike Marscovetra
was perfect, going 12-for-12 for 90 yards and a touchdown.
Dave Shinskie
went 14-for-19 for 116 yards, but threw an interception. True freshman
Chase Rettig
was 2-for-4 for 13 yards.
Sophomore
Clyde Lee
and true freshman
Bobby Swigert
led the receivers with five catches each. Lee had a game-high 43 yards, and Swigert went for 29 yards and a touchdown.
Redshirt freshman kicker Nate Freese made a 51-yard attempt that hit the crossbar and went through, and he made another from 39 yards. He missed a 47-yarder that hit high off the left upright.
Sophomore linebacker Luke Kuechly led the defense with six tackles, and junior safety Dominick LeGrande recorded five tackles and an interception.
FLORIDA STATE
The Seminoles went through what amounted to a full-scale dress rehearsal, as they did their pre-game routine, returned to the locker room, then returned to the field for a three-hour scrimmage. Offensive coordinator James Coley and quarterbacks coach
Dameyune Craig
were in the press box, along with defensive ends coach D.J. Eliot and a graduate assistant. They helped call the plays on headphones, and there weren't any personnel or clock-management issues.
Junior college transfer
Mike Harris
earned some high praise from coach Jimbo Fisher:
"Mike's a good player; he's a real good player," said Fisher. "He breaks on the ball. He's almost like a quiet assassin. You never hear him out there, but he's always in the right place."
Statistics weren't included in the team's
scrimmage report
, but sophomore
Willie Haulstead
played well, and Fisher used a tailback-by-committee approach with
Jermaine Thomas
,
Ty Jones
and
Chris Thompson
. Defensively, former cornerback Ochuko Jenije started at safety.
VIRGINIA TECH
First, the injury report: Backup receiver
Xavier Boyce
sprained his left MCL and will have an MRI, backup linebacker Lorenzo Williams sprained his right foot and will have an MRI, and punter Brian Saunders bruised his right ankle. According to the Richmond Times-Dispatch, linebacker Barquell Rivers
will not play
against Boise State, and Bruce Taylor will start in his place. Starting field corner Jayron Hosley is still out with a hamstring injury.
Offensively,
Tyrod Taylor
completed 7 of 9 passes for 95 yards, a touchdown and an interception.
Ryan Williams
was the leading rusher with 46 yards on nine carries, including a 2-yard touchdown run.
David Wilson
added 38 yards on six carries and scored on a 12-yard run. Defensively, Eddie Whitley led the way with seven tackles and a pass break-up. Kicker Chris Hazley made field goals of 43 and 47 yards, but missed his first field goal in a preseason scrimmage when he was wide left on a 48-yard attempt. Cris Hill blocked two punts.
You can find more on the Hokies'
scrimmage here
.