July, 11, 2014
Jul 11
10:00
AM ET
College football fans sure find easy targets to wear the black hat. Whether it's a coach bouncing from school to school, a recruit flipping to a rival or someone who just can't avoid making headlines, there remains no shortage of villains in this sport.
That doesn't mean it's without guys worth rooting for, though. Here, we give you five ACC guys whom even rival fans have to appreciate for what they do on Saturdays and beyond.
[+] Enlarge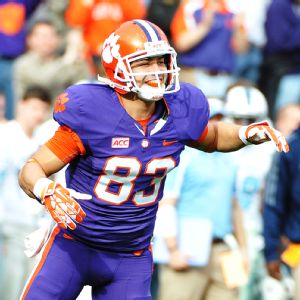 AP Photo/Rainier EhrhardtWR Daniel Rodriguez walked on at Clemson after serving tours in Iraq and Afghanistan.
Daniel Rodriguez, Clemson.
The Tigers receiver served roughly 18 months in Iraq and one year in Afghanistan. He served in the Army from 2006-10. He earned a Purple Heart and the Bronze Star Medal With Valor Device. Just watch
this "College GameDay" feature on him
. One of the better moments all of last season was Rodriguez scoring a 2-yard touchdown against The Citadel on Military Appreciation Day. He enters his senior year with 10 career catches for 30 yards and five punt returns for 31 yards. You don't see stories like Rodriguez's every day, and he certainly helps put the term "hero" in perspective.
Laken Tomlinson, Duke.
Tomlinson arrived in Chicago from Jamaica at the age of 10, with little knowledge of the game of football.
His recruitment and background is very similar to that of "The Blind Side,"
with Tomlinson ultimately committing to David Cutcliffe and a then-rebuilding Blue Devils program. He took part in a service trip two years ago in Ethiopia to help construct freshwater wells for local communities. He's blossomed into a pretty good offensive guard, too, earning All-ACC honors during Duke's run to the Coastal Division crown last season.
Kevin Haplea, Florida State.
You're out for the season with a torn ACL. So what do you do? If you're Haplea, you help start a charity chapter at your new school. The Penn State transfer founded the Seminoles' chapter of Uplifting Athletes, which, coincidentally, holds its first event, "Lift for Life," today. The fundraising effort raises awareness and research money for rare diseases, with FSU's chapter championing Fanconi anemia, which is the disease that coach Jimbo Fisher's son, Ethan, was diagnosed with. A redshirt senior, Haplea could see his role expand this year, complementing
Nick O'Leary
in FSU's two-tight-end sets.
Lorenzo Mauldin, Louisville.
With both of his parents in jail, Mauldin
bounced between different foster families before one of his foster mothers introduced him to football in high school
. He's excelled since, registering 9.5 sacks last season and earning second-team all-league honors from the American Athletic Conference. Mauldin does no shortage of community work as well.
David Durham, Pitt.
The starting defensive end has done no shortage of work around his new community since transferring from Ohio State prior to the 2012 season. Durham has hosted youth football clinics, wrapped and delivered Christmas gifts to families in need, volunteered with the Greater Pittsburgh Community Food Bank and, most recently, was part of a group of Pitt players who visited an orphanage in Haiti in May for a weeklong mission trip. Durham was the Panthers defense's winner of the Ed Conway Award this spring, which goes to the most improved player.
November, 25, 2013
11/25/13
11:00
AM ET
The final regular-season weekend is on deck. Time sure flies. So here's one last look at all that went down in the ACC this past weekend.
The good:
The ACC seemingly survived JV week without incident, with Florida State and North Carolina each putting up 80 points, Georgia Tech crushing Alabama A&M 66-7, and Clemson taking care of business against the Citadel with a 56-7 win. Two teams, UNC and Pitt, got to bowl-eligibility, setting up for some great showdowns this coming rivalry weekend.
The bad:
Well, there is always Virginia, which lost by 19 at Miami and remains winless in ACC play. And there is NC State, also winless in ACC play after a 14-point home loss to East Carolina -- which, to add insult to injury,
further declared its place in the Triangle in a season in which it beat both NC State and North Carolina
.
The ugly:
North Carolina's 80-20 win over Old Dominion featured a shortened fourth quarter, from 15 minutes to 10. And none of the Tar Heels' 80 points ended up coming in the final frame. Funny enough, this was actually a 14-13 game after the first quarter. I was at Notre Dame on Saturday, and when the out-of-town scores were announced in the press box, this game was announced: "North Carolina 80, Old Dominion 20. That's football, not basketball."
[+] Enlarge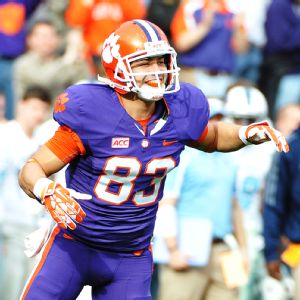 AP Photo/Rainier EhrhardtClemson walk-on WR Daniel Rodriguez, a Purple Heart recipient, caught a TD pass Saturday, providing a heart-warming moment.
The awesome moment:
It came at the 14:10 mark of the fourth quarter, with Clemson already holding a 45-3 lead over the Citadel. Then,
Daniel Rodriguez
caught a 2-yard touchdown pass from
Cole Stoudt
, for his first career touchdown. On Military Appreciation Day, no less. If you're not already familiar with Rodriguez's story,
become so
. Simply amazing.
The icers:
Paul Chryst, bravo. Randy Edsall, not so much. Up 17-16 with 1:03 left and Syracuse facing a fourth-and-8 from the Pitt 36, Chryst called a timeout right as the Orange were about to attempt a game-winning field goal, which was then revealed to be a fake, a fake that looked destined to be good.
Terrel Hunt
then threw an incomplete pass out of the timeout, sealing bowl-eligibility for the Panthers and leaving Syracuse with no other choice but to beat Boston College this Saturday in order to make the postseason. Edsall, meanwhile, called a timeout to ice BC kicker
Nate Freese
's 52-yard game-winning attempt, which hooked left. With new life from Edsall's timeout, however, Freese drilled it, giving the Eagles a 29-26 win at Maryland, their fourth straight victory.
The unconventional two-pointer:
Speaking of BC-Maryland, how about the wild extra-point sequence in the fourth quarter?
Alex Amidon
hauled in a 74-yard touchdown pass for BC with 5:02 left to take a 26-24 lead. But the extra point was blocked, and
Anthony Nixon
ran it back the other way to tie the game at 26. You don't see that every day.
The Heisman hopefuls:
In making your case for why you should win college football's highest individual honor, you can do a lot worse than what
Andre Williams
and
Aaron Donald
did on Saturday. Williams rushed for 263 yards, eclipsing the 200-yard mark for the third straight game. He also got to 2,073 yards on the season, becoming just the 16th player in college football history to reach the 2,000-yard plateau. His 36-yard run set up the game-winning field goal for Boston College. Donald, meanwhile, was named the Walter Camp defensive player of the week award, as the Pitt defensive tackle tallied nine tackles, 3.5 tackles for loss and a blocked extra-point attempt that provided the winning margin in a 17-16 win at Syracuse.
The three-headed attack:
Here's another box-score oddity you don't see every day: Florida State had three different players average better than 11 yards per carry.
Devonta Freeman
carried it 11 times for 129 yards and a touchdown (11.7 yards per carry),
Karlos Williams
ran it 10 times for 114 yards and two touchdowns (11.4 ypc) and
James Wilder Jr
. rushed four times for 85 yards and a score (21.3). The Seminoles had 336 rushing yards on the day, averaging 8.4 yards per attempt.
The Blue Devils:
Where do we start this time? Duke is in the BCS standings for the first time, at No. 24, after getting picked to finish last in the Coastal Division by the media in July. The Blue Devils have now clinched a tie of the division title after beating Wake Forest 28-21, and can win it outright by winning this Saturday at North Carolina. They have tied a school record with nine wins, something they have not done since 1941. And they have won seven straight games for the first time since 1994.
January, 14, 2013
1/14/13
11:00
AM ET
It was a rough year for the ACC, but in retrospect, there were too many highlights to narrow it down to 10. From
Blair Holliday
's return, to the ACC's impressive performances during bowl season, to individual performances and games, the conference had plenty of memorable moments in 2012.
The following is a list of 10 moments and memories that best captured the 2012 ACC season, according to ESPN.com. ACC fans are bound to have more, and we'd love to hear them. What did we miss? Feel free to
drop us a note in the mailbag
, and we'll highlight the best nominations in a separate mailblog. Until then, here are your top 10 moments from 2012, starting with the best:
1. Chandler Catanzaro's game-winning field goal versus LSU in the Chick-fil-A Bowl:
It was the ACC's biggest win of the season, and the highest-ranked team Clemson has beaten in a bowl game since the 2004 (2003 season) Chick-fil-A Bowl, when the Tigers defeated sixth-ranked Tennessee 27-14. Catanzaro's 37-yard field goal as time expired gave No. 14 Clemson a wild 25-24 win against No. 8 LSU, and it was the highest-ranked SEC team an ACC team has beaten in the past nine years.
2. Duke becomes bowl eligible for the first time since 1994
:
Sean Renfree
's 5-yard touchdown pass to
Jamison Crowder
on fourth down with 13 seconds left lifted Duke past North Carolina 33-30 and made the Blue Devils bowl eligible for the first time since 1994. Renfree converted three third-and-longs during the game-winning, 87-yard drive.
[+] Enlarge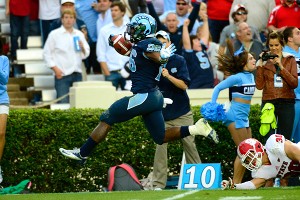 Bob Donnan/US PresswireGiovani Bernard's 74-yard game-winning punt return to lift UNC past rival NCSU was a play to remember.
3. Giovani Bernard versus NC State:
Bernard returned a punt 74 yards for the go-ahead touchdown with 13 seconds left, helping North Carolina stun rival NC State 43-35 to end a five-year losing streak in the series. That day, Bernard also ran for 135 yards and two touchdowns, and had eight catches for 95 yards.
4. Karlos Williams' tip and interception in the ACC title game:
In what turned out to be the final game for FSU defensive coordinator Mark Stoops, FSU's D came up big against Georgia Tech, and no play was bigger than Williams'. The game wasn't decided until Williams intercepted
Tevin Washington
with less than a minute remaining. It was FSU's first ACC title since 2005.
5. The ACC posting its first winning bowl record since 2005:
With marquee wins over LSU and USC and a victory in the Discover Orange Bowl, the ACC finally came out on the right end of bowl season, and will enter 2013 will some much-needed positive momentum. The Noles took another step toward national relevance with a 31-10 win against No. 15 Northern Illinois in the Orange Bowl -- their first BCS bowl win since they beat Virginia Tech in 2000.
6. FSU quarterback EJ Manuel's performance versus Clemson:
It was Manuel's one true Heisman moment of the season, as he completed 27 of 35 passes for a career-high 380 yards while rushing for another 102 to become the first Seminoles quarterback since Charlie Ward in 1992 to pass for more than 300 yards and run for more than 100 in a game.
7. Clemson QB Tajh Boyd accounts for eight touchdowns:
The ACC Player of the Year set school and ACC records when he scored five passing and three rushing touchdowns in a 62-48 win over NC State. The Tigers gained 754 yards and ran 102 plays, the most in school history. Boyd was responsible for every Clemson touchdown. Boyd was 30-for-44 for 426 yards and ran for 105 yards -- the combined 531 yards set another school record.
8. Johnson leads Canes to Coastal title:
In the regular-season finale against Duke, Miami freshman
Duke Johnson
rushed for season highs of 176 yards and three touchdowns. He scored on runs of 18, 6 and 65 yards. He finished his freshman year with 947 yards rushing, easily surpassing Clinton Portis' 13-year-old school freshman rushing record of 838 yards.
9. NC State's game-winning TD in its upset of No. 3-ranked FSU.
This isn't a "best moment" for FSU fans, but it was by far one of the most memorable plays in the ACC and a highlight for the Wolfpack. Quarterback
Mike Glennon
found
Bryan Underwood
for a 2-yard touchdown pass on fourth down with 16 seconds left, helping the Wolfpack beat the Seminoles 17-16 on Oct. 6.
10. Duke receiver Conner Vernon rewrites the record books:
In a 42-17 win against Virginia, Vernon surpassed Clemson's Aaron Kelly as the ACC's all-time leader in career receptions when he made a catch for minus-2 yards in the first quarter. In the 42-24 loss to Georgia Tech, Vernon became the ACC's all-time leader in yards receiving, passing former Florida State star Peter Warrick's record of 3,517 yards.
TOP 3 OFF-FIELD MOMENTS
[+] Enlarge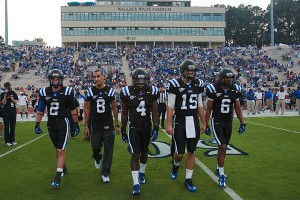 Courtesy of Duke Sports InformationBlair Holliday (No. 8) walks with his Duke teammates in his return to the field following a terrible jet ski accident that sidelined the wide receiver.
So as not to trivialize these moments by tossing them in with touchdowns, here are three more memories you won't want to forget:
1. Blair Holliday joins his Duke captains for the coin toss against NC Central:
It was a miraculous recovery, and the most inspirational story in the conference. Holliday, who suffered a traumatic brain injury in a jet ski accident on July 4 that left him in critical condition, led the team on the Devil Walk in what was an emotional comeback for the entire team.
2. Clemson receiver Daniel Rodriguez leads the Tigers on Military Appreciation Day:
The Army veteran
led the team down the hill carrying the American flag prior to the Virginia Tech game on Military Appreciation Day at Clemson on Oct. 20.
3. The ACC adds Louisville:
The ACC's presidents and chancellors voted to add Louisville to replace Maryland, a move that looked better and better as the Cardinals' football season ended with a win against Florida in the Allstate Sugar Bowl. ACC officials conceded the move was an athletics-first, academics-second decision, but it was one the conference should eventually benefit from.
December, 19, 2012
12/19/12
3:15
PM ET
Clemson receiver
Daniel Rodriguez
was selected the winner of the 2012 Discover Orange Bowl-FWAA Courage Award, the organization announced Wednesday.
He will be presented the award and recognized during the 2013 Discover BCS National Championship Game on Jan. 7.
From the release:
Rodriguez joined the Tigers football team after being awarded a Purple Heart and Bronze Star in Afghanistan. The 24-year-old Rodriguez was wounded Oct. 3, 2009, during a battle near Kamdesh, Afghanistan, while serving in the U.S. Army. Combat Outpost Keating, in a mountainous region near the Pakistan border, was ambushed by nearly 300 Taliban insurgents. Eight Americans were killed; 22 were injured. Rodriguez was shot and wounded in the leg, neck and shoulder.

Once recovered and discharged from the military, Rodriguez kept a promise to his friend, Pfc. Kevin Thompson, who was killed during the initial moments of the attack. Rodriguez had told Thompson if he made it home from Afghanistan, he would find a way to play college football.

After enrolling at Germanna Community College, he began training for football. He sent a video of himself catching passes, spliced with video he'd shot during combat, to four-year schools. Clemson coach Dabo Swinney offered Rodriguez a spot on the team.
Swinney said in a statement: "I am very happy for Daniel. This is a special award and it further acknowledges his accomplishments. His journey to Clemson has been an inspiration to me, our team and many people around the country. It is a story of overcoming adversity and really brought home to everyone on our team the support we have in our military."
The 5-8, 175-pound Rodriguez played in every game this season, mostly on special teams. He made four tackles and had three catches for 10 yards.
"Wow, this is a great honor," Rodriguez said in a statement. "I want to thank the Discover Orange Bowl and the Football Writers Association. When I think where I was three years ago, this is like a dream. I just wanted to get on the football field, be a part of a team and a university, but this season has been so much more. I want to thank coach Swinney and Clemson University for giving me this opportunity."
For the seventh straight year, the Football Writers Association of America and the Discover Orange Bowl announced weekly nominees during the season. A blue-ribbon panel of FWAA members chose Rodriguez as the winner.
November, 6, 2012
11/06/12
12:30
PM ET
Anna Katherine Clemmons of ESPN.com has a great profile on Army veteran
Daniel Rodriguez
, who has inspired his Clemson teammates since walking on to the team last summer.
Clemmons writes:
Rodriguez, an Army veteran who served tours in Iraq and Afghanistan, is playing in his first season with the Tigers. After joining the team as a walk-on this summer, the 5-foot-8, 24-year-old freshman has earned a starting spot on special teams. Just as important as his play on the field has been his impact off it, sharing his experiences with teammates and inspiring them through their 8-1 season.

"Daniel always brings energy to practice and games and that's something you can't coach," senior center Dalton Freeman says. "We thrive off of his energy. It's a great reminder that life is so much more than football, so you should take everything you do seriously."
To read the whole story,
click here
.
October, 19, 2012
10/19/12
10:00
AM ET
Thanks as always to the sports information directors throughout the league, and ESPN's Stats & Information department for this week's notes.
BOSTON COLLEGE:
Junior kicker
Nate Freese
is one of four kickers in the country who has not missed an extra point or field goal in 2012. Freese is 9-for-9 in field goal attempts and 17-for-17 in extra-point attempts and joins Northwestern's
Jeff Budzien
(11-for-11 FGs, 26-for-26 PATs), Alabama's
Jeremy Shelley
(7-for-7 FGs, 30-for-30 PATs) and Navy's
Nick Sloan
(6-for-6 FGs, 13-for-13 PATs).
CLEMSON:
Tigers walk-on wide receiver
Daniel Rodriguez
will lead the team down the hill carrying the American flag as part of Military Appreciation Day festivities. Rodriguez is an army veteran of the wars in Iraq and Afghanistan and earned a Purple Heart and Bronze Star with Valor for his service.
DUKE:
After three seasons at running back,
Desmond Scott
moved to receiver for this season and has been outstanding. Scott ranks sixth in the ACC in receptions per game (5.7), and has 40 catches for 399 yards and one touchdown. With 53 more yards receiving, Scott will become the first player in school history to reach the 1,000-yard plateau for rushing, receiving and kickoff return yardage.
FLORIDA STATE:
EJ Manuel
is completing 56.3 percent of his passes thrown 20 yards or longer this season. It's the third straight season that his completion percentage has increased on these throws.
GEORGIA TECH:
The last time the Yellow Jackets and Eagles met came in 2008, a 19-16 Tech victory in Chestnut Hill. That game was Paul Johnson's first ever ACC game as Tech's head coach.
MARYLAND:
Maryland will celebrate the 50th anniversary of Darryl Hill becoming the first African-American player to play at the school and in the Atlantic Coast Conference, with a ceremony against NC State Saturday. Hill, who transferred to Maryland in 1962, broke the color barrier in 1963 after sitting out a year. Hill emerged as Maryland's top receiver in 1963, with 43 receptions, and his seven touchdown receptions that year are tied for the fifth most in a single season in school history.
MIAMI
: Miami has dropped 8.1 percent of its passes this season, with three drops resulting in interceptions. The Hurricanes' 23 drops are the second most by any school from an automatic qualifying conference this season.
NORTH CAROLINA:
This weekend marks the first meeting between North Carolina and Duke in October since 1938 (Oct. 29), and it is the earliest meeting of the two schools since 1926 (Oct. 16). ... This is just the second time since 1994 that Carolina (5-2) and Duke (5-2) have entered the game with a winning record (2009 was the other).
NORTH CAROLINA STATE:
Byrd Stadium has not been a friendly destination for the NC State Wolfpack in recent years. NC State has not won a game on Maryland's home field since Oct. 16, 2004, and has dropped five of the last six contests there. In Raleigh, the Pack have won three of the last four.
VIRGINIA:
Virginia has outgained its opponents in three consecutive games, but lost all three games. UVa had 386 yards against Maryland last week while allowing 235. UVa outgained Duke 461 to 394 and posted 625 yards against Louisiana Tech while allowing just 385 yards.
VIRGINIA TECH:
Virginia Tech has 27 three-and-outs this season, the most in the ACC and tied for eighth-most in FBS. The Hokies have at least three such drives in every game this season.
WAKE FOREST:
The Deacs go into their game against Virginia off a bye. In 12 seasons under Jim Grobe, Wake Forest has gone 6-5 in games immediately following a bye. The Deacons have won five of the past six post-bye games dating back to 2006. In 2011, Wake Forest won at Boston College 27-19 the week after an open date.
August, 31, 2012
8/31/12
4:00
PM ET
August, 14, 2012
8/14/12
12:00
PM ET
August, 2, 2012
8/02/12
12:00
PM ET
By
ESPN.com staff
| ESPN.com