April, 15, 2013
4/15/13
11:00
AM ET
Seven ACC teams held their spring games this past weekend as practice begins to slowly wind down until August.
Heather
provided her Pitt recap
earlier this morning. Here is a quick look at the headlines from the other spring games across the league:

CLEMSON
The Tigers suffered a big hit during their spring game last Saturday, when the team lost backup quarterback
Chad Kelly
to
an apparent torn ACL
. Kelly was in a heated competition with
Cole Stoudt
for the backup job, but it now appears he could be lost for the season. Coach Dabo Swinney said Kelly was hurt while making a cut at the end of a run. Starter
Tajh Boyd
was held out of the game so the Tigers could get a good look at Kelly and Stoudt. The backup last season, Stoudt set a Clemson spring game record with 304 yards passing and threw four touchdown passes, but his White team lost to the Orange team 34-26 in front of a spring-game record crowd of 30,000.
Sammy Watkins
led all receivers with seven catches for 156 yards and two scores, while
Grady Jarrett
had three sacks.
Vic Beasley
had two sacks, giving him 10 sacks in four scrimmages.
Tight end
Sam Cooper
and tackle
Kalon Davis
also sustained knee injuries in the game, but they are not believed to be as serious.

DUKE
Anthony Boone
and
Jamison Crowder
were the stars of the spring game as the Blue Devils showed a glimpse of how good they can be on offense this season. Boone went 18-of-30 for 273 yards with two touchdown passes to Crowder, and two interceptions. Crowder finished with four catches for a team-high 71 yards as the Blue team beat the White 27-12.
Blue team end
Britton Grier
had two sacks and seven tackles, including three for loss.
Lucas Fisher
,
Sam Marshall
and
Keilin Rayner
each added sacks for the Blue team.
"I like where we're headed," coach David Cutcliffe said. "We're building some depth. I think we can be a more energetic defense. The big thing is focusing on why we give up big plays, but trying to play defense, trying to force longer drives. It's going to be interesting film to study. We got a lot out of this game."

FLORIDA STATE
Coach Jimbo Fisher did not name a starting quarterback after the spring game, so the competition will go on into the offseason. But highly touted
Jameis Winston
sent jaws dropping
with his standout performance, going 12-of-15 for 205 yards with two touchdown passes before leaving the game early to play in the Noles' baseball game against Duke.
"He came in there and he took advantage of opportunities," Fisher said. "That's what you got to do. You've got to go make plays and he's done a nice job of making plays. He took the opportunity to take the day with the stage he had and I thought he played pretty well for the most part."
Winston and
Clint Trickett
split time with the first team for most of the afternoon. Trickett was just 10-of-16 for 98 yards and an interception before switching to the second team, where he was 12-of-16 for 161 yards and a touchdown.
Jacob Coker
, also competing for the starting job, went 15-of-26 for 186 yards, a touchdown and two late interceptions.

MARYLAND
Running backs
Brandon Ross
and
Albert Reid
took center stage, as both ran for over 100 yards in a 13-13 tie between the White and Red teams on Friday night.
Ross had 123 yards on 10 carries, while Reid had 138 yards on 23 carries in the game.
Wes Brown
, who missed the spring with a shoulder/ankle injury, is expected to be healthy in the fall so the competition at this position is going to be an intriguing storyline during the offseason.
"I limited what the defense could do. It was still good to see them," coach Randy Edsall said. "That is what we have seen out of Brandon and Albert all spring along with how they run. The one thing we have to be able to do is run the ball efficiently. When we do that it opens up the passing game. With the skill guys we have at wide receiver it will make us more productive and a chance to get big plays. They ran the way they have been running all spring."

MIAMI
Stephen Morris
threw for a game-high 256 yards and four first-half touchdowns to lead the Orange team to a 35-20 win over the White team. Meanwhile, ACC freshman of the year
Duke Johnson
led all rushers with 120 yards on 10 carries as the Hurricanes showed how explosive they can be on offense this season.
"We're pretty dominant," receiver
Rashawn Scott
told local reporters
. "Everyone is communicating and … no one is frustrated. If we mess up, we all talk instead of yelling at each other."
At halftime, the Canes handed out four Spring awards to
Nantambu-Akil Fentress
(305 walk-on award),
Olsen Pierre
(defensive most improved player),
Danny Isidora
(offensive most improved player) and
Herb Waters
(special teams most improved player).

NORTH CAROLINA
Bryn Renner
went 16-of-27 for 216 yards and three touchdowns to lead the Blue team to a 34-10 win over the White. The running back who took center stage in the game was not
A.J. Blue
or
Romar Morris
but true freshman Khris Francis, who ran 20 times for 101 yards to lead the White team. Blue had eight carries for 30 yards, and Morris had 15 carries for 80 yards to lead the Blue team as the Tar Heels work to replace
Giovani Bernard
. Blue added a 33-yard touchdown reception on a screen pass.
"I thought all three of our running backs played well," coach Larry Fedora said. "But Khris, for his first time out there in a game-type atmosphere, he did a good job. He hit some holes and exploded in them. One time I thought he got stood up. I said something to him and the next time he's got his shoulders down and he's running north-south. That's what he's got to do, so he did some nice things."
Defensively, end
Kareem Martin
had seven tackles, including four sacks.
Travis Hughes
added a team-high 14 tackles, including two sacks.
March, 2, 2012
3/02/12
9:00
AM ET
Miami's offense will have an entirely new look this spring, as the Canes have to replace eight starters from last year's team. I spoke with offensive coordinator Jedd Fisch about the challenges his group will face when spring practices begin on Saturday.
Here are the highlights of our conversation. (
Note: This interview was done before the spring depth chart was released on Thursday.)
What does Stephen Morris have to do to grasp the reins of that offense, and how much is he going to be pushed by the other guys on the roster?
Jedd Fisch:
Well, what he has to do is grab the reigns of the offense. He has to have total command of it. I thought he did a tremendous job of everything we asked him to do last year on the practice field and the reps he did have. Stephen is going to have a great year for us, I really believe that. He's got an extremely strong arm, he's got great athleticism, all he has to do is own it – own it the way Jacory owned it, and really improve upon -- and I think he has -- his football knowledge. He's done a great job there. I'm excited to watch him go.
[+] Enlarge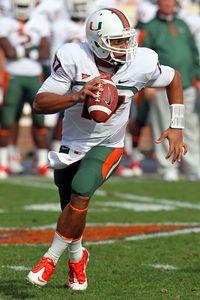 Andrew Shurtleff/US PresswireQB Stephen Morris is expected to be one of eight new offensive starters for Miami next season.
Is it accurate to say it's his job to lose?
JF:
We're always going to have competition. We really can't say it because we haven't been on the field with the other guys. We don't necessarily know what the other guys can do. I think all of us going into it are really confident with Stephen, and excited to see what Stephen can do now that he's not behind Jacory anymore.
In general, how unnerving is it for you that you've got to replace eight starters on offense?
JF:
Yeah, well, it's interesting. It's certainly challenging. We'll end up losing our center, left tackle, our running back with the most reps in, our two wide receivers with the most production and our quarterback who completed 65 percent of his passes and was the captain of the team. And our starting tight end. So we obviously know that that's a challenge, but we're also looking forward to it. I think it's going to be fun to watch the young guys step up. I think spring will be very different than fall for us this year, based on the fact that so many guys a year ago participated in both spring and fall, where with this group, so many guys are coming in with the 32 guys we signed. That's going to be a substantial difference.
It's going to be almost like a whole new team come summer camp, right?
JF:
Exactly. We'll have a whole new group of guys coming into training camp. It's going to be different. All six wide receivers we signed will be here for training camp. None of them will be here for spring ball. The passing game is going to be a little interesting in the spring, but it's going to be a great opportunity for Phillip Dorset, a great opportunity for
Rashawn Scott
, a great opportunity for
Allen Hurns
and
Kendal Thompkins
, the four guys that are coming back to really take rep after rep after rep. Same with the running backs, for
Michael (James)
and
Eduardo (Clements)
, to secure where their places are, and for
Clive Walford
to improve. It's going to be fun. It's certainly going to be different than the veteran-type team we had a year ago.
How about your offensive line? What's the depth chart look like there?
JF:
(He laughed). Yeah, isn't it funny how this conversation is a little different from the one we had a year ago?
No kidding.
JF:
Our offensive line is going to be a major competition. We're really not exactly sure who's going to end up starting. The good thing we do know is that everybody that's on the offensive line will be here in the spring. The guys we signed on the offensive line are here early. … The only guy who's not here is
Danny Isidora
. That will make a huge difference. We can watch all those guys compete. We're going to have to see where
Malcolm Bunche
and
Seantrel Henderson
are. At the end of spring last year, we were really pleased with the way Malcolm Bunche was playing. Seantrel had back surgery. Now that everybody is healthy and back, it will be interesting to see how that all works out.
How does all of this youth change what you can do with the playbook? How much do you have to scale back?
JF:
We're going through that process right now. We're looking at everything. We're looking at everything and making decisions on what our guys can handle, what they'll do well and what we call. A lot of it has to do with, you go into a season thinking you're going to do something, and then as the season progresses, you realize you're doing something else. You ask yourself, No. 1 why, and No. 2 what can we do to make it better? We're in the process of doing all of the evaluations. Our goal this spring is to get better fundamentally. If you're going to get better fundamentally, you're going to cut back on some things schematically.
At running back, who's the guy who's at the top without Lamar?
JF:
You could put Michael and
Eduardo Clements
next to each other. Those two guys are going to be challenging each other as you saw as the season progressed. Eduardo got more and more carries. He really became a valuable short-yardage player for us. Michael, from the Duke game on, he was healthy and started running the ball well. Those two guys are going to duke it out until Duke gets here and
Danny Dillard
gets here, and then when the four of them are here, it will be a nice, four-way competition.
Speaking of Duke, Miami fans seem to be super excited about Duke Johnson. What did you guys like about him in the recruiting process?
JF:
Duke's everything you want when you recruit a player because he doesn't want to be recruited, he wants to tell you how much he wants to be a part of the program. It wasn't about trying to sell Miami to Duke. Duke was sold on Miami and was excited to be a part of Miami football. He's an electric player. He can make every play. He can catch the football, he can run the football, he can make guys miss, he can run between the tackles, he can run outside the tackles. He's got speed, he's got elusiveness. I think what got the Miami fans most excited is anyone who can have 376 yards in a state championship game is a pretty elite player, especially when it's in the state of Florida. He's got that dynamic ability we're all excited to see in person.