October, 17, 2014
Oct 17
12:00
PM ET
Quin Blanding
heard the talk nearly every day.
He was a five-star recruit. He could have played anywhere. But he wanted to play for a team that didn't win a game in the ACC a year ago, for coaches whose job security was the source of constant rumors.
"I had people every day asking why I was going to Virginia," Blanding said. "But I knew I couldn't let them distract me from what I wanted to do."
The pitch against Virginia was easy, but Blanding had gotten the behind-the-scenes tutorial on what the Cavaliers were building on defense, and he was intrigued.
[+] Enlarge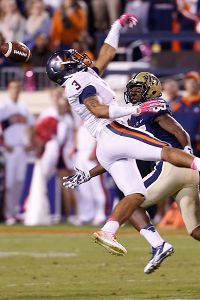 AP Photo/Steve HelberLed by safety Quin Blanding, Virginia's defense has been stellar during the team's surprising start.
The 6-foot-4 safety from Virginia Beach would make the trip to Charlottesville regularly to talk with the players. He grew close with star safety
Anthony Harris
, and he learned the ropes. He heard the sales pitch for Mike London's program -- not from the coaches, but from the players who saw a team on the brink of something special.
The knocks against Virginia were easy to ignore, Blanding said. Being a part of a team -- and in particular, a defense -- that was about to take a big step forward was an opportunity too good to pass up.
"That was exactly the message," Blanding said. "Time would tell, and it was our time now."
Last season, Virginia won just two games and was 0-8 in the ACC. That's a fact, but it's not something that gets talked about much.
This season, the Hoos (4-2, 2-0) are the only Coastal Division team without an ACC loss. That's the only fact Virginia is focused on now.
"We know we didn't perform well last year as a team, but we believed each year is a new year," Harris said. "We worked hard in the offseason to get better as a team so we could go out on Saturdays and show our record last year doesn't reflect our level of talent."
That level of talent is impressive.
Henry Coley
and
Eli Harold
both rank in the top four in the ACC in sacks.
David Dean
,
Max Valles
and
Daquan Romero
have developed into versatile, disruptive forces. And in the back end, Harris has led a veteran group that has tormented opposing quarterbacks, while Blanding has quickly developed into a star. The true freshman currently leads the ACC in tackles, including racking up 28 in his past two games.
"Right away I could tell [Blanding] was a really bright guy and has a lot of knowledge about the game," Harris said of his fellow safety. "Physically, if you look at him, he's a guy who could come in and contribute. So the big thing was just how fast he could pick up on the defense. With his football IQ, he's done a very good job on that, and it's shown in how he gets to the football and makes a lot of plays for us."
The early success in 2014 has been encouraging, but not a surprise.
Whether it was during Blanding's recruitment or the long offseason following a frustrating season, Virginia's players understood that the pieces were in place to create a winner, and they talked often about overcoming those small obstacles that had kept the unit from coalescing.
"Each year we bring in a lot of talented guys," Harris said. "Fitting it all together and making it work, for the last few years we hadn't been able to do it, but we knew it was there."
In a way, that brutal 2013 was exactly what sold Blanding on the program, and it's exactly what the veterans of the group needed to turn the corner.
"Sometimes it takes a team to really go through something before you can really find out how everybody fits into the puzzle, how to work through certain things," Harris said. "Trying to get over the hump, it's just one or two plays that's the difference. Some of the adversity we've faced the last few years, we really learned from and we've really been able to grow."
On Saturday, Virginia travels to Duke in a game that could put the Cavaliers squarely in the driver's seat in the Coastal. That is a possibility that sounded absurd to so many outside the program two months ago, but for those who had seen blueprint being drawn, it's exactly where they expected to be.
"We feel like there are a lot of guys who have matured and grown a lot, and we're speaking up and setting high expectations for the team," Harris said. "We feel like if we're all bought in and have the same goal, we'll be able to get it done."
September, 11, 2014
Sep 11
8:00
AM ET
Virginia Tech's tight ends have
made a big difference
for the Hokies' offense so far this season, writes The Roanoke Times.
Bucky Hodges
and
Ryan Malleck
have been excellent, and even without
Kalvin Cline
, the only tight end to catch a pass for the Hokies last season, the position has been a big plus through two games.
I noted the significant uptick in tight end targets earlier this week, too,
in our stats column
, but here are a few more tidbits worth passing along:
Virginia Tech's tight ends have combined for 163 receiving yards so far this season -- the fifth-most by any team in the country.
The 23 targets for the Hokies' tight ends ranks third nationally, trailing only Oregon State and Penn State. The Hokies have only targeted their wide receivers 27 times so far this year.
Among teams targeting tight ends at least 15 times so far this season, only Purdue and UAB's position groups have caught a higher percentage of passes thrown their way.
Among ACC teams, only Louisville comes close to the Hokies in terms of targeting its tight ends. The Cardinals have thrown to tight ends 21 times. That makes sense since Louisville has a star tight end in Gerald Christian and is playing without its top receiver in Devante Parker.
Syracuse should have its tight end, Josh Parris, back in time for the Maryland game next week, writes The Post-Standard. That's good news for the Orange, who targeted a tight end just twice in their opener.
Other tight end production around the ACC through two weeks:
Wake Forest -- 14 targets
Florida State -- 12
Miami -- 10
UNC -- 8
NC State -- 8
Duke -- 8
Clemson -- 8
Pitt -- 5
Virginia -- 4
Boston College -- 0
Georgia Tech -- 0
A few more links:
October, 30, 2012
10/30/12
3:00
PM ET
The main point of emphasis at Virginia during is bye week: get the little things right.
No more silly penalties.
No more turnovers.
Cut down on the mental errors.
Execute the way you know how.
"I think it comes down to being smart football players," linebacker
Steve Greer
said on a conference call Tuesday. "When you have a lot of penalties and assignment errors and stuff like that, it comes down to mental breakdowns. That's why we we're stressing doing the little things right and executing. Those little things, when they show up in games it's big. That's what it comes down to, be smart football players, do your job and execute. When you do that, it helps your team out a lot."
Greer and his team know what is at stake. The Hoos (2-6) have lost six straight and must win out to get to a bowl game. A loss would make this UVa team the first to lose seven games in a row since the 1981 squad started its season off 0-7.
They get their first chance to start a winning streak Saturday against NC State, hoping the extra week to prepare will be a huge advantage. But it will not be an easy task trying to win the next four games. Every opponent left on the schedule has a record of .500 or better.
What has been particularly frustrating has been seeing all the untimely mistakes, and inconsistency on offense. Virginia ranks last in the nation in turnover margin (minus-16) and No. 11 in the ACC in penalties. The offense has not been able to run the ball as well as a season ago, and ranks No. 10 in the ACC in scoring offense.
Those errors have masked improvements on defense, a unit that has seemingly turned the corner in recent weeks. Virginia ranks No. 3 in the ACC in total D and has gotten better play up front. The one area that still remains a concern is the secondary -- Virginia has managed just one interception all season.
But keep in mind the Hoos are a very young team and that has contributed to their overall struggles.
"Any time you're not wining as much as you want, it's frustrating, but you've got to keep showing these young guys the right way to do stuff," Greer said.
Plenty more young guys will get opportunities as the season winds down. Coach Mike London said true freshman defensive end
Eli Harold
will start against the Wolfpack. In addition, sophomore linebacker
Daquan Romero
will start in place of
Henry Coley
, who has been suspended indefinitely along with reserve receiver
Jeremiah Mathis
and fullback LoVante Battle.
Behind Romero, London said freshman Demeitre Brim will get playing time. On the depth chart for the Wolfpack game, Virginia lists five senior starters.
"We are close to or at that point of making sure that the players we talk about and that you see in the two deep, that they gain some of that game experience," London said. "But first things first for us is to put us in a position where we can earn, we can get a victory, and then hopefully hang onto another opportunity. These are a series of one game playoffs or however you want to call it. These games are Bowl games for us right now. We have to win these games that are this game that's being presented to us. That's how we have to look at it."
November, 4, 2011
11/04/11
10:30
AM ET
By
ESPN.com staff
| ESPN.com
Here are the injury reports from the schools that reported them this week:
DUKE
Probable
S Walt Canty (upper body)
S Matt Daniels (upper body)
CB Zach Greene (leg)
Questionable
DT Jamal Bruce (leg)
CB Johnny Williams (leg)
Out
S Lee Butler (leg)
QB
Brandon Connette
(upper body)
Out for season
TE
Jack Farrell
(leg)
DE Kenny Anunike (leg)
MARYLAND
Out for season
WR
Tyrek Cheeseboro
DB Makinton Dorleant
OL Andrew Gonnella
DB Avery Graham
LB Garrett Lederman
DB Matt Robinson
DL Isaiah Ross
TE
Dave Stinebaugh
LB Kenny Tate
Out
DL Cody Blue
Doubtful
DL Justin Anderson
Questionable
DL Clarence Murphy
MIAMI
Probable
Jon Feliciano-Lower Extremity
Out
Luther Robinson-Lower Extremity
Shayon Green-Lower Extremity
Curtis Porter-Upper Extremity
Rashawn Scott
-Upper Extremity
Surgery/Out for season
Marcus Forston-Lower Extremity
Ramon Buchanan-Lower Extremity
Corey White-Lower Extremity
Erik Lichter-Upper Extremity
Blake Ayles
-Upper Extremity
NORTH CAROLINA
Out
Casey Barth, PK Thigh
TJ Leifheit, OT Ankle
Matt Merletti, FS Knee
Norkeithus Otis, LB Thigh
Devon Ramsay, FB Knee
Reggie Wilkins, WR Ankle
Questionable

DJ Bunn, SS Knee
Mark McNeill, WR Hip
NC STATE
Out for season
Jarvis Byrd - Knee
Mustafa Greene - Foot
Sterling Lucas - Knee
Jeff Rieskamp - Shoulder
Out
Taylor Gentry
- Foot
D.J. Green - Foot
Jake Kahut - Knee
Brandon Pittman - Leg
Questionable
Thomas Teal - Foot
VIRGINIA
Out
Pablo Alvarez (upper extremity)
Charlie Richards
(upper extremity)
Daquan Romero (lower extremity)
E.J. Scott
(medical)
Bobby Smith
(lower extremity)
Tyler Smith (lower extremity)
Matt Snyder
(lower extremity)
Michael Terrell
(lower extremity)
Joseph Williams (lower extremity)
Questionable
Cam Johnson (lower extremity)
Probable
Sean Cascarano (trunk)
Matt Conrath (lower extremity)
Kevin Parks
(upper extremity)
June, 2, 2011
6/02/11
9:00
AM ET
By
ESPN.com staff
| ESPN.com
The
series continues
today with Virginia ...

A reminder of how we're defining breakout players: players who haven't seen the field yet but showed they could be major contributors this fall; players who have seen limited time but could earn significantly bigger roles this season; and players who have started but could blossom into stars. The top candidates at Virginia:
Kevin Parks, TB:
With 2010 leading rusher
Keith Payne
gone, Parks will have an opportunity to live up to the hype he created as a prep star. He redshirted last year, but came to Virginia as a highly touted, record-setter from North Carolina. He ran for 10,895 yards in high school -- a North Carolina state record. He was also rated the No. 56 running back in the nation in his class by ESPN Recruiting. He set a national high school record of 55 games with at least 100 yards rushing.
Tim Smith, WR:
The redshirt sophomore could be a major contributor when he's healthy, but his season was cut short last year by a foot injury. He only played in two games last year and caught three passes for 28 yards. He showed promise in 2009, when he started three of the 11 games he played in. He caught 15 passes for 204 yards and two touchdowns.
Daquan Romero, OLB
: He enrolled in January and finished the spring listed as No. 2 at outside linebacker heading into fall. He was rated the No. 98 defensive end in his class by ESPN Recruiting. He had 19 sacks in 15 games to help Phoebus High win its third-straight AAA Div. 5 state championship in 2010. He was also named to the ESPN RISE All-Junior team after recording 30 sacks, including 11 in the playoffs, his junior season.
More in this series:
NC State