August, 30, 2013
8/30/13
10:00
AM ET
A few bits of news and trivia for Week 1 of the ACC season, courtesy of the conference's sports information staffs and ESPN's Stats and Information department.
BOSTON COLLEGE:
Junior
Spiffy Evans
returned 11 punts last year for 278 yards -- an average of 25.3 yards per return. That total would've led the nation, had he had enough attempts to qualify.
CLEMSON:
While
Sammy Watkins
certainly appeared to take a big step back in his sophomore season (25 fewer catches, 511 fewer receiving yards), there was room for optimism. Watkins caught a higher percentage of his targets (72 percent, up from 67 percent in 2011) and managed the same percentage of yards after the catch (60 percent).
DUKE:
Offensive tackle
Perry Simmons
will make his 38th consecutive start when the Blue Devils take on NC Central. That's the longest active streak among ACC players.
FLORIDA STATE:
The Seminoles' secondary ranked as the No. 1 passing defense in the nation last year in yards per game, fewest plays of 15 yards or more, and opponent-adjusted Total QBR. None of FSU's 14 opponents in 2012 managed a Total QBR of better than 50, the national average.
GEORGIA TECH:
Senior defensive end
Jeremiah Attaochu
is fourth among all active NCAA players in career sacks with 19. He needs 12.5 more this season to set Tech's school record.
MARYLAND:
The Terps' defense recorded 28 sacks last season, but players returning for 2013 accounted for just 4.5 of them.
Jeremiah Johnson
and
Darius Kilgo
lead the way with 1.5 each.
MIAMI:
During the Hurricanes' last four games of 2012,
Duke Johnson
tallied 1,003 all-purpose yards and seven touchdowns, while QB
Stephen Morris
completed 60 percent of his passes for 1,131 yards and a sterling 11-to-0 ratio of TDs to INTs.
NC STATE:
The Wolfpack lost three former All-ACC defensive backs from a unit that ranked 85th nationally in passing defense last season. That's a potential problem given their Week 1 opponent. Louisiana Tech finished 2012 as the third-most prolific passing attack in the country.
PITTSBURGH:
The Panthers allowed the 13th-most sacks in FBS last season (38), with its quarterbacks sacked on nearly 9 percent of their passing attempts. New starter
Tom Savage
, a Rutgers transfer, isn't likely to help. In two years as a starter for the Scarlet Knights (2009-10), he was sacked on 11.8 percent of his attempts, the second-most in the nation during that span.
SYRACUSE:
The Orange set school records for passing offense, completions and passing TDs last year behind senior QB Ryan Nassib. He's gone for 2013, but his younger brother, Carl, will line up at defensive end for this week's opponent, Penn State.
VIRGINIA:
UVA is excited about new starting quarterback
David Watford
, who redshirted in 2012. But it's been a major shakeup for the Cavaliers at the position. Virginia is one of just five FBS schools that does not have a quarterback on its 2013 roster that appeared in any 2012 games.
VIRGINIA TECH:
Of all of
Logan Thomas
' passing attempts in 2012, 45 percent came against the blitz. On those throws, he had two TD passes and six INTs. On all other passing attempts, he had 16 touchdowns and 10 interceptions.
June, 27, 2013
6/27/13
10:30
AM ET
We move on in our series looking at the weakest and strongest positions on each team in the ACC with Maryland:

Strongest position: Receiver
Stefon Diggs
returns to anchor a position that remains a strength despite the loss of
Marcus Leak
, who decided to leave the team for personal reasons. Diggs was dynamic in his first year last season, earning Freshman All-America honors. His 848 receiving yards were the third-best mark by an ACC rookie and his 54 receptions ranked sixth-best. Of course, Diggs provides so much more as an all-purpose player, but he will be the unquestioned leader of this group as a sophomore. The Terps got a big boost to the group with
Deon Long
arriving from junior college, and
Nigel King
had a good spring as well. Hopes also are high for young guys like
Levern Jacobs
,
Tyrek Cheeseboro
and
Amba Etta
to step up as well.
Weakest position: Defensive line
Maryland only returns one starter here --
Darius Kilgo
at nose tackle. The other two losses are perhaps the biggest on the defense -- Joe Vellano and A.J. Francis, two players proven to be invaluable for the Terps over the past several seasons not only as players but as team leaders as well. Vellano was an all-ACC selection once again after leading the team with 14 tackles for loss and tying for the team lead with six sacks. Francis added nine tackles for loss and four sacks. The two combined for 72 career starts. Without them, Maryland turns to guys like
Quinton Jefferson
,
Keith Bowers
,
Andre Monroe
and
Roman Braglio
. Monroe is the only one who has started a game. If he is completely healthy following an injury that cost him all of last season, the Terps will benefit in a big way.
For more in the series,
click here
.
April, 16, 2013
4/16/13
10:30
AM ET
Maryland coach Randy Edsall has decided to try something a little new with his team this season.
Rather than selecting team captains, Edsall has formed a leadership council based on the input from his assistants. Essentially, Edsall asked his coaches to recommend a player from their position group whom they felt could be a leader. Edsall announced the members of the council following the spring game this past weekend:
Maryland will go with game captains each week. Of these players, Edsall had some high praise for the work Diggs has done in making himself a team leader this season. Though just a true sophomore, Diggs has taken more initiative this offseason and during spring practice.
"He is better this spring," Edsall said. "He is more focused, not to say that he wasn't before. He really wants to be better. He doesn't want to stay the same, he doesn't want to regress. He really understands the effort that has to go into being a good player. He was selected as one of the ten leaders on the team. ... I think Stefon is making sure he can do everything he can to live up to the role he now has as part of that leadership council."
Diggs caught eight passes for 159 yards and a touchdown in the spring game, though he said his performance was, "OK." Diggs clearly has got his eyes on an even better year in 2013 after a dazzling freshman campaign. Looking forward to seeing what he has in store.
March, 1, 2013
3/01/13
9:00
AM ET
Maryland opens spring practice Saturday, with plenty of questions on both offense and defense. I had a chance to catch up with coach Randy Edsall earlier this week to preview the spring. Here is a little of what he had to say.
Going into the spring what's your No. 1 priority?
RE:
I want to get everybody to do their job, and to do their job to the best of their ability. Offensively, it's to make sure that we're going to take advantage of our playmakers and at least come out with eight offensive linemen we feel really good about and see how Ricardo (Young) can do handling all the snaps he's going to get. Then defensively, for us to come out as a swarming, tough physical defense in terms of trying to find out who our best 11 are and then work to create a top 22.
You mentioned Ricardo, obviously taking the majority reps with C.J. Brown still limited. How do you approach building the chemistry you need on offense and getting everything done to prepare for the fall knowing you don't have your starting quarterback?
[+] Enlarge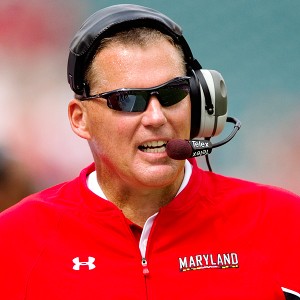 Howard Smith/US PRESSWIRERandy Edsall and Maryland begin spring practice on Saturday.
RE:
Hopefully from a 7-on-7 standpoint, C.J. gets some of that work. That will be great, but if not, just being on the field and having the presence and seeing things -- there's going to be plenty enough time between the summer and preseason practice in order to develop chemistry and consistency that we would want out of all those guys.
So the backup job is wide open for competition with Ricardo, and then Caleb Rowe and Perry Hills when they come back?
RE:
There's no question.
In terms of the running back situation, I know Justus Pickett transferred, and Wes Brown is out with an injury. Do you have concerns over depth?
RE:
Brandon Ross
is going to be the guy who's the No. 1 guy in the spring, and then
Albert Reid
, and
Joe Riddle
, and then we also have Kenny Goins. Kenny is a guy who can be a running back and/or a fullback. Wes had a shoulder done, then had ankle done from an old high school injury, so he'll be ready to go come the fall. We'll have four guys there, and then Kenny's a guy that can carry the ball, too.
What will you work on this spring to try and get the run game going?
RE:
That to me all starts up front with the offensive line and I really feel like going into the spring you've got
Mike Madaras
at left tackle, De'Onte Arnett at left guard, then you have Sal (Conaboy) and
Evan Mulrooney
at center,
Andy Zeller
at right guard, and
Nick Klemm
at right tackle. And Silvano Altamirano is a guard, and
Ryan Doyle
at tackle. My biggest thing is I want to find at least three tackles, three guards and we have two centers that have played. Now we have to get more consistent and do a better job up front. In terms of who we'll have at quarterback, who we'll have at running back, who we'll have at wide receiver gives us some weapons from a skill position. Now we have to do is make sure we're consistent up front, so that to me is the biggest thing offensively this spring is the offensive line and getting them to be more consistent with their assignments, more consistent with their technique and fundamentals and developing that cohesiveness with guys playing together and hopefully guys staying healthy.
You mentioned the skill position players you do have. At receiver, you've got this abundance of talent and depth. How do you see the competition playing out?
RE:
Deon Long and then
Amba Etta
behind him right now. Amba showed us a lot last year and we redshirted him. There we've got to have tremendous competition and guys with the ability to make plays. Then on the other side, you've got
Nigel King
, who came on at the end of the year last year, made some plays against North Carolina, and then another freshman
Malcolm Culmer
, whom we redshirted and then you have Stefon (Diggs) as a slot guy. It gives you a lot of opportunities to get the ball in peoples' hands who can make something happen after they catch it. Those are the things we have to do to make sure that we find guys who can make the plays on the ball and distribute that. We've got some weapons there. So if people want to load the box, you've got to make sure we can throw it and catch it, and if they want to worry about some of the receivers we have, then you've got to have the ability to run the football.
Is this the best group of talent and depth you've had at the skill positions?
RE:
Yeah I think so. That's where we have to get everybody to understand that yeah, they do have ability but they have to go out there and work hard each and every day. If they do that, we've got the ability to make a lot of things happen. We've got to get the people up front on the offensive line to be really tough, sound, good technicians and competing every play. If we do that, then because of the running backs and because of the receivers we have, that can make their job a little bit easier.
Defensively, you're losing a lot of your leaders. Where are you looking for the leadership on that group?
RE:
We played a lot of people on defense last year so it's not like we're going in with guys who haven't played a whole bunch. But now guys like
Dexter McDougle
,
Jeremiah Johnson
,
Cole Farrand
,
Darius Kilgo
,
Matt Robinson
, who we're going to make him an outside linebacker as opposed to a safety, and then
Keith Bowers
. Those are the guys that have to step up from a leadership standpoint. And then guys like
Quinton Jefferson
, who played last year as a true freshman. He has to be more productive for us this year and then
Anthony Nixon
is back, so it's just a matter of other guys stepping up in those roles. The thing is, we're going to be playing in the same scheme, so they'll be better from that standpoint. They'll be a year older more, a year more mature, a year stronger. But that's the thing: who are going to be those leaders?
What's the strongest part of the defense?
RE:
The one thing I take a look at in terms of up front, I really think Darius Kilgo has a chance to take his game to another level. Quinton Jefferson, him and
Justin Anderson
fighting it out at the one end and then Keith Bowers and,
Roman Braglio
-- a young man with a tremendous motor that we redshirted last year. We've got to get one of the safety spots shored up, between
Sean Davis
and
A.J. Hendy
and then I think at the corner, Will Likely and
Alvin Hill
, you may see them because they have a lot of skill set. They can find a way to get on the field, whether as a nickel or dime package. I think the strength of defense is the athletic ability and the ability to be able to run. That's something that's going to help us.
February, 20, 2013
2/20/13
10:00
AM ET
BOSTON COLLEGE

Spring start:
Feb. 28
Spring game:
April 13
What to watch:
The transition: Introductions will be necessary as first-year coach Steve Addazio takes over. The good news is that offensive coordinator Ryan Day is a familiar face as he was the receivers coach under Frank Spaziani. He should work well with quarterback Chase Rettig.
The front seven. There used to be a time when BC's defense was one of the best in the country. It wasn't last year. The Eagles were No. 111 in the country in rushing defense and No. 120 in sacks and tackles for loss. First-year coordinator Don Brown has some work to do.
The running backs. They were an inconsistent group last year as BC ranked No. 115 in the country in rushing offense at 90.92 yards per game. All of the key contributors return, including leading rusher Andre Williams, but the group has to do a better job of taking pressure off of Rettig.
CLEMSON

Spring start:
March 6
Spring game
: April 13
What to watch:
Defensive progress: This is the second spring under coordinator Brent Venables, and the defense is the missing piece to the program becoming a contender on the national level. The defensive backs will have the most to prove as three starters have to be replaced.
The new playmakers: Clemson lost two big names on offense in receiver DeAndre Hopkins, who left early for the NFL, and running back Andre Ellington. There is plenty of talent remaining in the wings, but it has to step out of the shadows this spring.
Front and center: The Tigers return four starters to the offensive line, but have to replace their anchor in veteran center Dalton Freeman. While quarterback Tajh Boyd returns, the communication with the new center will be critical for calls and snaps.
FLORIDA STATE

Spring start:
Mar. 20
Spring game:
April 13
What to watch:
The QB battle: It's a three-way race to replace EJ Manuel, and while Clint Trickett will enter spring practice as the nominal No. 1, there's no clear favorite to win the job. Sophomore Jacob Coker has perhaps the best mix of arm strength, athleticism and experience, but redshirt freshman Jameis Winston was the country's top QB recruit two years ago and could blossom into a superstar.
The new coaches. There will be a much different feel on the practice fields at FSU this spring with six new assistant coaches running the show. Four of the assistants have previous coordinator experience, making it a veteran group, and new defensive coordinator Jeremy Pruitt brings an Alabama pedigree to a unit that was already among the best in the nation.
The new faces. A year ago, there weren't a ton of jobs open in the spring thanks to a hefty dose of veterans. Things are different this time around, meaning youngsters like WR Kelvin Benjamin, DE Mario Edwards Jr. and CB Ronald Darby will get their opportunities to solidify key roles on this year's team.
MARYLAND

Spring start:
March 2
Spring game
: April 12
What to watch:
Quarterbacks. The Terps' unprecedented run of injuries at the position was one of the ACC's biggest storylines last year. C.J. Brown, the projected starter, will be limited and won't play in the spring game, but he can throw and participate in some drills. Ricardo Young, who sat out all year after transferring, will be the top healthy quarterback on the roster this spring and take the majority of the snaps. He played for offensive coordinator Mike Locksley at New Mexico and is familiar with the system. Perry Hills and Caleb Rowe aren't nearly as ready or healthy as Brown is. Dustin Dailey, who also sat out last year because of NCAA transfer rules, is healthy and available.
Early enrollees: Three recruits enrolled early, including two junior college transfers who can help immediately. Maryland fans should be eager to see how junior college transfer Deon Long, a receiver, adds to the offense. Silvano Altamirano, another junior college transfer, will compete immediately for playing time at offensive guard.
Defensive competition: Maryland has some big names to replace in defensive linemen Joe Vellano and A.J. Francis, and middle linebacker Demetrius Hartsfield, all of whom were mainstays on the defense. Cole Farrand will be the veteran linebacker now, and Darius Kilgo is the only returning starter on the defensive line.
NC STATE

Spring start:
March 19
Spring game:
April 20
What to watch:
The quarterback competition. The Mike Glennon era is over, and Manny Stocker and Pete Thomas are the top options to replace him. Thomas, a former transfer from Colorado State, was a two-year starter there and threw for 4,269 yards and 18 touchdowns. Stocker, a sophomore, has yet to take a collegiate snap.
The staff transition. First-year coach Dave Doeren is taking over and he has hired an almost entirely new staff. How the players adjust to the change in terminology, schemes and personalities will be critical to the transition.
A revamped secondary: NC State will have to replace three starters, including Earl Wolff, Brandan Bishop and David Amerson, the school's career interception leader. Cornerback Dontae Johnson returns, along with Juston Burris, who played in the nickel package. There are also several redshirts and younger players who will compete.
SYRACUSE

Spring start:
March 19
Spring game:
April 20
What to watch:
Staff changes: First-year coach Scott Shafer, who replaced Doug Marrone, has been with the program for four years, so it's not a drastic change for the players, but it is Shafer's first as a head coach. He has a chance to put his stamp on the program as it enters the first season in the ACC.
Quarterback competition: The Orange have to replace record-setting quarterback Ryan Nassib, and it's a wide-open competition. Backup Charley Loeb, junior John Kinder, and dual-threat Terrel Hunt are the top candidates, but Ashton Broyld, who moved to running back in 2012, could be in the mix as well.
Replacing SS Shamarko Thomas: The Orange have to replace their leading tackler and top defender, as Thomas had 84 tackles last year. He was a game-changer who also had two interceptions and three forced fumbles. He was a first-team All-Big East selection.
WAKE FOREST

Spring start:
March 19
Spring game:
April 20
What to watch:
The health of the O-line: Wake was hit hard by injuries last year, and keeping this group healthy this offseason will be critical. The Deacs only lost one senior -- center Garrick Williams, but last year injuries forced the staff to play a significant number of redshirt freshmen, which it doesn't like to do. Whit Barnes, for example, started 11 games at left guard. He was supposed to be a backup center.
Camp's complement: The Deacs have to find a complement to star receiver Michael Campanaro. He's the go-to guy, but quarterback Tanner Price needs a few more reliable targets to emerge this spring. Sherman Ragland, Matt James, Brandon Terry and Airyn Willis are all options.
Improving inside: The Deacs' inside linebackers need a boost after losing Riley Haynes and Scott Betros. Redshirt junior Mike Olson will be a starter, but Wake needs to find another starter there and develop some dependable backups.
October, 26, 2012
10/26/12
11:00
AM ET
Here are the ACC injury reports for Week 9 from the schools that emailed them:
DUKE
Probable
Questionable
Doubtful
Out
Out for season
FLORIDA STATE
Out
Out for season
MARYLAND
Probable
Questionable
Out
Out for season

NORTH CAROLINA
Out
NORTH CAROLINA STATE
Out for season
October, 19, 2012
10/19/12
11:00
AM ET
Here are the ACC injury reports for Week 8 from the schools that emailed them:
CLEMSON
Out for the season
DUKE
Probable
Questionable
Out
Out for season
FLORIDA STATE
Out
Out for season
MARYLAND
Probable
Questionable
Doubtful
Out
Out for season

MIAMI
Doubtful
Surgery/Out for season
NORTH CAROLINA
Out
NORTH CAROLINA STATE
Probable
VIRGINIA
Probable
Questionable
Out
Out for season
VIRGINIA TECH
Probable
Out
Out for season
October, 12, 2012
10/12/12
11:00
AM ET
Here are the ACC injury reports for Week 7 from the schools that emailed them:

DUKE

Probable
Questionable
Doubtful
Out
FLORIDA STATE

Out
Out for season
MARYLAND

Out for season
Out
Probable
MIAMI

Probable
Out
Surgery/Out for season
NORTH CAROLINA

Out
VIRGINIA

Out
Questionable
Probable
Out for season
VIRGINIA TECH

Out for season
Out
Doubtful