October, 24, 2013
10/24/13
8:00
AM ET
It's that time of year, when injuries can be devastating to a team and even change the outcome of a game. Here's a look at which three teams in the ACC have been most affected by injuries this season:

1. NC STATE:
The Pack lost starting quarterback
Brandon Mitchell
in the season opener when he broke his left foot. He is expected to return for Saturday's game at Florida State, but the Pack has also been missing two key linemen in OT
Rob Crisp
, and DE
Darryl Cato-Bishop
. Safety
Jarvis Byrd
also suffered his third torn ACL of his career.

2. MARYLAND:
The Terps took their biggest hit at FSU when quarterback
C.J. Brown
was sidelined with a concussion and missed the following game at Virginia, but they've also since lost their top two receivers in
Stefon Diggs
and
Deon Long
, and linebacker
Yannik Cudjoe-Virgil
and defensive back
Dexter McDougle
are also out for the season.

3. SYRACUSE:
The Orange lost starting linebacker
Dyshawn Davis
to an ankle injury for the second half of the NC State game and last week's game against Georgia Tech, defensive tackle
John Raymon
suffered a season-ending knee injury in the 56-0 loss to Georgia Tech, tailback
George Morris II
also missed last week with an injury, and three-year starting CB
Keon Lyn
is out for the season with a lower body injury. The Orange also lost kicker
Ross Krautman
in late September to a season-ending hip injury. The bye week comes at a good time for Cuse.
September, 19, 2013
9/19/13
11:00
AM ET
The message at NC State this week has been simple. So simple, that Dave Doeren could have just jotted down a few numbers on a chalkboard for his players to see:
2012: W, 17-16
2011: W, 37-13
2010: W, 28-24
That is all the evidence anybody needs to understand how NC State has come to be known as the resident ACC giant-destroyers. Doeren was not even a part of those victories, but he knows about them now as the man in charge.
The Wolfpack took down No. 3 Florida State last year; embarrassed then-No. 7 Clemson the last time the Tigers visited in 2011; and beat No. 16 Florida State in 2010. All of them home games at Carter-Finley Stadium. Indeed, the last time NC State lost to both teams in the same season was in 2009, when Doeren was still Wisconsin defensive coordinator.
To put its reputation further into perspective, NC State has beaten at least one ranked team every year since 2005. The Wolfpack (2-0) are aiming for another upset tonight when No. 3 Clemson (2-0) comes to town.


"I think the big difference when we play against Clemson and Florida State, those are the teams that people circle on the calendar because they know those are big games that you have to play your best to win," said NC State defensive end
Darryl Cato-Bishop
, who has played in all three upsets. "Each and every game you need to play your best to win, but those are the games you get real hyped up to play."
Not as if Clemson coach Dabo Swinney needs any reminders.
"We went up there last time and got our tails handed to us," Swinney recently recalled. "We don't have to look any further than ourselves. It's a very difficult place to play. Our last experience up there was not good. We played one of our worst games of the year that year, and we won the league. It was a very disappointing night. We'll have to play much, much better to have a chance to win this game."
Some of these recent big wins stunned the nation. But perhaps most stunning was NC State's inability to capitalize on such huge momentum. Yes, NC State has had the ability to beat Top 25 teams, but it also has lost to inferior competition. Virginia last year. Boston College in 2011. East Carolina in 2010. The inconsistency over the course of each season is one reason why Tom O'Brien was fired at the end of 2012.
Cato-Bishop says Doeren has done a good job of making sure to emphasize each and every game on the schedule, though NC State nearly slipped up last time out against FCS Richmond, barely squeaking out a win. "Coach is getting the young guys in the frame of mind that things just don't happen," he said. "You have to keep working and playing hard for those things to happen."
It is hard to ignore the fact that this one is bigger than most. For Doeren, this is his first taste of a big-game atmosphere at Carter-Finley. Interestingly enough, Doeren has never lost a home game as a head coach, going back to his first job at Northern Illinois. He has not lost a home game since 2009, as an assistant.
Wolfpack coaches and players know they will have a raucous home environment, and they have to capitalize with early momentum in the game. The last time it beat Clemson, NC State scored 27 points in the second quarter and never let the Tigers get back in. The key in the game was the way the Wolfpack pressured quarterback
Tajh Boyd
, sacking him six times. They also forced four turnovers.
For Clemson, the pressure will be turned up to full throttle. The Tigers know all eyes will be watching to see whether they have truly outgrown the perception that they have a tendency to struggle against teams they should beat.
With a No. 3 ranking, Heisman candidate Boyd and
Sammy Watkins
, Clemson is the clear favorite. But Clemson was the clear favorite in 2011, too, against a 5-5 NC State team trying to salvage its season.
"I don't really have to look at the history," Doeren said. "I just tell [my players], 'Hey look guys, a lot of people are saying you don't have a chance in this game. But everyone in here that has played here knows that you do, because of what you did last year when Florida State came in here and the year before with Clemson.' Those games aren't going to win this game for us, but at least there are guys in the room that played in those games that remember. … "I think it is a source of pride."
Reputation building, too.
August, 13, 2013
8/13/13
10:30
AM ET
Today, we're looking at NC State, which changed coaches in spite of a third straight bowl appearance last year and is now entering a season of transition.
North Carolina State Wolfpack
Coach:
Dave Doeren (first year at NC State, 23-4 overall)
2012 record:
7-6 (4-4 ACC)
Key losses:
QB Mike Glennon, LG R.J. Mattes, WR Tobais Palmer, LB Rickey Dowdy, S Earl Wolff, CB David Amerson
Key returnees:
WR
Bryan Underwood
, WR
Quintin Payton
, RB
Tony Creecy
, DT
T.Y. McGill
, DE
Darryl Cato-Bishop
, CB
Dontae Johnson
Newcomer to watch:
QB
Pete Thomas
. The redshirt junior sat out all of last season after transferring from Colorado State, but he may be the answer to NC State's gaping need at quarterback this year. A two-year starter before transferring, he threw for 18 touchdowns and completed better than 63 percent of his passes to establish his credentials, then outplayed
Manny Stocker
this spring to gain an edge on the starting job with the Wolfpack.
Biggest games in 2013:
vs. Clemson, Sept. 19; at Florida State, Oct. 26; vs. North Carolina, Nov. 2
[+] Enlarge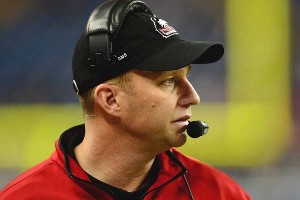 Andrew Weber/USA Today SportsCan Dave Doeren lead NC State to a fourth straight bowl game despite losing numerous key members from the 2012 squad?
Biggest question mark heading into 2013:
It would be easy enough to look at Miami's dismantling of NC State's secondary to the tune of an ACC record 566 passing yards and assume there was nowhere to go but up. But the truth is, in spite of its notable missteps last season, there was a ton of talent in the defensive backfield, and much of it has moved on for 2013. Gone are longtime stalwarts Amerson, Wolff and Brandan Bishop, meaning a massive overhaul is in store. Johnson is the lone returning regular from last season, and
Hakim Jones
and
Jarvis Byrd
will need to step up into bigger roles.
Forecast:
The Wolfpack won 24 games in the past three seasons, but it wasn't enough to save Tom O'Brien's job. He was fired before a bowl loss to Vanderbilt, and Doeren, the former Northern Illinois coach, was brought in to right the ship. It's a tall order for the new coach.
It's a year of transition across the board for NC State. Not only has Doeren revamped the coaching staff, but the Wolfpack will be looking for a new starting quarterback after sending Glennon to the NFL. They also must replace four offensive linemen and overhaul a significant portion of the defense. That's a lot of transition, but there is room for optimism.
NC State returns ample talent at the skill positions on offense, including its two top rushers from last season in Creecy and
Shadrach Thornton
, who combined for nearly 1,200 yards rushing in 2012. Doeren has a strong track record of running the football with success, and after finishing 111th nationally in that department last season, there's plenty of room for improvement.
The secondary is a concern defensively, but NC State does return some serious talent on the line of scrimmage -- including all four starters from a year ago. McGill is a rising star, and Cato-Bishop and
Art Norman
should disrupt plenty of opposing quarterbacks. Whether it's enough to overcome the questionable defensive backfield, however, remains to be seen.
Of course, the swing vote on the season is likely to be Thomas. NC State's schedule is manageable and there are plenty of weapons on offense if Doeren can find a quarterback capable of exploiting them. It's a new era at NC State, but a fourth straight bowl game isn't out of the question.
June, 24, 2013
6/24/13
3:30
PM ET
We move on in our series looking at the weakest and strongest positions on each team in the ACC with NC State.
Strongest position: Defensive line

Considering the returning starters here, this position is the Wolfpack's most experienced headed into the season. And when you have a veteran line with the ability to get into the opponent's backfield, you can make up for weaknesses on other parts of the defense (we'll get there in a minute). The Wolfpack return
T.Y. McGill
and
Thomas Teal
in the middle of the line, along with
Darryl Cato-Bishop
and
Art Norman
at defensive end. Cato-Bishop (6.5), Norman (5.5) and McGill (5) accounted for 17 of the team's 33 sacks a year ago. But Cato-Bishop and Norman are not quite locks to start opening day. Cato-Bishop was challenged this spring by rising talent
Mike Rose
, and that position remains open for competition headed into the fall.
Forrest West
is pushing Norman as well. Defensive coordinator Dave Huxtable does have some concerns over depth at end, but there is a veteran group returning that has proven it can hold its own up front.
Weakest position: Defensive back
There are a number of spots we could have chosen here, as the Wolfpack have major concerns at quarterback, receiver and the offensive line as well. But defensive back has the most questions of all because only one starter returns, and there are some depth concerns here as well. NC State has to replace starting cornerback David Amerson and starting safeties Earl Wolff and Brandan Bishop -- both Amerson and Wolff were selected in the NFL draft this past April. Though Amerson did not have the year everybody expected in 2012, he did start 35 games in his Wolfpack career.
Juston Burris
, slated to replace him, had a great spring but only has five career starts, all at nickel back.
Dontae Johnson
, the lone returning starter from a year ago, will be expected to provide leadership for the entire secondary. As for safety, Huxtable also has depth concerns here though coach Dave Doeren was encouraged by the way
Jarvis Byrd
performed this spring after knee injuries have had a major impact on his career. Sophomore
Hakim Jones
is ahead of
Tim Buckley
at the other safety spot. Both are sophomores. Of the eight players listed on the post-spring depth chart, Byrd and Johnson were the only seniors. The other six? Freshmen or sophomores.
More in this series here.
May, 10, 2013
5/10/13
4:00
PM ET
NC State defensive coordinator Dave Huxtable is in his first season with the Wolfpack and coach Dave Doeren, and he is also coaching the linebackers. His resume also includes stops at Pittsburgh, Wisconsin, North Carolina and Georgia Tech. I caught up with Huxtable recently to get his take on the transition going on in Raleigh. Here are the highlights of our conversation:
How was the spring for you?
Dave Huxtable:
It was a good spring. Being new, the coaching staff and players getting familiar and getting to know us, there were some positives, and getting to know each other and installing the defense, and learning the terminology and schemes, I thought the guys did a good job of it this spring. We're nowhere near where we want to be yet, but we got a lot of good work done.
[+] Enlarge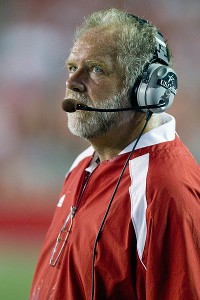 AP Photo/David StlukaNew NC State defensive coordinator Dave Huxtable likes what he's seen from his new players this spring.
How much of the playbook did you guys actually install?
DH:
We installed the base defense, did not really throw a whole lot at them, but that's the foundation of what we're going to do, and as we get into fall camp we'll have some new installation we'll ask them to learn, things we'll pull out of our bag of tools for the season.
I know you coach the linebackers as well, how did those guys look?
DH:
I think I saw some improvement at the end of the spring. Again, we have a lot of work left to do at that position, but I really enjoy the guys I'm coaching there. They're great character guys, they've got a great attitude, they're hard workers and good learners, and there's some talent there.
What's your biggest concern heading into summer camp? Maybe priority is a better word -- for what you want to get done by the opener.
DH:
I think there's some depth at some positions. I think our safety position is a concern with depth there, as is our defensive end position. And then, again, I think we finished strong in the spring and I'm looking forward to our guys having a great summer. I know our strength coaches are going to do a great job with them in the offseason here, and I know our guys will work hard and they'll come to camp ready and prepared. Just for us to pick up with the momentum we had at the end of spring.
How much of a whirlwind was it for you when the guys first went out there with the new staff?
DH:
Those first couple of days it was more, 'Hey you, over there!' They have their jersey numbers on, but we got a chance to know a lot of them and get familiar with the names and faces in the offseason program, but every once in a while you say, 'Hey 49, get over here!' But it was fun, and really a neat group of guys here on this football team. I think guys who really want to be coached and be coached hard. Football is important to them and winning is important to them.
What positions still have the biggest ongoing competitions?
DH:
I think at every linebacker position there's great competition going on. A lot of new guys at those positions that were not starters last year. I think there were two starters that left last year that were gone. At the linebacker spot there's a lot of competition. I would say the defensive end position. There's good competition at both of those spots.
Who are some of the guys who are in the mix for both of those spots?
DH:
At defensive end,
[Darryl] Cato-Bishop
and
Mike Rose
are competing. At the linebacker position, at mike,
M.J. [Salahuddin]
and
Zach [Gentry]
and
Robert Caldwell
came on strong at the end of spring, as did
Ryan Cheek
. At that mike linebacker position there's a lot of good competition there.
Brandon Pittman
has been a guy who played a lot here, he's fast and really finished the last couple of weeks of the spring strong. But you know, so did
Drew Davis
, a young linebacker who was very productive in our last two scrimmages. Competition is a good thing, it's going to make us all better.
Are you running a completely different style of defense?
DH:
We're a base 4-3 defense, which they have been in the past. They probably blitzed a little bit more than what we will do. Then again, the terminology is totally different. What they call apples we call oranges, so there is a terminology to learn for the players.
How have things been going with the staff?
DH:
Coach Doeren has been tremendous, just the way he's handled the staff and the players. His organization, his detail to everything he does has just been outstanding. What a neat staff, a good group of guys who are all very passionate about football and recruiting and understand the business. It's been really neat kind of being a new guy and getting to know all of the coaches. It's been a fun experience, and I really enjoy working with them.
How did what you saw on the field this spring compare with what you might have seen on film of NC State?
DH:
The players, we spent a lot of time on fundamentals and technique and not a huge amount of instillation. More just trying to be pros at our position and really sharpening the tools and fundamentals and techniques of the players. I think we've made some good ground on that from what we had seen on film. They were well-coached, and it's making our job a little easier because the former staff did a great job with them. Now we just have to get them doing the things we're going to ask them to do. We have a ways to go in that area, but with our spring practice we got some good work done.
May, 7, 2013
5/07/13
7:30
AM ET
2012 record:
7-6
2012 conference record:
4-4 ACC (third in Atlantic Division)
Returning starters:
offense: 5; defense: 5; kicker/punter: 2
Top returners:

WR
Quintin Payton
, OT
Rob Crisp
, OT
Tyson Chandler
, DE
Darryl Cato-Bishop
, CB
Dontae Johnson
PK
Niklas Sade
, P
Wil Baumann
Key losses:
QB Mike Glennon, WR
Tobais Palmer
, OG
R.J. Mattes
, C
Camden Wentz
, CB David Amerson, S Earl Wolff, S
Brandan Bishop
2012 statistical leaders (*returners)
Rushing:
Shadrach Thornton
* (694 yards)
Passing:
Glennon (4,031 yards)
Receiving:
Palmer (781 yards)
Tackles:
Wolff (119)
Sacks:
Cato-Bishop* (6.5)
Interceptions:
Amerson (5)
Spring answers
1. QB Pete Thomas is next in line.
Thomas edged out
Manny Stocker
for the majority of first-team reps this spring, and while the staff isn't ready to name Thomas the starter, it became clear he is the front-runner to take over for Mike Glennon.
2. Picking up the pace:
First-year coach Dave Doeren and his staff didn't install the entire offense, but the Wolfpack did begin to make the switch to an up-tempo, no-huddle offense this spring. Doeren wants to snap it every 15 seconds, and the players began to adjust to a different pace of play.
3. Solid specialists:
If there is one area the Pack shouldn't be concerned about this fall, it's the kicking game. The holder, punter and place-kicker are all true juniors who have been playing since they were true freshmen. Doeren said all of them had a great spring.
Fall questions
1. Unproven quarterbacks:
While Thomas took the majority of reps, Doeren has stressed this remains an open competition into summer, and none of them have yet to compose a résumé comparable to Glennon's.
2. Shuffling on the offensive line:
NC State has to replace three starters up front, and the new staff spent this spring experimenting with different combinations to try and find the best fits. The linemen have also had to adjust to different blocking schemes in the faster-paced offense.
3. New faces at safety.
It's been almost three and a half years since anyone besides Wolff and Bishop had to play safety at NC State. Replacing that experience will be difficult.
Hakim Jones
was a backup last year who has been penciled in as a starter, and
Jarvis Byrd
, a fifth-year redshirt senior who has been injured for most of the past two seasons and was a former cornerback, is another top option. Finding a rotation at safety will be a priority this summer.
April, 19, 2013
4/19/13
3:00
PM ET
NC State announced its leadership council for 2013 on Friday, a group of 20 players voted on by the team that represents each position on the field.
They are:
Jarvis Byrd, DB
Dontae Johnson, DB
Art Norman, DL
D.J. Green, LB
Zach Gentry, LB
Ryan Cheek, LB
Tony Creecy, RB
Milton Hall, RB
Anthony Talbert, TE
Asa Watson, TE
Quintin Payton, WR
Rashard Smith, WR
Jacoby Brissett, QB
Pete Thomas, QB
Duran Christophe, OL
Rob Crisp, OL
Joe Thuney, OL
Niklas Sade, Specialist
Scott Thompson, Specialist
Since coach Dave Doeren became head coach, he has had meetings every two weeks to discuss the importance of leadership.
"In each meeting, we have discussed the 'Wolfpack Commandments,' which are the qualities and characteristics that I want our team to display," Doeren said in a statement. "In spring practice and in our offseason conditioning program, the team was able to identify which players best display these qualities."
The "Wolfpack Commandments" are: accountability, hard work, family, faith, detail, loyalty, pride, discipline, urgency, focus, perseverance and "the three P's" -- preparation, practice, playing to win.
One name that stood out to me: Brissett, who transferred in from Florida and must sit out this season because of NCAA rules. Brissett has only been in Raleigh since January, so he clearly has made a mark on his teammates and coaches with all the hard work he has done in a short period of time, all while knowing he cannot play this season.
April, 19, 2013
4/19/13
10:00
AM ET
The rest of the ACC wraps up practice this weekend. Here is a look at what to watch at each spring game.

BOSTON COLLEGE
When: Cancelled.
UPDATE:
Boston College decided to cancel its spring game, set for Saturday, because of the tragic events that unfolded in the area this week. Though there is no game, these are still three keys for the Eagles as they move into the offseason.
Chase Rettig. Rettig has been through one coordinator too many during his career with the Eagles, and now he has to learn a new system that is not exactly the pro-style brand more suited to him. Coach Steve Addazio has said he will not force Rettig out of his comfort zone this year, but how Rettig handles yet another change is definitely something to watch.
The run game. Addazio has placed a heavy emphasis on the run game this spring. Does he have the talent and depth to improve the dreadful numbers from a year ago? With Rolandan Finch gone, senior Andre Williams has been the guy left to shoulder the load this spring. He says, "Bring it on."
More aggressive D? This will be a good chance to see how Don Brown has gone about revamping the defense. We have all heard how he wants to be more aggressive this year. Let's see it.

GEORGIA TECH
When:
Friday, 7:30 p.m. (Note: There is a threat of rain so a decision on whether the game will be played as scheduled will be made later today. As of this morning, the game is still on.)

NC STATE
When:
Saturday, 1:30 p.m., ESPN3
The quarterbacks. Starting to sound like a theme, right? Coach Dave Doeren has said he will not name a starter after spring practice. Pete Thomas and Manny Stocker are still learning the new system, and Doeren says, "They're getting better. I told somebody the other day: I just don't think it's fair to make a decision on a guy that doesn't know your offense yet. I think we've got to give those kids a chance to play football without thinking. We're not there yet."
The secondary. This group will have three new starters when fall rolls around, and much less game experience. Juston Burris is listed as the starter at the cornerback spot David Amerson leaves behind, while Hakim Jones and Jarvis Byrd are set to take the open safety spots.
The defensive ends. There is still open competition at both defensive end spots, according to the depth chart the team released ahead of the spring game. Art Norman and Forrest West are battling for one spot, while Mike Rose and Darryl Cato-Bishop are competing for the other.

SYRACUSE
When:
Saturday, noon.
Terrel Hunt vs. Charley Loeb. Hunt has reportedly gotten more of the first-team reps as the spring has gone on, but this is a good chance for both quarterbacks to make an impression on their coaches -- especially with Oklahoma transfer Drew Allen headed to Syracuse in the summer.
Defensive line. There is no question Syracuse has to work on building depth here because of several losses the group has taken. One player to watch is Iowa transfer John Raymon, who has worked at both tackle and end this spring.
Quinta Funderburk. Funderburk sat out last season after transferring in from Arkansas. He has made a few highlight catches during the spring scrimmages to catch some attention, and with Alec Lemon and Marcus Sales gone, Funderburk has an opportunity to become a go-to receiver on this team.

VIRGINIA TECH
When:
Saturday, 3 p.m., ESPN3
Logan Thomas and the offense. So, how does Thomas look under new offensive coordinator Scot Loeffler? His rebound from a mediocre 2013 is going to be huge for the Hokies this season.
The running backs. Nobody has really stepped up to take the starting job, although Trey Edmunds has had a good spring, including 86 yards and two touchdowns in the last scrimmage. JC Coleman, also vying for the job, is not expected to play because of a leg injury.
Brandon Facyson. It's no secret the Hokies need some help in the secondary, and every single report out of Blacksburg points to the freshman cornerback as being the next star on defense.

WAKE FOREST
When:
Saturday, 1 p.m., ACC Digital Network
The receivers. One of the big goals this spring has been to find another receiver to complement Michael Campanaro. Orville Reynolds, who moved from running back, has so far turned some heads with his performance, so keep an eye on him.
New faces. Two players who have drawn raves on defense this spring are defensive linemen Desmond Floyd and Johnny Garcia. In fact, coach Jim Grobe believes his defensive line has been a bright spot this spring because the group has been able to develop some depth.
Competition. This will actually be a scrimmage, not a game, because the Deacs simply do not have enough offensive linemen to split the team in two. At last check, Wake had seven healthy offensive linemen after Cody Preble injured his ankle in the last scrimmage.
October, 5, 2012
10/05/12
2:00
PM ET
NC State's secondary entered this season as a veteran group. It's still a veteran group, but it hasn't performed up to its potential yet this season. That will have to change on Saturday if the Wolfpack is going to have a chance to upset No. 3-ranked Florida State. I spoke with senior safety
Earl Wolff
earlier this week to get his take on the season so far. Here are the highlights of our conversation.
What's happened to you guys? What's going on?
Earl Wolff:
We had a lot of breakdowns in our pass coverage that usually doesn't happen. Things like that went wrong our freshmen year. We didn't expect it to happen against Miami and it did. We watched film and we handled everything we needed to handle. We made adjustments and I feel like we're ready to go this Saturday.
[+] Enlarge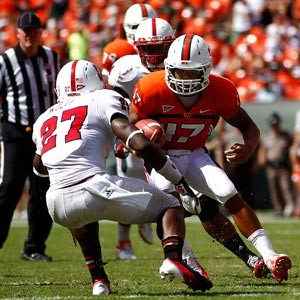 J Pat Carter/AP PhotoNC State's Earl Wolff tracks down Miami quarterback Stephen Morris in the two teams' Week 5 game.
Do you feel like you guys have fallen below your own expectations, considering what a veteran group the secondary is?
EW:
Absolutely. 565 yards, that really hurt. Deep balls over our heads, things that don't usually happen. We feel like we can be the best secondary in the nation, athletically and mentally. When it comes to experience, we're one of the more experienced groups in the ACC, also. That 565 yards, it hurt us. I don't want to say we needed it, but we'll build off of that and try to be better this week. As a matter of fact I can promise you that won't happen again.
I read you called a team meeting. How important was it for you guys to do that?
EW:
Honestly it was very important. I feel like we should've done that last week, before the Miami game. Everybody's heads weren't where they needed to be. People had different things on their minds. I don't know the exact number of penalties, but especially with coach O'Brien, we're not used to that many penalties in a game. I just feel like guys, I don't know if the heat was getting to them, I don't know exactly what it was, but that team meeting we had, we didn't name any individuals, we just talked about what we need to work on as a team. We talked about what we need to do to get better at our weaknesses. Mostly everything that happened was mentally. The staff was in there for part of the meeting and then they left. We just went in there and a couple of guys stood up and said what they had to say. I feel like it was a much-needed meeting and we'll build off of that and get ready for this great game Saturday.
The No. 3 team in the country is coming to your house. How do you get better quickly enough to be ready for this game?
EW:
Just preparation. I feel like a lot of people didn't prepare the way they should have last week. As a matter of fact, we usually call meetings individually on Thursday, we call it ourselves, the players, and honestly, a lot of guys didn't show up. I felt like in the game it showed. When we talked to everybody we said if you're not all in then you can leave right now. A lot of guys have buckled down and they're going to be all in. That's exactly what we need this week. We're going to play one of the best teams in the nation. Luckily we get to play them at home in front of our crowd. We're going to get all this energy from our crowd. We're going to need all the energy we have. We have to go all out to beat Florida State.
What do you feel like the attitude is right now? Do you feel like you guys can truly beat them?
EW:
Honestly we do. A lot of people outside of here even some fans probably think we can't. But I feel like as long as the coaches believe in us and we believe in ourselves, that's really all that matters. For example, last year we played Clemson. A lot of people thought we were going to lose. They were ranked. We came in, we beat them, and it was our crowd. Our crowd gives us energy that we need. Luckily we played them at home. We get to feed off our crowd. We're going to put up a fight for all four quarters.
Have you had to console David Amerson at all?
EW:
Honestly, I did that during the game. Dave doesn't talk a whole lot. He's never been one who does a whole lot of talking. But sometimes you can just look at him and see there's something wrong. At the game I could tell, I don't know what's going on, but this is not like him. I said something to him during the game and then basically afterwards, I was like, 'Man, Dave, it's not just you, brother, we all played bad. We can't point the finger at you. If our pass coverage skills are on point, they don't throw the ball like that. It's not just you. Just stay up.' Dave said thank you. He's a competitor. He'll continue to compete, regardless of what happens. It won't happen again.
It sounds like that meeting helped. Maybe it will be a turning point for you guys.
E
W:
Oh yeah, I feel like that meeting really was what we needed. We'll probably call another one before the game on Saturday, just to make sure. We'll probably call one Thursday, honestly. Make sure everybody gets their rest and just prepares right.
Where is the leadership coming from this year besides yourself?
EW:
I don't really do a whole lot of talking, but I feel like a lot of people aren't talking. So, sometimes I have to speak up and say what I've got to say. In the secondary, it's me,
Brandan Bishop
,
C.J. Wilson
throws his input in sometimes. He doesn't say too much, either. Linebackers it's really just Sterling [Lucas]. On the d-line,
Darryl Cato-Bishop
. He holds everyone on that d-line accountable. I really like that guy. Just leading. Offensively I would say it's
Mike Glennon
.
Mario Carter
sometimes. But I feel like we still have to do a better job when it comes to that. Everybody's still just not on board yet. We have a lot of young guys, and I feel like sometimes they're in the mindset of, 'Shoot, I have two more years, three more years, so if we don't do it this year, than maybe next year.' We're trying to instill in their minds that it has to happen now. We need it now. Imagine if it was your senior year, how would you feel about it? That's how I felt when I was playing. At first I was like, I have this year, and this year. Even though I always gave it my all. I remember Nate [Irving], Audie [Cole], all them boys, saying, it's our senior year. We want to win this. We want you to help us win this. I'm just trying to instill that in their minds and help everybody buy in."
May, 8, 2012
5/08/12
7:30
AM ET
2011 overall record:
8-5
2011 conference record:
4-4 (4th, Atlantic)
Returning starters
Offense: 7; defense: 7; kicker/punter: 2

Top returners
LT
R.J. Mattes
, LG
Duran Christophe
, RG
Zach Allen
, C
Camden Wentz
, QB
Mike Glennon
, RB
James Washington
, WR
Tobais Palmer
, DE
Brian Slay
, DE
Art Norman
, DE
Darryl Cato-Bishop
, CB
C.J. Wilson
, CB
David Amerson
, S
Brandan Bishop
, S
Earl Wolff
Key losses
WR T.J. Graham, WR Jay Smith, TE George Bryan, RT Mikel Overgaard, DT Markus Kuhn, LB Terrell Manning, LB Audie Cole, LB D.J. Green
2011 statistical leaders (* returners)
Rushing
: James Washington* (897 yards)
Passing
: Mike Glennon* (3,054 yards)
Receiving
: T.J. Graham (757 yards)
Tackles
: Audie Cole (108)
Sacks
: Audie Cole/Terrell Manning/Art Norman*/Darryl Cato-Bishop* (5.5)
Interceptions
: David Amerson* (13)
Spring answers
1. Good luck passing against these DBs.
All four starters are back, headed by the record-setting David Amerson, whose 13 picks last season were the most in ACC history. Amerson added another in the spring game. Playing keep-away won't be so easy for opposing quarterbacks, who also have to worry about corner C.J. Wilson, who has returned all three of his career picks for scores.
2. Mike Glennon ready to improve.
It wasn't always easy playing in the shadow of Russell Wilson, but Glennon had a strong finish to the 2011 season and had the benefit (or is it horror?) of facing his own secondary this spring. Look for him to build off his 3,000-yard debut season.
3. Glennon's targets should be fine.
Despite the loss of T.J. Graham, the Wolfpack figure to be OK at wide receiver. Tobais Palmer had five touchdowns last season and should lead a group that, like Glennon, had its work cut out for it this spring going up against a talented secondary.
Fall questions
1. How will the LBs fare?
Graduations, early draft departures and suspensions have hurt the unit.
Dontae Johnson
is the only returner with extensive playing time, but that came at free safety, a position he left behind this spring. Fifth-year senior
Sterling Lucas
figures to enter camp as the starter in the middle.
2. How will Rodman Noel transition?
The athletic Noel has moved from safety to outside linebacker, and a strong jump from him could provide a big boost to the young unit. Look for him to be used all over the field in a hybrid-like role for the Wolfpack.
3. Can Mustafa Greene emerge?
Legal problems and injuries have hurt the running back, who would be returning to play behind an experienced offensive line if he can work his way back into playing time. Greene totaled 869 yards and six touchdowns during his true freshman campaign of 2010.
November, 7, 2011
11/07/11
11:00
AM ET
By
ESPN.com staff
| ESPN.com
NC State entered Saturday's game against rival North Carolina ranked second nationally with 16 interceptions.
The Wolfpack ended the weekend leading the nation with 19.

Earl Wolff, David Amerson and Darryl Cato-Bishop all picked off passes in the 13-0 win against the Heels. The 19 interceptions are the most since 19 in 1998. For Amerson, it was his ninth interception of the season and moved him into a tie for second-place in ACC history in that category, tying 2010 national leader Jayron Hosley of Virginia Tech. Amerson is just two shy of tying the single-season league mark set by UNC's Dre Bly in 1996.
This past weekend, Amerson broke the school record for most interceptions in a season, set by Art Rooney in both 1937 and 1938.
Heading into Saturday's game at Boston College, the turnover margin will be one of the most glaring differences between the teams. The Eagles are tied for No. 106 in the country, and NC State is No. 10.
June, 27, 2011
6/27/11
3:30
PM ET
By
ESPN.com staff
| ESPN.com
As the title indicated ...
[+] Enlarge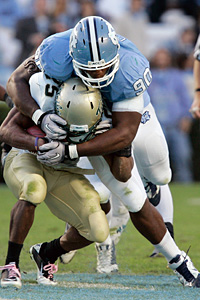 Mark Dolejs/US PresswireUNC returns a veteran defensive line led by end Quinton Coples.
1. North Carolina:
This is a deep and talented group that returns all four starters including Donte Paige-Moss, Jared McAdoo, Quinton Coples and Tydreke Powell. Junior college transfer Sylvester Williams joins three other players who started at least one game: Kareem Martin (three starts), DT Tim Jackson (five starts) and DT Jordan Nix (two starts).
2. Florida State:
All four starters return in juniors Brandon Jenkins, Jacobi McDaniel, Anthony McCloud and Everett Dawkins. Jenkins finished sixth nationally with 13.5 sacks. This group should take another step forward in the second season under coordinator Mark Stoops, but it already has an outstanding base to build on as the Noles ranked third nationally in sacks and 21st in tackles for loss last season.
3. Miami:
The Canes should have one of the better rotations in the ACC. They return starters Olivier Vernon, Micanor Regis and Marcus Forston, who combined for 12 sacks and 30.5 TFLs. It's a deep group, as DE Adewale Ojomo (seven starts), DT Luther Robinson (five starts), DE Marcus Robinson (10 games), DT Curtis Porter (one start), DE Andrew Smith (11 games) and DE Dyron Dye (six games) all have experience.
4. Virginia:
Like Florida State, this is another group that should benefit from being in the second season under the same coordinator. Jim Reid switched the scheme back to a traditional 4-3, and the Hoos return a veteran group led by Matt Conrath (33 starts), DT Nick Jenkins (29 starts), and DE Cam Johnson (22 starts).
5. Georgia Tech
: The Yellow Jackets have a better understanding of what is expected from them in their second season in Al Groh's 3-4 defense, and all three starters return in ends Izaan Cross (41 tackles) and Jason Peters (52 tackles), and tackle Logan Walls. Defensive tackles Shawn Green, T.J. Barnes and J.C. Lanier will also compete for playing time along with DE Anthony Williams.
6. Maryland:
The Terps should be solid up front with the return of Joe Vellano, A.J. Francis and Justin Anderson. Francis is the veteran of the group (19 career starts) and had 44 tackles and 2.5 sacks last season, but Vellano is also an all-conference candidate. The Terps have good depth with Zachariah Kerr, Isaiah Ross and Bradley Johnson.
7. Virginia Tech:
This is a group that could and should jump a few spots by the end of the season. On paper, they've got to replace three starters, but this spring the group proved capable of getting the Hokies back to their days of dominating on defense. Based on potential, they should be ranked higher, but based on lack of dependable, proven depth, they could even fall lower.
8. Clemson:
It will be difficult for the Tigers to replace the production of Da'Quan Bowers, but the defensive line is in capable hands with Andre Branch and Brandon Thompson, and Malliciah Goodman has embraced the challenge of taking Bowers' spot. Branch was second on the team with five sacks last season and 8.5 tackles for loss. Thompson had 40 tackles, including six for losses. Defensive tackle Rennie Moore, DE Kourtnei Brown and DT Tyler Shatley also have experience.
9. NC State:
Defensive tackle J.R. Sweezy is one of the underrated players in the ACC, and he returns along with defensive end Jeff Rieskamp. Several players got significant snaps last season, though, including DE Darryl Cato-Bishop (13 tackles), DT Markus Kuhn (17 tackles, and DT Brian Slay (20 tackles, two TFLs).
10. Wake Forest:
The Deacs return three starters including Tristan Dorty, Kyle Wilber and Zack Thompson. Thompson only started five games last season, but after spring practices, coach Jim Grobe said Thompson has all-conference potential.
11. Boston College:
Starters Max Holloway and Kaleb Ramsey return, along with four other linemen (DTs Dillon Quinn and Conor O'Neal, and DEs Dan Williams and Kasim Edebali) who each started at least two games last fall.
12. Duke:
Until proven otherwise, this is where the Blue Devils belong, but Rick Petri was hired to change that. He'll have veteran nose guard Charlie Hatcher (24 career starts) to work with, and sophomore Sydney Sarmiento, who started 11 games last season. Junior Kenny Anunike, Justin Foxx and DEs Desmond Johnson and Jamal Wallace could also see playing time.
March, 12, 2010
3/12/10
10:30
AM ET
By
ESPN.com staff
| ESPN.com
Sure, Virginia Tech's defensive line has some issues to work out, but nobody in the ACC has to deal with replacing all four starters up front like NC State. The good news for the Wolfpack is that there is some experience to work with. The bad news? That experience totals a combined six starts among four players.
Here's a look at one of the areas where there will be the most competition in the ACC this spring, and who's in the mix:
DEFENSIVE END
Audi Augustin (6-2, 260, *Sr.): He has played in 36 career games but has been stuck behind Willie Young. Until now. Last year Augustin made 11 quarterback pressures, the fourth-highest total on the team. He also blocked a field goal in the win over Maryland, but missed the season finale with North Carolina with an injury.
Jeff Rieskamp (6-3, 235, *Jr.): Missed last season with a sports hernia and had surgery in October.
Michael Lemon (6-4, 267, *Sr.): Showed promise last year despite joining the team just two weeks before the season started and should contend for a starting job.
David Akinniyi (6-4, 255, *Sr.): He enrolled in January and has one year of eligibility remaining. He transferred from Northeastern University, which announced in November that it was cutting its football program.
Darryl Cato-Bishop (6-4, 281, *Fr.): Redshirted last year.
Rickey Dowdy (6- 2, 240, *Fr.): Redshirted last year.
DEFENSIVE TACKLE
Natanu Mageo (6-3, 285, Sr.): After transferring from New Mexico Military Junior College last year, Mageo played in all 12 games as a backup and intercepted a pass at Florida State.
J.R. Sweezy (6-3, 295, *Jr.): The backup earned one start against Gardner-Webb and played sparingly in all 12 games. He was in for a season-high 37 snaps against Virginia Tech, when he had three tackles, including an eight-yard sack and three quarterback pressures.
Markus Kuhn (6-4, 303, *Jr.): He added about 20 pounds while redshirting last season, but had three starts in 2008.
Brian Slay (6-3, 290, So.): He gained valuable experience as a true freshman, playing in 10 games for 115 snaps. He made three tackles in just nine plays against Boston College. Six of his eight quarterback pressures came in the last three games.