December, 4, 2012
12/04/12
9:00
AM ET
I now present Part II of my conversation with new NC State coach Dave Doeren, who discusses his offensive philosophy and why he believes he has reached a destination job. If you missed Part I, you can read it
right here
.
In terms of your offense, you've had dual-threat quarterbacks at Northern Illinois, but NC State has been a place with more of a pro-style offense. What's your philosophy on the offense you want to run?
DD:
I've got to recruit some quarterbacks that fit the other system if we're going to go in that direction. I'd like to see who my offensive coordinator is before I tell you what I'm going to do. I'm working the phones on coaching staffs and recruits at the same time. I love what we did offensively at Northern but it also fit our personnel. So if we're going to go that route with the spread option, multiple formation and motion type system that I like, then obviously I've got to find a couple key people to fit it.
[+] Enlarge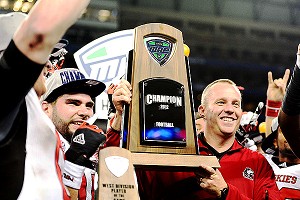 Andrew Weber-USA Today SportsDave Doeren is no stranger to winning league titles. Now can he lead NC State to an ACC crown?
You were able to elevate a good football program into a championship program. You've got a good program here. What does it take to elevate a good program into a championship program?
DD:
It takes a couple things. 1. You've got to have a united coaching staff that's guiding your team the same way. I like to say that every guy in the room is the head coach at his position and your job is to get my message to those kids and get them to do it the right way. That's what I want. I felt like we were nine strong at Northern. I thought our assistants were fantastic coaches and good men and leaders, and they fit. Now it's my job to do the same thing here. Some of those guys from there possibly could be coming this way and some of them may stay. But at the end of the day I've got to surround the team with assistant coaches who are great teachers and men. Secondly, it's the chemistry of your football team. How do we get from 7-5 to nine, 10, 11, 12 wins, in today's society trying to get the guys to understand the team matters more than themselves is a huge deal. That will be my goal here, is to provide that leadership and help them get there.
You have got very formidable competition in the Atlantic with Florida State and Clemson. I have to think your 17-1 conference record in the MAC was a huge selling point, given how NC State has fallen short in that regard. How do you begin to challenge those two teams at the top?
DD:
Well, obviously you've got great competition. I'm assuming that the body of work I had there helped me. I know there were a lot of things that were important to the school and to Debbie Yow the athletic director. It seemed like we saw eye to eye on a lot of those concepts. Obviously if you want to get to the championship game, you have to win your side of the divisional race. With Florida State being the returning champs and Clemson having the year they did, we've got our work cut out for us.
You called this a destination job in your news conference. Why do you feel that way?
DD:
It's a place, quality of life-wise, that I just love. We vacation in North Carolina, we've brought our kids out here to fish. It's a place I really like. You can recruit in-state. You don't have to go far. We'll obviously go to Florida because of my ties there, but the North Carolina, South Carolina regions are rich regions for players. When you can say that you're in a great conference that has a great place to recruit to, and you like the geography of the state and you have great support, as long as I'll continue to get the same support that I'm getting now, why would you leave? That's just how I feel. There's a lot of hard work ahead of us here, there's no doubt. But I just feel like it's a place I can attract not just players but assistant coaches to want to be part of for a while.
December, 3, 2012
12/03/12
1:00
PM ET
I had a chance to catch up with Dave Doeren after he was officially introduced as the new NC State coach. We covered a lot of ground so I am splitting our conversation into two parts. Today focuses on his decision to leave Northern Illinois with a BCS berth at stake, and how he plans on attacking recruiting in a state where he has no ties.
What has the last 48 hours been like for you?
[+] Enlarge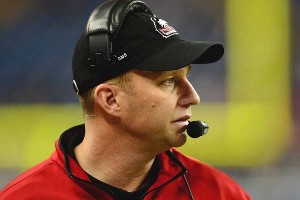 Andrew Weber/USA Today SportsCan Dave Doeren lead NC State to a fourth straight bowl game despite losing numerous key members from the 2012 squad?
DD:
It's been crazy. I'm still trying to compartmentalize the whole thing, but it's still extremely exciting. The thing I love about this profession, you go through highs and lows daily sometimes. That game was a great football game between two teams that really wanted to be champions. I was fortunate to be with a bunch of kids who found a way to make one more play. The celebration we had in the locker room, and all the fun we had throughout the season, I felt very proud of the body of work we had put together for the two seasons I was there. Not just on the field, but the Top 5 APR. It's a great place, and they gave me my first opportunity to be a head coach, so it's a special opportunity for me. But then to get a chance to have another challenge at NC State in a state that I love geographically. I spent a lot of time here recreationally with my family. I felt very blessed to have that opportunity, to be at a place that's been in 25 bowl games, that has some of the best facilities in college football but at the same time hasn't met their goals yet and hopefully I'll be the guy to get them there.
When you were interviewing, did you know NIU would have a shot at the Orange Bowl?
DD:
I knew there was a good possibility. I knew some teams had to lose, obviously but I also knew that they'd done enough that if that happened, they'd get in. I'm happy for them. They have a Heisman candidate at quarterback, that helps. And they're a Top 20 team, offense, defense and special teams so that helps that they're balanced. I knew taking this job might cost me a chance to go to that game, but at the same time, I felt the pride that if they got in it, that I was part of the reason they landed there.
Did you ever consider sticking around to coach in that game?
DD:
I never thought that was something that would work. I know I have a big job ahead of me here and I need to recruit, I need to assemble a staff, I need to get everything organized for the players when they return from their Christmas break. I need to really dig in on what the issues are and how to try to solve them as quickly as possible. But I will be a fan for sure. If I can be on the sideline or the stands or whatever and make a personal appearance, I will definitely try to do that.
Now on to the job, you mentioned you have ties to Florida in recruiting. Do you have any to North Carolina, and if you don't, how do you plan on building those in a couple months to assemble a class.
DD:
Obviously, that's a challenge. I had never worked in the state of Illinois, either. What you do is you try to assemble a staff of guys that are great recruiters. Not necessarily that they have to had recruited North Carolina. When I was an assistant coach, I recruited Los Angeles, and did a great job. Then I got moved to Dallas and did a great job, and then I got moved to South Florida and I did a great job. I think it's about relationships. You can recruit anywhere if you're willing to put the time and the work and the effort in. You don't just walk in in January and sign a Top 20 class in-state. That doesn't happen. The staff I put together is going to be more judged probably on how well we did in a year, when we get 12 months into a class. Right now it's more about making sure the kids who are committed want to come here, that they still feel like we want them. There's only a few spots left. But we do need to build huge relationships for the future and get on all the young kids now and build the relationships now so next year we do have a shot at them.
Athletic director Debbie Yow said she wanted somebody to bring in Alabama-type recruits into NC State. What do you think about that possibility with where the program is and what you can do?
DD:
When you turn on the TV and you see a lot of great players from the state of North Carolina starting as freshmen at Georgia and Florida, so if we can get some kids who don't want to leave home, you feel pretty good about meeting her expectation. But that's not something that happens overnight, either. You have to recruit those kids from when they're ninth graders on. You want to have that whole feel where mom and dad can get in the car and drive an hour and watch me do my thing. Why should I go eight hours? That's what we have to do here. We have to build that kind of continuity within the state, and with the high school coaches, to feel comfortable with the staff we put together as well and build the relationships there. I'm going to take my time. I don't think anything has to be rushed. I know I'll be judged in time on the body of work we put together, but we'll do everything we can to get the best class we can in the next few months and move forward from there.
Does knowing she said that put any extra pressure on you?
DD:
I put pressure on myself already. I'm not going to be satisfied with a poor class. I've also been places where classes aren't ranked high and they end up being the Rose Bowl team. I think the development, and who you bring in, and how they fit your systems is just as important as how many stars they have on a recruiting service. A kid might be a five-star to me and a two-star to somebody in another school. It's just the systems you run, and the strengths you have and the weaknesses you have in your program have to be answered in recruiting and development. Those strengths are all different to different people.
Check back tomorrow for Part II, where we discuss offensive philosophy and why he called NC State a "destination job."
ACC SCOREBOARD
Saturday, 12/20
Monday, 12/22
Tuesday, 12/23
Wednesday, 12/24
Friday, 12/26
Saturday, 12/27
Monday, 12/29
Tuesday, 12/30
Wednesday, 12/31
Thursday, 1/1
Friday, 1/2
Saturday, 1/3
Sunday, 1/4
Monday, 1/12
Tweets from https://twitter.com/ESPNCFB/lists/acc