ACC:

Dave Doeren QA 030413
March, 4, 2014
Mar 4
2:00
PM ET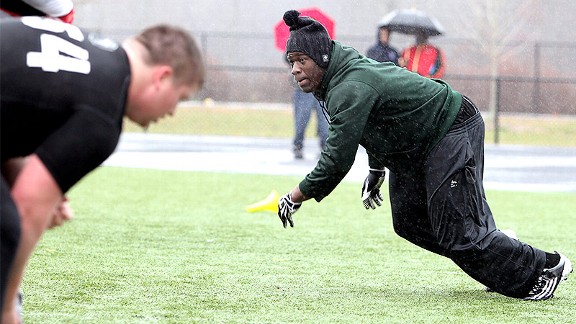 Miller Safrit/ESPNKentavius Street is one of five four-star rated prospects in NC State's 2014 recruiting class.
Here is Part 2 of our conversation with NC State second-year coach Dave Doeren.
Where are you at health-wise with spring around the corner?
Dave Doeren:
We've got a couple guys that had surgery during the last year.
Kenton Gibbs
had an Achilles last fall so we'll be really careful with him at defensive tackle.
Jarvis Byrd
is trying to get his sixth year, had an ACL injury in one of our games, will not go through drills in spring, but he's doing really well. Those are the two guys that right now I know will not do crossover team-type things. And everyone else is pretty much on full-go.
Ranking-wise, your recruiting class this time around is much-improved. I know building depth in the trenches was important, but what's your biggest takeaway from this group?
DD:
There were a bunch of players that filled needs obviously. The thing that we really were trying to get done was get guys that were from winning programs. If you add up all the playoff games from this recruiting class, I think there were 66 games this year that they played in the postseason, and nine of them were state champs, 19 of these kids were team captains. So there's just that ability to bring a kid in that's used to winning, that's trained to win, as a leader of his team. And those kind of things, the intangibles of that, with it and the talent that a lot of them possess I thought made it a very good class. And those are things that don't go into Rivals rankings. It's just my experience when you get a player that understands the sacrifices that need to be made to be a winner, it's a lot easier to build a program than when you're taking some guys that are used to accepting losing. And that's one thing they will not do.
Nine of those guys are enrolling early. How important is it to get a lot of those bodies ready this spring, and how much more flexibility does that offer you?
[+] Enlarge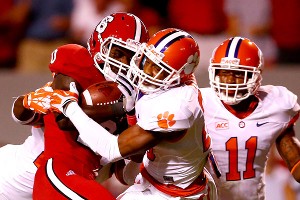 Streeter Lecka/Getty ImagesDave Doeren will get leading rusher Shadrach Thornton back next season.
DD:
It's nice. We've got nine new guys on campus. And for them, they're going to be so much further along, not just because they know the playbook, but because they just went through a very challenging offseason program and the growth that they'll have from a mental toughness standpoint is exponential, I think. And the way that they'll be a part of the team is different just because they know these guys now. The rest of them come in and just know their class. These guys know the team. From a coaching standpoint it's easier because it creates competition at certain spots that wouldn't be there this spring. Not just because we like to see guys fight for jobs, but because now, a returning player -- we played 11 freshmen last year, so now some of those guys have someone standing behind them that want their job immediately. It creates competition at those spots. My philosophy is pretty simple: You take what you have and you coach it, and then you develop it in the weight room and in the film room and you make it as good as you can. But then when you bring in a player that wants that guy's job, now both of those players increase their ability to produce. And whoever wins the job you find that your level of production has gone up. And without competition I just don't think you have the same increase in play-making that you need on your team. So to have that many guys coming in, it's huge, especially two of them are offensive linemen and two of them are wide receivers, and those are two areas we were excited to have competition at.
Any thoughts or reaction with Louisville coming into your division now as an opponent you guys are going to have to face every year instead of Maryland?
DD:
Great for the league to have a team of that caliber. And not just a team, an athletic department; they're very balanced in the athletic department. And obviously I have no idea how they'll fit in the league. I know the league they were in, they were dominant. And they have tremendous talent, and they'll have a lot of guys from that team in the NFL. To have them on our side of the division obviously makes it even stronger. I think we play them, Florida State and Clemson all in the same month. I don't know how many teams play three top-15 teams all in one month, but it definitely makes our side of the division extremely strong.
I know there's been a lot of whispers and a lot of headlines this offseason just about possible nine-game (conference) schedules, possible division realignment. Can you just give me your thoughts on some of those issues as a coach in this league and where you think things may be headed?
DD:
I know there's been, as you said, a lot of talk about the nine games, and there's multiple models for it. I know the ADs tabled it. I'm really not sure which direction it's going. I think you've got a lot of conversations going on out there. You have what's best for your own team and you have what's best for the league from your team's perspective, and then you have TV people that say what's best for TV. So there's a lot of things being in there (laughs), and then you have the new model for a playoff system. And it'll be interesting to see which direction it goes. The thing that makes our league different from others in my opinion is you have to play Notre Dame every so often. So if you go to a nine-game schedule, you're playing nine plus Notre Dame. So that's an interesting dynamic, because some of our teams in our league, four of them already have SEC crossover games. So they can have nine games plus their SEC rival plus Notre Dame in one year, and just one nonconference game on the schedule. And I think that would be difficult on a team.
March, 4, 2014
Mar 4
10:30
AM ET
NC State opens spring Wednesday — a day later than expected because of weather — to kick off Year 2 of the Dave Doeren era. As the Wolfpack go about moving beyond their 3-9 season from 2013, we talk to Doeren to see where the program is at as it readies for 2014.
Check back this afternoon for Part 2 of our conversation.
As you enter your second spring here, what is your biggest challenge in going about erasing the bad taste in your guys' mouths from the way last season ended?
[+] Enlarge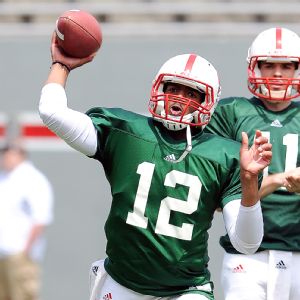 Lance King/Getty ImagesJacoby Brissett's talent and take-charge attitude gave Dave Doeren the confidence necessary to name him NC State's starting quarterback.
Dave Doeren:
Well these guys don't have to be reminded about it, to be honest with you. It's been a really focused offseason. The guys have got a lot of purpose in their actions, and we were a really young and inexperienced and an injured team the year before, and guys went into the offseason and didn't want to have the same experience, and we've done a lot to focus on the things that we need to be better at. But at the same time, it's not a deal where you stand around and consistently talk about what happened last year. I'm a big believer in learning from the past so you don't have to relive it, but at the same time I think there's a point where you kind of focus on what you're doing today and how you're doing it and why you're doing it, not just consistently reminding about negative things, you know?
For you going into your second year here, having last year and a whole recruiting cycle under your belt, what would you say is the biggest difference?
DD:
It definitely helps to be more precise, I think, in exactly what you're trying to replace on your roster. When you go out recruiting a class and you haven't even coached a kid, it's difficult; you're really looking at numbers and 'losing this many of these guys.' But after you coached them for a year you really know this is exactly what we're missing. This is exactly what we have to make ground up in in this league, and here's where the roster is light. And even though there might be numbers there, you don't know the talent because you haven't coached it yet. The ability to be precise, I think, and obviously the routine -- just knowing your surroundings better, knowing the the people, knowing the players, the high school coaches in the area and all the things that go with walking in for a second year.
You knew the margin for error would be pretty thin going into last year. Games like the Clemson game and a couple others where you were close in the fourth quarter certainly come to mind. How do you turn those into building blocks for these guys moving forward?
DD:
We had seven games last year that we lost where in the fourth quarter we were either in the lead or within a touchdown at some point in the fourth quarter. And some of those ended up being blowouts where we lost. But it's easy and with them it's 'All right, here's how close you were, but here's the reason that we didn't finish.' And there's a lot of reasons. For our guys it's I think one thing when you go 3-9 and another when you're able to turn on film and show them how close you were to not being in that situation. And for the guys that played it's very memorable for them because they know things they could've done different. For the guys that were watching as redshirts, I think it's a great learning experience. It's been a huge focal point of our offseason program -- being, I don't know if the right word's 'tougher,' but more resilient and having a greater ability to focus when you're tired in the fourth quarter.
You were quick to declare Jacoby Brissett your starter for 2014. What has he shown you in the past year behind the scenes, and what are you looking forward to seeing out of him this spring?
DD:
He came in last winter, so he went through spring ball and got a lot of reps. There were only two quarterbacks on the roster when I got hired. So we watched him for 15 practices and he got a ton of reps. And then in fall camp he got some reps because you can't let the guys get every throw. And the entire season he was our scout team quarterback, and the way he led that unit, and the things that he did in our locker room -- he personally drove himself to every game because he can't travel or play when he was ineligible. He drove to Tallahassee to see us play Florida State and was in our locker room. He couldn't make it his team because he wasn't the guy, but he did everything he could so they that knew it was his team next year. I thought he showed remarkable maturity, the way he handled it, because that's difficult when you're a player of his caliber and you can't play and you're watching and you know that you couldn't be out there. Other guys would pout and kind of maybe even have some depression, and he was the opposite. Every day he showed up with a just really positive, excited attitude. He studied the game plan each week like he was playing and he would talk to (quarterbacks) coach (Matt) Canada after games about things he saw and things he wished he could've done. He's very excited to play. And I don't want to put undue pressure on him -- he needs to go out and make the plays now -- but there was no question in anyone's mind, not just the coaching staff but the players, that it was going to be his team this year.
Going off that pressure point, what do you think it does for him to know that he's the guy?
DD:
It would probably be a good question for him. I would think as a player you have extreme confidence knowing that your coach thought that way about you, but I think he's known that. ... He's focused more on what he has to do and really how much he can help the guys around him.
ACC SCOREBOARD
Saturday, 12/20
Monday, 12/22
Tuesday, 12/23
Wednesday, 12/24
Friday, 12/26
Saturday, 12/27
Monday, 12/29
Tuesday, 12/30
Wednesday, 12/31
Thursday, 1/1
Friday, 1/2
Saturday, 1/3
Sunday, 1/4
Monday, 1/12
Tweets from https://twitter.com/ESPNCFB/lists/acc