March, 26, 2014
Mar 26
10:30
AM ET
In the picture he keeps in his locker, Georgia Tech safety
Jamal Golden
is standing next to his mother, Cynthia, the two of them smiling. It's a reminder of a promise he made to her before she died unexpectedly after a stroke during his freshman year.
"I pray before every game," he said. "I try to talk to her before every game. I go out there and I give it my all, just for her. I told her before I came to school that I'm going to make something of myself while I'm at school, that 'I'm not going to let you down.' I'm sticking to that promise. I'm going to do what I have to do to make her proud."
[+] Enlarge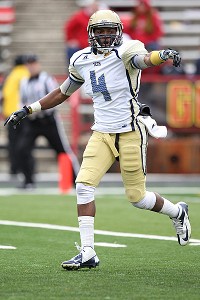 Mitch Stringer/USA TODAY SportsGeorgia Tech return specialist/DB Jamal Golden expects to be at full strength in 2014.
Odds are, he already has.
After an emotionally draining freshman year in 2011, Golden emerged as one of the nation's top kick and punt returners in 2012. Even though he didn't play one snap on offense, Golden finished that season with 952 all-purpose yards. As a true sophomore, he was the only player to rank in the top 10 nationally in both punt return average (sixth/14.59) and kick return average (10th/28.35). The future looked bright, but just as he was beginning to heal emotionally, his career was derailed three games into the 2013 season by a shoulder injury.
Now, after having been granted a fifth year of eligibility and a
medical hardship waiver
by the NCAA earlier this month, Golden is finally healthy again and practicing this week, giving Georgia Tech a much-needed boost to the return game and a veteran in the secondary. With two seasons of eligibility remaining, there is still plenty of time for the charismatic redshirt junior to accomplish his goals of becoming a more complete player -- a consistent difference-maker in the secondary, not just the return game -- and fulfilling a promise.
"I think he's going to come out here playing with passion, playing with a purpose," defensive backs coach Joe Speed said. "He's got a tattoo of his mom on his shoulder. It's a daily reminder for him that not only is he doing it for his Georgia Tech family, but also his mom and his dad."
Cynthia and Henry Golden were married 33 years before she died on Jan. 23, 2012. Jamal said it was the first time he had ever seen his father cry.
"They thought she was going to be OK," Jamal said. "Then the next thing we knew she went into a coma and never woke up from it."
As a family, Henry, Jamal and his brother, Twoine, agreed to stop Cynthia's life support.
"I just couldn't take seeing her suffer like that," Jamal said. "She was pretty much already gone. The only thing that was keeping her heart pumping was the ventilator system. We decided together as brothers to let her go. I know she's still watching, though."
Golden said about half of the football team attended his mother's funeral in nearby Wetumpka, Ala., and it took "a lot of encouragement" from his dad and brother to get him through the rest of the school year. The business administration major missed about a week and a half of classes, which added to the stress.
"Jamal is part of our family," Speed said. "Same thing with his parents. So when he lost his mom, we lost a member of our family as well. We wanted to make sure he knew we were here for him."
With their support, Golden started 2013 strong with 12 tackles, a forced fumble and 151 yards on returns through the first three games. He suffered a season-ending injury, though, in Week 3 when he collided with former UNC tight end
Eric Ebron
on the third play of the game. His shoulder popped out, and in spite of repeated attempts to reset it, Golden was sidelined for good in the third quarter.
Since then, he has been going through rehab, training, studying film and has gotten stronger.
"

I want to be one of the main leaders on the defense, especially being on the back end, getting everyone lined up so we can play as a team.

"

-- Georgia Tech DB Jamal Golden
"I feel like by the end of spring practice, I'll be back where I left off," he said. "My expectation is to get my team the ball as much as I can, not only by me getting interceptions or fumble recoveries, but helping my teammates get in the right positions to get turnovers, too. I want to be one of the main leaders on the defense, especially being on the back end, getting everyone lined up so we can play as a team."
And a family.
Golden talks about his mom openly and with ease now, including at Christmas, when he shares stories with special teams coach Dave Walkosky about the favorite meals she used to make.
"I love him dearly," Walkosky said. "He's very humble. He's a very unselfish player, and he'll do whatever the team needs him to do. He makes decisions that are right for the play, for the game, for the team, and that's priceless when you're talking about a guy who's going to touch the ball and make decisions. He seems to always make the right decision, and we put a lot of confidence in him."
No decision, though, was more difficult than the one he made with his brother, Twoine.
"It makes you grow up quick," Speed said. "It recalibrates your priorities and you realize the true meaning of life and what's important. I think a lightbulb has gone on for him, knowing what's important and knowing to take advantage of each opportunity every day. I see his daily work ethic. He makes sure he goes to class, does everything in the classroom, he watches film on his own. He'll grab coaches to get any knowledge he can, and he knows that's going to be the difference in the game. He's got some physical talent, but being a student of the game, that's what's helping him out. Just having that maturity level go up, that's going to help him."
It will also help the Yellow Jackets this fall, and that's a promise.
October, 10, 2012
10/10/12
11:00
AM ET
Georgia Tech secondary coach Charles Kelly will continue his role and add the interim defensive coordinator title following the firing of Al Groh, the school announced on Tuesday afternoon. The Jackets will also make the following staff changes:
Andy McCollum moves from defensive line coach to inside linebackers.
Joe Speed moves from inside linebackers to outside linebackers.
Dave Walkosky will continue to oversee special teams, but will also coach defensive line.
Kelly, who is in his seventh season at Georgia Tech, took over the Jackets' secondary in 2010 after coaching the cornerbacks in 2008 and 2009. He was a former defensive coordinator at three different schools, including Nicholls State, Henderson State and Jacksonville State.
"I just felt he'd do a good job," said coach Paul Johnson. "He's organized. I know he'll put in the time, the effort and the work. And everybody is going to be contributing. It's not like we've got one guy going in, this is the system, this is it. They'll all have some good ideas. I spent a couple of hours with them [Tuesday]. They'll mesh it and get what they want to do. I'm not going to mandate something. I haven't to this point. We'll let them work it out."
In the first practice without their former defensive coordinator, the Jackets were "flying around," according to Johnson, who told reporters he spent the bulk of the day with the defense.
"I just thougth it might be a good shakeup," Johnson said of McCollum's move. "When you're going to shake things up, get another set of eyes to see. He might not have the same impression of those linebackers that the other guy did. Same with d-line.
"I'm excited," Johnson said. "We've got a lot of work to do, because we're changing a lot of stuff, but I'm excited about it."
August, 30, 2012
8/30/12
10:15
AM ET
With all 12 teams playing in Week 1, including two conference games, there will be plenty to watch in the ACC, from Friday through Labor Day. Here are 10 things to keep an eye on, in no particular order:
1. NC State's secondary vs. Tennessee quarterback Tyler Bray.
The Pack will be without starting cornerback
C.J. Wilson
, who has an "eligibility issue," according to coach Tom O'Brien, but All-American
David Amerson
returns to help the Pack against Bray. Despite missing five games last season with a fractured thumb, Bray threw for 1,983 yards and 17 touchdowns.
2. Clemson in the trenches.
Much of the focus leading up to the Auburn game has been on how Clemson will survive without suspended leading receiver
Sammy Watkins
, but more important is how Clemson will fare up front, on both the offensive and defensive lines. Depth on the offensive line remains a concern, and overall, Clemson had to replace six starters up front from last season.
3. True freshmen in College Park and Chestnut Hill.
Maryland and Miami both will be depending heavily on true freshmen in their season openers. The Terps will have true freshman
Perry Hills
starting at quarterback, are likely to use two freshman running backs and will use receiver
Stefon Diggs
in several roles. Miami has more than a dozen freshmen in its two-deep.
[+] Enlarge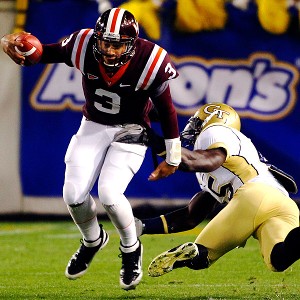 AP Photo/John BazemoreGeorgia Tech's Jeremiah Attaochu gets another chance to bring down Virginia Tech QB Logan Thomas this weekend.
4. Special teams in Blacksburg.
Georgia Tech's group was abysmal last season, but the Jackets hired special-teams coach Dave Walkosky, the first special-teams coach Paul Johnson has hired during his tenure in Atlanta. The Hokies are trying to get Beamerball back, but questions in the kicking game persisted through summer camp.
5. Jeremiah Attaochu vs. Logan Thomas, Part 2.
In this game last season, Attaochu was about to complete a third-down sack of Thomas but couldn't bring the lumberjack down. Attaochu let his frustration and adrenaline get the better of him, and took a swing at Thomas, drawing a personal foul. The two have been friendly since, but getting pressure on Thomas will be key in this game.
6. Florida State's offensive line.
If there is one reason not to snooze on the Murray State game, this is it. The Seminoles showed a lot of progress up front this offseason, but they must continue it if FSU is going to live up to the expectations this season.
7. ACC vs. SEC.
The ACC hasn't had a winning record against the SEC since it went 5-4 in 2003. The ACC could help itself change that this weekend with a 2-0 start against the SEC with victories by NC State and Clemson in the Chick-fil-A Kickoff.
8. North Carolina's tempo.
We finally get to see the "Fed Spread" in Chapel Hill, as UNC will unveil its new up-tempo spread offense under first-year coach Larry Fedora. How many more plays will the Tar Heels be able to run, and how well will they execute them? Bottom line: How fast can this team score? Time of possession could be deceiving.
9. Duke's backups.
The Blue Devils will be missing about a dozen injured scholarship players against Florida International, including receiver
Blair Holliday
, tight end
Braxton Deaver
, defensive tackle
Jamal Bruce
, safety
Jordon Byas
and linebacker
Kelby Brown
.
10. Virginia's revamped secondary.
UVa has no seniors in its secondary after having three senior starters last season. Only three other schools (Florida State, LSU and North Texas) have a senior-less secondary. More specifically, there are no upper-classmen at the cornerback position. Sophomore
Demetrious Nicholson
is now the elder statesman of the group.
August, 27, 2012
8/27/12
11:00
AM ET
There was plenty of news in the ACC this summer, some of which has affected the order of the power ranking since it was last released post-spring. The biggest difference is at the bottom, where Maryland has sunk following the season-ending injury to starting quarterback
C.J. Brown
. The first five teams remained the same, but UNC got a small boost after positive reviews by the staff and players who were learning the new systems and terminology of first-year coach Larry Fedora.
This list will change with the season, but for now, here is the starting point for how the ACC teams stack up heading into Week 1:
1. Florida State:
There is no excuse for coach Jimbo Fisher and his staff not to take advantage of the ubertalented roster this year and run away with it. The biggest questions remaining are how the Noles will handle the loss of cornerback
Greg Reid
, and how much better the offensive line will look than it did a year ago.
2. Clemson:
The Tigers will be without suspended starting receiver
Sammy Watkins
for the opener against Auburn, but there are enough other options that Clemson's offense should still be productive. The depth on the offensive line remains a question, though, and the pressure is on first-year defensive coordinator Brent Venables to help Clemson fans forget the Orange Bowl.
3. Virginia Tech:
The Hokies are confident in the speed, talent and athleticism of their young running backs and receivers, but the lack of experience remains a concern. Bud Foster's defense should again be the strength of the team, particularly early, but with Georgia Tech on the schedule for Labor Day, there's no time for a tuneup.
4. NC State:
The Wolfpack kicks off the season against Tennessee in the Chick-fil-A Bowl trying to sustain the positive momentum with which it ended 2011. Coach Tom O'Brien has said this is the deepest, most talented team he has had since he was hired in Raleigh, but will it be good enough to beat Florida State and Clemson in the same season?
5. Georgia Tech:
The Jackets could sneak up on some teams this year, as they have one of the best offensive lines coach Paul Johnson has had since he was hired there. Expectations are higher for the defense in Year 3 under coordinator Al Groh, and the hire of assistant Dave Walkosky should help the special teams.
6. North Carolina:
The Tar Heels have the potential to play spoiler this year, or they could have a particularly bumpy ride given the complete overhaul in staff, schemes and philosophy. The players have bought in, though, and quarterback
Bryn Renner
adapted well to the spread offense this summer.
7. Wake Forest:
Coach Jim Grobe has some hidden gems on this team, as players like receiver
Michael Campanaro
, nose guard
Nikita Whitlock
and cornerback
Kevin Johnson
are all-conference candidates. Questions still remain, though, about the offensive line, and two league games in the first three weeks won't be easy.
8. Virginia:
Coach Mike London is expected to release a depth chart today naming his starting quarterback, but the bigger concern should be a secondary that has to replace three starters. The Hoos have two of the best offensive tackles in the country, though, in
Morgan Moses
and
Oday Aboushi
. They could pave the way for
Perry Jones
to have a 1,000-yard season.
9. Miami:
Quarterback
Stephen Morris
earned the starting job this summer, and his leadership will be critical to a young offense that must replace seven starters. The Canes will continue to play with the NCAA investigation hanging over their heads, but those within the program say it hasn't been a distraction.
10. Duke:
The Blue Devils have one of the most talented quarterbacks in the ACC in
Sean Renfree
, but they need to stay healthy and show improvement on the defensive line in order to have a chance at a bowl game. Duke has a legitimately tough task in getting past FIU in a game that will set the course for its season – and possibly postseason.
11. Boston College:
The Eagles couldn't seem to get a break this offseason, as injuries piled up and athletic director Gene DeFilippo announced his retirement. Coach Frank Spaziani enters this season with the hottest seat in the ACC. It's only Week 1, but the game against Miami is a must-win for the Eagles.
12. Maryland:
Barring something catastrophic, the season-ending injury to quarterback C.J. Brown was arguably the worst thing that could have happened to the Terps this offseason. The offense will be in the hands of true freshman
Perry Hills
, and Maryland will adjust to two new coordinators in its quest to turn around last season's 2-10 finish.
July, 26, 2012
7/26/12
12:00
PM ET
By
ESPN.com staff
| ESPN.com
June, 22, 2012
6/22/12
2:30
PM ET
Georgia Tech coach Paul Johnson has gone from one extreme to another -- from no special teams coach to one dedicated entirely to that phase of the game. No other position group or meetings to worry about. Why? Well, for starters, two field goals were blocked last season, including one that was returned for a touchdown. A fumbled punt return led to a Miami touchdown, kickoffs were returned from deep in the end zone, there were two punts of less than 20 yards, and three missed field goals against Utah.
Enter Dave Walkosky -- special teams guru. (His first college play was a blocked punt.)
[+] Enlarge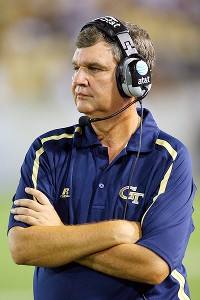 Kevin Liles/US PresswirePaul Johnson and the Yellow Jackets have put an emphasis on special teams this season.
Since his days as a walk-on at Toledo, Walkosky has had a soft spot for the importance of special teams. Never before, though, has he had a chance to focus all of his attention on it. At the collegiate level, the special teams coaches are also usually assigned a position group. Walkosky has also worked with defensive backs and linebackers throughout most of his career.
Not anymore.
"The commitment that he's made in hiring me as a special teams coordinator, and doing it just like the NFL … I don't know if any other team in the country has that," Walkosky said. "The opportunity that I have that Paul gave me is to study our opponent, study our film. That's what's an advantage for Georgia Tech in that I can study more film, study our opponent and find weaknesses, things like that. Now, does that equate to being better? I hope so. That's something I'm excited about, the position and the huge commitment he made. I'm fired up about it. Of course everyone expects things to be better, and I'm OK with that. I expect things to be better, also."
Walkosky was hired after one season (2011) as linebackers coach for the Calgary Stampeders, where he was quickly promoted to defensive coordinator. Prior to working in the CFL, Walkosky spent 19 years as a Division II head coach and Division I defensive coordinator and assistant coach. His stops included Washington State and Toledo.
Now he's tasked with turning around a kick return game that ranked No. 108 in the country last season. He has already raised the expectations. Walkosky's constant attention and higher demands have been a change for the kickers. They've had to -- you know,
run
.
"In everywhere I've been, I've never had an opportunity to be with them throughout the whole practice," Walkosky said. "If you're a position coach, you give them things to do, and then you go practice with your position, check on them, and then after practice watch film with them. As a specialist, you have to be in phenomenal shape. You have to be conditioned. You have to have phenomenal core strength for the long-snapping, punting and kicking positions. And that's something I wanted to make sure they understood. They're part of the team -- they're going to be in great condition, great strength and great core strength in order to perform their game day duties. It's not just, 'hey, after our specialty period we're done for the day.'"
The kickers' work is far from done at Georgia Tech.
Justin Moore
tied for eighth in the ACC last season with 11 of 17 made field goals, and punter
Sean Poole
was No. 6 in the league with 39.7 yards per punt.
David Scully
handled kickoffs and is expected to do so again.
"The specialists need to work," Walkosky said. "We're going to work and try to get better. Some of the performances were not up to par last year. Can those be fixed? We're going to work on that. We tried to in the spring, we'll continue in the fall."
Walkosky said his motto is "one down to be perfect," and he liked the potential he saw in the Jackets this past spring.
"This whole football team has more special teams-type players than I've ever been associated with," he said. "It used to be you're looking for the tight ends, the big guys. That doesn't really fit what I'm looking for on special teams. I want linebackers, the guys who can run. The A-backs and B-backs we have, and the linebackers and d-ends who can run are awesome. They fit what I like to do, so I'm ecstatic about the special teams-type players we have here."
And for the first time under Johnson, they've got a coach.