ACC:

David Cutcliffe interview
March, 4, 2013
3/04/13
10:00
AM ET
Earlier this morning we
started a conversation with Duke coach David Cutcliffe
to help preview the Blue Devils' spring practices, which begin today. Here is the second part of our interview:
Even though you have so many big shoes to fill, how confident are you that you can still be a better team next year?
David Cutcliffe:
Oh I feel very good about that. All of our run game is back. Our line, for the most part, is back. We're adding youth to it, and we're continuing to get better at every position. Once we get
Braxton Deaver
back and get a tight end that can play in or out --
Issac Blakeney
can play in or out,
Erich Schneider
can play in or out -- we've got slots, we've got wideouts. ... And we're bringing a group in here that I think is real special, so I think the 2013 version of playmakers will be the best we've had at Duke. We just have to produce at quarterback like Sean was. All of the people who were kind of naysayers at times about Sean are realizing how consistent he was. We have to find consistency and big-play ability at quarterback.
How is Anthony [Boone] different from Sean [Renfree]?
[+] Enlarge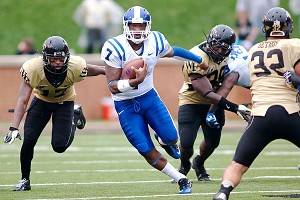 Jeremy Brevard-USA TODAY SportsAnthony Boone can extend plays better than Sean Renfree could.
DC:
He is the new era of quarterback. Anthony is going to change our run game a good bit. He can prolong plays better. Just watch football, I don't care what level -- it's not just the zone read. Ben Roethlisberger is not that kind of guy, but he prolongs plays really well for the Steelers through the years. That's how a lot of big plays occur. That wasn't Sean's strength. It is Anthony's. Anthony is always dangerous back there. I think that adds a little bit of life to your offense.
What does he need to work on?
DC:
Just accuracy, consistency that we had with Sean. He's just got to be consistent. I want him to be able to throw the ball for 60 percent plus and be aggressive. You can't afford to be aggressive if you're not in that range. I'm using 60. It can be 58, 59, but it can't be 50. We're not a 50-50 proposition in our pass game, that's not good enough.
How do you compensate for the loss of [Conner] Vernon?
DC:
Jamison Crowder
is the first thing you say. He had 79 catches, and we're going to use him in a lot of different ways. I don't think he's a good player, I think he's a great football player. I hope he's capable of me saying that publicly, but he's a great football player, one of the better ones I've had. He's going to show up in a lot of places.
[Braxton] Deaver
, who was out all last year, certainly
Brandon Braxton
-- two experienced players who can make plays for you. Our running backs are going to show up in different places because we're better there than we've been. I expect our completion number to escalate, but I also really expect our yards rushing to escalate. It may not be that we have a guy just like Conner opposite of Jamison, but we're going to have more weapons, and that's how you compensate for one guy that had such a spectacular career.
What was the attitude of the team in winter conditioning given how the season ended?
DC:
The season didn't end well. The bowl game didn't end in a victory. We know the circumstance, but I'll tell you what happened. Every one of them realized they belonged where they were. We were in November, and we were in the hunt to go to Charlotte and it was real. If we would have played as well as we could have played, we would have had a real opportunity to be there. In the bowl game, to most people who watched it, we looked like the better team. We really did. We made that statement early and often. But 15 bad plays cost us the game. What it's done, the mentality is we know we can, but they're hungrier. I like the edge we've got now. Had we won, it could have gone either way. Had we won, would we really be any better than we are right now? Would we be as hungry? I don't know. But I like the mentality of our squad right now. They believe in themselves, but they also understand that more good things have to happen. They understand they best be hungry.
March, 4, 2013
3/04/13
9:00
AM ET
Duke starts spring practices today and it does so with plenty of questions as the program tries to build upon last year's postseason success of making it to a bowl game for the first time since 1994. Gone are quarterback
Sean Renfree
and his favorite target, record-setting receiver
Conner Vernon
, and there have also been several staff changes. I spoke with coach David Cutcliffe to get his take on the state of the program heading into spring ball, and we talked at length about a variety of topics. Here are the highlights of the first part of our interview:
[+] Enlarge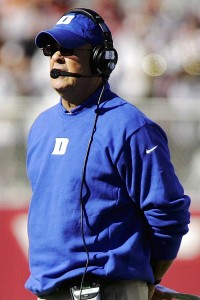 Peter Casey/US PresswireCoach David Cutcliffe has his hands full this spring season, as new coaches and new players get acclimated to Duke football.
From an insider's perspective, how big of a deal are these staff changes and what kind of an impact do you hope they make?
David Cutcliffe:
We lost two great people in Ron Middleton and Matt Lubick. You can trade different, but you can never trade down when you make staff hires. That's one of my rules. I don't have to have an identical match. In this case, we certainly traded a little different, as you look at it, but we did not trade down. I think the impact, we have two North Carolinians, two former Duke football players there (Re'quan Boyette and Scottie Montgomery). They've invested their athletic careers here at Duke, both of them great players in this state, groomed in this state. They will have a lot of energy and enthusiasm on the practice field. Scottie is 34, Re'quan 26. When you're getting as old as I am, you need to surround yourself with young people. I love it. I truly do. I think their energy is going to be infectious to our squad.
What are your top priorities heading into practices?
DC:
We've got to look at the offensive side first, and get our people in the right place to replace playmakers, a guy who started at quarterback for three years. Our all-time leading receiver in the history of the ACC. And an unusual athlete in
Desmond Scott
, a guy who produced a lot of yards in receptions and rushing, one of the top three in the history of the league in that regard -- rushing yards, return yards, and reception yards. You can't ignore that. We're going to look at people. We're going to move
Brandon Braxton
back to offense, who started for us two years ago and played as a true freshman. We've got some other people who mix in there well. We will certainly accentuate
Jamison Crowder
. We've got to solidify our circumstances at quarterback.
Anthony Boone
comes in this spring as the starter. We have some talented people around him, so I expect this team to be a very athletic team on offense.
On defense, certainly the attention goes first to the secondary, where we have to replace three starters there,
Tony Foster
at corner,
Jordon Byas
and
Walt Canty
at safety. I think we've got a good start there. The biggest concern I have other than the secondary is building quality and depth. It's going to be interesting. On both sides of the ball, we've gotten better. We've run it a little better, and we've got to continue that path offensively, but we've got to stop the ball being run against us, particularly in big plays. And then we certainly have to stop explosives on the defense in the passing game. That's our areas of biggest emphasis.
Check back in a bit for Part II.
ACC SCOREBOARD
Saturday, 12/27
Saturday, 12/20
Monday, 12/22
Tuesday, 12/23
Wednesday, 12/24
Friday, 12/26
Monday, 12/29
Tuesday, 12/30
Wednesday, 12/31
Thursday, 1/1
Friday, 1/2
Saturday, 1/3
Sunday, 1/4
Monday, 1/12
Tweets from https://twitter.com/ESPNCFB/lists/acc