February, 24, 2015
Feb 24
3:00
PM ET
This spring provides a Take 2 of sorts for Virginia defensive tackle
Andrew Brown
.
Now that the exceptionally gifted lineman is completely healthy, coach Mike London is expecting much more. Especially since the defense needs to find playmakers with five key starters gone -- including
Eli Harold
,
Henry Coley
and
Max Valles
, who combined for 24 of the team's 34 sacks.
"Andrew Brown looks good right now," London said in a recent phone interview. "It's time for him. All the things that were talked about when when came in -- now he's healthy. He's 290, squatting over 500. We feel good about where we are right now."
[+] Enlarge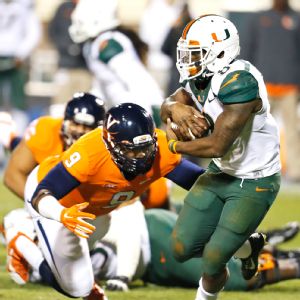 AP Photo/Steve HelberVirginia DT Andrew Brown battled toe and shoulder injuries in his first season at Virginia, but he's ready to go for spring.
Brown came into Virginia last year with as much hype as safety
Quin Blanding
. They were two highly touted ESPN 300 recruits with incredible upside. But Brown was never 100 percent healthy. He enrolled in school early but hurt his toe during spring practice and was forced to the sideline. The turf toe lingered throughout the season and then Brown injured his shoulder.
He did end up playing in six games -- including the final four. But he was unable to make the same impact as Blanding, who went on to become ACC Defensive Rookie of the Year and a Freshman All-American.
Now, Brown has an opportunity to shine. London said Brown is penciled in with the starters for the start of spring practice, set to begin next month.
"When you're a big guy and have the whole turf toe issue, pressing that 300 pounds, cutting and planting -- you need that when you're playing up front," London said. "Then he had the shoulder issue. I know it was frustrating for him, but the kid has been super throughout.
"He's excited about being healthy and we're going to expect big things from him. He's got to learn the game as he goes on, but he's got a lot of talent and ability."
Despite losing five starters --
Daquan Romero
and All-American safety
Anthony Harris
also are gone -- London is encouraged with the group he returns on defense. He points to experience along the defensive front with
Mike Moore
,
David Dean
and
Donte Wilkins
returning along with Brown. He points to the secondary as well. Despite losing Harris, the Hoos return Blanding,
Maurice Canady
,
Tim Harris
and
Demetrious Nicholson
, granted a medical hardship waiver.
At linebacker, London believes
Micah Kiser
and
Zach Bradshaw
have what it takes to step into starting roles. What provides some confidence is the notion that many of the veterans are going into Year 3 in Jon Tenuta's defensive scheme. Plus, London believes some of the staff shifts he made this offseason will put players in better position to succeed. Tenuta will now work with safeties, while Mike Archer moves to linebackers.
"It's the whole maturation process, on the field, in the weight room, in the community -- then the proverbial aha moment occurs," London said. "A few guys like that now are going to be counted on to be the starters and significant contributors. It's not about the scheme or the system, now it's about taking all the different situations that occur when you become a smarter player, taking all those things and putting it together on the field."
December, 2, 2014
12/02/14
10:30
AM ET
The ACC announced its all-conference teams yesterday, but there were certainly a number of good players who didn't get recognized. So with that in mind, we put together our all-overlooked team focusing exclusively on ACC standouts who didn't earn first-, second- or third-team honors from the league.
QB:
Brad Kaaya
(Miami)
RB:
Shadrach Thornton
(NC State)
RB:
Wayne Gallman
(Clemson)
WR:
Jarrod West
(Syracuse)
WR:
Bo Hines
(NC State)
WR:
(tie)
Cam Phillips
and
Isaiah Ford
(VT)
TE:
Cam Serigne
(Wake)
OL:
Ian Silberman
(BC)
OL:
Eric Smith
(UVA)
OL:
Brian Chamberlain (GT)
OL:
Kalon Davis
(Clemson)
C:
Quinton Schooley
(NC State)
Kaaya led the ACC in touchdowns, yards-per-attempt and passer rating. He had his flaws, but that's a great season to go unnoticed. Thornton was actually the league's third-leading rusher among tailbacks. West somehow finished ninth in catches and 10th in receiving in the ACC despite an atrocious situation at QB for Syracuse. Hines was a go-to receiver from Day 1 as a true freshman at NC State and was among the nation's most reliable pass-catchers. The two freshmen at Virginia Tech, Cam Phillips and Isaiah Ford, will make plenty of All-ACC lists before their careers are done. Serigne's emergence was one of the very few bright spots on offense for Wake Forest. Silberman, a Florida transfer, set the stage for fellow former Gator
Tyler Murphy
to set the ACC record for rushing yards by a QB. Schooley was perhaps NC State's top lineman on a group that got significantly better as the year went along and helped the Wolfpack to finish second in the ACC in yards-per-rush. Smith gets a nod, but Virginia's line was largely a group effort, and until injuries began piling up in November, few lines had protected its QB better.
DE:
KeShun Freeman
(GT)
DE:
Corey Crawford
(Clemson)
DT:
David Dean
(UVA)
LB:
Josh Keyes
(BC)
LB:
Marquel Lee
(Wake)
LB:
Dyshawn Davis (Syracuse)
LB:
P.J. Davis (GT)
S:
James Sample
(Louisville)
S:
Robert Smith
(Clemson)
CB:
Mackensie Alexander (Clemson)
CB:
Kevin Johnson
(Wake)
All you need to know about Crawford's impact is that when he was out against Georgia, the Tigers allowed 328 rushing yards and five touchdowns. In the next 11 games with him, they allowed 844 yards and five touchdowns. Freeman stepped up for Georgia Tech as a freshman to provide some much-needed pass rush. Keyes was one of the most versatile linebackers in the league, helping BC's defense rank fourth nationally against the run. Lee finished in the top 10 in the ACC in both tackles and tackles for loss on an under-appreciated Wake defense. Davis, like the rest of the Syracuse D, was largely ignored but finished the year with six TFL, seven QB hurries and three forced fumbles. Smith was the veteran voice in a young Clemson secondary, and his influence helped Alexander blossom into one of the league's best corners. While the defensive front got so much of the credit, Clemson's secondary also finished fourth nationally in pass defense.
K:
Ammon Lakip
(Clemson)
P:
Riley Dixon (Syracuse)
Ret:
Myles Willis
(BC)
Lakip missed three of his first four kicks against FBS teams, and Clemson lost both games. But he showed ample resilience in connecting on 15 of his next 16. Willis led the ACC in kick return yardage and was responsible for one of the league's five return TDs. And Dixon, of course, was a Heisman candidate after a game-saving Week 1 TD pass, and we're just not ready to give up that dream.
October, 17, 2014
10/17/14
12:00
PM ET
Quin Blanding
heard the talk nearly every day.
He was a five-star recruit. He could have played anywhere. But he wanted to play for a team that didn't win a game in the ACC a year ago, for coaches whose job security was the source of constant rumors.
"I had people every day asking why I was going to Virginia," Blanding said. "But I knew I couldn't let them distract me from what I wanted to do."
The pitch against Virginia was easy, but Blanding had gotten the behind-the-scenes tutorial on what the Cavaliers were building on defense, and he was intrigued.
[+] Enlarge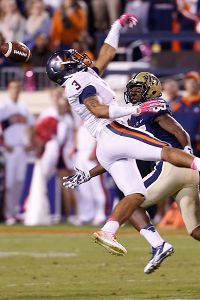 AP Photo/Steve HelberLed by safety Quin Blanding, Virginia's defense has been stellar during the team's surprising start.
The 6-foot-4 safety from Virginia Beach would make the trip to Charlottesville regularly to talk with the players. He grew close with star safety
Anthony Harris
, and he learned the ropes. He heard the sales pitch for Mike London's program -- not from the coaches, but from the players who saw a team on the brink of something special.
The knocks against Virginia were easy to ignore, Blanding said. Being a part of a team -- and in particular, a defense -- that was about to take a big step forward was an opportunity too good to pass up.
"That was exactly the message," Blanding said. "Time would tell, and it was our time now."
Last season, Virginia won just two games and was 0-8 in the ACC. That's a fact, but it's not something that gets talked about much.
This season, the Hoos (4-2, 2-0) are the only Coastal Division team without an ACC loss. That's the only fact Virginia is focused on now.
"We know we didn't perform well last year as a team, but we believed each year is a new year," Harris said. "We worked hard in the offseason to get better as a team so we could go out on Saturdays and show our record last year doesn't reflect our level of talent."
That level of talent is impressive.
Henry Coley
and
Eli Harold
both rank in the top four in the ACC in sacks.
David Dean
,
Max Valles
and
Daquan Romero
have developed into versatile, disruptive forces. And in the back end, Harris has led a veteran group that has tormented opposing quarterbacks, while Blanding has quickly developed into a star. The true freshman currently leads the ACC in tackles, including racking up 28 in his past two games.
"Right away I could tell [Blanding] was a really bright guy and has a lot of knowledge about the game," Harris said of his fellow safety. "Physically, if you look at him, he's a guy who could come in and contribute. So the big thing was just how fast he could pick up on the defense. With his football IQ, he's done a very good job on that, and it's shown in how he gets to the football and makes a lot of plays for us."
The early success in 2014 has been encouraging, but not a surprise.
Whether it was during Blanding's recruitment or the long offseason following a frustrating season, Virginia's players understood that the pieces were in place to create a winner, and they talked often about overcoming those small obstacles that had kept the unit from coalescing.
"Each year we bring in a lot of talented guys," Harris said. "Fitting it all together and making it work, for the last few years we hadn't been able to do it, but we knew it was there."
In a way, that brutal 2013 was exactly what sold Blanding on the program, and it's exactly what the veterans of the group needed to turn the corner.
"Sometimes it takes a team to really go through something before you can really find out how everybody fits into the puzzle, how to work through certain things," Harris said. "Trying to get over the hump, it's just one or two plays that's the difference. Some of the adversity we've faced the last few years, we really learned from and we've really been able to grow."
On Saturday, Virginia travels to Duke in a game that could put the Cavaliers squarely in the driver's seat in the Coastal. That is a possibility that sounded absurd to so many outside the program two months ago, but for those who had seen blueprint being drawn, it's exactly where they expected to be.
"We feel like there are a lot of guys who have matured and grown a lot, and we're speaking up and setting high expectations for the team," Harris said. "We feel like if we're all bought in and have the same goal, we'll be able to get it done."
July, 1, 2014
7/01/14
4:00
PM ET
Virginia only returns two starters to its defensive line. So why are the Hoos a
sleeper choice
at that position?
Returning defensive end
Eli Harold
is a big reason. But perhaps even bigger? Depth. As in much, much more of it.
[+] Enlarge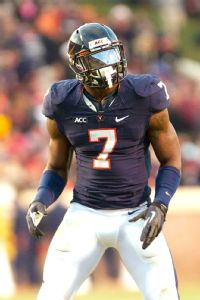 Lee Coleman/Icon SMIDefensive end Eli Harold says the Cavaliers will benefit in 2014 from added depth along the line.
"Our defensive line is loaded," Harold said in an interview with ESPN.com Tuesday. "We've got about eight or nine guys who can go in there and play right away."
Contrast that to last season, when depth was in short supply. Harold was in on 806 plays, second-most on defense and practically unheard of for a defensive lineman. He did not recall coming out of the game in the opener against BYU, taking 93 snaps. As a comparison, Clemson defensive end
Vic Beasley
took 560 snaps and played one more game. Better depth at Clemson means fewer snaps, and fewer snaps means much fresher players on the line -- an absolute must to be effective.
Harold, who ended last season with 8.5 sacks and 15 tackles for loss a year ago, says the Hoos have the best depth they have had in years. Couple that with the new aggressive approach implemented last season, and expectations for the group have grown.
"I'm glad we have depth this year, to allow our athletes to get out in space, rush the passer and also stop the run," Harold said.
David Dean
also returns as a starter at tackle. But Harold praised
Mike Moore
, slated to start at end, and then listed others like
Donte Wilkins
and Chris Braithwaite, back after sitting out last season. Then, of course, there is highly touted freshman tackle
Andrew Brown
, who will be expected to have an immediate impact.
"Andrew Brown's definitely going to help us out this year whether he starts or not," Harold said. "He's going to play up to 20 plays a game I think. He's a big, strong guy. He's one of the strongest guys on the team already. He's fast, he's physical, he also has finesse. A guy like that brings a lot to the table. He deserves that highly touted rank he has. We're expecting a lot out of him, but like I told him, just don't put too much on yourself. You're just now learning, so don't be so hard on yourself."
Harold himself is up to 245 pounds, and says the new strength and conditioning staff has done a great job transforming the players on the roster. He says there is much more leadership too, more players with passion and competitiveness, eager to get the program back to a bowl game. As for individual goals, Harold has set the bar high -- he wants 15 sacks.
A few breathers would be nice, too.
September, 18, 2013
9/18/13
12:00
PM ET
Tomorrow is game night in Raleigh!
April, 11, 2013
4/11/13
10:30
AM ET
When asked for his assessment of the new defensive style Virginia plans to play this season, veteran defensive end
Jake Snyder
had one word:
Different.
As in different good or different bad?

"More aggressive," he said. "We have all just really been working hard this spring trying to learn everything and pick up the new defense. I think it is going to be good for us."
Coach Mike London overhauled his coaching staff after a 4-8 season and brought in Jon Tenuta to run the defense. Tenuta has made a career out of employing aggressive, attacking defenses, and Hoos fans saw that firsthand last week during the team's spring game. The defense was credited with 14 "sacks" -- essentially any time a defender got two hands on the quarterback. Though they were not allowed to tackle the quarterbacks, it was evident that the group was much more active, particularly up front.
That is a huge area the Hoos have spent time working on this spring, because they were below average in sacks a last season with just 17. Snyder is the top returning player in that category, with 2.5. Chris Braithwaite led the team with 3.5, but he is no longer with the Hoos. The inside players, though, look promising.
Brent Urban
returns, and he had 3.5 sacks in the spring game.
The surprise has been tackle
David Dean
, who was selected the team's most improved player on defense this spring.
The other area that has to be improved is takeaways. Last season, UVa had 12 total -- eight fumble recoveries and four interceptions, tied for third worst in the nation. Contrast that with NC State, where Tenuta worked last season. The Wolfpack had 16 interceptions to rank in the Top 20. Of course, they had veterans in their group last season, and the Hoos were very inexperienced in the back end.
Still, Snyder said the Hoos spent plenty of time working on takeaway drills this spring.
"Getting takeaways is always such a big key in any game," he said. "And we didn't do a good enough job of that last season. So we all know we have to do better to be a better defense."
One of the other key question marks about this group this spring is at middle linebacker, where the team loses team leader and leading tackler
Steve Greer
.
Henry Coley
has moved over from the outside to take over the spot, and Snyder says he has done a good job this spring.
"It's always tough to replace a great player like that," Snyder said. "Henry has done a great job doing it. He spends more time out of anybody in the film room and the meeting room, because he has to know what everyone else is doing at all times."
November, 2, 2012
11/02/12
11:00
AM ET
Here are the ACC injury reports, from the schools that released them:

CLEMSON

Out for season
Probable
DUKE

Probable
Doubtful
Out
Out for season
MARYLAND

Out for season
Out
Questionable
Probable
NC STATE

Out for season
Out
VIRGINIA

Out for season
Out
Doubtful
Questionable
Probable