January, 3, 2012
1/03/12
9:13
PM ET
NEW ORLEANS -- This looks like a game Virginia Tech can win -- if it cuts down on its mistakes. It was an odd start to the game for both teams, as standout Michigan quarterback Denard Robinson began with four carries, two fumbles, a loss of a yard and a pick.
Yes, that
Denard Robinson
.
And Virginia Tech standout running back
David Wilson
let his ego run the offense for a play and went backwards for a baffling loss of 22 yards.
Yes, that David Wilson.
Wilson's run plus an untimely penalty forced Virginia Tech to settle for a field goal, but the good news for the Hokies was that reserve kicker Justin Myer made it -- a 37-yarder for his first made field goal of the season. That should get some jitters out, not only for Myer, but for Virginia Tech fans as well.
Michigan center David Molk missed the first series with a foot injury he re-aggravated from earlier in the season, but it wasn't enough to keep him out for more than a series. Still, Virginia Tech's defense has had the edge early. Kyle Fuller came up with an interception just when Michigan's offense seemed to finally get going. Michigan's defense has given up too many big plays, and the Hokies' passing game is looking much better than it did in the ACC title game against Clemson.
Logan Thomas
has been the better quarterback so far. Michigan had 29 yards of total offense while the Hokies had 110. The Hokies have controlled the clock, and so far, the game.
January, 3, 2012
1/03/12
10:30
AM ET
The Allstate Sugar Bowl should be a fun, interesting chess match between not only veteran coach Frank Beamer and first-year coach Brady Hoke, but also between Virginia Tech defensive coordinator Bud Foster and Michigan offensive coordinator Al Borges, who has shown ample creativity with his play-calling this season. Here's a look at three keys for the Hokies heading into tonight's game:


1. The defensive line must win up front.
In order to have a chance at limiting
Denard Robinson
and
Fitzgerald Toussaint
, the Hokies first have to get to them, and they'll be going against a stable offensive line that is lead by center David Molk, the Rimington Trophy winner. Four of the five linemen have started all 12 games, and they're a big reason why Toussaint had 450 yards over the past three games. Robinson and Toussaint both rank among the nation's top 40 rushers. Michigan has the No. 12 rushing offense in the nation and has scored 28 points or more in each of its 10 wins.
2. Continue to control the clock.
Virginia Tech's best defense could simply be keeping Michigan's offense off the field by sustaining drives. The Hokies are No. 5 in the country and lead the ACC in time of possession with 33:54. They've got to get back to running the ball with
David Wilson
, which the Hokies weren't able to do in the ACC championship game against Clemson. The Hokies ran for just 56 yards in that game.
3. Make the stops on third downs.
Michigan is No. 12 in the country in third-down conversion percentage at 48.39 percent. The Hokies, though, are No. 10 in the country in third-down conversion defense, holding opponents to just 32.4 percent.
December, 31, 2011
12/31/11
9:00
AM ET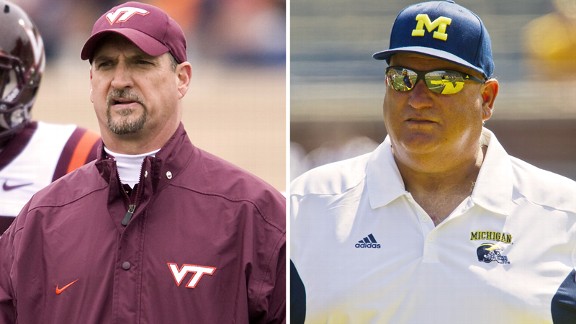 Icon Sports MediaVirginia Tech's Bud Foster and Michigan's Al Borges have benefitted from being flexible.
NEW ORLEANS -- If ever a coach had earned the right to be stubborn about his system, it'd be Bud Foster.
He has coordinated Virginia Tech's defense for the past 16 seasons, and the unit has finished in the top 12 nationally on 10 occasions (the Hokies currently rank 13th in total defense). He has had 34 players drafted in the NFL, 45 different players score touchdowns and at least one player earn All-America honors in all 16 seasons.
The pillars of Foster's defenses -- speed, athleticism, pressure, opportunistic play -- have become synonymous with Virginia Tech's program.
Foster could enter rooms with "My Way" blaring in the background if he wanted to. But he doesn't.
His success isn't tied to stubbornness. He has adapted over time, while maintaining an attacking foundation.
"It's changed a lot but it hasn't changed a lot," Foster said Friday. "We were more of an eight-man front group in the mid-1990s through probably the mid-2000s. You were seeing a lot more two-back offenses at that time. ... We've just tweaked things year in and year out. We're always trying to make it a little better."
Michigan made more than a few tweaks in its offense this year, as coordinator Al Borges integrated some of his pro-style elements while maintaining a spread framework. The results were predictably choppy, but Michigan still scored more points (410) than it did in 2010, when the offense set several team and individual records.
Although Foster has led the Virginia Tech defense since 1995 and Borges had led the Michigan offense only since January, both have benefited from being flexible.
"He's like we have been offensively," Borges said of Foster. "Their defense is ever-evolving."
The next step in the evolution takes place Tuesday night at the Allstate Sugar Bowl, as Virginia Tech's defense and Michigan's offense square off in a fascinating matchup.
Both units faced some obstacles to reach this point. A look at Virginia Tech's defensive depth chart shows seven sophomores and a freshman in the starting lineup. The Hokies were hit particularly hard by injuries this season, losing starters Antoine Hopkins, Jeron Gouveia-Winslow and Bruce Taylor as well as key reserves like Kwamaine Battle.
Despite the losses and the abundance of youth, Virginia Tech maintained its standards on defense, ranking in the top 20 nationally in scoring defense (17.2 ppg), total defense (313.9), pass-efficiency defense (111.8), rushing defense (107.8 ypg) and sacks (2.92 spg).
"[Foster] has enough flexibility," Borges said. "He's been there a long time. That system, although he's got some young players, that system that he has ... they know it. ... You're not teaching every little tiny thing, and you can start dealing more with nuance and things like that. Bud's at that point because he's been there so long."
Borges inherited a more seasoned offense and benefited from a lack of major injuries. His challenge was blending what he had done for decades with personnel suited to a vastly different scheme, particularly junior quarterback
Denard Robinson
.
"You can see they've done a great job adapting to their talent," Foster said. "But then, there's nothing real fancy about them, either. They're going to line up and hit you in the mouth and be physical."
Virginia Tech must not only contain Robinson on Tuesday night but be wary of Michigan's power game, which features sophomore running back
Fitzgerald Toussaint
and a big offensive line led by All-America center David Molk.
While the Hokies boast good size at defensive tackle, they're giving up a few pounds elsewhere. Sophomore defensive end J.R. Collins checks in at 240, while outside linebacker Alonzo Tweedy weighs just 189 pounds.
"We obviously have to get off on the football and be physical," Foster said. "That's what [Michigan] is going to do."
Virginia Tech has faced mobile quarterbacks in the past -- former West Virginia star
Pat White
among them -- and practiced against one the past few seasons in Tyrod Taylor. But linebacker Jack Fuller said Robinson gives the Hokies a look they haven't seen this season.
The closest comparison, according to Tyler, is Clemson's
Tajh Boyd
, who torched the Hokies in the ACC title game (240 pass yards, 3 TDs).
"But [Boyd's] not much of a scrambler," Fuller said. "He's quick and he can run the ball, but they look for Denard to run the ball. They have set plays for him and that's part of their offense, getting him to run the ball and getting that extra blocker."
Michigan also must adjust to some different elements from Virginia Tech, which doesn't shy away from press coverage and has the athletes to do so.
"It is a challenge," Robinson said. "They have some unique defenses and great athletes."
Added Toussaint: "They are very athletic at every position and play every play with maximum effort."
Virginia Tech's defense and Michigan's offense both should be improved in 2012, as only a handful of players depart each unit.
Both groups will look to use Tuesday night's game as a springboard.
"This is a big step for all of us," Toussaint said.