August, 22, 2012
8/22/12
4:00
PM ET
Placekicker is such a critical role on any team. To that end, ACC fans should be thrilled that there is little turnover among the starting kickers in the league this year.
As it stands today, only three teams will have new faces kicking field goals when the season opens. That ties the ACC with the Pac-12 and Big Ten for the smallest turnover ratio among the automatic qualifying conferences.
Virginia is the only school that remains undecided on a starter. Special teams coach Anthony Poindexter said earlier this week he hopes to soon make a decision between
Drew Jarrett
and
Ian Frye
to take over for the graduated Robert Randolph.
Duke and Georgia Tech are the only other teams with new kickers for this year. The Blue Devils will start freshman
Ross Martin
, while Georgia Tech is going with
David Scully
, who
handled kickoff duties
last season.
As for the returning kickers, the top five statistical leaders from a year ago return. Four of them made the Lou Groza Award preseason watch list --
Dustin Hopkins
at Florida State;
Chandler Catanzaro
at Clemson;
Jake Wieclaw
at Miami; and
Jimmy Newman
at Wake Forest.
Cody Journell
, who led all ACC kickers last year with an .824 field goal percentage, is back at Virginia Tech after serving a seven-month suspension following his arrest on breaking and entering charges last December. He pleaded guilty to reduced charges in May and was reinstated in July.
As for those on the Groza list, Hopkins clearly leads the way. Hopkins was a finalist for the award last year, and needs 68 points to become the conference's all-time leading scorer. Given the 110 points he scored last year, it is reasonable to expect him to close in on the record around Week 8.
August, 22, 2012
8/22/12
12:00
PM ET
Can't wait to get to a game ...
August, 20, 2012
8/20/12
10:00
AM ET
Not every school in the ACC gives scrimmage reports, but for those that do, we will gladly post the highlights. Here's a look back at what happened in the ACC this weekend, according to each school's report:

Boston College
Offensive highlights:
Junior receiver
Alex Amidon
had seven catches for 84 yards, including a 29-yard touchdown reception, in the situational scrimmage Sunday. The scrimmage featured six end-of-half/fourth-quarter situations with limited time on the clock and a limited number of timeouts.
Chase Rettig
went 18-of-32 for 168 yards, one touchdown and two interceptions.
Defensive highlights:
Justin Simmons
had two interceptions off second-team quarterback
Josh Bordner
.
Manuel Asprilla
intercepted Rettig at the goal line, and linebacker
Nick Clancy
intercepted a Rettig pass that was deflected by
Mehdi Abdesmad
a few plays later.
Special teams:
Gerald Levano
punted four times and averaged nearly 48 yards per punt. His first punt landed at the 2-yard line, while his second attempt went 60 yards. Kicker
Nate Freese
made his only field goal attempt, from 40 yards, and is now 6-for-6 on field goal attempts in the preseason.
Quotable:
"We got a lot of nice young guys on this football team, and if they come through and play well, good things can happen, and Justin [Simmons] is one of them," coach Frank Spaziani said. "He's as advertised. We did our homework and everything that you do on kids. He's a good prospect."

Clemson
Offensive highlights:
Tajh Boyd
threw for 218 yards and three touchdowns Saturday, while
Martavis Bryant
had four catches for 97 yards and had two touchdowns. Boyd was 13-of-22 for 218 yards, three touchdowns and two interceptions. Backup
Cole Stoudt
went 4-of-9 for 61 yards and led a touchdown drive on his first possession.
Andre Ellington
had an 8-yard touchdown run, while
Roderick McDowell
led all running backs for a second straight scrimmage with 65 yards on four carries.
Defensive highlights:
Coach Dabo Swinney praised the defensive line, where
Josh Watson
,
Grady Jarrett
and
DeShawn Williams
made plays.
Xavier Brewer
made a brilliant breakup of a long pass and added five tackles.
Jonathan Meeks
added an interception.
Tony Steward
made a big play with a 25-yard interception return.
Special teams:
Williams had a blocked a field goal. Backup kicker Spence Benton made a 53-yard kick that could have been good from 63 yards.
Quotable:
"We have two weeks to get dialed in," Swinney said. "We are going to turn the page on Monday after our last two-a-day (practices) and start getting ready for Auburn. We will have our guys penciled in on where they need to be."

Duke
Offensive highlights:
Quarterback
Brandon Connette
caught a 15-yard touchdown pass from
Sean Renfree
and ran for another in a 95-snap, controlled scrimmage Friday night at Wallace Wade Stadium. Renfree went 14-of-21 for 116 yards with one touchdown and one interception. Freshman
Shaquille Powell
had eight carries for 30 yards, while
Jela Duncan
had 28 yards on nine attempts. Garrett Patterson, who moved from defensive back to receiver this week during practice, had five receptions for 80 yards.
Defensive highlights:
Cornerbacks
Lee Butler
and
Tony Foster
each had interceptions while linebacker
Deion Williams
recovered one fumble. Freshman defensive end
Michael Mann
had one sack and one forced fumble.
Special teams highlights:
Freshman kicker
Ross Martin
made field goals of 43 and 48 yards and converted his only extra-point attempt.

Georgia Tech
Offensive highlights:
Broderick Snoddy
had a 70-yard touchdown run on the second series, while quarterback
Vad Lee
threw two touchdowns to A-back
B.J. Bostic
. Lee later added a touchdown run as he continues to work at quarterback and A-back.
Synjyn Days
and freshman
Justin Thomas
also took snaps at quarterback, and each led scoring drives.
Defensive highlights:
Nick Menocal
had an interception he nearly returned for a touchdown.
Jimmie Kitchen
recovered a fumble, while defensive lineman
Anthony Williams
had two sacks.
Special teams highlights:
Justin Moore
had a 29-yard field goal, while
David Scully
made a 31-yard field goal and all five of his extra-point attempts. There was no punting on Saturday.
Quotable:
"The guys are ready to play someone else," quarterback
Tevin Washington
said. "We've been hitting each other for two weeks and all summer doing drills against each other. Guys are just ready to go and get some new faces in front of us."

Maryland
Freshman
Stefon Diggs
continued to impress, as he had three first-half touchdowns -- a 68-yard punt return, a 98-yard kickoff return and an 11-yard reception. Quarterback
Perry Hills
ran the first-team offense and led Maryland to scores on three of his five drives.
On the opening drive, Hills took the Terps on an 18-play, 76-yard touchdown drive, He went 5-of-6 for 27 yards on the drive and also rushed for 36 yards, including a 16-yard touchdown run.
"I thought Perry [Hills] had a good day," coach Randy Edsall said. "I thought he did some good things. Of course there's going to be plenty of things that he could learn from, and get better, but I think that we didn't have any issues with delay of game, really didn't have any false starts. When you talk about the mechanics and the operation of the offense I thought he handled it really well."

Miami
The Hurricanes' scrimmage Saturday was cut short in the middle of the second quarter because of lightning in the area. Among the highlights in the abbreviated scrimmage:
Mike James
and
Duke Johnson
each had touchdown runs, and
Kelvin Cain
recorded a sack in the end zone for a safety.
Virginia Tech

Offensive highlights:
Logan Thomas
went 8-of-15 for 112 yards and a score, while backup
Mark Leal
went 6-of-16 for 111 yards, with a touchdown and an interception.
Kevin Asante
led all receivers with four catches for 79 yards, while
Corey Fuller
caught three passes for 68 yards. The Hokies also rushed for 174 yards.
J.C. Coleman
played with a broken hand and had 54 yards -- 52 coming on one run -- and
Trey Edmunds
added 45.
Tony Gregory
rushed for 36 yards, including a 26-yard touchdown run. Projected starter
Michael Holmes
had three carries for 21 yards.
Defensive highlights:
The projected first-team defense allowed a little more than 120 yards in four series (24 plays) and gave up just two field goals. Walk-on
Zach Snell
had six tackles, while
Ronny Vandyke
had five.
Desmond Frye
and
Antone Exum
each recorded four. The defense had five total sacks and
Bruce Taylor
had an interception.
Special teams highlights:
Cody Journell
made two field goals and missed one, while
Brooks Abbott
made one and had a 37-yarder blocked by
Kyle Fuller
.
Quotable:
"I thought it was one of the more productive offensive first scrimmages we've had around here," coach Frank Beamer said. "I think we did some good things, and I think we'll see some things we can improve. Overall, I think the effort was good. I always say this, but it's hard to come out pleased because if the offense makes plays, you're worried about your defense. If the defense makes plays, you're worried about your offense. Overall, I thought it was a good first scrimmage."
June, 22, 2012
6/22/12
2:30
PM ET
Georgia Tech coach Paul Johnson has gone from one extreme to another -- from no special teams coach to one dedicated entirely to that phase of the game. No other position group or meetings to worry about. Why? Well, for starters, two field goals were blocked last season, including one that was returned for a touchdown. A fumbled punt return led to a Miami touchdown, kickoffs were returned from deep in the end zone, there were two punts of less than 20 yards, and three missed field goals against Utah.
Enter Dave Walkosky -- special teams guru. (His first college play was a blocked punt.)
[+] Enlarge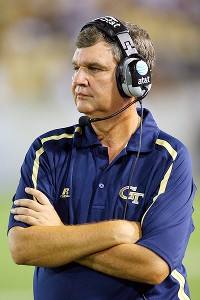 Kevin Liles/US PresswirePaul Johnson and the Yellow Jackets have put an emphasis on special teams this season.
Since his days as a walk-on at Toledo, Walkosky has had a soft spot for the importance of special teams. Never before, though, has he had a chance to focus all of his attention on it. At the collegiate level, the special teams coaches are also usually assigned a position group. Walkosky has also worked with defensive backs and linebackers throughout most of his career.
Not anymore.
"The commitment that he's made in hiring me as a special teams coordinator, and doing it just like the NFL … I don't know if any other team in the country has that," Walkosky said. "The opportunity that I have that Paul gave me is to study our opponent, study our film. That's what's an advantage for Georgia Tech in that I can study more film, study our opponent and find weaknesses, things like that. Now, does that equate to being better? I hope so. That's something I'm excited about, the position and the huge commitment he made. I'm fired up about it. Of course everyone expects things to be better, and I'm OK with that. I expect things to be better, also."
Walkosky was hired after one season (2011) as linebackers coach for the Calgary Stampeders, where he was quickly promoted to defensive coordinator. Prior to working in the CFL, Walkosky spent 19 years as a Division II head coach and Division I defensive coordinator and assistant coach. His stops included Washington State and Toledo.
Now he's tasked with turning around a kick return game that ranked No. 108 in the country last season. He has already raised the expectations. Walkosky's constant attention and higher demands have been a change for the kickers. They've had to -- you know,
run
.
"In everywhere I've been, I've never had an opportunity to be with them throughout the whole practice," Walkosky said. "If you're a position coach, you give them things to do, and then you go practice with your position, check on them, and then after practice watch film with them. As a specialist, you have to be in phenomenal shape. You have to be conditioned. You have to have phenomenal core strength for the long-snapping, punting and kicking positions. And that's something I wanted to make sure they understood. They're part of the team -- they're going to be in great condition, great strength and great core strength in order to perform their game day duties. It's not just, 'hey, after our specialty period we're done for the day.'"
The kickers' work is far from done at Georgia Tech.
Justin Moore
tied for eighth in the ACC last season with 11 of 17 made field goals, and punter
Sean Poole
was No. 6 in the league with 39.7 yards per punt.
David Scully
handled kickoffs and is expected to do so again.
"The specialists need to work," Walkosky said. "We're going to work and try to get better. Some of the performances were not up to par last year. Can those be fixed? We're going to work on that. We tried to in the spring, we'll continue in the fall."
Walkosky said his motto is "one down to be perfect," and he liked the potential he saw in the Jackets this past spring.
"This whole football team has more special teams-type players than I've ever been associated with," he said. "It used to be you're looking for the tight ends, the big guys. That doesn't really fit what I'm looking for on special teams. I want linebackers, the guys who can run. The A-backs and B-backs we have, and the linebackers and d-ends who can run are awesome. They fit what I like to do, so I'm ecstatic about the special teams-type players we have here."
And for the first time under Johnson, they've got a coach.
August, 15, 2011
8/15/11
9:00
AM ET
It was a busy weekend in the ACC. Here's a look back at the highlights from the scrimmages, according to the sports information departments of the teams that provided reports:

BOSTON COLLEGE
Coach Frank Spaziani told reporters after the 70-minute scrimmage that there were some good things, but "it's like a jigsaw puzzle with all the pieces in the box; they're not connected yet."
Offensive highlights:
Defensive highlights:
Linebacker Nick Clancy and defensive back Sean Sylvia led the team with four tackles each.
Sophomore linebacker Jake Sinkovec had one interception and one fumble recovery.

CLEMSON
Quarterback
Tajh Boyd
had an impressive performance, as he completed 10 of 12 passes for 168 yards and a touchdown to highlight the new offense in Clemson's 75-play scrimmage in Memorial Stadium on Saturday morning.
Offensive highlights:
Defensive highlights
:
The first-team defense did not allow a scoring drive.
Martin Jenkins led the team with seven tackles, including a tackle for loss.
Corico Hawkins had five tackles and a fumble recovery, while freshman defensive end Corey Crawford had five stops, including a sack.
Special teams highlights:
Clemson's three kickers, Chandler Catanzaro, Ammon Lakip and Brian Symmes were a combined 16-of-16 on the day in field goal attempts and extra points against a live rush.
Notable:
Three Tigers missed the scrimmage because they were going through graduation exercises across the street from Memorial Stadium in Littlejohn Coliseum. Starting offensive tackle Landon Walker, starting safety Rashard Hall and reserve defensive end Kourtnei Brown all graduated from Clemson on Saturday. It was especially noteworthy for Hall, who has been at Clemson just three years. He joins Nick Eason (now in the NFL with the Arizona Cardinals) as the only scholarship football players to graduate with two years of athletic eligibility remaining.
Four players missed the scrimmage due to injury. Those players were defensive back Xavier Brewer (sprained foot), defensive back Garry Peters (bruised calf), Andre Branch (head injury), DeShawn Williams (sprained ankle).

GEORGIA TECH
Georgia Tech coach Paul Johnson had mixed reviews after the Yellow Jackets' first scrimmage, which ran 90 minutes inside Bobby Dodd Stadium on Saturday morning.
"It was like a lot of first scrimmages, there were way too many balls on the ground and way too many penalties," Johnson said. "But we hit some big plays. When you play against each other there's positives and negatives on both sides. It's a starting place and we'll look at it and try to make some improvements."
Offensive highlights:
While no official statistics were kept, quarterback Tevin Washington passed for well over 100 yards, including a 63-yarder to senior A-back Roddy Jones. Redshirt freshman quarterback Synjyn Days threw the only touchdown of the day, to true freshman Jeff Greene.
Greene ran with the first unit Saturday as most of the veterans -- junior Stephen Hill, senior Tyler Melton, sophomore Jeremy Moore and junior Daniel McKayhan -- all sat out with injuries.
Washington scored the only other touchdown Saturday on a 1-yard QB keeper.
Defensive highlights:
Defensive end Emmanuel Dieke had a sack, true freshman Jamal Golden intercepted a Vad Lee pass, and Steven Sylvester and Isaiah Johnson both recovered fumbles.
Special teams highlights:
Sophomore Justin Moore booted a 45-yard field goal on his only attempt.
David Scully's 52-yard attempt was long enough, but just wide left.

MIAMI
The most important news out of Miami's first scrimmage was that quarterbacks
Jacory Harris
and
Stephen Morris
combined for five touchdown passes and only one interception. That sounds like improvement. Miami's quarterbacks combined for 407 passing yards on 38-of-52 passing for six touchdowns and only one interception.
Offensive highlights:
Receiver Tommy Streeter had the best offensive day for the Canes, catching five passes for 71 yards and three touchdowns, two of which came from Harris.
Lamar Miller had runs of 16 and 31 yards on the opening drive.
Defensive highlights:
Senior defensive back JoJo Nicolas led all defenders with eight tackles (six solo), with two tackles for loss.
Ramon Buchanan and freshman Gionni Paul and each had six total tackles, with Paul also recording a tackle for loss.
The defense totaled eight tackles behind the line of scrimmage for a total loss of 29 yards

VIRGINIA TECH
The Hokies' offense was the highlight, but what does that mean for the defense? Coach Frank Beamer pointed out that there were some long plays allowed, as the offense racked up 398 yards of total offense in the 78-play scrimmage at Lane Stadium on Saturday afternoon. The touchdowns came against Tech's second- or third-team defense, though, so the jury is still out.
"I thought it was a good first scrimmage -- better than most," Beamer said, according to the team's scrimmage report. "You take into consideration that you're trying to get everyone some work, people who don't know quite what they're doing, and that makes things a little ragged. I thought overall, though, it was a sharp scrimmage. The quarterbacks made some nice plays and Wilson got a couple of long plays against the defense, and we need to see what's going on there. Overall, the effort was good and the play was good."
Offensive highlights:
Backup quarterback Mark Leal led the quarterbacks with 116 yards passing, completing 6 of 13. He also threw an interception. Beamer said Leal is No. 2 on the depth chart behind Logan Thomas. Ju-Ju Clayton, who has dropped to No. 3 on the depth chart, completed 6 of 10 for 51 yards, while starter Thomas completed 4 of 8 for 79 yards, with an interception, in limited action.
Tailback David Wilson scored against the Hokies' second-team defense on a 22-yard run. Wilson led all rushers with 57 yards on five carries. Freshman Michael Holmes added 54 yards rushing on a game-high 11 carries.
Defensive highlights:
Freshman tackle Luther Maddy led the team with eight tackles, including two for a loss, and a sack. Freshman Michael Cole added six tackles, while Telvion Clark and Jack Tyler each finished with four.
Barquell Rivers had three tackles and an interception.
Jayron Hosley and freshman Ronny Vandyke also had interceptions. Hosley intercepted a Logan Thomas pass, while Vandyke intercepted a Trey Gresh attempt.
Special teams highlights:
The kickers connected on 5-of-6 attempts. Cody Journell hit from 35, 22 and 35 yards, while Justin Myer drilled a 52-yarder and a 28-yarder. "Cody's kicking extremely well," Beamer said. "Myer has a load of potential, and he needs to win some of the kicking contests during the week. That shows consistency, and that's where he is right now. Cody is usually winning it or right in the running at the end."