April, 24, 2013
4/24/13
5:00
PM ET
Virginia Tech freshman cornerback
Brandon Facyson
enrolled in school early hoping to get a jump on the competition.
After 15 spring practices, Facyson has made quite an impression and is a virtual lock to play in 2013 -- perhaps even start until
Antone Exum
gets healthy.
"Brandon Facyson was probably one of the pleasant surprises," defensive coordinator Bud Foster said in a phone interview Wednesday. "He might be our best corner. We had him behind
Kyle Fuller
in the spring but if we were to play tomorrow or this next week, we might be getting him ready to be our field corner."
[+] Enlarge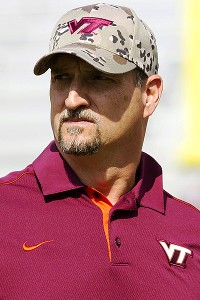 Lee Coleman/Icon SMIVirginia Tech defensive coordinator Bud Foster has more depth at cornerback after freshman Brandon Facyson emerged this spring.
That speaks volumes for the type of player Facyson has the potential to be. Many times, freshmen who come in as early enrollees take time to develop and get adjusted to their new surroundings. But Facyson has been quite the quick study.
"He's really got a good demeanor about him, a lot of poise about him, and he's very coachable," Foster said. "This will be a big summer for him, to get bigger, faster and stronger. I knew what kind of prospect he was, but I was really pleased with how quickly he picked things up and learned our defense and his position.
"To me, he seems to be a very mature young man. He seems to be one that's ahead of his time a little bit. That will contribute to his ability to play a little earlier. Coach [Torrian] Gray coached him hard a couple times to challenge him and he responded. Some young guys sometimes will stick their head back in a shell but he's a guy who bulled his neck and kept going like a bulldog. That showed something about him, that he's got a little fight in him. And you've got to have thick skin to play corner.
"I think Coach Gray was trying to challenge him and find that out. Is he ready for prime time or is he going to be a guy who takes a little time? If he gets beat or things don't go his way, how is he going to respond? I think we saw him respond favorably."
Foster was very pleased with the development of his defensive backs this spring, an area where the Hokies need to improve their depth. Foster also singled out
Donovan Riley
,
Donaldven Manning
and Davion Tookes as players who came on this spring. Highly heralded Kendall Fuller also arrives in the fall as well.
As for Exum, the starting cornerback seems to be ahead in his recovery from a major knee injury he sustained while playing pick-up basketball in January. Though Foster didn't have an update on the timetable, Exum told reporters in Blacksburg last week that
he wants to be ready
for the season opener against Alabama on Aug. 31.
"He feels very good, he's planning on being here for the opening of camp," Foster said. "I don't know when they're going to give him his release, but if there's anybody who can do it, he can do it. He's got tremendous physical attributes as far as his strength and the muscles surrounding the joint. If the ligaments and all those things heal up, I know the muscles will be strong enough. We'll just have to see. He's a guy that's very conscientious as far as his work ethic and doing the right things. If there's anybody who can do it because he's going to will himself, it would be Antone."
February, 21, 2013
2/21/13
2:00
PM ET
There are going to be position battles this spring at every school in the ACC, but some will be in the spotlight more than others. If you're just tuning in to ACC football, here are some of the biggest competitions in the conference this spring:
OFFENSE

1. Florida State quarterback:
This is arguably the most intriguing competition in the entire conference, as the Seminoles have to replace veteran
EJ Manuel
.
Clint Trickett
enters the spring at the top of the depth chart, but consider this job open. Sophomore
Jacob Coker
is the total package, but redshirt freshman
Jameis Winston
was the nation's No. 1 quarterback and could be the answer, too.
2. North Carolina running back:
The Tar Heels have to find a way to replace leading rusher
Giovani Bernard
, who left early for the NFL draft. Not only will his loss be felt in the running game, but probably even moreso in the return game, as Bernard was one of the nation's top punt returners. UNC returns
A.J. Blue
and
Romar Morris
, who combined for 819 yards rushing and 11 touchdowns last season.
3. Syracuse quarterback:
The Orange enter the ACC with a new coach and in need of a new quarterback. Record-setting quarterback
Ryan Nassib
is gone, leaving behind a wide-open competition. Backup
Charley Loeb
, junior
John Kinder
, and dual-threat
Terrel Hunt
are the top candidates.
Ashton Broyld
, who moved to running back in 2012, could be in the mix as well.
DEFENSE
1. Florida State defensive ends:
The cream of the crop is gone, as
Tank Carradine
,
Bjoern Werner
and
Brandon Jenkins
all have to be replaced. Enter
Mario Edwards Jr.
, who has a leg-up on the competition because he played in 11 games as a true freshman, and started the final two games of the year in place of the injured Carradine. Don't forget about
Giorgio Newberry
, though, and
Chris Casher
, who is now healthy after a knee injury. Casher will start spring ball on the two-deep depth chart.
Dan Hicks
, who was Jenkins' backup two years ago, had a knee injury and missed all of last season. He had moved to tight end, but was in the rotation at defensive end earlier in his career and could come back.
2. NC State secondary:
This group will have an entirely new look this spring, as three starters have to be replaced, including
Earl Wolff
,
Brandan Bishop
and
David Amerson
, the school's career interception leader. Cornerback
Dontae Johnson
returns, along with
Juston Burris
, who played in the nickel package. There are also several redshirts and younger players who will compete.
3. Virginia Tech cornerback:
Virginia Tech's defensive backfield lost its star last month when cornerback
Antone Exum
tore his ACL in a pickup basketball game. Several young players will compete for his reps this spring, including
Donovan Riley
,
Donaldven Manning
and
Davion Tookes
. Highly touted cornerback
Kendall Fuller
will join the team in the summer.
February, 20, 2013
2/20/13
11:00
AM ET
DUKE
Spring start:
March 4

Spring game:
April 13
What to watch:
1. Boone is up.
Duke loses three-year starter
Sean Renfree
, who threw for 3,113 yards and 19 touchdowns last season.
Anthony Boone
is the next man up, and has plenty of game experience. But coming in for spot duty is vastly different from taking over the starting quarterback job. He has to get a jump on becoming the leader of this offense in the spring.
2. Receiver spots open.
The Blue Devils lose the most prolific receiver in ACC history in
Conner Vernon
, plus the versatile and athletic
Desmond Scott
.
Jamison Crowder
is back, but Duke is going to need to find two more starters and several more to step up and help with depth.
3. Handling success.
This is the first time since 1994 that Duke goes into a spring with 15 bowl practices already under its belt and a taste of success. That should presumably give the Blue Devils an advantage. But it is much harder maintaining, as many coach will tell you. How does this new success impact the mind-set in spring practice?
GEORGIA TECH
Spring start:
March 25

Spring game:
April 19
What to watch:
1. Ted Roof takes over.
What is the Georgia Tech defense going to look like with Ted Roof in charge? He has not really given out specifics about the type of scheme he wants to use as his base, so it will be interesting to see how he fits his personnel to what he likes to do best. The Jackets do return eight starters to a unit that improved in the second half of the season.
2. Vad Lee time.
We saw glimpse of what Lee could do as he began to share quarterback duties with
Tevin Washington
last season. Now, the show is all his, so we get to see how he develops as a full-time starter.
3. So long, Orwin.
The Jackets lose one of their most dynamic playmakers in
Orwin Smith
, who finished his career ranked among Georgia Tech's all-time leaders in kickoff returns (76), kickoff return yards (1,624) and career all-purpose yards (4,278). Georgia Tech has to find somebody to replace that productivity.
MIAMI
Spring start:
March 2

Spring game:
April 13
What to watch:
1. D in Defense?
The No. 1 spring priority has got to be improving a defense that was one of the worst in the nation in every NCAA statistical category (No. 112 rushing defense, No. 102 passing defense, No. 116 total defense, No. 82 scoring defense). If Miami is going to be a favorite to win the Coastal, it needs better play out of this group.
2. New OC.
James Coley takes over as offensive coordinator, replacing Jedd Fisch. Coley served as offensive coordinator at Florida State before arriving at Miami, but did not call the plays. So he has much more responsibility here, and is charged with taking
Stephen Morris
from great to next-level great.
3. D-Line improvement.
If Miami is going to be better on defense, it has to start up front, where the Hurricanes were extremely young and mostly ineffective for 2012. The Hurricanes had to deal with their share of injuries, but they also were not great at stopping the run or putting pressure on the passer -- with only 13 sacks all year. That is the lowest total since at least 2005, the first year NCAA stats began listing team sack totals.
NORTH CAROLINA
Spring start:
March 6

Spring game:
April 13
What to watch:
1. Bye bye, Gio.
Life begins without All-ACC running back
Giovani Bernard
, who left school early for the NFL draft. The cupboard is not completely bare, though, as
A.J. Blue
and
Romar Morris
both return. Blue and Morris combined for 819 yards rushing and 11 touchdowns last season.
2. Replacing Williams, Reddick.
North Carolina returns nine starters on defense. That is the good news. The bad news is the Tar Heels lose their two best players in linebacker
Kevin Reddick
and defensive tackle
Sylvester Williams
, two first-team All-ACC selections. We'll see if
Ethan Farmer
at tackle and
P.J. Clyburn
at linebacker emerge to win the starting jobs.
3. Replacing Coop.
The Tar Heels have a major hole to fill on their offensive line as they say goodbye to unanimous All-America guard Jonathan Cooper, a stalwart who made 47 career starts. Cooper was the unheralded leader of the offense, so filling his spot is a major priority this spring.
PITTSBURGH
Spring start:
March 5

Spring game:
April 12
What to watch:
1. QB situation.
Tino Sunseri
is gone, leaving Arizona transfer
Tom Savage
, redshirt freshman
Chad Voytik
and junior
Trey Anderson
to compete for the starting job. Inconsistent quarterback play has been a major issue for the Panthers, so upgrading this position is an absolute must.
2. Adjusting to DC.
Pitt is going into the season with its fourth new coordinator in as many years, as Dave Huxtable left for NC State after only one year on the job. Secondary coach Matt House was promoted to coordinator, so at least there will be some familiarity. But he has to get to work on improving this unit's consistency.
3. Offensive line improvements.
Is this the year we finally see a vastly improved Pitt offensive line? The Panthers have to replace center
Ryan Turnley
and guard
Chris Jacobson
, two key positions to watch during spring practice.
VIRGINIA
Spring start:
March 18

Spring game:
April 6
What to watch:
1. New coaches.
How will the three most high-profile hires Mike London made mesh with the staff and returning players? How will the offense deal with a new scheme under Steve Fairchild? How will the defense deal with a new scheme under Jon Tenuta? How big will Tom O'Brien's role be with the offense? Inquiring minds want to know.
2. QB competition.
Fairchild has already said he will open up the quarterback job to a "very spirited competition" this spring. The two front-runners figure to be
Phillip Sims
and
David Watford
, who both have game experience. But there will be no shortage of quarterbacks in Charlottesville this year, so there are no guarantees that either of them will win the job.
3. Replacing Greer.
The Hoos have some big shoes to fill in the middle of their defense with the departure of linebacker
Steve Greer
, who ended his career with 376 tackles -- ranking No. 6 in school history.
Kwontie Moore
, one of nine true freshmen to play in 2012, backed up Greer last season. Will he win the starting job?
VIRGINIA TECH
Spring start:
March 27

Spring game:
April 20
What to watch:
1. Logan Thomas.
All eyes will be on Thomas as he heads into his senior season, especially with new offensive coordinator in Scot Loeffler in charge. How will the two work together, and what will Loeffler do to get Thomas to cut down on his mistakes and capitalize on the immense potential he has?
2. Rushing attack.
Item No. 2 on the agenda for Loeffler is to figure out a way to jump start the Virginia Tech rushing game, which struggled in 2012. The offensive line was inconsistent, and so were the running backs. The Hokies could never really settle on a starter or a clear rotation in the backfield, either. Somebody has to emerge as THE guy.
3. Filling in for Exum.
Virginia Tech took a serious hit to its defensive backfield last month when emerging cornerback
Antone Exum
tore his ACL in a pickup basketball game. The Hokies will look to several young players to try and fill his void, including
Donovan Riley
,
Donaldven Manning
and
Davion Tookes
. Fans will have to wait on highly touted cornerback Kendall Fuller, who joins in the summer.