December, 29, 2011
12/29/11
10:33
AM ET
A pre-January bowl meeting and regular seasons that failed to meet lofty preseason expectations have provided no hiding for Brian Kelly and Jimbo Fisher. Just look at Wednesday, when the second-year head coaches were asked during their final pre-bowl press conferences about restoring their respective programs back to glory.
No, a Dec. 29 finale in the Champs Sports Bowl is not what Notre Dame or Florida State had in mind when summer talk focused on BCS bowl berths and returns to greatness. But the pair of 8-4 teams have found consolation in the opportunity to take down the other and go into 2012 on a high note.
[+] Enlarge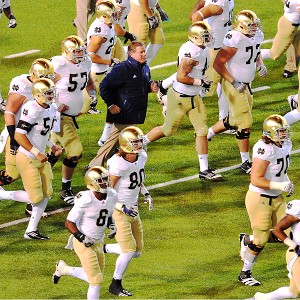 Matt Cashore/US PresswireNotre Dame coach Brian Kelly cited a bowl game's value in building team chemistry.
"I think it starts with the ability to keep your football team together for another month," Kelly said of what it will take bring Notre Dame back to its prominent status. "The ability to build more relationships and bonds with your players. You're still evaluating and giving opportunities to freshmen that may not have that chance to go out and prove themselves. I think there's a lot of things that go into having a bowl game. The game itself as a win/loss is not going to change the direction of your program. Certainly it's going to make you feel good about yourself going into the offseason, but all of those other things are much more important than actually singularly one game."
Said Fisher, in response to a similar question: "Recruiting, a little bit of luck, and staying healthy. You have to understand the culture. It's not been two years or three years since we've been on the top, it's been 10. That's something we have to change. I've said all year that I've been pleased with how our players practice. Their effort, their tenacity, they break out the distractions. And then the football gods have to be on your side a little bit, too. Sometimes the ball's got to bounce your way. We've got a good recruiting class this year and I think we'll have another great year next year. And hopefully a great game tomorrow."
Ten turnovers and two mind-boggling defeats to start 2011 all but sealed Notre Dame's fate for Orlando, Fla., from the early going. An 8-2 finish that featured a brief return to the national rankings showed what the Irish were capable of, but the sour taste from an 0-2 start lingered.
Florida State, meanwhile, saw a 2-0 start give way to three consecutive losses, dampening its BCS-bowl hopes and, like the Irish, leaving many to wonder what could have been.
The offensive-minded Kelly saw the Irish notch at least 500 yards of offense five different times this season, as they averaged better than 45 more yards per game than a season ago. But that was tempered by 26 turnovers and the fact Notre Dame is closing the season with another quarterback controversy (
Tommy Rees
or
Andrew Hendrix
), albeit a different one from the beginning of the campaign (Rees or
Dayne Crist
).
"I would look at it as we're still evolving," Kelly said. "From last year to this time there has been a process of evolution for our entire offense and it's still ongoing. It's ongoing as we speak relative to our offensive players understanding our system and of course in the recruiting area."
The Seminoles saw their growth on the defensive side of the ball, where they finished the regular season sixth in the nation in total defense, fourth in points allowed and second against the run — way up in all categories from last season (when they finished 39th, 24th and 26th, respectively).
"Are we disappointed about the wins?" Fisher said. "Yes, we wish we would've won more games. I mean, you'd like to win them all. But for a young football team to deal with distractions, with criticisms, the things that come with not winning as many games as you'd like to, they never lost faith in each other. In fact, it maybe made them closer. I feel very good about the future."
But the future must wait until this season is finished, and Thursday's matchup will provide one last opportunity for each side's seniors to end their careers on high notes.
And for Notre Dame, it's a chance to notch a nine-win campaign for the first time since 2006, before any current players came aboard.
"I feel like it's all that matters," senior end Ethan Johnson said of win No. 9. "It's all that matters. It's what we're focused on right now. Everyone says you take each game as it comes. That's very true. But there's a limited amount of time you can focus on each game in a season. And for this game we've had a long time to focus on it, and we're going to stay focused on it, and we're gonna continue to work and prepare and get ready to play our best football. And there's no reason why we shouldn't do that. No reason why we're not going to do that. We're going to do that.
"We're gonna continue to focus and practice hard and have fun while we're doing it. But yeah, it's really all that matters is getting this win, especially for the seniors. For the juniors, sophomores, freshmen, high school kids coming in — we're all pulling for it and we're all just gonna do the best we can because I came here my freshman year. And I'm a guy who believes you leave something better than it was when you came. I definitely wanna do that. I wanna leave this place better than when I found it."
November, 19, 2011
11/19/11
4:45
PM ET
SOUTH BEND, Ind. -- Greetings from Notre Dame Stadium, where the Irish seniors will take the field for the final time as they face Boston College in their home finale.
Most of the Notre Dame players warming up on the field now are in knit caps, long sleeves and high socks. Having not played here in three weeks, this is certainly the coldest home game anyone will have played in this season.
While Senior Days are fairly official ordeals, it is always different at Notre Dame, since there is so much uncertainty surrounding the upperclassmen. As you know, not all are invited back to complete their final year of eligibility, so we may not know if this is the last we truly see of some of them in a home uniform.
The biggest enigma among the four-year players with eligibility remaining is
Dayne Crist
, who started the last two openers only to lose his job to injury and a poor first-half performance in Week 1 this season. Crist has not spoken publicly since getting the hook, and I'm interested to see how he handles this game, whether or not he is invited back for a fifth year.
Crist is, by all accounts, a strong character guy who has handled his stretch of tough luck with grace, and I think I speak for all when I say he deserves a proper send-off today, if this truly is his final game at Notre Dame Stadium.
Don't go anywhere, as we'll have plenty of more from here throughout the afternoon.
December, 5, 2010
12/05/10
10:45
PM ET
Notre Dame Fighting Irish (7-5) vs. Miami Hurricanes (7-5)
Dec. 31, 2 p.m. ET (CBS)

Notre Dame take by Fighting Irish blogger Brian Bennett:
At the end of October, it didn't look like Notre Dame would be playing in any bowl. The Irish stood 4-5 after dispiriting losses to Navy and Tulsa. But then came the November to remember.
Almost as if Brian Kelly flipped a switch, the team suddenly came together for one of its most encouraging stretches in years. After blowout wins over Utah and Army, Notre Dame went on the road and used a fourth-quarter comeback to finally slay USC after eight years of misery.
The winning streak was all the more remarkable given the slew of injuries that struck South Bend. Starting quarterback
Dayne Crist
, leading rusher
Armando Allen
, star tight end
Kyle Rudolph
and standout nose tackle Ian Williams were just a few of the walking wounded unavailable to play.
But Kelly stitched the leftover parts together, and true freshman quarterback
Tommy Rees
won all three of his starts. The defense shockingly turned into a force, going more than 12 quarters without allowing a touchdown.
So now there's newfound enthusiasm for these Irish, and a Hyundai Sun Bowl name-brand matchup with Miami serves as a nice reward. Given that the Hurricanes limped to the finish and fired their head coach, Notre Dame should have an excellent chance to make it a December to remember, too.
---

Miami take by ACC blogger Heather Dinich:
Expectations for Miami were soaring in Randy Shannon's fourth season, but an inexplicable loss at Virginia and an overtime home loss to South Florida were too much for university officials to ignore. The Hurricanes' season came unraveled in the season finale against the Bulls and the firing of Shannon followed hours later.\
That didn't deter Hyundai Sun Bowl officials from choosing Miami against Notre Dame in a series rich with tradition. Offensive line coach Jeff Stoutland has taken over as interim head coach and said the bowl practices will determine who his quarterback will be against the Irish. Both
Jacory Harris
, who played for the first time since suffering a concussion at Virginia on Oct. 30, and freshman
Stephen Morris
, threw interceptions against the Bulls. Miami finished 3-3 at home this year, its worst record since 1997, and that includes an embarrassing loss to rival Florida State. Miami's strength has been its defense, as the Canes rank No. 2 nationally in pass defense, No. 6 in sacks and No. 1 in tackles for loss.
Stoutland said he has tried to convince his players that a bowl win is worth working for because it will give them positive momentum heading into the offseason regardless of who their next coach is.
October, 4, 2010
10/04/10
9:00
AM ET
»
Power Rankings
:
ACC
|
Big 12
|
Big East
|
Big Ten
|
Pac-10
|
SEC
|
Non-AQ
Miami has been the ACC's top team in the power ranking since this preseason and that hasn't changed. The Hurricanes continued to prove worthy of it with their win at Clemson, going 2-1 in a difficult three-game stretch of road games. With its only loss coming on the road against Ohio State, Miami should be considered one of the top 15 teams in the country. The rest of the ACC? There was a bit of shuffling, including at the No. 2 spot where Clemson was bumped in favor of a Florida State team with some momentum. With Miami at No. 1 and Florida State at No. 2, it should make for an interesting Week 6 in South Florida. Here's how the rest of the league shakes out:
1. Miami (3-1, 1-0 ACC, LW: No. 1) –
The Hurricanes forced Clemson into six turnovers, quarterback
Jacory Harris
threw for four touchdowns and receiver
Leonard Hankerson
tied a school record with three touchdown receptions. There are still kinks to work out, but if Miami is playing its best football in November, look out for the Canes.
2. Florida State (4-1, 2-0 ACC, LW: No. 4) –
Saturday will provide the Noles with their toughest competition since losing on the road to Oklahoma. Florida State dominated Virginia on the road and the defense has shown measurable improvement, but can it sustain it against Miami's big-play offense?
3. Virginia Tech (3-2, 2-0 ACC, LW: No. 5) –
The overall record isn't impressive, but right now the conference record is what counts, and the Hokies are right where they usually are -- in position to make a run. The Hokies took advantage of NC State's mistakes and should continue to build some momentum against Central Michigan.
4. NC State (4-1, 1-1 ACC, LW: No. 3) –
It must've been torture for NC State to watch the game film of its loss to the Hokies, but most of those wounds were self-inflicted. The Pack blew a 17-point lead at home and life in the Top 25 was short-lived. NC State is still one of the teams to beat in the Atlantic Division.
5. Georgia Tech (3-2, 2-1 ACC, LW: No. 5) –
Send your thank-you notes to Mr.
Joshua Nesbitt
. He was a driving force behind the Jackets' come-from-behind win, but this clearly isn't the same team that won the ACC title last year. Credit Wake Forest's defense for stuffing the option for most of the game, but Georgia Tech also has had turnover trouble.
6. Maryland (4-1, 1-0 ACC, LW: No. 7) –
The Terps are in a favorable position heading into the bye week, and they need the break to heal before traveling to Clemson. Maryland continues to find a way to win, even if it's not earning any style points in the process. Two wins shy of bowl eligibility is a big turnaround from a year ago.
7. Clemson (2-2, 0-1 ACC, LW: No. 2) –
The Tigers have to regroup after tough back-to-back losses, but they're not out of it yet. Last year can serve as a reminder not to count Clemson out after a rocky start. It has to take care of the ball better, though, in order to have any chance at defending its division title. This isn't a bad team, but it's going to have to earn its way back into the top half of the ranking.
8. North Carolina (2-2, 0-1 ACC, LW: No. 10) –
The Tar Heels had two 100-yard rushers for the first time in six years against a porous East Carolina defense and have back-to-back wins despite still missing 11 players because of the impending NCAA investigation. They've got the momentum and home-field advantage heading into Saturday's game against Clemson.
9. Wake Forest (2-3, 1-2 ACC, LW: No. 9) –
The Deacs lost another heartbreaker to Georgia Tech, the second straight year the game has come down to the wire (last year's was in overtime). The defense can take pride in its performance, but the quarterbacks are banged up.
10. Boston College (2-2, 0-1 ACC, LW: No. 11) –
The Eagles couldn't stop Notre Dame quarterback
Dayne Crist
, and freshman quarterback
Chase Rettig
was injured early. BC needs a quick fix on offense as it has back-to-back road trips against Atlantic Division opponents up next.
11. Virginia (2-2, 0-1 ACC, LW: No. 6) –
FSU exposes weaknesses that two FCS schools and USC didn't, and after USC's loss to Washington, the Cavaliers' performance on the road seems less impressive. Saturday's 34-14 loss to the Noles was a reality check, but there's still a lot of football left.
12. Duke (1-4, 0-2 ACC, LW: No. 12) –
The Blue Devils sunk a little farther with their loss at Maryland, as they were unable to hold onto a 9-0 lead. The prospects of a bowl appearance look grim.
September, 29, 2010
9/29/10
9:04
AM ET
Catholic schools Boston College and Notre Dame renew their rivalry this weekend, and both teams are praying for a victory. ACC blogger Heather Dinich and Notre Dame blogger
Brian Bennett
take a look at the issues surrounding this matchup:
[+] Enlarge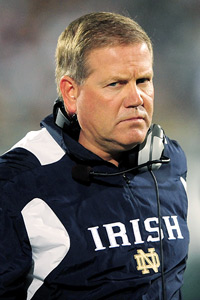 Andrew Weber/US PresswireAfter getting off to a 1-3 start, coach Brian Kelly needs a win badly against Boston College.
Brian Bennett:
Heather, you can throw the records out when these two play. And Brian Kelly would really, really like you to throw the records out. Kelly is off to just a 1-3 start in his first season as Irish head coach, and now he's returning to his roots in Boston desperately needing a win to keep this season afloat -- and to keep the wolves at bay.
Notre Dame got manhandled last week against Stanford, but it was just a play away from beating Michigan and Michigan State before that. So we know this team is capable of playing with good opponents. What do we know about BC, which faced two weak teams before getting shut out by Virginia Tech at home last week?
Heather Dinich:
We know that quarterback
Dave Shinskie
has been benched. Yes, Virginia Tech's defense finally looked like what Hokies fans are used to under Bud Foster, but still … after two interceptions and a fumble, the competition is up for grabs this week between
Mike Marscovetra
and freshman
Chase Rettig
. The staff had wanted to redshirt Rettig -- he is supposed to be the quarterback of the future. But the Eagles might not have the luxury of waiting. Will it even matter, though? It looks like Notre Dame's defense has been pretty friendly the past month, although it has faced some ranked competition. It seems to me running back
Montel Harris
might have a good day against the Irish.
BB:
You're talking about the 93rd-best rushing attack in America having a big day? Look, the Notre Dame defense is what we thought it would be. The Irish give up some big plays and points, but honestly, I think their defense has been good enough to win so far this year. The offense has, surprisingly, had some trouble. If
Dayne Crist
doesn't miss most of the first half against Michigan that's probably a victory. Against Stanford last week, the offense didn't produce a touchdown until late in the fourth quarter. The passing game has been inconsistent, the running game hasn't been reliable on short-yardage downs and the Irish have hurt themselves with turnovers.
[+] Enlarge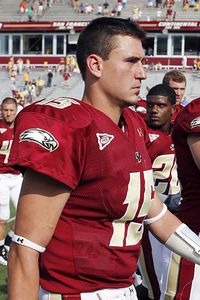 AP Photo/Michael DwyerBC quarterback Dave Shinskie was benched in the second half against the Hokies.
I look at both teams' issues and see a fairly low-scoring game on Saturday. What do you think?
HD:
"Issues." So polite. You could say BC has a few of those after being shut out at home last week for the first time since 1998. BC's defense deserves credit, though, despite the 19-0 loss to Virginia Tech. It's a typical Frank Spaziani-coached team: blue collar, hard-nosed tacklers holding opponents to about 17 points per game. They're coming off a performance that held Virginia Tech to four field goals, and once again, sophomore linebacker Luke Kuechly is among the nation's leaders in tackles. There's no time for BC to dwell on that loss, though. They know this game means a lot on campus, to alumni and to the community. Plus, it's not going to get any easier with back-to-back Atlantic Division road trips looming to NC State and Florida State. BC needs this win badly, but I think Brian Kelly needs it more.
BB:
Not just Kelly, but the Irish as a whole. A 1-4 start really puts them in a bind, even with the schedule easing up soon. Remember they've still got to play Pitt, Utah and USC, as well as always-tricky Navy, so they may struggle to get to a bowl game if they lose this week.
I can't see a Kelly offense struggling for two straight weeks. I think Notre Dame will score at least 21 points. BC has a good defense, but let's not confuse Virginia Tech with an explosive attack. Crist will be crisper this week and he won't be getting hit every down like he was against Stanford. With a new quarterback, I think the Eagles will be one-dimensional enough that the Irish defense can handle them. How do you see it?
HD:
This is supposed to be a debate, right? It pains me to agree with you, but let me point out that BC has won six of the past seven in this series. Besides, which Crist will show up? The one against Michigan State, or the one that was clobbered by Stanford? I think BC's defense will make it a little tougher than Kelly would like to see -- most likely a score similar to last year's 20-16 Notre Dame win.